Illinois congressman visits Reno, makes case for why controversial Yucca Mountain project should proceed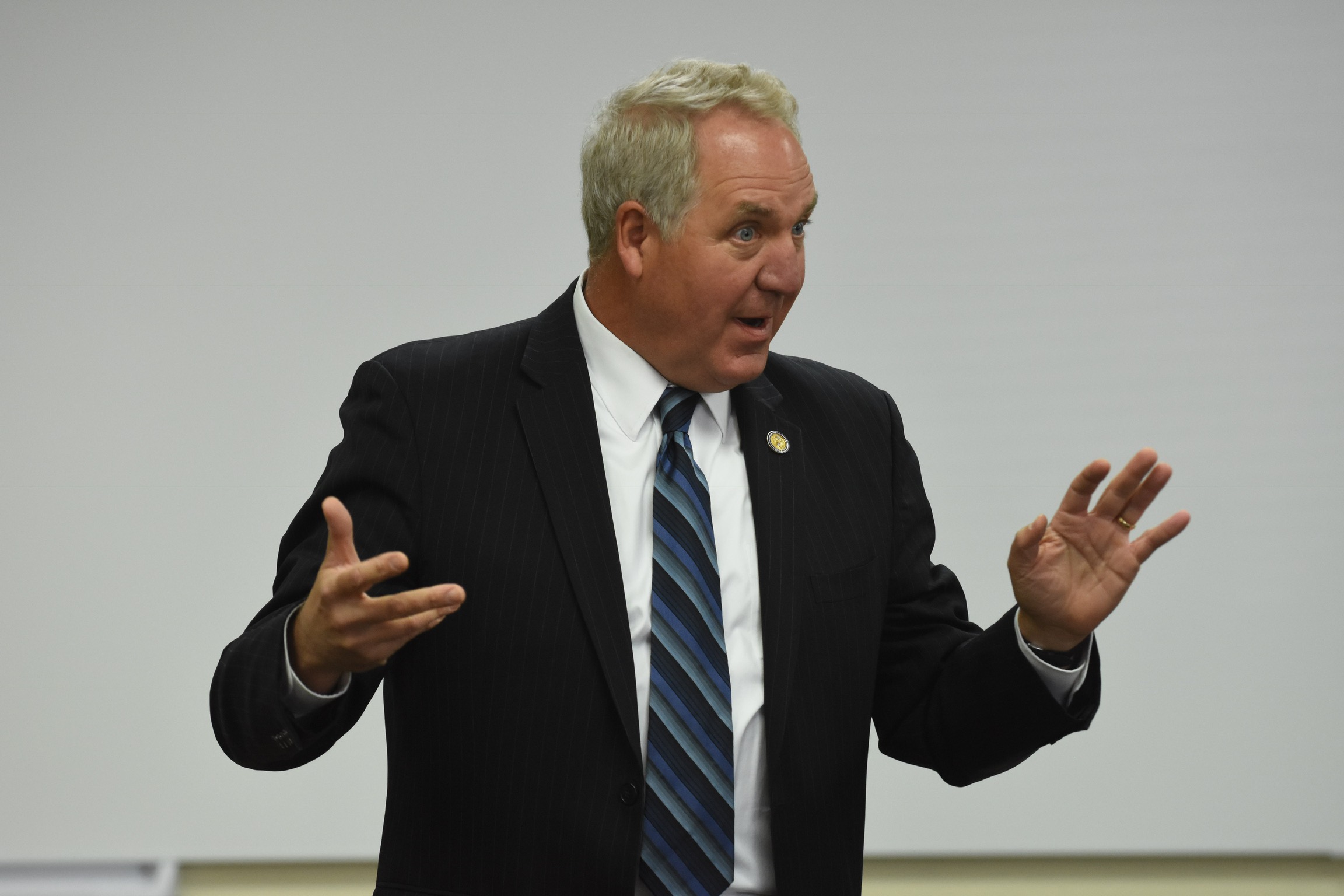 RENO — The Illinois congressman shepherding a bill through the U.S. House of Representatives that would advance the long-stalled Yucca Mountain project told Northern Nevada business leaders Tuesday that he expects a floor vote soon, but didn't give an exact timeline.
Republican Rep. John Shimkus also dispelled the notion that the nuclear-waste project was ever dead — as former Sen. Harry Reid liked to say — and said he wants Nevada officials to participate in planning and benefits-oriented discussions.
The longtime advocate of making Yucca Mountain the final resting place for spent nuclear fuel and high-level radioactive waste shared his perspective with members of the Reno-Sparks Chamber of Commerce during an hour-long visit Tuesday.
"The Yucca Mountain issue has never been totally shut down," said Shimkus, who's from Illinois, which has more spent nuclear fuel than any other state. "Maybe it's been on life support, but it's never been totally shut down."
Shimkus said 39 states contain either spent nuclear fuel or radioactive defense waste, spread over 121 locations total, hence the interest in creating a repository at Yucca Mountain. The congressman acknowledged that Illinois is a "large nuclear power state," with six locations and 11 reactors.
Shimkus chairs the House Energy and Commerce Subcommittee and sponsored the Nuclear Waste Policy Amendments Act of 2017. The legislation, which would jumpstart the development of a nuclear-waste repository at Yucca Mountain by streamlining the land transfer and licensing process, cleared the House Energy and Commerce Committee with a 49-4 vote in late June.
It was sign of what many feared would happen under a Donald Trump presidency: The decades-old debate about what to do with the nation's nuclear waste would re-emerge, with a sharpened focus on Nevada as the answer. Trump's budget seeks $120 million for the Department of Energy to and another $30 million to the Nuclear Regulatory Commission to restart the licensing process at Yucca Mountain, which sits about 100 miles northwest of Las Vegas.
The possibility of nuclear waste being transported through or near Las Vegas — the tourist mecca that powers the state's economy — has been one of opponents' largest battle cries. Shimkus insisted the nuclear waste would not be transported through the city, but the bill language simply says that routes should "to the extent practicable" avoid Las Vegas.
Most of Nevada's delegates and Gov. Brian Sandoval have staunchly opposed the Yucca Mountain project, although community members near the site harbor a more favorable view. They see it as a potential economic driver for the sparsely populated region.
The issue has been a political hot potato for years. In 2002, Congress enacted a resolution that formally deemed Yucca Mountain the site for a nuclear-waste repository. Then-Nevada Gov. Kenny Guinn vetoed the designation, but Congress overrode that veto a few months later.
Reid served as a powerful political force, preventing the project from ever coming to fruition during his tenure. Former President Barack Obama also opposed the project and eventually eliminated funding for it.
The retired senator held steadfast last week to his belief that Yucca Mountain is dead. "Take a look at Yucca Mountain," he told The Nevada Independent. "What is out there? Nothing. A hole in the side of a mountain. All the equipment has been junked."
Legislative activity in Washington, D.C., indicates otherwise.
Shimkus expressed confidence that his bill would secure enough votes to pass the House, although he acknowledged it will face an uphill battle in the Senate.
"I would say never say never," he said. "But I do not assume that it's going to be easy to get the bill through the Senate."
The Nuclear Regulatory Commission has determined that storing nuclear waste at Nevada would pose no safety risk for 1 million years. Nevada, however, can challenge that finding in court. If the adjudication process deems the commission's science faulty — meaning storage at Yucca Mountain could be hazardous – the project won't move forward, Shimkus said.
But his bill — which has 109 co-sponsors, including 21 Democrats — essentially clears any roadblocks that may hinder the project's development if courts affirm the commission's safety findings. One provision allows Nevada to enter into negotiations about possible decisions and benefits associated with the project, such as the routing of the nuclear waste, Shimkus said.
Shimkus said state officials could help determine a suitable route, possibly by rail, that may open the door for other economic development around it.
So far, Nevada officials aren't broaching that topic.
"Now, it would be helpful if the state of Nevada would tell us what might be interesting to them, but they're not interested in talking," Shimkus said.
The Illinois politician speaks more in terms of when, not if,  nuclear waste ends up at Yucca Mountain. Shimkus said he's hopeful Nevada officials will engage in more discussions at some point.
"We believe we have one of the best locations you could ever think of that has been researched more than any piece of property on the planet, but it's still a national treasure that we need to appreciate the state of Nevada hosting, and so we want to work with them," he said. "That's going to take time. I get it."
Sandoval, in a letter to Shimkus earlier this year, said, "No amount of monetary benefits can compensate for the coerced selection of an unsafe site."
Despite Shimkus' vague timeline, Nevada officials said they expect a House floor vote on the bill sometime next week.
Robert Halstead, executive director of Nevada's Agency for Nuclear Projects, said the state adamantly opposes Shimkus' legislation, which he called the "Screw Nevada 2" bill because of potentially harmful provisions, such as one that increases the amount of waste that could be stored at Yucca Mountain. He's urging all members of Congress to carefully read and scrutinize the final version of the bill and committee report when they're released.
"First, read every one of its 50 pages and check each of the more than 40 places where it strikes a current provision in the US Code of Statutes … The bill is full of change provisions that could have unintended consequences," he wrote in a statement. "Second, check to see if your district is one of the 330 congressional districts across the country that would be traversed by the thousands of truck and rail shipments of highly radioactive spent nuclear fuel and defense wastes to Yucca Mountain."
Five of Nevada's six delegates are trying to prevent Nevada from becoming the landing spot for nuclear waste by supporting legislation that would give states more say over the matter.
Sens. Dean Heller and Catherine Cortez Masto as well as Reps. Dina Titus, Ruben Kihuen and Jacky Rosen introduced legislation earlier this year in their respective chambers called the Nuclear Waste Informed Consent Act. The bills would require written consent from the energy secretary, governor of the host state, local government where the nuclear waste would be stored, local governments affected by transportation and Indian tribes before allowing construction of a repository.
Republican Congressman Mark Amodei, who represents Nevada's 2nd Congressional District, has not signed on as a co-sponsor to the bill. Amodei has said Nevadans shouldn't ignore Yucca Mountain, but, instead, dictate the terms of it becoming a repository.
The Reno-Sparks Chamber of Commerce has not taken a position on the Yucca Mountain project but merely wanted to provide a venue for dialogue and information-sharing, said Tray Abney, the business organization's director of government relations.
Former Nevada Congressman Jon Porter, who runs a lobbying firm, helped bring Shimkus to Reno, given their longstanding friendship. He cautioned residents from thinking the Yucca Mountain project has no chance.
"Nevada needs to understand the realities," Porter said, adding that the state's delegates and governor are doing everything in their power to prevent the project from moving forward. "Our team is there fighting every day. The problem is we're a small state in the scope of things."
Shimkus has visited Yucca Mountain three times over the course of his congressional career. If his plans for Yucca Mountain succeed, 2028 is the earliest nuclear waste likely would be stored there, he said.
Comment Policy (updated 4/20/2021): Please keep your comments civil. We reserve the right to delete comments or ban users who engage in personal attacks, use an excess of profanity, make verifiably false statements or are otherwise nasty. Comments that contain links must be approved by admin.