In high-stakes election, Biden, Trump court Nevada's growing Asian American and Pacific Islander communities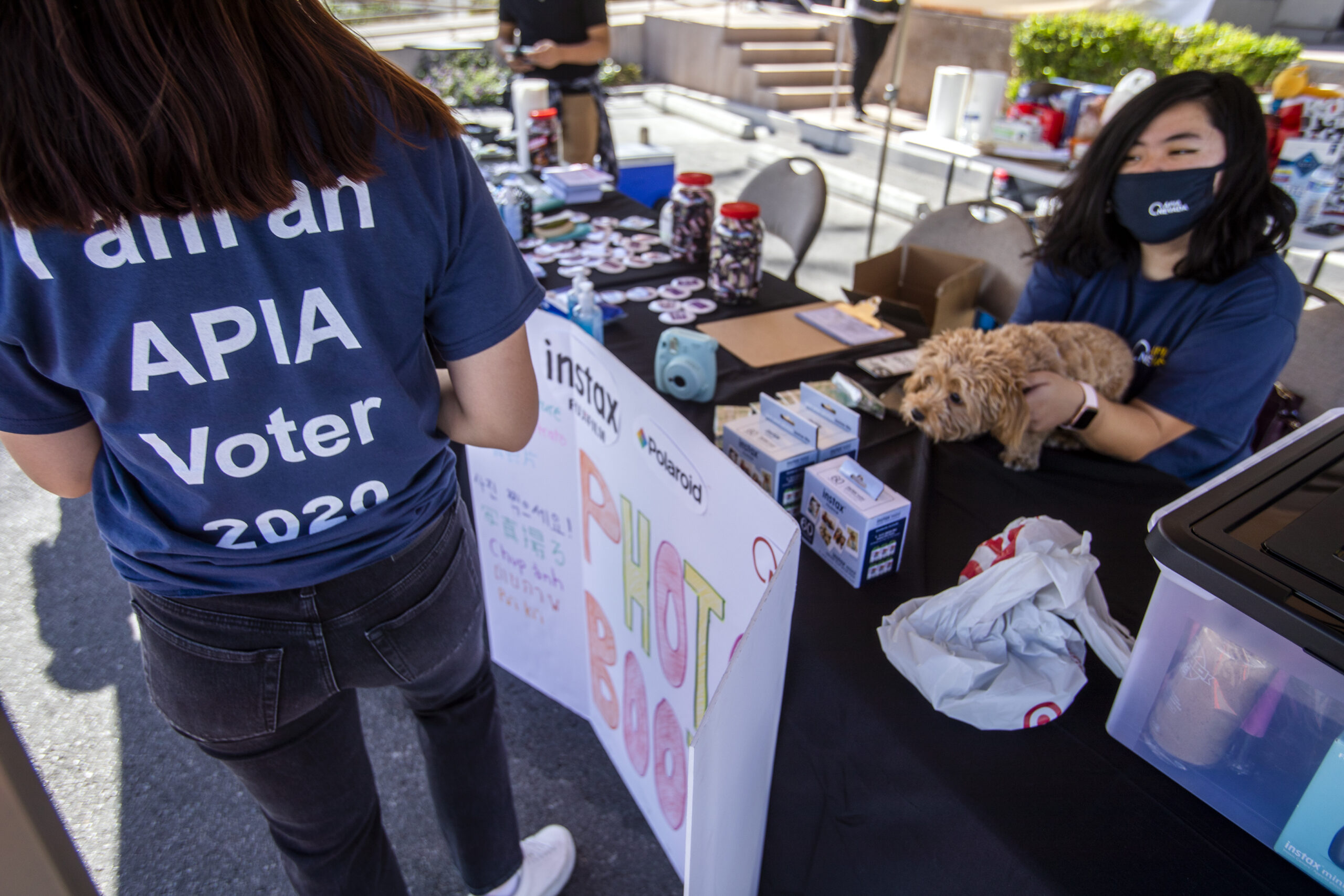 The familiar rhythm of the festivals has been absent this year.
The Japanese spring festival in April. The Indian food festival in May. Filipino kamayan feasts in the fall.
Like so many other events this year, festivals across Asian American and Pacific Islander communities have been scuttled because of the coronavirus pandemic. So, too, has the typical voter outreach that happens around those events.
In what has been a strange year of campaigning across the board, those who work on Asian American and Pacific Islander, or AAPI, voter engagement have had to get creative with their efforts. They've traded in-person events for virtual ones, like the virtual kamayan held by Filipino-Americans for Biden-Harris Nevada, or a virtual candidate meet-and-greet held by the Las Vegas Asian Chamber of Commerce.
Pandemic or no pandemic, community leaders have been eager to get AAPI voters out to the polls.
On one hand, it's political: Asian Americans and Pacific Islanders make up about 9.5 percent of the state's population, according to the U.S. Census Bureau, but about 11 percent of the electorate, according to AAPI Data and APIA Vote. Those estimated 209,000 voters are more than enough to tip the balance in close elections — and it's why candidates and political parties are stepping up their outreach efforts with every passing election.
"It's refreshing to see we're not an afterthought anymore. AAPI used to be an afterthought," said Grace Vergara-Mactal, executive director of SEIU Local 1107. "Candidates who do not pay attention to the AAPI community risk losing their election."
In an already high-stakes election year, the outcome of the election feels even more crucial for many AAPI voters than ever before. For Republicans, it's about economic security and safety. For Democrats, it's about health care and voting a president out of office whose characterization of the coronavirus as the "China virus" they say has subjected them to discrimination.
The question this year is which way AAPI voters will swing. In 2016, 69 percent of AAPI voters in Nevada voted for former Secretary of State Hillary Clinton while 29 percent chose President Donald Trump, according to an exit poll by the Asian American Legal Defense and Education Fund.
There's a broader goal, though: representation. Advocates want to encourage Asian Americans and Pacific Islanders to exercise their rights to vote, regardless of which political party they choose to affiliate with.
"As a whole, the AAPI community, all we want is what the other minorities want as well," said Sonny Vinuya, president of the Las Vegas Asian Chamber of Commerce, "which is for our voices to be heard."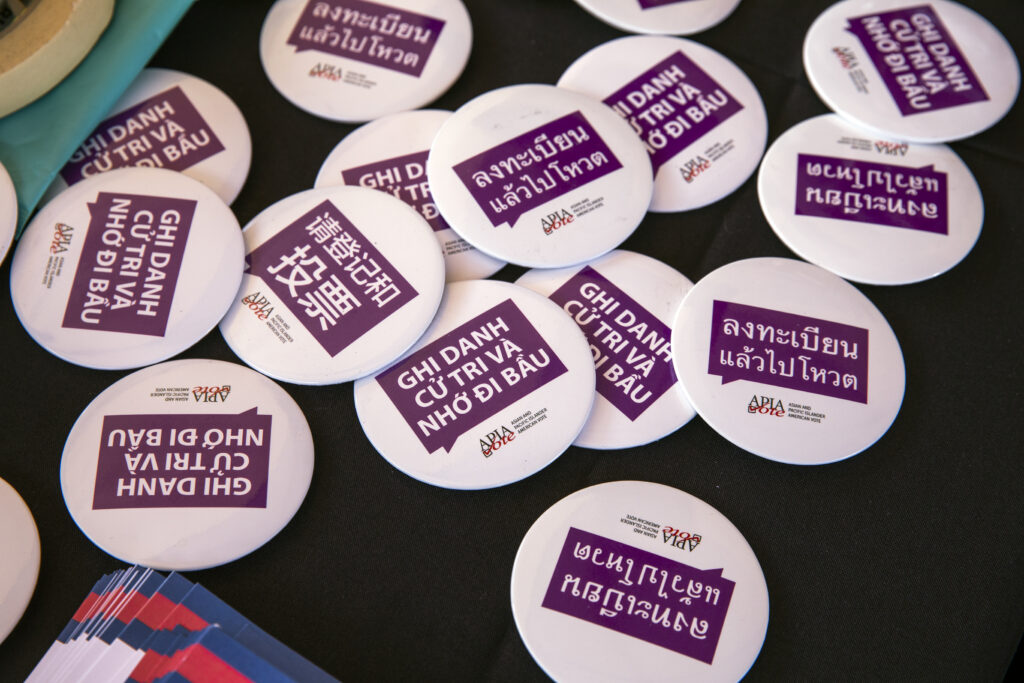 'We don't come for cheese and crackers'
Right or left, red or blue, Asian American and Pacific Islander community leaders agree voter outreach has been difficult this year because of the coronavirus pandemic. Though that's been true of electoral efforts across the board, it's had a particular impact on the AAPI community, where voter engagement often revolves around in-person socializing over food and drinks.
"We don't come for cheese and crackers," said Swadeep Nigam, founding president of the nonpartisan South Asian Political Network Alliance. "You have to feed the whole community. That's part of Asian community. There's a lot of food, liquor, then they'll show up."
Organizations involved in civic engagement have tried their best to replicate the experience over Zoom — and some even say they've seen better turnout than they might have from traditional in-person events because of the ease of being able to participate from home.
"Now we're having a lot of video calls and conference calls. It feels more personal. I think people can participate from their own comfort zone," said Duy Nguyen, executive director of One APIA Nevada, a progressive AAPI political advocacy group. "A lot of times going outside, even in pre-COVID times, sometimes it's hard. They had to juggle between family and jobs and kids and all of that. I think it gives people a lot of flexibility to be involved."
The pandemic has, however, ushered in notable changes for other groups. The Las Vegas Asian Chamber of Commerce, for instance, decided to focus its attention this year on giving out grants to small businesses that have been struggling financially amid the economic upheaval caused by the pandemic. The group decided to forego endorsing candidates; instead, it offered a virtual candidate meet-and greet.
"As you know, those things really take a lot of time, setting up interviews, interviewing both sides and then deliberating who to support," Vinuya said. "Now we kind of just give them a platform to learn about the candidates so they can make a better educated guess on who they want to vote for."
For the South Asian Political Network Alliance, the pandemic has meant no more luncheons and no more meet-the-candidate evenings.
"Zoom events don't work with our community," said Nigam, who stepped down from the organization before tossing his hat in the ring for Board of Regents this year. "It's more a social gathering than a political gathering. They come out, hang out, have lunch together, ask them questions. It's a social event rather than a political event."
Organizations have also learned to embrace technology during the pandemic even more than they already were. While WhatsApp and WeChat might have been part of a digital strategy before, now they're using Zoom and TikTok and Twitch, too.
"Our communities are known for being early adopters of technology so a lot of folks are liking this piece," Nguyen said, of the prevalence of Zoom events, "and they have a lot of exposure to a lot more surrogates that come."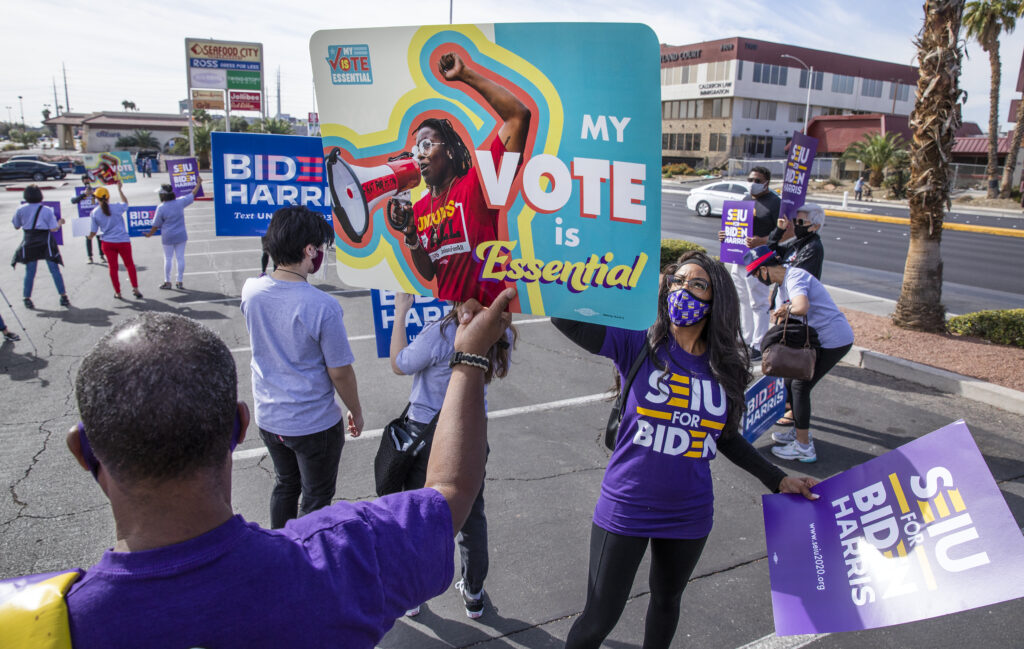 'Traumatized by the president's rhetoric'
Democrats, generally, have been energized this year about the prospect of voting President Trump out of office. But for many Democrats within the Asian American and Pacific Islander communities the election is personal: More than 2,000 hate incidents against Asian Americans have been reported since the beginning of the coronavirus pandemic.
"I think the community has been traumatized by the president's rhetoric, and he hasn't stopped saying it. He still says 'China flu' and 'kung flu' and the 'Wuhan virus' or the 'China virus,'" Nguyen said. "Not only are Chinese-Americans getting discriminated, but anyone who has an Asian feature is getting blamed not just with his rhetoric but the xenophobia and the discrimination that they face on the local level."
Sundae Yomes, a volunteer with SEIU Local 1107 and a Native Hawaiian, is hopeful electing Biden will bring about an end to the discrimination Hawaiians face — even in their home state.
"We get treated as second class citizens. We're told, 'Don't use your Hawaiian name, don't speak Hawaiian,'" Yomes said. "With so many people moving from Hawaii to Vegas and Vegas being the ninth island, you have a lot of people who are just saddened that a lot of us are never going to be able to buy a house and afford to live in Hawaii."
It's also personal for Filipino nurses, who nationally comprise about four percent of the nursing workforce but make up nearly a third of COVID-19 deaths among registered nurses. There are about 168,000 Filipinos living in Nevada, which represents about half of the Asian American and Pacific Islander community in the Silver State.
"As a Filipino, I'm voting because I have relatives who are on the frontlines," said Vida Benavides, a Democratic consultant who has worked within the AAPI community for decades.
The Biden campaign has seized on those frustrations within the AAPI community in their efforts to get voters out to the polls.
"It's the words that Trump uses," said Christian Bato, coalitions director for the Biden campaign in Nevada. "That's been a rallying cry for energizing the AAPI community to turn out to vote."
In line with those efforts, Biden campaign officials report holding at least 20 AAPI-specific phone banks, including Filipino-American phone banks where volunteers focus on calling Filipino Americans and voters who prefer to speak Tagalog.
They also held an AAPI vice presidential debate watch party, a get-out-the-vote rally with Nevada First Lady Kathy Sisolak, the daughter of Chinese immigrants, and virtual events with AAPI surrogates including Olympic figure skater Michelle Kwan and Assemblywoman Rochelle Nguyen.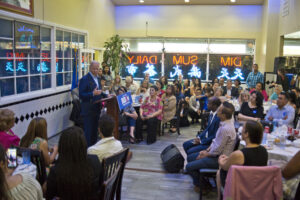 A group of Filipina aunties, known as the "Titas," have even been going into the Seafood City on Maryland Parkway wearing their Biden shirts in an effort to get shoppers to stop and talk to them about the election, Bato said.
"They've been very creative about it," Bato said. "That's the immigrant ingenuity, I think."
The Biden campaign has also placed paid advertisements in AAPI media including the Chinese Daily News, the Las Vegas Korean Times, the Filipino Channel, Asian Journal, and the Philippine Times of Southern Nevada, while the Democratic National Committee recently launched a get-out-the-vote ad campaign this week in the Philippine Times, as well.
The Biden campaign and the Nevada State Democratic Party's coordinated campaign teams also report having AAPI staffers working across the organizations including Bato, two communications team members and a number of organizers.
While the Biden campaign has resumed in-person campaigning, most Democratic-aligned groups have not. This means they've had to get creative about how they're reaching AAPI voters in their get-out-the vote efforts.
One APIA Nevada, for instance, launched its door-to-door campaign this week and plans to hit 50,000 doors ahead of the election. But, this year, that in-person campaigning means dropping literature at people's doors and following it up with a phone call instead of having face-to-face conversations with voters at the door.
Those fliers include a multi-lingual pitch — in Tagalog, Mandarin, Korean and Vietnamese — to turn out to vote for Joe Biden for president and Susie Lee for Congress.
"It's safe for our staff to go out there and just put that on those doors and remind people to go and vote and do it ASAP because we want to be able to get that done and be counted," Nguyen said. "We got a lot of good feedback from our voters that they appreciate us being out there and ensuring that their voices are heard."
SEIU Local 1107 has also been turning to a number of different methods — phone banking, text, Zoom, PSAs, email, Facebook and newspapers, among them — to encourage AAPI voters to show up to the polls instead of the traditional face-to-face door knocking.
"The 2020 election is a little different," Vergara-Mactal said. "It used to be you'd canvass, right? But we put the technology to work."
Democrats are also hoping that some AAPI voters will also be energized by the prospect of electing an Asian American woman as vice president. Kamala Harris is the daughter of Jamaican and Indian immigrants.
"Senator Harris, she's a groundbreaker and a trailblazer in a lot of senses. I think the community feels that. I really do," Bato said. "We're very proud to have that representation on display."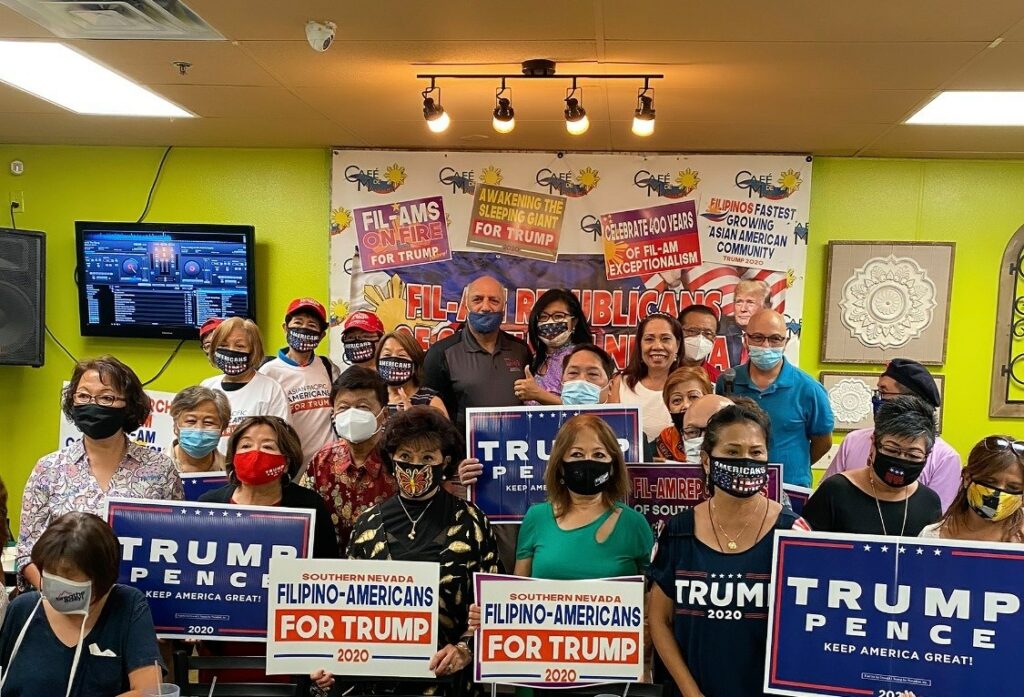 'I don't want socialism here'
Across the aisle, Republicans are equally hopeful that their message will speak to AAPI voters. Jan-Ie Low, a small business owner in Las Vegas and longtime Trump supporter, acknowledges that Republicans within the AAPI community have been less vocal than the Democrats. But that doesn't mean they aren't there, she says.
"I would say a lot of the conservatives who are AAPI, we're more quiet," said Low, who is also a commissioner on the President's Advisory Commission on Asian Americans and Pacific Islanders. "We value privacy so, in the past, four years ago, nobody really came out and gathered."
But that's changed this year, Low said, pointing to the Filipino-Americans for Trump groups that have organized both here in Nevada and nationally. She believes the president's message of a strong economy and law and order speaks to Asian American and Pacific Islander values.
"President Donald J. Trump understands that Asian Americans are very proud, we're entrepreneurial, we have small businesses, we care about family," said Low, an immigrant from Malaysia.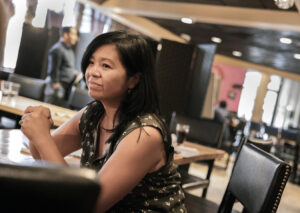 Low is also part of a new organization, the AAPI Nevada Leadership Council, which endorsed candidates for office this year. The council includes members who are Republicans, Democrats and nonpartisans, Low said, but backs candidates who support a strong economy, school choice and law and order.
And as far as Trump's characterization of the coronavirus as the "China virus," Low just sees it as the president accurately describing the origin of the virus, not as him being racist. She said people try to read into what the president says to "spin it."
"What President Trump is trying to do is trying to make sure we don't forget that the virus originated in China, and he's trying to share it with people because it is what it is and we've got to be careful," Low said. "You've got to remember, me being a Chinese born in Malaysia, I understand some of the socialism. I don't want socialism here."
The Trump campaign, for its part, has an Asian Pacific Americans for Trump office in Spring Valley, which a spokesman for the campaign said has seen three bus tours stop by and been visited by surrogates including Minnesota Republican Party Chairwoman Jennifer Carnahan and Hawaii Republican Party Chairwoman Shirlene Ostrov.
The Asian Pacific Americans for Trump coalition has also made nearly 120,000 voter contacts across the state, according to the campaign.
But some Republicans would still like to see even more outreach from their candidates and party to Asian American and Pacific Islander voters. Nigam, former treasurer of the Clark County Republican Party, said Democrats continue to be better organized when it comes to the AAPI vote and that Republican candidates frequently miss out on opportunities to directly engage with AAPI voters.
"A few years back, I'll say, when Shelley Berkley was the congresswoman, she reached out to every Asian group, if I invited her, she would come," Nigam said of the Democratic former congresswoman. "People loved her. Within the Asian community, it's my experience that once they meet the candidate, it doesn't matter which party they belong to, they are with that candidate."
Nigam is, however, unconvinced that AAPI voters are going to support Biden just because Harris, an Indian woman, is on the ticket.
"Just because you are Indian doesn't mean anything," Nigam said. "Indians vote based on the candidate, not because you are Indian, not because you're Democrat or Republican."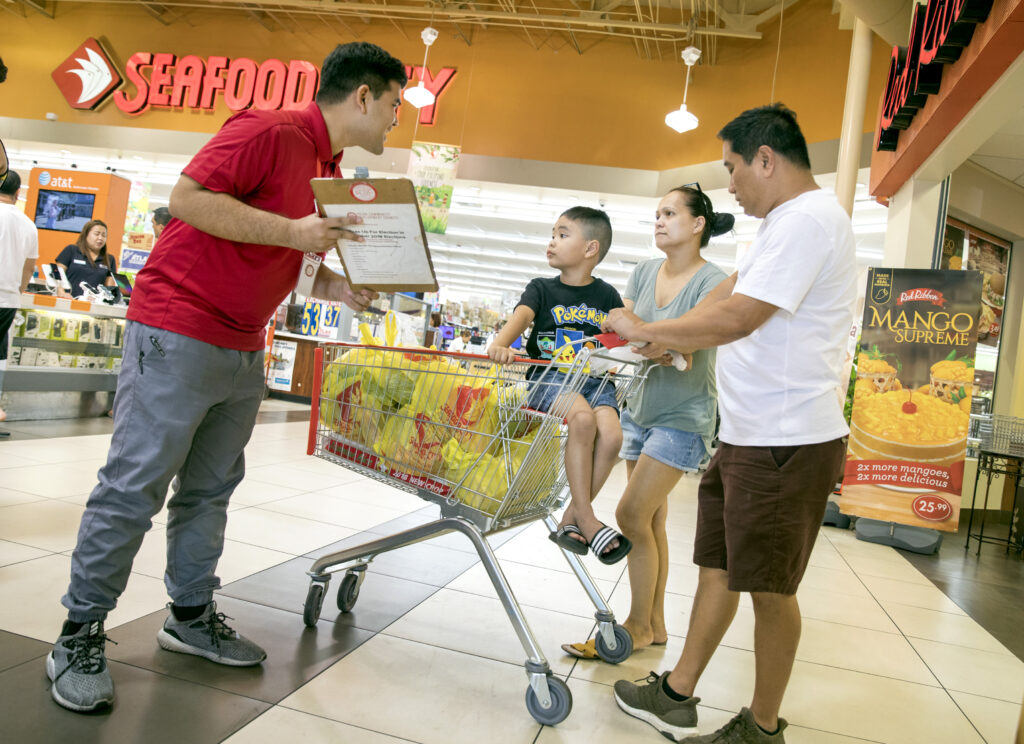 'More activated and more motivated'
For her part, Vergara-Mactal is hopeful that 2020 will set a new record for AAPI turnout.
"In 2014, half of the AAPI [community] did not vote, and then in 2018, we just soared to 77 percent," Vergara-Mactal said. "So, to me, that communicated that people are getting more activated and more motivated."
One concern AAPI organizers had this cycle was the decision not to put an early vote site in Chinatown Plaza on Spring Mountain or at Seafood City on Maryland Parkway, two major community hubs. That's meant they have had to be intentional this cycle about letting voters know about alternate sites where they can cast their ballots.
"Unfortunately the election office for Clark [County] did not choose Chinatown as a voting center this year," Nguyen said. "It was a huge miss for us, to not have that base."
Beyond this cycle, those involved in civic engagement are hopeful that they'll see more Asian Americans and Pacific Islanders in office. Assemblywoman Nguyen, for instance, became the first Democratic female Asian American Pacific Islander lawmaker when she was appointed in 2018.
And she's not alone this cycle: Radhika Kunnel, a Democrat, is running in a close race to represent Assembly District 2, with a good shot at winning.
But for now, AAPI organizers are just focused on the next nine days.
"That's the most critical thing that could be done at this point," Nguyen said, "making sure that the numbers do reflect our population."
The Nevada Independent is raising $200,000 by Dec. 31 to support coverage of the 2024 election.
Tax-deductible donations from readers like you fund this critical work.
If you give today,your donation will be matched dollar-for-dollar.
Give + Get Matched
Featured Videos