In Nevada, death penalty has evolved from frontier spectacle to rare rite of volunteers asking to die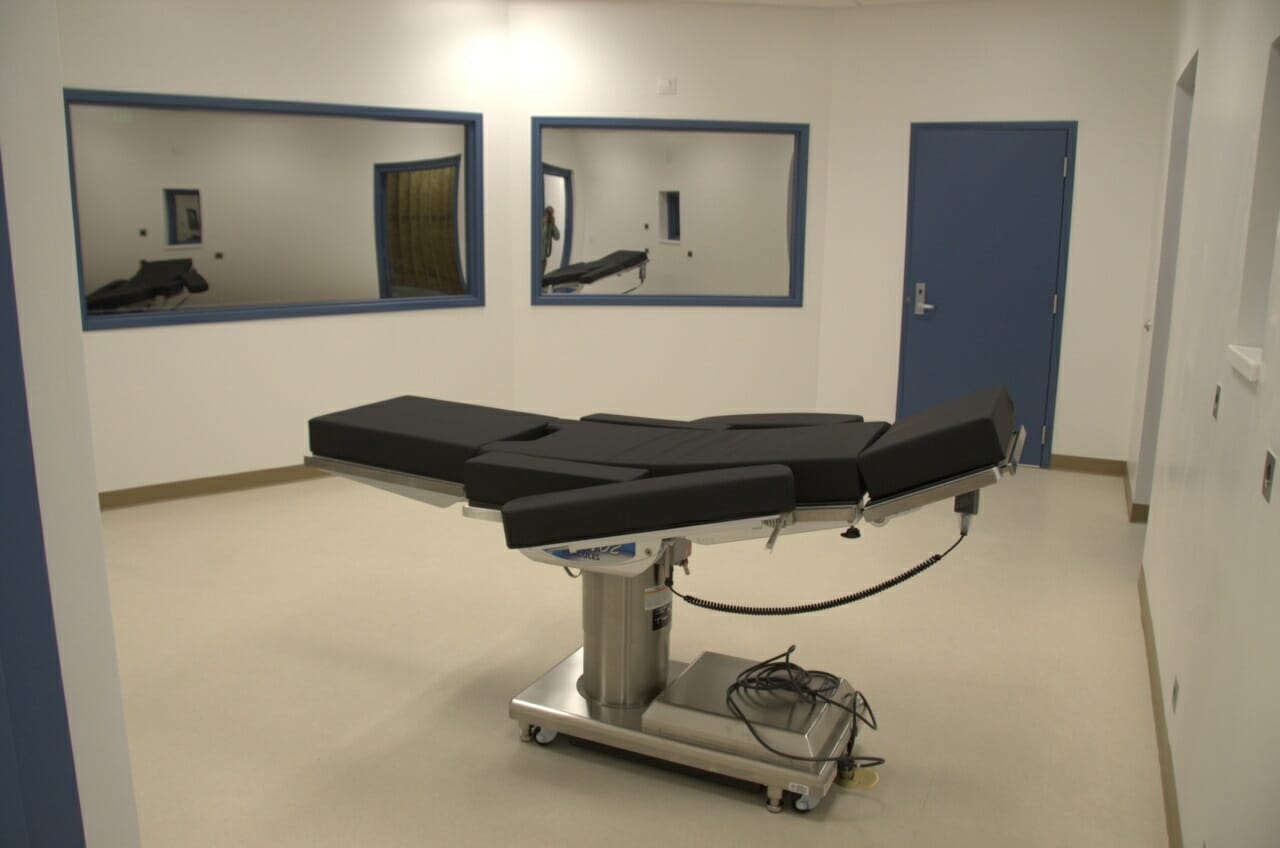 Like other frontier states, Nevada's history is replete with stories of hanging outlaws and swiftly avenging the heinous crimes of the Wild West.
The state has even stood at the vanguard of capital punishment, pioneering a three-gun execution machine in 1913, becoming the first to employ a gas chamber in 1924 and now devising a three-drug lethal injection combination that includes the deathly effective painkiller fentanyl — a method that's never been used before.
But while Nevada's electorate remains firmly supportive of preserving the death penalty and bills to abolish it as recently as last year have gained little traction in the Legislature, it remains infrequently used — a trend stemming from both the cultural peculiarities of the state and the structure of its criminal justice system.
With a frequent rate of conviction reversal and virtually all of the executions in the past 40 years coming from people who voluntarily give up their right to appeal and are asking the state to kill them, critics say the system is broken beyond repair.
"This smells a lot of state-assisted suicide," said Scott Coffee, a Clark County deputy public defender who's focused on death penalty cases.
As Nevada prepares to carry out its first execution in 12 years on Wednesday evening, here's some background on how the state has approached the ultimate punishment.
HISTORY
Sondra Cosgrove, a history professor at the College of Southern Nevada, traces the roots of capital punishment to early civilization, when humans were largely at the mercy of their environment and communities sought to quickly rid themselves of anyone who was potentially harming the group. Little time typically elapsed between the crime and the punishment — a practice that continued into Nevada's early years.
Because of inconsistent record-keeping in the past, it's unknown exactly how many executions Nevada has had since it became a recognized territory and then a state in 1864. But state archives indicate there have been at least 75 in what is present-day Nevada.
Early executions were popular public spectacles. The first legal one in Nevada Territory happened Jan. 9, 1863, when Allen Milstead was hanged outside of Dayton less than three months after the killing of a Lyon County commissioner. An estimated 700 people came out to watch.
Mark Twain was among the 4,000 or so witnesses in the 1868 hanging of John Millian outside of Virginia City. Millian was accused in the strangulation murder of a prostitute named Julia Bulette.
And in a botched execution in 1868, 20-year-old Rufus B. Anderson had to be dropped from the gallows three times before he died. The crowd tried to intervene after the first drop didn't kill him.
The Legislature tried to tamp down on the circus atmosphere in 1875, when it passed a law that prohibits public executions without invitations. Today, the state only allows a half-dozen journalists, immediate family members of the victims and prison officials to witness the execution.
Only one woman was ever executed — Elizabeth Potts, who was hanged with her husband, Josiah Potts, in Elko on a double gallows on June 20, 1890 for murdering and mutilating a man.
The state's execution practices evolved rapidly in the early 20th century. In 1901, the Legislature called for all executions to take place at the state prison in Carson City; in 1911, the state allowed for execution by shooting and in 1913, it approved electrocution as a method.
In 1924, Nevada became the first state in the country to execute a person in a gas chamber. Gee Jon, a Chinese man, was executed for the murder of a fellow countryman in Mina. The state would go on to execute 31 more men in the chamber until the 1979, when Jesse Bishop died by lethal gas.
Nevada adopted lethal injection for executions in 1983. If Scott Dozier's execution happens as planned, he will be the 12th person put to death by that method.
A FRONTIER STATE
Death penalty laws and practices vary widely by state, and even more so by country. Nineteen states and the District of Columbia have abolished the practice, with the earliest being Michigan in 1846 and the most recent being Delaware in 2016.
Four states — Colorado, Pennsylvania, Washington and Oregon — have a governor-called moratorium on executions. But 31 states, including Nevada, still have the death penalty.
Worldwide, at least 142 countries have either legally or practically ceased using the death penalty, according to Amnesty International. The group estimated that most of the 993 executions carried out in 2017 occurred in China, Iran, Saudi Arabia, Iraq and Pakistan.
Southern states including Texas use it most often — they account for 1,193 of the country's executions since the U.S. Supreme Court lifted a moratorium on the practice in 1976. The Midwest has had 181 in that time period, while the West has had 85 and the Northeast counts just four.
Texas has had 544 executions in those four decades, compared with 12 in Nevada.
The reasons for Texas having such a high rate of execution has a number of explanations, including the fact that its appellate judges are elected and often need to take a tough on crime stance to win voters and that its system of court-appointed lawyers for defending indigents can lead to inexperienced attorneys working death penalty cases.
In the book The Rope, the Chair, and the Needle: Capital Punishment in Texas, 1923-1990, the authors attribute Texas' execution rate to the Southern "cultural tradition of exclusion," and that "such exclusion was a basic element of the legacy of slavery."
The authors theorize that the South has a tradition of dehumanizing groups of people has made it easier for Southerners to separate themselves from people who depart from social and legal norms.
Cosgrove says Nevada's urges toward swift "frontier justice" have been tempered in recent decades by concerns about image — the desire, especially in Las Vegas and among corporate interests, to be a fantasy land far removed from crime and gruesome executions.
A BROKEN SYSTEM?
Nevada's juries have opted for a death sentence 186 times between 1977 and 2017. But that's only yielded an execution 12 times, and in 11 of those cases, the condemned voluntarily gave up appeals.
The one involuntary execution was of Richard Moran, a defendant who hadn't exhausted all his legal resources when he was initially on trial for three murders — he discharged his lawyers and changed his pleas to guilty before he was sentenced to death.
Brendan Riley, who witnessed numerous executions during his long career as an Associated Press correspondent in Carson City, recalls that all the death row inmates he interviewed said they were ready to go when their execution date arrived.
"There was nobody saying 'I don't want to this, I don't want to die,'" he said, noting that one inmate even gulped the gas in the execution chamber in an effort to speed along the process. "In a sense, that makes it easier to deal with for everybody. These are people who don't want to spend their lives on death row."
Human rights organization Amnesty International, however, is critical of what it calls the "volunteer phenomenon." While only about 10 percent of all executions conducted since 1976 have been of volunteers, Nevada's volunteer rate stands at 92 percent.
A handful of states that had been executing high numbers of volunteers decided to scrap the penalty. Connecticut and New Mexico abolished the death penalty in the past decade, and Oregon, Pennsylvania and Washington State have put moratoriums on executions.
"The State's mechanism of execution [is] triggered by an entirely arbitrary factor: the defendant's decision to acquiesce in his own death," wrote Justice Stephen Breyer in a 2015 dissenting opinion.
In an interview with the Las Vegas Review-Journal over the weekend, Dozier said he was still holding firm to a desire to die and that "if people say they're going to kill me, get to it."
"Life in prison isn't a life," he told the newspaper. "This isn't living, man. It's just surviving."
The punishment loses meaning at that point, critics say.
"It becomes not about who deserves it the most, but who's most willing to go to the death chamber and that should make us take a hard look at ourselves," said Coffee. "The easy [answer] is executing more people, but mistakes start getting made."
CONCERNS ABOUT FAIRNESS
One potential consequence of executions is killing an innocent person — a risk underscored by the fact that many people sent to death row later triumph in appeals of their conviction or sentence.
According to a report by Harvard University's Fair Punishment Project, prosecutorial misconduct was found in 47 percent of the Clark County death penalty cases directly appealed to the Nevada Supreme Court between 2006 and 2016, although a sentence can sometimes be reinstated if the courts redo the trial or penalty phases.
And in more than 31 percent of Nevada cases, an inmate is permanently taken from death row because their conviction or penalty has been reversed or vacated.
That was the case of Michael Domingues, who was convicted of committing a double murder when he was 16 years old. A U.S. Supreme Court decision in 2005 — 12 years after the killings — barred states from executing people for crimes they committed while they were younger than 18.
"When you think about it, we do not trust government to hand out driver's licenses," said Drew Johnson, a senior fellow at the Taxpayers Protection Alliance, told Nevada lawmakers in a hearing last March. "Even if we lived in a dream world where we were sure we never put an innocent person to death, it still gives government power it should not have: to be able to kill its own citizens."
For Riley, questions of the inmate's guilt were paramount as he prepared for and witnessed executions.
"I always hoped that everything was looked at very closely by a jury, by a judge — everyone involved in the legal process so there was no question of guilt," he said.
Even so, he said the experience was a strange one.
"You are watching someone die and you are not doing anything about it. That's a weird state of mind because if someone's drowning, you throw them a rope," he said. "I wish that everybody who was involved in that legal process — including the jury, the judge, the prosecutor — would be present as a witness ... so they know and understand what it means, what society is doing."
Aside from concerns about justice, pursuing the death penalty is expensive. Two defense attorneys must be appointed instead of one, and the case must examine not only the day of the crime, but the person's entire life story, Coffee said.
A 2014 state audit found cases where the death penalty is sought cost about $532,000 more than murder cases where prosecutors don't pursue capital punishment.
EFFORTS TO REPEAL
The most recent attempt to repeal the death penalty came in the 2017 legislative session, where a bill sponsored by Democratic Assemblyman James Ohrenschall failed to advance out of an Assembly committee. Ohrenschall, who is now running for state Senate, said he was unsure if he would bring the bill back in the 2019 legislative session.
One potential qualm for lawmakers is that the death penalty itself is still overwhelmingly viewed favorably by Nevadans. A poll commissioned by The Nevada Independent last year found that 66 percent of voters preferred to keep the death penalty in place, compared to just 22 percent who opposed it and 7 percent unsure.
Coffee said that in legislative hearings, victims' families tend to capture the sympathies of lawmakers more than those defending death row inmates.
"The case against it is overwhelming," he said about the death penalty, "but I gotta tell you — the emotional side of things often falls to the opposition. Someone comes in and has a loved one killed — those are pretty fundamental, gut-wrenching, decision-making realities and the emotion of the situation is with the victims and the victims' families."
Republican Gov. Brian Sandoval said in 2017 that he would reject any bill seeking to abolish capital punishment, and the two main candidates to replace him have both said they wouldn't get rid of the death penalty.
Republican attorney general and gubernatorial candidate Adam Laxalt wrote in a 2017 letter submitted for a hearing on the capital punishment abolishment bill that his office was strongly opposed to the bill and getting rid of the penalty in the face of public support would "risk undermining their faith in the judicial system."
"It is fundamental to our concept of justice in Nevada for the worst, most violent acts of murder, juries should consider whether death is an appropriate punishment," he wrote in the letter. "The death penalty is not imposed lightly, and is only possible in a narrow context when the jury finds that specific aggravating circumstances outweigh any mitigating circumstances. Circumstances in which at least one life has been violently taken, leaving other lives shattered as a result."

Democratic gubernatorial candidate Steve Sisolak, the chair of the Clark County Commission, said he was mostly opposed to use of the death penalty but said it was warranted in extreme cases, such as that of Las Vegas Strip shooter Stephen Paddock, who died by suicide shortly after the massacre.
Republican Assemblyman Keith Pickard was one of those who attended a hearing on banishing the death penalty. He had several takeaways — including that he doesn't think executions deter crime, but that victims' families' testimonies brought the matter into better focus and that voters should weigh in on the legality of capital punishment.
"I've always felt like it should be a tool in the toolbox for the most egregious of crimes," he said about the death penalty. "I think that this is an appropriate response. Not the state looking to kill people to respond. This is the state looking to carry out a judicial process."
CLOSURE
Nancy Hart of the Nevada Coalition Against the Death Penalty said she was disappointed that Democratic leadership didn't prioritize the bill, saying that she feels the Legislature is deferring too much to the executive branch on the issue.
"On a personal level I feel dismayed and sad because … it is a human rights violation and it's happening in our names," she said in an interview last fall about Dozier's execution. "And it feels wrong and this has nothing to do with whether Scott Dozier wants it. It's such a barbaric, outdated act."
Her group will be staging a protest in front of the Governor's Mansion in Carson City on Wednesday, just before the scheduled execution is set to take place more than 300 miles away.
"We deeply sympathize with all those who have lost relatives or friends due to violent crime, especially the family and loved ones of Jeremiah Miller, the victim in Mr. Dozier's case," she said in a statement announcing the vigil. "However, killing is not the solution to violence and does not promote true healing."
As for closure, Riley said he never got the sense that victims' families who witnessed executions with him felt much satisfaction after watching the death of the person convicted of killing their loved one.
"My personal feeling is there's not closure," he said. "They're totally weirded out by the situation. It's bizarre, unnatural."
Riley Snyder contributed to this report.
Disclosure: Steve Sisolak and Sondra Cosgrove have donated to The Nevada Independent. You can see a full list of donors here.
The Nevada Independent is raising $200,000 by Dec. 31 to support coverage of the 2024 election.
Tax-deductible donations from readers like you fund this critical work.
If you give today,your donation will be matched dollar-for-dollar.
Give + Get Matched
Featured Videos