In the county that claims Mark Twain, an irreverent online publisher faces off with a powerful developer over who is a journalist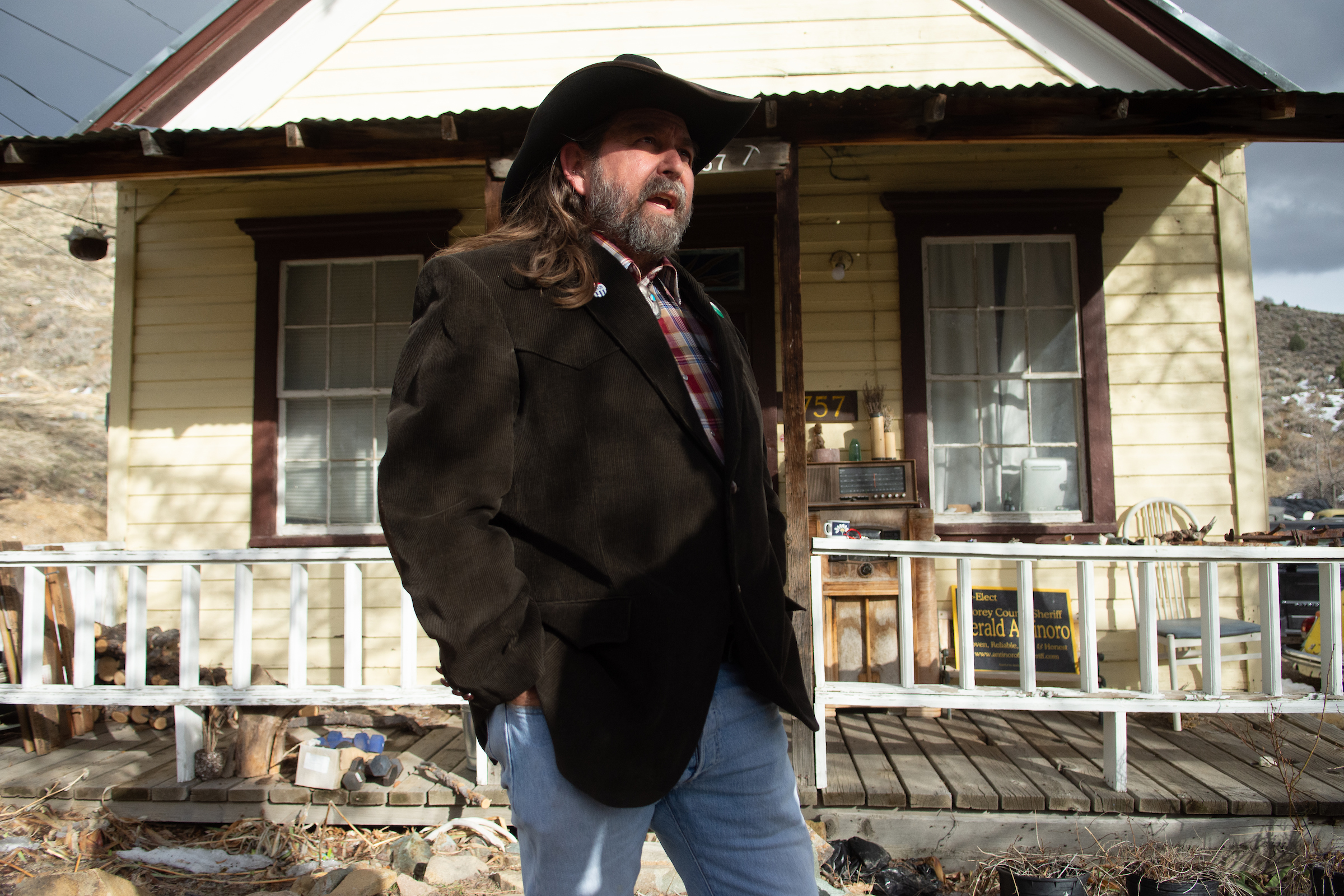 Sitting inside his cabin on a Friday afternoon, the tendentious Gold Hill editor Sam Toll sinks into a black office chair. His long hair sweeps the shoulders of his brown corduroy jacket. Toll rests his sunglasses on the brim of his cowboy hat. His bolo tie inches up and down as he speaks.
On one side of Toll's coat, a Nixon pin. On the other side, a Carter pin. Toll, who might as well have popped out of a Thomas Pynchon novel, sits behind a Cuba flag and a photograph of Fidel Castro meeting Ernest Hemingway, a writer he says was an influence along with George Orwell and Christopher Hitchens. This is the newsroom of the Storey Teller, an often derisive blog run by Toll that is at the center of a libel case testing how far Nevada law goes to protect journalists.
His yellow cabin — with a sign that says "Old Miner's Cabin BUILT 1867" — sits in the small community of Gold Hill, adjacent and underneath Virginia City, the seat of Storey County.
"But to answer your question," he said during an interview. "Do I throw grenades? Absolutely. When I see fraud, waste, abuse, cronyism, lying, double-standard in rules, where the rules don't apply to the upper echelon but apply to the rest of us chumps, you bet I do. I throw grenades."
Later on, riffing on a quote from Mark Twain, Virginia City's most famous newspaperman, Toll called Republican gubernatorial candidate and former Attorney General Adam Laxalt "as weak as rooster soup."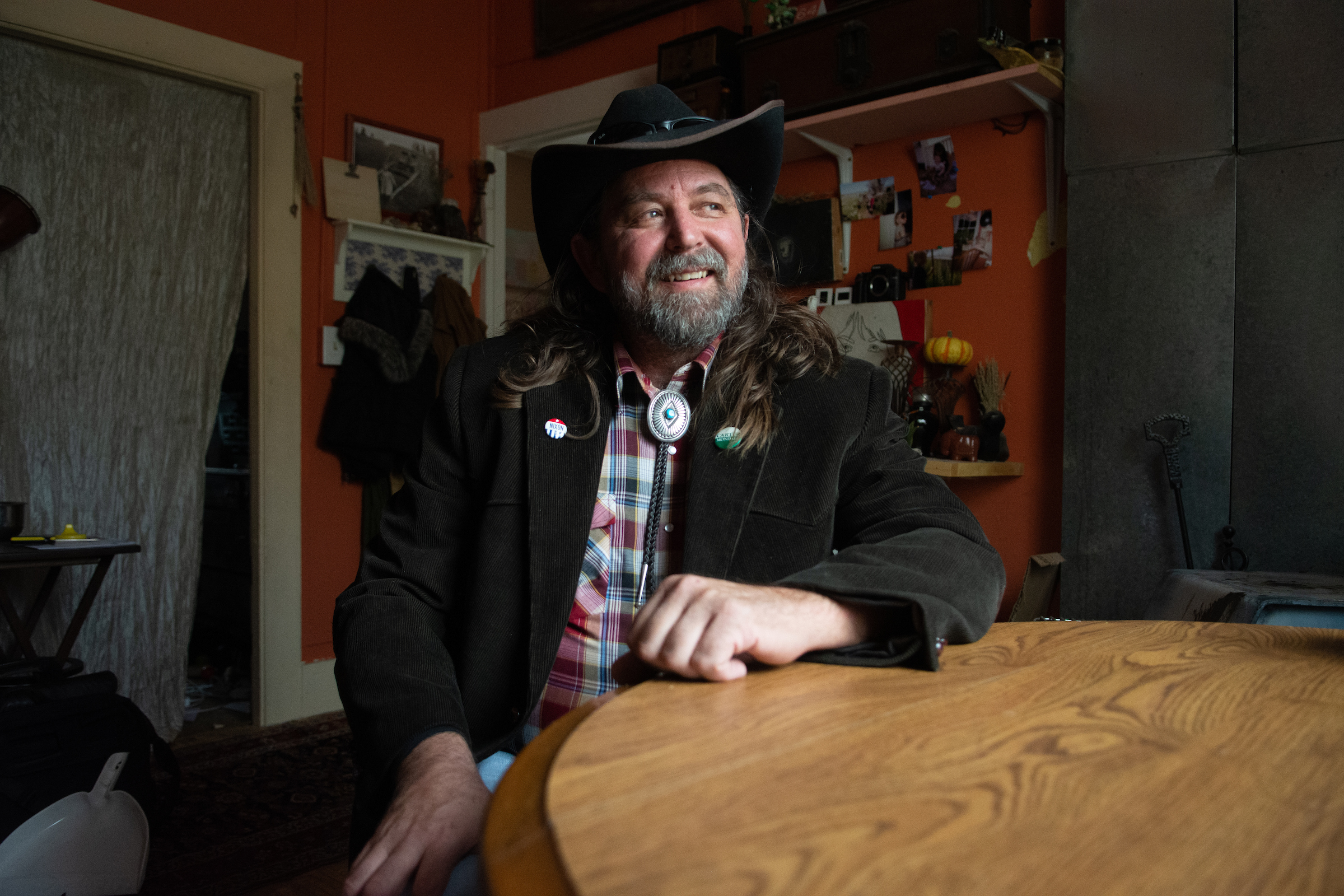 The story of Toll is a complicated tale fueled by the heated public feuds and factions that have existed in Virginia City since the discovery of the Comstock Lode (the credit for which is itself disputed). It is a story about the First Amendment and press freedom. But it is also a story of a rural sheriff and #MeToo. It is about the norms, in 2019, of where journalism ends and politics begin. But it is also about a story questioning the residency of a county commissioner and a brothel owner credited for moving the region to a new bonanza near the Comstock: Big Tech.
"You'll see this when you read the blog, that their whole focus was attack on my person, on the businesses I was involved in, on my credibility. It was vile, the things that they were putting out," said Lance Gilman, a Storey county commissioner, owner of the Mustang Ranch brothel and one of the developers of the Tahoe Reno Industrial Center outside of Reno. "My only recourse was to the courts. It was obvious that there was a slander and libel case."
Earlier this year, the judge dismissed most of Gilman's claims. Carson City Judge James Wilson noted that Toll's often irreverent style — what case law calls "lusty and imaginative expressions of contempt" — did not amount to defamation in and of itself. (Toll once wrote satire imagining "Glance 'The Thrill' Thrillman" opening up a petting zoo at the brothel). But the judge sided with Gilman on one claim. Wilson said that articles challenging Gilman's residence were potentially defamatory, and the judge allowed Gilman to conduct discovery to prove they were.
When Gilman wanted to find out the sources for Toll's stories, Toll asserted Nevada's shield law, which protects reporters from revealing who they received information from. The court was then forced to grapple with the question: Is Toll, the irreverent Gold Hill blogger, a news reporter?
***
For Toll, the Storey Teller is personal. "I didn't set foot in [Virginia City] for almost 20 years," he said. Toll said the police pulled him over three times and stripped his car. "Oh, Toll, there's got to be some weed in here somewhere," he said the cops would say. "Surely, you dropped a roach."
"I'm like, 'Get a warrant,'" Toll recounted. "They're like, 'OK, we'll get a warrant.'"
"And after the third time, I'm like, 'Fuck this place,' Toll said of why he left Storey County for so many years after growing up in Gold Hill. I'm never setting foot in here again as long as I live."
Toll said he hasn't smoked weed in years. Born in 1962, he did smoke weed growing up. And it was around that time that weed and journalism converged in Reno to form the basis of Nevada's shield law, the statute that the grenade-throwing blogger is now waving around as fortification.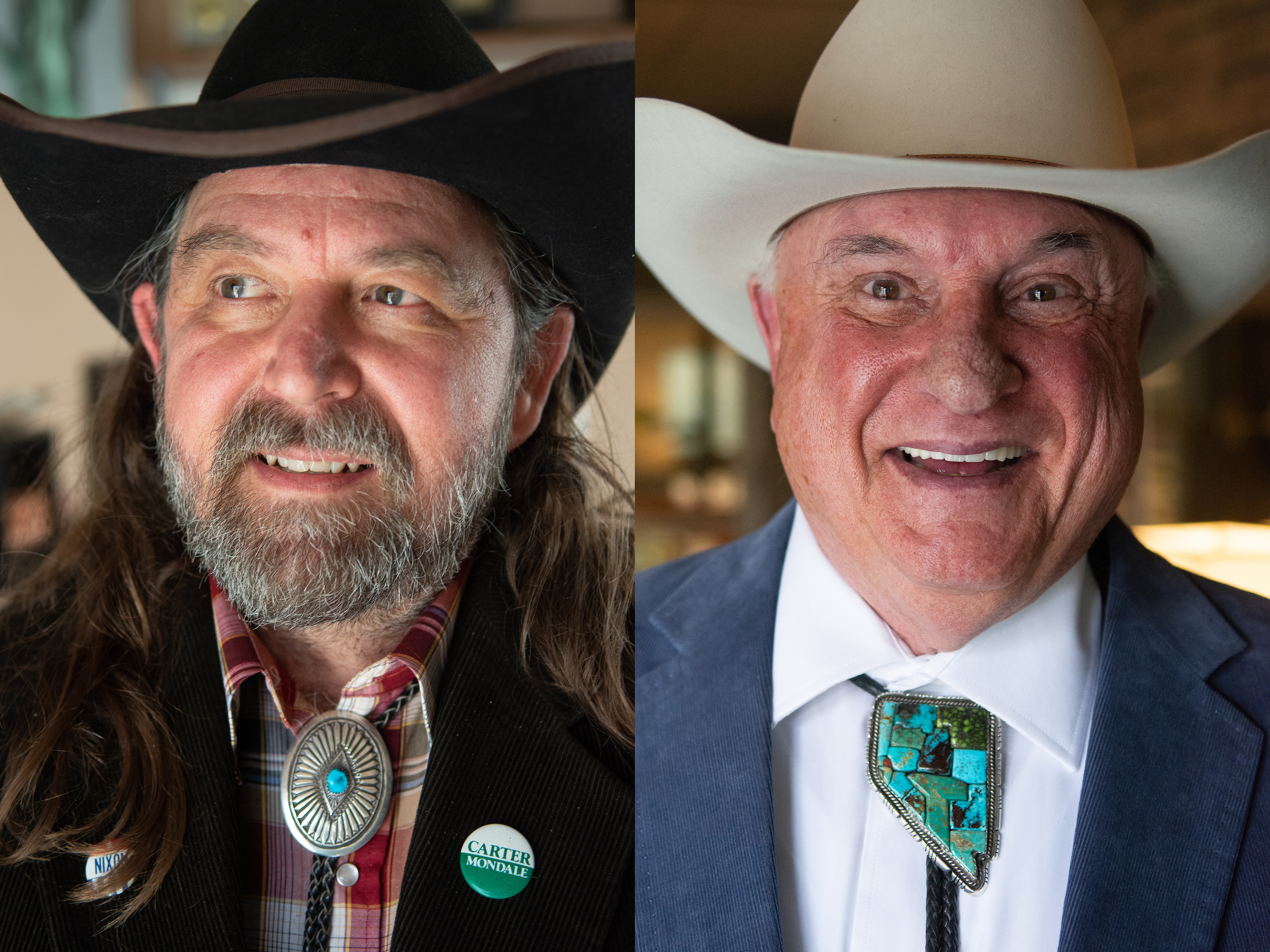 It started when a journalist named Warren Lerude, then the young editor of the Reno Evening Gazette, published a silhouetted photo of UNR students smoking pot. Then-Washoe County District Attorney Bill Raggio requested Lerude reveal the identities of the pictured students. When Lerude refused to reveal them, Raggio threatened him and his reporters with jail time.
Lerude pushed for the introduction of Nevada's shield law when the Legislature met that next year, according to a history compiled in a 2014 master's thesis. The shield law passed quietly in 1969, despite some hesitation from then-Gov. Paul Laxalt, and became one of the toughest shield laws in a nation. It said: "No reporter or editorial employee of any newspaper, periodical, press association or radio or television station may be required to disclose the source of any information procured or obtained by such person, in any legal proceeding, trial or investigation."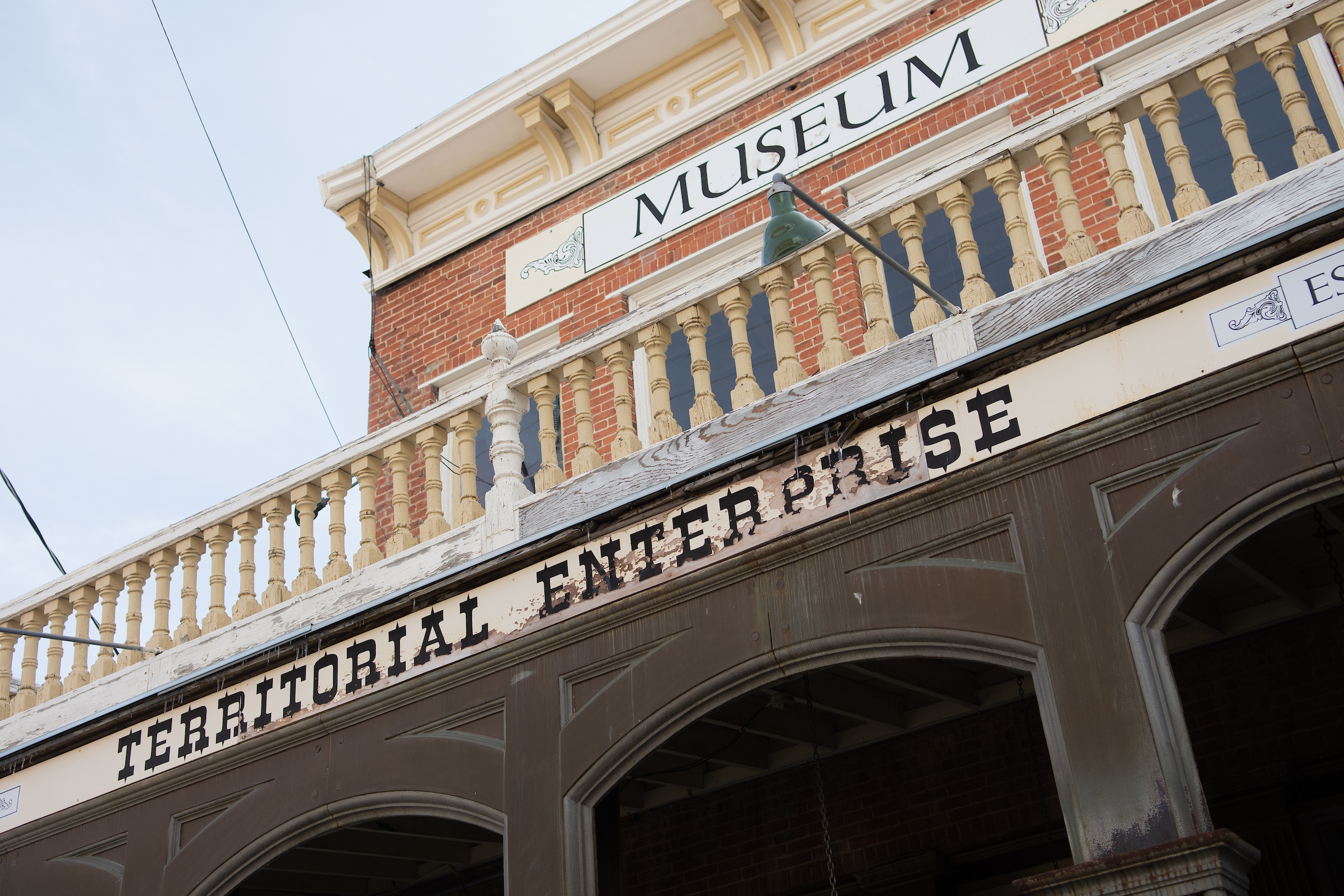 That new law protected journalists from revealing sensitive sources. Good journalists try to rely mostly on named sources because it bolsters credibility. But there are regularly situations in which important news can only be reported by using anonymous sources who might fear retaliation or might be prevented from speaking because they work for the government.
Lerude said the law was intended to be broad — to apply to all who were doing newsgathering.
"In my view, the shield law covers newspaper," he said in an interview last week. "Online newspapers are newspapers."
Media experts, including Lerude, who won a Pulitzer Prize in 1977, said that Toll should be protected by the shield law because he researches the news and reports it. He might do that with more sniping than most journalists, but at the end of the day, they said he is a reporter because of how he gathers news and his relationship to the public. His style does not matter.
"The question ought not to be: Is the person institutionally affiliated in a way that makes them a journalist? Do they work for the right organization? Do they have a credential that makes them a journalist?" said Patrick File, a professor studying media law at UNR. "We get to a more fruitful definition by defining journalism by its function. Again, that process and that relationship."
File, who Toll selected as an expert witness in the case, said the shield law was meant to protect all reporters. Because the judge canceled a hearing on the issue, File never testified.
Wilson, the Carson City judge, took a different approach. He said Toll was a reporter.
But in a ruling last week, he took a narrow interpretation of the shield law. Wilson said it did not apply to online publishers who were not affiliated with a "newspaper" or a "press association." If upheld, the ruling, media experts said, could weaken Nevada's shield law, leaving questions about whether the tough statute applies to online publications, freelancers and documentarians.
Media experts said this interpretation is off, noting that "press association" is an anachronism for wire services. They said the statute was intended to cover all journalists, not just those affiliated with an organization or who can afford to pay dues to the Nevada Press Association. Although it deviates from another District Court ruling, File said Wilson's order could give journalists pause.
"It serves to potentially create a chilling effect for anyone who does journalism and doesn't publish it in a newspaper," File told The Nevada Independent in a follow-up interview. "Any of the state's online news sites would be forgiven for being a little concerned if they gather work product they don't intend to publish or they have sources that fear retaliation."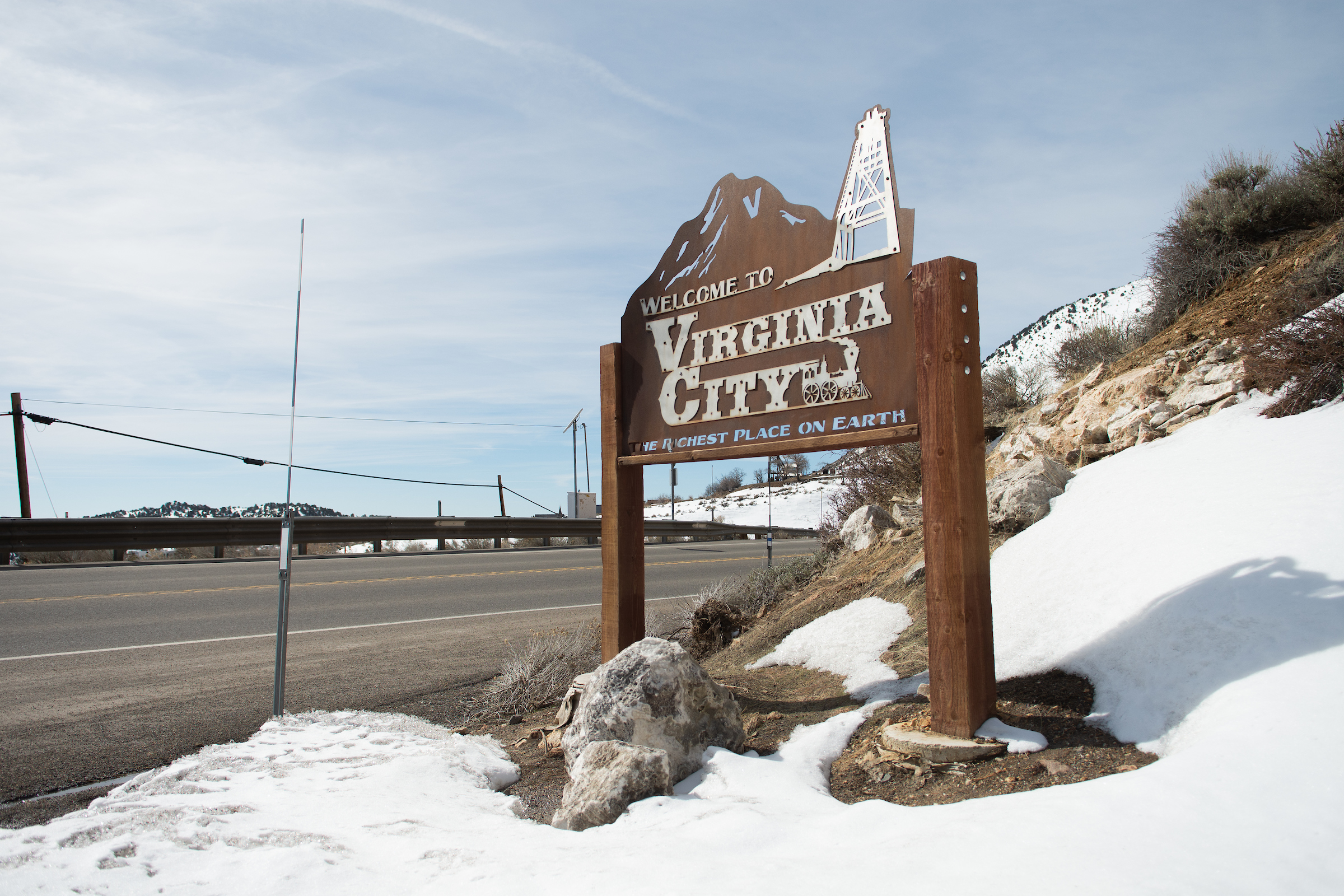 As a practical matter for Toll, it created a contradictory situation. Even though the court ruled that he was practicing journalism with the Storey Teller, it also said he would only be protected when he was paying dues to the Nevada Press Association. Toll established the Storey Teller in February 2017. But he didn't start paying dues to the press association until August that year.
Because of the ruling, Toll could be required to reveal his sources for three articles published before August. Toll's lawyer plans to file a writ petition with the Nevada Supreme Court to strike down the order. National press groups, Toll said, have reached out to him with offers to support his case. If they're unsuccessful, Toll said he is ready to go to jail before revealing his sources.
***
In a South Meadows conference room on the first floor of a nondescript building, Lance Gilman sinks into his chair, wearing a cowboy hat and a blue stone bolo tie in the shape of Nevada. He is sitting next to Kris Thompson, the project manager for the Tahoe Reno Industrial Center, the business park Gilman developed for high-tech companies like Tesla, Switch and Google.
Gilman's business, in addition to running the Mustang Ranch, is real estate. He sits in front of maps. On the wall and in cabinets, there are photos of politicians and commendations from the congressional delegation. Gilman, who is also a Storey County commissioner, said a typical day is "busier than you can imagine." He said he gets up around 5:30 a.m. because he has a two-month-old puppy (a lab). "Otherwise I'd be more like 6:00 [a.m.] and 6:30 [a.m.]," he adds.
"I own rentals," he said. "I own the Mustang Ranch. I'm a county commissioner. I'm on the [Nevada Association of Counties] board. I'm on the [Northern Nevada Development Authority] board, I'm in the [Virginia City Tourism Commission] board. There's about seven businesses that I operate of various kinds. I have a residential company. I have a commercial real estate company. Needless to say, starting in the morning, I have a real variety of tasks and issues that I undertake. I love it. I love being busy and doing those kinds of things, but I will tell you, I don't have time to think or breathe. It goes from early morning until late at night, and I love it."
Gilman said he considers himself a public figure and is used to the barbs that come with it. He said with some exceptions, journalists want the truth and have been "good to me for a lifetime."
But he said Toll, who Gilman adamantly maintained was not a reporter, had gone too far. "There is such a thing in my world, cowboy world, as beyond the pale," he said. "When you cross that imaginary line of what's beyond the pale, then you ought to be called for the reckoning."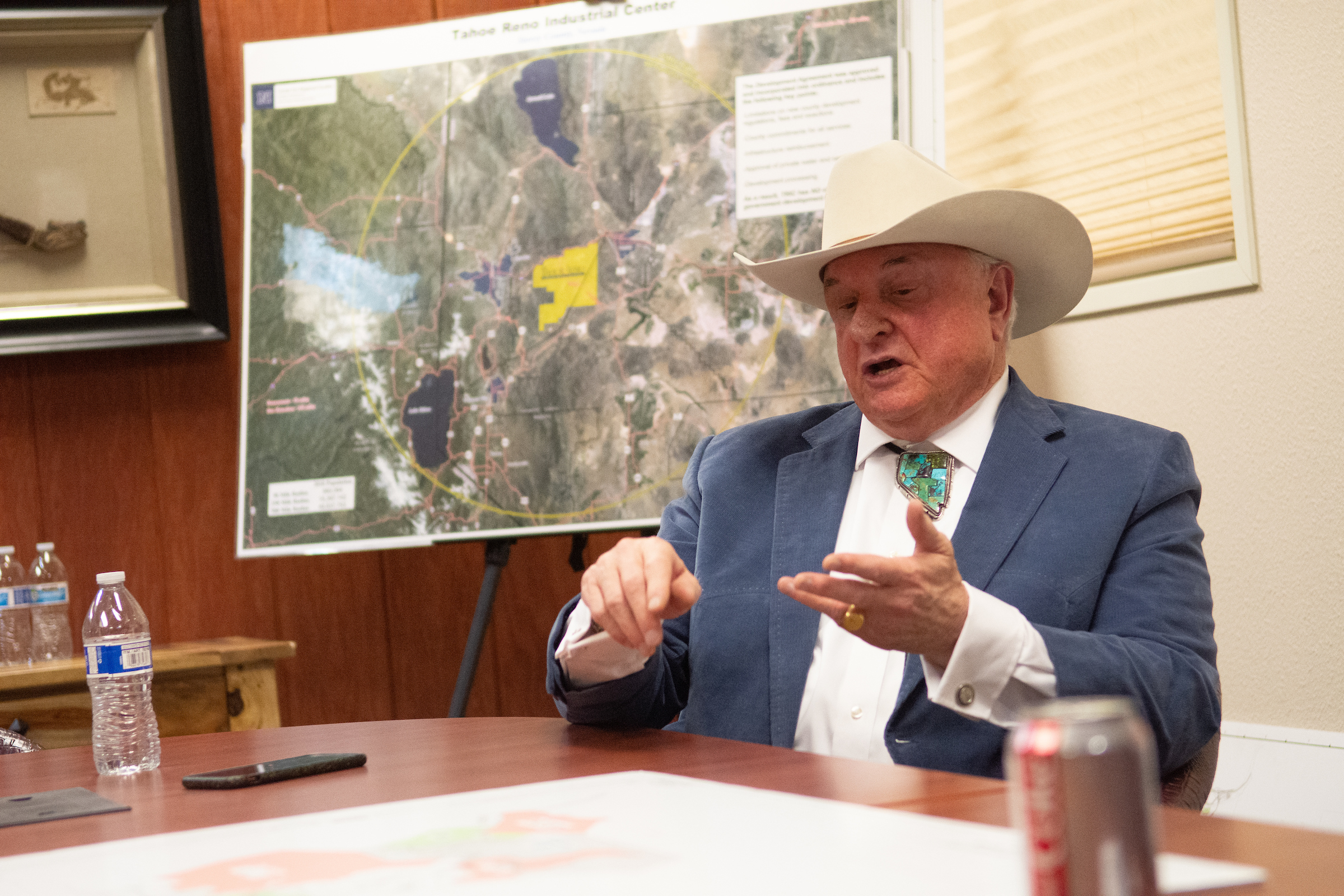 In his original defamation complaint, Gilman came at Toll with a number of claims that the Storey Teller had said things that were false. But in April, the judge dismissed all but one of eight claims against Toll under anti-SLAPP statutes, meant to prevent frivolous lawsuits.
The one claim left open has to do with Gilman's residency as a Storey County commissioner. Toll claimed that Gilman committed perjury, alleging Gilman did not live in Storey County. In a follow-up interview with The Nevada Independent, Toll said he had multiple sources to back it up. Gilman vehemently denied the claims. He said he lives on the Mustang Ranch property.
After that ruling, one of Toll's lawyers, Luke Busby, floated a new motion to dismiss with certified Washoe County documents that show, according to the document, Gilman claiming a Washoe address as his primary residence. The document argues that Toll's statements cannot be defamatory if they repeat something that Gilman has stated. At the same time, Toll plans to seek guidance from the state Supreme Court on whether he is protected by the shield law
"Gilman's claims that Toll defamed him by claiming that Gilman does not live in Storey County are belied by Gilmans own claims that his primary residence is in Washoe County, and as such Gilman's protestations do not provide any basis for restricting Toll's free speech rights under the First Amendment," Toll's lawyers wrote in the motion, which was filed in late February.
In response, Gilman's team submitted his ID, concealed firearm permit, tax returns, DMV registration, banks statements, a hospital bill and receipts. All of the documents, some going back a few years, contain the address for a residence on the same street as the brothel. His lawyers noted that the term "resident" has a "specific" meaning in running for office.
"Simply because Gilman owns another property, does not mean that property is his 'legal domicile' or 'actual residence' for purposes of his eligibility to run for office in Storey County. Moreover, the fact that Gilman owns another property does not erase Toll's defamatory comment that Gilman committed perjury when he stated that he lived in Storey County," Gilman's lawyers wrote in an opposition to Toll's effort to dismiss the claim.
Las Vegas attorney Gus Flangas is representing Gilman.
Gilman said he was limited by his lawyers as to what he could say during the interview. But he understood why some people, given his wealth, might be surprised he doesn't live a more lavish lifestyle.
"What would I call myself?" he asked from his Reno office. "I'm not flamboyant in my personal life, whether it be my homes or my cars... I'm a pretty simple guy really at the end of the day."
***
As with many defendants in First Amendment cases, Toll is a complicated figure.
In front of his Gold Hill cabin a campaign sign leans against the yellow wood panels. It reads "Re-Elect Storey County Sheriff Gerald Antinoro." Antinoro is the embattled sheriff of Storey County and at the center of a #MeToo case that has made national news in recent weeks.
The judge's April ruling cited an affidavit in which Toll said the original purpose of the Storey Teller "was to provide a local news source where people in Storey County could obtain the facts surrounding information contained in pieces criticizing the Storey County Sheriff Gerald Antinoro published by the proponents of the effort to recall the sheriff that was ongoing at the time."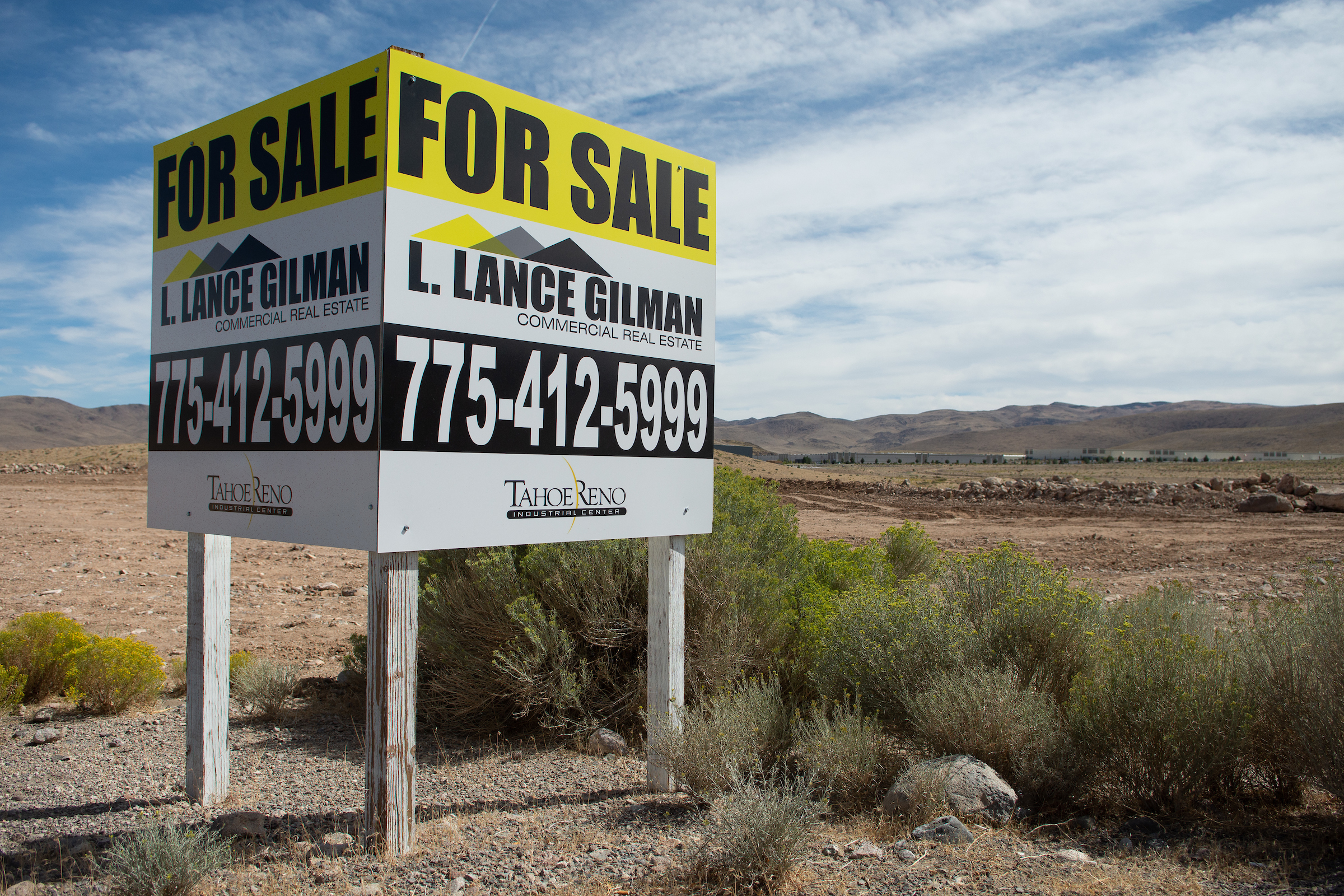 Antinoro and Gilman have had a tense relationship. The Tahoe Reno Industrial Center spent more than $142,000 on the recall election, according to the Reno Gazette Journal. Gilman himself spent more than $6,000 on printed ads. Antinoro survived the recall. But Gilman has said that Antinoro, who is facing allegations of sexual misconduct and rape, recently told NPR that he would like to see the sheriff out of office, saying "it's had a worry impact on business."
In the same NPR story, the sheriff said Gilman was upset about how he had enforced the law when it came to his brothel business. In an interview, Gilman said he had nothing to hide. The sheriff denied the allegations to NPR and pointed to the fact that county voters re-elected him.
The public sniping is well-known in Storey County.
Karen Woodmansee, a former publisher of the Virginia City News and reporter for the Comstock Chronicle, said that she knew Toll's father, who used to run the Gold Hill News out of the cabin his son now occupies (Toll proudly hangs a printing press plate from his father's paper).
Woodmansee, who Gilman had wanted to call as an expert witness, said she does not view Toll as a journalist "because he puts fake quotes in and calls it satire" and "runs for office."
"I don't really consider him a journalist in the way I was trained," she said.
She said that Toll is "very entertaining as a person" but conceded they had tussled once over a Facebook post. She bristled at the initial basis of Toll's blog as a way to defend the sheriff.
"It's not really your job as a journalist to defend one politician over another," she said.
Toll does not deny defending Antintoro. He said it was to counter the recall campaign.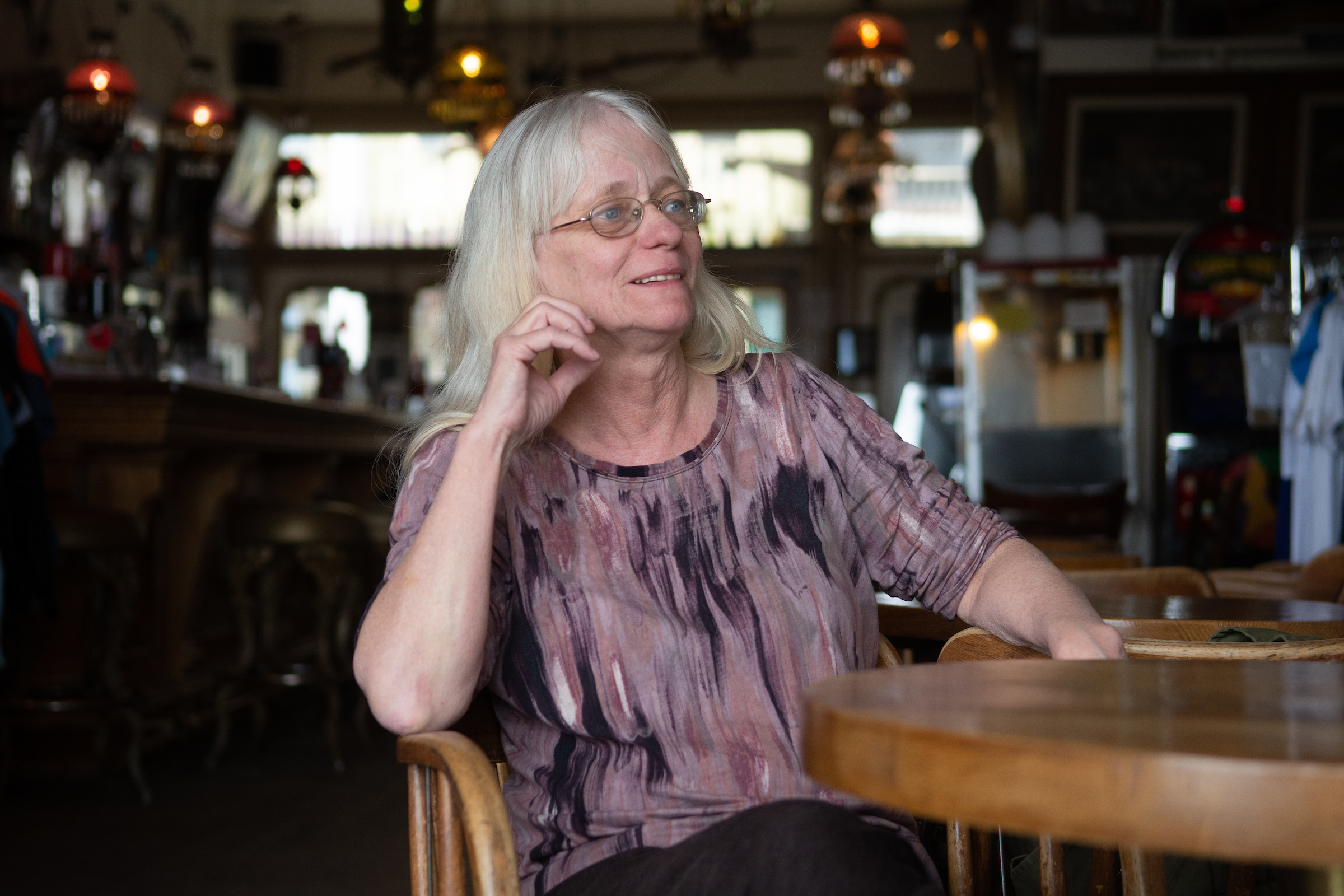 The communications director for the Libertarian Party of Nevada, Toll said he generally had a "poor" opinion of the police and found it ironic he was going to bat for the county's top cop.
"Very ironic for me," he said. "It's out of character."
Toll said he was defending the sheriff, in part, because he did not represent entrenched interests and he viewed the backlash to Antinoro as a response that "he administers the law [uniformly]."
As a kid with long hair, Toll described himself as a "hippie kid." He said he had been singled out by long-time Storey County families, saying "I got my ass kicked about 19 million times."
"Many of the people who antagonized me as a little kid are now retiring from county service and belong to the same five families that think they own this place, and have, frankly, been in control of much of how the county operates, since I was a kid in the mid-70s," he said.
Since starting his blog, Toll has expanded it to cover county activities. He has recently reported on finalists for Storey County city manager and the recent explosion at the Delta Saloon. Toll said the website gets about 2,000 hits per week, and he is a member of the press association.
"It's not about me," he said. "It's about shining the light where people aren't comfortable with it being shined, and that's part [of being a journalist]," he said, describing where the site is now.
Toll does not disclose donors. But when asked about a rumor that Antinoro was funding the site, he said Antinoro has contributed about $100 or $145 to his legal defense fund, and "that's it."
Toll said Antinoro is changing the county's culture. When asked about the sexual misconduct allegations, as reported by The Nevada Independent and NPR, he said there was no question that the sheriff had erred in his interactions with former deputy Melanie Keener.
Keener has filed state and federal lawsuits against Antinoro. She accused the sheriff of texting her sexually suggestive messages and disclosing details about his sex life during a car ride home from a work conference in Ely. Keener told NPR that "coming forward has broke me."
"To be clear, I am 100 percent behind the #MeToo movement," Toll said. "I'm 100 percent. My mom was a hippie chick. We marched against the Vietnam War. We lived with — after her and my dad broke up — we had roommates that were black, gay men. There were lesbian women. I was exposed to equality and letting people be who they are from an early age."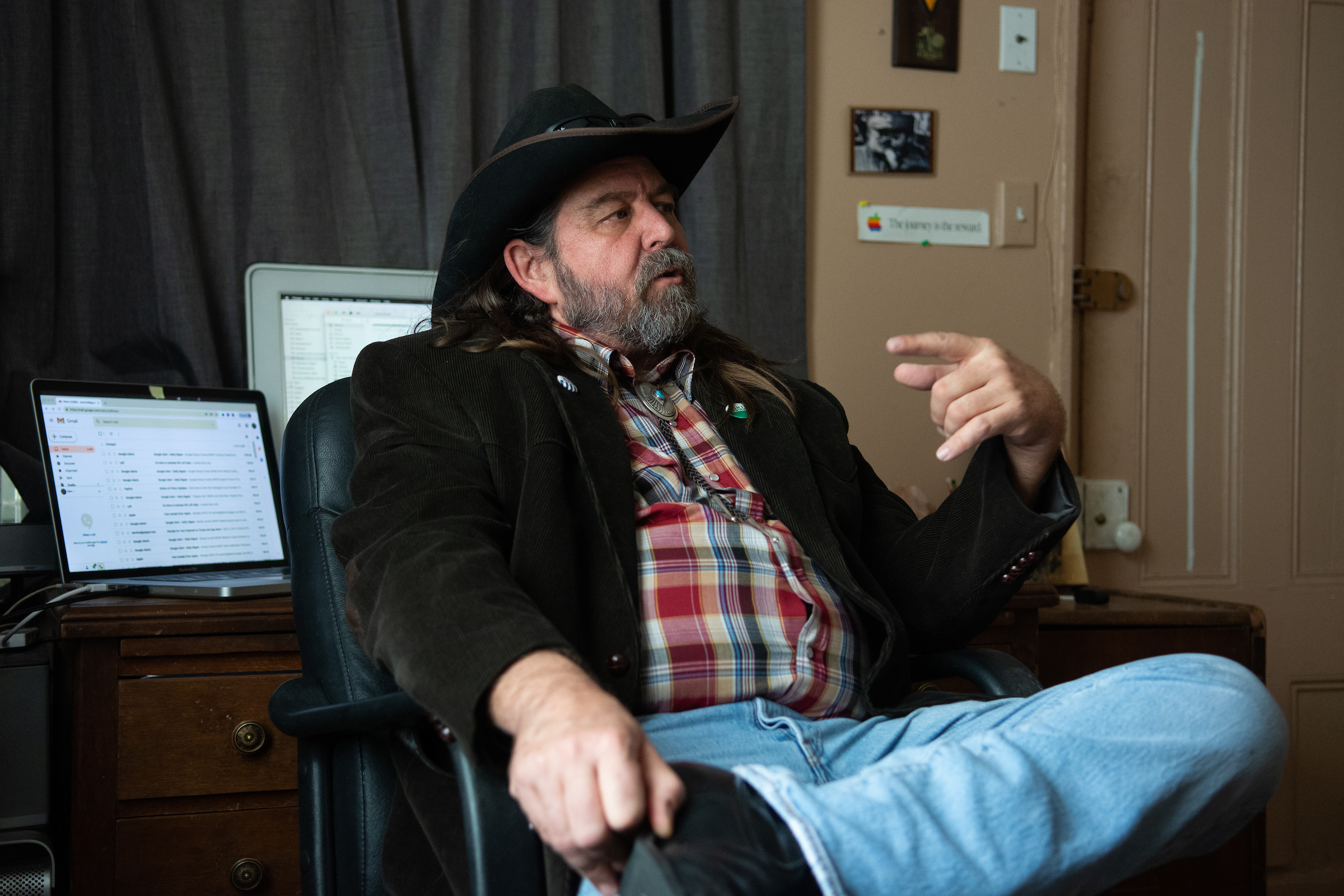 Toll said several other allegations against Antinoro have the "fingerprints" of his opponents.
With Antinoro still in office despite the recall and sexual misconduct accusations, his opponents are pursuing another course to remove him through the state's Commission on Ethics. If an official is found to have willfully violated three ethics laws, then they can be removed from office. The commission has found that Antinoro has violated two ethics laws in the past. Antinoro is appealing both rulings, according to NPR. A third claim, filed by Thompson, that Antinoro used his uniform and badge on campaign material, was referred to the full commission in February.
***
"There's a newspaper in Storey County," Gilman said last week after the ruling. "There's The Comstock Chronicle. Sam Toll is not a newspaper, he's not a news source. He's a blogger."
Gilman and Thompson said Toll's political activity should disqualify him from protections as a journalist under the shield law. Toll ran for school board last year, an election he lost. Toll has publicly said that he plans to run for County commission in the next cycle. Although he does not live in Gilman's district, he has floated the idea of renting a place to qualify for a run against him.
During an hour-long interview, Gilman and Thompson argued that Toll had used his blog to further his own political ambitions. They said that their issue is not journalism on the Internet (Gilman is a donor to The Nevada Independent), but the mix of politics and journalism.
"Nobody disagrees that journalism on the Internet is here to stay," Thompson said. "They should be entitled to freedom of the press and be entitled to full use of the shield laws, but [that] should not be extended to a candidate for public office who's running a front on a blog website — "
"As if he's a legitimate journalist," Gilman added.
"Exactly," Thompson echoed.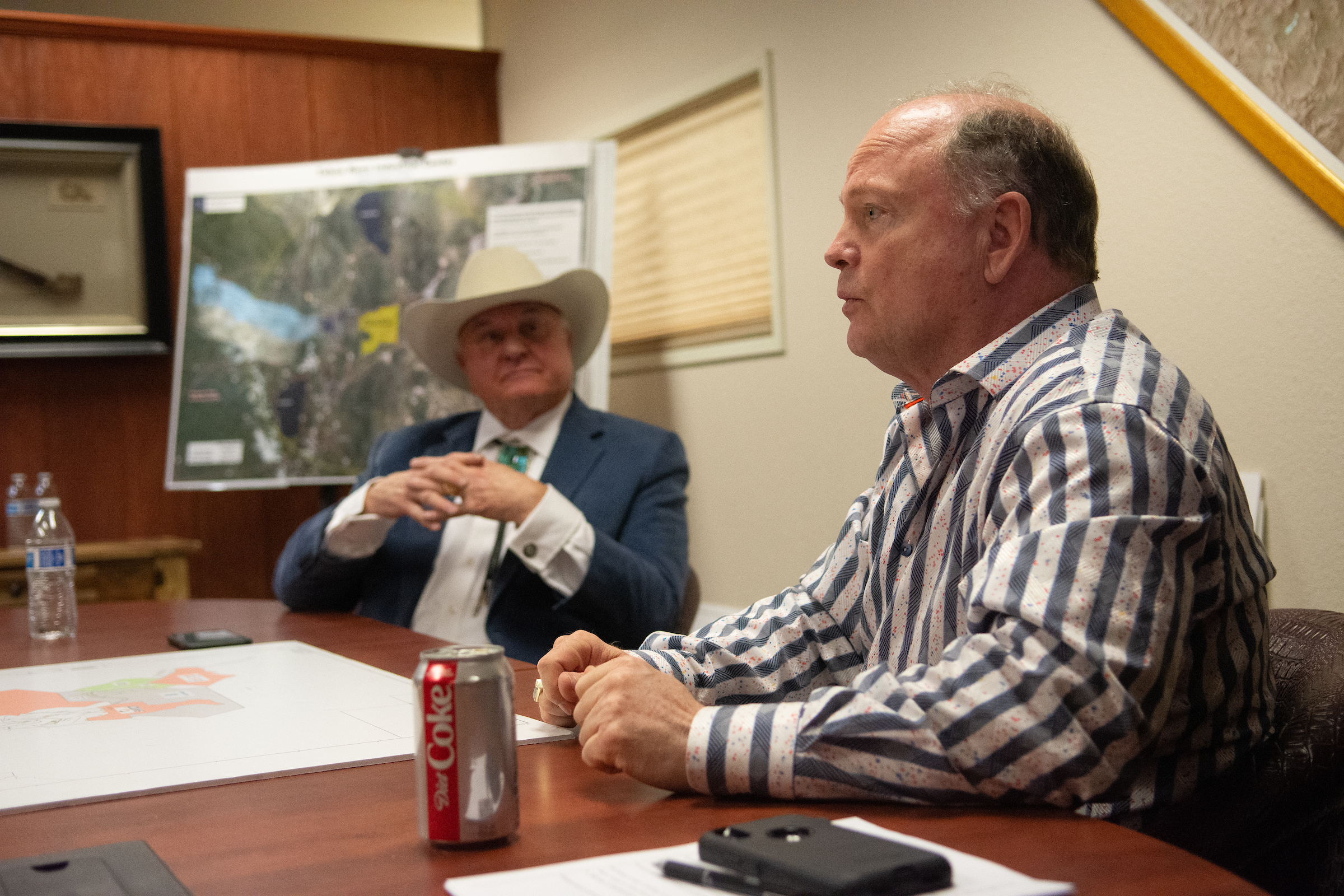 Media experts argued that this point was irrelevant in deciding whether or not an individual is a journalist. In the 20th Century and the 21st Century, most mainstream newsrooms shunned the idea of mixing politics — even opinion — with their newsgathering operations. But reporters have blurred the two dating back to the nation's founding and even in more contemporary Nevada politics. Sam Adams and Ben Franklin were both journalists and politicians.
Lerude said there is no law that prevents a journalist from being a politician. He described journalist as a vocation, or a trade, that can be practiced in tandem with other work.
"Many journalists go into politics as political operatives. Some run for office and get elected," he said. "A journalist is a vocation like an electrician or an airplane pilot or a neurosurgeon. If a neurosurgeon who runs for political office doesn't mean he's not a neurosurgeon anymore."
Lerude said he was not advocating that it was right for a journalist to go into politics and cover politics at the same time. He never would have let one of his reporters do it because it would be a conflict of interest. But he said nothing in the law would prohibit it and cited many precedents.
In fact, former State Sen. Warren "Snowy" Monroe, who wrote the shield law, was also a publisher of The Elko Independent. There are other instances of editors and publishers for papers, like The Elko Daily Free Press and Mason Valley Times, having political positions.
"I'm not advocating politicians and journalists be one in the same but there are many examples in American history," Lerude said. "The very person who introduced the shield law in Nevada was a state senator was a newspaper reporter, publisher, editor and operator."
The courts might soon have to contend with the question Gilman raises.
With the Internet and social media, the lines between journalism and politics have blurred more and more, and it is likely to become a subject of increasing legal battles. In Nevada during the 2018 election cycle, former Sen. Dean Heller set up a website designed to look like a news source, as did supporters of the ballot measure aimed at creating a competitive energy market.
But in Toll's case, the court and media experts have said that he is a reporter.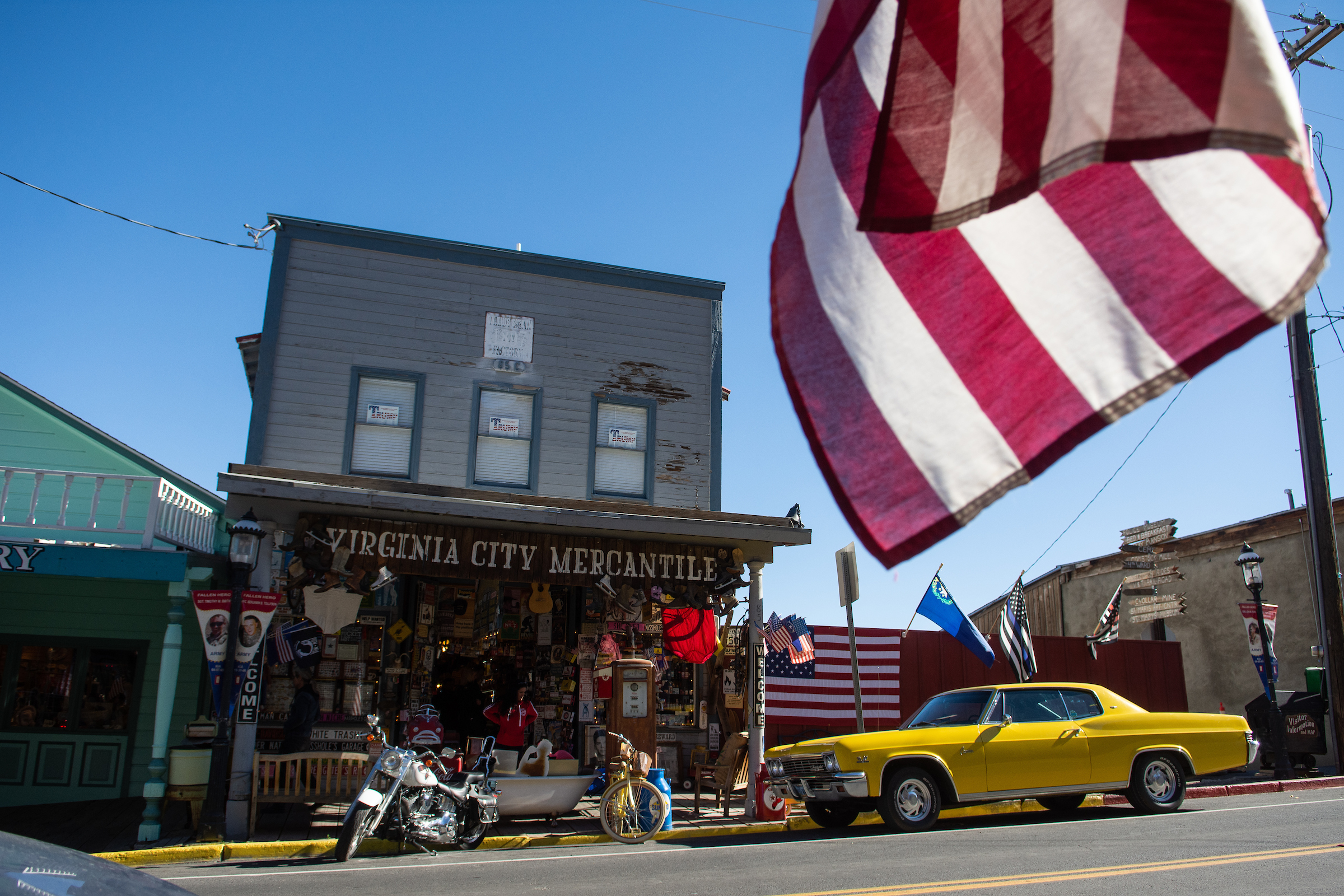 File said there is a larger trend in which the courts, plaintiffs and even President Donald Trump have questioned the protections that the First Amendment offers to the free press. He noted that Supreme Court Justice Clarence Thomas has called for revisiting New York Times v. Sullivan (1964), the landmark civil rights advertising case that created a high standard of for proving libel against a public official. Trump also said in 2016 that he wanted to "open up our libel laws."
"Libel is an issue that keeps bubbling up," File said.
Gilman said he is not trying to abridge the rights of reporters.
"I have found generally — there's an exception here and there that you probably know — good reporters, they want the truth," Gilman said. "If they're an investigative reporter, they want the truth... I have never in my lifetime been suspicious or uncomfortable about the press."
It is unclear how the lawsuit will end. Toll's lawyer plans to ask the Supreme Court to weigh in on the District Court's shield law ruling, even as the lower court case is ongoing. It is also possible the District Court could rule on other issues that render the shield law issue moot. The judge could do that by ruling on Toll's motion to dismiss and throwing out the final defamation claim.
Either way, Gilman does not appear to be giving up any time soon.
"This case has the opportunity of going to the highest court in the land," Gilman said.
Update at 8:10 a.m. on 3/17/19:  This story was corrected to reference the legislative history compiled in a 2014 master's thesis, not a doctoral thesis as was incorrectly stated in the original story.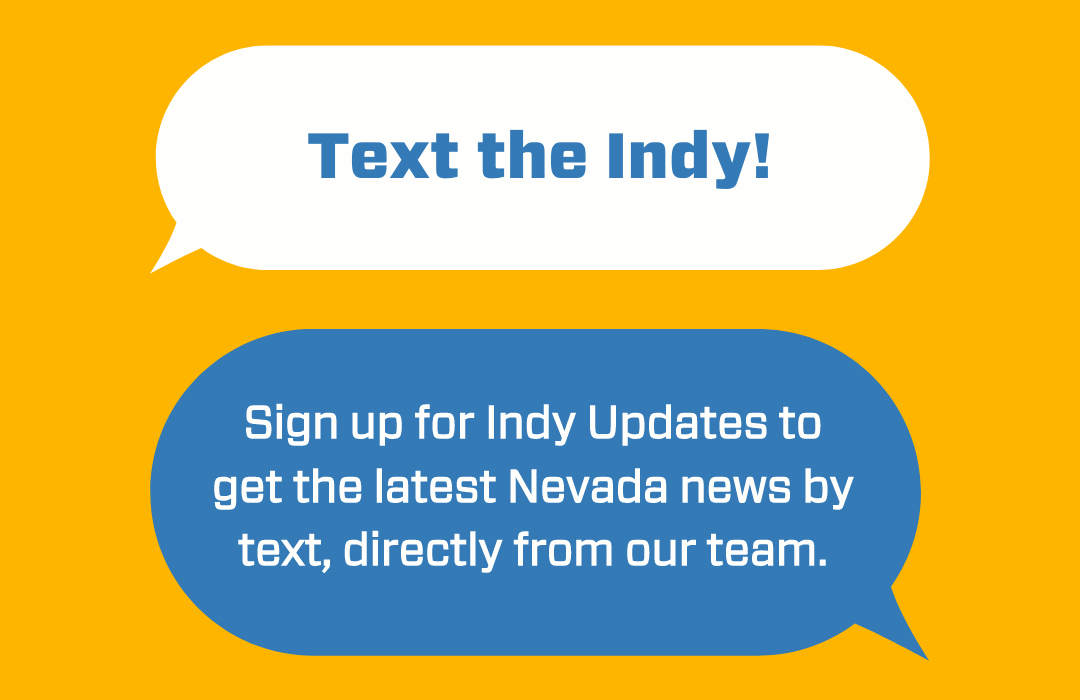 Featured Videos