People take photos during the National Forum on Wages and Working People at Enclave in Las Vegas on Saturday, April 27, 2019. (Daniel Clark/The Nevada Independent)
In union town, Democratic presidential hopefuls court support from major labor player
April 27th, 2019 - 7:14pm
From the construction workers and electricians who built this neon-gilded city and the housekeepers who tidy its hotel rooms to the county employees and nurses who take care of its residents, union workers run Las Vegas.
And on Saturday, some of those workers stepped away from their jobs for the separate but perhaps equally important task of vetting six of the 20 candidates vying to become the Democratic Party's presidential nominee at a forum hosted by the Service Employees International Union and the progressive Center for American Progress Action Fund. Although the event was attended by service workers from across the country, it was the first chance for Nevada's union members to size up the candidates alongside one another ahead of the state's first-in-the-West caucus in February.
"This is definitely the starting ground for what we are looking forward to, and it definitely places everything on the stage for other candidates, what they need to look out for," said Roxana Valladares, secretary-treasurer of SEIU Local 1107, in an interview after the event. "The candidates, when they come to Nevada and they want to win Nevada, they have to go through us. So they need to come and talk to us."
Presidential candidates will need to curry favor with union workers here — whether with SEIU, one of the nation's largest unions; the Culinary Union, the largest union in the state representing 57,000 hospitality workers on and off the Strip; or one of the other unions — over the next several months as they try to lock up support in an early nominating state where nearly 14 percent of residents are union members.
Already, nine of the declared presidential candidates have met with the Culinary Union, including Sens. Bernie Sanders, Kamala Harris, Cory Booker, Amy Klobuchar and Elizabeth Warren, former Vice President Joe Biden and former Rep. Beto O'Rourke. And another outsized figure in Nevada politics, former U.S. Sen Harry Reid, believes union endorsements will be all the more critical this year for Democrats seeking to lock up the nomination.
"I think the clout of organized labor is going to be stronger this go-around than it has in the recent past," Reid said on a Thursday phone call with reporters.
During the event, the presidential hopefuls talked, with varying degrees of specificity, about the importance of bolstering the rights of workers to organize, how best to ensure universal health care coverage and what ought to be done about the state of the country's education system. But after the event, six SEIU Nevada members in interviews pointed to two clear standouts of the forum: Massachusetts Sen. Elizabeth Warren and California Sen. Kamala Harris.
"Instead of going with grand visions and ideas like a bunch of people have — I mean, even the people on the frontlines have visions and ideas — I think they came forward with more policy plans that had more details," said Anthony Punchard, a registered nurse from Reno. "Hearing people who can put that into motion and have a plan to actually implement those things is a priority."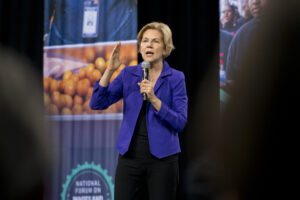 Warren, the final speaker of the day, largely mapped out for the union crowd several of her biggest worker-focused policy proposals, including her plan to impose a 2 percent wealth tax on any money made above the $50 million mark and use the money to pay for universal child care and universal pre-K, raise the wages for child care and preschool workers, pay for universal college and cancel student loan debt for 95 percent of borrowers. Another policy would require corporations that make more than $1 billion in revenue to have 40 percent of their corporate board members elected by employees.
The proposals Warren detailed at the event weren't new, but the crowd still applauded and chuckled along with her no-nonsense approach to presenting them.
"There are a lot of corporate CEOs and big shareholders who had vapors over this: 'Oh my goodness, oh my goodness,'" Warren said, referring to the 40 percent corporate governance proposal, 'to which my answer is, 'Too bad.''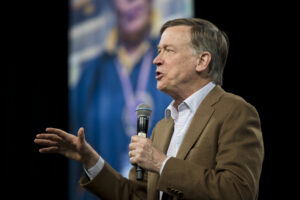 Her casual indifference to how the business community feels about her proposals stood in stark contrast to the way that other, more business-friendly candidates presented themselves at the forum. Former Colorado Gov. John Hickenlooper, for instance, touted his ability to work with the business community in his state to get them onboard with raising the minimum wage.
"We went to all the different employers and said, ultimately … all these employees who are going to get a raise are going to become your customers and, so, for many people when we sat down and laid out and we had diagrams and charts where we could demonstrate that they would more than make up in new business what they were going to lose from paying a living wage," Hickenlooper said. "In the vast majority we were able to get that and we were able to have broad based support when we increased our minimum wage in Colorado."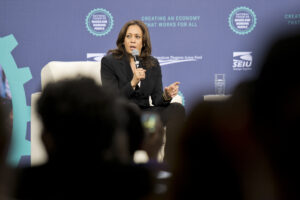 Harris, meanwhile, earned high marks from one attendee for her "smooth" approach to making the case of why she should be president.
"She's a prosecutor, so she was, like, prosecuting the case of why she should be president," said Debbie Springer, a Clark County employee.
Like Warren, Harris also delved into specific policy proposals that would benefit workers, including a change to the tax code that would allow families that make less than $100,000 a year to receive up to $6,000 in tax credits. Another, the Rent Relief Act, would give renters a tax credit if they're paying more than 30 percent of their income in rent plus utilities a month.
"These are some of the proposals I'm offering as a way to help people by the time that they retire have enough money in their accounts to be able to retire with dignity having lived a life of working hard and a noble life of good work and work that is dignified and important to keep a society functioning," Harris said.
Both Warren and Harris, in response to questions from McDonald's employees about what they would do as president to get the company to negotiate a union contract with workers, described the strong approaches they would take with the company. Harris said that she would call the CEO up to "talk about the fact that you can't tout with a sense of pride about being one of America's oldest businesses that is a business that represents symbolically who we are as Americans and then not reflect in your business practices American values around people who work hard being able to have dignity and be able to pay their bills," while Warren stressed the need to "hold McDonald's responsible for what are, in fact, McDonald's employees."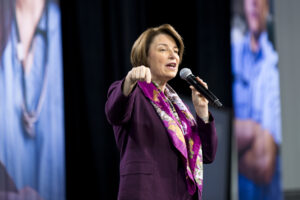 Minnesota Sen. Amy Klobuchar, who didn't receive the McDonald's question during the forum, said in a brief phone interview after the event that she would also take a similar approach.
"I'm someone who always starts with a meeting and an ask and you say this is what we want to get done and then if that doesn't work then you keep pressing publicly and you build coalitions of people and you go from there," Klobuchar said.
At the event, Klobuchar situated herself as a middle-of-the-road candidate by, for instance, supporting a $15 an hour federal minimum wage, while others called for $15 an hour as just a starting point. In an interview after, Klobuchar said that she believes a $15 an hour federal wage is appropriate, though other jurisdictions could look at raising the wage beyond that.
Her call for a more moderate solution to the issue of health insurance access — calling for a public option that would allow people to buy into a government health insurance program like Medicare — also received a tepid response from the audience compared to more progressive proposals to implement a mandatory government health insurance program, such as the Medicare-for-all plan backed by Warren and Harris.
But she was also only one of two candidates to dive at any length into immigration reform during the forum, telling a woman who fled 22 years ago from Honduras to the United States and received Temporary Protected Status (TPS) that she should be allowed to stay in the country. The Trump administration has been seeking to phase out the protected status of immigrants from Honduras, El Salvador and other countries, though several court cases are challenging the decision.
"That is the number one. That is a value statement. You came over here legally to escape violence as did so many others that are on that TPS," Klobuchar said. "As president I would create a permanent status. I would pass comprehensive immigration reform."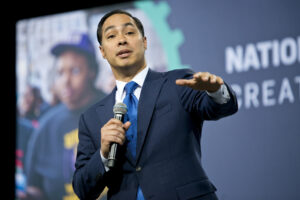 Former Housing and Urban Development Secretary Julian Castro also addressed immigration in response to a question from a janitor who lives in Los Angeles who said that she had been raped while on the night shift. She told him that her immigration status was used to threaten her to not speak up about the assault.
"Many times women who are immigrants, people feel like they can take advantage of them because they can do whatever they want and the person won't go to the authorities because they don't want to risk deportation," said Castro, before listing several of his immigration-related priorities, including decriminalizing border crossings and ending the controversial 287(g) program that allows local law enforcement to assist federal officials with some immigration-related activities.
More broadly on labor, Castro said that he would back a $15 an hour minimum wage, support passage of legislation that creates equal pay for equal work, get rid of right to work laws and make labor-friendly appointments to the National Labor Relations Board.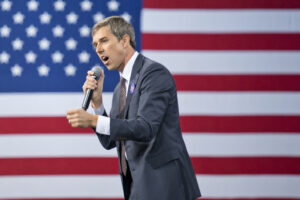 Former Texas Rep. Beto O'Rourke, the third speaker of the day, framed his support for a $15 an hour minimum wage by referencing something he said he first heard from D. Taylor, president of the Culinary Union's parent UNITE HERE, in Las Vegas.
"When one job is enough, when you can focus on what you're doing at work and don't have to worry about the next job or the third job that you're going to go to in one 24-hour period your productivity at that work is going to be so much greater, that business owner is going to get so much more of that employee," O'Rourke said.
More so than other candidates, O'Rourke played to the Nevada crowd by peppering his speech with references to the Silver State and its leaders. He said that he learned in Nevada that "when we invest in infrastructure we should make sure that some percentage of the jobs that are created are guaranteed to be union jobs and that some percentage of those jobs are guaranteed to be first year apprenticeships" and slipped in a reference to visiting Reid at home when asked a question about universal health care.
Several of the candidates made other campaign stops in Nevada around the forum. O'Rourke started his Nevada visit on Thursday, hosting town halls in Reno and Carson City, followed by stops in Southern Nevada on Friday. Casto on Friday attended a conservation roundtable, toured the tunnels beneath Las Vegas and attended a house party in East Last Vegas.
Klobuchar spoke Sun City Anthem Democratic Club on Saturday afternoon, while Warren held a rally at Bonanza High School Saturday evening.
Rep. Seth Moulton, who officially announced his presidential campaign this week, also participated in two veteran-focused events on Saturday, including a Vets for Action roundtable at Craig Ranch Park and an address to the VFW Nevada District 6 convention.
Comment Policy (updated 10/4/19): Please keep your comments civil. We reserve the right to delete comments or ban users who engage in personal attacks, use an excess of profanity, make verifiably false statements or are otherwise nasty.
get our morning newsletter, The Daily Indy
INDYMATTERS PODCAST
CAFECITO CON LUZ Y MICHELLE
@TheNVIndy ON TWITTER