In Vegas, governors mull ways to prepare citizens for when jobs go obsolete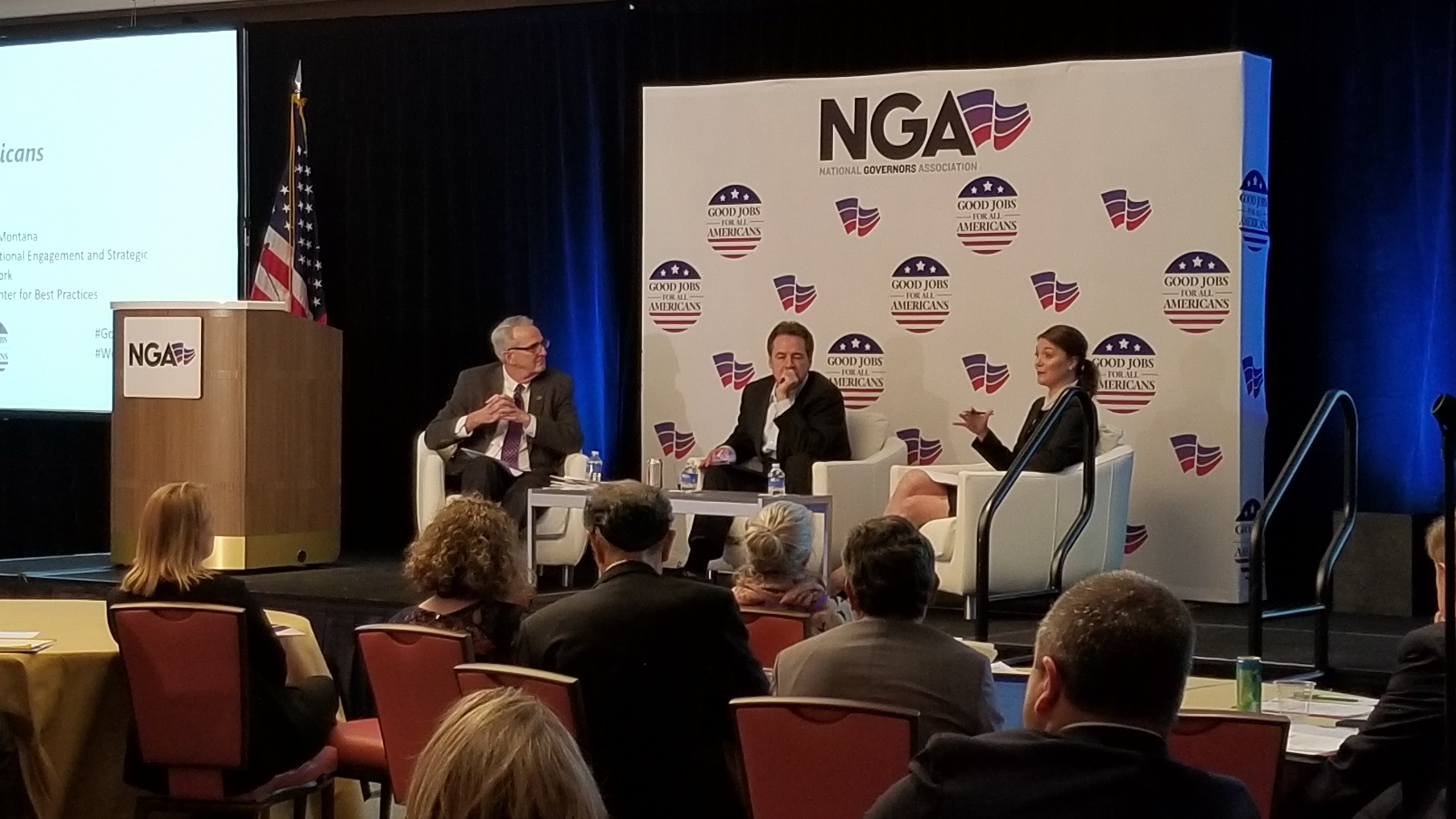 Montana is home to the second-largest coal-fired generating plant west of the Mississippi River, and officials know half of it will shut down by 2022.
But even though the state has a $5 million grant from the Department of Labor to help displaced workers, it's not allowed to use the money to help the workers affected by the shutdown until those workers are actually out of a job.
"This makes zero sense," Democratic Montana Gov. Steve Bullock said at a forum in Las Vegas. "We know the uncertainty it's already caused. Why can't we immediately say, 'boy there are ... good things you can do and you don't have to leave your school and your church and your home.'"
Bullock's comments came during a panel discussion Wednesday during a two-day regional workshop of the National Governors Association, a group he chairs. (Gov. Brian Sandoval, who chaired the association the year before, did not attend because he was at the State of the West symposium at Stanford University.)
The bipartisan group of governors, and their staffs, is focusing this year on an initiative called "Good Jobs for All Americans."
Part of that is determining how to prepare their citizens for the jobs of the future. A McKinsey survey from last year predicted that automation could eliminate as many as 73 million jobs by 2030 — equivalent to one-third of the American workforce.
Bullock said he set a goal in a State of the State address early in his term to get a certain number of additional Montanans enrolled in higher education by 2020. Now, he advises his peers to break that down further, into goals on how many people should get a bachelor's degree, how many should get an associate's degree, and how many simply need a certification.
"For a whole lot of folks — they don't need to get the traditional college degree," Bullock said. "So I'm working to make my two-year-colleges say it's not about an associate's degree. It's about a professionally recognized credential that's going to make somebody get a decent job and have a decent life."
Panelist Anna Gatlin Schilling of the Strada Education Network said her group has partnered with Gallup to survey more than 100,000 people in the past year and a half to get the consumer perspective on government services. One problem she said is that the message of how education can improve a worker's life is mixed and is not adequately motivating mid-career workers who may need to change their line of work.
"If they don't see the relevance of a 2-4-year degree, they won't pursue it," she said. "How do you connect to those individuals where they see the connection to work, they see the relevance, they don't think it's a false choice" between working or pursuing education.
Gatlin Schilling said many workers are discouraged by the idea that they need to quit their jobs and attend school full-time, without pay, to further their education.
Bullock said one remedy to that is apprenticeships, which can extend far beyond traditional trades such as plumber and electrician. Montana has an apprenticeship for brewing, for example.
"You can hire for the fit and then train them along the way," Bullock said. "95 percent of them are still going to be working in state for the same employer five years later because of the loyalty that is is built [when employees can gain skills] while they're still making a decent living."
The Nevada Independent is raising $200,000 by Dec. 31 to support coverage of the 2024 election.
Tax-deductible donations from readers like you fund this critical work.
If you give today,your donation will be matched dollar-for-dollar.
Give + Get Matched
Featured Videos