Indy Database: Search every contribution to Adam Laxalt and Steve Sisolak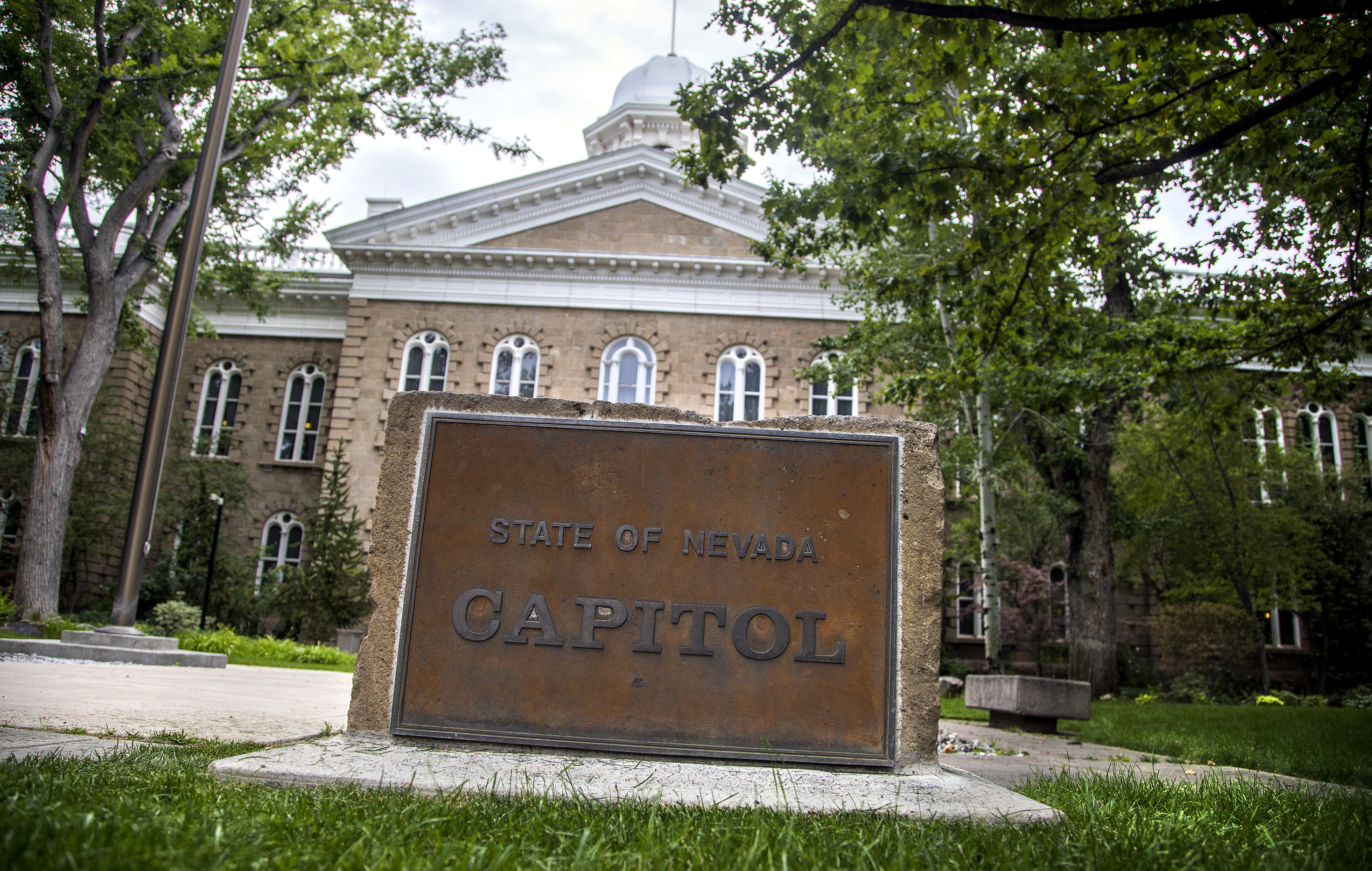 It happens every election cycle.
Accusations fly that a candidate took campaign contributions either from a nefarious source or did the bidding of a donor while in office.
Separating fact from fiction during campaigns, especially when it comes to campaign finance, can be difficult to suss out — but we want to make it easier.
That's why between now and Election Day, The Nevada Independent will be launching searchable databases of all political contributions made to major state-level candidates running for office in 2018. While the Nevada secretary of state maintains a full database of campaign finance reports, it can be difficult to know what exactly to look for, or to scan through the hundreds of donations made in big-ticket races.
The database below is searchable by contributor name and sortable by donation amount and the day of the reported contribution. Under Nevada law, individuals and organizations can donate up to $10,000 to a single candidate every election cycle.
We'll also be cross-posting these databases on our Elections 2018 page, which also has information on candidates, polling, recent articles and voter registration.
First up? Governor candidates Steve Sisolak and Adam Laxalt, who have combined raised more than $14 million from more than 6,000 donors since the start of 2015.
The following database includes every contribution over $50 made to Steve Sisolak and Adam Laxalt since January 1, 2015, and includes all contributions reported between then and the last reporting deadline of June 7, 2018.
Disclosure: Steve Sisolak has donated to The Nevada Independent. You can see a full list of donors here.
Contributor
Date
Amount
Type
Recipient
Report
1145 Decatur ABL - J.L. #2 LLC
7/22/2015
$2,000.00
Monetary Contribution
Steve Sisolak
2016 Annual CE Filing
180 Capital LLC
12/23/2016
$5,000.00
Monetary Contribution
Adam Laxalt
2017 Annual CE Filing
180 Capital LLC
12/23/2016
$4,000.00
Monetary Contribution
Adam Laxalt
2017 Annual CE Filing
1865 Village Center Circle LLC
8/26/2015
$5,000.00
Monetary Contribution
Steve Sisolak
2016 Annual CE Filing
205 Volunteer LLC
5/25/2018
$6,000.00
Monetary Contribution
Steve Sisolak
2018 CE Report 2 (Amended)
21st Century Communities Inc.
4/18/2016
$10,000.00
Monetary Contribution
Steve Sisolak
2016 CE Report 1
21st Century Fox America Inc.
9/1/2016
$1,000.00
Monetary Contribution
Adam Laxalt
2017 Annual CE Filing
21st Century Fox America Inc.
2/4/2015
$2,500.00
Monetary Contribution
Adam Laxalt
2016 Annual CE Filing
21st Century Fox America Inc.
7/14/2017
$1,000.00
Monetary Contribution
Adam Laxalt
2018 Annual CE Filing
2585 Montessouri Street LLC
10/27/2017
$5,000.00
Monetary Contribution
Adam Laxalt
2018 Annual CE Filing
2585 Montessouri Street LLC
10/27/2017
$5,000.00
Monetary Contribution
Adam Laxalt
2018 Annual CE Filing
3535 LV Newco LLC dba The Quad
6/2/2018
$5,000.00
Monetary Contribution
Steve Sisolak
2018 CE Report 2 (Amended)
360 Contracting LLC
9/28/2015
$10,000.00
Monetary Contribution
Steve Sisolak
2016 Annual CE Filing
3950 LLC
11/30/2017
$5,000.00
Monetary Contribution
Steve Sisolak
2018 Annual CE Filing (Amended)
3D Concrete Inc.
4/20/2017
$5,000.00
Monetary Contribution
Adam Laxalt
2018 Annual CE Filing
3D Concrete Inc.
6/7/2018
$5,000.00
Monetary Contribution
Adam Laxalt
2018 CE Report 2
42 Consulting NV LLC
4/6/2018
$2,500.00
Monetary Contribution
Adam Laxalt
2018 CE Report 1
4201 Cannoli Circle Building LLC
12/16/2016
$2,000.00
Monetary Contribution
Adam Laxalt
2017 Annual CE Filing
4844 Cecile LLC
12/11/2015
$1,000.00
Monetary Contribution
Steve Sisolak
2016 Annual CE Filing
5212 Spanish Heights LLC
1/7/2018
$10,000.00
Monetary Contribution
Steve Sisolak
2018 CE Report 1 (Amended)
5650 Windsor Way LLC
1/29/2018
$10,000.00
Monetary Contribution
Steve Sisolak
2018 CE Report 1 (Amended)
5F Logistics Inc.
12/21/2016
$5,000.00
Monetary Contribution
Adam Laxalt
2017 Annual CE Filing
5F Logistics Inc.
12/21/2016
$5,000.00
Monetary Contribution
Adam Laxalt
2017 Annual CE Filing
6145 Decatur ABL - J.L. #2 LLC
3/22/2018
$2,000.00
Monetary Contribution
Steve Sisolak
2018 CE Report 1 (Amended)
6165 Decatur Bus 1.25 AC-J.L. #5
3/22/2018
$1,000.00
Monetary Contribution
Steve Sisolak
2018 CE Report 1 (Amended)
6165 Decatur Bus 1.25 AC-J.L. #5
7/22/2015
$1,000.00
Monetary Contribution
Steve Sisolak
2016 Annual CE Filing
8215 S Eastern LLC
11/1/2017
$2,500.00
Monetary Contribution
Steve Sisolak
2018 Annual CE Filing (Amended)
8215 S Eastern LLC
2/1/2016
$500.00
Monetary Contribution
Steve Sisolak
2016 CE Report 1
872 PAC
1/11/2018
$5,000.00
Monetary Contribution
Steve Sisolak
2018 CE Report 1 (Amended)
872 PAC
7/11/2017
$5,000.00
Monetary Contribution
Steve Sisolak
2018 Annual CE Filing (Amended)
8965 Eastern LLC
1/29/2018
$500.00
Monetary Contribution
Steve Sisolak
2018 CE Report 1 (Amended)
8965 Eastern LLC
7/13/2015
$1,500.00
Monetary Contribution
Steve Sisolak
2016 Annual CE Filing
8985 Eastern LLC
7/13/2015
$1,500.00
Monetary Contribution
Steve Sisolak
2016 Annual CE Filing
8985 Eastern LLC
1/29/2018
$500.00
Monetary Contribution
Steve Sisolak
2018 CE Report 1 (Amended)
A & K Earth Movers Inc.
11/9/2017
$1,000.00
Monetary Contribution
Adam Laxalt
2018 Annual CE Filing
A Cab Series LLC
11/18/2016
$2,000.00
Monetary Contribution
Adam Laxalt
2017 Annual CE Filing
A Cab Series LLC
11/18/2016
$5,000.00
Monetary Contribution
Adam Laxalt
2017 Annual CE Filing
A Cab Series LLC
12/11/2015
$3,000.00
Monetary Contribution
Adam Laxalt
2016 Annual CE Filing
A Cab, Series LLC
7/8/2015
$5,000.00
Monetary Contribution
Steve Sisolak
2016 Annual CE Filing
A Cab, Series LLC
8/18/2016
$2,500.00
Monetary Contribution
Steve Sisolak
2016 CE Report 3
A Russell Evers
6/4/2018
$100.00
Monetary Contribution
Adam Laxalt
2018 CE Report 2
Aaron Baker
3/14/2018
$2,500.00
Monetary Contribution
Adam Laxalt
2018 CE Report 1
Aaron Poynton
7/24/2017
$500.00
Monetary Contribution
Adam Laxalt
2018 Annual CE Filing
Aarons Inc.
1/4/2017
$1,000.00
Monetary Contribution
Adam Laxalt
2018 Annual CE Filing
Aarons Inc.
5/10/2017
$1,500.00
Monetary Contribution
Adam Laxalt
2018 Annual CE Filing
Abboud Law Firm
7/10/2017
$300.00
Monetary Contribution
Adam Laxalt
2018 Annual CE Filing
ABC Land & Development Inc.
7/26/2016
$5,000.00
Monetary Contribution
Steve Sisolak
2016 CE Report 3
ABC Land & Development Inc.
10/22/2015
$5,000.00
Monetary Contribution
Steve Sisolak
2016 Annual CE Filing
ABC Land & Development Inc.
2/1/2018
$5,000.00
Monetary Contribution
Steve Sisolak
2018 CE Report 1 (Amended)
ABC Realty LLC
10/24/2016
$1,500.00
In Kind Contribution
Steve Sisolak
2016 CE Report 4
ABC Stores
1/11/2016
$2,500.00
Monetary Contribution
Steve Sisolak
2016 CE Report 1
ABC Stores
8/1/2017
$2,000.00
Monetary Contribution
Steve Sisolak
2018 Annual CE Filing (Amended)
ABCATM LLC
10/12/2017
$10,000.00
Monetary Contribution
Steve Sisolak
2018 Annual CE Filing (Amended)
ABCATM, LLC
10/17/2016
$10,000.00
Monetary Contribution
Steve Sisolak
2016 CE Report 4
AC LLC
8/7/2017
$1,000.00
Monetary Contribution
Steve Sisolak
2018 Annual CE Filing (Amended)
Accelerated Construction
7/11/2017
$100.00
Monetary Contribution
Steve Sisolak
2018 Annual CE Filing (Amended)
ACE Cab LLC
7/21/2017
$2,000.00
Monetary Contribution
Steve Sisolak
2018 Annual CE Filing (Amended)
ACE Cab LLC
12/22/2016
$2,000.00
Monetary Contribution
Adam Laxalt
2017 Annual CE Filing
ACE Cash Express, Inc.
8/7/2015
$1,000.00
Monetary Contribution
Adam Laxalt
2016 Annual CE Filing
Ace Legal
2/5/2018
$10,000.00
Monetary Contribution
Steve Sisolak
2018 CE Report 1 (Amended)
Ace Legal
10/20/2016
$5,000.00
Monetary Contribution
Steve Sisolak
2016 CE Report 4
ACHC LLC
6/7/2018
$5,000.00
Monetary Contribution
Adam Laxalt
2018 CE Report 2
ACHC LLC
6/7/2018
$5,000.00
Monetary Contribution
Adam Laxalt
2018 CE Report 2
Action Properties Inc.
11/9/2017
$500.00
Monetary Contribution
Adam Laxalt
2018 Annual CE Filing
Active Commercial LLC
2/21/2018
$3,000.00
Monetary Contribution
Steve Sisolak
2018 CE Report 1 (Amended)
Active-10 N Eastern LLC
2/21/2018
$9,000.00
Monetary Contribution
Steve Sisolak
2018 CE Report 1 (Amended)
Active-GW Holdings LLC
2/21/2018
$5,000.00
Monetary Contribution
Steve Sisolak
2018 CE Report 1 (Amended)
Active-GW Holdings LLC
9/19/2017
$5,000.00
Monetary Contribution
Steve Sisolak
2018 Annual CE Filing (Amended)
Adam Cohen
12/28/2017
$2,500.00
Monetary Contribution
Steve Sisolak
2018 Annual CE Filing (Amended)
Adam Goldstein
4/5/2018
$200.00
Monetary Contribution
Steve Sisolak
2018 CE Report 1 (Amended)
Adam Malan LLC
10/21/2016
$1,000.00
Monetary Contribution
Steve Sisolak
2016 CE Report 4
Adam Malan LLC
11/28/2017
$1,000.00
Monetary Contribution
Steve Sisolak
2018 Annual CE Filing (Amended)
Adam Milstein
5/24/2018
$3,000.00
Monetary Contribution
Adam Laxalt
2018 CE Report 2
Adam Paulson
7/24/2017
$250.00
Monetary Contribution
Adam Laxalt
2018 Annual CE Filing
Adam S. Kutner Attorney at Law
6/15/2016
$250.00
Monetary Contribution
Steve Sisolak
2016 CE Report 3
Addiction Campuses
5/18/2018
$3,000.00
Monetary Contribution
Adam Laxalt
2018 CE Report 1
Adrienne Gutzwa
4/19/2018
$300.00
Monetary Contribution
Steve Sisolak
2018 CE Report 1 (Amended)
Adrienne Gutzwa
12/31/2017
$100.00
Monetary Contribution
Steve Sisolak
2018 Annual CE Filing (Amended)
Adroushan & Nora Armenian
9/9/2016
$100.00
Monetary Contribution
Steve Sisolak
2016 CE Report 3
Adroushan & Nora Armenian
3/31/2016
$250.00
Monetary Contribution
Steve Sisolak
2016 CE Report 1
ADSO - Association of Dental Support Organizations
7/5/2017
$1,000.00
Monetary Contribution
Adam Laxalt
2018 Annual CE Filing
ADT LLC
7/10/2017
$1,000.00
Monetary Contribution
Adam Laxalt
2018 Annual CE Filing
Advance America
4/25/2016
$1,000.00
Monetary Contribution
Adam Laxalt
2017 Annual CE Filing
Advance America
7/10/2017
$1,000.00
Monetary Contribution
Adam Laxalt
2018 Annual CE Filing
Advance America
5/18/2018
$1,000.00
Monetary Contribution
Adam Laxalt
2018 CE Report 1
Advanced Commission LLC Operating
5/1/2018
$1,000.00
Monetary Contribution
Adam Laxalt
2018 CE Report 1
Advanced ENT
4/8/2018
$5,000.00
Monetary Contribution
Adam Laxalt
2018 CE Report 1
Advertising & Marketing Solutions Inc.
10/26/2017
$100.00
Monetary Contribution
Steve Sisolak
2018 Annual CE Filing (Amended)
Advocates for Quality of Life PAC
11/30/2015
$1,000.00
Monetary Contribution
Steve Sisolak
2016 Annual CE Filing
Affinity Gaming
7/20/2015
$10,000.00
Monetary Contribution
Steve Sisolak
2016 Annual CE Filing
Affordable Care Inc.
7/11/2016
$1,000.00
Monetary Contribution
Adam Laxalt
2017 Annual CE Filing
Affordable Concepts, Inc.
10/16/2016
$1,000.00
Monetary Contribution
Steve Sisolak
2016 CE Report 4
Aflac
5/1/2017
$1,500.00
Monetary Contribution
Adam Laxalt
2018 Annual CE Filing
AGC/PAC
4/20/2017
$1,000.00
Monetary Contribution
Adam Laxalt
2018 Annual CE Filing
Aggregate Industries
11/11/2016
$2,500.00
Monetary Contribution
Steve Sisolak
2016 CE Report 5 (Amended)
Agro Finanace LLC
12/21/2017
$10,000.00
Monetary Contribution
Steve Sisolak
2018 Annual CE Filing (Amended)
Ahern Rentals
3/21/2018
$2,500.00
Monetary Contribution
Steve Sisolak
2018 CE Report 1 (Amended)
Ahern Rentals Inc
12/5/2017
$2,500.00
Monetary Contribution
Steve Sisolak
2018 Annual CE Filing (Amended)
Ahern Rentals Inc
12/31/2015
$10,000.00
Monetary Contribution
Adam Laxalt
2016 Annual CE Filing
Ahern Rentals Inc.
4/1/2016
$5,000.00
Monetary Contribution
Steve Sisolak
2016 CE Report 1
Aimee Fleury
2/28/2018
$1,000.00
Monetary Contribution
Steve Sisolak
2018 CE Report 1 (Amended)
Ainsworth Game Technology
5/5/2017
$10,000.00
Monetary Contribution
Steve Sisolak
2018 Annual CE Filing (Amended)
Ainsworth Game Technology
7/16/2015
$10,000.00
Monetary Contribution
Steve Sisolak
2016 Annual CE Filing
Akerman LLP
12/26/2017
$2,000.00
Monetary Contribution
Adam Laxalt
2018 Annual CE Filing
Alamo Title Holding Company
5/31/2018
$10,000.00
Monetary Contribution
Steve Sisolak
2018 CE Report 2 (Amended)
Alan & Christy Molasky
6/13/2016
$5,000.00
Monetary Contribution
Steve Sisolak
2016 CE Report 3
Alan & Eileen Lefebvre
9/9/2015
$500.00
Monetary Contribution
Steve Sisolak
2016 Annual CE Filing
Alan B. Van Ees
4/24/2017
$100.00
Monetary Contribution
Adam Laxalt
2018 Annual CE Filing
Alan B. Van Ees
6/19/2017
$100.00
Monetary Contribution
Adam Laxalt
2018 Annual CE Filing
Alan B. Van Ees
11/27/2017
$300.00
Monetary Contribution
Adam Laxalt
2018 Annual CE Filing
Alan B. Vanees
6/4/2018
$300.00
Monetary Contribution
Adam Laxalt
2018 CE Report 2
Alan B. Vanees
2/19/2018
$300.00
Monetary Contribution
Adam Laxalt
2018 CE Report 1
Alan B. Vanees
4/9/2018
$100.00
Monetary Contribution
Adam Laxalt
2018 CE Report 1
Alan Doucette
3/29/2018
$200.00
Monetary Contribution
Steve Sisolak
2018 CE Report 1 (Amended)
Alan Goodin
11/27/2017
$1,000.00
Monetary Contribution
Steve Sisolak
2018 Annual CE Filing (Amended)
Alan Gutierrez
4/15/2018
$50.00
Monetary Contribution
Adam Laxalt
2018 CE Report 1
Alan L Boeckmann
1/29/2018
$5,000.00
Monetary Contribution
Adam Laxalt
2018 CE Report 1
Alan List
4/10/2017
$2,500.00
Monetary Contribution
Adam Laxalt
2018 Annual CE Filing
Alan List
11/9/2017
$1,000.00
Monetary Contribution
Adam Laxalt
2018 Annual CE Filing
Alan Molasky
8/3/2017
$5,000.00
Monetary Contribution
Steve Sisolak
2018 Annual CE Filing (Amended)
Alan W. Carey
11/9/2017
$500.00
Monetary Contribution
Adam Laxalt
2018 Annual CE Filing
Alan Waxler
12/26/2017
$100.00
Monetary Contribution
Steve Sisolak
2018 Annual CE Filing (Amended)
Alannah Ariel
4/5/2018
$100.00
Monetary Contribution
Steve Sisolak
2018 CE Report 1 (Amended)
Alatorre Dental PLLC
6/29/2017
$1,500.00
Monetary Contribution
Steve Sisolak
2018 Annual CE Filing (Amended)
Alber Family Trust
1/23/2018
$2,000.00
Monetary Contribution
Steve Sisolak
2018 CE Report 1 (Amended)
Albert D. Massi TTEE
8/25/2017
$500.00
Monetary Contribution
Steve Sisolak
2018 Annual CE Filing (Amended)
Albert D. Massi TTEE
11/6/2016
$500.00
Monetary Contribution
Steve Sisolak
2016 CE Report 5 (Amended)
Albert G. Gurries
5/7/2018
$50.00
Monetary Contribution
Adam Laxalt
2018 CE Report 1
Albert M. Souza
11/9/2017
$250.00
Monetary Contribution
Adam Laxalt
2018 Annual CE Filing
Alberto De La Paz
5/18/2018
$1,000.00
Monetary Contribution
Adam Laxalt
2018 CE Report 1
Albor, LLC
9/19/2016
$2,500.00
Monetary Contribution
Steve Sisolak
2016 CE Report 3
Albor, LLC
8/9/2017
$5,000.00
Monetary Contribution
Steve Sisolak
2018 Annual CE Filing (Amended)
Alderwood - Colorado LLC
12/19/2017
$5,000.00
Monetary Contribution
Adam Laxalt
2018 Annual CE Filing
Alderwood - Colorado LLC
12/19/2017
$5,000.00
Monetary Contribution
Adam Laxalt
2018 Annual CE Filing
Alderwood Resort Management LLC
12/19/2017
$5,000.00
Monetary Contribution
Adam Laxalt
2018 Annual CE Filing
Alderwood Resort Management LLC
12/19/2017
$5,000.00
Monetary Contribution
Adam Laxalt
2018 Annual CE Filing
Alex G. Gassiot
7/14/2017
$100.00
Monetary Contribution
Adam Laxalt
2018 Annual CE Filing
Alex J. Gottilla
4/28/2016
$50.00
Monetary Contribution
Adam Laxalt
2017 Annual CE Filing
Alex Meruelo
4/28/2017
$5,000.00
Monetary Contribution
Adam Laxalt
2018 Annual CE Filing
Alex Meruelo
4/28/2017
$5,000.00
Monetary Contribution
Adam Laxalt
2018 Annual CE Filing
Alex Naderi
6/7/2018
$5,000.00
Monetary Contribution
Adam Laxalt
2018 CE Report 2
Alex Naderi
6/7/2018
$5,000.00
Monetary Contribution
Adam Laxalt
2018 CE Report 2
Alexander Ioffe
11/28/2017
$2,000.00
Monetary Contribution
Steve Sisolak
2018 Annual CE Filing (Amended)
Alexander Patrick Haig
7/24/2017
$2,500.00
Monetary Contribution
Adam Laxalt
2018 Annual CE Filing
Alexandra Spirtos
9/9/2016
$2,500.00
Monetary Contribution
Steve Sisolak
2016 CE Report 3
Alexis M. Cranberg
11/9/2017
$5,000.00
Monetary Contribution
Adam Laxalt
2018 Annual CE Filing
Ali Bubba Inc dba The Equity Group
12/22/2017
$2,500.00
Monetary Contribution
Adam Laxalt
2018 Annual CE Filing
Ali Bubba Inc dba The Equity Group
5/8/2018
$2,500.00
Monetary Contribution
Adam Laxalt
2018 CE Report 1
ALI BUBBA INC.
11/27/2017
$5,000.00
Monetary Contribution
Steve Sisolak
2018 Annual CE Filing (Amended)
Ali Qutob
4/5/2018
$100.00
Monetary Contribution
Steve Sisolak
2018 CE Report 1 (Amended)
Alisa Nave-Worth
2/24/2016
$1,500.00
Monetary Contribution
Steve Sisolak
2016 CE Report 1
Alise Bamforth
1/29/2018
$250.00
Monetary Contribution
Steve Sisolak
2018 CE Report 1 (Amended)
Alison Clark
4/5/2018
$50.00
Monetary Contribution
Steve Sisolak
2018 CE Report 1 (Amended)
All Write Business Communications
11/9/2017
$250.00
Monetary Contribution
Adam Laxalt
2018 Annual CE Filing
Allan Bell
1/17/2018
$50.00
Monetary Contribution
Steve Sisolak
2018 CE Report 1 (Amended)
Allan Dickler
4/19/2018
$100.00
Monetary Contribution
Steve Sisolak
2018 CE Report 1 (Amended)
Allan G. Creel
4/23/2018
$5,000.00
Monetary Contribution
Steve Sisolak
2018 CE Report 1 (Amended)
Allan G. Creel
12/7/2017
$1,000.00
Monetary Contribution
Adam Laxalt
2018 Annual CE Filing
Allan Gallant
3/23/2018
$350.00
Monetary Contribution
Steve Sisolak
2018 CE Report 1 (Amended)
Allan H. Creel
12/7/2017
$1,000.00
Monetary Contribution
Adam Laxalt
2018 Annual CE Filing
Allan Lund
3/16/2018
$50.00
Monetary Contribution
Adam Laxalt
2018 CE Report 1
Allen Benyamin
10/27/2015
$400.00
Monetary Contribution
Steve Sisolak
2016 Annual CE Filing
Allen Morsley
4/5/2018
$2,500.00
Monetary Contribution
Steve Sisolak
2018 CE Report 1 (Amended)
Allison MacKenzie Ltd
3/9/2018
$500.00
Monetary Contribution
Adam Laxalt
2018 CE Report 1
Allison-McCloskey Escrow Company
12/22/2017
$1,000.00
Monetary Contribution
Adam Laxalt
2018 Annual CE Filing
Allyson M. Estey
5/11/2017
$5,000.00
Monetary Contribution
Adam Laxalt
2018 Annual CE Filing
Allyson M. Estey
5/11/2017
$5,000.00
Monetary Contribution
Adam Laxalt
2018 Annual CE Filing
Alon Las Vegas Landco LLC
7/27/2015
$5,000.00
Monetary Contribution
Steve Sisolak
2016 Annual CE Filing
Alpen Mortgage
6/4/2018
$1,000.00
Monetary Contribution
Adam Laxalt
2018 CE Report 2
Alternative Medicine Association
4/17/2015
$1,000.00
Monetary Contribution
Steve Sisolak
2016 Annual CE Filing
Alticor Inc
3/9/2015
$1,000.00
Monetary Contribution
Adam Laxalt
2016 Annual CE Filing
Alticor Inc Amway
7/18/2016
$750.00
Monetary Contribution
Adam Laxalt
2017 Annual CE Filing
Alto Destino LLC
11/13/2017
$1,000.00
Monetary Contribution
Steve Sisolak
2018 Annual CE Filing (Amended)
Alto Destino LLC
5/20/2015
$2,000.00
Monetary Contribution
Steve Sisolak
2016 Annual CE Filing
Alto Destino LLC
11/20/2015
$2,000.00
Monetary Contribution
Steve Sisolak
2016 Annual CE Filing
Altria Client Services Inc
2/27/2015
$7,500.00
Monetary Contribution
Adam Laxalt
2016 Annual CE Filing
Altria Client Services Inc.
3/9/2017
$2,500.00
Monetary Contribution
Adam Laxalt
2018 Annual CE Filing
Altria Client Services Inc.
9/8/2017
$2,500.00
Monetary Contribution
Adam Laxalt
2018 Annual CE Filing
Alvarez & Marsal PAC
7/24/2017
$500.00
Monetary Contribution
Adam Laxalt
2018 Annual CE Filing
Alyssa Lawren Canarelli IRREV. Trust
9/1/2015
$5,000.00
Monetary Contribution
Steve Sisolak
2016 Annual CE Filing
Amal Ghuman
11/28/2017
$5,000.00
Monetary Contribution
Steve Sisolak
2018 Annual CE Filing (Amended)
Amar Chada
12/6/2017
$1,000.00
Monetary Contribution
Steve Sisolak
2018 Annual CE Filing (Amended)
Amber S. Henninger
9/11/2017
$100.00
Monetary Contribution
Adam Laxalt
2018 Annual CE Filing
Amber S. Henninger
11/20/2017
$100.00
Monetary Contribution
Adam Laxalt
2018 Annual CE Filing
Amber S. Henninger
5/24/2018
$100.00
Monetary Contribution
Adam Laxalt
2018 CE Report 2
Amber S. Henninger
3/30/2018
$50.00
Monetary Contribution
Adam Laxalt
2018 CE Report 1
AMC Concrete Inc.
10/27/2017
$500.00
Monetary Contribution
Adam Laxalt
2018 Annual CE Filing
American Advisors Group
12/29/2017
$5,000.00
Monetary Contribution
Adam Laxalt
2018 Annual CE Filing
American Advisors Group
12/29/2017
$5,000.00
Monetary Contribution
Adam Laxalt
2018 Annual CE Filing
American Casino and Entertainment Properties
5/12/2015
$1,000.00
Monetary Contribution
Steve Sisolak
2016 Annual CE Filing
American Chemistry Council
7/5/2017
$1,000.00
Monetary Contribution
Adam Laxalt
2018 Annual CE Filing
American Eagle Ready Mix LLC
5/16/2018
$5,000.00
Monetary Contribution
Adam Laxalt
2018 CE Report 1
American Eagle Ready Mix LLC
5/16/2018
$5,000.00
Monetary Contribution
Adam Laxalt
2018 CE Report 1
American Financial Group
12/21/2016
$5,000.00
Monetary Contribution
Adam Laxalt
2017 Annual CE Filing
American Financial Group
12/29/2017
$5,000.00
Monetary Contribution
Adam Laxalt
2018 Annual CE Filing
American Mart Corporation
5/17/2018
$5,000.00
Monetary Contribution
Adam Laxalt
2018 CE Report 1
American Nevada Holdings LLC
12/21/2017
$10,000.00
Monetary Contribution
Steve Sisolak
2018 Annual CE Filing (Amended)
American Pacific Capital Trop Decatur LLC
10/21/2016
$350.00
Monetary Contribution
Steve Sisolak
2016 CE Report 4
American Wagering Inc
4/11/2018
$2,000.00
Monetary Contribution
Steve Sisolak
2018 CE Report 1 (Amended)
American Web Loan Inc.
12/30/2016
$2,500.00
Monetary Contribution
Adam Laxalt
2017 Annual CE Filing
American West Development Inc.
11/13/2017
$10,000.00
Monetary Contribution
Steve Sisolak
2018 Annual CE Filing (Amended)
American West Development Inc.
9/1/2015
$10,000.00
Monetary Contribution
Steve Sisolak
2016 Annual CE Filing
AmeriGas Propane LP
2/27/2015
$1,000.00
Monetary Contribution
Adam Laxalt
2016 Annual CE Filing
Amerigroup
3/18/2016
$2,000.00
Monetary Contribution
Adam Laxalt
2017 Annual CE Filing
Amick Law Office
11/27/2017
$1,000.00
Monetary Contribution
Steve Sisolak
2018 Annual CE Filing (Amended)
Amigo10 LLC
10/16/2016
$250.00
Monetary Contribution
Steve Sisolak
2016 CE Report 4
Ammar Kerio
9/9/2016
$500.00
Monetary Contribution
Steve Sisolak
2016 CE Report 3
Ammar Wehbeh
9/9/2016
$500.00
Monetary Contribution
Steve Sisolak
2016 CE Report 3
Ammar Wehbeh
2/28/2018
$500.00
Monetary Contribution
Steve Sisolak
2018 CE Report 1 (Amended)
Amodei for Nevada
5/26/2017
$1,000.00
Monetary Contribution
Adam Laxalt
2018 Annual CE Filing
AMR Holdco Inc.
4/9/2018
$5,000.00
Monetary Contribution
Steve Sisolak
2018 CE Report 1 (Amended)
Anderson Dairy Inc
10/17/2016
$1,000.00
Monetary Contribution
Steve Sisolak
2016 CE Report 4
Anderson Dairy Inc
11/4/2015
$1,000.00
Monetary Contribution
Steve Sisolak
2016 Annual CE Filing
Andre R. Horn
11/10/2017
$100.00
Monetary Contribution
Adam Laxalt
2018 Annual CE Filing
Andre Rhodes
11/7/2016
$1,500.00
Monetary Contribution
Steve Sisolak
2016 CE Report 5 (Amended)
Andrea L Engleman
2/16/2018
$500.00
Monetary Contribution
Adam Laxalt
2018 CE Report 1
Andrea L Engleman
12/20/2017
$500.00
Monetary Contribution
Adam Laxalt
2018 Annual CE Filing
Andrea Wynn
12/31/2015
$5,000.00
Monetary Contribution
Adam Laxalt
2016 Annual CE Filing
Andres Rubinstein
2/13/2018
$1,000.00
Monetary Contribution
Adam Laxalt
2018 CE Report 1
Andress Family Trust
3/1/2016
$2,500.00
Monetary Contribution
Steve Sisolak
2016 CE Report 1
Andress Family Trust
3/1/2016
$2,500.00
Monetary Contribution
Steve Sisolak
2016 CE Report 1
Andress Family Trust
6/9/2015
$5,000.00
Monetary Contribution
Steve Sisolak
2016 Annual CE Filing
Andress Family Trust
11/18/2017
$5,000.00
Monetary Contribution
Steve Sisolak
2018 Annual CE Filing (Amended)
Andrew E. Warner
4/20/2018
$50.00
Monetary Contribution
Adam Laxalt
2018 CE Report 1
Andrew F Abboud
2/13/2018
$1,000.00
Monetary Contribution
Adam Laxalt
2018 CE Report 1
Andrew J. Sobel
1/11/2016
$4,500.00
Monetary Contribution
Steve Sisolak
2016 CE Report 1
Andrew J. Sovel
11/27/2017
$5,000.00
Monetary Contribution
Steve Sisolak
2018 Annual CE Filing (Amended)
Andrew Ketterer
11/28/2016
$100.00
Monetary Contribution
Adam Laxalt
2017 Annual CE Filing
Andrew Martin for State Treasurer
5/19/2018
$500.00
Monetary Contribution
Steve Sisolak
2018 CE Report 2 (Amended)
Andrew McKenna
7/14/2017
$1,000.00
Monetary Contribution
Adam Laxalt
2018 Annual CE Filing
Andrew Molasky
8/8/2017
$250.00
Monetary Contribution
Steve Sisolak
2018 Annual CE Filing (Amended)
Andrew Molasky
8/17/2015
$750.00
Monetary Contribution
Steve Sisolak
2016 Annual CE Filing
Andrew Renshaw
5/24/2018
$100.00
Monetary Contribution
Adam Laxalt
2018 CE Report 2
Andrew Tomborello
4/4/2018
$100.00
Monetary Contribution
Adam Laxalt
2018 CE Report 1
Andrew Westby
2/26/2018
$50.00
Monetary Contribution
Adam Laxalt
2018 CE Report 1
Andrew Westby
11/29/2017
$50.00
Monetary Contribution
Adam Laxalt
2018 Annual CE Filing
Andy MacKay
11/9/2017
$250.00
Monetary Contribution
Adam Laxalt
2018 Annual CE Filing
Angela Lin-Greenberg
5/17/2017
$100.00
Monetary Contribution
Adam Laxalt
2018 Annual CE Filing
Angela Lin-Greenberg
3/30/2018
$300.00
Monetary Contribution
Adam Laxalt
2018 CE Report 1
Angela Meyers
7/24/2017
$1,000.00
Monetary Contribution
Adam Laxalt
2018 Annual CE Filing
Angelo A. Cassaro
2/10/2018
$1,000.00
Monetary Contribution
Adam Laxalt
2018 CE Report 1
Angelo Cassaro
2/22/2018
$500.00
Monetary Contribution
Steve Sisolak
2018 CE Report 1 (Amended)
Angle Engineering
6/27/2017
$5,000.00
Monetary Contribution
Steve Sisolak
2018 Annual CE Filing (Amended)
Angle Engineering
4/4/2016
$5,000.00
Monetary Contribution
Steve Sisolak
2016 CE Report 1
Anheuser Busch Companies
10/26/2016
$2,500.00
Monetary Contribution
Adam Laxalt
2017 Annual CE Filing
ANLV Cab LLC
7/21/2017
$2,000.00
Monetary Contribution
Steve Sisolak
2018 Annual CE Filing (Amended)
ANLV Cab LLC
12/22/2016
$2,000.00
Monetary Contribution
Adam Laxalt
2017 Annual CE Filing
Ann A. Orcutt
4/20/2018
$50.00
Monetary Contribution
Adam Laxalt
2018 CE Report 1
Ann Edmonson
3/1/2018
$100.00
Monetary Contribution
Steve Sisolak
2018 CE Report 1 (Amended)
Ann Houston
6/22/2017
$100.00
Monetary Contribution
Adam Laxalt
2018 Annual CE Filing
Ann L. Bell
4/13/2018
$250.00
Monetary Contribution
Adam Laxalt
2018 CE Report 1
Ann Road Animal Hospital
12/18/2017
$5,000.00
Monetary Contribution
Steve Sisolak
2018 Annual CE Filing (Amended)
Ann W. Lippincott
8/16/2017
$100.00
Monetary Contribution
Adam Laxalt
2018 Annual CE Filing
Anne Eardley
2/8/2018
$1,000.00
Monetary Contribution
Adam Laxalt
2018 CE Report 1
Anne M. Worthington
12/26/2017
$100.00
Monetary Contribution
Adam Laxalt
2018 Annual CE Filing
Annette Persson Trust
4/9/2018
$2,500.00
Monetary Contribution
Steve Sisolak
2018 CE Report 1 (Amended)
Anthem Inc.
4/20/2018
$2,500.00
Monetary Contribution
Steve Sisolak
2018 CE Report 1 (Amended)
Anthem Inc.
11/13/2017
$3,000.00
Monetary Contribution
Adam Laxalt
2018 Annual CE Filing
Anthem Inc.
11/13/2017
$2,000.00
Monetary Contribution
Adam Laxalt
2018 Annual CE Filing
Anthem Surgery Center LLC
11/11/2016
$5,000.00
Monetary Contribution
Adam Laxalt
2017 Annual CE Filing
Anthem Surgery Center LLC
11/11/2016
$5,000.00
Monetary Contribution
Adam Laxalt
2017 Annual CE Filing
Anthony A. Marnell
10/27/2017
$2,500.00
Monetary Contribution
Adam Laxalt
2018 Annual CE Filing
Anthony D Slonim
5/3/2018
$1,000.00
Monetary Contribution
Adam Laxalt
2018 CE Report 1
Anthony J. Estreito
5/29/2018
$50.00
Monetary Contribution
Adam Laxalt
2018 CE Report 2
Anthony M Fanticola
3/6/2018
$5,000.00
Monetary Contribution
Steve Sisolak
2018 CE Report 1 (Amended)
Anthony M Fanticola
4/20/2016
$10,000.00
Monetary Contribution
Steve Sisolak
2016 CE Report 1
Anthony Marlon
5/15/2018
$5,000.00
Monetary Contribution
Adam Laxalt
2018 CE Report 1
Anthony Napolitano
12/22/2017
$250.00
Monetary Contribution
Steve Sisolak
2018 Annual CE Filing (Amended)
Anthony R. Morgan
5/29/2018
$50.00
Monetary Contribution
Adam Laxalt
2018 CE Report 2
Anthony Renaud Living Trust
12/28/2017
$1,000.00
Monetary Contribution
Steve Sisolak
2018 Annual CE Filing (Amended)
Anthony Toti
3/14/2018
$5,000.00
Monetary Contribution
Adam Laxalt
2018 CE Report 1
Anthony Toti
3/14/2018
$5,000.00
Monetary Contribution
Adam Laxalt
2018 CE Report 1
Antonio Alamo
6/2/2015
$2,500.00
Monetary Contribution
Steve Sisolak
2016 Annual CE Filing
Antonio C. Alamo
5/11/2017
$5,000.00
Monetary Contribution
Adam Laxalt
2018 Annual CE Filing
Antonio T. Alamo
5/18/2018
$5,000.00
Monetary Contribution
Adam Laxalt
2018 CE Report 1
Antonio T. Alamo M.D.
4/12/2016
$1,000.00
Monetary Contribution
Steve Sisolak
2016 CE Report 1
Aol.
8/11/2015
$1,000.00
Monetary Contribution
Adam Laxalt
2016 Annual CE Filing
Apex Holding Company, LLC
1/22/2016
$2,000.00
Monetary Contribution
Steve Sisolak
2016 CE Report 1
Apex Industrial Group LLC
1/1/2016
$1,000.00
Monetary Contribution
Steve Sisolak
2016 CE Report 1
Apex Industrial Group LLC
1/2/2018
$1,000.00
Monetary Contribution
Steve Sisolak
2018 CE Report 1 (Amended)
Apollo Education Group
3/9/2015
$1,000.00
Monetary Contribution
Adam Laxalt
2016 Annual CE Filing
Apollo Education Group
12/14/2015
$1,500.00
Monetary Contribution
Adam Laxalt
2016 Annual CE Filing
Apollo Education Group Inc
7/10/2017
$1,000.00
Monetary Contribution
Adam Laxalt
2018 Annual CE Filing
Apotherary Shop
12/16/2017
$5,000.00
Monetary Contribution
Steve Sisolak
2018 Annual CE Filing (Amended)
Appleton Properties LLC
11/28/2017
$1,000.00
Monetary Contribution
Steve Sisolak
2018 Annual CE Filing (Amended)
April L. Christensen
4/10/2018
$500.00
Monetary Contribution
Adam Laxalt
2018 CE Report 1
APS
2/16/2018
$5,000.00
Monetary Contribution
Adam Laxalt
2018 CE Report 1
Aquarius Casino Resort
12/1/2017
$5,000.00
Monetary Contribution
Adam Laxalt
2018 Annual CE Filing
Aquarius Casino Resort
12/1/2017
$5,000.00
Monetary Contribution
Adam Laxalt
2018 Annual CE Filing
ARC Consulting
5/28/2015
$2,500.00
Monetary Contribution
Steve Sisolak
2016 Annual CE Filing
Arcia Jervis
12/8/2017
$100.00
Monetary Contribution
Adam Laxalt
2018 Annual CE Filing
ARDA ROC-PAC
8/11/2015
$1,000.00
Monetary Contribution
Adam Laxalt
2016 Annual CE Filing
ARDA ROC-PAC
4/12/2017
$5,000.00
Monetary Contribution
Adam Laxalt
2018 Annual CE Filing
ARDA ROC-PAC
4/12/2017
$4,000.00
Monetary Contribution
Adam Laxalt
2018 Annual CE Filing
Argo Finance LLC
8/19/2015
$10,000.00
Monetary Contribution
Steve Sisolak
2016 Annual CE Filing
Aria Resort & Casino
11/8/2016
$6,808.75
In Kind Contribution
Steve Sisolak
2016 CE Report 5 (Amended)
Arizona Charlies Boulder
12/1/2017
$5,000.00
Monetary Contribution
Adam Laxalt
2018 Annual CE Filing
Arizona Charlies Boulder
12/1/2017
$5,000.00
Monetary Contribution
Adam Laxalt
2018 Annual CE Filing
Arizona Charlies Boulder Casino Hotel
12/14/2017
$10,000.00
Monetary Contribution
Steve Sisolak
2018 Annual CE Filing (Amended)
Arizona Charlies Decatur
12/1/2017
$5,000.00
Monetary Contribution
Adam Laxalt
2018 Annual CE Filing
Arizona Charlies Decatur
12/1/2017
$5,000.00
Monetary Contribution
Adam Laxalt
2018 Annual CE Filing
Arizona Charlies Decatur Casino Hotel
12/14/2017
$10,000.00
Monetary Contribution
Steve Sisolak
2018 Annual CE Filing (Amended)
Arjun & Sandhya Gururaj
4/12/2016
$1,000.00
Monetary Contribution
Steve Sisolak
2016 CE Report 1
Arjun Gururaj MD
12/14/2017
$1,000.00
Monetary Contribution
Steve Sisolak
2018 Annual CE Filing (Amended)
Arlon J. Sandbulte
12/29/2017
$250.00
Monetary Contribution
Adam Laxalt
2018 Annual CE Filing
Arlouise White
4/19/2018
$50.00
Monetary Contribution
Adam Laxalt
2018 CE Report 1
Arlouise White
5/7/2018
$50.00
Monetary Contribution
Adam Laxalt
2018 CE Report 1
Armando Dale Rodriguez
5/9/2018
$5,000.00
Monetary Contribution
Adam Laxalt
2018 CE Report 1
Armando Dale Rodriguez
5/9/2018
$5,000.00
Monetary Contribution
Adam Laxalt
2018 CE Report 1
Armen Yemenidjian
10/12/2017
$2,316.77
In Kind Contribution
Steve Sisolak
2018 Annual CE Filing (Amended)
Arnold R. Stalk
12/28/2017
$250.00
Monetary Contribution
Steve Sisolak
2018 Annual CE Filing (Amended)
Arnold R. Stalk
6/15/2016
$50.00
Monetary Contribution
Steve Sisolak
2016 CE Report 3
Arnold T. Schmidt
5/29/2018
$50.00
Monetary Contribution
Adam Laxalt
2018 CE Report 2
Art Hinckley
5/26/2017
$2,500.00
Monetary Contribution
Adam Laxalt
2018 Annual CE Filing
Art Matrix Inc.
9/8/2016
$1,500.00
Monetary Contribution
Steve Sisolak
2016 CE Report 3
Art Matrix Inc.
9/14/2017
$2,000.00
Monetary Contribution
Steve Sisolak
2018 Annual CE Filing (Amended)
Arthur Majors
3/8/2018
$300.00
Monetary Contribution
Adam Laxalt
2018 CE Report 1
Arthur Schuetz
2/18/2018
$100.00
Monetary Contribution
Adam Laxalt
2018 CE Report 1
Arthur Schuetz
5/23/2018
$100.00
Monetary Contribution
Adam Laxalt
2018 CE Report 2
Arthur Wilson
2/23/2018
$500.00
Monetary Contribution
Adam Laxalt
2018 CE Report 1
Arturo Marchand Jr MD PC
12/12/2017
$2,000.00
Monetary Contribution
Steve Sisolak
2018 Annual CE Filing (Amended)
Arturo Marchand Jr MD PC - Advanced Cardiovascular Care
4/12/2016
$1,000.00
Monetary Contribution
Steve Sisolak
2016 CE Report 1
Arvind Menon
6/14/2017
$500.00
Monetary Contribution
Adam Laxalt
2018 Annual CE Filing
Ashcraft & Barr LLP
11/6/2016
$2,500.00
Monetary Contribution
Steve Sisolak
2016 CE Report 5 (Amended)
Ashcraft & Barr LLP
12/1/2017
$10,000.00
In Kind Contribution
Adam Laxalt
2018 Annual CE Filing
Ashcraft & Barr LLP
5/18/2018
$2,500.00
In Kind Contribution
Adam Laxalt
2018 CE Report 1
Asher Shahzad M.D. PC
11/28/2017
$1,000.00
Monetary Contribution
Steve Sisolak
2018 Annual CE Filing (Amended)
Ashford E. Spencer
5/4/2018
$100.00
Monetary Contribution
Adam Laxalt
2018 CE Report 1
Ashley Hall
2/10/2018
$250.00
Monetary Contribution
Adam Laxalt
2018 CE Report 1
Ashley Hall
5/16/2018
$250.00
Monetary Contribution
Adam Laxalt
2018 CE Report 1
Ashley Hall
12/19/2016
$250.00
Monetary Contribution
Adam Laxalt
2017 Annual CE Filing
Ashok Mirchandani
2/28/2018
$500.00
Monetary Contribution
Steve Sisolak
2018 CE Report 1 (Amended)
AssociaPac
12/19/2016
$2,000.00
Monetary Contribution
Adam Laxalt
2017 Annual CE Filing
Associated Builders and Contractors Nevada Chapter
8/28/2017
$5,000.00
Monetary Contribution
Adam Laxalt
2018 Annual CE Filing
Associated Builders and Contractors Nevada Chapter
8/28/2017
$5,000.00
Monetary Contribution
Adam Laxalt
2018 Annual CE Filing
Associated General Contractors
11/10/2015
$1,000.00
Monetary Contribution
Steve Sisolak
2016 Annual CE Filing
Associated General Contractors Build PAC
12/8/2016
$1,000.00
Monetary Contribution
Steve Sisolak
2016 CE Report 5 (Amended)
Associated General Contractors Build PAC
11/9/2016
$1,000.00
Monetary Contribution
Adam Laxalt
2017 Annual CE Filing
Association of Dental Support Organizations
7/11/2016
$1,000.00
Monetary Contribution
Adam Laxalt
2017 Annual CE Filing
Associations Inc.
5/29/2018
$5,000.00
Monetary Contribution
Adam Laxalt
2018 CE Report 2
Associations Inc.
5/29/2018
$5,000.00
Monetary Contribution
Adam Laxalt
2018 CE Report 2
Assured Strategies
9/22/2016
$250.00
Monetary Contribution
Steve Sisolak
2016 CE Report 3
astra michels
2/27/2018
$100.00
Monetary Contribution
Adam Laxalt
2018 CE Report 1
astra michels
11/9/2017
$250.00
Monetary Contribution
Adam Laxalt
2018 Annual CE Filing
Athena Jean Bowler
3/31/2018
$50.00
Monetary Contribution
Adam Laxalt
2018 CE Report 1
Athena Jean Bowler
11/16/2017
$70.00
Monetary Contribution
Adam Laxalt
2018 Annual CE Filing
Atlantis Casino Resort Spa
8/25/2017
$5,000.00
Monetary Contribution
Adam Laxalt
2018 Annual CE Filing
Atlantis Casino Resort Spa
5/18/2018
$5,000.00
Monetary Contribution
Adam Laxalt
2018 CE Report 1
Atlas Properties
4/1/2018
$1,381.20
In Kind Contribution
Adam Laxalt
2018 CE Report 1
Atlas Properties
5/1/2018
$1,381.20
In Kind Contribution
Adam Laxalt
2018 CE Report 1
Atlas Properties
1/1/2018
$1,381.20
In Kind Contribution
Adam Laxalt
2018 CE Report 1
Atlas Properties
2/1/2018
$1,381.20
In Kind Contribution
Adam Laxalt
2018 CE Report 1
Atlas Properties
3/1/2018
$1,381.20
In Kind Contribution
Adam Laxalt
2018 CE Report 1
Atlas Properties
6/1/2018
$1,381.20
In Kind Contribution
Adam Laxalt
2018 CE Report 2
Attorney Peter A Palivos
1/24/2018
$5,000.00
Monetary Contribution
Steve Sisolak
2018 CE Report 1 (Amended)
Attorney Peter A. Palivos
9/27/2017
$5,000.00
Monetary Contribution
Steve Sisolak
2018 Annual CE Filing (Amended)
Aubrey Goldberg Paul E Raby Gabriel Martinez
1/24/2018
$5,000.00
Monetary Contribution
Steve Sisolak
2018 CE Report 1 (Amended)
Audys Dodge Losche
11/28/2017
$50.00
Monetary Contribution
Adam Laxalt
2018 Annual CE Filing
Aurelia Arnold-Roberts
11/17/2017
$1,000.00
Monetary Contribution
Adam Laxalt
2018 Annual CE Filing
AWG Ambassador LLC
1/26/2018
$500.00
Monetary Contribution
Steve Sisolak
2018 CE Report 1 (Amended)
AWL Inc.
4/7/2017
$2,500.00
Monetary Contribution
Adam Laxalt
2018 Annual CE Filing
AX Transportation LLC
12/21/2016
$5,000.00
Monetary Contribution
Adam Laxalt
2017 Annual CE Filing
AX Transportation LLC
12/21/2016
$5,000.00
Monetary Contribution
Adam Laxalt
2017 Annual CE Filing
Axiom Real Estate Partners
5/25/2016
$1,000.00
Monetary Contribution
Steve Sisolak
2016 CE Report 2
Ayala's Concession Group
6/1/2018
$1,000.00
Monetary Contribution
Steve Sisolak
2018 CE Report 2 (Amended)
Ayala's Inc.
9/26/2016
$3,000.00
Monetary Contribution
Steve Sisolak
2016 CE Report 3
Ayala's Inc.
12/29/2015
$3,000.00
Monetary Contribution
Steve Sisolak
2016 Annual CE Filing
Ayala's Inc.
1/5/2018
$3,000.00
Monetary Contribution
Steve Sisolak
2018 CE Report 1 (Amended)
Babe Gialketsis
5/2/2018
$1,000.00
Monetary Contribution
Adam Laxalt
2018 CE Report 1
Bags to go Enterprises Nevada LLC
12/15/2017
$2,500.00
Monetary Contribution
Steve Sisolak
2018 Annual CE Filing (Amended)
Bags to go Enterprises Nevada LLC
8/15/2017
$2,500.00
Monetary Contribution
Steve Sisolak
2018 Annual CE Filing (Amended)
Bags to go Enterprises Nevada LLC
9/28/2017
$2,500.00
Monetary Contribution
Steve Sisolak
2018 Annual CE Filing (Amended)
Bags to go Enterprises Nevada LLC
8/19/2016
$2,500.00
Monetary Contribution
Steve Sisolak
2016 CE Report 3
Bags to go Enterprises Nevada LLC
3/15/2016
$2,500.00
Monetary Contribution
Steve Sisolak
2016 CE Report 1
Bags to go Enterprises Nevada LLC
10/27/2015
$5,000.00
Monetary Contribution
Steve Sisolak
2016 Annual CE Filing
Bags to Go Enterprises Nevada LLC
11/30/2017
$2,500.00
Monetary Contribution
Steve Sisolak
2018 Annual CE Filing (Amended)
Bailey Kennedy LLP
8/18/2015
$2,500.00
Monetary Contribution
Steve Sisolak
2016 Annual CE Filing
Bailey Kennedy LLP
7/11/2017
$2,500.00
Monetary Contribution
Steve Sisolak
2018 Annual CE Filing (Amended)
Balelo Family Revocable Trust
10/24/2017
$500.00
Monetary Contribution
Steve Sisolak
2018 Annual CE Filing (Amended)
Ballard Spahr
10/26/2016
$1,500.00
Monetary Contribution
Steve Sisolak
2016 CE Report 4
Ballard Spahr
12/2/2015
$1,500.00
Monetary Contribution
Steve Sisolak
2016 Annual CE Filing
Barbara and Bruce Woollen
3/13/2018
$2,558.00
In Kind Contribution
Adam Laxalt
2018 CE Report 1
Barbara Barrett
2/5/2018
$5,000.00
Monetary Contribution
Adam Laxalt
2018 CE Report 1
Barbara J. Buckley
5/26/2017
$100.00
Monetary Contribution
Adam Laxalt
2018 Annual CE Filing
Barbara L. Altman
11/11/2017
$100.00
Monetary Contribution
Adam Laxalt
2018 Annual CE Filing
Barbara L. Cameron
11/14/2017
$50.00
Monetary Contribution
Adam Laxalt
2018 Annual CE Filing
Barbara Ludenna
11/2/2017
$100.00
Monetary Contribution
Adam Laxalt
2018 Annual CE Filing
Barbara McDonald
2/27/2018
$50.00
Monetary Contribution
Adam Laxalt
2018 CE Report 1
Barbara Molasky
11/6/2016
$10,000.00
Monetary Contribution
Steve Sisolak
2016 CE Report 5 (Amended)
Barbara Wall
4/16/2018
$50.00
Monetary Contribution
Steve Sisolak
2018 CE Report 1 (Amended)
Barbara Woollen
3/14/2018
$2,500.00
Monetary Contribution
Adam Laxalt
2018 CE Report 1
Barry Becker
11/9/2017
$1,000.00
Monetary Contribution
Adam Laxalt
2018 Annual CE Filing
Barry Cohen
6/7/2018
$1,000.00
Monetary Contribution
Steve Sisolak
2018 CE Report 2 (Amended)
Barry Fieldman
8/1/2017
$2,500.00
Monetary Contribution
Steve Sisolak
2018 Annual CE Filing (Amended)
Barry J. Meguiar
12/7/2017
$5,000.00
Monetary Contribution
Adam Laxalt
2018 Annual CE Filing
Barry J. Meguiar
12/7/2017
$5,000.00
Monetary Contribution
Adam Laxalt
2018 Annual CE Filing
Barry Jay
7/18/2017
$100.00
Monetary Contribution
Steve Sisolak
2018 Annual CE Filing (Amended)
Barry Jay
10/3/2016
$100.00
Monetary Contribution
Steve Sisolak
2016 CE Report 3
Barry Lagan
5/29/2018
$50.00
Monetary Contribution
Adam Laxalt
2018 CE Report 2
Barry Moore
10/15/2015
$2,500.00
Monetary Contribution
Steve Sisolak
2016 Annual CE Filing
Barry Quart
4/4/2018
$2,500.00
Monetary Contribution
Adam Laxalt
2018 CE Report 1
Barry Roseman
11/1/2017
$100.00
Monetary Contribution
Adam Laxalt
2018 Annual CE Filing
Barry Smith
2/8/2018
$5,000.00
Monetary Contribution
Adam Laxalt
2018 CE Report 1
Bart Scott
5/3/2018
$1,000.00
Monetary Contribution
Adam Laxalt
2018 CE Report 1
Bart Scott
12/29/2017
$2,500.00
Monetary Contribution
Adam Laxalt
2018 Annual CE Filing
Battle Born Autobody LLC
3/8/2018
$250.00
Monetary Contribution
Adam Laxalt
2018 CE Report 1
BBA LLC
3/23/2018
$10,000.00
Monetary Contribution
Steve Sisolak
2018 CE Report 1 (Amended)
BBMC, LLC DBA Top Leaf
5/12/2015
$5,000.00
Monetary Contribution
Steve Sisolak
2016 Annual CE Filing
BCP-10410 S. Decatur LLC
9/18/2017
$5,000.00
Monetary Contribution
Steve Sisolak
2018 Annual CE Filing (Amended)
BCP-Rainbow & Badura LLC
9/18/2017
$5,000.00
Monetary Contribution
Steve Sisolak
2018 Annual CE Filing (Amended)
BCP-Rainbow & Badura LLC
2/21/2018
$2,500.00
Monetary Contribution
Steve Sisolak
2018 CE Report 1 (Amended)
Beacon Property Management, LLC
7/29/2015
$5,000.00
Monetary Contribution
Steve Sisolak
2016 Annual CE Filing
Beare Law
3/13/2018
$5,000.00
Monetary Contribution
Steve Sisolak
2018 CE Report 1 (Amended)
Becker Enterprises LLC
8/13/2015
$1,000.00
Monetary Contribution
Steve Sisolak
2016 Annual CE Filing
Becker Enterprises LLC
12/7/2016
$1,000.00
Monetary Contribution
Adam Laxalt
2017 Annual CE Filing
Belagrasco Investments
5/18/2018
$5,000.00
Monetary Contribution
Adam Laxalt
2018 CE Report 1
Belagrasco Investments
5/18/2018
$5,000.00
Monetary Contribution
Adam Laxalt
2018 CE Report 1
Belagrasco IV LLC
5/17/2018
$5,000.00
Monetary Contribution
Adam Laxalt
2018 CE Report 1
Belagrasco IV LLC
5/22/2018
$4,000.00
Monetary Contribution
Adam Laxalt
2018 CE Report 2
Belagrasco LLC
5/17/2018
$5,000.00
Monetary Contribution
Adam Laxalt
2018 CE Report 1
Belagrasco LLC
5/17/2018
$5,000.00
Monetary Contribution
Adam Laxalt
2018 CE Report 1
Bell Trans
7/16/2015
$3,000.00
Monetary Contribution
Steve Sisolak
2016 Annual CE Filing
Bell Trans
8/31/2017
$5,000.00
Monetary Contribution
Steve Sisolak
2018 Annual CE Filing (Amended)
Bell Trans
3/16/2018
$1,000.00
Monetary Contribution
Adam Laxalt
2018 CE Report 1
Bellagio
12/20/2017
$10,000.00
Monetary Contribution
Steve Sisolak
2018 Annual CE Filing (Amended)
Bellagio
3/22/2016
$10,000.00
Monetary Contribution
Steve Sisolak
2016 CE Report 1
Beltway Marketplace LLC
10/21/2016
$350.00
Monetary Contribution
Steve Sisolak
2016 CE Report 4
Ben B. Maze
4/10/2018
$500.00
Monetary Contribution
Adam Laxalt
2018 CE Report 1
Ben Farahi
4/25/2017
$1,500.00
Monetary Contribution
Adam Laxalt
2018 Annual CE Filing
Ben Farahi
11/22/2017
$1,500.00
Monetary Contribution
Adam Laxalt
2018 Annual CE Filing
Ben Kermani
10/27/2016
$500.00
Monetary Contribution
Steve Sisolak
2016 CE Report 4
Ben Tupper
3/29/2018
$250.00
Monetary Contribution
Steve Sisolak
2018 CE Report 1 (Amended)
Benefit Plan Administrators, Inc.
5/3/2018
$1,000.00
Monetary Contribution
Steve Sisolak
2018 CE Report 1 (Amended)
Bengochea Family Limited Partnership
11/20/2017
$1,000.00
Monetary Contribution
Steve Sisolak
2018 Annual CE Filing (Amended)
Benjamin L. Ginsberg
7/24/2017
$500.00
Monetary Contribution
Adam Laxalt
2018 Annual CE Filing
Benson Bertoldo Baker & Carter Chtd.
1/24/2018
$5,000.00
Monetary Contribution
Steve Sisolak
2018 CE Report 1 (Amended)
Bernard A. Dreher
6/2/2017
$50.00
Monetary Contribution
Adam Laxalt
2018 Annual CE Filing
Bernard A. Dreher
10/26/2017
$50.00
Monetary Contribution
Adam Laxalt
2018 Annual CE Filing
Bernard A. Dreher
4/3/2017
$50.00
Monetary Contribution
Adam Laxalt
2018 Annual CE Filing
Bernard A. Dreher
1/14/2018
$50.00
Monetary Contribution
Adam Laxalt
2018 CE Report 1
Bernard Nash
7/10/2017
$1,000.00
Monetary Contribution
Adam Laxalt
2018 Annual CE Filing
Bernard Nash
11/28/2016
$500.00
Monetary Contribution
Adam Laxalt
2017 Annual CE Filing
Bernard Nash
7/29/2016
$500.00
Monetary Contribution
Adam Laxalt
2017 Annual CE Filing
Bernard Nash
1/23/2015
$500.00
Monetary Contribution
Adam Laxalt
2016 Annual CE Filing
Bernard Nash
8/7/2015
$500.00
Monetary Contribution
Adam Laxalt
2016 Annual CE Filing
Bernie Yuman
3/16/2018
$1,000.00
Monetary Contribution
Steve Sisolak
2018 CE Report 1 (Amended)
Bernie Yuman
10/25/2016
$5,000.00
Monetary Contribution
Steve Sisolak
2016 CE Report 4
Bert Adams
5/25/2016
$2,500.00
Monetary Contribution
Steve Sisolak
2016 CE Report 2
Bert Adams
7/21/2015
$5,000.00
Monetary Contribution
Steve Sisolak
2016 Annual CE Filing
Bert Adams
12/22/2017
$10,000.00
Monetary Contribution
Steve Sisolak
2018 Annual CE Filing (Amended)
Beryl R. Ransom
11/15/2017
$50.00
Monetary Contribution
Adam Laxalt
2018 Annual CE Filing
Beth Laine
4/17/2017
$50.00
Monetary Contribution
Adam Laxalt
2018 Annual CE Filing
Beth M Laine
4/10/2018
$75.00
Monetary Contribution
Adam Laxalt
2018 CE Report 1
Bethany Gasperini
4/17/2017
$50.00
Monetary Contribution
Adam Laxalt
2018 Annual CE Filing
Betsy Rhodes
11/22/2017
$100.00
Monetary Contribution
Adam Laxalt
2018 Annual CE Filing
Betsy Rhodes
2/28/2018
$100.00
Monetary Contribution
Adam Laxalt
2018 CE Report 1
Betsy Rhodes
3/16/2018
$100.00
Monetary Contribution
Adam Laxalt
2018 CE Report 1
Betty Stanko
12/4/2017
$5,000.00
Monetary Contribution
Adam Laxalt
2018 Annual CE Filing
Betty Stanko
12/4/2017
$2,500.00
Monetary Contribution
Adam Laxalt
2018 Annual CE Filing
Beverly A. Hall
3/8/2018
$200.00
Monetary Contribution
Adam Laxalt
2018 CE Report 1
Beverly J. Laird
5/31/2018
$100.00
Monetary Contribution
Adam Laxalt
2018 CE Report 2
Beverly Mazza
1/18/2018
$100.00
Monetary Contribution
Adam Laxalt
2018 CE Report 1
Beverly Rogers Trust
2/18/2016
$3,000.00
Monetary Contribution
Steve Sisolak
2016 CE Report 1
Beverly Rogers Trust
5/11/2015
$5,000.00
Monetary Contribution
Steve Sisolak
2016 Annual CE Filing
Bhatia Ventures LLC
12/7/2017
$5,000.00
In Kind Contribution
Steve Sisolak
2018 Annual CE Filing (Amended)
Bhupinder & Kanwaljit Bhatti
5/21/2016
$1,500.00
Monetary Contribution
Steve Sisolak
2016 CE Report 2
Bhupinder Bhatti
11/28/2017
$1,000.00
Monetary Contribution
Steve Sisolak
2018 Annual CE Filing (Amended)
Bhupinder Bhatti
2/27/2018
$500.00
Monetary Contribution
Steve Sisolak
2018 CE Report 1 (Amended)
Bhupinder S. Bhatti
8/4/2017
$5,000.00
Monetary Contribution
Steve Sisolak
2018 Annual CE Filing (Amended)
Bickett LLC
11/5/2016
$5,000.00
Monetary Contribution
Steve Sisolak
2016 CE Report 5 (Amended)
Big Buffalo LLC
7/7/2015
$1,000.00
Monetary Contribution
Steve Sisolak
2016 Annual CE Filing
Big Trout Inc.
5/1/2018
$1,000.00
Monetary Contribution
Adam Laxalt
2018 CE Report 1
Bill & Diane Harrington
3/13/2018
$500.00
Monetary Contribution
Adam Laxalt
2018 CE Report 1
Bill & Erminia Drobkin
4/13/2015
$2,000.00
Monetary Contribution
Steve Sisolak
2016 Annual CE Filing
Bill & Mabeth Sanderson
3/16/2018
$2,700.00
Monetary Contribution
Adam Laxalt
2018 CE Report 1
Bill & Nancy Bilyeu
5/3/2018
$1,000.00
Monetary Contribution
Adam Laxalt
2018 CE Report 1
Bill & Sherry Keith
4/30/2018
$100.00
Monetary Contribution
Adam Laxalt
2018 CE Report 1
Bill and Doris Roush
3/7/2018
$50.00
Monetary Contribution
Adam Laxalt
2018 CE Report 1
Bill and Doris Roush
3/28/2018
$200.00
Monetary Contribution
Adam Laxalt
2018 CE Report 1
Bill D. Brady
10/24/2016
$5,000.00
Monetary Contribution
Adam Laxalt
2017 Annual CE Filing
Bill D. Brady
10/24/2016
$5,000.00
Monetary Contribution
Adam Laxalt
2017 Annual CE Filing
Bill de Carbonel
11/9/2017
$50.00
Monetary Contribution
Adam Laxalt
2018 Annual CE Filing
Bill Ensign
4/10/2018
$1,000.00
Monetary Contribution
Adam Laxalt
2018 CE Report 1
Bill Hicks
5/25/2016
$2,000.00
Monetary Contribution
Steve Sisolak
2016 CE Report 2
Bill Johnston
11/17/2017
$100.00
Monetary Contribution
Adam Laxalt
2018 Annual CE Filing
Bill Laub
11/15/2017
$250.00
Monetary Contribution
Adam Laxalt
2018 Annual CE Filing
Bill McBeath
5/16/2018
$5,000.00
Monetary Contribution
Adam Laxalt
2018 CE Report 1
Bill McBeath
5/16/2018
$5,000.00
Monetary Contribution
Adam Laxalt
2018 CE Report 1
Bill Miller
8/31/2016
$1,000.00
Monetary Contribution
Adam Laxalt
2017 Annual CE Filing
Bill Miller
12/19/2016
$4,000.00
Monetary Contribution
Adam Laxalt
2017 Annual CE Filing
Bill Miller
12/19/2016
$1,000.00
Monetary Contribution
Adam Laxalt
2017 Annual CE Filing
Bill Valentine
11/17/2017
$100.00
Monetary Contribution
Adam Laxalt
2018 Annual CE Filing
Bill Valentine
6/1/2018
$100.00
Monetary Contribution
Adam Laxalt
2018 CE Report 2
Billco Holdings LLC
5/3/2018
$10,000.00
Monetary Contribution
Steve Sisolak
2018 CE Report 1 (Amended)
Billie Filippini
11/15/2017
$100.00
Monetary Contribution
Adam Laxalt
2018 Annual CE Filing
Bimini Superfast Operations LLC
10/19/2015
$10,000.00
Monetary Contribution
Steve Sisolak
2016 Annual CE Filing
Bita Yeager
12/31/2017
$100.00
Monetary Contribution
Steve Sisolak
2018 Annual CE Filing (Amended)
Biz Obley
4/1/2018
$50.00
Monetary Contribution
Adam Laxalt
2018 CE Report 1
Blach Distributing Co.
3/26/2015
$2,500.00
Monetary Contribution
Adam Laxalt
2016 Annual CE Filing
Blackstone Land
2/23/2018
$3,000.00
Monetary Contribution
Steve Sisolak
2018 CE Report 1 (Amended)
Blake Fechser
11/20/2017
$3,000.00
Monetary Contribution
Steve Sisolak
2018 Annual CE Filing (Amended)
Block 16 LLC
12/27/2017
$10,000.00
Monetary Contribution
Steve Sisolak
2018 Annual CE Filing (Amended)
Blohms Inc.
11/9/2017
$100.00
Monetary Contribution
Adam Laxalt
2018 Annual CE Filing
Blondies LLC
4/18/2018
$1,000.00
Monetary Contribution
Steve Sisolak
2018 CE Report 1 (Amended)
Blue Diamond Centers LLC
2/21/2018
$9,000.00
Monetary Contribution
Steve Sisolak
2018 CE Report 1 (Amended)
Blue Diamond Frontage LLC
11/28/2017
$5,000.00
Monetary Contribution
Steve Sisolak
2018 Annual CE Filing (Amended)
Blue Mann, LLC
5/20/2015
$2,000.00
Monetary Contribution
Steve Sisolak
2016 Annual CE Filing
Bluewater PE LLC
2/19/2018
$2,500.00
Monetary Contribution
Adam Laxalt
2018 CE Report 1
Blum Alliance
10/12/2017
$10,000.00
Monetary Contribution
Steve Sisolak
2018 Annual CE Filing (Amended)
BM Old Seward LLC
4/12/2018
$5,000.00
Monetary Contribution
Adam Laxalt
2018 CE Report 1
BM Old Seward LLC
4/12/2018
$5,000.00
Monetary Contribution
Adam Laxalt
2018 CE Report 1
Bo Blair
11/6/2017
$2,500.00
Monetary Contribution
Adam Laxalt
2018 Annual CE Filing
Bo Fanuzzi
2/17/2018
$200.00
Monetary Contribution
Steve Sisolak
2018 CE Report 1 (Amended)
Board of Realtors Political Action Committee Borpac
6/11/2016
$4,000.00
Monetary Contribution
Steve Sisolak
2016 CE Report 3
Boardwalk Resorts LLC
12/19/2017
$5,000.00
Monetary Contribution
Adam Laxalt
2018 Annual CE Filing
Boardwalk Resorts LLC
12/19/2017
$5,000.00
Monetary Contribution
Adam Laxalt
2018 Annual CE Filing
Bob Canfield
2/24/2018
$100.00
Monetary Contribution
Adam Laxalt
2018 CE Report 1
Bob Canfield
3/20/2018
$100.00
Monetary Contribution
Adam Laxalt
2018 CE Report 1
Bob Canfield
4/19/2018
$250.00
Monetary Contribution
Adam Laxalt
2018 CE Report 1
Bob Canfield
5/21/2018
$200.00
Monetary Contribution
Adam Laxalt
2018 CE Report 2
Bob Lucey Campaign Fund
8/28/2017
$1,500.00
Monetary Contribution
Adam Laxalt
2018 Annual CE Filing
Bob Yandow
2/28/2018
$50.00
Monetary Contribution
Adam Laxalt
2018 CE Report 1
Bonanza Beverage Company
3/26/2015
$1,500.00
Monetary Contribution
Adam Laxalt
2016 Annual CE Filing
Bonnie I. Boyle
5/31/2018
$50.00
Monetary Contribution
Adam Laxalt
2018 CE Report 2
Bonnie Martin
4/26/2017
$2,000.00
Monetary Contribution
Adam Laxalt
2018 Annual CE Filing
Bonnie Martin
6/14/2017
$1,500.00
Monetary Contribution
Adam Laxalt
2018 Annual CE Filing
Bonnie Martin
12/22/2017
$1,500.00
Monetary Contribution
Adam Laxalt
2018 Annual CE Filing
Bonnie Martin
12/22/2017
$5,000.00
Monetary Contribution
Adam Laxalt
2018 Annual CE Filing
Bonnie Quirke
5/14/2018
$300.00
Monetary Contribution
Adam Laxalt
2018 CE Report 1
Born and Raised Henderson
12/22/2017
$2,500.00
Monetary Contribution
Adam Laxalt
2018 Annual CE Filing
Born and Raised Las Vegas
11/27/2017
$5,000.00
Monetary Contribution
Steve Sisolak
2018 Annual CE Filing (Amended)
Bosworth Hospitality Partners LLC
2/27/2018
$2,000.00
Monetary Contribution
Steve Sisolak
2018 CE Report 1 (Amended)
Boudwin Properties LTD
8/8/2017
$2,000.00
Monetary Contribution
Adam Laxalt
2018 Annual CE Filing
Boudwin Properties LTD
11/30/2016
$2,000.00
Monetary Contribution
Adam Laxalt
2017 Annual CE Filing
Boulder Highway Gaming LLC
9/11/2017
$2,500.00
Monetary Contribution
Steve Sisolak
2018 Annual CE Filing (Amended)
Boulder Station Hotel & Casino
6/20/2017
$5,000.00
Monetary Contribution
Adam Laxalt
2018 Annual CE Filing
Boulder Station Hotel & Casino
11/9/2017
$2,500.00
Monetary Contribution
Adam Laxalt
2018 Annual CE Filing
Boulder Station Hotel & Casino Cage Account
1/25/2018
$10,000.00
Monetary Contribution
Steve Sisolak
2018 CE Report 1 (Amended)
Boulevard Medical LLC
12/17/2015
$5,000.00
Monetary Contribution
Steve Sisolak
2016 Annual CE Filing
Boulevard Medical LLC
7/1/2015
$2,500.00
Monetary Contribution
Steve Sisolak
2016 Annual CE Filing
Boyd Gaming Corporation
7/29/2015
$5,000.00
Monetary Contribution
Steve Sisolak
2016 Annual CE Filing
Boyd Gaming Corporation
11/17/2017
$5,000.00
Monetary Contribution
Steve Sisolak
2018 Annual CE Filing (Amended)
Boyd Gaming Corporation
5/17/2017
$5,000.00
Monetary Contribution
Adam Laxalt
2018 Annual CE Filing
Boyd Gaming Corporation
8/16/2017
$5,000.00
Monetary Contribution
Adam Laxalt
2018 Annual CE Filing
Boyd Martin Construction, LLC
8/7/2017
$1,500.00
Monetary Contribution
Steve Sisolak
2018 Annual CE Filing (Amended)
Boyd Martin Construction, LLC
12/17/2015
$1,000.00
Monetary Contribution
Steve Sisolak
2016 Annual CE Filing
Boyd Martin Construction, LLC
10/4/2016
$1,000.00
Monetary Contribution
Steve Sisolak
2016 CE Report 3
Boyd Martin Construction, LLC
5/11/2015
$2,500.00
Monetary Contribution
Steve Sisolak
2016 Annual CE Filing
BP Holdings Inc
10/25/2016
$2,500.00
Monetary Contribution
Steve Sisolak
2016 CE Report 4
BPS Harmon LLC
12/7/2017
$10,000.00
Monetary Contribution
Steve Sisolak
2018 Annual CE Filing (Amended)
BPS Management Services LLC
12/7/2017
$10,000.00
Monetary Contribution
Steve Sisolak
2018 Annual CE Filing (Amended)
BPS Management Services LLC
9/28/2015
$10,000.00
Monetary Contribution
Steve Sisolak
2016 Annual CE Filing
BPS Nevada LLC
12/7/2017
$10,000.00
Monetary Contribution
Steve Sisolak
2018 Annual CE Filing (Amended)
BPS Partners LLC
9/28/2015
$10,000.00
Monetary Contribution
Steve Sisolak
2016 Annual CE Filing
BQ Resorts LLC
12/19/2017
$5,000.00
Monetary Contribution
Adam Laxalt
2018 Annual CE Filing
BQ Resorts LLC
12/19/2017
$5,000.00
Monetary Contribution
Adam Laxalt
2018 Annual CE Filing
BR Guest Holdings LLC
6/6/2018
$5,000.00
Monetary Contribution
Adam Laxalt
2018 CE Report 2
BR Guest Holdings LLC
6/6/2018
$5,000.00
Monetary Contribution
Adam Laxalt
2018 CE Report 2
Brack A. Thompson
4/5/2018
$70.00
Monetary Contribution
Adam Laxalt
2018 CE Report 1
Brack A. Thompson
8/31/2017
$50.00
Monetary Contribution
Adam Laxalt
2018 Annual CE Filing
Brack A. Thompson
11/9/2017
$100.00
Monetary Contribution
Adam Laxalt
2018 Annual CE Filing
Brad Friedmutter
2/6/2018
$2,500.00
Monetary Contribution
Steve Sisolak
2018 CE Report 1 (Amended)
Brad Friedmutter
3/13/2018
$1,000.00
Monetary Contribution
Steve Sisolak
2018 CE Report 1 (Amended)
Brad Friedmutter
3/13/2018
$1,000.00
Monetary Contribution
Steve Sisolak
2018 CE Report 1 (Amended)
Brad Friedmutter
11/10/2017
$2,500.00
Monetary Contribution
Adam Laxalt
2018 Annual CE Filing
Brad Friedmutter
11/10/2017
$2,500.00
Monetary Contribution
Adam Laxalt
2018 Annual CE Filing
Bradley Drendel & Jeanney
2/2/2018
$5,000.00
Monetary Contribution
Steve Sisolak
2018 CE Report 1 (Amended)
Bradley Robert Margison
4/19/2018
$100.00
Monetary Contribution
Adam Laxalt
2018 CE Report 1
Brady
8/30/2016
$5,000.00
Monetary Contribution
Steve Sisolak
2016 CE Report 3
Brady Industries LLC
11/12/2015
$500.00
Monetary Contribution
Steve Sisolak
2016 Annual CE Filing
Brady Industries LLC
5/15/2018
$5,000.00
Monetary Contribution
Adam Laxalt
2018 CE Report 1
Brady Industries LLC
12/15/2015
$5,000.00
Monetary Contribution
Adam Laxalt
2016 Annual CE Filing
Branan G Allison
10/27/2016
$1,000.00
Monetary Contribution
Steve Sisolak
2016 CE Report 4
Branavan & Preeti Umakanthan
4/9/2016
$1,000.00
Monetary Contribution
Steve Sisolak
2016 CE Report 1
Branavan Umakanthan
12/14/2017
$1,000.00
Monetary Contribution
Steve Sisolak
2018 Annual CE Filing (Amended)
Branding Flavors LLC
1/30/2018
$1,500.00
Monetary Contribution
Steve Sisolak
2018 CE Report 1 (Amended)
Brandon T. Peck
3/27/2018
$500.00
Monetary Contribution
Adam Laxalt
2018 CE Report 1
Breakthru Beverage
4/23/2018
$1,000.00
Monetary Contribution
Steve Sisolak
2018 CE Report 1 (Amended)
Breakthru Beverage
11/27/2017
$1,000.00
Monetary Contribution
Steve Sisolak
2018 Annual CE Filing (Amended)
Breakthru Beverage
11/5/2016
$1,000.00
Monetary Contribution
Steve Sisolak
2016 CE Report 5 (Amended)
Breakthru Beverage Nevada LLC
4/21/2016
$1,000.00
Monetary Contribution
Steve Sisolak
2016 CE Report 1
Breakthru Beverage Nevada LLC
5/2/2018
$2,500.00
Monetary Contribution
Adam Laxalt
2018 CE Report 1
Breakthru Beverage Nevada LLC
11/9/2017
$2,500.00
Monetary Contribution
Adam Laxalt
2018 Annual CE Filing
Brenda & Gregg Rochna
12/9/2015
$2,000.00
Monetary Contribution
Steve Sisolak
2016 Annual CE Filing
Brenda K. Warneka
5/10/2017
$50.00
Monetary Contribution
Adam Laxalt
2018 Annual CE Filing
Brendan Keating
12/12/2016
$1,000.00
Monetary Contribution
Adam Laxalt
2017 Annual CE Filing
Brendan Keating LLC
10/25/2016
$2,000.00
Monetary Contribution
Steve Sisolak
2016 CE Report 4
Brent Barrett
4/5/2018
$300.00
Monetary Contribution
Steve Sisolak
2018 CE Report 1 (Amended)
Breslin Builders
5/12/2016
$500.00
Monetary Contribution
Steve Sisolak
2016 CE Report 1
Breslin Builders
11/24/2015
$500.00
Monetary Contribution
Steve Sisolak
2016 Annual CE Filing
Bret F. Meich
11/29/2017
$250.00
Monetary Contribution
Adam Laxalt
2018 Annual CE Filing
Bret W. Frey
4/19/2018
$500.00
Monetary Contribution
Adam Laxalt
2018 CE Report 1
Brett E. Coleman
5/3/2018
$2,500.00
Monetary Contribution
Adam Laxalt
2018 CE Report 1
Brett E. Coleman
6/26/2017
$2,500.00
Monetary Contribution
Adam Laxalt
2018 Annual CE Filing
Brett S. Beck
11/28/2017
$1,000.00
Monetary Contribution
Steve Sisolak
2018 Annual CE Filing (Amended)
Brett S. Beck
5/14/2018
$500.00
Monetary Contribution
Steve Sisolak
2018 CE Report 1 (Amended)
Brett Sherman
5/29/2018
$500.00
Monetary Contribution
Adam Laxalt
2018 CE Report 2
Brett Zimmerman
12/28/2017
$5,000.00
Monetary Contribution
Adam Laxalt
2018 Annual CE Filing
Brett Zimmerman
12/28/2017
$5,000.00
Monetary Contribution
Adam Laxalt
2018 Annual CE Filing
Brian Ayala
8/8/2017
$1,000.00
Monetary Contribution
Steve Sisolak
2018 Annual CE Filing (Amended)
Brian Ayala
7/14/2016
$500.00
Monetary Contribution
Steve Sisolak
2016 CE Report 3
Brian Brannman
10/16/2016
$500.00
Monetary Contribution
Steve Sisolak
2016 CE Report 4
Brian Brusa
10/9/2015
$200.00
Monetary Contribution
Steve Sisolak
2016 Annual CE Filing
Brian Burke
7/11/2016
$250.00
Monetary Contribution
Adam Laxalt
2017 Annual CE Filing
Brian C. Baker
7/19/2017
$5,810.30
In Kind Contribution
Adam Laxalt
2018 Annual CE Filing
Brian Calkins
4/13/2018
$100.00
Monetary Contribution
Adam Laxalt
2018 CE Report 1
Brian Calkins
4/26/2017
$100.00
Monetary Contribution
Adam Laxalt
2018 Annual CE Filing
Brian James Seibold
11/28/2017
$1,000.00
Monetary Contribution
Steve Sisolak
2018 Annual CE Filing (Amended)
Brian Morris
3/29/2018
$100.00
Monetary Contribution
Adam Laxalt
2018 CE Report 1
Brian Pio
3/23/2018
$10,000.00
Monetary Contribution
Steve Sisolak
2018 CE Report 1 (Amended)
Brian Rogers
3/7/2018
$2,500.00
Monetary Contribution
Steve Sisolak
2018 CE Report 1 (Amended)
Brian S. Williford
5/3/2018
$1,000.00
Monetary Contribution
Adam Laxalt
2018 CE Report 1
Brianda Padilla
4/6/2018
$100.00
Monetary Contribution
Steve Sisolak
2018 CE Report 1 (Amended)
Bribor Administrative, LLC
1/9/2016
$2,500.00
Monetary Contribution
Steve Sisolak
2016 CE Report 1
Brice Crafton
11/29/2017
$500.00
Monetary Contribution
Steve Sisolak
2018 Annual CE Filing (Amended)
Bristlecone Holdings
12/19/2016
$5,000.00
Monetary Contribution
Adam Laxalt
2017 Annual CE Filing
Bristlecone Holdings
12/19/2016
$1,000.00
Monetary Contribution
Adam Laxalt
2017 Annual CE Filing
Broadacres Open Air Market Place, LLC
3/8/2018
$1,000.00
Monetary Contribution
Steve Sisolak
2018 CE Report 1 (Amended)
Brooks T. Mancini
12/7/2017
$100.00
Monetary Contribution
Adam Laxalt
2018 Annual CE Filing
Brooks T. Mancini
4/9/2018
$100.00
Monetary Contribution
Adam Laxalt
2018 CE Report 1
Brooks-Clayton LLC
10/24/2017
$5,000.00
Monetary Contribution
Steve Sisolak
2018 Annual CE Filing (Amended)
Bruce & Yoko Allen
4/9/2015
$1,000.00
Monetary Contribution
Steve Sisolak
2016 Annual CE Filing
Bruce C. Farrenkopf
6/22/2017
$50.00
Monetary Contribution
Adam Laxalt
2018 Annual CE Filing
Bruce C. Farrenkopf
12/14/2017
$50.00
Monetary Contribution
Adam Laxalt
2018 Annual CE Filing
Bruce Edward Dewing
5/8/2017
$250.00
Monetary Contribution
Adam Laxalt
2018 Annual CE Filing
Bruce H. Baldecchi
11/15/2017
$250.00
Monetary Contribution
Adam Laxalt
2018 Annual CE Filing
Bruce Shapiro
4/21/2015
$250.00
Monetary Contribution
Steve Sisolak
2016 Annual CE Filing
Bruce Shepard
4/18/2018
$200.00
Monetary Contribution
Steve Sisolak
2018 CE Report 1 (Amended)
Bruce Woodbury
12/15/2015
$1,000.00
Monetary Contribution
Adam Laxalt
2016 Annual CE Filing
Bruce Woodbury
5/9/2018
$1,000.00
Monetary Contribution
Adam Laxalt
2018 CE Report 1
Bruce Woollen
3/14/2018
$2,500.00
Monetary Contribution
Adam Laxalt
2018 CE Report 1
Bruce Woollen
5/11/2017
$5,000.00
Monetary Contribution
Adam Laxalt
2018 Annual CE Filing
Bruning Law Group
12/10/2015
$500.00
Monetary Contribution
Adam Laxalt
2016 Annual CE Filing
Bruning Law Group
7/11/2016
$500.00
Monetary Contribution
Adam Laxalt
2017 Annual CE Filing
Bruning Law Group
7/10/2017
$1,000.00
Monetary Contribution
Adam Laxalt
2018 Annual CE Filing
Bruning Law Group
12/22/2017
$1,000.00
Monetary Contribution
Adam Laxalt
2018 Annual CE Filing
Bryce Clutts
5/14/2018
$1,000.00
Monetary Contribution
Adam Laxalt
2018 CE Report 1
BSN House LLC
2/28/2018
$500.00
Monetary Contribution
Steve Sisolak
2018 CE Report 1 (Amended)
Buck Wong
5/4/2015
$500.00
Monetary Contribution
Steve Sisolak
2016 Annual CE Filing
Buck Wong
8/14/2016
$500.00
Monetary Contribution
Steve Sisolak
2016 CE Report 3
Buck Wong
2/18/2016
$500.00
Monetary Contribution
Steve Sisolak
2016 CE Report 1
Buffalo Ford LLC
11/20/2015
$1,000.00
Monetary Contribution
Steve Sisolak
2016 Annual CE Filing
Bunkie Estey
5/9/2018
$5,000.00
Monetary Contribution
Adam Laxalt
2018 CE Report 1
Bunkie Estey
5/9/2018
$5,000.00
Monetary Contribution
Adam Laxalt
2018 CE Report 1
Burke Construction Group
11/16/2017
$5,000.00
Monetary Contribution
Steve Sisolak
2018 Annual CE Filing (Amended)
Burke Construction Group
10/25/2017
$2,184.64
In Kind Contribution
Adam Laxalt
2018 Annual CE Filing
Burke Construction Group
6/13/2017
$1,000.00
In Kind Contribution
Adam Laxalt
2018 Annual CE Filing
Burke Construction Group Inc
7/10/2015
$2,500.00
Monetary Contribution
Steve Sisolak
2016 Annual CE Filing
Burke Construction Group Inc.
6/14/2017
$2,500.00
Monetary Contribution
Adam Laxalt
2018 Annual CE Filing
Burke Construction Group Inc.
5/16/2018
$2,500.00
Monetary Contribution
Adam Laxalt
2018 CE Report 1
Burt A. Clements
10/16/2017
$5,000.00
Monetary Contribution
Adam Laxalt
2018 Annual CE Filing
BX3 LLC
11/9/2017
$5,000.00
Monetary Contribution
Adam Laxalt
2018 Annual CE Filing
BX3 LLC
11/9/2017
$5,000.00
Monetary Contribution
Adam Laxalt
2018 Annual CE Filing
Byrd Underground
10/27/2017
$1,000.00
Monetary Contribution
Adam Laxalt
2018 Annual CE Filing
C M. Southard
3/8/2018
$250.00
Monetary Contribution
Adam Laxalt
2018 CE Report 1
C. Boyden Gray
12/30/2016
$5,000.00
Monetary Contribution
Adam Laxalt
2017 Annual CE Filing
C. Boyden Gray
12/30/2016
$5,000.00
Monetary Contribution
Adam Laxalt
2017 Annual CE Filing
C. H. Adams
7/24/2017
$50.00
Monetary Contribution
Adam Laxalt
2018 Annual CE Filing
C. Reade Kaley
12/15/2017
$100.00
Monetary Contribution
Adam Laxalt
2018 Annual CE Filing
C. Reade Kaley
5/9/2018
$100.00
Monetary Contribution
Adam Laxalt
2018 CE Report 1
C&HRV LLC
5/16/2018
$5,000.00
Monetary Contribution
Adam Laxalt
2018 CE Report 1
C&HRV LLC
5/16/2018
$5,000.00
Monetary Contribution
Adam Laxalt
2018 CE Report 1
Cabin Entertainment LLC
10/24/2017
$5,000.00
Monetary Contribution
Steve Sisolak
2018 Annual CE Filing (Amended)
Cabo Medical Management LLC
5/25/2018
$5,000.00
Monetary Contribution
Adam Laxalt
2018 CE Report 2
Cabo Medical Management LLC
5/25/2018
$5,000.00
Monetary Contribution
Adam Laxalt
2018 CE Report 2
Cabo Real Estate Holdings LLC
5/18/2018
$5,000.00
Monetary Contribution
Adam Laxalt
2018 CE Report 1
Cabo Real Estate Holdings LLC
5/18/2018
$5,000.00
Monetary Contribution
Adam Laxalt
2018 CE Report 1
Cactus Boomers, LLC
8/22/2017
$3,000.00
Monetary Contribution
Steve Sisolak
2018 Annual CE Filing (Amended)
Cactus Boomers, LLC
7/7/2015
$1,000.00
Monetary Contribution
Steve Sisolak
2016 Annual CE Filing
Cactus Boomers, LLC
1/7/2016
$1,000.00
Monetary Contribution
Steve Sisolak
2016 CE Report 1
Cactus Village LLC
4/20/2016
$1,000.00
Monetary Contribution
Steve Sisolak
2016 CE Report 1
Caesars Enterprise Service LLC
11/28/2017
$10,000.00
Monetary Contribution
Steve Sisolak
2018 Annual CE Filing (Amended)
Caesars Enterprise Services LLC
10/15/2015
$10,000.00
Monetary Contribution
Steve Sisolak
2016 Annual CE Filing
Caesars Enterprise Services LLC
12/18/2017
$5,000.00
Monetary Contribution
Adam Laxalt
2018 Annual CE Filing
Caesars Enterprise Services LLC
12/18/2017
$5,000.00
Monetary Contribution
Adam Laxalt
2018 Annual CE Filing
Caesars Palace
11/7/2016
$5,000.00
Monetary Contribution
Steve Sisolak
2016 CE Report 5 (Amended)
Caesars Palace
11/29/2017
$5,000.00
Monetary Contribution
Steve Sisolak
2018 Annual CE Filing (Amended)
Caesars Palace
6/2/2018
$5,000.00
Monetary Contribution
Steve Sisolak
2018 CE Report 2 (Amended)
Caesars Palace
5/16/2018
$5,000.00
Monetary Contribution
Adam Laxalt
2018 CE Report 1
Cafe Leone
9/28/2017
$10,000.00
Monetary Contribution
Steve Sisolak
2018 Annual CE Filing (Amended)
CAI Investments LLC
12/14/2017
$5,000.00
Monetary Contribution
Steve Sisolak
2018 Annual CE Filing (Amended)
Cal G. Kendrick
4/9/2018
$5,000.00
Monetary Contribution
Adam Laxalt
2018 CE Report 1
Cal G. Kendrick
4/9/2018
$5,000.00
Monetary Contribution
Adam Laxalt
2018 CE Report 1
Calant Capital LLC
2/22/2018
$5,000.00
Monetary Contribution
Steve Sisolak
2018 CE Report 1 (Amended)
Caleb Cage
5/26/2017
$250.00
Monetary Contribution
Adam Laxalt
2018 Annual CE Filing
Calida Residential, LLC
11/20/2015
$5,000.00
Monetary Contribution
Steve Sisolak
2016 Annual CE Filing
Calida Residential, LLC
11/9/2017
$1,000.00
Monetary Contribution
Steve Sisolak
2018 Annual CE Filing (Amended)
California Hotel & Casino Cage Account
7/30/2015
$5,000.00
Monetary Contribution
Steve Sisolak
2016 Annual CE Filing
Calvin C. Tinkham
5/8/2017
$50.00
Monetary Contribution
Adam Laxalt
2018 Annual CE Filing
Cambridge Apartments LLC
12/5/2017
$5,000.00
Monetary Contribution
Steve Sisolak
2018 Annual CE Filing (Amended)
Camela Nielsen
4/19/2018
$1,000.00
Monetary Contribution
Steve Sisolak
2018 CE Report 1 (Amended)
Camlor Company
12/29/2015
$1,000.00
Monetary Contribution
Steve Sisolak
2016 Annual CE Filing
Campaign Committee for Jason Frierson
12/12/2017
$1,000.00
Monetary Contribution
Steve Sisolak
2018 Annual CE Filing (Amended)
Campione D'Italia Foods LLC
3/16/2018
$5,000.00
Monetary Contribution
Adam Laxalt
2018 CE Report 1
Cancer Care Center
12/23/2015
$5,000.00
Monetary Contribution
Steve Sisolak
2016 Annual CE Filing
Candace Wines
5/1/2017
$100.00
Monetary Contribution
Adam Laxalt
2018 Annual CE Filing
Cannae Holdings LLC
5/31/2018
$10,000.00
Monetary Contribution
Steve Sisolak
2018 CE Report 2 (Amended)
Cannbiotics
10/11/2017
$10,000.00
Monetary Contribution
Steve Sisolak
2018 Annual CE Filing (Amended)
Cannon Development Inc.
2/17/2018
$1,500.00
Monetary Contribution
Steve Sisolak
2018 CE Report 1 (Amended)
Cantamar Property Mgmt Inc.
11/30/2017
$10,000.00
Monetary Contribution
Steve Sisolak
2018 Annual CE Filing (Amended)
Cantamar Property Mgmt Inc.
9/22/2017
$5,000.00
Monetary Contribution
Adam Laxalt
2018 Annual CE Filing
Cantamar Property Mgmt Inc.
9/22/2017
$5,000.00
Monetary Contribution
Adam Laxalt
2018 Annual CE Filing
Capital Building LLC
5/7/2018
$5,000.00
Monetary Contribution
Adam Laxalt
2018 CE Report 1
Capital One Services LLC
3/11/2015
$2,500.00
Monetary Contribution
Adam Laxalt
2016 Annual CE Filing
Capital One Services LLC
7/18/2016
$1,000.00
Monetary Contribution
Adam Laxalt
2017 Annual CE Filing
Capital One Services LLC
11/16/2016
$1,000.00
Monetary Contribution
Adam Laxalt
2017 Annual CE Filing
Capital West Development LLC
3/19/2018
$5,000.00
Monetary Contribution
Steve Sisolak
2018 CE Report 1 (Amended)
Capital West Development LLC
4/29/2016
$5,000.00
Monetary Contribution
Steve Sisolak
2016 CE Report 1
Capriati Construction Corp.
10/27/2017
$500.00
Monetary Contribution
Adam Laxalt
2018 Annual CE Filing
Capriati Construction Corp.
3/16/2018
$1,500.00
Monetary Contribution
Adam Laxalt
2018 CE Report 1
CapSource Inc.
7/20/2017
$1,000.00
Monetary Contribution
Steve Sisolak
2018 Annual CE Filing (Amended)
Carl & Cherize Giorgi
4/12/2016
$500.00
Monetary Contribution
Steve Sisolak
2016 CE Report 1
Carly W Viellion
4/17/2018
$5,000.00
Monetary Contribution
Steve Sisolak
2018 CE Report 1 (Amended)
Carly W. Viellion
7/1/2015
$1,000.00
Monetary Contribution
Steve Sisolak
2016 Annual CE Filing
Carmelita Macayan-Hicks
5/2/2018
$100.00
Monetary Contribution
Adam Laxalt
2018 CE Report 1
Carmelita Macayan-Hicks
6/24/2017
$50.00
Monetary Contribution
Adam Laxalt
2018 Annual CE Filing
Carmen L. Thomson
4/26/2017
$50.00
Monetary Contribution
Adam Laxalt
2018 Annual CE Filing
Carmen L. Thomson
7/5/2017
$50.00
Monetary Contribution
Adam Laxalt
2018 Annual CE Filing
Carmen L. Thomson
10/11/2017
$50.00
Monetary Contribution
Adam Laxalt
2018 Annual CE Filing
Carmen L. Thomson
6/1/2018
$100.00
Monetary Contribution
Adam Laxalt
2018 CE Report 2
Carol Chesnut
5/14/2018
$50.00
Monetary Contribution
Steve Sisolak
2018 CE Report 1 (Amended)
Carol Chesnut
1/30/2018
$100.00
Monetary Contribution
Steve Sisolak
2018 CE Report 1 (Amended)
Carol Chestnut
3/21/2018
$100.00
Monetary Contribution
Steve Sisolak
2018 CE Report 1 (Amended)
Carol D Bushart
6/1/2018
$100.00
Monetary Contribution
Adam Laxalt
2018 CE Report 2
Carol D Bushart
2/1/2018
$100.00
Monetary Contribution
Adam Laxalt
2018 CE Report 1
Carol D Bushart
3/1/2018
$100.00
Monetary Contribution
Adam Laxalt
2018 CE Report 1
Carol D Bushart
4/1/2018
$100.00
Monetary Contribution
Adam Laxalt
2018 CE Report 1
Carol D Bushart
5/1/2018
$100.00
Monetary Contribution
Adam Laxalt
2018 CE Report 1
Carol D Bushart
11/9/2017
$50.00
Monetary Contribution
Adam Laxalt
2018 Annual CE Filing
Carol D Bushart
11/17/2017
$100.00
Monetary Contribution
Adam Laxalt
2018 Annual CE Filing
Carol Del Carlo
5/26/2017
$250.00
Monetary Contribution
Adam Laxalt
2018 Annual CE Filing
Carol Del Carlo
11/9/2017
$250.00
Monetary Contribution
Adam Laxalt
2018 Annual CE Filing
Carol Franc Buck
5/5/2017
$250.00
Monetary Contribution
Adam Laxalt
2018 Annual CE Filing
Carol Franc Buck
7/21/2017
$250.00
Monetary Contribution
Adam Laxalt
2018 Annual CE Filing
Carol Franc Buck
2/23/2018
$250.00
Monetary Contribution
Adam Laxalt
2018 CE Report 1
Carol McKim
11/9/2017
$50.00
Monetary Contribution
Adam Laxalt
2018 Annual CE Filing
Carole A Gordon
4/9/2018
$100.00
Monetary Contribution
Adam Laxalt
2018 CE Report 1
Carole A Gordon
6/4/2018
$100.00
Monetary Contribution
Adam Laxalt
2018 CE Report 2
Carole Anderson
1/5/2018
$5,000.00
Monetary Contribution
Adam Laxalt
2018 CE Report 1
Carole Terry
11/15/2017
$100.00
Monetary Contribution
Adam Laxalt
2018 Annual CE Filing
Carole Terry
6/1/2018
$100.00
Monetary Contribution
Adam Laxalt
2018 CE Report 2
Caroline J. Arace
6/22/2017
$100.00
Monetary Contribution
Adam Laxalt
2018 Annual CE Filing
Caroline Joy Hadley
11/15/2017
$50.00
Monetary Contribution
Adam Laxalt
2018 Annual CE Filing
Caroline Wren
2/13/2018
$500.00
Monetary Contribution
Adam Laxalt
2018 CE Report 1
Carolyn C. Bloom
7/17/2017
$100.00
Monetary Contribution
Adam Laxalt
2018 Annual CE Filing
Carolyn Farkas
3/29/2018
$3,712.20
In Kind Contribution
Steve Sisolak
2018 CE Report 1 (Amended)
Carolyn Hultgren
4/12/2017
$50.00
Monetary Contribution
Adam Laxalt
2018 Annual CE Filing
Carolyn M. Sparks
11/20/2017
$250.00
Monetary Contribution
Adam Laxalt
2018 Annual CE Filing
Carolyn M. Sparks
2/26/2018
$150.00
Monetary Contribution
Adam Laxalt
2018 CE Report 1
Carolyn M. Sparks
5/11/2018
$50.00
Monetary Contribution
Adam Laxalt
2018 CE Report 1
Caron Olsen
9/15/2017
$10,000.00
Monetary Contribution
Steve Sisolak
2018 Annual CE Filing (Amended)
Carpenter Sellers Del Gatto Architects
10/24/2016
$1,000.00
Monetary Contribution
Steve Sisolak
2016 CE Report 4
Carson City Toyota Campagni Auto Group
3/8/2018
$500.00
Monetary Contribution
Adam Laxalt
2018 CE Report 1
Carter Crouch
12/7/2017
$1,500.00
Monetary Contribution
Steve Sisolak
2018 Annual CE Filing (Amended)
Carter Powersports
4/12/2018
$1,000.00
Monetary Contribution
Adam Laxalt
2018 CE Report 1
Cary Colt Payne
8/11/2017
$100.00
Monetary Contribution
Adam Laxalt
2018 Annual CE Filing
Cary Katz
10/4/2015
$10,000.00
Monetary Contribution
Adam Laxalt
2016 Annual CE Filing
Casa Belagrasco De Sitges LLC
5/21/2018
$5,000.00
Monetary Contribution
Adam Laxalt
2018 CE Report 2
Casa Belagrasco De Sitges LLC
5/21/2018
$5,000.00
Monetary Contribution
Adam Laxalt
2018 CE Report 2
Casa Belagrasco I LLC
5/18/2018
$5,000.00
Monetary Contribution
Adam Laxalt
2018 CE Report 1
Casa Belagrasco I LLC
5/18/2018
$5,000.00
Monetary Contribution
Adam Laxalt
2018 CE Report 1
Casa Edwards LLC
5/18/2018
$5,000.00
Monetary Contribution
Adam Laxalt
2018 CE Report 1
Casa Edwards LLC
5/18/2018
$5,000.00
Monetary Contribution
Adam Laxalt
2018 CE Report 1
Cash America
4/20/2016
$1,000.00
Monetary Contribution
Steve Sisolak
2016 CE Report 1
Cashman Cat
3/2/2016
$5,000.00
Monetary Contribution
Steve Sisolak
2016 CE Report 1
Cashman Cat
6/24/2015
$5,000.00
Monetary Contribution
Steve Sisolak
2016 Annual CE Filing
Cashman Cat
11/15/2017
$10,000.00
Monetary Contribution
Steve Sisolak
2018 Annual CE Filing (Amended)
Casino Fandango
2/2/2018
$2,500.00
Monetary Contribution
Adam Laxalt
2018 CE Report 1
Casino Fandango
5/2/2018
$2,500.00
Monetary Contribution
Adam Laxalt
2018 CE Report 1
Casino Fandango
5/2/2018
$2,500.00
Monetary Contribution
Adam Laxalt
2018 CE Report 1
Casino Fandango
3/6/2018
$2,150.00
In Kind Contribution
Adam Laxalt
2018 CE Report 1
Casino Royale & Hotel
2/23/2016
$2,500.00
Monetary Contribution
Steve Sisolak
2016 CE Report 1
Casino Royale & Hotel
11/7/2016
$2,500.00
Monetary Contribution
Steve Sisolak
2016 CE Report 5 (Amended)
Casino Royale and Hotel
11/22/2017
$5,000.00
Monetary Contribution
Steve Sisolak
2018 Annual CE Filing (Amended)
Catherine G. Kendrick
4/9/2018
$5,000.00
Monetary Contribution
Adam Laxalt
2018 CE Report 1
Catherine G. Kendrick
4/9/2018
$5,000.00
Monetary Contribution
Adam Laxalt
2018 CE Report 1
Cathie Lund
2/27/2018
$50.00
Monetary Contribution
Adam Laxalt
2018 CE Report 1
Cathy Rossner
4/19/2018
$100.00
Monetary Contribution
Adam Laxalt
2018 CE Report 1
Cathy V. Weise
4/30/2017
$100.00
Monetary Contribution
Adam Laxalt
2018 Annual CE Filing
CCLV Productions
4/27/2018
$10,000.00
Monetary Contribution
Steve Sisolak
2018 CE Report 1 (Amended)
CD Hangar LLC
3/9/2018
$5,000.00
Monetary Contribution
Adam Laxalt
2018 CE Report 1
CD Hangar LLC
3/9/2018
$5,000.00
Monetary Contribution
Adam Laxalt
2018 CE Report 1
CDF Property Holdings LLC
5/15/2018
$5,000.00
Monetary Contribution
Adam Laxalt
2018 CE Report 1
CDF Property Holdings LLC
5/15/2018
$5,000.00
Monetary Contribution
Adam Laxalt
2018 CE Report 1
CDT Management LLC
8/28/2017
$5,000.00
Monetary Contribution
Adam Laxalt
2018 Annual CE Filing
CDT Management LLC
8/28/2017
$5,000.00
Monetary Contribution
Adam Laxalt
2018 Annual CE Filing
CDW Holdings Inc.
11/28/2017
$1,000.00
Monetary Contribution
Steve Sisolak
2018 Annual CE Filing (Amended)
CE Consulting Inc.
12/14/2017
$1,000.00
Monetary Contribution
Steve Sisolak
2018 Annual CE Filing (Amended)
CECU Investment Group LLC
4/25/2018
$3,000.00
Monetary Contribution
Steve Sisolak
2018 CE Report 1 (Amended)
Cell Crete Corporation
3/15/2018
$2,500.00
Monetary Contribution
Steve Sisolak
2018 CE Report 1 (Amended)
Cenegenics
11/13/2017
$1,000.00
Monetary Contribution
Adam Laxalt
2018 Annual CE Filing
Centennial Hills Animal Hospital
7/25/2017
$10,000.00
Monetary Contribution
Steve Sisolak
2018 Annual CE Filing (Amended)
Centennial Toyota
4/6/2018
$135.00
In Kind Contribution
Adam Laxalt
2018 CE Report 1
Centennial Toyota
4/10/2018
$90.00
In Kind Contribution
Adam Laxalt
2018 CE Report 1
Centerpoint Management LLC
12/16/2016
$3,000.00
Monetary Contribution
Adam Laxalt
2017 Annual CE Filing
Central Bag and Burlap Company
10/17/2017
$1,000.00
Monetary Contribution
Steve Sisolak
2018 Annual CE Filing (Amended)
Central Bag and Burlap Company
10/17/2017
$1,000.00
Monetary Contribution
Steve Sisolak
2018 Annual CE Filing (Amended)
Central Bag and Burlap Company
10/17/2017
$1,000.00
Monetary Contribution
Steve Sisolak
2018 Annual CE Filing (Amended)
Century Communities of Nevada, LLC
7/16/2015
$5,000.00
Monetary Contribution
Steve Sisolak
2016 Annual CE Filing
CenturyLink
1/29/2018
$1,000.00
Monetary Contribution
Adam Laxalt
2018 CE Report 1
CenturyLink Inc. Employees PAC
2/5/2016
$2,000.00
Monetary Contribution
Steve Sisolak
2016 CE Report 1
Chad Osorno
11/1/2017
$250.00
Monetary Contribution
Adam Laxalt
2018 Annual CE Filing
Champion Chevrolet
11/1/2017
$813.76
In Kind Contribution
Adam Laxalt
2018 Annual CE Filing
Champion Chevrolet
12/1/2017
$813.76
In Kind Contribution
Adam Laxalt
2018 Annual CE Filing
Champion Chevrolet
10/1/2017
$813.76
In Kind Contribution
Adam Laxalt
2018 Annual CE Filing
Champion Chevrolet
5/1/2018
$813.76
In Kind Contribution
Adam Laxalt
2018 CE Report 1
Champion Chevrolet
4/1/2018
$813.76
In Kind Contribution
Adam Laxalt
2018 CE Report 1
Champion Chevrolet
3/1/2018
$813.76
In Kind Contribution
Adam Laxalt
2018 CE Report 1
Champion Chevrolet
2/1/2018
$813.76
In Kind Contribution
Adam Laxalt
2018 CE Report 1
Champion Chevrolet
1/1/2018
$813.76
In Kind Contribution
Adam Laxalt
2018 CE Report 1
Champion Chevrolet
6/1/2018
$813.76
In Kind Contribution
Adam Laxalt
2018 CE Report 2
Chandi Duke Heffner
4/26/2018
$3,000.00
Monetary Contribution
Adam Laxalt
2018 CE Report 1
Chandi Duke Heffner
6/28/2017
$1,000.00
Monetary Contribution
Adam Laxalt
2018 Annual CE Filing
Chao Quan
4/25/2018
$1,000.00
Monetary Contribution
Adam Laxalt
2018 CE Report 1
Chaohsiung Tung
1/27/2018
$1,000.00
Monetary Contribution
Steve Sisolak
2018 CE Report 1 (Amended)
Chapman Dodge Chrysler Jeep
3/14/2018
$1,500.00
Monetary Contribution
Adam Laxalt
2018 CE Report 1
Charlayne Coburn
2/1/2018
$50.00
Monetary Contribution
Adam Laxalt
2018 CE Report 1
Charlene T. Bybee
4/26/2017
$50.00
Monetary Contribution
Adam Laxalt
2018 Annual CE Filing
Charles & Wendy Mercer
11/9/2017
$1,000.00
Monetary Contribution
Adam Laxalt
2018 Annual CE Filing
Charles A. Lenzie
5/5/2017
$100.00
Monetary Contribution
Adam Laxalt
2018 Annual CE Filing
Charles A. Lenzie
11/17/2017
$300.00
Monetary Contribution
Adam Laxalt
2018 Annual CE Filing
Charles A. Lenzie
2/16/2018
$300.00
Monetary Contribution
Adam Laxalt
2018 CE Report 1
Charles A. Mack
10/23/2017
$500.00
Monetary Contribution
Steve Sisolak
2018 Annual CE Filing (Amended)
Charles A. Rhodes
11/14/2017
$100.00
Monetary Contribution
Adam Laxalt
2018 Annual CE Filing
Charles Allen Rhodes, M.D. Chartered
12/5/2017
$1,000.00
Monetary Contribution
Steve Sisolak
2018 Annual CE Filing (Amended)
Charles Allen Rhodes, M.D. Chartered
4/1/2016
$1,000.00
Monetary Contribution
Steve Sisolak
2016 CE Report 1
Charles and Mary Lou Gervie
5/14/2018
$200.00
Monetary Contribution
Adam Laxalt
2018 CE Report 1
Charles Brennan
11/28/2017
$2,000.00
Monetary Contribution
Steve Sisolak
2018 Annual CE Filing (Amended)
Charles Brennan
11/7/2017
$5,000.00
Monetary Contribution
Steve Sisolak
2018 Annual CE Filing (Amended)
Charles Brumbaugh
4/2/2018
$2,500.00
Monetary Contribution
Adam Laxalt
2018 CE Report 1
Charles C. Brennan
10/13/2016
$5,000.00
Monetary Contribution
Steve Sisolak
2016 CE Report 3
Charles C. Brennan
12/21/2016
$5,000.00
Monetary Contribution
Adam Laxalt
2017 Annual CE Filing
Charles C. Ziegler
4/6/2018
$500.00
Monetary Contribution
Adam Laxalt
2018 CE Report 1
Charles Dixon
5/17/2018
$50.00
Monetary Contribution
Adam Laxalt
2018 CE Report 1
Charles G. Untermeyer
5/29/2018
$500.00
Monetary Contribution
Adam Laxalt
2018 CE Report 2
Charles G. Untermeyer
1/10/2018
$250.00
Monetary Contribution
Adam Laxalt
2018 CE Report 1
Charles Gronbach
5/24/2018
$100.00
Monetary Contribution
Adam Laxalt
2018 CE Report 2
Charles J. Cooper
12/13/2016
$5,000.00
Monetary Contribution
Adam Laxalt
2017 Annual CE Filing
Charles J. Cooper
7/24/2017
$500.00
Monetary Contribution
Adam Laxalt
2018 Annual CE Filing
Charles K. Engstrom
11/1/2017
$100.00
Monetary Contribution
Adam Laxalt
2018 Annual CE Filing
Charles McCluer
3/30/2018
$2,500.00
Monetary Contribution
Adam Laxalt
2018 CE Report 1
Charles N. Mathewson
12/21/2017
$5,000.00
Monetary Contribution
Adam Laxalt
2018 Annual CE Filing
Charles N. Mathewson
5/26/2017
$5,000.00
Monetary Contribution
Adam Laxalt
2018 Annual CE Filing
Charles R. Price
2/19/2018
$100.00
Monetary Contribution
Adam Laxalt
2018 CE Report 1
Charles R. Price
6/6/2018
$100.00
Monetary Contribution
Adam Laxalt
2018 CE Report 2
Charles R. Spies
7/24/2017
$1,000.00
Monetary Contribution
Adam Laxalt
2018 Annual CE Filing
Charles Spies
2/26/2015
$250.00
Monetary Contribution
Adam Laxalt
2016 Annual CE Filing
Charles T. Kitchen
5/3/2018
$1,500.00
Monetary Contribution
Adam Laxalt
2018 CE Report 1
Charles W. Burt
4/16/2018
$100.00
Monetary Contribution
Adam Laxalt
2018 CE Report 1
Charles W. Greer
2/16/2018
$50.00
Monetary Contribution
Adam Laxalt
2018 CE Report 1
Charles W. Hayden
4/13/2018
$100.00
Monetary Contribution
Adam Laxalt
2018 CE Report 1
Charles W. Hayden
5/15/2018
$100.00
Monetary Contribution
Adam Laxalt
2018 CE Report 1
Charles Watt
5/21/2018
$500.00
Monetary Contribution
Adam Laxalt
2018 CE Report 2
Charlotte M Ray
2/21/2018
$100.00
Monetary Contribution
Adam Laxalt
2018 CE Report 1
Charlotte M Ray
4/17/2018
$100.00
Monetary Contribution
Adam Laxalt
2018 CE Report 1
Charlotte M Ray
4/19/2017
$100.00
Monetary Contribution
Adam Laxalt
2018 Annual CE Filing
Charlotte M Ray
6/19/2017
$100.00
Monetary Contribution
Adam Laxalt
2018 Annual CE Filing
Chateau Les Trois Development LLC
9/24/2015
$1,000.00
Monetary Contribution
Steve Sisolak
2016 Annual CE Filing
Chateau Nightclub, LLC
1/4/2016
$5,000.00
Monetary Contribution
Steve Sisolak
2016 CE Report 1
Chateau Nightclub, LLC
10/5/2017
$10,000.00
Monetary Contribution
Steve Sisolak
2018 Annual CE Filing (Amended)
Check City Partnership LLC
10/24/2017
$2,000.00
Monetary Contribution
Steve Sisolak
2018 Annual CE Filing (Amended)
Check City Partnership LLC
12/9/2015
$2,000.00
Monetary Contribution
Steve Sisolak
2016 Annual CE Filing
Check City Partnership LLC
4/13/2018
$2,500.00
Monetary Contribution
Adam Laxalt
2018 CE Report 1
Check into Cash of Nevada LLC
5/15/2017
$1,000.00
Monetary Contribution
Adam Laxalt
2018 Annual CE Filing
Check into Cash of Nevada, LLC
8/7/2015
$500.00
Monetary Contribution
Adam Laxalt
2016 Annual CE Filing
Cherie R. Humphreys
11/6/2017
$250.00
Monetary Contribution
Adam Laxalt
2018 Annual CE Filing
Cheryl Ann Lopez
4/24/2017
$50.00
Monetary Contribution
Adam Laxalt
2018 Annual CE Filing
Cheryl Callewart
5/29/2018
$750.00
Monetary Contribution
Adam Laxalt
2018 CE Report 2
Cheryl K. Sutton
2/13/2017
$200.00
Monetary Contribution
Adam Laxalt
2018 Annual CE Filing
Cheryl Van Ocker
2/27/2018
$50.00
Monetary Contribution
Adam Laxalt
2018 CE Report 1
Cheryl Van Ocker
5/17/2018
$100.00
Monetary Contribution
Adam Laxalt
2018 CE Report 1
Chicago Lawyers Insurance Services Inc.
11/5/2016
$10,000.00
Monetary Contribution
Steve Sisolak
2016 CE Report 5 (Amended)
Chicago Title Insurance Company
11/5/2016
$10,000.00
Monetary Contribution
Steve Sisolak
2016 CE Report 5 (Amended)
Chip Maxfield
12/30/2017
$1,000.00
Monetary Contribution
Steve Sisolak
2018 Annual CE Filing (Amended)
Chowdhury Ahsan M.D., P.C.
12/14/2017
$1,000.00
Monetary Contribution
Steve Sisolak
2018 Annual CE Filing (Amended)
Chowdhury Ahsan M.D., P.C.
4/12/2016
$1,000.00
Monetary Contribution
Steve Sisolak
2016 CE Report 1
Chowdhury H. Ahsan
2/28/2018
$1,000.00
Monetary Contribution
Steve Sisolak
2018 CE Report 1 (Amended)
Chris Neel
12/30/2017
$2,500.00
Monetary Contribution
Adam Laxalt
2018 Annual CE Filing
Chris Olsen
9/15/2017
$10,000.00
Monetary Contribution
Steve Sisolak
2018 Annual CE Filing (Amended)
Chris P. Jeter
11/3/2017
$1,000.00
Monetary Contribution
Adam Laxalt
2018 Annual CE Filing
Chris Shelton
8/19/2015
$2,500.00
Monetary Contribution
Steve Sisolak
2016 Annual CE Filing
Chris Shelton
5/22/2018
$2,500.00
Monetary Contribution
Steve Sisolak
2018 CE Report 2 (Amended)
Christian Chan
4/19/2018
$250.00
Monetary Contribution
Steve Sisolak
2018 CE Report 1 (Amended)
Christian J. Denning
11/20/2017
$50.00
Monetary Contribution
Adam Laxalt
2018 Annual CE Filing
Christiana Limited Partnership
11/7/2016
$5,000.00
Monetary Contribution
Steve Sisolak
2016 CE Report 5 (Amended)
Christina L. Kushnir MD PC
2/28/2018
$1,000.00
Monetary Contribution
Steve Sisolak
2018 CE Report 1 (Amended)
Christine Hughes
11/27/2017
$300.00
Monetary Contribution
Adam Laxalt
2018 Annual CE Filing
Christine Lefkowitz Jensen LLC
3/14/2018
$1,000.00
Monetary Contribution
Adam Laxalt
2018 CE Report 1
Christine Wunderlin
1/31/2018
$100.00
Monetary Contribution
Adam Laxalt
2018 CE Report 1
Christopher A. Barnbeck
3/16/2018
$750.00
Monetary Contribution
Adam Laxalt
2018 CE Report 1
Christopher A. Wieczorek
7/2/2017
$200.00
Monetary Contribution
Adam Laxalt
2018 Annual CE Filing
Christopher Allen
8/7/2015
$250.00
Monetary Contribution
Adam Laxalt
2016 Annual CE Filing
Christopher and Lisa Zook
12/26/2017
$2,700.00
Monetary Contribution
Adam Laxalt
2018 Annual CE Filing
Christopher C Roman
9/9/2016
$75.00
Monetary Contribution
Steve Sisolak
2016 CE Report 3
Christopher Cylke
7/24/2017
$250.00
Monetary Contribution
Adam Laxalt
2018 Annual CE Filing
Christopher Cylke
3/27/2018
$1,000.00
Monetary Contribution
Adam Laxalt
2018 CE Report 1
Christopher E. Nenzel
3/8/2018
$100.00
Monetary Contribution
Adam Laxalt
2018 CE Report 1
Christopher Fisher MD LLC
11/22/2017
$1,000.00
Monetary Contribution
Steve Sisolak
2018 Annual CE Filing (Amended)
Christopher Gellner
12/27/2017
$500.00
Monetary Contribution
Steve Sisolak
2018 Annual CE Filing (Amended)
Christopher Kuranko DDS Inc. dba Healthy Smiles Dental
4/5/2018
$300.00
Monetary Contribution
Steve Sisolak
2018 CE Report 1 (Amended)
Christopher McMillen
3/8/2018
$100.00
Monetary Contribution
Adam Laxalt
2018 CE Report 1
Christopher Milford
6/28/2017
$5,000.00
Monetary Contribution
Adam Laxalt
2018 Annual CE Filing
Christopher Milford
7/27/2017
$5,000.00
Monetary Contribution
Adam Laxalt
2018 Annual CE Filing
Christopher Millson
3/30/2018
$500.00
Monetary Contribution
Adam Laxalt
2018 CE Report 1
Christopher Pak
11/8/2016
$10,000.00
Monetary Contribution
Steve Sisolak
2016 CE Report 5 (Amended)
Christopher Peterson
12/8/2017
$50.00
Monetary Contribution
Adam Laxalt
2018 Annual CE Filing
Christopher Reis
3/29/2018
$500.00
Monetary Contribution
Adam Laxalt
2018 CE Report 1
Christopher Slanaker
2/27/2018
$500.00
Monetary Contribution
Steve Sisolak
2018 CE Report 1 (Amended)
Christopher Stalnaker
2/27/2018
$500.00
Monetary Contribution
Steve Sisolak
2018 CE Report 1 (Amended)
Christopher T. Ackerson
2/21/2018
$50.00
Monetary Contribution
Adam Laxalt
2018 CE Report 1
Christopher T. Paskvan
12/9/2015
$500.00
Monetary Contribution
Steve Sisolak
2016 Annual CE Filing
Christopher Tampio
8/7/2015
$500.00
Monetary Contribution
Adam Laxalt
2016 Annual CE Filing
Christopher Tampio
11/30/2015
$500.00
Monetary Contribution
Adam Laxalt
2016 Annual CE Filing
Christopher Tampio
7/28/2016
$500.00
Monetary Contribution
Adam Laxalt
2017 Annual CE Filing
Christopher Wener
2/23/2018
$1,000.00
Monetary Contribution
Adam Laxalt
2018 CE Report 1
Chuck Davison
3/16/2018
$1,000.00
Monetary Contribution
Adam Laxalt
2018 CE Report 1
Churchill Security Investments LLC
5/11/2017
$2,500.00
Monetary Contribution
Adam Laxalt
2018 Annual CE Filing
Churchill Vineyards LLC
11/4/2017
$793.68
In Kind Contribution
Adam Laxalt
2018 Annual CE Filing
Cifford B. Nellis
2/23/2018
$50.00
Monetary Contribution
Adam Laxalt
2018 CE Report 1
Cig Properties Inc.
9/8/2015
$5,000.00
Monetary Contribution
Steve Sisolak
2016 Annual CE Filing
Cindy Doumani
3/14/2018
$2,500.00
Monetary Contribution
Adam Laxalt
2018 CE Report 1
Cindy l. Carano
12/31/2016
$500.00
Monetary Contribution
Adam Laxalt
2017 Annual CE Filing
Cindy Sharrits
2/28/2018
$50.00
Monetary Contribution
Adam Laxalt
2018 CE Report 1
Circus Circus Las Vegas
12/20/2017
$10,000.00
Monetary Contribution
Steve Sisolak
2018 Annual CE Filing (Amended)
Circus Circus Reno
12/27/2017
$5,000.00
Monetary Contribution
Adam Laxalt
2018 Annual CE Filing
Circus Circus Reno
12/27/2017
$5,000.00
Monetary Contribution
Adam Laxalt
2018 Annual CE Filing
Citi Stop
7/23/2015
$2,501.00
Monetary Contribution
Steve Sisolak
2016 Annual CE Filing
CitiGroup Inc Political Action Committee - State
12/14/2015
$1,000.00
Monetary Contribution
Adam Laxalt
2016 Annual CE Filing
CitiGroup Inc Political Action Committee - State
7/28/2017
$2,500.00
Monetary Contribution
Adam Laxalt
2018 Annual CE Filing
Citizens to Elect Mary Beth Scow
8/10/2017
$1,000.00
Monetary Contribution
Steve Sisolak
2018 Annual CE Filing (Amended)
Citizens United Political Victory Fund
7/24/2017
$1,000.00
Monetary Contribution
Adam Laxalt
2018 Annual CE Filing
Civon L. Gewelber
11/25/2015
$1,000.00
Monetary Contribution
Steve Sisolak
2016 Annual CE Filing
CJ Pass Through 1 LLC
8/26/2016
$5,000.00
Monetary Contribution
Steve Sisolak
2016 CE Report 3
CJGAGP LLC
6/4/2015
$10,000.00
Monetary Contribution
Steve Sisolak
2016 Annual CE Filing
CJGAGP, LLC
7/3/2017
$7,500.00
Monetary Contribution
Steve Sisolak
2018 Annual CE Filing (Amended)
Claggett & Sykes
1/24/2018
$5,000.00
Monetary Contribution
Steve Sisolak
2018 CE Report 1 (Amended)
Claire J. Price
4/18/2018
$100.00
Monetary Contribution
Adam Laxalt
2018 CE Report 1
Claire M. Bostick
5/4/2018
$50.00
Monetary Contribution
Adam Laxalt
2018 CE Report 1
clarence burr
5/4/2018
$250.00
Monetary Contribution
Adam Laxalt
2018 CE Report 1
clarence burr
4/19/2017
$250.00
Monetary Contribution
Adam Laxalt
2018 Annual CE Filing
clarence burr
11/22/2017
$100.00
Monetary Contribution
Adam Laxalt
2018 Annual CE Filing
Clark/Sullivan Construction
7/12/2017
$5,000.00
Monetary Contribution
Steve Sisolak
2018 Annual CE Filing (Amended)
Clark/Sullivan Construction
4/20/2017
$1,000.00
Monetary Contribution
Adam Laxalt
2018 Annual CE Filing
Classic Finishes LLC
4/20/2017
$1,000.00
Monetary Contribution
Adam Laxalt
2018 Annual CE Filing
Claudia C. Fisher
2/19/2018
$50.00
Monetary Contribution
Adam Laxalt
2018 CE Report 1
Claudia Krispel
3/30/2018
$500.00
Monetary Contribution
Adam Laxalt
2018 CE Report 1
Clay H. Hill
6/5/2018
$50.00
Monetary Contribution
Adam Laxalt
2018 CE Report 2
Clay H. Hill
11/15/2017
$50.00
Monetary Contribution
Adam Laxalt
2018 Annual CE Filing
Clayton Baldwin
6/6/2018
$100.00
Monetary Contribution
Adam Laxalt
2018 CE Report 2
Clayton Friedman
1/23/2015
$1,000.00
Monetary Contribution
Adam Laxalt
2016 Annual CE Filing
Clayton Friedman
7/10/2017
$500.00
Monetary Contribution
Adam Laxalt
2018 Annual CE Filing
Clear Channel Outdoor
9/19/2016
$5,000.00
In Kind Contribution
Steve Sisolak
2016 CE Report 3
Clear Channel Worldwide
5/4/2016
$1,500.00
Monetary Contribution
Steve Sisolak
2016 CE Report 1
Clear Channel Worldwide
8/18/2017
$2,500.00
Monetary Contribution
Steve Sisolak
2018 Annual CE Filing (Amended)
Clear River LLC
7/7/2015
$10,000.00
Monetary Contribution
Steve Sisolak
2016 Annual CE Filing
Clear River LLC
12/22/2016
$5,000.00
Monetary Contribution
Adam Laxalt
2017 Annual CE Filing
Clearwash LLC
5/21/2016
$1,500.00
Monetary Contribution
Steve Sisolak
2016 CE Report 2
Clem Ziroli
3/27/2018
$2,500.00
Monetary Contribution
Adam Laxalt
2018 CE Report 1
Clifford D. Conradt
11/15/2017
$50.00
Monetary Contribution
Adam Laxalt
2018 Annual CE Filing
Clifford D. Conradt
5/16/2018
$50.00
Monetary Contribution
Adam Laxalt
2018 CE Report 1
Clifford Eklund
11/6/2017
$200.00
Monetary Contribution
Adam Laxalt
2018 Annual CE Filing
Clifton J. McLaughlin
6/1/2017
$100.00
Monetary Contribution
Adam Laxalt
2018 Annual CE Filing
Clifton J. McLaughlin
3/1/2018
$100.00
Monetary Contribution
Adam Laxalt
2018 CE Report 1
Cline Cellars Inc.
3/19/2018
$5,000.00
Monetary Contribution
Adam Laxalt
2018 CE Report 1
Cline Cellars Inc.
3/19/2018
$5,000.00
Monetary Contribution
Adam Laxalt
2018 CE Report 1
Clinton Woods
6/1/2018
$50.00
Monetary Contribution
Adam Laxalt
2018 CE Report 2
Clique Hospitality
11/19/2017
$10,000.00
Monetary Contribution
Steve Sisolak
2018 Annual CE Filing (Amended)
CLO Marketing Inc.
7/23/2017
$10,000.00
Monetary Contribution
Steve Sisolak
2018 Annual CE Filing (Amended)
Clyde Poland
12/30/2017
$1,000.00
Monetary Contribution
Adam Laxalt
2018 Annual CE Filing
CLYDE TURNER
5/31/2018
$1,000.00
Monetary Contribution
Adam Laxalt
2018 CE Report 2
CMD Inc
11/4/2017
$500.00
Monetary Contribution
Adam Laxalt
2018 Annual CE Filing
CMNT LLC dba South ValleyAnimal Hospital
5/31/2017
$5,000.00
Monetary Contribution
Adam Laxalt
2018 Annual CE Filing
CMNT LLC dba South ValleyAnimal Hospital
5/31/2017
$5,000.00
Monetary Contribution
Adam Laxalt
2018 Annual CE Filing
Coast to Coast Entertainment Inc.
12/28/2017
$10,000.00
Monetary Contribution
Steve Sisolak
2018 Annual CE Filing (Amended)
Coca-Cola North America Group
7/10/2017
$5,000.00
Monetary Contribution
Adam Laxalt
2018 Annual CE Filing
Coeur Mining
9/26/2017
$3,000.00
Monetary Contribution
Adam Laxalt
2018 Annual CE Filing
Coeur Mining
3/8/2018
$500.00
Monetary Contribution
Adam Laxalt
2018 CE Report 1
Coffee Mug Family Restaurant
11/2/2017
$3,500.00
In Kind Contribution
Adam Laxalt
2018 Annual CE Filing
Cogburn Las Offices LLC
1/22/2018
$5,000.00
Monetary Contribution
Steve Sisolak
2018 CE Report 1 (Amended)
Cokie Booth
11/1/2017
$50.00
Monetary Contribution
Adam Laxalt
2018 Annual CE Filing
Colleen J. Maloof
6/4/2015
$2,000.00
Monetary Contribution
Steve Sisolak
2016 Annual CE Filing
Colorado Belle Hotel & Casino
12/11/2015
$5,000.00
Monetary Contribution
Steve Sisolak
2016 Annual CE Filing
Colorado Belle Hotel Casino
7/20/2016
$5,000.00
Monetary Contribution
Steve Sisolak
2016 CE Report 3
Colorado Belle Hotel Casino
11/30/2016
$5,000.00
Monetary Contribution
Adam Laxalt
2017 Annual CE Filing
Colorado Belle Hotel Casino
12/7/2015
$5,000.00
Monetary Contribution
Adam Laxalt
2016 Annual CE Filing
Colvin Construction LLC
5/16/2018
$5,000.00
Monetary Contribution
Adam Laxalt
2018 CE Report 1
Colvin Construction LLC
5/16/2018
$5,000.00
Monetary Contribution
Adam Laxalt
2018 CE Report 1
Colvin Properties LLC
5/2/2018
$5,000.00
Monetary Contribution
Adam Laxalt
2018 CE Report 1
Colvin Properties LLC
5/2/2018
$5,000.00
Monetary Contribution
Adam Laxalt
2018 CE Report 1
Combination Seven LLC dba Mizpah Hotel
3/19/2018
$5,000.00
Monetary Contribution
Adam Laxalt
2018 CE Report 1
Combination Seven LLC dba Mizpah Hotel
3/19/2018
$5,000.00
Monetary Contribution
Adam Laxalt
2018 CE Report 1
Comcast Corporation
3/26/2015
$2,500.00
Monetary Contribution
Adam Laxalt
2016 Annual CE Filing
Comcast Corporation
12/16/2016
$4,500.00
Monetary Contribution
Adam Laxalt
2017 Annual CE Filing
Comcast Financial Agency Corporation
12/16/2016
$500.00
Monetary Contribution
Adam Laxalt
2017 Annual CE Filing
Comcast Financial Agency Corporation
6/23/2016
$2,000.00
Monetary Contribution
Adam Laxalt
2017 Annual CE Filing
Comm to Improve NV Econ and Ed Sys
5/26/2017
$1,000.00
Monetary Contribution
Adam Laxalt
2018 Annual CE Filing
Comm to Improve NV Econ and Ed Sys
12/7/2017
$1,000.00
Monetary Contribution
Adam Laxalt
2018 Annual CE Filing
Comm to Improve NV Econ and Ed Sys
5/17/2018
$3,000.00
Monetary Contribution
Adam Laxalt
2018 CE Report 1
Comm to Improve NV Econ and Ed Sys
5/17/2018
$2,000.00
Monetary Contribution
Adam Laxalt
2018 CE Report 1
Commerce Park Medical LLC
10/29/2015
$500.00
Monetary Contribution
Steve Sisolak
2016 Annual CE Filing
Commercial Owner LLC
12/18/2017
$5,000.00
Monetary Contribution
Adam Laxalt
2018 Annual CE Filing
Commercial Owner LLC
12/18/2017
$5,000.00
Monetary Contribution
Adam Laxalt
2018 Annual CE Filing
Committee to Elect Artemus Ham
1/24/2018
$5,000.00
Monetary Contribution
Steve Sisolak
2018 CE Report 1 (Amended)
Committee to Elect Artemus Ham
2/5/2018
$5,000.00
Monetary Contribution
Adam Laxalt
2018 CE Report 1
Committee to Elect Ben Kieckhefer
5/18/2018
$4,000.00
Monetary Contribution
Adam Laxalt
2018 CE Report 1
Committee to Elect Ben Kieckhefer
11/9/2017
$1,000.00
Monetary Contribution
Adam Laxalt
2018 Annual CE Filing
committee to elect Chris Giunchigliani
10/15/2015
$500.00
Monetary Contribution
Steve Sisolak
2016 Annual CE Filing
Committee to Elect Chris Hicks
4/19/2018
$250.00
Monetary Contribution
Adam Laxalt
2018 CE Report 1
Committee to Elect Chris Hicks
5/3/2018
$1,000.00
Monetary Contribution
Adam Laxalt
2018 CE Report 1
Committee to Elect Heidi Gansert
4/19/2018
$500.00
Monetary Contribution
Adam Laxalt
2018 CE Report 1
Committee to Elect James Ohrenschall
7/1/2015
$500.00
Monetary Contribution
Steve Sisolak
2016 Annual CE Filing
Committee to Elect Jill Dickman
12/19/2016
$500.00
Monetary Contribution
Adam Laxalt
2017 Annual CE Filing
Committee to Elect Joe Hardy
11/9/2017
$1,000.00
Monetary Contribution
Adam Laxalt
2018 Annual CE Filing
Committee to Elect Joe Hardy
4/12/2018
$2,500.00
Monetary Contribution
Adam Laxalt
2018 CE Report 1
Committee to Elect John Ellison for State Assemblyman District #3
11/9/2017
$200.00
Monetary Contribution
Adam Laxalt
2018 Annual CE Filing
Committee to Elect John T. Moran
10/19/2016
$5,000.00
Monetary Contribution
Steve Sisolak
2016 CE Report 4
Committee to elect Michele Shafe
1/25/2018
$500.00
Monetary Contribution
Steve Sisolak
2018 CE Report 1 (Amended)
Committee to Re-elect Bert Brown
11/29/2017
$100.00
Monetary Contribution
Steve Sisolak
2018 Annual CE Filing (Amended)
Commonwealth Land Title Insurance Company
11/5/2016
$10,000.00
Monetary Contribution
Steve Sisolak
2016 CE Report 5 (Amended)
Community Ambulance
9/28/2015
$5,000.00
Monetary Contribution
Steve Sisolak
2016 Annual CE Filing
Community Choice Financial
8/4/2016
$1,000.00
Monetary Contribution
Adam Laxalt
2017 Annual CE Filing
Community Choice Financial
8/19/2015
$1,000.00
Monetary Contribution
Adam Laxalt
2016 Annual CE Filing
Community Loans Of America Inc.
5/1/2017
$2,500.00
Monetary Contribution
Adam Laxalt
2018 Annual CE Filing
Community Loans Of America Inc.
5/1/2017
$2,500.00
Monetary Contribution
Adam Laxalt
2018 Annual CE Filing
Community Loans Of America, Inc.
2/27/2015
$2,500.00
Monetary Contribution
Adam Laxalt
2016 Annual CE Filing
Comstock Mining
5/3/2018
$2,500.00
Monetary Contribution
Adam Laxalt
2018 CE Report 1
Comstock Mining
5/18/2018
$2,500.00
Monetary Contribution
Adam Laxalt
2018 CE Report 1
Connell Co dba Connell Outdoor Advertising
11/3/2015
$2,500.00
Monetary Contribution
Steve Sisolak
2016 Annual CE Filing
Connell Co dba Connell Outdoor Advertising
8/30/2017
$2,500.00
Monetary Contribution
Steve Sisolak
2018 Annual CE Filing (Amended)
Connell Co dba Connell Outdoor Advertising
5/22/2018
$1,500.00
Monetary Contribution
Steve Sisolak
2018 CE Report 2 (Amended)
Connell Outdoor Advertising
9/29/2016
$2,236.00
In Kind Contribution
Steve Sisolak
2016 CE Report 3
Constantine Macricostas
6/6/2018
$5,000.00
Monetary Contribution
Adam Laxalt
2018 CE Report 2
Constantine Macricostas
6/6/2018
$5,000.00
Monetary Contribution
Adam Laxalt
2018 CE Report 2
Construction Development Services Inc.
4/20/2017
$1,000.00
Monetary Contribution
Adam Laxalt
2018 Annual CE Filing
Construction Development Services Inc.
5/26/2017
$1,000.00
Monetary Contribution
Adam Laxalt
2018 Annual CE Filing
Construction Development Services Inc.
11/9/2017
$1,000.00
Monetary Contribution
Adam Laxalt
2018 Annual CE Filing
Contri Construction Company
12/16/2015
$1,000.00
Monetary Contribution
Steve Sisolak
2016 Annual CE Filing
CORE Construction Services of Nevada
4/20/2017
$1,000.00
Monetary Contribution
Adam Laxalt
2018 Annual CE Filing
CORE Construction Services of Nevada
5/26/2017
$1,000.00
Monetary Contribution
Adam Laxalt
2018 Annual CE Filing
CORE Construction Services of Nevada
11/9/2017
$500.00
Monetary Contribution
Adam Laxalt
2018 Annual CE Filing
CORE Construction Services of Nevada
12/7/2017
$1,000.00
Monetary Contribution
Adam Laxalt
2018 Annual CE Filing
CORE Construction Services of Nevada
4/10/2018
$500.00
Monetary Contribution
Adam Laxalt
2018 CE Report 1
CORE Construction Services of Nevada
5/18/2018
$1,000.00
Monetary Contribution
Adam Laxalt
2018 CE Report 1
CORE Construction Services of Nevada
5/18/2018
$5,000.00
Monetary Contribution
Adam Laxalt
2018 CE Report 1
Cornelius B. Hoffmans
5/29/2018
$100.00
Monetary Contribution
Adam Laxalt
2018 CE Report 2
Cornelius B. Hoffmans
4/16/2018
$100.00
Monetary Contribution
Adam Laxalt
2018 CE Report 1
Corner Investment Company LLC
11/7/2016
$5,000.00
Monetary Contribution
Steve Sisolak
2016 CE Report 5 (Amended)
Corner Investment Company LLC
6/2/2018
$5,000.00
Monetary Contribution
Steve Sisolak
2018 CE Report 2 (Amended)
Corner Oyster House LLC
5/9/2018
$5,000.00
Monetary Contribution
Adam Laxalt
2018 CE Report 1
Corner Oyster House LLC
5/9/2018
$5,000.00
Monetary Contribution
Adam Laxalt
2018 CE Report 1
Cornerstone Consulting Partners
5/3/2018
$2,500.00
Monetary Contribution
Adam Laxalt
2018 CE Report 1
Cornerstone Consulting Partners
11/12/2017
$2,500.00
Monetary Contribution
Adam Laxalt
2018 Annual CE Filing
Corona Black Green Valley Development Co.
6/23/2015
$2,500.00
Monetary Contribution
Steve Sisolak
2016 Annual CE Filing
Corona Black Green Valley Development Co.
8/1/2017
$2,500.00
Monetary Contribution
Steve Sisolak
2018 Annual CE Filing (Amended)
Cort Christie
10/28/2016
$5,000.00
Monetary Contribution
Adam Laxalt
2017 Annual CE Filing
Cort Christie
10/28/2016
$5,000.00
Monetary Contribution
Adam Laxalt
2017 Annual CE Filing
Cory and Theresa A. Santos
5/18/2018
$50.00
Monetary Contribution
Adam Laxalt
2018 CE Report 1
Court Hampton Holdings LLC
1/14/2018
$10,000.00
Monetary Contribution
Steve Sisolak
2018 CE Report 1 (Amended)
Covenant Development Group Inc
5/17/2018
$5,000.00
Monetary Contribution
Adam Laxalt
2018 CE Report 1
Covenant Development Group Inc
5/17/2018
$5,000.00
Monetary Contribution
Adam Laxalt
2018 CE Report 1
Covenant Real Estate Inc.
10/31/2016
$5,000.00
Monetary Contribution
Adam Laxalt
2017 Annual CE Filing
Covenant Real Estate Inc.
10/31/2016
$5,000.00
Monetary Contribution
Adam Laxalt
2017 Annual CE Filing
Cox Communications
8/13/2015
$2,000.00
Monetary Contribution
Steve Sisolak
2016 Annual CE Filing
Cox Communications Inc
5/24/2016
$2,500.00
Monetary Contribution
Steve Sisolak
2016 CE Report 2
Cox Communications Inc
11/2/2017
$5,000.00
Monetary Contribution
Steve Sisolak
2018 Annual CE Filing (Amended)
Cox Communications Inc.
7/29/2016
$2,500.00
Monetary Contribution
Steve Sisolak
2016 CE Report 3
Cox Communications Inc.
12/18/2017
$5,000.00
Monetary Contribution
Adam Laxalt
2018 Annual CE Filing
Cox Communications, Inc.
7/20/2015
$5,000.00
Monetary Contribution
Adam Laxalt
2016 Annual CE Filing
Coyote Springs Investment LLC
5/6/2015
$5,000.00
Monetary Contribution
Steve Sisolak
2016 Annual CE Filing
Coyote Springs Investment LLC
5/9/2018
$5,000.00
Monetary Contribution
Steve Sisolak
2018 CE Report 1 (Amended)
Coyote Springs Investment LLC
5/15/2018
$5,000.00
Monetary Contribution
Adam Laxalt
2018 CE Report 1
Coyote Springs Nevada LLC
5/9/2018
$5,000.00
Monetary Contribution
Steve Sisolak
2018 CE Report 1 (Amended)
Coyote Springs Nevada LLC
5/15/2018
$5,000.00
Monetary Contribution
Adam Laxalt
2018 CE Report 1
Coyote Springs Nevada, LLC
10/9/2017
$5,000.00
Monetary Contribution
Steve Sisolak
2018 Annual CE Filing (Amended)
Coyote Springs Nevada, LLC
10/26/2016
$5,000.00
Monetary Contribution
Steve Sisolak
2016 CE Report 4
Coyote Springs Nevada, LLC
11/9/2015
$5,000.00
Monetary Contribution
Steve Sisolak
2016 Annual CE Filing
Cozen O'Connor Attorneys
10/16/2015
$1,000.00
Monetary Contribution
Adam Laxalt
2016 Annual CE Filing
Cozen O'Connor Attorneys
7/28/2016
$1,000.00
Monetary Contribution
Adam Laxalt
2017 Annual CE Filing
Cozen O'Connor Attorneys
11/28/2016
$1,000.00
Monetary Contribution
Adam Laxalt
2017 Annual CE Filing
Cozen O'Connor Attorneys
5/30/2017
$2,000.00
Monetary Contribution
Adam Laxalt
2018 Annual CE Filing
CPCM Holdings LLC
9/22/2017
$10,000.00
Monetary Contribution
Steve Sisolak
2018 Annual CE Filing (Amended)
CPCM Holdings LLC
3/14/2018
$5,000.00
Monetary Contribution
Adam Laxalt
2018 CE Report 1
CPCM Holdings LLC
3/14/2018
$5,000.00
Monetary Contribution
Adam Laxalt
2018 CE Report 1
CPG NV Operations LLC dba Centra Property Group
7/10/2017
$1,000.00
Monetary Contribution
Adam Laxalt
2018 Annual CE Filing
Craftsman Homes Inc
5/1/2018
$350.00
Monetary Contribution
Adam Laxalt
2018 CE Report 1
Craftsman Homes Inc CH Development
5/1/2018
$300.00
Monetary Contribution
Adam Laxalt
2018 CE Report 1
Cragin & Pike Inc.
2/16/2016
$500.00
Monetary Contribution
Steve Sisolak
2016 CE Report 1
Cragin & Pike, Inc.
6/1/2015
$500.00
Monetary Contribution
Steve Sisolak
2016 Annual CE Filing
Craig & Susan Cox
12/27/2017
$1,500.00
Monetary Contribution
Adam Laxalt
2018 Annual CE Filing
Craig A. Madole
11/9/2017
$250.00
Monetary Contribution
Adam Laxalt
2018 Annual CE Filing
Craig Callahan
5/12/2017
$50.00
Monetary Contribution
Adam Laxalt
2018 Annual CE Filing
CRAIG ESTEY
5/11/2017
$5,000.00
Monetary Contribution
Adam Laxalt
2018 Annual CE Filing
CRAIG ESTEY
5/11/2017
$5,000.00
Monetary Contribution
Adam Laxalt
2018 Annual CE Filing
Craig Kadlub
3/2/2018
$100.00
Monetary Contribution
Adam Laxalt
2018 CE Report 1
Craig Manoukian
4/9/2018
$50.00
Monetary Contribution
Adam Laxalt
2018 CE Report 1
Craig Young
2/28/2018
$100.00
Monetary Contribution
Adam Laxalt
2018 CE Report 1
Crear Outdoor, LLC
11/20/2015
$250.00
Monetary Contribution
Steve Sisolak
2016 Annual CE Filing
Crear Outdoor, LLC
7/6/2017
$500.00
Monetary Contribution
Steve Sisolak
2018 Annual CE Filing (Amended)
Credit One Financial
7/17/2017
$5,000.00
Monetary Contribution
Steve Sisolak
2018 Annual CE Filing (Amended)
Credit One Financial
7/12/2016
$2,500.00
Monetary Contribution
Steve Sisolak
2016 CE Report 3
Creekside Investments LLC
9/6/2017
$10,000.00
Monetary Contribution
Steve Sisolak
2018 Annual CE Filing (Amended)
CREPAC
6/23/2016
$2,500.00
Monetary Contribution
Steve Sisolak
2016 CE Report 3
Cres Miranda M.D., Ltd.
3/31/2016
$1,000.00
Monetary Contribution
Steve Sisolak
2016 CE Report 1
Cres Miranda MD LTD
12/7/2017
$1,000.00
Monetary Contribution
Steve Sisolak
2018 Annual CE Filing (Amended)
Criag Newby
5/3/2018
$100.00
Monetary Contribution
Steve Sisolak
2018 CE Report 1 (Amended)
Cricket Interiors
12/26/2015
$5,000.00
Monetary Contribution
Steve Sisolak
2016 Annual CE Filing
Cris G. Cavallaro
6/30/2017
$50.00
Monetary Contribution
Adam Laxalt
2018 Annual CE Filing
Crosshill Living Trust
8/24/2016
$1,500.00
Monetary Contribution
Steve Sisolak
2016 CE Report 3
Crossings Care Campus Land Co LLC c/o The Calida Group
12/5/2017
$5,000.00
Monetary Contribution
Steve Sisolak
2018 Annual CE Filing (Amended)
CRTV LLC
10/19/2016
$5,000.00
Monetary Contribution
Adam Laxalt
2017 Annual CE Filing
CRTV LLC
10/19/2016
$5,000.00
Monetary Contribution
Adam Laxalt
2017 Annual CE Filing
Crystal Bay Revocable Trust
1/5/2018
$5,000.00
Monetary Contribution
Steve Sisolak
2018 CE Report 1 (Amended)
Crystal Cleaners
9/9/2016
$100.00
Monetary Contribution
Steve Sisolak
2016 CE Report 3
Crystal Peaks Inc.
12/28/2017
$2,000.00
Monetary Contribution
Adam Laxalt
2018 Annual CE Filing
Curo Management LLC
3/21/2018
$2,500.00
Monetary Contribution
Steve Sisolak
2018 CE Report 1 (Amended)
Curt Anderson
9/12/2017
$1,000.00
Monetary Contribution
Steve Sisolak
2018 Annual CE Filing (Amended)
Curt Anderson
9/18/2016
$500.00
Monetary Contribution
Steve Sisolak
2016 CE Report 3
Curtis Boardman
11/28/2017
$1,000.00
Monetary Contribution
Steve Sisolak
2018 Annual CE Filing (Amended)
Curtis Debord
10/26/2017
$5,000.00
Monetary Contribution
Adam Laxalt
2018 Annual CE Filing
Curtis Debord
10/26/2017
$5,000.00
Monetary Contribution
Adam Laxalt
2018 Annual CE Filing
Curtis J. Risley
3/8/2018
$200.00
Monetary Contribution
Adam Laxalt
2018 CE Report 1
Curtis Patrick
4/19/2017
$1,000.00
Monetary Contribution
Adam Laxalt
2018 Annual CE Filing
Curtis R. Allsop
11/28/2017
$1,000.00
Monetary Contribution
Steve Sisolak
2018 Annual CE Filing (Amended)
Curtis W. Anderson
6/18/2015
$1,000.00
Monetary Contribution
Steve Sisolak
2016 Annual CE Filing
CV PROPCO LLC
1/25/2018
$10,000.00
Monetary Contribution
Steve Sisolak
2018 CE Report 1 (Amended)
CV PROPCO LLC
11/9/2017
$5,000.00
Monetary Contribution
Adam Laxalt
2018 Annual CE Filing
CV PROPCO LLC
11/9/2017
$3,500.00
Monetary Contribution
Adam Laxalt
2018 Annual CE Filing
CV Sciences Inc.
3/1/2018
$2,500.00
Monetary Contribution
Steve Sisolak
2018 CE Report 1 (Amended)
CVP Management
2/28/2018
$2,000.00
Monetary Contribution
Steve Sisolak
2018 CE Report 1 (Amended)
CWNevada LLC
4/28/2016
$10,000.00
Monetary Contribution
Steve Sisolak
2016 CE Report 1
Cynthia A. Gardiner
6/7/2018
$100.00
Monetary Contribution
Adam Laxalt
2018 CE Report 2
Cynthia D. Brady
10/20/2016
$5,000.00
Monetary Contribution
Adam Laxalt
2017 Annual CE Filing
Cynthia D. Brady
10/20/2016
$5,000.00
Monetary Contribution
Adam Laxalt
2017 Annual CE Filing
Cynthia Gorino
12/28/2017
$100.00
Monetary Contribution
Steve Sisolak
2018 Annual CE Filing (Amended)
D. James Hindle
11/1/2017
$100.00
Monetary Contribution
Adam Laxalt
2018 Annual CE Filing
D. Neal Tomlinson
7/1/2015
$5,000.00
Monetary Contribution
Steve Sisolak
2016 Annual CE Filing
D. Neal Tomlinson
12/17/2015
$500.00
Monetary Contribution
Steve Sisolak
2016 Annual CE Filing
D&D Plumbing
4/20/2017
$1,000.00
Monetary Contribution
Adam Laxalt
2018 Annual CE Filing
D&D Plumbing
5/26/2017
$1,500.00
Monetary Contribution
Adam Laxalt
2018 Annual CE Filing
D&D Plumbing
5/3/2018
$2,500.00
Monetary Contribution
Adam Laxalt
2018 CE Report 1
D&J Family Trust
5/30/2015
$2,000.00
Monetary Contribution
Steve Sisolak
2016 Annual CE Filing
Daarrly Bacon
6/7/2018
$100.00
Monetary Contribution
Steve Sisolak
2018 CE Report 2 (Amended)
Dakota Karas
4/26/2018
$1,000.00
Monetary Contribution
Adam Laxalt
2018 CE Report 1
Dale Carrison
5/26/2015
$1,000.00
Monetary Contribution
Steve Sisolak
2016 Annual CE Filing
Dale Laine
3/16/2018
$100.00
Monetary Contribution
Adam Laxalt
2018 CE Report 1
Dale Mathews
11/8/2017
$100.00
Monetary Contribution
Adam Laxalt
2018 Annual CE Filing
Dale S. Kooker
4/24/2017
$50.00
Monetary Contribution
Adam Laxalt
2018 Annual CE Filing
Dale S. Kooker
2/26/2018
$100.00
Monetary Contribution
Adam Laxalt
2018 CE Report 1
Dallas E. Haun
2/8/2018
$2,500.00
Monetary Contribution
Adam Laxalt
2018 CE Report 1
Dallas Moyer
11/2/2016
$500.00
Monetary Contribution
Steve Sisolak
2016 CE Report 4
Dan Carpenter
12/7/2017
$2,500.00
Monetary Contribution
Adam Laxalt
2018 Annual CE Filing
Dan Carpenter
11/11/2016
$2,500.00
Monetary Contribution
Adam Laxalt
2017 Annual CE Filing
Dan Carpenter
11/11/2016
$5,000.00
Monetary Contribution
Adam Laxalt
2017 Annual CE Filing
Dan Doran
6/25/2017
$100.00
Monetary Contribution
Steve Sisolak
2018 Annual CE Filing (Amended)
Dan J. Peterson
3/14/2018
$50.00
Monetary Contribution
Adam Laxalt
2018 CE Report 1
Dan Loose Construction Co. Inc.
5/18/2017
$2,500.00
Monetary Contribution
Adam Laxalt
2018 Annual CE Filing
Dan Loose Construction Co. Inc.
11/9/2017
$500.00
Monetary Contribution
Adam Laxalt
2018 Annual CE Filing
Dan S. Palmer
3/19/2018
$1,000.00
Monetary Contribution
Adam Laxalt
2018 CE Report 1
Dan Stark
11/7/2017
$250.00
Monetary Contribution
Adam Laxalt
2018 Annual CE Filing
Dana F. White
5/15/2018
$5,000.00
Monetary Contribution
Adam Laxalt
2018 CE Report 1
Dana Low
11/28/2017
$1,000.00
Monetary Contribution
Steve Sisolak
2018 Annual CE Filing (Amended)
Dana White
9/17/2015
$5,000.00
Monetary Contribution
Adam Laxalt
2016 Annual CE Filing
Danice Christensen
5/1/2017
$50.00
Monetary Contribution
Adam Laxalt
2018 Annual CE Filing
Danice Christensen
11/20/2017
$50.00
Monetary Contribution
Adam Laxalt
2018 Annual CE Filing
Danice L. Christensen
4/23/2018
$50.00
Monetary Contribution
Adam Laxalt
2018 CE Report 1
Danice L. Christensen
3/5/2018
$50.00
Monetary Contribution
Adam Laxalt
2018 CE Report 1
Daniel & Denice Klaich
4/21/2015
$1,000.00
Monetary Contribution
Steve Sisolak
2016 Annual CE Filing
Daniel & Robin Greenspun FT
7/12/2015
$2,500.00
Monetary Contribution
Steve Sisolak
2016 Annual CE Filing
Daniel & Robin Greenspun FT
3/1/2016
$2,500.00
Monetary Contribution
Steve Sisolak
2016 CE Report 1
Daniel & Robin Greenspun FT
3/1/2016
$2,500.00
Monetary Contribution
Steve Sisolak
2016 CE Report 1
Daniel Brasov
8/19/2015
$2,500.00
Monetary Contribution
Steve Sisolak
2016 Annual CE Filing
Daniel Brasov
10/17/2017
$2,500.00
Monetary Contribution
Steve Sisolak
2018 Annual CE Filing (Amended)
Daniel Brasov
2/22/2018
$2,000.00
Monetary Contribution
Steve Sisolak
2018 CE Report 1 (Amended)
Daniel Brasov
5/11/2017
$2,500.00
Monetary Contribution
Adam Laxalt
2018 Annual CE Filing
Daniel Day
4/12/2018
$100.00
Monetary Contribution
Adam Laxalt
2018 CE Report 1
Daniel Greenspun
10/31/2017
$3,000.00
Monetary Contribution
Steve Sisolak
2018 Annual CE Filing (Amended)
Daniel J. Tuntland
11/9/2017
$250.00
Monetary Contribution
Adam Laxalt
2018 Annual CE Filing
Daniel J. Tuntland
12/7/2017
$1,000.00
Monetary Contribution
Adam Laxalt
2018 Annual CE Filing
Daniel J. Tuntland
12/30/2016
$500.00
Monetary Contribution
Adam Laxalt
2017 Annual CE Filing
Daniel Joseph
8/30/2017
$100.00
Monetary Contribution
Adam Laxalt
2018 Annual CE Filing
Daniel Klaich
4/16/2018
$1,000.00
Monetary Contribution
Steve Sisolak
2018 CE Report 1 (Amended)
Daniel Kouretas
12/17/2015
$150.00
In Kind Contribution
Steve Sisolak
2016 Annual CE Filing
Daniel Kramer
5/25/2016
$1,000.00
Monetary Contribution
Steve Sisolak
2016 CE Report 2
Daniel Kramer
6/1/2015
$2,000.00
Monetary Contribution
Steve Sisolak
2016 Annual CE Filing
Daniel Kramer
8/22/2017
$5,000.00
Monetary Contribution
Steve Sisolak
2018 Annual CE Filing (Amended)
Daniel L. Casey
12/30/2017
$1,000.00
Monetary Contribution
Adam Laxalt
2018 Annual CE Filing
Daniel L. Casey
11/22/2016
$1,000.00
Monetary Contribution
Adam Laxalt
2017 Annual CE Filing
Daniel Mann
12/22/2017
$250.00
Monetary Contribution
Steve Sisolak
2018 Annual CE Filing (Amended)
Daniel Marsh
6/2/2018
$400.00
In Kind Contribution
Adam Laxalt
2018 CE Report 2
Daniel Musgrove
5/22/2018
$200.00
Monetary Contribution
Steve Sisolak
2018 CE Report 2 (Amended)
Daniel P Conroy
11/30/2017
$1,000.00
Monetary Contribution
Adam Laxalt
2018 Annual CE Filing
Daniel P Marsh
11/9/2017
$100.00
Monetary Contribution
Adam Laxalt
2018 Annual CE Filing
Daniel S. Peters
11/16/2017
$1,000.00
Monetary Contribution
Adam Laxalt
2018 Annual CE Filing
Daniel Shapiro
3/28/2018
$100.00
Monetary Contribution
Steve Sisolak
2018 CE Report 1 (Amended)
Daniel Sorge
10/24/2017
$5,000.00
Monetary Contribution
Steve Sisolak
2018 Annual CE Filing (Amended)
Daniel T. Burton
4/24/2018
$100.00
Monetary Contribution
Adam Laxalt
2018 CE Report 1
Daniel Tuntland
1/6/2018
$1,000.00
Monetary Contribution
Steve Sisolak
2018 CE Report 1 (Amended)
Daniel Westmeyer
11/1/2017
$250.00
Monetary Contribution
Adam Laxalt
2018 Annual CE Filing
Daniel X Wray
2/16/2018
$500.00
Monetary Contribution
Steve Sisolak
2018 CE Report 1 (Amended)
Daniel X. Wray
4/2/2018
$250.00
Monetary Contribution
Adam Laxalt
2018 CE Report 1
Danielle Camp
5/18/2018
$50.00
Monetary Contribution
Steve Sisolak
2018 CE Report 1 (Amended)
Danny Johns
12/18/2017
$200.00
Monetary Contribution
Steve Sisolak
2018 Annual CE Filing (Amended)
Danny Thomas
6/1/2018
$2,500.00
Monetary Contribution
Steve Sisolak
2018 CE Report 2 (Amended)
Darin Feinstein Judith Perez
11/12/2015
$800.00
In Kind Contribution
Steve Sisolak
2016 Annual CE Filing
Dariush Imani
11/7/2016
$1,000.00
Monetary Contribution
Steve Sisolak
2016 CE Report 5 (Amended)
Darrell Marraccini
5/29/2018
$50.00
Monetary Contribution
Adam Laxalt
2018 CE Report 2
Darren Neal Tomlinson
10/12/2017
$5,000.00
Monetary Contribution
Steve Sisolak
2018 Annual CE Filing (Amended)
Darren Neal Tomlinson
3/1/2018
$5,000.00
Monetary Contribution
Steve Sisolak
2018 CE Report 1 (Amended)
Darrol J. Brown
6/1/2018
$100.00
Monetary Contribution
Adam Laxalt
2018 CE Report 2
Darrol J. Brown
2/19/2018
$150.00
Monetary Contribution
Adam Laxalt
2018 CE Report 1
Darrol J. Brown
4/17/2017
$100.00
Monetary Contribution
Adam Laxalt
2018 Annual CE Filing
Darrol J. Brown
11/20/2017
$100.00
Monetary Contribution
Adam Laxalt
2018 Annual CE Filing
Darryl Nirenberg
7/19/2017
$500.00
Monetary Contribution
Adam Laxalt
2018 Annual CE Filing
Darwin Deason
12/29/2017
$5,000.00
Monetary Contribution
Adam Laxalt
2018 Annual CE Filing
Darwin Deason
12/29/2017
$5,000.00
Monetary Contribution
Adam Laxalt
2018 Annual CE Filing
Daryl E. Capurro
4/19/2017
$50.00
Monetary Contribution
Adam Laxalt
2018 Annual CE Filing
Daryl E. Drake
5/1/2017
$100.00
Monetary Contribution
Adam Laxalt
2018 Annual CE Filing
Darylyn Sinette-Diffenbaugh
5/22/2017
$100.00
Monetary Contribution
Adam Laxalt
2018 Annual CE Filing
Darylyn Sinette-Diffenbaugh
12/21/2017
$50.00
Monetary Contribution
Adam Laxalt
2018 Annual CE Filing
Dave Mosley
3/18/2018
$500.00
Monetary Contribution
Adam Laxalt
2018 CE Report 1
Dave Ritch
12/8/2017
$100.00
Monetary Contribution
Adam Laxalt
2018 Annual CE Filing
David A. Dixon
11/20/2017
$100.00
Monetary Contribution
Adam Laxalt
2018 Annual CE Filing
David A. Ensign
3/13/2018
$5,000.00
Monetary Contribution
Adam Laxalt
2018 CE Report 1
David A. Ensign
3/13/2018
$5,000.00
Monetary Contribution
Adam Laxalt
2018 CE Report 1
David A. Fontanilla
12/22/2016
$5,000.00
Monetary Contribution
Adam Laxalt
2017 Annual CE Filing
David A. Jaeger
11/27/2017
$100.00
Monetary Contribution
Adam Laxalt
2018 Annual CE Filing
David A. Jaeger
1/18/2018
$100.00
Monetary Contribution
Adam Laxalt
2018 CE Report 1
David A. Jaeger
2/9/2018
$100.00
Monetary Contribution
Adam Laxalt
2018 CE Report 1
David A. Jaeger
2/17/2018
$100.00
Monetary Contribution
Adam Laxalt
2018 CE Report 1
David A. Jaeger
2/27/2018
$100.00
Monetary Contribution
Adam Laxalt
2018 CE Report 1
David A. Jaeger
4/9/2018
$100.00
Monetary Contribution
Adam Laxalt
2018 CE Report 1
David A. Siegel
3/31/2018
$5,000.00
Monetary Contribution
Adam Laxalt
2018 CE Report 1
David A. Siegel
3/31/2018
$5,000.00
Monetary Contribution
Adam Laxalt
2018 CE Report 1
David and Leah Ross
6/21/2017
$1,000.00
Monetary Contribution
Adam Laxalt
2018 Annual CE Filing
David Antonuccio
5/27/2018
$100.00
Monetary Contribution
Steve Sisolak
2018 CE Report 2 (Amended)
David B Weiner
7/1/2015
$2,500.00
Monetary Contribution
Steve Sisolak
2016 Annual CE Filing
David Belding
10/17/2016
$5,000.00
Monetary Contribution
Steve Sisolak
2016 CE Report 4
David Berns
2/21/2018
$100.00
Monetary Contribution
Steve Sisolak
2018 CE Report 1 (Amended)
David Berube
4/30/2018
$100.00
Monetary Contribution
Adam Laxalt
2018 CE Report 1
David Brown
5/20/2018
$10,000.00
Monetary Contribution
Steve Sisolak
2018 CE Report 2 (Amended)
David Brown
1/12/2018
$50.00
Monetary Contribution
Adam Laxalt
2018 CE Report 1
David C. Libler
5/1/2018
$200.00
Monetary Contribution
Adam Laxalt
2018 CE Report 1
David C. Patten
2/16/2018
$100.00
Monetary Contribution
Adam Laxalt
2018 CE Report 1
David Chapman
5/14/2018
$1,000.00
Monetary Contribution
Adam Laxalt
2018 CE Report 1
David Chesnoff
12/18/2015
$10,000.00
Monetary Contribution
Steve Sisolak
2016 Annual CE Filing
David Colvin
11/16/2016
$5,000.00
Monetary Contribution
Adam Laxalt
2017 Annual CE Filing
David Colvin
11/16/2016
$5,000.00
Monetary Contribution
Adam Laxalt
2017 Annual CE Filing
David D. Deborde
3/8/2018
$250.00
Monetary Contribution
Adam Laxalt
2018 CE Report 1
David Daneshforooz
11/28/2017
$1,000.00
Monetary Contribution
Steve Sisolak
2018 Annual CE Filing (Amended)
David Ducommun
7/2/2017
$10,000.00
Monetary Contribution
Steve Sisolak
2018 Annual CE Filing (Amended)
David Ducommun
11/8/2016
$1,000.00
Monetary Contribution
Steve Sisolak
2016 CE Report 5 (Amended)
David E. Sciolino
11/16/2017
$100.00
Monetary Contribution
Adam Laxalt
2018 Annual CE Filing
David E. Sciolino
2/21/2018
$55.00
Monetary Contribution
Adam Laxalt
2018 CE Report 1
David Elliott
12/28/2017
$5,000.00
Monetary Contribution
Adam Laxalt
2018 Annual CE Filing
David Elliott
12/28/2017
$5,000.00
Monetary Contribution
Adam Laxalt
2018 Annual CE Filing
David Fontanilla
12/31/2015
$5,000.00
Monetary Contribution
Adam Laxalt
2016 Annual CE Filing
David Geddes
5/10/2018
$1,000.00
Monetary Contribution
Adam Laxalt
2018 CE Report 1
David Geddes
4/26/2018
$1,500.00
In Kind Contribution
Adam Laxalt
2018 CE Report 1
David Goldwater
12/17/2015
$500.00
Monetary Contribution
Steve Sisolak
2016 Annual CE Filing
David Goldwater
6/1/2015
$1,000.00
Monetary Contribution
Steve Sisolak
2016 Annual CE Filing
David Goldwater
11/17/2017
$100.00
Monetary Contribution
Steve Sisolak
2018 Annual CE Filing (Amended)
David Grolman
4/5/2018
$1,000.00
Monetary Contribution
Steve Sisolak
2018 CE Report 1 (Amended)
David Huisman
12/28/2017
$2,500.00
Monetary Contribution
Adam Laxalt
2018 Annual CE Filing
David Humphreys
2/2/2018
$2,700.00
Monetary Contribution
Adam Laxalt
2018 CE Report 1
David Humphreys
5/10/2018
$2,300.00
Monetary Contribution
Adam Laxalt
2018 CE Report 1
David Humphreys
5/10/2018
$4,600.00
Monetary Contribution
Adam Laxalt
2018 CE Report 1
David Humphreys
5/10/2018
$400.00
Monetary Contribution
Adam Laxalt
2018 CE Report 1
David J. Oliveri MD A Profressional Corp.
1/26/2018
$1,000.00
Monetary Contribution
Steve Sisolak
2018 CE Report 1 (Amended)
David J. Peri
12/22/2016
$5,000.00
Monetary Contribution
Adam Laxalt
2017 Annual CE Filing
David J. Rea
2/23/2018
$100.00
Monetary Contribution
Adam Laxalt
2018 CE Report 1
David Kallas
7/25/2017
$500.00
Monetary Contribution
Steve Sisolak
2018 Annual CE Filing (Amended)
David Kallas
8/21/2015
$500.00
Monetary Contribution
Steve Sisolak
2016 Annual CE Filing
David Knight
12/29/2017
$50.00
Monetary Contribution
Adam Laxalt
2018 Annual CE Filing
David Krieger
3/20/2018
$2,500.00
Monetary Contribution
Adam Laxalt
2018 CE Report 1
David L Steinberg Family Trust
4/20/2016
$1,000.00
Monetary Contribution
Steve Sisolak
2016 CE Report 1
David L. Dietze
5/1/2018
$500.00
Monetary Contribution
Adam Laxalt
2018 CE Report 1
David L. Horowitz
5/3/2017
$5,000.00
Monetary Contribution
Adam Laxalt
2018 Annual CE Filing
David L. Navratil
5/29/2018
$100.00
Monetary Contribution
Adam Laxalt
2018 CE Report 2
David L. Peterson
5/29/2018
$100.00
Monetary Contribution
Adam Laxalt
2018 CE Report 2
David Laxalt
3/31/2018
$50.00
Monetary Contribution
Adam Laxalt
2018 CE Report 1
David Lugliani
5/11/2017
$5,000.00
Monetary Contribution
Adam Laxalt
2018 Annual CE Filing
David Lugliani
5/11/2017
$5,000.00
Monetary Contribution
Adam Laxalt
2018 Annual CE Filing
David M. Battle
7/31/2017
$100.00
Monetary Contribution
Adam Laxalt
2018 Annual CE Filing
David M. Clarke
4/24/2017
$250.00
Monetary Contribution
Adam Laxalt
2018 Annual CE Filing
David M. Williams
4/25/2017
$2,000.00
Monetary Contribution
Adam Laxalt
2018 Annual CE Filing
David M. Williams
2/28/2018
$1,000.00
Monetary Contribution
Adam Laxalt
2018 CE Report 1
David Mitchell
3/21/2018
$100.00
Monetary Contribution
Steve Sisolak
2018 CE Report 1 (Amended)
David Ober Family Trust
11/28/2017
$1,000.00
Monetary Contribution
Steve Sisolak
2018 Annual CE Filing (Amended)
David Ober Revocable Family Trust
11/19/2015
$2,000.00
Monetary Contribution
Steve Sisolak
2016 Annual CE Filing
David Patten
4/28/2017
$50.00
Monetary Contribution
Adam Laxalt
2018 Annual CE Filing
David Patten
12/20/2017
$150.00
Monetary Contribution
Adam Laxalt
2018 Annual CE Filing
David Perissett
12/22/2017
$1,000.00
Monetary Contribution
Adam Laxalt
2018 Annual CE Filing
David Powers
2/23/2015
$1,000.00
Monetary Contribution
Adam Laxalt
2016 Annual CE Filing
David R. Hiebert
11/15/2017
$50.00
Monetary Contribution
Adam Laxalt
2018 Annual CE Filing
David R. Mathews
3/14/2018
$50.00
Monetary Contribution
Adam Laxalt
2018 CE Report 1
David Ryan
12/28/2017
$5,000.00
Monetary Contribution
Adam Laxalt
2018 Annual CE Filing
David Ryan
12/28/2017
$5,000.00
Monetary Contribution
Adam Laxalt
2018 Annual CE Filing
David Snock
4/5/2018
$100.00
Monetary Contribution
Steve Sisolak
2018 CE Report 1 (Amended)
David Stevens
5/23/2018
$5,000.00
Monetary Contribution
Steve Sisolak
2018 CE Report 2 (Amended)
David Turner
2/1/2018
$100.00
Monetary Contribution
Adam Laxalt
2018 CE Report 1
David West Wilson
5/24/2017
$5,000.00
Monetary Contribution
Adam Laxalt
2018 Annual CE Filing
David West Wilson
5/24/2017
$5,000.00
Monetary Contribution
Adam Laxalt
2018 Annual CE Filing
David William Billharz
5/30/2017
$50.00
Monetary Contribution
Adam Laxalt
2018 Annual CE Filing
David Wolfe
11/7/2017
$100.00
Monetary Contribution
Adam Laxalt
2018 Annual CE Filing
David Z. Chesnoff, Chartered
1/9/2018
$10,000.00
Monetary Contribution
Steve Sisolak
2018 CE Report 1 (Amended)
Davis Funeral Home & Memorial Park
12/8/2016
$1,000.00
Monetary Contribution
Steve Sisolak
2016 CE Report 5 (Amended)
Davita Total Renal Care Inc.
3/23/2016
$500.00
Monetary Contribution
Adam Laxalt
2017 Annual CE Filing
DB Labs LLC
12/17/2015
$500.00
Monetary Contribution
Steve Sisolak
2016 Annual CE Filing
DB Labs LLC
3/1/2018
$500.00
Monetary Contribution
Steve Sisolak
2018 CE Report 1 (Amended)
Dean A Spanos
5/18/2018
$5,000.00
Monetary Contribution
Adam Laxalt
2018 CE Report 1
Dean A. & Susan L. Spanos Trust
12/27/2017
$5,000.00
Monetary Contribution
Steve Sisolak
2018 Annual CE Filing (Amended)
Dean A. Heyl
12/15/2015
$250.00
Monetary Contribution
Adam Laxalt
2016 Annual CE Filing
Dean A. Heyl
4/7/2016
$500.00
Monetary Contribution
Adam Laxalt
2017 Annual CE Filing
Dean A. Rhoads
4/26/2017
$100.00
Monetary Contribution
Adam Laxalt
2018 Annual CE Filing
Dean A. Rhoads
11/27/2017
$200.00
Monetary Contribution
Adam Laxalt
2018 Annual CE Filing
Dean Bonlie
4/17/2017
$50.00
Monetary Contribution
Adam Laxalt
2018 Annual CE Filing
Dean Polce
11/9/2017
$1,000.00
Monetary Contribution
Adam Laxalt
2018 Annual CE Filing
Dean R. Bonlie
4/10/2018
$50.00
Monetary Contribution
Adam Laxalt
2018 CE Report 1
Dean Spanos
4/30/2015
$2,500.00
Monetary Contribution
Steve Sisolak
2016 Annual CE Filing
Deane A Albright
2/18/2018
$500.00
Monetary Contribution
Steve Sisolak
2018 CE Report 1 (Amended)
Deane A. Albright
11/9/2017
$250.00
Monetary Contribution
Adam Laxalt
2018 Annual CE Filing
Deanna Forbush
6/30/2017
$250.00
Monetary Contribution
Adam Laxalt
2018 Annual CE Filing
Deanna Forbush
3/30/2018
$500.00
Monetary Contribution
Adam Laxalt
2018 CE Report 1
Debbie Frye
6/1/2018
$250.00
Monetary Contribution
Adam Laxalt
2018 CE Report 2
Deborah C. Day
4/30/2018
$2,500.00
Monetary Contribution
Adam Laxalt
2018 CE Report 1
Deborah C. Day
11/9/2017
$2,500.00
Monetary Contribution
Adam Laxalt
2018 Annual CE Filing
Deborah Engstrom
6/7/2018
$100.00
Monetary Contribution
Adam Laxalt
2018 CE Report 2
Deborah K. Lara
1/5/2018
$200.00
Monetary Contribution
Adam Laxalt
2018 CE Report 1
Deborah Keller
12/29/2017
$1,000.00
Monetary Contribution
Adam Laxalt
2018 Annual CE Filing
Deborah Primack
4/13/2018
$100.00
Monetary Contribution
Adam Laxalt
2018 CE Report 1
Deborah W. Earl
5/1/2017
$200.00
Monetary Contribution
Adam Laxalt
2018 Annual CE Filing
Debra March for Mayor
2/12/2018
$1,000.00
Monetary Contribution
Steve Sisolak
2018 CE Report 1 (Amended)
Debra March for Mayor
9/1/2016
$2,500.00
Monetary Contribution
Steve Sisolak
2016 CE Report 3
Debra Pisanich
2/10/2018
$50.00
Monetary Contribution
Adam Laxalt
2018 CE Report 1
Decatur 1.25 AC Harris - J.L. #6 LLC
12/16/2016
$1,000.00
Monetary Contribution
Adam Laxalt
2017 Annual CE Filing
Decatur Motors dba Johnny Legends
7/16/2015
$3,000.00
Monetary Contribution
Steve Sisolak
2016 Annual CE Filing
Decatur Motors dba Johnny Legends
3/21/2018
$3,000.00
Monetary Contribution
Steve Sisolak
2018 CE Report 1 (Amended)
Decatur-SOBB (NW) Budget J.L. #1 LLC
3/22/2018
$1,000.00
Monetary Contribution
Steve Sisolak
2018 CE Report 1 (Amended)
Decatur-SOBB (NW) Budget J.L. #1 LLC
7/22/2015
$1,000.00
Monetary Contribution
Steve Sisolak
2016 Annual CE Filing
Decatur-SOBB (SW) Budget P.T.J.L. #3 LLC
3/22/2018
$1,000.00
Monetary Contribution
Steve Sisolak
2018 CE Report 1 (Amended)
Decatur-SOBB (SW) P.T. J.L. #3
7/22/2015
$1,000.00
Monetary Contribution
Steve Sisolak
2016 Annual CE Filing
Decatur-Sobb (SW) P.T.J.L. #3
12/16/2016
$1,000.00
Monetary Contribution
Adam Laxalt
2017 Annual CE Filing
Deecie Zimmerman
4/14/2018
$1,000.00
Monetary Contribution
Steve Sisolak
2018 CE Report 1 (Amended)
Deecie Zimmerman
10/3/2017
$250.00
Monetary Contribution
Steve Sisolak
2018 Annual CE Filing (Amended)
Deep Roots Harvest
12/22/2017
$10,000.00
Monetary Contribution
Steve Sisolak
2018 Annual CE Filing (Amended)
Deep Roots Medical LLC
12/17/2015
$250.00
Monetary Contribution
Steve Sisolak
2016 Annual CE Filing
Deepak Sharma M.D. Ltd
12/6/2017
$1,000.00
Monetary Contribution
Steve Sisolak
2018 Annual CE Filing (Amended)
Deepak Sharma M.D. Ltd dba Cardiology & Vascular Center of Nevada
4/5/2016
$1,000.00
Monetary Contribution
Steve Sisolak
2016 CE Report 1
Deepali Kashyap MD PLLC
12/12/2017
$500.00
Monetary Contribution
Steve Sisolak
2018 Annual CE Filing (Amended)
Deer Springs Village LLC
5/11/2017
$2,500.00
Monetary Contribution
Adam Laxalt
2018 Annual CE Filing
Deloitte Consulting LLP
5/27/2016
$500.00
Monetary Contribution
Adam Laxalt
2017 Annual CE Filing
Delores Gammell
5/29/2018
$100.00
Monetary Contribution
Adam Laxalt
2018 CE Report 2
DEMAR DAHL
6/27/2017
$1,000.00
Monetary Contribution
Adam Laxalt
2018 Annual CE Filing
DEMAR DAHL
11/9/2017
$1,000.00
Monetary Contribution
Adam Laxalt
2018 Annual CE Filing
Demetra K. Demonte
5/14/2018
$250.00
Monetary Contribution
Adam Laxalt
2018 CE Report 1
Demetrios Mavroidis MD LTD
4/12/2016
$1,000.00
Monetary Contribution
Steve Sisolak
2016 CE Report 1
Dena Duboef
6/1/2018
$500.00
Monetary Contribution
Steve Sisolak
2018 CE Report 2 (Amended)
Denis McMahon
6/1/2018
$75.00
Monetary Contribution
Adam Laxalt
2018 CE Report 2
Denis McMahon
2/23/2018
$100.00
Monetary Contribution
Adam Laxalt
2018 CE Report 1
Denis McMahon
4/13/2018
$50.00
Monetary Contribution
Adam Laxalt
2018 CE Report 1
Denise Cashman
5/17/2018
$2,000.00
Monetary Contribution
Adam Laxalt
2018 CE Report 1
Denise Cashman
12/21/2016
$2,500.00
Monetary Contribution
Adam Laxalt
2017 Annual CE Filing
Denise Decker
5/29/2018
$10,000.00
Monetary Contribution
Steve Sisolak
2018 CE Report 2 (Amended)
Denise Estes
3/23/2018
$50.00
Monetary Contribution
Adam Laxalt
2018 CE Report 1
Denise Estes
4/4/2018
$50.00
Monetary Contribution
Adam Laxalt
2018 CE Report 1
Denise Estes
5/4/2018
$50.00
Monetary Contribution
Adam Laxalt
2018 CE Report 1
Denise M. Gavlak-Yemc
11/25/2015
$500.00
Monetary Contribution
Steve Sisolak
2016 Annual CE Filing
Dennis Banks Construction
5/17/2017
$1,000.00
Monetary Contribution
Adam Laxalt
2018 Annual CE Filing
Dennis Bassford
3/26/2018
$2,500.00
Monetary Contribution
Steve Sisolak
2018 CE Report 1 (Amended)
Dennis Conway
4/15/2016
$1,000.00
Monetary Contribution
Adam Laxalt
2017 Annual CE Filing
Dennis Dean Kirk
7/24/2017
$500.00
Monetary Contribution
Adam Laxalt
2018 Annual CE Filing
Dennis Dunn
12/8/2017
$100.00
Monetary Contribution
Adam Laxalt
2018 Annual CE Filing
Dennis Dunn
6/6/2018
$200.00
Monetary Contribution
Adam Laxalt
2018 CE Report 2
Dennis Gutwald
4/5/2018
$100.00
Monetary Contribution
Steve Sisolak
2018 CE Report 1 (Amended)
Dennis J. Bassford
12/7/2016
$1,000.00
Monetary Contribution
Steve Sisolak
2016 CE Report 5 (Amended)
Dennis J. Bassford
12/15/2015
$2,500.00
Monetary Contribution
Adam Laxalt
2016 Annual CE Filing
Dennis J. Bassford
4/13/2018
$2,500.00
Monetary Contribution
Adam Laxalt
2018 CE Report 1
Dennis Jordan
4/29/2018
$100.00
Monetary Contribution
Adam Laxalt
2018 CE Report 1
Dennis M. Prince
1/24/2018
$100.00
In Kind Contribution
Steve Sisolak
2018 CE Report 1 (Amended)
Dennis Parker
5/14/2018
$100.00
Monetary Contribution
Adam Laxalt
2018 CE Report 1
Dennis Tallant
4/17/2018
$50.00
Monetary Contribution
Adam Laxalt
2018 CE Report 1
Dennis Troesh
5/18/2015
$10,000.00
Monetary Contribution
Steve Sisolak
2016 Annual CE Filing
Dennis Troesh
7/6/2017
$5,000.00
Monetary Contribution
Adam Laxalt
2018 Annual CE Filing
Dennis Troesh
7/6/2017
$5,000.00
Monetary Contribution
Adam Laxalt
2018 Annual CE Filing
Dennis W. Parker
11/9/2017
$100.00
Monetary Contribution
Adam Laxalt
2018 Annual CE Filing
Dennis W. Parker
6/6/2018
$100.00
Monetary Contribution
Adam Laxalt
2018 CE Report 2
Dentons US LLP
3/6/2015
$1,000.00
Monetary Contribution
Adam Laxalt
2016 Annual CE Filing
Dentons US LLP
11/28/2016
$1,000.00
Monetary Contribution
Adam Laxalt
2017 Annual CE Filing
Derek J Stevens
11/7/2017
$5,000.00
Monetary Contribution
Steve Sisolak
2018 Annual CE Filing (Amended)
Derek J. Stevens
12/7/2017
$5,000.00
Monetary Contribution
Adam Laxalt
2018 Annual CE Filing
Derek J. Stevens
12/7/2017
$5,000.00
Monetary Contribution
Adam Laxalt
2018 Annual CE Filing
Derek J. Stevens Trust
12/21/2015
$5,000.00
Monetary Contribution
Steve Sisolak
2016 Annual CE Filing
Derek Miyano
12/6/2017
$1,000.00
Monetary Contribution
Steve Sisolak
2018 Annual CE Filing (Amended)
Derek Rafie
4/17/2017
$2,000.00
Monetary Contribution
Steve Sisolak
2018 Annual CE Filing (Amended)
Derek Rafie
11/28/2017
$2,500.00
Monetary Contribution
Steve Sisolak
2018 Annual CE Filing (Amended)
Derron W. Inskip
3/8/2018
$200.00
Monetary Contribution
Adam Laxalt
2018 CE Report 1
Desert 215 Superstore
11/22/2016
$5,000.00
Monetary Contribution
Steve Sisolak
2016 CE Report 5 (Amended)
Desert 215 Superstore
5/15/2018
$5,000.00
Monetary Contribution
Adam Laxalt
2018 CE Report 1
Desert Cab Inc.
7/1/2015
$2,500.00
Monetary Contribution
Steve Sisolak
2016 Annual CE Filing
Desert Cab Inc.
2/23/2018
$1,000.00
Monetary Contribution
Adam Laxalt
2018 CE Report 1
Desert Cab Inc.
3/16/2018
$1,000.00
Monetary Contribution
Adam Laxalt
2018 CE Report 1
Desert Land LLC
9/13/2016
$2,500.00
Monetary Contribution
Steve Sisolak
2016 CE Report 3
Desert Radiologists
10/26/2016
$2,500.00
Monetary Contribution
Steve Sisolak
2016 CE Report 4
Desert Radiologists
8/17/2017
$10,000.00
Monetary Contribution
Steve Sisolak
2018 Annual CE Filing (Amended)
Desmond A. Muir
11/9/2017
$150.00
Monetary Contribution
Adam Laxalt
2018 Annual CE Filing
Devin Brooks
11/14/2017
$1,000.00
Monetary Contribution
Steve Sisolak
2018 Annual CE Filing (Amended)
DEWBES LLC
12/7/2017
$5,000.00
Monetary Contribution
Adam Laxalt
2018 Annual CE Filing
DFA LLC
12/22/2016
$5,000.00
Monetary Contribution
Adam Laxalt
2017 Annual CE Filing
DFA LLC
12/22/2016
$5,000.00
Monetary Contribution
Adam Laxalt
2017 Annual CE Filing
DG Development Corporation
2/5/2018
$5,000.00
Monetary Contribution
Steve Sisolak
2018 CE Report 1 (Amended)
DH Flamingo Inc.
2/28/2018
$1,000.00
In Kind Contribution
Steve Sisolak
2018 CE Report 1 (Amended)
DH-Aldebaran
12/22/2017
$5,000.00
Monetary Contribution
Steve Sisolak
2018 Annual CE Filing (Amended)
Dhaval Shah MD PC
12/12/2017
$500.00
Monetary Contribution
Steve Sisolak
2018 Annual CE Filing (Amended)
Diamond A Equipment LLC
12/21/2016
$5,000.00
Monetary Contribution
Adam Laxalt
2017 Annual CE Filing
Diamond A Equipment LLC
12/21/2016
$5,000.00
Monetary Contribution
Adam Laxalt
2017 Annual CE Filing
Diamond Creek Holdings
5/7/2018
$5,000.00
Monetary Contribution
Adam Laxalt
2018 CE Report 1
Diamond Inn Motel
10/24/2016
$1,500.00
Monetary Contribution
Steve Sisolak
2016 CE Report 4
Diamond Marycrest LLC
12/9/2015
$1,000.00
Monetary Contribution
Steve Sisolak
2016 Annual CE Filing
Diamond NVNJ
1/10/2018
$500.00
Monetary Contribution
Steve Sisolak
2018 CE Report 1 (Amended)
Diamond Real Properties LLC
5/19/2018
$2,500.00
Monetary Contribution
Steve Sisolak
2018 CE Report 2 (Amended)
Diana Bennett
5/26/2015
$2,500.00
Monetary Contribution
Steve Sisolak
2016 Annual CE Filing
Diana Bennett
4/14/2016
$2,500.00
Monetary Contribution
Steve Sisolak
2016 CE Report 1
Diana Chesnoff
1/9/2018
$10,000.00
Monetary Contribution
Steve Sisolak
2018 CE Report 1 (Amended)
Diana Hamilton
4/10/2018
$250.00
Monetary Contribution
Adam Laxalt
2018 CE Report 1
Diana Larson
2/27/2018
$750.00
Monetary Contribution
Steve Sisolak
2018 CE Report 1 (Amended)
Diane Buckley
11/8/2017
$50.00
Monetary Contribution
Adam Laxalt
2018 Annual CE Filing
Diane J. Brown
5/3/2018
$1,000.00
Monetary Contribution
Adam Laxalt
2018 CE Report 1
Diane M. Mendez-Padelford
2/16/2018
$1,000.00
Monetary Contribution
Adam Laxalt
2018 CE Report 1
Diane M. Pastorino
5/31/2018
$50.00
Monetary Contribution
Adam Laxalt
2018 CE Report 2
Diane Reed
4/20/2018
$50.00
Monetary Contribution
Adam Laxalt
2018 CE Report 1
Diane Reed
6/28/2017
$50.00
Monetary Contribution
Adam Laxalt
2018 Annual CE Filing
Diane Ripplinger
5/6/2018
$100.00
Monetary Contribution
Adam Laxalt
2018 CE Report 1
Dianne Moss
1/30/2018
$2,500.00
Monetary Contribution
Adam Laxalt
2018 CE Report 1
Dick Atherley
1/10/2018
$100.00
Monetary Contribution
Steve Sisolak
2018 CE Report 1 (Amended)
Dick Geyer
11/11/2017
$100.00
Monetary Contribution
Adam Laxalt
2018 Annual CE Filing
Dickinson Wright PLLC
5/9/2018
$1,000.00
Monetary Contribution
Steve Sisolak
2018 CE Report 1 (Amended)
Dickinson Wright PLLC
8/23/2016
$1,000.00
Monetary Contribution
Steve Sisolak
2016 CE Report 3
Dickinson Wright PLLC
3/16/2018
$1,000.00
Monetary Contribution
Adam Laxalt
2018 CE Report 1
DIckstein Shapiro LLP
1/23/2015
$4,000.00
Monetary Contribution
Adam Laxalt
2016 Annual CE Filing
Dielco Crane Service Inc.
4/22/2015
$1,000.00
Monetary Contribution
Steve Sisolak
2016 Annual CE Filing
Dielco Crane Service Inc.
1/6/2017
$1,000.00
Monetary Contribution
Adam Laxalt
2018 Annual CE Filing
Dielco Crane Service Inc.
2/10/2017
$1,000.00
Monetary Contribution
Adam Laxalt
2018 Annual CE Filing
Dielco Crane Service Inc.
4/17/2017
$1,000.00
Monetary Contribution
Adam Laxalt
2018 Annual CE Filing
Dielco Crane Service Inc.
11/9/2017
$1,000.00
Monetary Contribution
Adam Laxalt
2018 Annual CE Filing
Dielco Crane Service, Inc
8/31/2017
$2,000.00
Monetary Contribution
Steve Sisolak
2018 Annual CE Filing (Amended)
Dielco Crane Service, Inc.
8/16/2016
$1,000.00
Monetary Contribution
Steve Sisolak
2016 CE Report 3
Dielco Crane Services Inc.
3/21/2018
$2,000.00
Monetary Contribution
Steve Sisolak
2018 CE Report 1 (Amended)
Digestive Associates LLP
3/7/2016
$5,000.00
Monetary Contribution
Steve Sisolak
2016 CE Report 1
Digestive Associates LLP
10/14/2015
$2,500.00
Monetary Contribution
Steve Sisolak
2016 Annual CE Filing
Digestive Associates LLP
5/25/2018
$10,000.00
Monetary Contribution
Steve Sisolak
2018 CE Report 2 (Amended)
Digipath Labs
10/20/2017
$5,000.00
Monetary Contribution
Steve Sisolak
2018 Annual CE Filing (Amended)
Digipath Labs Inc.
12/16/2015
$1,000.00
Monetary Contribution
Steve Sisolak
2016 Annual CE Filing
Dion Gazzaruso
3/29/2018
$250.00
Monetary Contribution
Adam Laxalt
2018 CE Report 1
DIRECTV LLC
1/27/2015
$5,000.00
Monetary Contribution
Adam Laxalt
2016 Annual CE Filing
Discovery Property Company LLC
6/14/2016
$2,500.00
Monetary Contribution
Steve Sisolak
2016 CE Report 3
Discovery Property Company LLC
2/27/2018
$2,500.00
Monetary Contribution
Steve Sisolak
2018 CE Report 1 (Amended)
DISH Network
8/15/2016
$1,000.00
Monetary Contribution
Adam Laxalt
2017 Annual CE Filing
Distilled Spirits Council
1/5/2015
$500.00
Monetary Contribution
Adam Laxalt
2016 Annual CE Filing
District Apartment Land, LLC
12/5/2017
$5,000.00
Monetary Contribution
Steve Sisolak
2018 Annual CE Filing (Amended)
District Council of Iron Workers Political Action League
5/19/2018
$5,000.00
Monetary Contribution
Steve Sisolak
2018 CE Report 2 (Amended)
District Council of Iron Workers Political Action League
6/11/2016
$3,000.00
Monetary Contribution
Steve Sisolak
2016 CE Report 3
District One LLC
10/28/2015
$250.00
Monetary Contribution
Steve Sisolak
2016 Annual CE Filing
Diversified Builders & Development Corp
10/27/2017
$2,500.00
Monetary Contribution
Adam Laxalt
2018 Annual CE Filing
Dixie Fullerton
5/18/2017
$100.00
Monetary Contribution
Adam Laxalt
2018 Annual CE Filing
Dixie K. Proctor
7/28/2017
$50.00
Monetary Contribution
Adam Laxalt
2018 Annual CE Filing
DJ Family LLC
5/16/2018
$5,000.00
Monetary Contribution
Adam Laxalt
2018 CE Report 1
DJ Family LLC
5/16/2018
$5,000.00
Monetary Contribution
Adam Laxalt
2018 CE Report 1
DJ Family Trust
11/26/2017
$1,000.00
Monetary Contribution
Steve Sisolak
2018 Annual CE Filing (Amended)
DJ Family Trust
5/31/2016
$1,000.00
Monetary Contribution
Steve Sisolak
2016 CE Report 2
DJ Family Trust
8/23/2017
$5,000.00
Monetary Contribution
Steve Sisolak
2018 Annual CE Filing (Amended)
DJBM Properties LLC
12/7/2017
$1,000.00
Monetary Contribution
Adam Laxalt
2018 Annual CE Filing
DLC Empire Inc
12/29/2017
$5,000.00
Monetary Contribution
Adam Laxalt
2018 Annual CE Filing
DLC Empire Inc
12/29/2017
$5,000.00
Monetary Contribution
Adam Laxalt
2018 Annual CE Filing
DLC South Dakota Inc
12/29/2017
$5,000.00
Monetary Contribution
Adam Laxalt
2018 Annual CE Filing
DLC South Dakota Inc
12/29/2017
$5,000.00
Monetary Contribution
Adam Laxalt
2018 Annual CE Filing
DMW Strategic Consulting LLC
7/13/2015
$2,500.00
Monetary Contribution
Steve Sisolak
2016 Annual CE Filing
DNC PAC
1/11/2018
$10,000.00
Monetary Contribution
Steve Sisolak
2018 CE Report 1 (Amended)
Doctors Holdings Aldebaron, Inc.
3/1/2018
$5,000.00
Monetary Contribution
Steve Sisolak
2018 CE Report 1 (Amended)
Doctors Holdings, Inc.
10/12/2017
$10,000.00
Monetary Contribution
Steve Sisolak
2018 Annual CE Filing (Amended)
Doggie District Pet Resort
9/20/2015
$1,500.00
Monetary Contribution
Steve Sisolak
2016 Annual CE Filing
Doherty Industrial Group LLC
6/14/2017
$1,000.00
Monetary Contribution
Adam Laxalt
2018 Annual CE Filing
Dolly Schreckengost
6/5/2018
$100.00
Monetary Contribution
Adam Laxalt
2018 CE Report 2
Dom Demarco's Pizzeria & Bar
11/30/2017
$500.00
Monetary Contribution
Steve Sisolak
2018 Annual CE Filing (Amended)
Dominic Gentile
6/27/2016
$1,000.00
Monetary Contribution
Steve Sisolak
2016 CE Report 3
Don F. Ahern Trustee of the DFA Separate Property Trust Dated Jul
12/31/2015
$10,000.00
Monetary Contribution
Adam Laxalt
2016 Annual CE Filing
Don Giancursio
12/2/2016
$2,500.00
Monetary Contribution
Adam Laxalt
2017 Annual CE Filing
Don Giancursio
5/11/2017
$2,500.00
Monetary Contribution
Adam Laxalt
2018 Annual CE Filing
Don Giancursio
5/11/2017
$2,500.00
Monetary Contribution
Adam Laxalt
2018 Annual CE Filing
Don Giancursio
11/9/2017
$2,500.00
Monetary Contribution
Adam Laxalt
2018 Annual CE Filing
Don Laughlin
12/22/2015
$5,000.00
Monetary Contribution
Steve Sisolak
2016 Annual CE Filing
Don Sebastiani
3/31/2017
$2,000.00
Monetary Contribution
Adam Laxalt
2018 Annual CE Filing
Don Sebastiani
7/14/2017
$2,000.00
Monetary Contribution
Adam Laxalt
2018 Annual CE Filing
Don Smaltz
3/29/2018
$100.00
Monetary Contribution
Adam Laxalt
2018 CE Report 1
Don Sundquist
3/13/2018
$1,000.00
Monetary Contribution
Adam Laxalt
2018 CE Report 1
Donald & Madeleine Andress
12/11/2017
$5,000.00
Monetary Contribution
Adam Laxalt
2018 Annual CE Filing
Donald B. Allen
4/10/2018
$50.00
Monetary Contribution
Adam Laxalt
2018 CE Report 1
Donald Banks
4/25/2018
$100.00
Monetary Contribution
Adam Laxalt
2018 CE Report 1
Donald F. West
8/21/2017
$50.00
Monetary Contribution
Adam Laxalt
2018 Annual CE Filing
Donald F. West
2/23/2018
$100.00
Monetary Contribution
Adam Laxalt
2018 CE Report 1
Donald Gene Weber
2/26/2018
$55.00
Monetary Contribution
Adam Laxalt
2018 CE Report 1
Donald Imbler
1/31/2018
$100.00
Monetary Contribution
Adam Laxalt
2018 CE Report 1
Donald J. Campbell
5/29/2018
$2,500.00
Monetary Contribution
Adam Laxalt
2018 CE Report 2
Donald J. Dombrowski
4/5/2018
$100.00
Monetary Contribution
Adam Laxalt
2018 CE Report 1
Donald K. Jennings
11/20/2017
$100.00
Monetary Contribution
Adam Laxalt
2018 Annual CE Filing
Donald K. Jennings
4/30/2018
$100.00
Monetary Contribution
Adam Laxalt
2018 CE Report 1
Donald L. Jensen
5/26/2017
$2,500.00
Monetary Contribution
Adam Laxalt
2018 Annual CE Filing
Donald Loyd
4/26/2017
$50.00
Monetary Contribution
Adam Laxalt
2018 Annual CE Filing
Donald M. Korson
6/22/2017
$100.00
Monetary Contribution
Adam Laxalt
2018 Annual CE Filing
Donald Molde
5/18/2018
$100.00
Monetary Contribution
Steve Sisolak
2018 CE Report 1 (Amended)
Donald Nitti
11/27/2017
$50.00
Monetary Contribution
Adam Laxalt
2018 Annual CE Filing
Donald Nitti
6/6/2018
$50.00
Monetary Contribution
Adam Laxalt
2018 CE Report 2
Donald Snyder
4/25/2015
$250.00
Monetary Contribution
Steve Sisolak
2016 Annual CE Filing
Donegal Properties LLC
9/27/2016
$10,000.00
Monetary Contribution
Steve Sisolak
2016 CE Report 3
Donegal Properties LLC
9/1/2017
$10,000.00
Monetary Contribution
Steve Sisolak
2018 Annual CE Filing (Amended)
Donegal Properties LLC
12/9/2016
$5,000.00
Monetary Contribution
Adam Laxalt
2017 Annual CE Filing
Donegal Properties LLC
12/9/2016
$5,000.00
Monetary Contribution
Adam Laxalt
2017 Annual CE Filing
Donna A Ruthe
12/7/2017
$2,000.00
Monetary Contribution
Adam Laxalt
2018 Annual CE Filing
Donna A Ruthe
4/19/2018
$3,000.00
Monetary Contribution
Adam Laxalt
2018 CE Report 1
Donna A Ruthe
5/7/2018
$5,000.00
Monetary Contribution
Adam Laxalt
2018 CE Report 1
Donna J. Andress
2/21/2018
$50.00
Monetary Contribution
Adam Laxalt
2018 CE Report 1
Donna J. Stillfield
11/16/2017
$100.00
Monetary Contribution
Adam Laxalt
2018 Annual CE Filing
Donna J. Stillfield
4/12/2018
$100.00
Monetary Contribution
Adam Laxalt
2018 CE Report 1
Donna Lee Nigro
5/10/2018
$500.00
Monetary Contribution
Adam Laxalt
2018 CE Report 1
Donna Lombardo
2/28/2018
$500.00
Monetary Contribution
Steve Sisolak
2018 CE Report 1 (Amended)
Donna R Hogg
11/1/2017
$50.00
Monetary Contribution
Adam Laxalt
2018 Annual CE Filing
Doober's LLC
1/1/2016
$1,000.00
Monetary Contribution
Steve Sisolak
2016 CE Report 1
Doober's LLC
5/20/2015
$2,000.00
Monetary Contribution
Steve Sisolak
2016 Annual CE Filing
Doris Lee
8/24/2015
$2,500.00
Monetary Contribution
Steve Sisolak
2016 Annual CE Filing
Doris Lee
8/15/2016
$5,000.00
Monetary Contribution
Steve Sisolak
2016 CE Report 3
Dorothy Crowder
6/1/2018
$50.00
Monetary Contribution
Adam Laxalt
2018 CE Report 2
Dorothy Emes
4/17/2018
$1,000.00
Monetary Contribution
Steve Sisolak
2018 CE Report 1 (Amended)
Dorothy Harber
8/13/2016
$2,500.00
Monetary Contribution
Steve Sisolak
2016 CE Report 3
Dorothy Harber
4/10/2015
$1,000.00
Monetary Contribution
Steve Sisolak
2016 Annual CE Filing
Dorothy Harber
9/17/2015
$1,000.00
Monetary Contribution
Steve Sisolak
2016 Annual CE Filing
Dorothy Harber
2/23/2016
$2,000.00
Monetary Contribution
Steve Sisolak
2016 CE Report 1
Dorothy Snelling
4/19/2018
$250.00
Monetary Contribution
Adam Laxalt
2018 CE Report 1
Dot Vegas Inc
5/12/2015
$2,000.00
Monetary Contribution
Steve Sisolak
2016 Annual CE Filing
Dot Vegas Inc.
11/9/2017
$1,500.00
Monetary Contribution
Adam Laxalt
2018 Annual CE Filing
Doty Bros Equipment Co.
12/27/2017
$5,000.00
Monetary Contribution
Adam Laxalt
2018 Annual CE Filing
Doty Bros Equipment Co.
12/27/2017
$5,000.00
Monetary Contribution
Adam Laxalt
2018 Annual CE Filing
Double E Family LLC
5/7/2018
$10,000.00
Monetary Contribution
Steve Sisolak
2018 CE Report 1 (Amended)
Doug Beavers
4/10/2018
$250.00
Monetary Contribution
Steve Sisolak
2018 CE Report 1 (Amended)
Doug Brown
10/21/2016
$5,000.00
Monetary Contribution
Adam Laxalt
2017 Annual CE Filing
Doug Browne
11/6/2017
$60.00
Monetary Contribution
Adam Laxalt
2018 Annual CE Filing
Doug Deason
6/14/2017
$5,000.00
Monetary Contribution
Adam Laxalt
2018 Annual CE Filing
Doug Deason
12/29/2017
$5,000.00
Monetary Contribution
Adam Laxalt
2018 Annual CE Filing
Doug H. Graham
11/9/2017
$250.00
Monetary Contribution
Adam Laxalt
2018 Annual CE Filing
Doug Walton/Architect PLLC
7/18/2016
$250.00
Monetary Contribution
Steve Sisolak
2016 CE Report 3
Douglas C. DeGroote
5/29/2017
$1,000.00
Monetary Contribution
Adam Laxalt
2018 Annual CE Filing
Douglas Clemetson
11/15/2017
$50.00
Monetary Contribution
Adam Laxalt
2018 Annual CE Filing
Douglas Coval
11/8/2017
$100.00
Monetary Contribution
Adam Laxalt
2018 Annual CE Filing
Douglas E. Lundgren
11/16/2017
$100.00
Monetary Contribution
Adam Laxalt
2018 Annual CE Filing
Douglas J. Brown
5/11/2017
$5,000.00
Monetary Contribution
Adam Laxalt
2018 Annual CE Filing
Douglas Johnson
1/18/2018
$50.00
Monetary Contribution
Adam Laxalt
2018 CE Report 1
Douglas M. Cohen
12/7/2017
$1,000.00
Monetary Contribution
Adam Laxalt
2018 Annual CE Filing
Douglas M. Cohen
12/30/2016
$500.00
Monetary Contribution
Adam Laxalt
2017 Annual CE Filing
Douglas M. Melson
6/22/2017
$50.00
Monetary Contribution
Adam Laxalt
2018 Annual CE Filing
Douglas R. Bennett
5/14/2018
$500.00
Monetary Contribution
Adam Laxalt
2018 CE Report 1
Douglas Unger
1/5/2018
$500.00
Monetary Contribution
Steve Sisolak
2018 CE Report 1 (Amended)
Douglas Unger
1/5/2018
$500.00
Monetary Contribution
Adam Laxalt
2018 CE Report 1
Downey Brand LLP
7/5/2017
$1,000.00
Monetary Contribution
Adam Laxalt
2018 Annual CE Filing
Dr James E. Nave
12/30/2015
$10,000.00
Monetary Contribution
Adam Laxalt
2016 Annual CE Filing
Dr. Nick Zarkos, M.D., Inc.
11/28/2017
$2,500.00
Monetary Contribution
Steve Sisolak
2018 Annual CE Filing (Amended)
Drake Ridge
11/17/2017
$5,000.00
Monetary Contribution
Steve Sisolak
2018 Annual CE Filing (Amended)
DRH Inc Controlled Disb Acct.
5/24/2016
$2,500.00
Monetary Contribution
Steve Sisolak
2016 CE Report 2
DRH Inc., Controlled Disb Account
7/21/2015
$1,000.00
Monetary Contribution
Steve Sisolak
2016 Annual CE Filing
Dri Tech Corporation
10/17/2017
$500.00
Monetary Contribution
Adam Laxalt
2018 Annual CE Filing
DRIVE Committee
3/28/2018
$2,500.00
Monetary Contribution
Steve Sisolak
2018 CE Report 1 (Amended)
Dru Fanticola
3/6/2018
$5,000.00
Monetary Contribution
Steve Sisolak
2018 CE Report 1 (Amended)
Duke Fu
10/24/2015
$1,000.00
Monetary Contribution
Steve Sisolak
2016 Annual CE Filing
Duncan Lee
8/10/2015
$1,000.00
Monetary Contribution
Steve Sisolak
2016 Annual CE Filing
Dunraven LLC
10/24/2017
$500.00
Monetary Contribution
Steve Sisolak
2018 Annual CE Filing (Amended)
Durango Arby Plaza LLC
10/21/2016
$350.00
Monetary Contribution
Steve Sisolak
2016 CE Report 4
Durango Post LLC
5/20/2015
$1,000.00
Monetary Contribution
Steve Sisolak
2016 Annual CE Filing
Durango Square LLC
8/12/2015
$750.00
Monetary Contribution
Steve Sisolak
2016 Annual CE Filing
Dustin Wunderlich
12/30/2016
$500.00
Monetary Contribution
Adam Laxalt
2017 Annual CE Filing
Dustin Wunderlich
12/30/2016
$1,000.00
Monetary Contribution
Adam Laxalt
2017 Annual CE Filing
Dustin Wunderlich
5/18/2018
$250.00
Monetary Contribution
Adam Laxalt
2018 CE Report 1
Dusty Wunderlich
12/30/2015
$1,000.00
Monetary Contribution
Adam Laxalt
2016 Annual CE Filing
Dwarakanath Vuppalapati
4/19/2018
$200.00
Monetary Contribution
Adam Laxalt
2018 CE Report 1
Dwight J. Baum
11/3/2017
$2,500.00
Monetary Contribution
Adam Laxalt
2018 Annual CE Filing
Dwyer Engineering, Inc.
2/24/2016
$250.00
Monetary Contribution
Steve Sisolak
2016 CE Report 1
Dynamic Development Company II LLC
4/10/2015
$10,000.00
Monetary Contribution
Steve Sisolak
2016 Annual CE Filing
Dynamic Town Square Las Vegas LLC
8/26/2016
$10,000.00
Monetary Contribution
Steve Sisolak
2016 CE Report 3
Dynamic Town Square Las Vegas LLC
8/10/2017
$10,000.00
Monetary Contribution
Steve Sisolak
2018 Annual CE Filing (Amended)
E. Alain Levi
5/2/2017
$5,000.00
Monetary Contribution
Adam Laxalt
2018 Annual CE Filing
E. Alain Levi
11/22/2017
$1,000.00
Monetary Contribution
Adam Laxalt
2018 Annual CE Filing
E. Douglass Pushard
11/27/2017
$100.00
Monetary Contribution
Adam Laxalt
2018 Annual CE Filing
E. Douglass Pushard
2/16/2018
$100.00
Monetary Contribution
Adam Laxalt
2018 CE Report 1
E. James Greenwald
5/3/2018
$1,000.00
Monetary Contribution
Adam Laxalt
2018 CE Report 1
E.C & Thomas Kerestesi
8/19/2016
$250.00
Monetary Contribution
Steve Sisolak
2016 CE Report 3
E.T. Carter
5/14/2018
$2,000.00
Monetary Contribution
Adam Laxalt
2018 CE Report 1
E&P Retail LLC
1/29/2018
$500.00
Monetary Contribution
Steve Sisolak
2018 CE Report 1 (Amended)
E&P Retail LLC
9/27/2016
$500.00
Monetary Contribution
Steve Sisolak
2016 CE Report 3
E&P Retail LLC
7/13/2015
$1,500.00
Monetary Contribution
Steve Sisolak
2016 Annual CE Filing
EAB and ELB Family LLC
4/20/2016
$5,000.00
Monetary Contribution
Steve Sisolak
2016 CE Report 1
East West Essentials Inc.
4/2/2018
$5,000.00
Monetary Contribution
Adam Laxalt
2018 CE Report 1
EB Acquisitions LLC
1/14/2018
$10,000.00
Monetary Contribution
Steve Sisolak
2018 CE Report 1 (Amended)
EC Wholesale LLC
8/19/2015
$2,500.00
Monetary Contribution
Steve Sisolak
2016 Annual CE Filing
Ecker Law Group
4/17/2018
$500.00
Monetary Contribution
Steve Sisolak
2018 CE Report 1 (Amended)
Ed Allison Consulting
6/6/2018
$100.00
Monetary Contribution
Adam Laxalt
2018 CE Report 2
Ed Allison Inc
11/9/2017
$200.00
Monetary Contribution
Adam Laxalt
2018 Annual CE Filing
Ed Antonio Benavides
6/26/2017
$100.00
Monetary Contribution
Adam Laxalt
2018 Annual CE Filing
Ed Crawford
3/4/2018
$500.00
Monetary Contribution
Adam Laxalt
2018 CE Report 1
Ed Smith & Co.
12/5/2017
$5,000.00
Monetary Contribution
Adam Laxalt
2018 Annual CE Filing
Ed Stormo
5/11/2017
$250.00
Monetary Contribution
Adam Laxalt
2018 Annual CE Filing
Ed Stormo
11/9/2017
$500.00
Monetary Contribution
Adam Laxalt
2018 Annual CE Filing
Ed Zschau
12/29/2017
$2,500.00
Monetary Contribution
Adam Laxalt
2018 Annual CE Filing
Ed Zschau
12/15/2016
$2,500.00
Monetary Contribution
Adam Laxalt
2017 Annual CE Filing
Edgewater Hotel & Casino
10/19/2017
$5,000.00
Monetary Contribution
Steve Sisolak
2018 Annual CE Filing (Amended)
Edgewater Hotel & Casino
12/11/2015
$5,000.00
Monetary Contribution
Steve Sisolak
2016 Annual CE Filing
Edgewater Hotel Casino
7/20/2016
$5,000.00
Monetary Contribution
Steve Sisolak
2016 CE Report 3
Edgewater Hotel Casino Laughlin
11/30/2016
$5,000.00
Monetary Contribution
Adam Laxalt
2017 Annual CE Filing
Edgewood Companies
5/14/2018
$2,500.00
Monetary Contribution
Adam Laxalt
2018 CE Report 1
Edison International
10/22/2015
$1,500.00
Monetary Contribution
Steve Sisolak
2016 Annual CE Filing
Edison International
8/8/2017
$2,000.00
Monetary Contribution
Steve Sisolak
2018 Annual CE Filing (Amended)
Edward & Ruby Vance
12/11/2015
$2,500.00
Monetary Contribution
Steve Sisolak
2016 Annual CE Filing
Edward A. Barrington Construction Company
5/14/2018
$1,000.00
Monetary Contribution
Adam Laxalt
2018 CE Report 1
Edward A. Barrington Construction Company
5/5/2017
$200.00
Monetary Contribution
Adam Laxalt
2018 Annual CE Filing
Edward A. Vance
10/27/2017
$250.00
Monetary Contribution
Adam Laxalt
2018 Annual CE Filing
Edward A. Wilson
11/15/2017
$250.00
Monetary Contribution
Adam Laxalt
2018 Annual CE Filing
Edward G. Parks
5/29/2018
$100.00
Monetary Contribution
Adam Laxalt
2018 CE Report 2
Edward Hayes
5/26/2018
$100.00
Monetary Contribution
Adam Laxalt
2018 CE Report 2
Edward J Olliges
4/20/2017
$1,000.00
Monetary Contribution
Adam Laxalt
2018 Annual CE Filing
Edward J Olliges
11/16/2017
$1,000.00
Monetary Contribution
Adam Laxalt
2018 Annual CE Filing
Edward J. Hanigan
11/14/2017
$100.00
Monetary Contribution
Adam Laxalt
2018 Annual CE Filing
Edward L. Diefenthal
3/16/2018
$5,000.00
Monetary Contribution
Adam Laxalt
2018 CE Report 1
Edward L. Diefenthal
6/7/2018
$3,000.00
Monetary Contribution
Adam Laxalt
2018 CE Report 2
Edward M. Bernstein & Associates
8/24/2016
$1,000.00
Monetary Contribution
Steve Sisolak
2016 CE Report 3
Edward M. Czuker
8/13/2017
$5,000.00
Monetary Contribution
Adam Laxalt
2018 Annual CE Filing
Edward M. Tomany
6/6/2018
$100.00
Monetary Contribution
Adam Laxalt
2018 CE Report 2
Edward M. Tomany
3/9/2018
$100.00
Monetary Contribution
Adam Laxalt
2018 CE Report 1
Edward Nigro
5/10/2018
$4,500.00
Monetary Contribution
Adam Laxalt
2018 CE Report 1
Edward Nigro
12/30/2016
$3,000.00
Monetary Contribution
Adam Laxalt
2017 Annual CE Filing
Edward Nigro
5/11/2017
$2,000.00
Monetary Contribution
Adam Laxalt
2018 Annual CE Filing
Edward Nigro
5/11/2017
$500.00
Monetary Contribution
Adam Laxalt
2018 Annual CE Filing
Edward Peters
2/28/2018
$100.00
Monetary Contribution
Adam Laxalt
2018 CE Report 1
Edward Rahal
7/24/2017
$500.00
Monetary Contribution
Adam Laxalt
2018 Annual CE Filing
Edward S. Poitevent
11/1/2017
$250.00
Monetary Contribution
Adam Laxalt
2018 Annual CE Filing
Edward Shimel
4/14/2018
$50.00
Monetary Contribution
Steve Sisolak
2018 CE Report 1 (Amended)
Edward Spoon
6/28/2017
$250.00
Monetary Contribution
Adam Laxalt
2018 Annual CE Filing
Edward Spoon
11/10/2017
$1,000.00
Monetary Contribution
Adam Laxalt
2018 Annual CE Filing
Edward Tureson
3/31/2018
$50.00
Monetary Contribution
Adam Laxalt
2018 CE Report 1
Edwards Investment Interests LLC
5/18/2018
$5,000.00
Monetary Contribution
Adam Laxalt
2018 CE Report 1
Edwards Investment Interests LLC
5/18/2018
$5,000.00
Monetary Contribution
Adam Laxalt
2018 CE Report 1
Edwin Meyer
5/3/2018
$1,500.00
Monetary Contribution
Adam Laxalt
2018 CE Report 1
Edwin Meyer
5/3/2018
$1,000.00
Monetary Contribution
Adam Laxalt
2018 CE Report 1
Edwin Meyer
5/14/2018
$4,000.00
Monetary Contribution
Adam Laxalt
2018 CE Report 1
Edwin Meyer
5/26/2017
$2,500.00
Monetary Contribution
Adam Laxalt
2018 Annual CE Filing
Edwin Meyer
11/12/2017
$1,000.00
Monetary Contribution
Adam Laxalt
2018 Annual CE Filing
Egg Works 4
7/10/2017
$5,000.00
Monetary Contribution
Steve Sisolak
2018 Annual CE Filing (Amended)
EGJG Island Plaza Management LLC
12/15/2017
$5,000.00
Monetary Contribution
Steve Sisolak
2018 Annual CE Filing (Amended)
Eglet Prince
1/24/2018
$5,000.00
In Kind Contribution
Steve Sisolak
2018 CE Report 1 (Amended)
Eglet Prince
1/24/2018
$5,000.00
Monetary Contribution
Steve Sisolak
2018 CE Report 1 (Amended)
Ehsan 2 LLC
11/28/2017
$1,000.00
Monetary Contribution
Steve Sisolak
2018 Annual CE Filing (Amended)
Eibl Family Trust
10/17/2017
$1,000.00
Monetary Contribution
Steve Sisolak
2018 Annual CE Filing (Amended)
Ejaz Kamboj
11/27/2017
$500.00
Monetary Contribution
Steve Sisolak
2018 Annual CE Filing (Amended)
Ejaz Kamboj
2/27/2018
$500.00
Monetary Contribution
Steve Sisolak
2018 CE Report 1 (Amended)
Ejaz Kamboj
5/15/2015
$2,000.00
Monetary Contribution
Steve Sisolak
2016 Annual CE Filing
Ejaz Kamboj
11/8/2016
$2,500.00
Monetary Contribution
Steve Sisolak
2016 CE Report 5 (Amended)
EJM Development Co.
4/22/2016
$2,500.00
Monetary Contribution
Steve Sisolak
2016 CE Report 1
El Cortez Hotel & Casino
11/24/2015
$1,000.00
Monetary Contribution
Steve Sisolak
2016 Annual CE Filing
El Cortez Hotel & Casino
4/27/2018
$2,500.00
Monetary Contribution
Steve Sisolak
2018 CE Report 1 (Amended)
El Cortez Hotel & Casino
11/9/2017
$5,000.00
Monetary Contribution
Adam Laxalt
2018 Annual CE Filing
El Cortez Hotel & Casino
5/18/2018
$5,000.00
Monetary Contribution
Adam Laxalt
2018 CE Report 1
El Dorado Cantina 55 LLC
10/18/2016
$5,000.00
Monetary Contribution
Steve Sisolak
2016 CE Report 4
El Dorado Medical Center, LLC
11/7/2016
$5,000.00
Monetary Contribution
Steve Sisolak
2016 CE Report 5 (Amended)
El Dorado Medical Center, LLC
2/28/2018
$3,000.00
Monetary Contribution
Steve Sisolak
2018 CE Report 1 (Amended)
Elaine Barzen
6/25/2017
$100.00
Monetary Contribution
Steve Sisolak
2018 Annual CE Filing (Amended)
Eldorado Hills LLC
10/11/2017
$10,000.00
Monetary Contribution
Steve Sisolak
2018 Annual CE Filing (Amended)
Eldorado Resorts Inc.
12/30/2016
$5,000.00
Monetary Contribution
Adam Laxalt
2017 Annual CE Filing
Eldorado Resorts Inc.
12/30/2016
$5,000.00
Monetary Contribution
Adam Laxalt
2017 Annual CE Filing
Eldorado Resorts LLC.
12/27/2017
$5,000.00
Monetary Contribution
Adam Laxalt
2018 Annual CE Filing
Eldorado Resorts LLC.
12/27/2017
$5,000.00
Monetary Contribution
Adam Laxalt
2018 Annual CE Filing
Elena M Brady
6/5/2018
$100.00
Monetary Contribution
Adam Laxalt
2018 CE Report 2
Elena M Brady
6/3/2018
$200.00
In Kind Contribution
Adam Laxalt
2018 CE Report 2
Elene M. Dowell
12/4/2017
$100.00
Monetary Contribution
Adam Laxalt
2018 Annual CE Filing
Eleni Macricostas
4/30/2018
$5,000.00
Monetary Contribution
Adam Laxalt
2018 CE Report 1
Eleni Macricostas
4/30/2018
$5,000.00
Monetary Contribution
Adam Laxalt
2018 CE Report 1
Elevate Credit Service LLC
4/1/2015
$5,000.00
Monetary Contribution
Adam Laxalt
2016 Annual CE Filing
Eli Lilly and Company
2/5/2018
$3,100.00
Monetary Contribution
Adam Laxalt
2018 CE Report 1
Eli Scislowicz
2/13/2018
$500.00
Monetary Contribution
Steve Sisolak
2018 CE Report 1 (Amended)
Elissa Czuker
5/15/2018
$5,000.00
Monetary Contribution
Adam Laxalt
2018 CE Report 1
Elissa Czuker
5/15/2018
$5,000.00
Monetary Contribution
Adam Laxalt
2018 CE Report 1
Elite Media Inc.
1/10/2018
$1,000.00
Monetary Contribution
Steve Sisolak
2018 CE Report 1 (Amended)
Elite Media Inc.
11/4/2016
$1,000.00
Monetary Contribution
Steve Sisolak
2016 CE Report 5 (Amended)
Elizabeth Blau
3/6/2018
$1,000.00
Monetary Contribution
Steve Sisolak
2018 CE Report 1 (Amended)
Elizabeth J. Kennedy
11/29/2017
$50.00
Monetary Contribution
Adam Laxalt
2018 Annual CE Filing
Elizabeth Marie Locke
7/24/2017
$2,500.00
Monetary Contribution
Adam Laxalt
2018 Annual CE Filing
Elizabeth Pohe
2/28/2018
$500.00
Monetary Contribution
Adam Laxalt
2018 CE Report 1
Elizabeth Rossum
4/27/2018
$500.00
Monetary Contribution
Steve Sisolak
2018 CE Report 1 (Amended)
Elizabeth Seibold
7/11/2017
$2,500.00
Monetary Contribution
Adam Laxalt
2018 Annual CE Filing
Elizabeth Seibold
8/23/2017
$2,500.00
Monetary Contribution
Adam Laxalt
2018 Annual CE Filing
Elizabeth Seibold
8/23/2017
$5,000.00
Monetary Contribution
Adam Laxalt
2018 Annual CE Filing
Elizabeth Stevens
5/23/2018
$5,000.00
Monetary Contribution
Adam Laxalt
2018 CE Report 2
Elizabeth Uihlein
6/1/2016
$5,000.00
Monetary Contribution
Adam Laxalt
2017 Annual CE Filing
Elizabeth Uihlein
6/1/2016
$5,000.00
Monetary Contribution
Adam Laxalt
2017 Annual CE Filing
Elko Land & Livestock
11/9/2017
$1,000.00
Monetary Contribution
Adam Laxalt
2018 Annual CE Filing
Ellen H Koczka
3/1/2018
$50.00
Monetary Contribution
Adam Laxalt
2018 CE Report 1
Ellen Schulhofer
7/26/2017
$1,000.00
Monetary Contribution
Steve Sisolak
2018 Annual CE Filing (Amended)
Ellen Schulhofer
2/23/2016
$1,000.00
Monetary Contribution
Steve Sisolak
2016 CE Report 1
Elling B. Halvorson
5/14/2018
$1,000.00
Monetary Contribution
Adam Laxalt
2018 CE Report 1
Elliott Broidy
7/14/2017
$5,000.00
Monetary Contribution
Adam Laxalt
2018 Annual CE Filing
Elliott Broidy
7/14/2017
$5,000.00
Monetary Contribution
Adam Laxalt
2018 Annual CE Filing
Ellis Landau
3/21/2018
$10,000.00
Monetary Contribution
Steve Sisolak
2018 CE Report 1 (Amended)
Elsa Jane Welsh
3/8/2018
$50.00
Monetary Contribution
Adam Laxalt
2018 CE Report 1
Elysium Enterprises Inc.
1/12/2018
$1,000.00
Monetary Contribution
Steve Sisolak
2018 CE Report 1 (Amended)
Elysium Enterprises, Inc.
10/29/2015
$1,000.00
Monetary Contribution
Steve Sisolak
2016 Annual CE Filing
Emilia Cargil
5/15/2018
$100.00
Monetary Contribution
Steve Sisolak
2018 CE Report 1 (Amended)
Emmet Stephenson
12/5/2016
$5,000.00
Monetary Contribution
Adam Laxalt
2017 Annual CE Filing
Emmet Stephenson
12/5/2016
$5,000.00
Monetary Contribution
Adam Laxalt
2017 Annual CE Filing
Employers EIG Services
4/19/2018
$1,000.00
Monetary Contribution
Adam Laxalt
2018 CE Report 1
EMS Management LLC
5/2/2016
$5,000.00
Monetary Contribution
Steve Sisolak
2016 CE Report 1
EMS Management LLC
8/24/2016
$5,000.00
Monetary Contribution
Steve Sisolak
2016 CE Report 3
Enayat Abrishami
12/5/2016
$400.00
Monetary Contribution
Steve Sisolak
2016 CE Report 5 (Amended)
Enclave LV LLC
9/19/2016
$5,000.00
Monetary Contribution
Steve Sisolak
2016 CE Report 3
Endalkachew Mersha
8/24/2017
$7,500.00
Monetary Contribution
Steve Sisolak
2018 Annual CE Filing (Amended)
Enenstein Ribakoff Lavina & Pham LLP
6/10/2015
$500.00
Monetary Contribution
Steve Sisolak
2016 Annual CE Filing
Ensign 1993 Trust
5/6/2015
$10,000.00
Monetary Contribution
Steve Sisolak
2016 Annual CE Filing
Enterprise Holdings Inc. Political Action Committee
7/31/2017
$2,500.00
Monetary Contribution
Adam Laxalt
2018 Annual CE Filing
Enterprise Holdings Inc. Political Action Committee
12/31/2017
$1,500.00
Monetary Contribution
Adam Laxalt
2018 Annual CE Filing
Entertainment Software Association
6/3/2016
$2,500.00
Monetary Contribution
Adam Laxalt
2017 Annual CE Filing
Entertainment Software Association
4/1/2015
$2,500.00
Monetary Contribution
Adam Laxalt
2016 Annual CE Filing
Environmental Design Group, LLC
10/1/2015
$500.00
Monetary Contribution
Steve Sisolak
2016 Annual CE Filing
Equisource LLC
12/17/2015
$500.00
Monetary Contribution
Steve Sisolak
2016 Annual CE Filing
Ercelle L. Johnson
5/3/2017
$50.00
Monetary Contribution
Adam Laxalt
2018 Annual CE Filing
Ercelle L. Johnson
3/2/2018
$50.00
Monetary Contribution
Adam Laxalt
2018 CE Report 1
Ercelle L. Johnson
6/6/2018
$50.00
Monetary Contribution
Adam Laxalt
2018 CE Report 2
Eren Akman Ozmen
5/22/2018
$2,500.00
Monetary Contribution
Adam Laxalt
2018 CE Report 2
ERGS INC.
5/26/2017
$2,500.00
Monetary Contribution
Adam Laxalt
2018 Annual CE Filing
ERGS INC.
11/9/2017
$1,000.00
Monetary Contribution
Adam Laxalt
2018 Annual CE Filing
Eric Basu
11/10/2017
$1,000.00
Monetary Contribution
Adam Laxalt
2018 Annual CE Filing
Eric Blakey
11/29/2017
$100.00
Monetary Contribution
Adam Laxalt
2018 Annual CE Filing
Eric Chen
3/6/2017
$10,000.00
Monetary Contribution
Steve Sisolak
2018 Annual CE Filing (Amended)
Eric Fahs
1/30/2018
$250.00
Monetary Contribution
Adam Laxalt
2018 CE Report 1
Eric Kurtzman
11/20/2017
$4,500.00
In Kind Contribution
Steve Sisolak
2018 Annual CE Filing (Amended)
Eric Lund
4/5/2018
$100.00
Monetary Contribution
Adam Laxalt
2018 CE Report 1
Eric Posin
9/28/2017
$2,000.00
Monetary Contribution
Steve Sisolak
2018 Annual CE Filing (Amended)
Eric W. Houssels
1/8/2018
$1,000.00
Monetary Contribution
Adam Laxalt
2018 CE Report 1
Erie Gilespie, LLC
8/22/2017
$2,000.00
Monetary Contribution
Steve Sisolak
2018 Annual CE Filing (Amended)
Erik Brown
6/20/2017
$2,500.00
Monetary Contribution
Adam Laxalt
2018 Annual CE Filing
Erik K. Lee
4/17/2017
$50.00
Monetary Contribution
Adam Laxalt
2018 Annual CE Filing
Erik K. Lee
2/23/2018
$50.00
Monetary Contribution
Adam Laxalt
2018 CE Report 1
Erika Pike Turner
11/29/2017
$500.00
Monetary Contribution
Steve Sisolak
2018 Annual CE Filing (Amended)
Erika Pike Turner
4/19/2018
$1,000.00
Monetary Contribution
Steve Sisolak
2018 CE Report 1 (Amended)
Ermina Drobkin
2/6/2018
$3,000.00
Monetary Contribution
Steve Sisolak
2018 CE Report 1 (Amended)
Ernest A. Becker
4/18/2018
$2,000.00
Monetary Contribution
Adam Laxalt
2018 CE Report 1
Ernest Garcia
5/26/2016
$1,000.00
Monetary Contribution
Adam Laxalt
2017 Annual CE Filing
Ernest J. Keller
11/27/2017
$200.00
Monetary Contribution
Adam Laxalt
2018 Annual CE Filing
Ernest J. Wurschum
2/26/2018
$100.00
Monetary Contribution
Adam Laxalt
2018 CE Report 1
Ernest Lee
6/30/2017
$10,000.00
Monetary Contribution
Steve Sisolak
2018 Annual CE Filing (Amended)
Ernest Moody
4/13/2018
$55.00
Monetary Contribution
Adam Laxalt
2018 CE Report 1
Ernest R. Hoffman
5/14/2018
$500.00
Monetary Contribution
Adam Laxalt
2018 CE Report 1
Ernest R. Hoffman
7/19/2017
$100.00
Monetary Contribution
Adam Laxalt
2018 Annual CE Filing
Ernest S. Clark
4/16/2018
$50.00
Monetary Contribution
Adam Laxalt
2018 CE Report 1
Ernest T. Lee
8/18/2016
$5,000.00
Monetary Contribution
Steve Sisolak
2016 CE Report 3
Ernie & Sarah Adler
5/23/2018
$5,000.00
Monetary Contribution
Steve Sisolak
2018 CE Report 2 (Amended)
ERP LLC
10/19/2017
$3,000.00
Monetary Contribution
Steve Sisolak
2018 Annual CE Filing (Amended)
ESPORTS Productions LLC
5/10/2017
$5,000.00
Monetary Contribution
Adam Laxalt
2018 Annual CE Filing
ESPORTS Productions LLC
5/10/2017
$5,000.00
Monetary Contribution
Adam Laxalt
2018 Annual CE Filing
ESTARS LLC
5/25/2018
$5,000.00
Monetary Contribution
Adam Laxalt
2018 CE Report 2
ESTARS LLC
5/25/2018
$5,000.00
Monetary Contribution
Adam Laxalt
2018 CE Report 2
Etcheverry's Food Town
11/28/2017
$500.00
Monetary Contribution
Adam Laxalt
2018 Annual CE Filing
Ethan Nelson
5/10/2018
$500.00
Monetary Contribution
Steve Sisolak
2018 CE Report 1 (Amended)
Ethos Three Architecture
7/20/2017
$500.00
Monetary Contribution
Steve Sisolak
2018 Annual CE Filing (Amended)
Ethos Three Architecture
6/17/2016
$500.00
Monetary Contribution
Steve Sisolak
2016 CE Report 3
Ethos Three Architecture
8/20/2015
$500.00
Monetary Contribution
Steve Sisolak
2016 Annual CE Filing
eugene M. Blonder
5/29/2018
$50.00
Monetary Contribution
Adam Laxalt
2018 CE Report 2
Eugenia E. Szontagh
5/31/2018
$250.00
Monetary Contribution
Adam Laxalt
2018 CE Report 2
Euphoria Wellness, LLC
11/8/2017
$10,000.00
Monetary Contribution
Steve Sisolak
2018 Annual CE Filing (Amended)
Euphoria Wellness, LLC
5/7/2015
$10,000.00
Monetary Contribution
Steve Sisolak
2016 Annual CE Filing
Eureka Rev. Trust
5/12/2015
$2,000.00
Monetary Contribution
Steve Sisolak
2016 Annual CE Filing
Eva Layton
6/1/2018
$50.00
Monetary Contribution
Adam Laxalt
2018 CE Report 2
Evan Ahern
10/23/2017
$2,500.00
Monetary Contribution
Steve Sisolak
2018 Annual CE Filing (Amended)
Evans Fears & Schuttert LLP
4/6/2018
$1,000.00
Monetary Contribution
Adam Laxalt
2018 CE Report 1
Evelyn V. Kleinman
4/27/2018
$50.00
Monetary Contribution
Adam Laxalt
2018 CE Report 1
Evergreen Organix
4/13/2018
$10,000.00
Monetary Contribution
Steve Sisolak
2018 CE Report 1 (Amended)
Ewing Bros, Inc. dba Ewing Bros Auto Body
1/4/2018
$2,500.00
Monetary Contribution
Steve Sisolak
2018 CE Report 1 (Amended)
Ewing Bros, Inc. dba Ewing Bros Auto Body
6/20/2016
$2,500.00
Monetary Contribution
Steve Sisolak
2016 CE Report 3
Excalibur Hotel & Casino
3/22/2016
$10,000.00
Monetary Contribution
Steve Sisolak
2016 CE Report 1
Excalibur Hotel & Casino
12/20/2017
$10,000.00
Monetary Contribution
Steve Sisolak
2018 Annual CE Filing (Amended)
Excellence LV LLC
5/18/2018
$5,000.00
Monetary Contribution
Adam Laxalt
2018 CE Report 1
Excellence LV LLC
5/18/2018
$5,000.00
Monetary Contribution
Adam Laxalt
2018 CE Report 1
Expedia Inc.
2/27/2015
$5,000.00
Monetary Contribution
Adam Laxalt
2016 Annual CE Filing
Express Scripts, Inc.
8/7/2015
$750.00
Monetary Contribution
Adam Laxalt
2016 Annual CE Filing
Eye & Cosmetic Surgery LLC
11/23/2015
$2,500.00
Monetary Contribution
Adam Laxalt
2016 Annual CE Filing
Eye & Cosmetic Surgery LLC
11/11/2016
$2,500.00
Monetary Contribution
Adam Laxalt
2017 Annual CE Filing
Eye & Cosmetic Surgery LLC
11/11/2016
$5,000.00
Monetary Contribution
Adam Laxalt
2017 Annual CE Filing
EZ Global Solutions & Co LLC
9/9/2016
$200.00
Monetary Contribution
Steve Sisolak
2016 CE Report 3
F & M Advertising
2/2/2018
$5,000.00
Monetary Contribution
Steve Sisolak
2018 CE Report 1 (Amended)
F & M Advertising
5/11/2017
$5,000.00
Monetary Contribution
Adam Laxalt
2018 Annual CE Filing
F. M. Corrigan
11/10/2016
$500.00
Monetary Contribution
Steve Sisolak
2016 CE Report 5 (Amended)
F.M. Corrigan
12/17/2015
$500.00
Monetary Contribution
Steve Sisolak
2016 Annual CE Filing
F&M Advertising
3/1/2016
$5,000.00
Monetary Contribution
Steve Sisolak
2016 CE Report 1
F&M Advertising
6/12/2015
$5,000.00
Monetary Contribution
Steve Sisolak
2016 Annual CE Filing
Facebook Inc
12/14/2015
$5,000.00
Monetary Contribution
Adam Laxalt
2016 Annual CE Filing
Facebook Inc
10/5/2016
$2,500.00
Monetary Contribution
Adam Laxalt
2017 Annual CE Filing
Facebook Inc
7/10/2017
$2,500.00
Monetary Contribution
Adam Laxalt
2018 Annual CE Filing
Fairplay LLC
12/27/2017
$10,000.00
Monetary Contribution
Steve Sisolak
2018 Annual CE Filing (Amended)
Faisal Suba
12/6/2017
$1,000.00
Monetary Contribution
Steve Sisolak
2018 Annual CE Filing (Amended)
Faiss Foley Warren
2/25/2016
$1,000.00
Monetary Contribution
Steve Sisolak
2016 CE Report 1
Fame operating Co, Inc., dba Ellis Island
7/16/2015
$5,000.00
Monetary Contribution
Steve Sisolak
2016 Annual CE Filing
Family PAC of Chicago
4/16/2018
$2,500.00
Monetary Contribution
Adam Laxalt
2018 CE Report 1
Family-PAC Federal
5/14/2018
$2,000.00
Monetary Contribution
Adam Laxalt
2018 CE Report 1
Family-PAC Federal
4/16/2018
$2,591.23
In Kind Contribution
Adam Laxalt
2018 CE Report 1
Family-PAC Federal
7/28/2017
$500.00
Monetary Contribution
Adam Laxalt
2018 Annual CE Filing
Fareed Sheikh
12/14/2017
$1,000.00
Monetary Contribution
Steve Sisolak
2018 Annual CE Filing (Amended)
Farhan Naqvi
1/24/2018
$5,000.00
Monetary Contribution
Steve Sisolak
2018 CE Report 1 (Amended)
Farmanali Property Holdings Limited Partnership
1/1/2015
$2,000.00
Monetary Contribution
Steve Sisolak
2016 Annual CE Filing
Farmers Insurance PAC (FEAPAC)
9/5/2017
$5,000.00
Monetary Contribution
Adam Laxalt
2018 Annual CE Filing
Farro Tofighi
3/12/2018
$1,000.00
Monetary Contribution
Steve Sisolak
2018 CE Report 1 (Amended)
Farus Farmanali
11/28/2017
$1,000.00
Monetary Contribution
Steve Sisolak
2018 Annual CE Filing (Amended)
Fatih M. Ozmen
5/22/2018
$2,500.00
Monetary Contribution
Adam Laxalt
2018 CE Report 2
FC Management, LLC
1/26/2018
$2,000.00
Monetary Contribution
Steve Sisolak
2018 CE Report 1 (Amended)
FC Management, LLC
12/18/2015
$2,000.00
Monetary Contribution
Steve Sisolak
2016 Annual CE Filing
FCAS Facilitator LLC
8/27/2015
$10,000.00
Monetary Contribution
Steve Sisolak
2016 Annual CE Filing
Feld Entertainment Inc.
11/16/2015
$750.00
Monetary Contribution
Adam Laxalt
2016 Annual CE Filing
Fidelis Holdings LLC
8/19/2015
$2,500.00
Monetary Contribution
Steve Sisolak
2016 Annual CE Filing
Fidelis Holdings LLC
2/22/2018
$2,500.00
Monetary Contribution
Steve Sisolak
2018 CE Report 1 (Amended)
Fidelity National Asset Management Inc.
11/5/2016
$10,000.00
Monetary Contribution
Steve Sisolak
2016 CE Report 5 (Amended)
Fidelity National Financial
11/5/2016
$10,000.00
Monetary Contribution
Steve Sisolak
2016 CE Report 5 (Amended)
Fidelity National Financial Inc
12/5/2016
$1,000.00
Monetary Contribution
Adam Laxalt
2017 Annual CE Filing
Fidelity National Financial Inc Nevada PAC
11/5/2016
$1,600.00
Monetary Contribution
Steve Sisolak
2016 CE Report 5 (Amended)
Fidelity National Title Group
11/5/2016
$10,000.00
Monetary Contribution
Steve Sisolak
2016 CE Report 5 (Amended)
Fidelity National Title Group
5/31/2018
$10,000.00
Monetary Contribution
Steve Sisolak
2018 CE Report 2 (Amended)
Fidelity National Title Insurance Company
11/5/2016
$10,000.00
Monetary Contribution
Steve Sisolak
2016 CE Report 5 (Amended)
Fidelity National Title Services Holding Inc.
11/5/2016
$10,000.00
Monetary Contribution
Steve Sisolak
2016 CE Report 5 (Amended)
Fidelity Ticor Insurance Services Inc.
11/5/2016
$10,000.00
Monetary Contribution
Steve Sisolak
2016 CE Report 5 (Amended)
Fieldstead & Company
12/5/2016
$5,000.00
Monetary Contribution
Adam Laxalt
2017 Annual CE Filing
Fiesta Casino Hotel Cage Account
1/31/2018
$10,000.00
Monetary Contribution
Steve Sisolak
2018 CE Report 1 (Amended)
Fiesta Henderson Casino Hotel
6/20/2017
$4,000.00
Monetary Contribution
Adam Laxalt
2018 Annual CE Filing
Fiesta Henderson Casino Hotel Cage Account
1/26/2018
$10,000.00
Monetary Contribution
Steve Sisolak
2018 CE Report 1 (Amended)
Fiesta Rancho Casino Hotel
6/20/2017
$4,000.00
Monetary Contribution
Adam Laxalt
2018 Annual CE Filing
Fiesta Rancho Casino Hotel
11/9/2017
$2,000.00
Monetary Contribution
Adam Laxalt
2018 Annual CE Filing
Fiesta Square LLC
2/7/2018
$2,500.00
Monetary Contribution
Adam Laxalt
2018 CE Report 1
Fifth Avenue Ice Cream of Nevada Inc.
12/17/2015
$1,000.00
Monetary Contribution
Steve Sisolak
2016 Annual CE Filing
Finalley Inc.
1/10/2018
$100.00
Monetary Contribution
Steve Sisolak
2018 CE Report 1 (Amended)
Financial Service Centers of America Inc.
7/10/2017
$1,000.00
Monetary Contribution
Adam Laxalt
2018 Annual CE Filing
First American Title Company Nevada
12/28/2017
$5,000.00
Monetary Contribution
Steve Sisolak
2018 Annual CE Filing (Amended)
First Federal Realty DeSimone LLC
8/12/2015
$500.00
Monetary Contribution
Steve Sisolak
2016 Annual CE Filing
First Federal Realty DeSimone LLC
11/9/2017
$2,000.00
Monetary Contribution
Adam Laxalt
2018 Annual CE Filing
First Federal Realty DeSimone LLC
12/7/2017
$1,000.00
Monetary Contribution
Adam Laxalt
2018 Annual CE Filing
First Federal Realty DeSimone LLC
12/9/2016
$5,000.00
Monetary Contribution
Adam Laxalt
2017 Annual CE Filing
First Federal Realty DeSimone LLC
3/14/2018
$2,000.00
Monetary Contribution
Adam Laxalt
2018 CE Report 1
First Leasing Inc
11/16/2017
$350.00
Monetary Contribution
Steve Sisolak
2018 Annual CE Filing (Amended)
First Leasing Inc
11/18/2016
$5,000.00
Monetary Contribution
Adam Laxalt
2017 Annual CE Filing
First Leasing Inc
5/11/2017
$1,000.00
Monetary Contribution
Adam Laxalt
2018 Annual CE Filing
First Leasing Inc
12/30/2017
$500.00
Monetary Contribution
Adam Laxalt
2018 Annual CE Filing
First Principles Fund
12/9/2016
$1,500.00
Monetary Contribution
Adam Laxalt
2017 Annual CE Filing
First Solar Development, Inc.
11/13/2015
$2,500.00
Monetary Contribution
Steve Sisolak
2016 Annual CE Filing
Flamingo Las Vegas Operating Co LLC
5/16/2018
$5,000.00
Monetary Contribution
Adam Laxalt
2018 CE Report 1
Flamingo Las Vegas Operating CO, LLC Cage Account
11/29/2017
$5,000.00
Monetary Contribution
Steve Sisolak
2018 Annual CE Filing (Amended)
Flat Willow Farm LLC
6/7/2018
$5,000.00
Monetary Contribution
Adam Laxalt
2018 CE Report 2
Flat Willow Farm LLC
6/7/2018
$5,000.00
Monetary Contribution
Adam Laxalt
2018 CE Report 2
Fleet Heating and Air Inc.
6/21/2017
$2,500.00
Monetary Contribution
Adam Laxalt
2018 Annual CE Filing
Flora Vega
10/19/2017
$1,000.00
Monetary Contribution
Steve Sisolak
2018 Annual CE Filing (Amended)
Florence Jameson
12/12/2017
$1,000.00
Monetary Contribution
Steve Sisolak
2018 Annual CE Filing (Amended)
Florence Jameson
3/15/2017
$500.00
Monetary Contribution
Steve Sisolak
2018 Annual CE Filing (Amended)
Florence Jameson
3/6/2018
$250.00
Monetary Contribution
Adam Laxalt
2018 CE Report 1
Florence Jameson, M.D.
8/24/2016
$1,000.00
Monetary Contribution
Steve Sisolak
2016 CE Report 3
Florida Guest Services Inc.
12/28/2017
$5,000.00
Monetary Contribution
Adam Laxalt
2018 Annual CE Filing
Florida Guest Services Inc.
12/28/2017
$5,000.00
Monetary Contribution
Adam Laxalt
2018 Annual CE Filing
Floyd Capell
4/30/2018
$50.00
Monetary Contribution
Adam Laxalt
2018 CE Report 1
Floyd W. Rathbun
1/18/2017
$50.00
Monetary Contribution
Adam Laxalt
2018 Annual CE Filing
FMG Findlay Management Group
12/11/2017
$5,000.00
Monetary Contribution
Adam Laxalt
2018 Annual CE Filing
FMG Findlay Management Group
12/16/2016
$5,000.00
Monetary Contribution
Adam Laxalt
2017 Annual CE Filing
FMG Findlay Management Group Inc.
8/25/2016
$2,000.00
Monetary Contribution
Steve Sisolak
2016 CE Report 3
FMG Findlay Management Group Inc.
4/10/2015
$5,000.00
Monetary Contribution
Steve Sisolak
2016 Annual CE Filing
FMG Findlay Management Group Inc.
3/23/2016
$2,500.00
Monetary Contribution
Steve Sisolak
2016 CE Report 1
FMG Findlay Management Group Inc.
2/27/2018
$3,000.00
Monetary Contribution
Steve Sisolak
2018 CE Report 1 (Amended)
FNTS Holdings LLC
5/31/2018
$10,000.00
Monetary Contribution
Steve Sisolak
2018 CE Report 2 (Amended)
Force Capital Partners LLC
8/28/2017
$5,000.00
Monetary Contribution
Adam Laxalt
2018 Annual CE Filing
Ford Country
9/10/2015
$10,000.00
Monetary Contribution
Steve Sisolak
2016 Annual CE Filing
Ford Country
8/26/2016
$5,000.00
Monetary Contribution
Steve Sisolak
2016 CE Report 3
Fort Apache Plaza LLC
5/20/2015
$2,000.00
Monetary Contribution
Steve Sisolak
2016 Annual CE Filing
Fort Apache Plaza LLC
8/21/2017
$5,000.00
Monetary Contribution
Steve Sisolak
2018 Annual CE Filing (Amended)
Forte Specialty Contractors LLC
9/10/2015
$1,000.00
Monetary Contribution
Steve Sisolak
2016 Annual CE Filing
Foster Friess
12/4/2017
$5,000.00
Monetary Contribution
Adam Laxalt
2018 Annual CE Filing
Foster Friess
12/4/2017
$5,000.00
Monetary Contribution
Adam Laxalt
2018 Annual CE Filing
FP Holdings LP dba Palms Casino
12/30/2016
$5,000.00
Monetary Contribution
Adam Laxalt
2017 Annual CE Filing
FP Holdings LP dba Palms Casino
12/30/2016
$5,000.00
Monetary Contribution
Adam Laxalt
2017 Annual CE Filing
Frances Marie Cowell
11/14/2017
$50.00
Monetary Contribution
Adam Laxalt
2018 Annual CE Filing
Frances Marie Cowell
5/9/2018
$50.00
Monetary Contribution
Adam Laxalt
2018 CE Report 1
Frances R. Ryan
3/8/2018
$50.00
Monetary Contribution
Adam Laxalt
2018 CE Report 1
Frances Shuler
5/8/2017
$100.00
Monetary Contribution
Adam Laxalt
2018 Annual CE Filing
Frances Shuler
12/8/2017
$100.00
Monetary Contribution
Adam Laxalt
2018 Annual CE Filing
Francine Braglia
5/9/2018
$5,000.00
Monetary Contribution
Adam Laxalt
2018 CE Report 1
Francine Braglia
5/9/2018
$5,000.00
Monetary Contribution
Adam Laxalt
2018 CE Report 1
Francis Belinne
6/5/2018
$100.00
Monetary Contribution
Adam Laxalt
2018 CE Report 2
Frank & Jane Carbone
9/28/2017
$100.00
Monetary Contribution
Adam Laxalt
2018 Annual CE Filing
Frank A. Schreck Living Trust
2/23/2016
$1,000.00
Monetary Contribution
Steve Sisolak
2016 CE Report 1
Frank Baxter
3/13/2018
$1,000.00
Monetary Contribution
Adam Laxalt
2018 CE Report 1
Frank Bonanno
12/1/2017
$1,000.00
Monetary Contribution
Steve Sisolak
2018 Annual CE Filing (Amended)
Frank Canul
6/6/2018
$100.00
Monetary Contribution
Adam Laxalt
2018 CE Report 2
Frank Fertitta
12/30/2016
$5,000.00
Monetary Contribution
Adam Laxalt
2017 Annual CE Filing
Frank Fertitta
12/30/2016
$5,000.00
Monetary Contribution
Adam Laxalt
2017 Annual CE Filing
Frank Flansberg
11/20/2017
$2,500.00
Monetary Contribution
Steve Sisolak
2018 Annual CE Filing (Amended)
Frank Gard Jameson
8/24/2016
$1,000.00
Monetary Contribution
Steve Sisolak
2016 CE Report 3
Frank Hawkins
10/29/2016
$1,000.00
Monetary Contribution
Steve Sisolak
2016 CE Report 4
Frank Iovino & Sons Masonry Inc.
11/7/2016
$1,000.00
Monetary Contribution
Steve Sisolak
2016 CE Report 5 (Amended)
Frank Iovino & Sons Masonry Inc.
11/28/2017
$1,000.00
Monetary Contribution
Steve Sisolak
2018 Annual CE Filing (Amended)
Frank J. Fahrenkopf
12/30/2017
$1,000.00
Monetary Contribution
Adam Laxalt
2018 Annual CE Filing
Frank J. Fertitta
11/9/2017
$5,000.00
Monetary Contribution
Adam Laxalt
2018 Annual CE Filing
Frank J. Fertitta
11/9/2017
$5,000.00
Monetary Contribution
Adam Laxalt
2018 Annual CE Filing
Frank J. Hanna
7/7/2017
$5,000.00
Monetary Contribution
Adam Laxalt
2018 Annual CE Filing
Frank J. Hanna
7/7/2017
$4,000.00
Monetary Contribution
Adam Laxalt
2018 Annual CE Filing
Frank Jalili
11/28/2017
$1,000.00
Monetary Contribution
Steve Sisolak
2018 Annual CE Filing (Amended)
Frank Kassela
4/4/2018
$2,000.00
Monetary Contribution
Steve Sisolak
2018 CE Report 1 (Amended)
Frank Lepori Construction
4/20/2017
$1,000.00
Monetary Contribution
Adam Laxalt
2018 Annual CE Filing
Frank Martin
7/26/2017
$2,500.00
Monetary Contribution
Steve Sisolak
2018 Annual CE Filing (Amended)
Frank Martin
4/23/2015
$2,500.00
Monetary Contribution
Steve Sisolak
2016 Annual CE Filing
Frank Martin
2/25/2016
$2,500.00
Monetary Contribution
Steve Sisolak
2016 CE Report 1
Frank Martin
11/9/2017
$5,000.00
Monetary Contribution
Adam Laxalt
2018 Annual CE Filing
Frank Martin
11/9/2017
$5,000.00
Monetary Contribution
Adam Laxalt
2018 Annual CE Filing
Frank Nagy
5/31/2018
$300.00
Monetary Contribution
Steve Sisolak
2018 CE Report 2 (Amended)
Frank Sally
5/3/2017
$100.00
Monetary Contribution
Adam Laxalt
2018 Annual CE Filing
Frank White
5/29/2018
$5,000.00
Monetary Contribution
Adam Laxalt
2018 CE Report 2
Frank Wyatt
6/4/2015
$250.00
Monetary Contribution
Steve Sisolak
2016 Annual CE Filing
Frank Wyatt
7/25/2016
$500.00
Monetary Contribution
Steve Sisolak
2016 CE Report 3
Franklin B. Whitman
4/16/2018
$50.00
Monetary Contribution
Steve Sisolak
2018 CE Report 1 (Amended)
Franklin L. Haney
12/21/2016
$5,000.00
Monetary Contribution
Adam Laxalt
2017 Annual CE Filing
Franklin M. Bishop
12/14/2017
$100.00
Monetary Contribution
Adam Laxalt
2018 Annual CE Filing
Franz Kallao
3/30/2018
$500.00
Monetary Contribution
Adam Laxalt
2018 CE Report 1
Fred B. Allen
10/25/2017
$250.00
Monetary Contribution
Adam Laxalt
2018 Annual CE Filing
Fred B. Allen
11/27/2017
$1,000.00
Monetary Contribution
Adam Laxalt
2018 Annual CE Filing
Fred Butler
1/13/2018
$100.00
Monetary Contribution
Adam Laxalt
2018 CE Report 1
Fred Daniel Gibson
12/6/2017
$5,000.00
Monetary Contribution
Adam Laxalt
2018 Annual CE Filing
Fred Daniel Gibson
12/6/2017
$2,000.00
Monetary Contribution
Adam Laxalt
2018 Annual CE Filing
Fred H. Carlson
11/9/2017
$250.00
Monetary Contribution
Adam Laxalt
2018 Annual CE Filing
Fred L Stoner
2/19/2018
$50.00
Monetary Contribution
Adam Laxalt
2018 CE Report 1
Fred L Stoner
6/1/2018
$50.00
Monetary Contribution
Adam Laxalt
2018 CE Report 2
Fred M. Miller
5/1/2018
$500.00
Monetary Contribution
Adam Laxalt
2018 CE Report 1
Fred Marik
1/9/2018
$50.00
Monetary Contribution
Steve Sisolak
2018 CE Report 1 (Amended)
Fred Nassiri
8/18/2016
$2,000.00
Monetary Contribution
Steve Sisolak
2016 CE Report 3
Fred R. Andersen
11/14/2017
$100.00
Monetary Contribution
Adam Laxalt
2018 Annual CE Filing
Fred S. Zeidman
11/29/2016
$500.00
Monetary Contribution
Adam Laxalt
2017 Annual CE Filing
Frederic T. Cline
12/21/2016
$5,000.00
Monetary Contribution
Adam Laxalt
2017 Annual CE Filing
Frederic T. Cline
12/21/2016
$5,000.00
Monetary Contribution
Adam Laxalt
2017 Annual CE Filing
Frederick DiRienzo
1/22/2018
$1,000.00
Monetary Contribution
Adam Laxalt
2018 CE Report 1
Frederick E. Hitchcock
5/29/2017
$5,000.00
Monetary Contribution
Adam Laxalt
2018 Annual CE Filing
Fredrick Palmer
3/27/2018
$300.00
Monetary Contribution
Adam Laxalt
2018 CE Report 1
Freeman Expositions Inc.
5/26/2016
$2,500.00
Monetary Contribution
Steve Sisolak
2016 CE Report 2
Frehner Masonry Inc.
4/4/2016
$10,000.00
Monetary Contribution
Steve Sisolak
2016 CE Report 1
Frias Holding Company
10/14/2015
$2,500.00
Monetary Contribution
Steve Sisolak
2016 Annual CE Filing
Frias Standard Capital Inc.
3/15/2016
$5,000.00
Monetary Contribution
Steve Sisolak
2016 CE Report 1
Frias Standard Capital Inc.
3/15/2016
$2,500.00
Monetary Contribution
Steve Sisolak
2016 CE Report 1
Friends for Debra March
1/5/2016
$500.00
Monetary Contribution
Steve Sisolak
2016 CE Report 1
Friends for Gerri Schroder
9/23/2015
$1,000.00
Monetary Contribution
Steve Sisolak
2016 Annual CE Filing
Friends for Mark Hutchison
12/12/2017
$2,500.00
Monetary Contribution
Adam Laxalt
2018 Annual CE Filing
Friends for Yvanna Cancela
1/26/2018
$500.00
Monetary Contribution
Steve Sisolak
2018 CE Report 1 (Amended)
Friends of Jill Tolles
12/26/2017
$1,000.00
Monetary Contribution
Adam Laxalt
2018 Annual CE Filing
Friends of Joe Heck
6/30/2017
$2,500.00
Monetary Contribution
Adam Laxalt
2018 Annual CE Filing
Friends of Joe Heck
3/30/2018
$1,000.00
Monetary Contribution
Adam Laxalt
2018 CE Report 1
Friends of Joe Heck
5/12/2018
$1,500.00
Monetary Contribution
Adam Laxalt
2018 CE Report 1
Friends of Joe Heck
5/12/2018
$5,000.00
Monetary Contribution
Adam Laxalt
2018 CE Report 1
Fuji Food Products Inc.
9/22/2017
$5,000.00
Monetary Contribution
Adam Laxalt
2018 Annual CE Filing
Fuji Food Products Inc.
9/22/2017
$5,000.00
Monetary Contribution
Adam Laxalt
2018 Annual CE Filing
Full House Storage
3/29/2018
$9,310.00
In Kind Contribution
Adam Laxalt
2018 CE Report 1
Full House Storage LLC
4/10/2018
$500.00
Monetary Contribution
Adam Laxalt
2018 CE Report 1
Furniture Lab
3/21/2018
$1,000.00
Monetary Contribution
Steve Sisolak
2018 CE Report 1 (Amended)
FX Luxury Las Vegas I, LLC
3/8/2018
$10,000.00
Monetary Contribution
Steve Sisolak
2018 CE Report 1 (Amended)
G W Pestello
3/8/2018
$250.00
Monetary Contribution
Adam Laxalt
2018 CE Report 1
G. Blake Smith
6/4/2018
$2,500.00
Monetary Contribution
Adam Laxalt
2018 CE Report 2
G. Blake Smith
12/26/2017
$5,000.00
Monetary Contribution
Adam Laxalt
2018 Annual CE Filing
G. Dallas Horton & Associates
1/24/2018
$5,000.00
Monetary Contribution
Steve Sisolak
2018 CE Report 1 (Amended)
G. Dan Morgan
11/9/2017
$250.00
Monetary Contribution
Adam Laxalt
2018 Annual CE Filing
G.F.G. Pieros's Inc.
11/4/2016
$1,000.00
Monetary Contribution
Steve Sisolak
2016 CE Report 5 (Amended)
G.O.P.
1/11/2018
$10,000.00
Monetary Contribution
Steve Sisolak
2018 CE Report 1 (Amended)
G2 Gateway LLC
10/24/2017
$5,000.00
Monetary Contribution
Steve Sisolak
2018 Annual CE Filing (Amended)
G3 Labs LLC
6/1/2015
$1,000.00
Monetary Contribution
Steve Sisolak
2016 Annual CE Filing
Gail Hand
2/23/2018
$50.00
Monetary Contribution
Adam Laxalt
2018 CE Report 1
Gail Hand
11/20/2017
$100.00
Monetary Contribution
Adam Laxalt
2018 Annual CE Filing
Gail Hecht
12/18/2017
$500.00
Monetary Contribution
Adam Laxalt
2018 Annual CE Filing
Galaxy Media LLC
11/14/2017
$5,000.00
Monetary Contribution
Adam Laxalt
2018 Annual CE Filing
Galaxy Media LLC
11/14/2017
$5,000.00
Monetary Contribution
Adam Laxalt
2018 Annual CE Filing
Galen Laughton
2/21/2018
$185.27
In Kind Contribution
Adam Laxalt
2018 CE Report 1
Galway Properties LLC
11/18/2016
$5,000.00
Monetary Contribution
Adam Laxalt
2017 Annual CE Filing
Galway Properties LLC
11/18/2016
$5,000.00
Monetary Contribution
Adam Laxalt
2017 Annual CE Filing
Ganz & Hauf, Chartered
1/22/2018
$5,000.00
Monetary Contribution
Steve Sisolak
2018 CE Report 1 (Amended)
Garnet Beal
12/12/2017
$500.00
Monetary Contribution
Steve Sisolak
2018 Annual CE Filing (Amended)
Garrett Toft
2/27/2018
$500.00
Monetary Contribution
Steve Sisolak
2018 CE Report 1 (Amended)
Gary Ackerman
7/25/2017
$10,000.00
Monetary Contribution
Steve Sisolak
2018 Annual CE Filing (Amended)
Gary Ackerman
3/1/2018
$5,000.00
Monetary Contribution
Adam Laxalt
2018 CE Report 1
Gary Anderegg
6/23/2017
$50.00
Monetary Contribution
Steve Sisolak
2018 Annual CE Filing (Amended)
Gary C. Kellogg
11/14/2017
$50.00
Monetary Contribution
Adam Laxalt
2018 Annual CE Filing
Gary E Mouden
6/6/2018
$50.00
Monetary Contribution
Steve Sisolak
2018 CE Report 2 (Amended)
Gary Ellis
8/1/2017
$10,000.00
Monetary Contribution
Steve Sisolak
2018 Annual CE Filing (Amended)
Gary Gilmore
11/1/2017
$250.00
Monetary Contribution
Adam Laxalt
2018 Annual CE Filing
Gary Griffith
5/29/2018
$2,000.00
Monetary Contribution
Adam Laxalt
2018 CE Report 2
Gary Hardesty
11/1/2017
$100.00
Monetary Contribution
Adam Laxalt
2018 Annual CE Filing
Gary Isaac
12/8/2017
$100.00
Monetary Contribution
Adam Laxalt
2018 Annual CE Filing
Gary Kantor
5/31/2018
$2,700.00
Monetary Contribution
Adam Laxalt
2018 CE Report 2
Gary L. Guymon PC
4/19/2018
$100.00
Monetary Contribution
Steve Sisolak
2018 CE Report 1 (Amended)
Gary Lieberthal
1/29/2018
$2,500.00
Monetary Contribution
Adam Laxalt
2018 CE Report 1
Gary Mills
11/8/2017
$250.00
Monetary Contribution
Adam Laxalt
2018 Annual CE Filing
Gary Primm
7/12/2017
$10,000.00
Monetary Contribution
Steve Sisolak
2018 Annual CE Filing (Amended)
Gary Primm
4/26/2016
$10,000.00
Monetary Contribution
Steve Sisolak
2016 CE Report 1
Gary R. Brennan
5/23/2017
$5,000.00
Monetary Contribution
Adam Laxalt
2018 Annual CE Filing
Gary R. Majors
7/7/2017
$50.00
Monetary Contribution
Adam Laxalt
2018 Annual CE Filing
Gary R. Majors
3/29/2018
$50.00
Monetary Contribution
Adam Laxalt
2018 CE Report 1
Gary Vause
5/9/2018
$2,000.00
Monetary Contribution
Adam Laxalt
2018 CE Report 1
Gaudin Ford
10/22/2016
$5,000.00
Monetary Contribution
Steve Sisolak
2016 CE Report 4
Gautham Reddy
12/12/2017
$1,000.00
Monetary Contribution
Steve Sisolak
2018 Annual CE Filing (Amended)
Gavin P Maloof
6/4/2015
$2,000.00
Monetary Contribution
Steve Sisolak
2016 Annual CE Filing
Gayle Jolley
2/21/2018
$50.00
Monetary Contribution
Adam Laxalt
2018 CE Report 1
Gayle Jolley
4/26/2017
$50.00
Monetary Contribution
Adam Laxalt
2018 Annual CE Filing
Gayle L Archer
11/17/2017
$50.00
Monetary Contribution
Adam Laxalt
2018 Annual CE Filing
Gayle L. Archer
2/23/2018
$50.00
Monetary Contribution
Adam Laxalt
2018 CE Report 1
Gayle L. Archer
6/1/2018
$50.00
Monetary Contribution
Adam Laxalt
2018 CE Report 2
GB Partners LLC
11/3/2016
$1,000.00
Monetary Contribution
Steve Sisolak
2016 CE Report 4
GB Partners LLC
5/10/2016
$1,000.00
Monetary Contribution
Steve Sisolak
2016 CE Report 1
GB Partners LLC
2/10/2016
$1,000.00
Monetary Contribution
Steve Sisolak
2016 CE Report 1
GB Sciences Inc.
9/29/2017
$10,000.00
Monetary Contribution
Steve Sisolak
2018 Annual CE Filing (Amended)
GBS Nevada Partners
10/11/2017
$10,000.00
Monetary Contribution
Steve Sisolak
2018 Annual CE Filing (Amended)
GCW, Inc.
12/6/2017
$1,500.00
Monetary Contribution
Steve Sisolak
2018 Annual CE Filing (Amended)
Gen Equity State PAC
7/19/2017
$2,500.00
Monetary Contribution
Adam Laxalt
2018 Annual CE Filing
Gene Jay Cobb
4/3/2018
$100.00
Monetary Contribution
Adam Laxalt
2018 CE Report 1
Gene Krametbauer
2/12/2018
$500.00
Monetary Contribution
Steve Sisolak
2018 CE Report 1 (Amended)
Gene Wisniewski
3/23/2018
$50.00
Monetary Contribution
Adam Laxalt
2018 CE Report 1
General Electric Company
11/4/2015
$2,000.00
Monetary Contribution
Adam Laxalt
2016 Annual CE Filing
Genevieve D. Collins
5/29/2018
$3,000.00
Monetary Contribution
Adam Laxalt
2018 CE Report 2
Genlabs
12/5/2016
$5,000.00
Monetary Contribution
Adam Laxalt
2017 Annual CE Filing
Genlabs
12/5/2016
$5,000.00
Monetary Contribution
Adam Laxalt
2017 Annual CE Filing
Genting New York LLC
7/5/2017
$10,000.00
Monetary Contribution
Steve Sisolak
2018 Annual CE Filing (Amended)
Genting New York LLC
10/19/2015
$10,000.00
Monetary Contribution
Steve Sisolak
2016 Annual CE Filing
Genting New York LLC
5/11/2017
$5,000.00
Monetary Contribution
Adam Laxalt
2018 Annual CE Filing
Genting New York LLC
5/11/2017
$5,000.00
Monetary Contribution
Adam Laxalt
2018 Annual CE Filing
Geoffrey Hsieh
8/19/2015
$5,000.00
Monetary Contribution
Steve Sisolak
2016 Annual CE Filing
Geoffrey Hsieh
2/28/2018
$3,000.00
Monetary Contribution
Steve Sisolak
2018 CE Report 1 (Amended)
George & Carmen Egge
3/27/2018
$200.00
Monetary Contribution
Adam Laxalt
2018 CE Report 1
George A. Chami
5/7/2018
$4,000.00
Monetary Contribution
Adam Laxalt
2018 CE Report 1
George A. Chami
5/7/2018
$1,000.00
Monetary Contribution
Adam Laxalt
2018 CE Report 1
George A. Ramonas
7/10/2017
$1,000.00
Monetary Contribution
Adam Laxalt
2018 Annual CE Filing
George Allison
5/3/2017
$500.00
Monetary Contribution
Adam Laxalt
2018 Annual CE Filing
George and Barbara Allison
5/15/2018
$300.00
Monetary Contribution
Adam Laxalt
2018 CE Report 1
George and Nitsa Filios
7/7/2015
$1,000.00
Monetary Contribution
Steve Sisolak
2016 Annual CE Filing
George Bergman
3/21/2018
$2,500.00
Monetary Contribution
Steve Sisolak
2018 CE Report 1 (Amended)
George Bochanis
1/24/2018
$5,000.00
Monetary Contribution
Steve Sisolak
2018 CE Report 1 (Amended)
George Chami
11/22/2017
$1,000.00
Monetary Contribution
Adam Laxalt
2018 Annual CE Filing
George E. Park
6/6/2018
$50.00
Monetary Contribution
Adam Laxalt
2018 CE Report 2
George E. Park
3/6/2018
$50.00
Monetary Contribution
Adam Laxalt
2018 CE Report 1
George E. Park
4/6/2018
$50.00
Monetary Contribution
Adam Laxalt
2018 CE Report 1
George E. Park
5/6/2018
$50.00
Monetary Contribution
Adam Laxalt
2018 CE Report 1
George F. Peek
5/2/2018
$5,000.00
In Kind Contribution
Adam Laxalt
2018 CE Report 1
George Gekakis Inc.
2/14/2018
$1,000.00
Monetary Contribution
Steve Sisolak
2018 CE Report 1 (Amended)
George Gekakis Inc.
10/17/2016
$500.00
Monetary Contribution
Steve Sisolak
2016 CE Report 4
George J. Chanos
11/9/2017
$1,000.00
Monetary Contribution
Adam Laxalt
2018 Annual CE Filing
George J. McAlpine
10/2/2017
$500.00
Monetary Contribution
Steve Sisolak
2018 Annual CE Filing (Amended)
George Kleanthis
1/26/2018
$1,000.00
Monetary Contribution
Steve Sisolak
2018 CE Report 1 (Amended)
George Lewis
3/12/2018
$1,000.00
Monetary Contribution
Adam Laxalt
2018 CE Report 1
George M. Rogers, Chartered
7/20/2017
$1,000.00
Monetary Contribution
Steve Sisolak
2018 Annual CE Filing (Amended)
George M. Rogers, Chartered
5/14/2015
$1,000.00
Monetary Contribution
Steve Sisolak
2016 Annual CE Filing
George M. Rogers, Chartered
2/19/2016
$1,000.00
Monetary Contribution
Steve Sisolak
2016 CE Report 1
George Macricostas
4/30/2018
$5,000.00
Monetary Contribution
Adam Laxalt
2018 CE Report 1
George Macricostas
4/30/2018
$5,000.00
Monetary Contribution
Adam Laxalt
2018 CE Report 1
George Maloof
6/4/2015
$2,000.00
Monetary Contribution
Steve Sisolak
2016 Annual CE Filing
George Maloof
7/3/2017
$10,000.00
Monetary Contribution
Steve Sisolak
2018 Annual CE Filing (Amended)
George Mehocic
5/11/2017
$5,000.00
Monetary Contribution
Adam Laxalt
2018 Annual CE Filing
George Mehocic
5/11/2017
$5,000.00
Monetary Contribution
Adam Laxalt
2018 Annual CE Filing
George Quintana
11/8/2017
$90.00
Monetary Contribution
Adam Laxalt
2018 Annual CE Filing
George Seay
5/2/2018
$2,500.00
Monetary Contribution
Adam Laxalt
2018 CE Report 1
George T. Bochanis
6/8/2015
$1,000.00
Monetary Contribution
Steve Sisolak
2016 Annual CE Filing
George Yates
5/7/2018
$1,000.00
Monetary Contribution
Adam Laxalt
2018 CE Report 1
Georgeann Z Immordino
4/20/2018
$100.00
Monetary Contribution
Adam Laxalt
2018 CE Report 1
Georgia A. Fulstone
2/26/2018
$100.00
Monetary Contribution
Adam Laxalt
2018 CE Report 1
Georlen Spangler
9/9/2015
$200.00
Monetary Contribution
Steve Sisolak
2016 Annual CE Filing
Gerald A. Schwalbach
2/16/2018
$3,000.00
Monetary Contribution
Adam Laxalt
2018 CE Report 1
Gerald Dungee
2/27/2018
$100.00
Monetary Contribution
Adam Laxalt
2018 CE Report 1
Gerald Erwin
3/30/2016
$500.00
Monetary Contribution
Steve Sisolak
2016 CE Report 1
Gerald Miller
12/7/2017
$50.00
Monetary Contribution
Adam Laxalt
2018 Annual CE Filing
Gerald R. Krason
4/12/2018
$100.00
Monetary Contribution
Adam Laxalt
2018 CE Report 1
Gerald Wall
2/27/2018
$1,000.00
Monetary Contribution
Steve Sisolak
2018 CE Report 1 (Amended)
Gerald Wall
4/6/2018
$1,000.00
Monetary Contribution
Steve Sisolak
2018 CE Report 1 (Amended)
Geraldine A. Maday
2/16/2018
$100.00
Monetary Contribution
Adam Laxalt
2018 CE Report 1
Geraldine A. Maday
6/1/2018
$100.00
Monetary Contribution
Adam Laxalt
2018 CE Report 2
Geraldine A. Maday
4/14/2017
$500.00
Monetary Contribution
Adam Laxalt
2018 Annual CE Filing
Geraldine A. Maday
11/27/2017
$500.00
Monetary Contribution
Adam Laxalt
2018 Annual CE Filing
Geraldine A. Meldrum
5/25/2018
$50.00
Monetary Contribution
Adam Laxalt
2018 CE Report 2
Geraldine A. Meldrum
2/21/2018
$250.00
Monetary Contribution
Adam Laxalt
2018 CE Report 1
Geraldine A. Meldrum
4/16/2018
$100.00
Monetary Contribution
Adam Laxalt
2018 CE Report 1
Geraldine Murphy
7/28/2017
$50.00
Monetary Contribution
Adam Laxalt
2018 Annual CE Filing
Gerard Glenn
3/8/2018
$50.00
Monetary Contribution
Adam Laxalt
2018 CE Report 1
Gerard Glenn
6/6/2018
$50.00
Monetary Contribution
Adam Laxalt
2018 CE Report 2
Gerber Law Offices LLP
5/4/2017
$200.00
Monetary Contribution
Adam Laxalt
2018 Annual CE Filing
Gerhardt & Berry Construction Inc.
5/22/2017
$2,500.00
Monetary Contribution
Adam Laxalt
2018 Annual CE Filing
Gerry Bomotti
7/7/2017
$250.00
Monetary Contribution
Steve Sisolak
2018 Annual CE Filing (Amended)
Gerry Bomotti
4/8/2015
$250.00
Monetary Contribution
Steve Sisolak
2016 Annual CE Filing
Getaways Resort Management LLC
11/4/2016
$5,000.00
Monetary Contribution
Adam Laxalt
2017 Annual CE Filing
Getaways Resort Management LLC
11/4/2016
$5,000.00
Monetary Contribution
Adam Laxalt
2017 Annual CE Filing
Ghiglia Ranch
4/17/2017
$50.00
Monetary Contribution
Adam Laxalt
2018 Annual CE Filing
Gilbert Grieve
2/23/2018
$250.00
Monetary Contribution
Adam Laxalt
2018 CE Report 1
Giles E. Vanderhoof
11/22/2017
$100.00
Monetary Contribution
Adam Laxalt
2018 Annual CE Filing
Giles E. Vanderhoof
2/19/2018
$100.00
Monetary Contribution
Adam Laxalt
2018 CE Report 1
Gilespie Chartan LLC
11/5/2016
$500.00
Monetary Contribution
Steve Sisolak
2016 CE Report 5 (Amended)
Gilespie Erie LLC
10/17/2016
$500.00
Monetary Contribution
Steve Sisolak
2016 CE Report 4
Gilespie Erie LLC
2/27/2018
$1,000.00
Monetary Contribution
Steve Sisolak
2018 CE Report 1 (Amended)
Gilespie Erie LLC
1/2/2018
$1,000.00
Monetary Contribution
Steve Sisolak
2018 CE Report 1 (Amended)
Gillett Construction, LLC
7/21/2017
$10,000.00
Monetary Contribution
Steve Sisolak
2018 Annual CE Filing (Amended)
Gillett Construction, LLC
11/5/2016
$5,000.00
Monetary Contribution
Steve Sisolak
2016 CE Report 5 (Amended)
Gilman Development Company LLC
5/29/2018
$5,000.00
Monetary Contribution
Steve Sisolak
2018 CE Report 2 (Amended)
Gina M. Angelone
6/26/2017
$100.00
Monetary Contribution
Adam Laxalt
2018 Annual CE Filing
Gino D. Wideen
4/10/2018
$2,000.00
Monetary Contribution
Adam Laxalt
2018 CE Report 1
Giuseppe Pizzorno
2/16/2018
$50.00
Monetary Contribution
Adam Laxalt
2018 CE Report 1
GKG Builders Inc.
8/10/2016
$1,000.00
Monetary Contribution
Steve Sisolak
2016 CE Report 3
GKG Builders Inc.
5/27/2015
$5,000.00
Monetary Contribution
Steve Sisolak
2016 Annual CE Filing
GKG Builders, Inc.
12/22/2015
$2,500.00
Monetary Contribution
Steve Sisolak
2016 Annual CE Filing
GKT Acquisitions LLC
6/12/2015
$10,000.00
Monetary Contribution
Steve Sisolak
2016 Annual CE Filing
GKT Acquisitions LLC
10/23/2017
$10,000.00
Monetary Contribution
Steve Sisolak
2018 Annual CE Filing (Amended)
Glen G. Guttry
11/9/2017
$250.00
Monetary Contribution
Adam Laxalt
2018 Annual CE Filing
Glen G. Guttry
2/23/2018
$250.00
Monetary Contribution
Adam Laxalt
2018 CE Report 1
Glen T. Bashore
11/9/2017
$1,000.00
Monetary Contribution
Adam Laxalt
2018 Annual CE Filing
Glenda Jacobson
5/29/2018
$50.00
Monetary Contribution
Adam Laxalt
2018 CE Report 2
Glenda R. Duckworth
7/5/2017
$100.00
Monetary Contribution
Adam Laxalt
2018 Annual CE Filing
Glenda R. Duckworth
1/13/2018
$100.00
Monetary Contribution
Adam Laxalt
2018 CE Report 1
Glenda R. Duckworth
3/1/2018
$50.00
Monetary Contribution
Adam Laxalt
2018 CE Report 1
Glenn Christenson
2/21/2018
$1,000.00
Monetary Contribution
Steve Sisolak
2018 CE Report 1 (Amended)
Glenn Christenson TTEE
2/24/2016
$2,000.00
Monetary Contribution
Steve Sisolak
2016 CE Report 1
Glenn Christenson TTEE
4/13/2015
$2,000.00
Monetary Contribution
Steve Sisolak
2016 Annual CE Filing
Glenn D. Burks
11/1/2017
$100.00
Monetary Contribution
Adam Laxalt
2018 Annual CE Filing
Glenn Gary Clinard
5/16/2017
$500.00
Monetary Contribution
Adam Laxalt
2018 Annual CE Filing
Glenn McKay
5/18/2018
$5,000.00
Monetary Contribution
Adam Laxalt
2018 CE Report 1
Glenn W. Ferry
11/14/2017
$50.00
Monetary Contribution
Adam Laxalt
2018 Annual CE Filing
Glenn W. Ferry
3/2/2018
$100.00
Monetary Contribution
Adam Laxalt
2018 CE Report 1
Glenn Youngs
12/21/2017
$2,500.00
Monetary Contribution
Adam Laxalt
2018 Annual CE Filing
Glenn Youngs
12/5/2016
$2,500.00
Monetary Contribution
Adam Laxalt
2017 Annual CE Filing
GLG Inc dba GLG Insurance Professionals
9/9/2016
$150.00
Monetary Contribution
Steve Sisolak
2016 CE Report 3
Global Ocean Club LLC
6/29/2017
$5,000.00
Monetary Contribution
Adam Laxalt
2018 Annual CE Filing
Global Ocean Club LLC
6/29/2017
$5,000.00
Monetary Contribution
Adam Laxalt
2018 Annual CE Filing
GMI, Inc. dba Chubby's Pub Since 1984
8/30/2016
$500.00
Monetary Contribution
Steve Sisolak
2016 CE Report 3
Gold Gensing Inc.
11/29/2017
$100.00
Monetary Contribution
Steve Sisolak
2018 Annual CE Filing (Amended)
Golden Entertainment
12/20/2017
$10,000.00
Monetary Contribution
Steve Sisolak
2018 Annual CE Filing (Amended)
Golden Entertainment
12/1/2017
$5,000.00
Monetary Contribution
Adam Laxalt
2018 Annual CE Filing
Golden Entertainment
12/1/2017
$5,000.00
Monetary Contribution
Adam Laxalt
2018 Annual CE Filing
Golden Gaming Inc. Corporate
7/15/2015
$10,000.00
Monetary Contribution
Steve Sisolak
2016 Annual CE Filing
Golden Nugget
12/22/2016
$5,000.00
Monetary Contribution
Adam Laxalt
2017 Annual CE Filing
Golden Nugget
12/22/2016
$5,000.00
Monetary Contribution
Adam Laxalt
2017 Annual CE Filing
Golden Nugget Laughlin
12/22/2016
$5,000.00
Monetary Contribution
Adam Laxalt
2017 Annual CE Filing
Golden Nugget Laughlin
12/22/2016
$5,000.00
Monetary Contribution
Adam Laxalt
2017 Annual CE Filing
Golden Road Motor Inn Inc dba Atlantis Casino
9/14/2017
$5,000.00
Monetary Contribution
Steve Sisolak
2018 Annual CE Filing (Amended)
Golden Route Operations Southern
9/26/2016
$10,000.00
Monetary Contribution
Steve Sisolak
2016 CE Report 3
Golden Tavern Group Southern
9/30/2016
$10,000.00
Monetary Contribution
Steve Sisolak
2016 CE Report 3
Google Inc.
10/21/2016
$1,000.00
Monetary Contribution
Adam Laxalt
2017 Annual CE Filing
Gordon D. Rasmussen
5/29/2018
$50.00
Monetary Contribution
Adam Laxalt
2018 CE Report 2
Gordon G. Neal
2/19/2018
$100.00
Monetary Contribution
Adam Laxalt
2018 CE Report 1
Gordon G. Neal
4/13/2018
$50.00
Monetary Contribution
Adam Laxalt
2018 CE Report 1
Gordon K. Clare
11/15/2017
$50.00
Monetary Contribution
Adam Laxalt
2018 Annual CE Filing
GPRP Distribution LLC
3/28/2018
$10,000.00
Monetary Contribution
Steve Sisolak
2018 CE Report 1 (Amended)
Graciela Hotels & Resorts LLC
4/9/2018
$3,000.00
Monetary Contribution
Adam Laxalt
2018 CE Report 1
Gradex Construction Co.
4/20/2017
$1,000.00
Monetary Contribution
Adam Laxalt
2018 Annual CE Filing
Grady M. Gruber
5/16/2017
$1,000.00
Monetary Contribution
Adam Laxalt
2018 Annual CE Filing
Gragson & Associates
12/9/2015
$2,500.00
Monetary Contribution
Steve Sisolak
2016 Annual CE Filing
Gragson & Associates Inc
11/21/2017
$1,000.00
Monetary Contribution
Steve Sisolak
2018 Annual CE Filing (Amended)
Grand Sierra Resort and Casino
4/8/2017
$5,000.00
Monetary Contribution
Adam Laxalt
2018 Annual CE Filing
Grand Sierra Resort and Casino
4/8/2017
$5,000.00
Monetary Contribution
Adam Laxalt
2018 Annual CE Filing
Grand Slam Properties LLC
5/1/2018
$100.00
Monetary Contribution
Adam Laxalt
2018 CE Report 1
Granite Construction Company
5/8/2017
$1,000.00
Monetary Contribution
Adam Laxalt
2018 Annual CE Filing
Grant D. Noble
5/14/2018
$250.00
Monetary Contribution
Adam Laxalt
2018 CE Report 1
Gravitas Nevada, Ltd.
11/9/2015
$2,000.00
Monetary Contribution
Steve Sisolak
2016 Annual CE Filing
Great America Committee
11/28/2017
$5,000.00
Monetary Contribution
Adam Laxalt
2018 Annual CE Filing
Great Basin Entertainment LLC
5/17/2018
$5,000.00
Monetary Contribution
Adam Laxalt
2018 CE Report 1
Great Basin Entertainment LLC
5/17/2018
$5,000.00
Monetary Contribution
Adam Laxalt
2018 CE Report 1
Great Buns Inc.
3/16/2018
$5,000.00
Monetary Contribution
Adam Laxalt
2018 CE Report 1
Green Therapeutics LLC
11/11/2015
$2,000.00
Monetary Contribution
Steve Sisolak
2016 Annual CE Filing
Green Valley Crossing Development LLC
8/1/2017
$2,500.00
Monetary Contribution
Steve Sisolak
2018 Annual CE Filing (Amended)
Green Valley Grocery
2/6/2018
$5,000.00
Monetary Contribution
Steve Sisolak
2018 CE Report 1 (Amended)
Green Valley Ranch Resort Spa Casino
12/30/2016
$2,000.00
Monetary Contribution
Adam Laxalt
2017 Annual CE Filing
Green Valley Ranch Resort Spa Casino
12/30/2016
$5,000.00
Monetary Contribution
Adam Laxalt
2017 Annual CE Filing
Green Valley Ranch Station Casino Cage Account
1/25/2018
$10,000.00
Monetary Contribution
Steve Sisolak
2018 CE Report 1 (Amended)
Greenberg Traurg
5/19/2018
$1,500.00
Monetary Contribution
Steve Sisolak
2018 CE Report 2 (Amended)
Greenberg Traurig
6/16/2016
$2,000.00
Monetary Contribution
Steve Sisolak
2016 CE Report 3
Greg Baden
4/19/2017
$50.00
Monetary Contribution
Adam Laxalt
2018 Annual CE Filing
Greg Heinrich
8/7/2015
$1,000.00
Monetary Contribution
Steve Sisolak
2016 Annual CE Filing
Greg Heinrich
2/19/2018
$1,500.00
Monetary Contribution
Steve Sisolak
2018 CE Report 1 (Amended)
Greg Hoevener
12/19/2017
$100.00
Monetary Contribution
Steve Sisolak
2018 Annual CE Filing (Amended)
Greg Korte
6/1/2018
$1,000.00
Monetary Contribution
Steve Sisolak
2018 CE Report 2 (Amended)
Greg T. Bigler
11/17/2017
$100.00
Monetary Contribution
Adam Laxalt
2018 Annual CE Filing
Gregg Corlyn
11/27/2017
$1,000.00
Monetary Contribution
Steve Sisolak
2018 Annual CE Filing (Amended)
Gregory A. Yankovsky
11/9/2017
$250.00
Monetary Contribution
Adam Laxalt
2018 Annual CE Filing
Gregory Anderson
6/4/2018
$100.00
Monetary Contribution
Adam Laxalt
2018 CE Report 2
Gregory F. Peek
11/30/2016
$5,000.00
Monetary Contribution
Adam Laxalt
2017 Annual CE Filing
Gregory Holmes
12/29/2017
$5,000.00
Monetary Contribution
Adam Laxalt
2018 Annual CE Filing
Gregory J. Galli
4/19/2018
$125.00
Monetary Contribution
Adam Laxalt
2018 CE Report 1
Gregory L Dillion
6/28/2017
$2,500.00
Monetary Contribution
Adam Laxalt
2018 Annual CE Filing
Gregory L. Zunino
5/25/2017
$100.00
Monetary Contribution
Adam Laxalt
2018 Annual CE Filing
Gregory Lee
3/13/2018
$5,000.00
Monetary Contribution
Steve Sisolak
2018 CE Report 1 (Amended)
Gregory P. Martin
11/16/2017
$250.00
Monetary Contribution
Adam Laxalt
2018 Annual CE Filing
Gregory T. Bigler
2/21/2018
$150.00
Monetary Contribution
Adam Laxalt
2018 CE Report 1
Gregory T. Bigler
6/6/2018
$150.00
Monetary Contribution
Adam Laxalt
2018 CE Report 2
Greta Morin
4/16/2018
$50.00
Monetary Contribution
Adam Laxalt
2018 CE Report 1
GTI Nevada, LLC
5/19/2018
$2,500.00
Monetary Contribution
Steve Sisolak
2018 CE Report 2 (Amended)
GTI Nevada, LLC
5/19/2018
$2,500.00
Monetary Contribution
Steve Sisolak
2018 CE Report 2 (Amended)
Gurinder Paul Sandhu
12/14/2017
$250.00
Monetary Contribution
Steve Sisolak
2018 Annual CE Filing (Amended)
Gus Boogades
2/16/2018
$75.00
Monetary Contribution
Steve Sisolak
2018 CE Report 1 (Amended)
Guy M. Bowers
4/30/2018
$500.00
Monetary Contribution
Adam Laxalt
2018 CE Report 1
Guy R. Hudson
2/21/2018
$250.00
Monetary Contribution
Adam Laxalt
2018 CE Report 1
GW D&E LLC
1/31/2017
$4,900.00
Monetary Contribution
Steve Sisolak
2018 Annual CE Filing (Amended)
GW D&E LLC
5/15/2017
$4,000.00
Monetary Contribution
Steve Sisolak
2018 Annual CE Filing (Amended)
GW D&E LLC
10/15/2016
$5,000.00
Monetary Contribution
Steve Sisolak
2016 CE Report 4
Gwendolyn C. Braimoh
5/19/2018
$200.00
Monetary Contribution
Steve Sisolak
2018 CE Report 2 (Amended)
H. Douglas H. Jones
1/5/2018
$100.00
Monetary Contribution
Adam Laxalt
2018 CE Report 1
H. M. Day
5/1/2018
$500.00
Monetary Contribution
Adam Laxalt
2018 CE Report 1
H. M. Day
5/15/2018
$4,500.00
Monetary Contribution
Adam Laxalt
2018 CE Report 1
H. Marc Helm
12/1/2015
$5,000.00
Monetary Contribution
Adam Laxalt
2016 Annual CE Filing
H. Marcus Helm
12/23/2016
$5,000.00
Monetary Contribution
Adam Laxalt
2017 Annual CE Filing
Hadley Hodgkin
3/18/2018
$100.00
Monetary Contribution
Adam Laxalt
2018 CE Report 1
Hakkasan Holdings, LLC
9/29/2016
$10,000.00
Monetary Contribution
Steve Sisolak
2016 CE Report 3
Hakkasan Holdings, LLC
11/17/2017
$5,000.00
Monetary Contribution
Steve Sisolak
2018 Annual CE Filing (Amended)
Hamilton Company
12/5/2016
$5,000.00
Monetary Contribution
Adam Laxalt
2017 Annual CE Filing
Hamilton Company
12/5/2016
$5,000.00
Monetary Contribution
Adam Laxalt
2017 Annual CE Filing
Hamilton Medical Inc.
2/5/2018
$5,000.00
Monetary Contribution
Adam Laxalt
2018 CE Report 1
Hamilton Medical Inc.
2/5/2018
$5,000.00
Monetary Contribution
Adam Laxalt
2018 CE Report 1
Hammer Family Trust
12/11/2015
$1,000.00
Monetary Contribution
Steve Sisolak
2016 Annual CE Filing
Hanna Mauritzson
10/22/2017
$1,000.00
Monetary Contribution
Steve Sisolak
2018 Annual CE Filing (Amended)
Hanratty Law Group
12/12/2017
$500.00
Monetary Contribution
Adam Laxalt
2018 Annual CE Filing
Hans Baldau
1/10/2018
$100.00
Monetary Contribution
Steve Sisolak
2018 CE Report 1 (Amended)
Harcourts NV1
6/16/2017
$5,000.00
Monetary Contribution
Adam Laxalt
2018 Annual CE Filing
Harcourts NV1
6/16/2017
$5,000.00
Monetary Contribution
Adam Laxalt
2018 Annual CE Filing
Hard Rock Hotel and Casino
12/6/2016
$5,000.00
Monetary Contribution
Steve Sisolak
2016 CE Report 5 (Amended)
Harlan L. Pease
6/19/2017
$50.00
Monetary Contribution
Adam Laxalt
2018 Annual CE Filing
Harlan L. Pease
11/15/2017
$50.00
Monetary Contribution
Adam Laxalt
2018 Annual CE Filing
Harlan L. Pease
2/19/2018
$50.00
Monetary Contribution
Adam Laxalt
2018 CE Report 1
Harmon Square Spe LLC
4/20/2018
$10,000.00
Monetary Contribution
Steve Sisolak
2018 CE Report 1 (Amended)
Harmony Homes Inc.
1/7/2018
$10,000.00
Monetary Contribution
Steve Sisolak
2018 CE Report 1 (Amended)
Harmony Homes Inc.
12/30/2015
$10,000.00
Monetary Contribution
Steve Sisolak
2016 Annual CE Filing
Harmony Homes Nevada, LLC
1/7/2018
$10,000.00
Monetary Contribution
Steve Sisolak
2018 CE Report 1 (Amended)
Harold J. Jacobsen
2/23/2018
$100.00
Monetary Contribution
Adam Laxalt
2018 CE Report 1
Harold J. Jacobsen
6/4/2018
$100.00
Monetary Contribution
Adam Laxalt
2018 CE Report 2
Harold Morse
9/8/2015
$500.00
Monetary Contribution
Steve Sisolak
2016 Annual CE Filing
Harold P. Meabon
2/21/2018
$100.00
Monetary Contribution
Adam Laxalt
2018 CE Report 1
Harrah's Las Vegas Inc. Patron Winnings Account
11/29/2017
$5,000.00
Monetary Contribution
Steve Sisolak
2018 Annual CE Filing (Amended)
Harrah's Las Vegas Inc. Patron Winnings Account
5/16/2018
$5,000.00
Monetary Contribution
Adam Laxalt
2018 CE Report 1
Harrah's Laughlin Casino
11/7/2016
$5,000.00
Monetary Contribution
Steve Sisolak
2016 CE Report 5 (Amended)
Harriet K. Stewart
3/8/2018
$100.00
Monetary Contribution
Adam Laxalt
2018 CE Report 1
Harris Law Office
2/23/2018
$500.00
Monetary Contribution
Adam Laxalt
2018 CE Report 1
Harry E. Hildt
4/16/2018
$50.00
Monetary Contribution
Adam Laxalt
2018 CE Report 1
Harry J. Dietz
2/28/2018
$100.00
Monetary Contribution
Adam Laxalt
2018 CE Report 1
Harry J. Dietz
5/15/2017
$100.00
Monetary Contribution
Adam Laxalt
2018 Annual CE Filing
Harry Rhea
5/8/2018
$50.00
Monetary Contribution
Adam Laxalt
2018 CE Report 1
Harry Tedsen
5/29/2018
$75.00
Monetary Contribution
Adam Laxalt
2018 CE Report 2
Harshal Desai
8/25/2017
$250.00
Monetary Contribution
Steve Sisolak
2018 Annual CE Filing (Amended)
Harvinder Gill
12/18/2017
$2,000.00
Monetary Contribution
Steve Sisolak
2018 Annual CE Filing (Amended)
HAWCO DEVELOPMENT COMPANY
5/3/2018
$1,000.00
Monetary Contribution
Adam Laxalt
2018 CE Report 1
HAWCO DEVELOPMENT COMPANY
6/5/2017
$1,250.00
Monetary Contribution
Adam Laxalt
2018 Annual CE Filing
Hawkeye Land Company LLC
10/27/2016
$2,500.00
Monetary Contribution
Steve Sisolak
2016 CE Report 4
HCB II, LLC
12/13/2017
$6,600.00
Monetary Contribution
Steve Sisolak
2018 Annual CE Filing (Amended)
Heartland Solutions Group Inc.
8/10/2017
$2,500.00
Monetary Contribution
Adam Laxalt
2018 Annual CE Filing
Heartland Solutions Group Inc.
7/11/2016
$1,000.00
Monetary Contribution
Adam Laxalt
2017 Annual CE Filing
Heather Marie Stamer
4/17/2017
$100.00
Monetary Contribution
Adam Laxalt
2018 Annual CE Filing
Heavenly Valley Limited Partnership
5/9/2018
$1,000.00
Monetary Contribution
Adam Laxalt
2018 CE Report 1
Heavy Equipment Training LLC
3/15/2018
$500.00
Monetary Contribution
Steve Sisolak
2018 CE Report 1 (Amended)
Heidi A. Huizenga
6/4/2018
$5,000.00
Monetary Contribution
Adam Laxalt
2018 CE Report 2
Heidi Almase
2/10/2018
$250.00
Monetary Contribution
Steve Sisolak
2018 CE Report 1 (Amended)
Heidi Canarelli
11/13/2017
$10,000.00
Monetary Contribution
Steve Sisolak
2018 Annual CE Filing (Amended)
Heidi Ellsworth
5/18/2018
$50.00
Monetary Contribution
Adam Laxalt
2018 CE Report 1
Heidi Gansert
12/12/2016
$2,500.00
Monetary Contribution
Adam Laxalt
2017 Annual CE Filing
Heidi Gustafson
12/13/2017
$500.00
Monetary Contribution
Adam Laxalt
2018 Annual CE Filing
Heidi Gustafson
2/28/2018
$500.00
Monetary Contribution
Adam Laxalt
2018 CE Report 1
Heidi Gustafson
3/30/2018
$500.00
Monetary Contribution
Adam Laxalt
2018 CE Report 1
Heidi Gustafson
4/20/2018
$500.00
Monetary Contribution
Adam Laxalt
2018 CE Report 1
Heigo U. Orav
3/16/2018
$100.00
Monetary Contribution
Adam Laxalt
2018 CE Report 1
Helga Fuenfhausen
3/29/2018
$2,500.00
In Kind Contribution
Adam Laxalt
2018 CE Report 1
Helga L. Fuenfhausen (Pizio)
1/4/2017
$2,000.00
Monetary Contribution
Adam Laxalt
2018 Annual CE Filing
Helga L. Fuenfhausen (Pizio)
11/11/2017
$500.00
Monetary Contribution
Adam Laxalt
2018 Annual CE Filing
Helga L. Fuenfhausen (Pizio)
12/15/2017
$2,500.00
Monetary Contribution
Adam Laxalt
2018 Annual CE Filing
Helga L. Fuenfhausen (Pizio)
12/15/2017
$2,500.00
Monetary Contribution
Adam Laxalt
2018 Annual CE Filing
Helix Electric
10/16/2016
$500.00
Monetary Contribution
Steve Sisolak
2016 CE Report 4
Helix Electric
11/23/2016
$1,000.00
Monetary Contribution
Adam Laxalt
2017 Annual CE Filing
Helix Electric
10/25/2017
$2,184.64
In Kind Contribution
Adam Laxalt
2018 Annual CE Filing
Helix Electric
5/11/2017
$4,000.00
Monetary Contribution
Adam Laxalt
2018 Annual CE Filing
Helix Electric
5/11/2017
$1,000.00
Monetary Contribution
Adam Laxalt
2018 Annual CE Filing
Helix Electric
6/14/2017
$1,000.00
Monetary Contribution
Adam Laxalt
2018 Annual CE Filing
Helix Electric
10/27/2017
$250.00
Monetary Contribution
Adam Laxalt
2018 Annual CE Filing
Helix Electric
10/27/2017
$500.00
Monetary Contribution
Adam Laxalt
2018 Annual CE Filing
Henderson Taxi
7/16/2015
$3,500.00
Monetary Contribution
Steve Sisolak
2016 Annual CE Filing
Henry Park
5/31/2018
$5,000.00
Monetary Contribution
Adam Laxalt
2018 CE Report 2
Henry Roskos
4/19/2018
$100.00
Monetary Contribution
Adam Laxalt
2018 CE Report 1
Henry Rushing
11/18/2017
$100.00
Monetary Contribution
Adam Laxalt
2018 Annual CE Filing
Herbert J. Santos
11/20/2017
$250.00
Monetary Contribution
Adam Laxalt
2018 Annual CE Filing
Herbert L. Levine
6/14/2017
$1,000.00
Monetary Contribution
Adam Laxalt
2018 Annual CE Filing
Herbert L. Levine
5/29/2018
$1,000.00
Monetary Contribution
Adam Laxalt
2018 CE Report 2
Herbst Development LLC
5/14/2018
$5,000.00
Monetary Contribution
Adam Laxalt
2018 CE Report 1
Herbst Development LLC
5/14/2018
$5,000.00
Monetary Contribution
Adam Laxalt
2018 CE Report 1
Herman Weissker Inc.
12/27/2017
$5,000.00
Monetary Contribution
Adam Laxalt
2018 Annual CE Filing
Herman Weissker Inc.
12/27/2017
$5,000.00
Monetary Contribution
Adam Laxalt
2018 Annual CE Filing
Herrmann Glockler
11/30/2016
$50.00
Monetary Contribution
Adam Laxalt
2017 Annual CE Filing
Herrmann Glockler
9/2/2015
$50.00
Monetary Contribution
Adam Laxalt
2016 Annual CE Filing
Herrmann Glockler
11/16/2017
$50.00
Monetary Contribution
Adam Laxalt
2018 Annual CE Filing
Herrmann Glockler
3/9/2017
$50.00
Monetary Contribution
Adam Laxalt
2018 Annual CE Filing
HHP CalCyp LLC
12/5/2017
$5,000.00
Monetary Contribution
Steve Sisolak
2018 Annual CE Filing (Amended)
Higgins Industrial Team, LLC
11/28/2017
$1,000.00
Monetary Contribution
Steve Sisolak
2018 Annual CE Filing (Amended)
Higgins Industrial Team, LLC
2/27/2018
$500.00
Monetary Contribution
Steve Sisolak
2018 CE Report 1 (Amended)
Higgins Industrial Team, LLC
10/16/2016
$1,250.00
Monetary Contribution
Steve Sisolak
2016 CE Report 4
Hillcrest Internatonal Enterprises
12/9/2017
$5,000.00
Monetary Contribution
Adam Laxalt
2018 Annual CE Filing
Hillcrest Internatonal Enterprises
12/9/2017
$5,000.00
Monetary Contribution
Adam Laxalt
2018 Annual CE Filing
Himanshu Bhatia
12/12/2017
$10,000.00
Monetary Contribution
Steve Sisolak
2018 Annual CE Filing (Amended)
Hirschi Masonry LLC
5/5/2017
$500.00
Monetary Contribution
Adam Laxalt
2018 Annual CE Filing
Hirschi Masonry LLC
5/16/2018
$4,500.00
Monetary Contribution
Adam Laxalt
2018 CE Report 1
Hirschi Masonry LLC
5/16/2018
$5,000.00
Monetary Contribution
Adam Laxalt
2018 CE Report 1
HMS Host
11/13/2015
$500.00
Monetary Contribution
Steve Sisolak
2016 Annual CE Filing
Hodgepodge LLC
2/21/2018
$5,000.00
Monetary Contribution
Steve Sisolak
2018 CE Report 1 (Amended)
Hoffman International Inc.
10/19/2017
$250.00
Monetary Contribution
Steve Sisolak
2018 Annual CE Filing (Amended)
Hogan Law Associates
11/15/2017
$1,000.00
Monetary Contribution
Adam Laxalt
2018 Annual CE Filing
Holland & Hart LLP
10/20/2017
$2,000.00
Monetary Contribution
Steve Sisolak
2018 Annual CE Filing (Amended)
Holland & Hart LLP
4/5/2018
$500.00
Monetary Contribution
Steve Sisolak
2018 CE Report 1 (Amended)
Holland & Hart LLP
2/26/2018
$500.00
Monetary Contribution
Steve Sisolak
2018 CE Report 1 (Amended)
Holland & Hart LLP
10/14/2015
$1,000.00
Monetary Contribution
Steve Sisolak
2016 Annual CE Filing
Holland & Hart LLP
12/9/2015
$2,500.00
Monetary Contribution
Steve Sisolak
2016 Annual CE Filing
Home Building Industry PAC
11/16/2015
$1,000.00
Monetary Contribution
Steve Sisolak
2016 Annual CE Filing
Home Building Industry PAC
7/25/2016
$5,000.00
Monetary Contribution
Steve Sisolak
2016 CE Report 3
Home Depot Store Support LLC
4/6/2015
$7,500.00
Monetary Contribution
Adam Laxalt
2016 Annual CE Filing
Horizon Trust Company
2/23/2018
$1,500.00
Monetary Contribution
Adam Laxalt
2018 CE Report 1
Hostmeister.com LLC
11/25/2015
$250.00
Monetary Contribution
Steve Sisolak
2016 Annual CE Filing
Howard A. Corr
4/16/2018
$50.00
Monetary Contribution
Adam Laxalt
2018 CE Report 1
Howard E & Patricia M Cole Family Trust
3/6/2018
$500.00
Monetary Contribution
Steve Sisolak
2018 CE Report 1 (Amended)
Howard Henning
5/12/2017
$50.00
Monetary Contribution
Adam Laxalt
2018 Annual CE Filing
Howard Hughes Properties Inc
12/1/2017
$1,500.00
Monetary Contribution
Adam Laxalt
2018 Annual CE Filing
Howard Hughes Properties Inc
12/1/2017
$3,500.00
Monetary Contribution
Adam Laxalt
2018 Annual CE Filing
Howard Hughes Properties Inc
12/19/2016
$3,500.00
Monetary Contribution
Adam Laxalt
2017 Annual CE Filing
Howard Hughes Properties Inc.
11/16/2017
$5,000.00
Monetary Contribution
Steve Sisolak
2018 Annual CE Filing (Amended)
Howard Hughes Properties Inc.
12/23/2015
$10,000.00
Monetary Contribution
Steve Sisolak
2016 Annual CE Filing
Howard Hughes Properties Inc.
5/21/2018
$5,000.00
Monetary Contribution
Steve Sisolak
2018 CE Report 2 (Amended)
Howard Starr
5/19/2018
$500.00
Monetary Contribution
Steve Sisolak
2018 CE Report 2 (Amended)
Howard Starr
5/21/2016
$1,000.00
Monetary Contribution
Steve Sisolak
2016 CE Report 2
HSKS LLC
8/28/2017
$5,000.00
Monetary Contribution
Adam Laxalt
2018 Annual CE Filing
HSKS LLC
8/28/2017
$5,000.00
Monetary Contribution
Adam Laxalt
2018 Annual CE Filing
Hudson Las Vegas JV
7/17/2015
$5,000.00
Monetary Contribution
Steve Sisolak
2016 Annual CE Filing
Hudson Las Vegas JV
9/5/2017
$5,000.00
Monetary Contribution
Steve Sisolak
2018 Annual CE Filing (Amended)
Hudson Las Vegas, JV
10/18/2016
$5,000.00
Monetary Contribution
Steve Sisolak
2016 CE Report 4
Hugh Anderson
4/14/2015
$250.00
Monetary Contribution
Steve Sisolak
2016 Annual CE Filing
Hugh C. Ingle
11/10/2017
$50.00
Monetary Contribution
Adam Laxalt
2018 Annual CE Filing
Hugh C. Ingle
12/21/2017
$50.00
Monetary Contribution
Adam Laxalt
2018 Annual CE Filing
Hugh S. Somsen
6/16/2017
$50.00
Monetary Contribution
Adam Laxalt
2018 Annual CE Filing
Hughes Private Capital LLC
5/1/2018
$1,000.00
Monetary Contribution
Adam Laxalt
2018 CE Report 1
Hunton & Williams LLP
8/15/2016
$1,000.00
Monetary Contribution
Adam Laxalt
2017 Annual CE Filing
Hunton & Williams LLP
2/2/2015
$1,000.00
Monetary Contribution
Adam Laxalt
2016 Annual CE Filing
Hurricane Printing LLC
3/8/2018
$100.00
Monetary Contribution
Adam Laxalt
2018 CE Report 1
Hyperion Advisors
10/12/2017
$5,000.00
Monetary Contribution
Steve Sisolak
2018 Annual CE Filing (Amended)
Hyperion Advisors
3/1/2018
$5,000.00
Monetary Contribution
Steve Sisolak
2018 CE Report 1 (Amended)
Hyperion Advisors
3/16/2018
$500.00
Monetary Contribution
Adam Laxalt
2018 CE Report 1
I. Michael Kasser
2/15/2018
$1,000.00
Monetary Contribution
Adam Laxalt
2018 CE Report 1
Ideal Business Partners
12/14/2017
$1,500.00
Monetary Contribution
Steve Sisolak
2018 Annual CE Filing (Amended)
Ideal Office Equipment
9/2/2016
$75.00
Monetary Contribution
Steve Sisolak
2016 CE Report 3
IGX LLC
12/17/2015
$2,500.00
Monetary Contribution
Adam Laxalt
2016 Annual CE Filing
Ike Lawrence Epstein
9/17/2015
$2,500.00
Monetary Contribution
Adam Laxalt
2016 Annual CE Filing
Ike Lawrence Epstein
9/26/2017
$2,500.00
Monetary Contribution
Adam Laxalt
2018 Annual CE Filing
Ike Lawrence Epstein
9/26/2017
$5,000.00
Monetary Contribution
Adam Laxalt
2018 Annual CE Filing
Im-Pruv-All
5/17/2017
$250.00
Monetary Contribution
Adam Laxalt
2018 Annual CE Filing
Im-Pruv-All
2/23/2018
$500.00
Monetary Contribution
Adam Laxalt
2018 CE Report 1
Imad Kandela
11/28/2017
$5,000.00
Monetary Contribution
Steve Sisolak
2018 Annual CE Filing (Amended)
IMPAC
4/29/2016
$600.00
Monetary Contribution
Steve Sisolak
2016 CE Report 1
Inc Authority LLC
2/23/2018
$5,000.00
Monetary Contribution
Adam Laxalt
2018 CE Report 1
Inc Authority LLC
2/23/2018
$5,000.00
Monetary Contribution
Adam Laxalt
2018 CE Report 1
Indian Springs Investments LLC
7/10/2015
$1,000.00
Monetary Contribution
Steve Sisolak
2016 Annual CE Filing
Inez C. Winkel
6/4/2018
$70.00
Monetary Contribution
Adam Laxalt
2018 CE Report 2
Infiniti of Reno
4/27/2018
$1,000.00
Monetary Contribution
Adam Laxalt
2018 CE Report 1
Ingrid M. Drummer
4/19/2018
$500.00
Monetary Contribution
Adam Laxalt
2018 CE Report 1
Insight Administrative Services LLC
7/19/2017
$2,500.00
Monetary Contribution
Steve Sisolak
2018 Annual CE Filing (Amended)
Insight Investment Partners, LLC
10/24/2016
$1,000.00
Monetary Contribution
Steve Sisolak
2016 CE Report 4
Integral Associates LLC
11/2/2015
$10,000.00
Monetary Contribution
Steve Sisolak
2016 Annual CE Filing
Integral Associates LLC
12/22/2017
$10,000.00
Monetary Contribution
Steve Sisolak
2018 Annual CE Filing (Amended)
Integrated Pain Specialist
12/12/2017
$1,500.00
Monetary Contribution
Steve Sisolak
2018 Annual CE Filing (Amended)
Interactive Global Solutions
1/23/2015
$3,000.00
Monetary Contribution
Adam Laxalt
2016 Annual CE Filing
International Asset Managers Inc.
1/28/2016
$2,500.00
Monetary Contribution
Steve Sisolak
2016 CE Report 1
International Problem Gambling Center
9/18/2017
$400.00
Monetary Contribution
Steve Sisolak
2018 Annual CE Filing (Amended)
International Test Solutions Inc
12/19/2016
$2,500.00
Monetary Contribution
Adam Laxalt
2017 Annual CE Filing
International Test Solutions Inc
5/18/2018
$2,500.00
Monetary Contribution
Adam Laxalt
2018 CE Report 1
International Union of Operating Engineers
8/29/2017
$5,000.00
Monetary Contribution
Steve Sisolak
2018 Annual CE Filing (Amended)
International Union of Operating Engineers
8/11/2016
$2,500.00
Monetary Contribution
Steve Sisolak
2016 CE Report 3
International Union of Operating Engineers Local 12
12/10/2015
$5,000.00
Monetary Contribution
Steve Sisolak
2016 Annual CE Filing
Intuit
6/23/2016
$1,000.00
Monetary Contribution
Adam Laxalt
2017 Annual CE Filing
Irais Kolesar
11/9/2017
$500.00
Monetary Contribution
Adam Laxalt
2018 Annual CE Filing
Irene Fekete
12/18/2017
$100.00
Monetary Contribution
Steve Sisolak
2018 Annual CE Filing (Amended)
Irenic Consulting Group, LLC
8/7/2017
$1,000.00
Monetary Contribution
Steve Sisolak
2018 Annual CE Filing (Amended)
Isagenix International PAC
3/19/2018
$2,000.00
Monetary Contribution
Adam Laxalt
2018 CE Report 1
Isidro B. Echeto
2/23/2018
$100.00
Monetary Contribution
Adam Laxalt
2018 CE Report 1
Ismail Amin
6/30/2017
$2,500.00
Monetary Contribution
Adam Laxalt
2018 Annual CE Filing
Ismail Amin
12/8/2017
$1,000.00
Monetary Contribution
Adam Laxalt
2018 Annual CE Filing
Italian American Club
2/22/2018
$500.00
In Kind Contribution
Steve Sisolak
2018 CE Report 1 (Amended)
ITS Logistics
5/26/2017
$2,500.00
Monetary Contribution
Adam Laxalt
2018 Annual CE Filing
IUPAT Political Action Together Political Committee
12/11/2015
$2,500.00
Monetary Contribution
Steve Sisolak
2016 Annual CE Filing
Ivan Cannon
5/11/2017
$2,000.00
Monetary Contribution
Adam Laxalt
2018 Annual CE Filing
Ivan Cannon
12/7/2017
$1,000.00
Monetary Contribution
Adam Laxalt
2018 Annual CE Filing
J & F Construction Company, LLC
8/1/2017
$2,500.00
Monetary Contribution
Steve Sisolak
2018 Annual CE Filing (Amended)
J & J Mechanical Inc.
4/20/2017
$1,000.00
Monetary Contribution
Adam Laxalt
2018 Annual CE Filing
J & J Mechanical Inc.
5/26/2017
$1,000.00
Monetary Contribution
Adam Laxalt
2018 Annual CE Filing
J & J Mechanical Inc.
10/30/2017
$2,500.00
Monetary Contribution
Adam Laxalt
2018 Annual CE Filing
J D Lavach
11/2/2017
$100.00
Monetary Contribution
Adam Laxalt
2018 Annual CE Filing
J. Christopher Dapper
7/11/2015
$10,000.00
Monetary Contribution
Steve Sisolak
2016 Annual CE Filing
J. Mark Stevenson
5/29/2018
$1,000.00
Monetary Contribution
Adam Laxalt
2018 CE Report 2
J. Michael Schaefer
11/9/2017
$250.00
Monetary Contribution
Adam Laxalt
2018 Annual CE Filing
J. Michael Schaefer
12/7/2017
$100.00
Monetary Contribution
Adam Laxalt
2018 Annual CE Filing
J. Pat Corrigan
4/14/2017
$100.00
Monetary Contribution
Adam Laxalt
2018 Annual CE Filing
J. Steven Hart
7/24/2017
$1,000.00
Monetary Contribution
Adam Laxalt
2018 Annual CE Filing
J.K. & Nancy Houssels 1992 Trust
12/18/2015
$1,000.00
Monetary Contribution
Adam Laxalt
2016 Annual CE Filing
J.K. & Nancy Houssels 1992 Trust
1/11/2017
$1,000.00
Monetary Contribution
Adam Laxalt
2018 Annual CE Filing
J.K. & Nancy Houssels 1992 Trust
11/9/2017
$1,000.00
Monetary Contribution
Adam Laxalt
2018 Annual CE Filing
J.K. & Nancy Houssels 1992 Trust
2/7/2018
$1,000.00
Monetary Contribution
Adam Laxalt
2018 CE Report 1
J.K. & Nancy Houssels 1992 Trust
5/25/2018
$1,000.00
Monetary Contribution
Adam Laxalt
2018 CE Report 2
J.P. Kleinhaus
4/9/2018
$50.00
Monetary Contribution
Adam Laxalt
2018 CE Report 1
J&F Construction, LLC
6/23/2015
$2,500.00
Monetary Contribution
Steve Sisolak
2016 Annual CE Filing
J&M Morton Family #2 LLC
11/11/2015
$500.00
Monetary Contribution
Steve Sisolak
2016 Annual CE Filing
JA Kennedy Development Company
10/24/2016
$1,250.00
Monetary Contribution
Steve Sisolak
2016 CE Report 4
JA Kennedy Real Estate Company
10/24/2016
$1,250.00
Monetary Contribution
Steve Sisolak
2016 CE Report 4
JA Kennedy Real Estate Company
6/23/2015
$2,000.00
Monetary Contribution
Steve Sisolak
2016 Annual CE Filing
JA Tiberti Construction
7/23/2015
$1,250.00
Monetary Contribution
Steve Sisolak
2016 Annual CE Filing
JA Tiberti Construction Co. Inc.
10/24/2016
$1,000.00
Monetary Contribution
Steve Sisolak
2016 CE Report 4
Jack A. McLeod
2/19/2018
$50.00
Monetary Contribution
Adam Laxalt
2018 CE Report 1
Jack B. Binion
9/25/2017
$10,000.00
Monetary Contribution
Steve Sisolak
2018 Annual CE Filing (Amended)
Jack Bacon
5/3/2018
$500.00
Monetary Contribution
Adam Laxalt
2018 CE Report 1
Jack Bacon
12/19/2016
$250.00
Monetary Contribution
Adam Laxalt
2017 Annual CE Filing
Jack Bacon
5/26/2017
$1,000.00
Monetary Contribution
Adam Laxalt
2018 Annual CE Filing
Jack Binion
12/29/2015
$10,000.00
Monetary Contribution
Steve Sisolak
2016 Annual CE Filing
Jack D. Alsobrook
5/9/2018
$50.00
Monetary Contribution
Adam Laxalt
2018 CE Report 1
Jack I Crowell
11/17/2017
$100.00
Monetary Contribution
Adam Laxalt
2018 Annual CE Filing
Jack N. Gerard
3/27/2018
$1,000.00
Monetary Contribution
Adam Laxalt
2018 CE Report 1
Jack N. Solomon
11/15/2017
$50.00
Monetary Contribution
Adam Laxalt
2018 Annual CE Filing
Jack N. Solomon
6/1/2018
$75.00
Monetary Contribution
Adam Laxalt
2018 CE Report 2
Jack P. Richardson
6/5/2017
$50.00
Monetary Contribution
Adam Laxalt
2018 Annual CE Filing
Jack Stanko
10/26/2016
$5,000.00
Monetary Contribution
Adam Laxalt
2017 Annual CE Filing
Jack Stanko
10/27/2016
$5,000.00
Monetary Contribution
Adam Laxalt
2017 Annual CE Filing
Jack T. Stone
6/21/2017
$50.00
Monetary Contribution
Adam Laxalt
2018 Annual CE Filing
Jack Woodcock
4/23/2015
$1,000.00
Monetary Contribution
Steve Sisolak
2016 Annual CE Filing
Jack Woodcock
5/11/2017
$2,500.00
Monetary Contribution
Adam Laxalt
2018 Annual CE Filing
Jack Woodcock
12/28/2017
$2,500.00
Monetary Contribution
Adam Laxalt
2018 Annual CE Filing
Jack Woodcock
11/23/2016
$5,000.00
Monetary Contribution
Adam Laxalt
2017 Annual CE Filing
Jackson-Shaw Company
12/12/2015
$500.00
Monetary Contribution
Steve Sisolak
2016 Annual CE Filing
Jacob Oberman
2/26/2018
$500.00
Monetary Contribution
Steve Sisolak
2018 CE Report 1 (Amended)
Jacob Ouliguian
9/10/2016
$100.00
Monetary Contribution
Steve Sisolak
2016 CE Report 3
Jacqueline Carleton
3/14/2018
$100.00
Monetary Contribution
Adam Laxalt
2018 CE Report 1
Jacqueline Gill
2/10/2018
$100.00
Monetary Contribution
Steve Sisolak
2018 CE Report 1 (Amended)
Jaldeep Daulat D.O., Professional Corporation
9/7/2017
$7,500.00
Monetary Contribution
Steve Sisolak
2018 Annual CE Filing (Amended)
Jaldeep Daulat D.O., Professional Corporation
11/22/2017
$1,000.00
Monetary Contribution
Steve Sisolak
2018 Annual CE Filing (Amended)
Jaldeep Daulat DO Professional Corporation
11/7/2016
$2,500.00
Monetary Contribution
Steve Sisolak
2016 CE Report 5 (Amended)
James A. Baker
11/28/2016
$1,000.00
Monetary Contribution
Adam Laxalt
2017 Annual CE Filing
James A. Linebaugh
6/20/2017
$100.00
Monetary Contribution
Adam Laxalt
2018 Annual CE Filing
James A. Powell
6/1/2017
$50.00
Monetary Contribution
Adam Laxalt
2018 Annual CE Filing
James A. Walsh
6/19/2017
$50.00
Monetary Contribution
Adam Laxalt
2018 Annual CE Filing
James and Carlene Akers
6/22/2017
$50.00
Monetary Contribution
Adam Laxalt
2018 Annual CE Filing
James and Danielle McNair
3/27/2018
$500.00
Monetary Contribution
Adam Laxalt
2018 CE Report 1
James Arthur Friedrich
4/30/2018
$50.00
Monetary Contribution
Adam Laxalt
2018 CE Report 1
James Avakian
3/13/2018
$250.00
Monetary Contribution
Adam Laxalt
2018 CE Report 1
James Avakian
3/2/2017
$250.00
Monetary Contribution
Adam Laxalt
2018 Annual CE Filing
James Avakian
11/28/2017
$500.00
Monetary Contribution
Adam Laxalt
2018 Annual CE Filing
James B. House
5/3/2018
$250.00
Monetary Contribution
Adam Laxalt
2018 CE Report 1
James Barrett
1/29/2018
$1,000.00
Monetary Contribution
Steve Sisolak
2018 CE Report 1 (Amended)
James Braden
2/26/2018
$100.00
Monetary Contribution
Adam Laxalt
2018 CE Report 1
James Burns
2/1/2018
$50.00
Monetary Contribution
Steve Sisolak
2018 CE Report 1 (Amended)
James C. Collins
4/27/2017
$50.00
Monetary Contribution
Adam Laxalt
2018 Annual CE Filing
James C. DeVolld
11/9/2017
$250.00
Monetary Contribution
Adam Laxalt
2018 Annual CE Filing
James C. DeVolld
2/27/2018
$250.00
Monetary Contribution
Adam Laxalt
2018 CE Report 1
James C. DeVolld
6/4/2018
$1,000.00
Monetary Contribution
Adam Laxalt
2018 CE Report 2
James C. Jones
11/15/2017
$100.00
Monetary Contribution
Adam Laxalt
2018 Annual CE Filing
James C. Smalley
1/31/2018
$50.00
Monetary Contribution
Adam Laxalt
2018 CE Report 1
James Canning
3/21/2018
$50.00
Monetary Contribution
Steve Sisolak
2018 CE Report 1 (Amended)
James D. Ehret
5/14/2018
$200.00
Monetary Contribution
Adam Laxalt
2018 CE Report 1
James D. Hammer
12/11/2015
$1,000.00
Monetary Contribution
Steve Sisolak
2016 Annual CE Filing
James D. Hammer
6/30/2015
$1,000.00
Monetary Contribution
Steve Sisolak
2016 Annual CE Filing
James D. Johnson
2/19/2018
$50.00
Monetary Contribution
Adam Laxalt
2018 CE Report 1
James Demetriades
1/24/2018
$2,500.00
Monetary Contribution
Adam Laxalt
2018 CE Report 1
James Dettling
3/17/2018
$100.00
Monetary Contribution
Adam Laxalt
2018 CE Report 1
James Durnil
10/16/2017
$500.00
Monetary Contribution
Adam Laxalt
2018 Annual CE Filing
James E. Trevino
11/9/2017
$1,000.00
Monetary Contribution
Adam Laxalt
2018 Annual CE Filing
James F. Falk
6/23/2017
$50.00
Monetary Contribution
Adam Laxalt
2018 Annual CE Filing
James F. Falk
11/9/2017
$200.00
Monetary Contribution
Adam Laxalt
2018 Annual CE Filing
James F. Verrees
11/9/2017
$100.00
Monetary Contribution
Adam Laxalt
2018 Annual CE Filing
James F. Verrees
6/1/2018
$50.00
Monetary Contribution
Adam Laxalt
2018 CE Report 2
James Feeney
11/16/2017
$50.00
Monetary Contribution
Adam Laxalt
2018 Annual CE Filing
James Folsom
4/5/2018
$200.00
Monetary Contribution
Adam Laxalt
2018 CE Report 1
james forbus
12/29/2017
$100.00
Monetary Contribution
Adam Laxalt
2018 Annual CE Filing
James G. Coyne
3/21/2016
$100.00
Monetary Contribution
Steve Sisolak
2016 CE Report 1
James Gregory
12/27/2017
$2,000.00
Monetary Contribution
Adam Laxalt
2018 Annual CE Filing
James Hammer
10/16/2015
$1,000.00
Monetary Contribution
Steve Sisolak
2016 Annual CE Filing
James Henderson
11/8/2017
$50.00
Monetary Contribution
Adam Laxalt
2018 Annual CE Filing
James Holcombe II
2/27/2018
$1,000.00
Monetary Contribution
Steve Sisolak
2018 CE Report 1 (Amended)
James Keith Magruder
4/24/2017
$100.00
Monetary Contribution
Adam Laxalt
2018 Annual CE Filing
James Keith Magruder
6/28/2017
$50.00
Monetary Contribution
Adam Laxalt
2018 Annual CE Filing
James Keith Magruder
9/13/2017
$50.00
Monetary Contribution
Adam Laxalt
2018 Annual CE Filing
James Keith Magruder
4/13/2018
$100.00
Monetary Contribution
Adam Laxalt
2018 CE Report 1
James L. Kaplan
4/23/2018
$500.00
Monetary Contribution
Adam Laxalt
2018 CE Report 1
James L. Robertson
1/12/2018
$100.00
Monetary Contribution
Adam Laxalt
2018 CE Report 1
James L. Robertson
11/2/2017
$100.00
Monetary Contribution
Adam Laxalt
2018 Annual CE Filing
James M Veazey
11/17/2017
$100.00
Monetary Contribution
Adam Laxalt
2018 Annual CE Filing
James M. Bixler, Esq.
4/19/2018
$500.00
Monetary Contribution
Steve Sisolak
2018 CE Report 1 (Amended)
James M. Gallo
6/4/2018
$100.00
Monetary Contribution
Adam Laxalt
2018 CE Report 2
James Mancuso
4/19/2017
$50.00
Monetary Contribution
Adam Laxalt
2018 Annual CE Filing
James Mancuso
11/22/2017
$50.00
Monetary Contribution
Adam Laxalt
2018 Annual CE Filing
James Manning
4/20/2016
$2,500.00
Monetary Contribution
Steve Sisolak
2016 CE Report 1
James Manning
4/30/2015
$5,000.00
Monetary Contribution
Steve Sisolak
2016 Annual CE Filing
James Marsh
12/15/2015
$1,000.00
Monetary Contribution
Adam Laxalt
2016 Annual CE Filing
James McMahon
5/2/2018
$1,000.00
Monetary Contribution
Adam Laxalt
2018 CE Report 1
James Mortillaro
4/23/2015
$500.00
Monetary Contribution
Steve Sisolak
2016 Annual CE Filing
James Mortillaro
5/19/2018
$500.00
Monetary Contribution
Steve Sisolak
2018 CE Report 2 (Amended)
James Nave
6/24/2015
$10,000.00
Monetary Contribution
Steve Sisolak
2016 Annual CE Filing
James Nunnally
5/16/2018
$100.00
Monetary Contribution
Adam Laxalt
2018 CE Report 1
James P. Economos
5/14/2018
$1,000.00
Monetary Contribution
Adam Laxalt
2018 CE Report 1
James P. Sandoz
4/18/2018
$50.00
Monetary Contribution
Adam Laxalt
2018 CE Report 1
James Pickett
5/7/2018
$500.00
Monetary Contribution
Adam Laxalt
2018 CE Report 1
James Pilzner
5/18/2018
$1,000.00
In Kind Contribution
Adam Laxalt
2018 CE Report 1
James Pilzner
11/13/2017
$250.00
Monetary Contribution
Adam Laxalt
2018 Annual CE Filing
James R. Colgan
11/10/2017
$1,000.00
Monetary Contribution
Adam Laxalt
2018 Annual CE Filing
James R. Dettling
5/29/2018
$100.00
Monetary Contribution
Adam Laxalt
2018 CE Report 2
James R. Farrell
5/16/2018
$100.00
Monetary Contribution
Adam Laxalt
2018 CE Report 1
James R. Miller
11/9/2017
$1,000.00
Monetary Contribution
Adam Laxalt
2018 Annual CE Filing
James R. Miller
5/14/2018
$2,500.00
Monetary Contribution
Adam Laxalt
2018 CE Report 1
James R. Wickman
12/30/2016
$1,000.00
Monetary Contribution
Adam Laxalt
2017 Annual CE Filing
James S. D'Agostino
5/29/2017
$1,000.00
Monetary Contribution
Adam Laxalt
2018 Annual CE Filing
James Small
4/26/2017
$100.00
Monetary Contribution
Adam Laxalt
2018 Annual CE Filing
James Thomson
4/5/2018
$2,500.00
Monetary Contribution
Adam Laxalt
2018 CE Report 1
James V. Strosnider
5/18/2018
$1,000.00
Monetary Contribution
Adam Laxalt
2018 CE Report 1
James W. Lucey
7/11/2017
$50.00
Monetary Contribution
Adam Laxalt
2018 Annual CE Filing
James Winans
5/3/2017
$75.00
Monetary Contribution
Adam Laxalt
2018 Annual CE Filing
James Winans
5/22/2017
$50.00
Monetary Contribution
Adam Laxalt
2018 Annual CE Filing
James Winans
4/2/2018
$75.00
Monetary Contribution
Adam Laxalt
2018 CE Report 1
James Winans
4/12/2018
$75.00
Monetary Contribution
Adam Laxalt
2018 CE Report 1
James Zauderer
12/4/2017
$250.00
Monetary Contribution
Adam Laxalt
2018 Annual CE Filing
Jamie J. Zissis
6/1/2017
$5,000.00
Monetary Contribution
Adam Laxalt
2018 Annual CE Filing
Jamie J. Zissis
6/1/2017
$5,000.00
Monetary Contribution
Adam Laxalt
2018 Annual CE Filing
Jamie Potash Curry
5/14/2018
$250.00
Monetary Contribution
Adam Laxalt
2018 CE Report 1
Jammie Avila
12/22/2017
$250.00
Monetary Contribution
Steve Sisolak
2018 Annual CE Filing (Amended)
Jan M Morris
3/12/2018
$55.00
Monetary Contribution
Adam Laxalt
2018 CE Report 1
Janda Mahajan & Balsiger PLLC
11/22/2017
$1,000.00
Monetary Contribution
Steve Sisolak
2018 Annual CE Filing (Amended)
Jane Gale
6/4/2018
$1,000.00
Monetary Contribution
Steve Sisolak
2018 CE Report 2 (Amended)
Jane Mellors
5/3/2017
$50.00
Monetary Contribution
Adam Laxalt
2018 Annual CE Filing
Jane T. Simrell
5/29/2018
$50.00
Monetary Contribution
Adam Laxalt
2018 CE Report 2
Janet Bliss Hunewill
2/28/2018
$100.00
Monetary Contribution
Adam Laxalt
2018 CE Report 1
Janet Burnham
6/22/2017
$50.00
Monetary Contribution
Adam Laxalt
2018 Annual CE Filing
Janet F. Stokes
6/7/2018
$100.00
Monetary Contribution
Adam Laxalt
2018 CE Report 2
Janet L. Bryant
7/5/2017
$50.00
Monetary Contribution
Adam Laxalt
2018 Annual CE Filing
Janet L. Bryant
11/30/2017
$50.00
Monetary Contribution
Adam Laxalt
2018 Annual CE Filing
Janet L. Bryant
4/20/2018
$100.00
Monetary Contribution
Adam Laxalt
2018 CE Report 1
Janet Tramonte
3/27/2018
$200.00
Monetary Contribution
Adam Laxalt
2018 CE Report 1
Janice Colvin
5/10/2017
$5,000.00
Monetary Contribution
Adam Laxalt
2018 Annual CE Filing
Janice Colvin
5/10/2017
$5,000.00
Monetary Contribution
Adam Laxalt
2018 Annual CE Filing
Janie Tobman Moore
10/17/2015
$1,000.00
Monetary Contribution
Steve Sisolak
2016 Annual CE Filing
Janine O. Hartley
12/4/2017
$50.00
Monetary Contribution
Adam Laxalt
2018 Annual CE Filing
Janine Queller
3/8/2018
$150.00
Monetary Contribution
Adam Laxalt
2018 CE Report 1
Janine Shapiro
7/17/2017
$500.00
Monetary Contribution
Steve Sisolak
2018 Annual CE Filing (Amended)
Janis Sansone
2/27/2018
$100.00
Monetary Contribution
Adam Laxalt
2018 CE Report 1
Jason A. Awad, Esq.
12/21/2015
$5,000.00
Monetary Contribution
Steve Sisolak
2016 Annual CE Filing
Jason Brown
5/15/2018
$5,000.00
Monetary Contribution
Adam Laxalt
2018 CE Report 1
Jason lapin
3/5/2018
$250.00
Monetary Contribution
Steve Sisolak
2018 CE Report 1 (Amended)
Jason Lisiecki
3/20/2018
$100.00
Monetary Contribution
Steve Sisolak
2018 CE Report 1 (Amended)
Jason Tolotti
12/28/2017
$100.00
In Kind Contribution
Adam Laxalt
2018 Annual CE Filing
Jason Williams
2/23/2018
$500.00
Monetary Contribution
Adam Laxalt
2018 CE Report 1
Jaswinder Grover
6/29/2015
$3,000.00
Monetary Contribution
Steve Sisolak
2016 Annual CE Filing
Jaswinder S Gover MD, LTD
11/27/2017
$7,500.00
Monetary Contribution
Steve Sisolak
2018 Annual CE Filing (Amended)
Jaswinder S Grover MD Ltd
4/12/2016
$1,000.00
Monetary Contribution
Steve Sisolak
2016 CE Report 1
Jaswinder S Grover MD Ltd
10/17/2016
$5,000.00
Monetary Contribution
Steve Sisolak
2016 CE Report 4
Jaswinder S. Grover
11/9/2017
$1,000.00
Monetary Contribution
Adam Laxalt
2018 Annual CE Filing
Jay Bloom
12/12/2017
$5,000.00
Monetary Contribution
Steve Sisolak
2018 Annual CE Filing (Amended)
Jay Brown
9/21/2015
$10,000.00
Monetary Contribution
Steve Sisolak
2016 Annual CE Filing
Jay Francis
2/7/2018
$5,000.00
Monetary Contribution
Adam Laxalt
2018 CE Report 1
Jay H Brown
9/1/2017
$10,000.00
Monetary Contribution
Steve Sisolak
2018 Annual CE Filing (Amended)
Jay Heller
11/18/2017
$1,000.00
Monetary Contribution
Steve Sisolak
2018 Annual CE Filing (Amended)
Jay Heller
6/24/2016
$3,000.00
Monetary Contribution
Steve Sisolak
2016 CE Report 3
Jay Heller
4/11/2015
$1,000.00
Monetary Contribution
Steve Sisolak
2016 Annual CE Filing
Jay Zeidman
5/29/2018
$1,000.00
Monetary Contribution
Adam Laxalt
2018 CE Report 2
Jayana Dils
5/31/2017
$5,000.00
Monetary Contribution
Adam Laxalt
2018 Annual CE Filing
Jayana Dils
5/31/2017
$5,000.00
Monetary Contribution
Adam Laxalt
2018 Annual CE Filing
JB Lekumberry
5/15/2018
$1,000.00
Monetary Contribution
Adam Laxalt
2018 CE Report 1
JBW Consulting LLC
4/27/2015
$250.00
Monetary Contribution
Steve Sisolak
2016 Annual CE Filing
JBW Consulting LLC
12/6/2016
$1,000.00
Monetary Contribution
Steve Sisolak
2016 CE Report 5 (Amended)
JC Arrow Investments LLC
11/15/2017
$250.00
Monetary Contribution
Adam Laxalt
2018 Annual CE Filing
Jean Tobman
9/9/2015
$2,500.00
Monetary Contribution
Steve Sisolak
2016 Annual CE Filing
Jean Tobman
3/3/2016
$2,500.00
Monetary Contribution
Steve Sisolak
2016 CE Report 1
Jean Ventures LLC
10/24/2017
$10,000.00
Monetary Contribution
Steve Sisolak
2018 Annual CE Filing (Amended)
Jean Zahn
2/18/2018
$100.00
Monetary Contribution
Steve Sisolak
2018 CE Report 1 (Amended)
Jean Zahn
5/20/2018
$50.00
Monetary Contribution
Steve Sisolak
2018 CE Report 2 (Amended)
Jeanette D. Jensen
5/29/2018
$50.00
Monetary Contribution
Adam Laxalt
2018 CE Report 2
Jeanette I Sabol
5/2/2018
$50.00
Monetary Contribution
Adam Laxalt
2018 CE Report 1
Jeanette Lynn
5/11/2018
$50.00
Monetary Contribution
Steve Sisolak
2018 CE Report 1 (Amended)
Jeanette V. Porter
11/9/2017
$50.00
Monetary Contribution
Adam Laxalt
2018 Annual CE Filing
Jeff Cobain
12/8/2017
$100.00
Monetary Contribution
Adam Laxalt
2018 Annual CE Filing
Jeff Cobain
6/6/2018
$100.00
Monetary Contribution
Adam Laxalt
2018 CE Report 2
Jeff Heyer Insurance Agency
4/14/2017
$100.00
Monetary Contribution
Adam Laxalt
2018 Annual CE Filing
Jeff Miller
7/24/2017
$2,500.00
Monetary Contribution
Adam Laxalt
2018 Annual CE Filing
Jeff T. Mueller
2/16/2018
$500.00
Monetary Contribution
Adam Laxalt
2018 CE Report 1
Jeff Vilkin
10/18/2017
$1,000.00
Monetary Contribution
Adam Laxalt
2018 Annual CE Filing
Jefferson Guimond
3/25/2015
$500.00
Monetary Contribution
Adam Laxalt
2016 Annual CE Filing
Jeffery Clemons
1/24/2018
$500.00
Monetary Contribution
Steve Sisolak
2018 CE Report 1 (Amended)
Jeffery E. Fegert
3/30/2018
$500.00
Monetary Contribution
Adam Laxalt
2018 CE Report 1
Jeffrey Berns
5/14/2018
$5,000.00
Monetary Contribution
Steve Sisolak
2018 CE Report 1 (Amended)
Jeffrey Deal
11/2/2017
$100.00
Monetary Contribution
Adam Laxalt
2018 Annual CE Filing
Jeffrey Deal
11/9/2017
$85.00
Monetary Contribution
Adam Laxalt
2018 Annual CE Filing
Jeffrey Ehret
7/26/2017
$5,000.00
Monetary Contribution
Steve Sisolak
2018 Annual CE Filing (Amended)
Jeffrey H. Ehret
11/9/2017
$2,500.00
Monetary Contribution
Adam Laxalt
2018 Annual CE Filing
Jeffrey Iverson
5/2/2018
$1,000.00
Monetary Contribution
Adam Laxalt
2018 CE Report 1
Jeffrey J Roth
6/1/2018
$500.00
Monetary Contribution
Steve Sisolak
2018 CE Report 2 (Amended)
Jeffrey J. Sharrits
4/1/2017
$50.00
Monetary Contribution
Adam Laxalt
2018 Annual CE Filing
Jeffrey J. Sharrits
5/1/2017
$50.00
Monetary Contribution
Adam Laxalt
2018 Annual CE Filing
Jeffrey L. Graves Canarelli Irrevocable Trust
9/1/2015
$5,000.00
Monetary Contribution
Steve Sisolak
2016 Annual CE Filing
Jeffrey Masini
5/28/2015
$1,000.00
Monetary Contribution
Steve Sisolak
2016 Annual CE Filing
Jeffrey Ross Gunter MD Inc.
2/2/2018
$5,000.00
Monetary Contribution
Adam Laxalt
2018 CE Report 1
Jeffrey Ross Gunter MD Inc.
2/2/2018
$5,000.00
Monetary Contribution
Adam Laxalt
2018 CE Report 1
Jeffrey Sharrits
2/9/2016
$50.00
Monetary Contribution
Adam Laxalt
2017 Annual CE Filing
Jeffrey Silver
12/24/2015
$1,000.00
Monetary Contribution
Steve Sisolak
2016 Annual CE Filing
Jeffrey Steffen
11/30/2016
$100.00
Monetary Contribution
Adam Laxalt
2017 Annual CE Filing
Jeffrey T. Welch
11/9/2017
$2,500.00
Monetary Contribution
Adam Laxalt
2018 Annual CE Filing
Jeffrey Thomson
11/28/2017
$2,500.00
Monetary Contribution
Steve Sisolak
2018 Annual CE Filing (Amended)
Jeffrey Thomson
4/13/2017
$2,000.00
Monetary Contribution
Steve Sisolak
2018 Annual CE Filing (Amended)
Jenco Productions
1/16/2018
$500.00
Monetary Contribution
Adam Laxalt
2018 CE Report 1
Jennifer Saragnese
4/4/2018
$100.00
Monetary Contribution
Steve Sisolak
2018 CE Report 1 (Amended)
Jensen Precast
12/30/2016
$500.00
Monetary Contribution
Adam Laxalt
2017 Annual CE Filing
Jeremy Page
8/28/2017
$5,000.00
Monetary Contribution
Adam Laxalt
2018 Annual CE Filing
Jeremy Page
8/28/2017
$5,000.00
Monetary Contribution
Adam Laxalt
2018 Annual CE Filing
Jeri S. Crawford
3/14/2018
$5,000.00
Monetary Contribution
Adam Laxalt
2018 CE Report 1
Jerry E. Simms
2/16/2018
$2,000.00
Monetary Contribution
Adam Laxalt
2018 CE Report 1
Jerry Frey
11/8/2017
$250.00
Monetary Contribution
Adam Laxalt
2018 Annual CE Filing
Jerry Hayden
2/16/2018
$1,000.00
Monetary Contribution
Adam Laxalt
2018 CE Report 1
Jerry Masini
7/31/2017
$2,000.00
Monetary Contribution
Steve Sisolak
2018 Annual CE Filing (Amended)
Jerry Matsumura
4/19/2018
$1,000.00
Monetary Contribution
Adam Laxalt
2018 CE Report 1
Jerry Matsumura
11/3/2016
$2,500.00
Monetary Contribution
Adam Laxalt
2017 Annual CE Filing
Jerry Matsumura
5/30/2017
$2,500.00
Monetary Contribution
Adam Laxalt
2018 Annual CE Filing
Jerry Matsumura
11/6/2017
$2,500.00
Monetary Contribution
Adam Laxalt
2018 Annual CE Filing
Jerry Matsumura
12/18/2017
$1,000.00
Monetary Contribution
Adam Laxalt
2018 Annual CE Filing
Jerry Nansel
1/18/2018
$50.00
Monetary Contribution
Adam Laxalt
2018 CE Report 1
Jerry Nansel
2/9/2018
$50.00
Monetary Contribution
Adam Laxalt
2018 CE Report 1
Jerry Nansel
2/28/2018
$50.00
Monetary Contribution
Adam Laxalt
2018 CE Report 1
Jerry O. Newman
6/5/2018
$100.00
Monetary Contribution
Adam Laxalt
2018 CE Report 2
Jerry O. Newman
11/9/2017
$50.00
Monetary Contribution
Adam Laxalt
2018 Annual CE Filing
Jerry Scolari
4/21/2017
$500.00
Monetary Contribution
Adam Laxalt
2018 Annual CE Filing
Jerry Scolari
12/18/2017
$500.00
Monetary Contribution
Adam Laxalt
2018 Annual CE Filing
Jerry Shapiro Inc.
12/27/2017
$3,000.00
Monetary Contribution
Adam Laxalt
2018 Annual CE Filing
Jerry's Nugget
7/18/2017
$10,000.00
Monetary Contribution
Steve Sisolak
2018 Annual CE Filing (Amended)
Jesse C. Waits
11/9/2017
$1,500.00
Monetary Contribution
Adam Laxalt
2018 Annual CE Filing
Jett Gaming LLC
6/12/2015
$5,000.00
Monetary Contribution
Steve Sisolak
2016 Annual CE Filing
Jett Gaming LLC
5/14/2018
$5,000.00
Monetary Contribution
Adam Laxalt
2018 CE Report 1
Jett Gaming LLC
5/14/2018
$5,000.00
Monetary Contribution
Adam Laxalt
2018 CE Report 1
Jewel Anderson
6/22/2017
$50.00
Monetary Contribution
Adam Laxalt
2018 Annual CE Filing
Jewel L. Dixon
5/8/2017
$50.00
Monetary Contribution
Adam Laxalt
2018 Annual CE Filing
Jewel L. Dixon
6/26/2017
$100.00
Monetary Contribution
Adam Laxalt
2018 Annual CE Filing
Jewll Creigh
2/27/2018
$50.00
Monetary Contribution
Adam Laxalt
2018 CE Report 1
JFK Financial Inc.
1/30/2018
$1,000.00
Monetary Contribution
Steve Sisolak
2018 CE Report 1 (Amended)
JHJM Nevada I LLC
6/1/2015
$10,000.00
Monetary Contribution
Steve Sisolak
2016 Annual CE Filing
Jill Ann Fertitta
11/9/2017
$5,000.00
Monetary Contribution
Adam Laxalt
2018 Annual CE Filing
Jill Ann Fertitta
11/9/2017
$5,000.00
Monetary Contribution
Adam Laxalt
2018 Annual CE Filing
Jim Click
1/25/2018
$5,000.00
Monetary Contribution
Adam Laxalt
2018 CE Report 1
Jim Laughton
5/15/2017
$100.00
Monetary Contribution
Adam Laxalt
2018 Annual CE Filing
Jim Laughton
2/23/2018
$500.00
Monetary Contribution
Adam Laxalt
2018 CE Report 1
Jim Marsh Automotive
1/14/2016
$250.00
Monetary Contribution
Steve Sisolak
2016 CE Report 1
Jim Trevino
12/7/2017
$1,000.00
Monetary Contribution
Steve Sisolak
2018 Annual CE Filing (Amended)
Jimmerson Law Firm
11/8/2016
$5,000.00
Monetary Contribution
Steve Sisolak
2016 CE Report 5 (Amended)
Jimmy A. Gibbons
4/19/2018
$99.00
Monetary Contribution
Adam Laxalt
2018 CE Report 1
Jimmy Westcott
5/29/2018
$2,500.00
Monetary Contribution
Adam Laxalt
2018 CE Report 2
Jintana Patnaude
6/1/2018
$150.00
Monetary Contribution
Adam Laxalt
2018 CE Report 2
Jintana Patnaude
5/11/2017
$200.00
Monetary Contribution
Adam Laxalt
2018 Annual CE Filing
Jintana Patnaude
11/9/2017
$250.00
Monetary Contribution
Adam Laxalt
2018 Annual CE Filing
Jintana Patnaude
12/21/2017
$100.00
Monetary Contribution
Adam Laxalt
2018 Annual CE Filing
JJMS Limited Partnership
11/27/2017
$2,000.00
Monetary Contribution
Steve Sisolak
2018 Annual CE Filing (Amended)
Jo Leitch
12/17/2017
$100.00
Monetary Contribution
Steve Sisolak
2018 Annual CE Filing (Amended)
Joan E. Reid
11/15/2017
$100.00
Monetary Contribution
Adam Laxalt
2018 Annual CE Filing
Joan Gibb
3/2/2018
$500.00
Monetary Contribution
Adam Laxalt
2018 CE Report 1
Joan Gibb
6/7/2017
$250.00
Monetary Contribution
Adam Laxalt
2018 Annual CE Filing
Joan Hammer
10/19/2017
$2,000.00
Monetary Contribution
Steve Sisolak
2018 Annual CE Filing (Amended)
Joan Hammer
5/25/2016
$2,000.00
Monetary Contribution
Steve Sisolak
2016 CE Report 2
Joan Hammer
6/1/2016
$2,000.00
Monetary Contribution
Steve Sisolak
2016 CE Report 2
Joan Patrick
4/19/2017
$1,000.00
Monetary Contribution
Adam Laxalt
2018 Annual CE Filing
Joanellen H. Slocumb
11/20/2017
$50.00
Monetary Contribution
Adam Laxalt
2018 Annual CE Filing
Joanellen H. Slocumb
6/1/2018
$50.00
Monetary Contribution
Adam Laxalt
2018 CE Report 2
Joanellen H. Slocumb
2/19/2018
$50.00
Monetary Contribution
Adam Laxalt
2018 CE Report 1
Joanellen H. Slocumb
4/12/2018
$50.00
Monetary Contribution
Adam Laxalt
2018 CE Report 1
JoAnn Eklund
2/23/2018
$100.00
Monetary Contribution
Adam Laxalt
2018 CE Report 1
Joann Fanticola
3/6/2018
$5,000.00
Monetary Contribution
Steve Sisolak
2018 CE Report 1 (Amended)
Joanna Smith
4/30/2018
$50.00
Monetary Contribution
Adam Laxalt
2018 CE Report 1
Joanne M. Campbell
2/19/2018
$100.00
Monetary Contribution
Adam Laxalt
2018 CE Report 1
Joanne M. Campbell
4/17/2017
$50.00
Monetary Contribution
Adam Laxalt
2018 Annual CE Filing
Jody Walker Belsick
5/24/2018
$3,500.00
Monetary Contribution
Steve Sisolak
2018 CE Report 2 (Amended)
Joe E. Gardner
4/17/2017
$250.00
Monetary Contribution
Adam Laxalt
2018 Annual CE Filing
Joe E. Gardner
12/8/2017
$500.00
Monetary Contribution
Adam Laxalt
2018 Annual CE Filing
Joe E. Gardner
11/8/2017
$500.00
Monetary Contribution
Adam Laxalt
2018 Annual CE Filing
Joe E. Gardner
2/9/2018
$500.00
Monetary Contribution
Adam Laxalt
2018 CE Report 1
Joe E. Gardner
3/29/2018
$500.00
Monetary Contribution
Adam Laxalt
2018 CE Report 1
Joe E. Gardner
5/17/2018
$250.00
Monetary Contribution
Adam Laxalt
2018 CE Report 1
Joe Lamarca
11/8/2017
$10,000.00
Monetary Contribution
Steve Sisolak
2018 Annual CE Filing (Amended)
Joe Nevenfeldt
4/5/2018
$100.00
Monetary Contribution
Steve Sisolak
2018 CE Report 1 (Amended)
Joe Silverman
12/8/2017
$100.00
Monetary Contribution
Adam Laxalt
2018 Annual CE Filing
Joe Suarez
3/28/2018
$50.00
Monetary Contribution
Adam Laxalt
2018 CE Report 1
Joe Titus
12/26/2017
$3,000.00
Monetary Contribution
Adam Laxalt
2018 Annual CE Filing
Joe's Bar Inc. dba Bighorn Casino
8/30/2016
$1,000.00
Monetary Contribution
Steve Sisolak
2016 CE Report 3
Joel A. Laub
4/4/2018
$5,000.00
Monetary Contribution
Adam Laxalt
2018 CE Report 1
Joel A. Laub
4/4/2018
$5,000.00
Monetary Contribution
Adam Laxalt
2018 CE Report 1
Joel D. Bergman Living Trust
6/7/2015
$2,500.00
Monetary Contribution
Steve Sisolak
2016 Annual CE Filing
Joel Lubritz Family Trust
5/16/2015
$1,000.00
Monetary Contribution
Steve Sisolak
2016 Annual CE Filing
Joel Lubritz Family Trust
9/19/2016
$1,000.00
Monetary Contribution
Steve Sisolak
2016 CE Report 3
Joel Lubritz Family Trust
6/26/2017
$2,500.00
Monetary Contribution
Steve Sisolak
2018 Annual CE Filing (Amended)
Joel Williams
3/28/2018
$100.00
Monetary Contribution
Adam Laxalt
2018 CE Report 1
Joey E. Scolari
12/18/2017
$500.00
Monetary Contribution
Adam Laxalt
2018 Annual CE Filing
John & Daelyn Buch
12/9/2015
$2,000.00
Monetary Contribution
Steve Sisolak
2016 Annual CE Filing
John & Sally Bedotto
4/24/2017
$250.00
Monetary Contribution
Adam Laxalt
2018 Annual CE Filing
John A Staluppi, Jr.
1/25/2018
$5,000.00
Monetary Contribution
Steve Sisolak
2018 CE Report 1 (Amended)
John A. Bowers M.D., Ltd.
12/7/2017
$2,000.00
Monetary Contribution
Steve Sisolak
2018 Annual CE Filing (Amended)
John A. Bowers M.D., Ltd.
4/12/2016
$1,000.00
Monetary Contribution
Steve Sisolak
2016 CE Report 1
John A. Coombs
6/22/2017
$50.00
Monetary Contribution
Adam Laxalt
2018 Annual CE Filing
John A. Coombs
2/19/2018
$50.00
Monetary Contribution
Adam Laxalt
2018 CE Report 1
John B Ottolenghi
3/26/2018
$100.00
Monetary Contribution
Steve Sisolak
2018 CE Report 1 (Amended)
John B. Phillips
11/9/2017
$1,000.00
Monetary Contribution
Adam Laxalt
2018 Annual CE Filing
John Bielinski
11/7/2016
$500.00
Monetary Contribution
Steve Sisolak
2016 CE Report 5 (Amended)
John Bolton PAC
12/29/2017
$5,000.00
Monetary Contribution
Adam Laxalt
2018 Annual CE Filing
John Breslow
11/8/2016
$10,000.00
Monetary Contribution
Steve Sisolak
2016 CE Report 5 (Amended)
John Burt
5/3/2017
$100.00
Monetary Contribution
Adam Laxalt
2018 Annual CE Filing
John C. Castel
4/19/2018
$1,500.00
Monetary Contribution
Adam Laxalt
2018 CE Report 1
John C. Norton
11/9/2017
$150.00
Monetary Contribution
Adam Laxalt
2018 Annual CE Filing
John Catsimatidis
6/1/2018
$5,000.00
Monetary Contribution
Adam Laxalt
2018 CE Report 2
John Curtis
4/19/2017
$50.00
Monetary Contribution
Adam Laxalt
2018 Annual CE Filing
John Curtis
6/28/2017
$50.00
Monetary Contribution
Adam Laxalt
2018 Annual CE Filing
John D. Laspaluto
4/16/2018
$50.00
Monetary Contribution
Adam Laxalt
2018 CE Report 1
John D. Laspaluto
4/19/2018
$50.00
Monetary Contribution
Adam Laxalt
2018 CE Report 1
John D. Madole
12/21/2017
$50.00
Monetary Contribution
Adam Laxalt
2018 Annual CE Filing
John D. Stanley
4/23/2018
$100.00
Monetary Contribution
Adam Laxalt
2018 CE Report 1
John Daily
5/18/2018
$3,000.00
Monetary Contribution
Adam Laxalt
2018 CE Report 1
John David Burke
5/2/2016
$1,000.00
Monetary Contribution
Steve Sisolak
2016 CE Report 1
John David Burke
11/28/2017
$1,000.00
Monetary Contribution
Steve Sisolak
2018 Annual CE Filing (Amended)
John E Bragonje
12/5/2016
$200.00
Monetary Contribution
Adam Laxalt
2017 Annual CE Filing
John E. Shulze
7/7/2017
$50.00
Monetary Contribution
Adam Laxalt
2018 Annual CE Filing
John E. Yoxen
4/13/2018
$500.00
Monetary Contribution
Adam Laxalt
2018 CE Report 1
John Edward Girard
1/22/2018
$2,500.00
Monetary Contribution
Steve Sisolak
2018 CE Report 1 (Amended)
John Ellison
6/1/2018
$1,500.00
In Kind Contribution
Adam Laxalt
2018 CE Report 2
John Ensign
12/21/2016
$5,000.00
Monetary Contribution
Adam Laxalt
2017 Annual CE Filing
John Ensign
12/20/2017
$5,000.00
Monetary Contribution
Adam Laxalt
2018 Annual CE Filing
John Estill
4/30/2018
$500.00
Monetary Contribution
Adam Laxalt
2018 CE Report 1
John F Marchiano, Professional Law Corp
12/30/2015
$5,000.00
Monetary Contribution
Steve Sisolak
2016 Annual CE Filing
John F. Burns
11/1/2017
$500.00
Monetary Contribution
Adam Laxalt
2018 Annual CE Filing
John F. Dorman
2/19/2018
$50.00
Monetary Contribution
Adam Laxalt
2018 CE Report 1
John F. Marchiano, A Professional Law Corp.
7/17/2017
$10,000.00
Monetary Contribution
Steve Sisolak
2018 Annual CE Filing (Amended)
John Filler
4/3/2018
$1,000.00
Monetary Contribution
Steve Sisolak
2018 CE Report 1 (Amended)
John G. Malcolm
12/10/2016
$500.00
Monetary Contribution
Adam Laxalt
2017 Annual CE Filing
John G. Sullivan
7/1/2015
$1,000.00
Monetary Contribution
Steve Sisolak
2016 Annual CE Filing
John Galloway
8/10/2016
$50.00
Monetary Contribution
Adam Laxalt
2017 Annual CE Filing
John Galloway
11/30/2017
$50.00
Monetary Contribution
Adam Laxalt
2018 Annual CE Filing
John Griffiths
5/14/2018
$1,000.00
Monetary Contribution
Adam Laxalt
2018 CE Report 1
John H Falb
1/9/2018
$5,000.00
Monetary Contribution
Adam Laxalt
2018 CE Report 1
John H Falb
5/18/2018
$5,000.00
Monetary Contribution
Adam Laxalt
2018 CE Report 1
John Henner
12/30/2017
$2,500.00
Monetary Contribution
Adam Laxalt
2018 Annual CE Filing
John J Lee MD Chartered A Professional Corporation
4/12/2016
$1,000.00
Monetary Contribution
Steve Sisolak
2016 CE Report 1
John J. Knott
3/21/2018
$5,000.00
Monetary Contribution
Steve Sisolak
2018 CE Report 1 (Amended)
John J. Knott
2/27/2018
$5,000.00
In Kind Contribution
Steve Sisolak
2018 CE Report 1 (Amended)
John J. Lee, M.D., Chartered A Professional Corp.
12/13/2017
$1,000.00
Monetary Contribution
Steve Sisolak
2018 Annual CE Filing (Amended)
John J. Momot Attorney At Law
10/27/2016
$500.00
Monetary Contribution
Steve Sisolak
2016 CE Report 4
John J. Ying
3/9/2017
$5,000.00
Monetary Contribution
Adam Laxalt
2018 Annual CE Filing
John J. Ying
3/9/2017
$5,000.00
Monetary Contribution
Adam Laxalt
2018 Annual CE Filing
John Klai
8/18/2017
$500.00
Monetary Contribution
Steve Sisolak
2018 Annual CE Filing (Amended)
John Klai
3/21/2018
$300.00
Monetary Contribution
Steve Sisolak
2018 CE Report 1 (Amended)
John Klai
3/19/2018
$300.00
Monetary Contribution
Steve Sisolak
2018 CE Report 1 (Amended)
John L. Dawkins
5/30/2018
$500.00
Monetary Contribution
Adam Laxalt
2018 CE Report 2
John L. Moriarity
3/8/2018
$300.00
Monetary Contribution
Adam Laxalt
2018 CE Report 1
John L. Nau
5/29/2018
$5,000.00
Monetary Contribution
Adam Laxalt
2018 CE Report 2
John Lai
5/18/2018
$100.00
Monetary Contribution
Adam Laxalt
2018 CE Report 1
John Laurence Walker
6/1/2018
$450.00
Monetary Contribution
Adam Laxalt
2018 CE Report 2
John Laurence Walker
5/5/2017
$150.00
Monetary Contribution
Adam Laxalt
2018 Annual CE Filing
John Laurence Walker
11/15/2017
$300.00
Monetary Contribution
Adam Laxalt
2018 Annual CE Filing
John Lynn
6/5/2017
$100.00
Monetary Contribution
Adam Laxalt
2018 Annual CE Filing
John McKean
3/24/2018
$100.00
Monetary Contribution
Adam Laxalt
2018 CE Report 1
John Morrey
3/8/2018
$3,000.00
Monetary Contribution
Adam Laxalt
2018 CE Report 1
John Morrey
5/3/2018
$3,000.00
Monetary Contribution
Adam Laxalt
2018 CE Report 1
John Morrey
3/31/2015
$2,000.00
Monetary Contribution
Adam Laxalt
2016 Annual CE Filing
John N. Scott
5/4/2018
$50.00
Monetary Contribution
Adam Laxalt
2018 CE Report 1
John Nowak
4/13/2018
$199.00
Monetary Contribution
Adam Laxalt
2018 CE Report 1
John O'Hara
7/5/2017
$1,000.00
Monetary Contribution
Adam Laxalt
2018 Annual CE Filing
John P. Elliott
2/23/2018
$100.00
Monetary Contribution
Adam Laxalt
2018 CE Report 1
John P. Sande
5/26/2017
$2,500.00
Monetary Contribution
Adam Laxalt
2018 Annual CE Filing
John P. Sande
11/9/2017
$1,000.00
Monetary Contribution
Adam Laxalt
2018 Annual CE Filing
John Pritzlaff
6/7/2018
$1,000.00
Monetary Contribution
Adam Laxalt
2018 CE Report 2
John R. Gibson
12/21/2016
$5,000.00
Monetary Contribution
Adam Laxalt
2017 Annual CE Filing
John R. Gibson
12/21/2016
$5,000.00
Monetary Contribution
Adam Laxalt
2017 Annual CE Filing
John R. Lonborg
3/6/2018
$100.00
Monetary Contribution
Adam Laxalt
2018 CE Report 1
John R. McCall
5/29/2018
$1,000.00
Monetary Contribution
Adam Laxalt
2018 CE Report 2
John R. Sill
2/20/2018
$50.00
Monetary Contribution
Adam Laxalt
2018 CE Report 1
John Repetti
3/1/2018
$1,000.00
Monetary Contribution
Adam Laxalt
2018 CE Report 1
John Rosich
12/18/2017
$200.00
Monetary Contribution
Steve Sisolak
2018 Annual CE Filing (Amended)
John S. Adams
5/8/2017
$50.00
Monetary Contribution
Adam Laxalt
2018 Annual CE Filing
John Shook
7/27/2017
$1,000.00
Monetary Contribution
Steve Sisolak
2018 Annual CE Filing (Amended)
John Smith
2/27/2018
$500.00
Monetary Contribution
Steve Sisolak
2018 CE Report 1 (Amended)
John Snider
5/14/2018
$100.00
Monetary Contribution
Adam Laxalt
2018 CE Report 1
John Staluppi
10/16/2015
$3,500.00
Monetary Contribution
Steve Sisolak
2016 Annual CE Filing
John Staluppi, Jr.
4/14/2016
$5,000.00
Monetary Contribution
Steve Sisolak
2016 CE Report 1
John Stevo
4/19/2018
$100.00
Monetary Contribution
Steve Sisolak
2018 CE Report 1 (Amended)
John T Moran III ESQ., PC
8/17/2015
$5,000.00
Monetary Contribution
Steve Sisolak
2016 Annual CE Filing
John T. Benson
4/18/2018
$100.00
Monetary Contribution
Adam Laxalt
2018 CE Report 1
John T. McEnroe
5/14/2018
$3,500.00
Monetary Contribution
Adam Laxalt
2018 CE Report 1
John T. Wells
3/9/2018
$50.00
Monetary Contribution
Adam Laxalt
2018 CE Report 1
John T. Wells
4/18/2018
$75.00
Monetary Contribution
Adam Laxalt
2018 CE Report 1
John T. Wells
5/8/2017
$50.00
Monetary Contribution
Adam Laxalt
2018 Annual CE Filing
John T. Wells
9/29/2017
$250.00
Monetary Contribution
Adam Laxalt
2018 Annual CE Filing
John Tippins
7/19/2017
$2,500.00
Monetary Contribution
Steve Sisolak
2018 Annual CE Filing (Amended)
John Tom Ross
12/15/2015
$1,000.00
Monetary Contribution
Adam Laxalt
2016 Annual CE Filing
John V Tramonte
3/27/2018
$1,000.00
Monetary Contribution
Adam Laxalt
2018 CE Report 1
John W. Mullinix
11/13/2017
$50.00
Monetary Contribution
Adam Laxalt
2018 Annual CE Filing
John Younesi
1/23/2015
$500.00
Monetary Contribution
Adam Laxalt
2016 Annual CE Filing
Joice Rhee
4/15/2018
$100.00
Monetary Contribution
Adam Laxalt
2018 CE Report 1
Jon Bircheff
11/1/2017
$250.00
Monetary Contribution
Adam Laxalt
2018 Annual CE Filing
Jon Christopher Porter
7/24/2017
$500.00
Monetary Contribution
Adam Laxalt
2018 Annual CE Filing
Jon Richard Abajian
10/24/2017
$2,500.00
Monetary Contribution
Steve Sisolak
2018 Annual CE Filing (Amended)
Jonathan Jorgan
5/31/2018
$50.00
Monetary Contribution
Steve Sisolak
2018 CE Report 2 (Amended)
Jonathan Sussman
12/28/2017
$100.00
Monetary Contribution
Steve Sisolak
2018 Annual CE Filing (Amended)
Jones Patrick
5/20/2015
$500.00
Monetary Contribution
Steve Sisolak
2016 Annual CE Filing
Joni Eastley
2/8/2016
$100.00
Monetary Contribution
Adam Laxalt
2017 Annual CE Filing
Joni Eastley
4/28/2016
$50.00
Monetary Contribution
Adam Laxalt
2017 Annual CE Filing
Jose & Mabelle Aquino
3/29/2016
$1,000.00
Monetary Contribution
Steve Sisolak
2016 CE Report 1
Jose Aquino
11/30/2017
$1,000.00
Monetary Contribution
Steve Sisolak
2018 Annual CE Filing (Amended)
Jose Lucas Marin
4/5/2018
$200.00
Monetary Contribution
Steve Sisolak
2018 CE Report 1 (Amended)
Jose Madrid
4/16/2018
$100.00
Monetary Contribution
Adam Laxalt
2018 CE Report 1
Joseph & Monica L. Garin
10/28/2015
$500.00
Monetary Contribution
Steve Sisolak
2016 Annual CE Filing
Joseph A. Haley
11/9/2017
$2,500.00
Monetary Contribution
Adam Laxalt
2018 Annual CE Filing
Joseph A. Parks
5/16/2018
$100.00
Monetary Contribution
Adam Laxalt
2018 CE Report 1
Joseph Adashek
2/28/2018
$1,000.00
Monetary Contribution
Steve Sisolak
2018 CE Report 1 (Amended)
Joseph Carleone
12/12/2016
$5,000.00
Monetary Contribution
Adam Laxalt
2017 Annual CE Filing
Joseph Carleone
12/11/2015
$5,000.00
Monetary Contribution
Adam Laxalt
2016 Annual CE Filing
Joseph Demma
2/13/2018
$50.00
Monetary Contribution
Adam Laxalt
2018 CE Report 1
Joseph DeSimone
12/15/2015
$5,000.00
Monetary Contribution
Adam Laxalt
2016 Annual CE Filing
Joseph DeSimone Jr.
10/20/2016
$5,000.00
Monetary Contribution
Adam Laxalt
2017 Annual CE Filing
Joseph DiSimone
2/12/2018
$500.00
Monetary Contribution
Steve Sisolak
2018 CE Report 1 (Amended)
Joseph E. diGenova
7/24/2017
$500.00
Monetary Contribution
Adam Laxalt
2018 Annual CE Filing
Joseph Essa
12/14/2017
$250.00
Monetary Contribution
Adam Laxalt
2018 Annual CE Filing
Joseph G. Jensen
6/4/2018
$50.00
Monetary Contribution
Adam Laxalt
2018 CE Report 2
Joseph G. Kircher
6/4/2018
$100.00
Monetary Contribution
Adam Laxalt
2018 CE Report 2
Joseph G. Kircher
3/1/2018
$250.00
Monetary Contribution
Adam Laxalt
2018 CE Report 1
Joseph G. Maloof
6/4/2015
$2,000.00
Monetary Contribution
Steve Sisolak
2016 Annual CE Filing
JOSEPH J. FINNEGAN
2/28/2018
$1,500.00
Monetary Contribution
Adam Laxalt
2018 CE Report 1
Joseph J. Hasson
11/9/2017
$2,500.00
Monetary Contribution
Adam Laxalt
2018 Annual CE Filing
Joseph Kennedy
2/27/2018
$500.00
Monetary Contribution
Steve Sisolak
2018 CE Report 1 (Amended)
Joseph Kennedy
2/27/2018
$500.00
Monetary Contribution
Steve Sisolak
2018 CE Report 1 (Amended)
Joseph Lavery
2/25/2018
$50.00
Monetary Contribution
Adam Laxalt
2018 CE Report 1
Joseph M. Asher
4/5/2018
$500.00
Monetary Contribution
Steve Sisolak
2018 CE Report 1 (Amended)
Joseph M. DeSimone
3/30/2018
$500.00
Monetary Contribution
Adam Laxalt
2018 CE Report 1
Joseph M. Wilcock
3/30/2018
$500.00
Monetary Contribution
Adam Laxalt
2018 CE Report 1
Joseph Madraso
12/9/2017
$100.00
Monetary Contribution
Adam Laxalt
2018 Annual CE Filing
Joseph Morabito
3/22/2018
$250.00
Monetary Contribution
Adam Laxalt
2018 CE Report 1
Joseph Otting
6/6/2018
$5,000.00
Monetary Contribution
Adam Laxalt
2018 CE Report 2
Joseph Otting
6/6/2018
$5,000.00
Monetary Contribution
Adam Laxalt
2018 CE Report 2
Joseph P Micatrotto
11/27/2017
$500.00
Monetary Contribution
Steve Sisolak
2018 Annual CE Filing (Amended)
Joseph P Micatrotto
11/20/2017
$1,000.00
Monetary Contribution
Steve Sisolak
2018 Annual CE Filing (Amended)
Joseph P. Healy
11/27/2017
$50.00
Monetary Contribution
Adam Laxalt
2018 Annual CE Filing
Joseph R. Cameli
5/31/2018
$55.00
Monetary Contribution
Adam Laxalt
2018 CE Report 2
Joseph R. McKee
6/30/2017
$50.00
Monetary Contribution
Adam Laxalt
2018 Annual CE Filing
Joseph R. McKee
11/5/2017
$50.00
Monetary Contribution
Adam Laxalt
2018 Annual CE Filing
Joseph R. McMullen
11/20/2017
$100.00
Monetary Contribution
Adam Laxalt
2018 Annual CE Filing
Joseph R. McMullen
6/1/2018
$100.00
Monetary Contribution
Adam Laxalt
2018 CE Report 2
Joseph S. Gilbert
3/8/2018
$1,000.00
Monetary Contribution
Adam Laxalt
2018 CE Report 1
Joseph S. Pounder
7/24/2017
$500.00
Monetary Contribution
Adam Laxalt
2018 Annual CE Filing
Joseph S. Wickman
12/30/2016
$1,000.00
Monetary Contribution
Adam Laxalt
2017 Annual CE Filing
Joseph Shalev
2/23/2018
$1,000.00
Monetary Contribution
Adam Laxalt
2018 CE Report 1
Joseph Sorge
10/23/2017
$10,000.00
Monetary Contribution
Steve Sisolak
2018 Annual CE Filing (Amended)
Joseph Tartakovsky
1/3/2018
$250.00
Monetary Contribution
Adam Laxalt
2018 CE Report 1
Joseph Vranesh
6/7/2018
$100.00
Monetary Contribution
Adam Laxalt
2018 CE Report 2
Joseph Vranesh
12/22/2017
$100.00
Monetary Contribution
Adam Laxalt
2018 Annual CE Filing
Joseph W. Brown
12/19/2016
$1,000.00
Monetary Contribution
Adam Laxalt
2017 Annual CE Filing
Joseph W. Brown
5/26/2017
$2,500.00
Monetary Contribution
Adam Laxalt
2018 Annual CE Filing
Joseph W. Brown
11/9/2017
$1,000.00
Monetary Contribution
Adam Laxalt
2018 Annual CE Filing
Joseph Wyatt
6/4/2018
$100.00
Monetary Contribution
Adam Laxalt
2018 CE Report 2
Josephine Peterson
6/6/2018
$150.00
Monetary Contribution
Adam Laxalt
2018 CE Report 2
Josephine Peterson
3/2/2018
$100.00
Monetary Contribution
Adam Laxalt
2018 CE Report 1
Josephine Peterson
4/18/2018
$100.00
Monetary Contribution
Adam Laxalt
2018 CE Report 1
Josephine Peterson
5/23/2017
$100.00
Monetary Contribution
Adam Laxalt
2018 Annual CE Filing
Josephine Peterson
11/22/2017
$200.00
Monetary Contribution
Adam Laxalt
2018 Annual CE Filing
Joshua Kearney
6/23/2016
$10,000.00
Monetary Contribution
Steve Sisolak
2016 CE Report 3
Joshua Millan
11/16/2017
$100.00
Monetary Contribution
Steve Sisolak
2018 Annual CE Filing (Amended)
Joshua Miller
12/14/2017
$5,000.00
Monetary Contribution
Adam Laxalt
2018 Annual CE Filing
Joshua Pianko
4/10/2018
$350.00
Monetary Contribution
Adam Laxalt
2018 CE Report 1
Joshua Samuel Millan
9/23/2017
$250.00
Monetary Contribution
Adam Laxalt
2018 Annual CE Filing
Joy Marie Simon
6/1/2017
$500.00
Monetary Contribution
Adam Laxalt
2018 Annual CE Filing
Joy Marie Simon
12/29/2016
$500.00
Monetary Contribution
Adam Laxalt
2017 Annual CE Filing
Joyce L Richardson
4/12/2018
$500.00
Monetary Contribution
Adam Laxalt
2018 CE Report 1
Joyce L. Shaw
11/2/2017
$100.00
Monetary Contribution
Adam Laxalt
2018 Annual CE Filing
Joyce M. Gavin
4/12/2018
$100.00
Monetary Contribution
Adam Laxalt
2018 CE Report 1
Joyce M. Gavin
4/17/2017
$50.00
Monetary Contribution
Adam Laxalt
2018 Annual CE Filing
Joyce S. Sorensen
2/10/2018
$100.00
Monetary Contribution
Adam Laxalt
2018 CE Report 1
Joyce Sharp
11/30/2017
$100.00
Monetary Contribution
Adam Laxalt
2018 Annual CE Filing
JR Lighting, Inc.
10/19/2017
$2,500.00
Monetary Contribution
Steve Sisolak
2018 Annual CE Filing (Amended)
JTT Med LLC
12/16/2016
$1,500.00
Monetary Contribution
Adam Laxalt
2017 Annual CE Filing
Juanita Clark
12/5/2016
$100.00
Monetary Contribution
Adam Laxalt
2017 Annual CE Filing
Juanita Cox
10/25/2017
$50.00
Monetary Contribution
Adam Laxalt
2018 Annual CE Filing
Judi Keltner
12/7/2017
$1,500.00
Monetary Contribution
Steve Sisolak
2018 Annual CE Filing (Amended)
Judie Woods
5/30/2018
$100.00
Monetary Contribution
Steve Sisolak
2018 CE Report 2 (Amended)
Judith Hall
2/10/2018
$100.00
Monetary Contribution
Steve Sisolak
2018 CE Report 1 (Amended)
Judith M Guttman
12/15/2017
$10,000.00
Monetary Contribution
Steve Sisolak
2018 Annual CE Filing (Amended)
Judith N. Wood
11/3/2017
$5,000.00
Monetary Contribution
Adam Laxalt
2018 Annual CE Filing
Judith N. Wood
5/11/2018
$5,000.00
Monetary Contribution
Adam Laxalt
2018 CE Report 1
Judy Delong
12/4/2017
$100.00
Monetary Contribution
Adam Laxalt
2018 Annual CE Filing
Judy Gardner
11/2/2017
$50.00
Monetary Contribution
Adam Laxalt
2018 Annual CE Filing
Judy Gardner
11/2/2017
$50.00
Monetary Contribution
Adam Laxalt
2018 Annual CE Filing
Judy T. Collins
2/19/2018
$250.00
Monetary Contribution
Adam Laxalt
2018 CE Report 1
Juice Bar Kitchen
5/3/2018
$500.00
Monetary Contribution
Adam Laxalt
2018 CE Report 1
Julianna Jervis
2/27/2018
$100.00
Monetary Contribution
Adam Laxalt
2018 CE Report 1
Julianna Jervis
11/16/2017
$50.00
Monetary Contribution
Adam Laxalt
2018 Annual CE Filing
Julie H. Moore
4/24/2017
$50.00
Monetary Contribution
Adam Laxalt
2018 Annual CE Filing
Julie R. Dianda
4/19/2018
$1,000.00
Monetary Contribution
Adam Laxalt
2018 CE Report 1
Julie R. Rogers
11/30/2017
$100.00
Monetary Contribution
Adam Laxalt
2018 Annual CE Filing
Julie Von Tobel Gleason
11/9/2017
$500.00
Monetary Contribution
Adam Laxalt
2018 Annual CE Filing
Juliet Realty Group LLC
6/23/2015
$2,500.00
Monetary Contribution
Steve Sisolak
2016 Annual CE Filing
Juliet Realty LLC
8/1/2017
$2,500.00
Monetary Contribution
Steve Sisolak
2018 Annual CE Filing (Amended)
Justin Heath
4/12/2018
$100.00
Monetary Contribution
Adam Laxalt
2018 CE Report 1
Justin Micatrotto
11/27/2017
$1,500.00
Monetary Contribution
Steve Sisolak
2018 Annual CE Filing (Amended)
Justin Rowberry
5/18/2018
$50.00
Monetary Contribution
Adam Laxalt
2018 CE Report 1
Jutta M. Recktenwald
12/28/2017
$50.00
Monetary Contribution
Adam Laxalt
2018 Annual CE Filing
JW Zunino & Associates LLC
5/21/2018
$500.00
Monetary Contribution
Steve Sisolak
2018 CE Report 2 (Amended)
K. Bart Hiatt
11/8/2017
$250.00
Monetary Contribution
Adam Laxalt
2018 Annual CE Filing
K. Michael Leavitt
12/18/2017
$1,000.00
Monetary Contribution
Adam Laxalt
2018 Annual CE Filing
K. Warren Volker M.D.
10/30/2017
$5,000.00
Monetary Contribution
Steve Sisolak
2018 Annual CE Filing (Amended)
K.C. Brekken
12/3/2017
$500.00
Monetary Contribution
Steve Sisolak
2018 Annual CE Filing (Amended)
Kaempfer Crowell
7/28/2017
$10,000.00
Monetary Contribution
Steve Sisolak
2018 Annual CE Filing (Amended)
Kaempfer Crowell
7/23/2015
$5,000.00
Monetary Contribution
Steve Sisolak
2016 Annual CE Filing
Kaempfer Crowell
12/19/2016
$5,000.00
Monetary Contribution
Steve Sisolak
2016 CE Report 5 (Amended)
Kaercher Campbell & Associates
11/8/2017
$1,000.00
Monetary Contribution
Steve Sisolak
2018 Annual CE Filing (Amended)
Kaercher Campbell & Associates Insurance Brokerage of NV LLC
11/9/2017
$1,000.00
Monetary Contribution
Adam Laxalt
2018 Annual CE Filing
KAG Property LLC
11/14/2017
$10,000.00
Monetary Contribution
Steve Sisolak
2018 Annual CE Filing (Amended)
KAG Property LLC
10/1/2015
$10,000.00
Monetary Contribution
Steve Sisolak
2016 Annual CE Filing
KAG Property LLC
5/15/2018
$5,000.00
Monetary Contribution
Adam Laxalt
2018 CE Report 1
KAG Property LLC
5/15/2018
$5,000.00
Monetary Contribution
Adam Laxalt
2018 CE Report 1
Kak Cloud LLC
4/27/2015
$500.00
Monetary Contribution
Steve Sisolak
2016 Annual CE Filing
Kalb Industrices of Nevada, LTD
11/13/2017
$1,000.00
Monetary Contribution
Steve Sisolak
2018 Annual CE Filing (Amended)
Kaleric Properties Inc.
11/28/2017
$1,000.00
Monetary Contribution
Steve Sisolak
2018 Annual CE Filing (Amended)
Kameron Mitchell
11/6/2017
$56.00
Monetary Contribution
Adam Laxalt
2018 Annual CE Filing
Kane Ong
6/7/2018
$100.00
Monetary Contribution
Steve Sisolak
2018 CE Report 2 (Amended)
Kapex, LLC
1/1/2016
$1,000.00
Monetary Contribution
Steve Sisolak
2016 CE Report 1
Karamjit S Lubana
11/28/2017
$500.00
Monetary Contribution
Steve Sisolak
2018 Annual CE Filing (Amended)
Karen Giampaolo
3/30/2018
$50.00
Monetary Contribution
Adam Laxalt
2018 CE Report 1
Karen Kump
7/7/2017
$50.00
Monetary Contribution
Adam Laxalt
2018 Annual CE Filing
Karen Kump
5/29/2018
$100.00
Monetary Contribution
Adam Laxalt
2018 CE Report 2
Karen Kump
4/25/2018
$50.00
Monetary Contribution
Adam Laxalt
2018 CE Report 1
Karen L. Haig
4/12/2018
$50.00
Monetary Contribution
Adam Laxalt
2018 CE Report 1
Karen L. Haig
6/6/2018
$50.00
Monetary Contribution
Adam Laxalt
2018 CE Report 2
Karen Meyers
3/23/2018
$500.00
Monetary Contribution
Adam Laxalt
2018 CE Report 1
Karen Meyers
4/27/2018
$500.00
Monetary Contribution
Adam Laxalt
2018 CE Report 1
Karen Meyers
11/9/2017
$1,000.00
Monetary Contribution
Adam Laxalt
2018 Annual CE Filing
Karen S. Keller
7/12/2017
$100.00
Monetary Contribution
Adam Laxalt
2018 Annual CE Filing
Karen Wright
12/6/2017
$5,000.00
Monetary Contribution
Adam Laxalt
2018 Annual CE Filing
Karen Wright
12/6/2017
$5,000.00
Monetary Contribution
Adam Laxalt
2018 Annual CE Filing
Karl S. Hall
4/19/2018
$500.00
Monetary Contribution
Adam Laxalt
2018 CE Report 1
Karl S. Hall
5/26/2017
$1,000.00
Monetary Contribution
Adam Laxalt
2018 Annual CE Filing
Katharine Jensen
4/17/2017
$50.00
Monetary Contribution
Adam Laxalt
2018 Annual CE Filing
Katharine Jensen
2/19/2018
$50.00
Monetary Contribution
Adam Laxalt
2018 CE Report 1
Katherine Gillespie
9/14/2015
$5,000.00
Monetary Contribution
Steve Sisolak
2016 Annual CE Filing
Katherine M. Nye
2/23/2018
$50.00
Monetary Contribution
Adam Laxalt
2018 CE Report 1
Katherine M. Nye
5/29/2018
$50.00
Monetary Contribution
Adam Laxalt
2018 CE Report 2
Kathleen Backman
4/20/2017
$1,000.00
Monetary Contribution
Adam Laxalt
2018 Annual CE Filing
Kathleen D'Avolio
10/13/2017
$500.00
Monetary Contribution
Adam Laxalt
2018 Annual CE Filing
Kathleen D'Avolio
5/3/2018
$1,000.00
Monetary Contribution
Adam Laxalt
2018 CE Report 1
Kathleen Gonzalez Delrio
12/8/2017
$100.00
Monetary Contribution
Adam Laxalt
2018 Annual CE Filing
Kathleen Larmore
2/28/2018
$50.00
Monetary Contribution
Adam Laxalt
2018 CE Report 1
Kathleen Larmore
4/25/2018
$100.00
Monetary Contribution
Adam Laxalt
2018 CE Report 1
Kathleen M. Bennett
11/9/2017
$250.00
Monetary Contribution
Adam Laxalt
2018 Annual CE Filing
Kathleen P. O'Brien
11/21/2016
$5,000.00
Monetary Contribution
Adam Laxalt
2017 Annual CE Filing
Kathleen P. O'Brien
11/21/2016
$5,000.00
Monetary Contribution
Adam Laxalt
2017 Annual CE Filing
Kathlene A. Harris
4/16/2018
$50.00
Monetary Contribution
Adam Laxalt
2018 CE Report 1
Kathryn Winterton LLC
2/27/2018
$500.00
Monetary Contribution
Steve Sisolak
2018 CE Report 1 (Amended)
Kathy Fanticola
3/6/2018
$5,000.00
Monetary Contribution
Steve Sisolak
2018 CE Report 1 (Amended)
Kathy Hernandez
4/10/2018
$500.00
Monetary Contribution
Adam Laxalt
2018 CE Report 1
Katie Simple CBOA LLC
12/29/2015
$10,000.00
Monetary Contribution
Steve Sisolak
2016 Annual CE Filing
Kawana Pohe
2/28/2018
$500.00
Monetary Contribution
Adam Laxalt
2018 CE Report 1
Kay Steninger Davis
11/9/2017
$250.00
Monetary Contribution
Adam Laxalt
2018 Annual CE Filing
KB Home Nevada
7/28/2017
$2,500.00
Monetary Contribution
Steve Sisolak
2018 Annual CE Filing (Amended)
KB Home Nevada, Inc
7/10/2015
$2,500.00
Monetary Contribution
Steve Sisolak
2016 Annual CE Filing
KC Gardner Company LC
8/4/2016
$10,000.00
Monetary Contribution
Steve Sisolak
2016 CE Report 3
KC Gardner Company LC
7/19/2017
$10,000.00
Monetary Contribution
Steve Sisolak
2018 Annual CE Filing (Amended)
KDAY Radio
12/27/2017
$5,000.00
Monetary Contribution
Adam Laxalt
2018 Annual CE Filing
KDAY Radio
12/27/2017
$5,000.00
Monetary Contribution
Adam Laxalt
2018 Annual CE Filing
Keff Times LLC
4/11/2018
$10,000.00
Monetary Contribution
Steve Sisolak
2018 CE Report 1 (Amended)
Keith A. Mackie
7/11/2017
$50.00
Monetary Contribution
Adam Laxalt
2018 Annual CE Filing
Keith A. Mackie
3/12/2018
$50.00
Monetary Contribution
Adam Laxalt
2018 CE Report 1
Keith Bergh
12/28/2017
$5,000.00
Monetary Contribution
Adam Laxalt
2018 Annual CE Filing
Keith Brill
2/28/2018
$1,000.00
Monetary Contribution
Steve Sisolak
2018 CE Report 1 (Amended)
Keith Harper
2/27/2018
$500.00
Monetary Contribution
Steve Sisolak
2018 CE Report 1 (Amended)
Keith L. Capurro
10/27/2016
$2,000.00
Monetary Contribution
Steve Sisolak
2016 CE Report 4
Keith M. Shonnard
3/5/2018
$250.00
Monetary Contribution
Adam Laxalt
2018 CE Report 1
Keith Wendt
4/9/2018
$200.00
Monetary Contribution
Steve Sisolak
2018 CE Report 1 (Amended)
Kel J. Buchanan
1/24/2018
$2,000.00
Monetary Contribution
Adam Laxalt
2018 CE Report 1
Kelley Ann Fertitta
11/9/2017
$5,000.00
Monetary Contribution
Adam Laxalt
2018 Annual CE Filing
Kelley Ann Fertitta
11/9/2017
$5,000.00
Monetary Contribution
Adam Laxalt
2018 Annual CE Filing
Kelley Spielberg
5/9/2018
$500.00
Monetary Contribution
Adam Laxalt
2018 CE Report 1
Kelli Mason
2/23/2018
$50.00
Monetary Contribution
Adam Laxalt
2018 CE Report 1
Kellie Simple CBOA LLC
12/29/2015
$10,000.00
Monetary Contribution
Steve Sisolak
2016 Annual CE Filing
Kelly Thomas-Boyers
3/30/2016
$50.00
Monetary Contribution
Steve Sisolak
2016 CE Report 1
Kemp Jones & Coulthard LLP
1/24/2018
$5,000.00
Monetary Contribution
Steve Sisolak
2018 CE Report 1 (Amended)
Kemp Jones & Coulthard LLP
2/20/2015
$5,000.00
Monetary Contribution
Adam Laxalt
2016 Annual CE Filing
Ken Ashworth & Associates
1/10/2018
$2,000.00
In Kind Contribution
Steve Sisolak
2018 CE Report 1 (Amended)
Ken Friedman
11/30/2016
$500.00
Monetary Contribution
Adam Laxalt
2017 Annual CE Filing
Ken Kay
11/8/2017
$50.00
Monetary Contribution
Adam Laxalt
2018 Annual CE Filing
Ken Kay
6/1/2018
$100.00
Monetary Contribution
Adam Laxalt
2018 CE Report 2
Ken Koeppe
5/9/2017
$50.00
Monetary Contribution
Adam Laxalt
2018 Annual CE Filing
Ken Templeton Realty and Investment-Op
4/21/2015
$500.00
Monetary Contribution
Steve Sisolak
2016 Annual CE Filing
Kenneteh W. Flippin
5/29/2018
$250.00
Monetary Contribution
Adam Laxalt
2018 CE Report 2
Kenneth A. Wright
5/29/2018
$50.00
Monetary Contribution
Adam Laxalt
2018 CE Report 2
Kenneth Cannon
6/1/2018
$100.00
Monetary Contribution
Adam Laxalt
2018 CE Report 2
Kenneth D. German
5/29/2018
$250.00
Monetary Contribution
Adam Laxalt
2018 CE Report 2
Kenneth D. German
2/16/2018
$250.00
Monetary Contribution
Adam Laxalt
2018 CE Report 1
Kenneth D. Vaughn
4/19/2018
$500.00
Monetary Contribution
Adam Laxalt
2018 CE Report 1
Kenneth H. Gardner
11/9/2017
$1,000.00
Monetary Contribution
Adam Laxalt
2018 Annual CE Filing
Kenneth L. Alber
11/9/2017
$1,050.00
Monetary Contribution
Adam Laxalt
2018 Annual CE Filing
Kenneth M. Cook
5/16/2018
$500.00
Monetary Contribution
Adam Laxalt
2018 CE Report 1
Kenneth Matonvich
11/28/2017
$1,000.00
Monetary Contribution
Steve Sisolak
2018 Annual CE Filing (Amended)
Kenneth Mundt
5/6/2018
$1,000.00
Monetary Contribution
Adam Laxalt
2018 CE Report 1
Kenneth Osgood
5/19/2018
$250.00
Monetary Contribution
Steve Sisolak
2018 CE Report 2 (Amended)
Kenneth R. Douglas
8/11/2017
$50.00
Monetary Contribution
Adam Laxalt
2018 Annual CE Filing
Kenneth R. Douglas
12/4/2017
$50.00
Monetary Contribution
Adam Laxalt
2018 Annual CE Filing
Kenneth R. Mourton
8/4/2017
$5,000.00
Monetary Contribution
Steve Sisolak
2018 Annual CE Filing (Amended)
Kenneth R. Mourton
8/22/2016
$2,000.00
Monetary Contribution
Steve Sisolak
2016 CE Report 3
Kenneth R. Russell
11/17/2017
$50.00
Monetary Contribution
Adam Laxalt
2018 Annual CE Filing
Kenneth R. Russell
2/20/2018
$50.00
Monetary Contribution
Adam Laxalt
2018 CE Report 1
Kenneth R. Russell
4/17/2018
$200.00
Monetary Contribution
Adam Laxalt
2018 CE Report 1
Kenneth S. Abramowitz
12/29/2017
$750.00
Monetary Contribution
Adam Laxalt
2018 Annual CE Filing
Kenneth Van Winkle
2/16/2018
$500.00
Monetary Contribution
Adam Laxalt
2018 CE Report 1
Kenneth W. Ackeret
8/14/2015
$500.00
Monetary Contribution
Steve Sisolak
2016 Annual CE Filing
Kenneth W. Ackeret
5/24/2018
$500.00
Monetary Contribution
Steve Sisolak
2018 CE Report 2 (Amended)
Kent Davenport
12/28/2017
$100.00
Monetary Contribution
Adam Laxalt
2018 Annual CE Filing
Kermitt L Waters
10/17/2016
$1,000.00
Monetary Contribution
Steve Sisolak
2016 CE Report 4
Kermitt L Waters Attorney at Law
4/23/2018
$1,000.00
Monetary Contribution
Steve Sisolak
2018 CE Report 1 (Amended)
Kern Schumacher
2/16/2018
$2,500.00
Monetary Contribution
Adam Laxalt
2018 CE Report 1
Kern Schumacher
3/1/2018
$2,500.00
Monetary Contribution
Adam Laxalt
2018 CE Report 1
Kerry Withrow
4/3/2018
$250.00
Monetary Contribution
Adam Laxalt
2018 CE Report 1
Kevin A. Linkus
4/19/2018
$250.00
Monetary Contribution
Adam Laxalt
2018 CE Report 1
Kevin Alan Tussy
1/12/2018
$1,000.00
Monetary Contribution
Steve Sisolak
2018 CE Report 1 (Amended)
Kevin Buckley
1/19/2018
$1,000.00
Monetary Contribution
Steve Sisolak
2018 CE Report 1 (Amended)
Kevin Buckley
5/12/2015
$1,000.00
Monetary Contribution
Steve Sisolak
2016 Annual CE Filing
kevin buckley
5/26/2017
$100.00
Monetary Contribution
Adam Laxalt
2018 Annual CE Filing
Kevin J. Phillips
2/21/2018
$50.00
Monetary Contribution
Adam Laxalt
2018 CE Report 1
Kevin Kelly ESQ
9/12/2016
$1,500.00
Monetary Contribution
Steve Sisolak
2016 CE Report 3
Kevin M Sheehan
9/12/2016
$10,000.00
Monetary Contribution
Steve Sisolak
2016 CE Report 3
Kevin M Sheehan
11/9/2016
$5,000.00
Monetary Contribution
Adam Laxalt
2017 Annual CE Filing
Kevin M Sheehan
11/9/2016
$5,000.00
Monetary Contribution
Adam Laxalt
2017 Annual CE Filing
Kevin McGovern
4/3/2017
$1,000.00
Monetary Contribution
Adam Laxalt
2018 Annual CE Filing
Kevin T. Orrock
12/1/2017
$2,500.00
Monetary Contribution
Adam Laxalt
2018 Annual CE Filing
Kevin White
4/16/2018
$50.00
Monetary Contribution
Adam Laxalt
2018 CE Report 1
Key Reid
1/6/2018
$5,000.00
Monetary Contribution
Steve Sisolak
2018 CE Report 1 (Amended)
Key Sales Inc. / Tavern Products Co.
3/8/2018
$300.00
Monetary Contribution
Adam Laxalt
2018 CE Report 1
KeyState Captive Management LLC
12/14/2017
$5,000.00
Monetary Contribution
Adam Laxalt
2018 Annual CE Filing
KeyState Captive Management LLC
12/14/2017
$5,000.00
Monetary Contribution
Adam Laxalt
2018 Annual CE Filing
KeyState Corporate Management (NV) LLC
11/7/2016
$5,000.00
Monetary Contribution
Adam Laxalt
2017 Annual CE Filing
KeyState Corporate Management (NV) LLC
11/7/2016
$5,000.00
Monetary Contribution
Adam Laxalt
2017 Annual CE Filing
KeyState Portfolio Services LLC
12/14/2017
$5,000.00
Monetary Contribution
Adam Laxalt
2018 Annual CE Filing
KeyState Portfolio Services LLC
12/14/2017
$5,000.00
Monetary Contribution
Adam Laxalt
2018 Annual CE Filing
Keystone Corporation
12/7/2017
$5,000.00
Monetary Contribution
Adam Laxalt
2018 Annual CE Filing
Keystone Corporation
12/7/2017
$5,000.00
Monetary Contribution
Adam Laxalt
2018 Annual CE Filing
Khoury's Leasing Co.
11/9/2017
$2,000.00
Monetary Contribution
Adam Laxalt
2018 Annual CE Filing
Kilkenny Management LLC
12/19/2017
$5,000.00
Monetary Contribution
Adam Laxalt
2018 Annual CE Filing
Kilkenny Management LLC
12/19/2017
$5,000.00
Monetary Contribution
Adam Laxalt
2018 Annual CE Filing
Kim Bacchus
11/9/2017
$250.00
Monetary Contribution
Adam Laxalt
2018 Annual CE Filing
Kim Edwards
2/9/2018
$50.00
Monetary Contribution
Adam Laxalt
2018 CE Report 1
Kimberly Fergus
2/10/2018
$100.00
Monetary Contribution
Adam Laxalt
2018 CE Report 1
Kimberly Stein
10/11/2017
$2,500.00
Monetary Contribution
Steve Sisolak
2018 Annual CE Filing (Amended)
Kimi Cole
5/11/2018
$50.00
Monetary Contribution
Steve Sisolak
2018 CE Report 1 (Amended)
Kiril P. Boyadjieff
4/19/2017
$50.00
Monetary Contribution
Adam Laxalt
2018 Annual CE Filing
Kirk and Debbie Ledbetter
3/16/2018
$1,000.00
Monetary Contribution
Adam Laxalt
2018 CE Report 1
Kirk D. Hendrick
9/17/2015
$2,500.00
Monetary Contribution
Adam Laxalt
2016 Annual CE Filing
Kirk D. Hendrick
11/9/2017
$2,500.00
Monetary Contribution
Adam Laxalt
2018 Annual CE Filing
Kirk Knutsen
5/28/2018
$50.00
Monetary Contribution
Steve Sisolak
2018 CE Report 2 (Amended)
Kirk Lenhard
2/24/2016
$1,500.00
Monetary Contribution
Steve Sisolak
2016 CE Report 1
Kirk Lenhard
5/30/2018
$2,000.00
Monetary Contribution
Steve Sisolak
2018 CE Report 2 (Amended)
Kirk S. Lippold
12/18/2017
$1,000.00
Monetary Contribution
Adam Laxalt
2018 Annual CE Filing
Kirstina Sorge
10/16/2017
$5,000.00
Monetary Contribution
Steve Sisolak
2018 Annual CE Filing (Amended)
Klai Juba Wald Architects
3/21/2018
$2,500.00
Monetary Contribution
Steve Sisolak
2018 CE Report 1 (Amended)
KLYMB Project Management Inc.
4/20/2018
$5,000.00
Monetary Contribution
Steve Sisolak
2018 CE Report 1 (Amended)
Knox Properties LLC
3/27/2018
$500.00
Monetary Contribution
Adam Laxalt
2018 CE Report 1
Kolesar & Laetham, Chtd.
2/29/2016
$1,000.00
Monetary Contribution
Steve Sisolak
2016 CE Report 1
Kolesar & Laetham, Chtd.
9/9/2015
$2,345.58
In Kind Contribution
Steve Sisolak
2016 Annual CE Filing
Kolesar & Leatham, Chtd.
9/8/2015
$1,000.00
Monetary Contribution
Steve Sisolak
2016 Annual CE Filing
Konami Gaming Inc
6/19/2015
$5,000.00
Monetary Contribution
Steve Sisolak
2016 Annual CE Filing
Konami Gaming Inc
12/8/2017
$5,000.00
Monetary Contribution
Steve Sisolak
2018 Annual CE Filing (Amended)
Konami Gaming Inc
11/28/2017
$5,000.00
Monetary Contribution
Adam Laxalt
2018 Annual CE Filing
Konami Gaming Inc
11/28/2017
$5,000.00
Monetary Contribution
Adam Laxalt
2018 Annual CE Filing
Konami Gaming Inc.
2/15/2017
$5,000.00
Monetary Contribution
Steve Sisolak
2018 Annual CE Filing (Amended)
Korliss K. Miller
11/1/2017
$100.00
Monetary Contribution
Adam Laxalt
2018 Annual CE Filing
Kosta M. Arger
4/19/2018
$500.00
Monetary Contribution
Adam Laxalt
2018 CE Report 1
Kosta M. Arger
6/5/2017
$1,000.00
Monetary Contribution
Adam Laxalt
2018 Annual CE Filing
Koster Finance, LLC
10/24/2017
$1,000.00
Monetary Contribution
Steve Sisolak
2018 Annual CE Filing (Amended)
Koster Finance, LLC
12/8/2015
$1,000.00
Monetary Contribution
Steve Sisolak
2016 Annual CE Filing
KRCH Realty LLC
5/1/2018
$1,000.00
Monetary Contribution
Adam Laxalt
2018 CE Report 1
KRE-8 Media, LLC
10/16/2015
$10,000.00
Monetary Contribution
Steve Sisolak
2016 Annual CE Filing
KRE-8 Media, LLC
5/3/2018
$10,000.00
Monetary Contribution
Steve Sisolak
2018 CE Report 1 (Amended)
Kris Engelstad MC Garry
8/7/2017
$1,000.00
Monetary Contribution
Steve Sisolak
2018 Annual CE Filing (Amended)
Kristal Glass
2/22/2018
$50.00
Monetary Contribution
Steve Sisolak
2018 CE Report 1 (Amended)
Kristen Hruby
3/8/2018
$100.00
Monetary Contribution
Adam Laxalt
2018 CE Report 1
Kristin Davison
4/2/2018
$74.69
In Kind Contribution
Adam Laxalt
2018 CE Report 1
Kristine Creel
4/23/2018
$5,000.00
Monetary Contribution
Steve Sisolak
2018 CE Report 1 (Amended)
KSHH Manage Inc.
11/1/2016
$5,000.00
Monetary Contribution
Adam Laxalt
2017 Annual CE Filing
KSHH Manage Inc.
11/1/2016
$5,000.00
Monetary Contribution
Adam Laxalt
2017 Annual CE Filing
KSJManage Inc.
12/28/2017
$5,000.00
Monetary Contribution
Adam Laxalt
2018 Annual CE Filing
KSJManage Inc.
12/28/2017
$5,000.00
Monetary Contribution
Adam Laxalt
2018 Annual CE Filing
Kurt Michael Neddenriep
11/9/2017
$350.00
Monetary Contribution
Adam Laxalt
2018 Annual CE Filing
Kurt Schantz
4/5/2018
$50.00
Monetary Contribution
Adam Laxalt
2018 CE Report 1
Kylan D. Johnson
3/6/2018
$105.00
Monetary Contribution
Adam Laxalt
2018 CE Report 1
Kyle Kirwan
12/22/2017
$250.00
Monetary Contribution
Steve Sisolak
2018 Annual CE Filing (Amended)
Kyle Meintzer
2/14/2018
$250.00
Monetary Contribution
Adam Laxalt
2018 CE Report 1
Kyle Stephens
5/11/2017
$700.00
Monetary Contribution
Adam Laxalt
2018 Annual CE Filing
Kyle Stephens
1/13/2016
$250.00
Monetary Contribution
Adam Laxalt
2017 Annual CE Filing
Kyle Stephens
2/12/2016
$100.00
Monetary Contribution
Adam Laxalt
2017 Annual CE Filing
Kyle Stephens
3/23/2016
$250.00
Monetary Contribution
Adam Laxalt
2017 Annual CE Filing
Kyle Stephens
5/12/2016
$125.00
Monetary Contribution
Adam Laxalt
2017 Annual CE Filing
L. David Kiley
4/19/2017
$100.00
Monetary Contribution
Adam Laxalt
2018 Annual CE Filing
L. David Kiley
2/19/2018
$150.00
Monetary Contribution
Adam Laxalt
2018 CE Report 1
L. Lance Gilman Real Estate LLC
11/9/2017
$500.00
Monetary Contribution
Adam Laxalt
2018 Annual CE Filing
L. Robert LeGoy
5/26/2017
$1,000.00
Monetary Contribution
Adam Laxalt
2018 Annual CE Filing
L. Robert LeGoy
11/9/2017
$250.00
Monetary Contribution
Adam Laxalt
2018 Annual CE Filing
L.E. Simmons
12/1/2016
$5,000.00
Monetary Contribution
Adam Laxalt
2017 Annual CE Filing
L.E. Simmons
12/1/2016
$5,000.00
Monetary Contribution
Adam Laxalt
2017 Annual CE Filing
L/P Insurance Services Inc
4/20/2017
$1,000.00
Monetary Contribution
Adam Laxalt
2018 Annual CE Filing
L/P Insurance Services Inc
5/26/2017
$2,500.00
Monetary Contribution
Adam Laxalt
2018 Annual CE Filing
L/P Insurance Services Inc
11/9/2017
$1,000.00
Monetary Contribution
Adam Laxalt
2018 Annual CE Filing
L/P Insurance Services Inc
5/3/2018
$500.00
Monetary Contribution
Adam Laxalt
2018 CE Report 1
L/P Insurance Services Inc
5/3/2018
$500.00
Monetary Contribution
Adam Laxalt
2018 CE Report 1
L&S Insurance LLC
3/30/2016
$100.00
Monetary Contribution
Steve Sisolak
2016 CE Report 1
La Costa Village Inc.
12/30/2015
$5,000.00
Monetary Contribution
Steve Sisolak
2016 Annual CE Filing
La Famiglia LLC
8/21/2017
$5,000.00
Monetary Contribution
Adam Laxalt
2018 Annual CE Filing
La Madre Valley LLC
7/7/2015
$1,000.00
Monetary Contribution
Steve Sisolak
2016 Annual CE Filing
LAB & AJ Enterprises Inc
5/3/2018
$2,500.00
Monetary Contribution
Adam Laxalt
2018 CE Report 1
Laborers for a Solid State Leadership
1/11/2018
$5,000.00
Monetary Contribution
Steve Sisolak
2018 CE Report 1 (Amended)
Laborers for Solid State Leadership
10/19/2017
$5,000.00
Monetary Contribution
Steve Sisolak
2018 Annual CE Filing (Amended)
Laborers for Solid State Leadership
11/4/2015
$5,000.00
Monetary Contribution
Steve Sisolak
2016 Annual CE Filing
Lada Design Management LLC
2/17/2018
$100.00
Monetary Contribution
Steve Sisolak
2018 CE Report 1 (Amended)
Laird Noble Sanders
6/25/2017
$136.00
Monetary Contribution
Steve Sisolak
2018 Annual CE Filing (Amended)
Laird Sanders
3/30/2016
$100.00
Monetary Contribution
Steve Sisolak
2016 CE Report 1
Lake Management, LLC
12/11/2017
$10,000.00
Monetary Contribution
Steve Sisolak
2018 Annual CE Filing (Amended)
Lake Mead Boat Storage
3/30/2016
$100.00
Monetary Contribution
Steve Sisolak
2016 CE Report 1
Lake Valley Properties LLC
9/13/2017
$5,000.00
Monetary Contribution
Adam Laxalt
2018 Annual CE Filing
Lake Valley Properties LLC
9/13/2017
$5,000.00
Monetary Contribution
Adam Laxalt
2018 Annual CE Filing
Lamar Companies
9/2/2016
$5,000.00
In Kind Contribution
Steve Sisolak
2016 CE Report 3
Lana L. Carter
11/9/2017
$250.00
Monetary Contribution
Adam Laxalt
2018 Annual CE Filing
Lance Faulstich
5/26/2017
$1,000.00
Monetary Contribution
Adam Laxalt
2018 Annual CE Filing
Lance Faulstich
5/3/2018
$2,500.00
Monetary Contribution
Adam Laxalt
2018 CE Report 1
Lance Gilman
5/29/2018
$5,000.00
Monetary Contribution
Steve Sisolak
2018 CE Report 2 (Amended)
Lance Kerness
5/9/2018
$100.00
Monetary Contribution
Adam Laxalt
2018 CE Report 1
Lance L. Gilman
11/9/2017
$1,000.00
Monetary Contribution
Adam Laxalt
2018 Annual CE Filing
Land Development Associates, LLC
1/25/2016
$1,500.00
Monetary Contribution
Steve Sisolak
2016 CE Report 1
Landco West
5/25/2016
$1,000.00
Monetary Contribution
Steve Sisolak
2016 CE Report 2
Lander County Aggregate Company LLC
4/20/2017
$2,500.00
Monetary Contribution
Adam Laxalt
2018 Annual CE Filing
Lander County Aggregate Company LLC
6/7/2018
$2,500.00
Monetary Contribution
Adam Laxalt
2018 CE Report 2
Lander County Aggregate Company LLC
6/7/2018
$5,000.00
Monetary Contribution
Adam Laxalt
2018 CE Report 2
Landry's Management LP
12/26/2017
$5,000.00
Monetary Contribution
Adam Laxalt
2018 Annual CE Filing
Landry's Management LP
12/26/2017
$5,000.00
Monetary Contribution
Adam Laxalt
2018 Annual CE Filing
Lansing Companies
5/24/2017
$1,000.00
Monetary Contribution
Adam Laxalt
2018 Annual CE Filing
Lansing-Arcus LLC
11/9/2017
$250.00
Monetary Contribution
Adam Laxalt
2018 Annual CE Filing
Lansing-Arcus LLC
5/2/2018
$1,000.00
Monetary Contribution
Adam Laxalt
2018 CE Report 1
LaPour Management LLC
1/20/2016
$500.00
Monetary Contribution
Steve Sisolak
2016 CE Report 1
LaPour Management LLC
10/24/2017
$1,000.00
Monetary Contribution
Steve Sisolak
2018 Annual CE Filing (Amended)
LaPour Partners
12/9/2015
$750.00
In Kind Contribution
Steve Sisolak
2016 Annual CE Filing
Lari Kundinger
3/23/2018
$100.00
Monetary Contribution
Adam Laxalt
2018 CE Report 1
LARRY BENDER
4/12/2018
$50.00
Monetary Contribution
Steve Sisolak
2018 CE Report 1 (Amended)
Larry Brown for County Commission
5/22/2018
$5,000.00
Monetary Contribution
Steve Sisolak
2018 CE Report 2 (Amended)
Larry Carter
7/16/2017
$300.00
Monetary Contribution
Steve Sisolak
2018 Annual CE Filing (Amended)
Larry Carter
5/13/2015
$500.00
Monetary Contribution
Steve Sisolak
2016 Annual CE Filing
Larry Carter
4/16/2018
$1,000.00
Monetary Contribution
Adam Laxalt
2018 CE Report 1
Larry Duboef
5/28/2018
$1,000.00
Monetary Contribution
Steve Sisolak
2018 CE Report 2 (Amended)
Larry G. Liston
7/9/2016
$100.00
Monetary Contribution
Adam Laxalt
2017 Annual CE Filing
Larry L. Pedrett
4/23/2018
$50.00
Monetary Contribution
Adam Laxalt
2018 CE Report 1
Larry Lynch
4/26/2017
$100.00
Monetary Contribution
Adam Laxalt
2018 Annual CE Filing
Larry V Keever Agent -State Farm Insurance
6/11/2016
$100.00
Monetary Contribution
Steve Sisolak
2016 CE Report 3
Larry V. Keever Agent State Farm Insurance
8/7/2017
$100.00
Monetary Contribution
Steve Sisolak
2018 Annual CE Filing (Amended)
LAS Consulting
7/1/2015
$2,000.00
Monetary Contribution
Steve Sisolak
2016 Annual CE Filing
Las Vegas 215 LLC
12/29/2015
$500.00
Monetary Contribution
Steve Sisolak
2016 Annual CE Filing
Las Vegas Athletic Clubs
1/29/2018
$1,500.00
Monetary Contribution
Steve Sisolak
2018 CE Report 1 (Amended)
Las Vegas Billboards
10/10/2016
$2,000.00
In Kind Contribution
Steve Sisolak
2016 CE Report 3
Las Vegas Blvd at Town Square Ltd.
12/23/2015
$1,000.00
Monetary Contribution
Steve Sisolak
2016 Annual CE Filing
Las Vegas Blvd at Town Square Ltd.
11/18/2015
$1,000.00
Monetary Contribution
Steve Sisolak
2016 Annual CE Filing
Las Vegas City Employees Association PAC
5/2/2016
$250.00
Monetary Contribution
Steve Sisolak
2016 CE Report 1
Las Vegas Metro Chamber of Commerce
5/24/2016
$2,500.00
Monetary Contribution
Steve Sisolak
2016 CE Report 2
Las Vegas Mobil #18 LLC
12/29/2015
$1,000.00
Monetary Contribution
Steve Sisolak
2016 Annual CE Filing
Las Vegas Motor Speedway
4/23/2015
$500.00
Monetary Contribution
Steve Sisolak
2016 Annual CE Filing
Las Vegas Pain Institute
11/28/2017
$1,000.00
Monetary Contribution
Steve Sisolak
2018 Annual CE Filing (Amended)
Las Vegas Parking Inc.
7/26/2016
$1,000.00
Monetary Contribution
Steve Sisolak
2016 CE Report 3
Las Vegas Paving Corp
5/9/2016
$2,500.00
Monetary Contribution
Steve Sisolak
2016 CE Report 1
Las Vegas Paving Corp
12/8/2015
$2,500.00
Monetary Contribution
Steve Sisolak
2016 Annual CE Filing
Las Vegas Paving Corp
9/30/2015
$2,500.00
Monetary Contribution
Steve Sisolak
2016 Annual CE Filing
Las Vegas Paving Corporation
6/25/2015
$2,500.00
Monetary Contribution
Steve Sisolak
2016 Annual CE Filing
Las Vegas Paving Corporation
12/20/2017
$10,000.00
Monetary Contribution
Steve Sisolak
2018 Annual CE Filing (Amended)
Las Vegas Pediatric Critical Care Associates
4/17/2015
$2,500.00
Monetary Contribution
Steve Sisolak
2016 Annual CE Filing
Las Vegas Police Protective Assocation Civilian Employees, Inc.
4/13/2016
$2,500.00
Monetary Contribution
Steve Sisolak
2016 CE Report 1
Las Vegas Rooter
9/10/2016
$200.00
Monetary Contribution
Steve Sisolak
2016 CE Report 3
Las Vegas Sands Corp
11/5/2015
$10,000.00
Monetary Contribution
Steve Sisolak
2016 Annual CE Filing
Las Vegas Sands Corp.
5/15/2018
$5,000.00
Monetary Contribution
Adam Laxalt
2018 CE Report 1
Las Vegas Sands Corp.
5/15/2018
$5,000.00
Monetary Contribution
Adam Laxalt
2018 CE Report 1
Las Vegas Wellness and Compassion LLC
12/16/2015
$10,000.00
Monetary Contribution
Steve Sisolak
2016 Annual CE Filing
Las Vegas Wellness and Compassion LLC
4/19/2018
$10,000.00
Monetary Contribution
Steve Sisolak
2018 CE Report 1 (Amended)
Las Vegas Windmill LLC
10/20/2017
$10,000.00
Monetary Contribution
Steve Sisolak
2018 Annual CE Filing (Amended)
Last Chance Development Company
12/27/2017
$10,000.00
Monetary Contribution
Steve Sisolak
2018 Annual CE Filing (Amended)
Laughlin Associates Inc.
5/9/2018
$500.00
Monetary Contribution
Adam Laxalt
2018 CE Report 1
Laughlin Marina Resort LLC
10/27/2017
$5,000.00
Monetary Contribution
Steve Sisolak
2018 Annual CE Filing (Amended)
Laura Coleman
1/10/2018
$500.00
Monetary Contribution
Steve Sisolak
2018 CE Report 1 (Amended)
Laura M. Nelson
12/22/2017
$500.00
Monetary Contribution
Adam Laxalt
2018 Annual CE Filing
Laura Pierece
4/17/2018
$50.00
Monetary Contribution
Adam Laxalt
2018 CE Report 1
Laurie A. Carey
11/9/2017
$250.00
Monetary Contribution
Adam Laxalt
2018 Annual CE Filing
Laurie Drive LLC dba Flour and Barley
12/28/2017
$10,000.00
Monetary Contribution
Steve Sisolak
2018 Annual CE Filing (Amended)
Law office of Daniel S. Simon
1/9/2018
$5,000.00
Monetary Contribution
Steve Sisolak
2018 CE Report 1 (Amended)
Law Office of Daniel S. Simon
12/12/2017
$750.00
Monetary Contribution
Steve Sisolak
2018 Annual CE Filing (Amended)
Law Office of Michael R. McNerny Chtd.
2/6/2018
$500.00
Monetary Contribution
Steve Sisolak
2018 CE Report 1 (Amended)
Law Office of Michael R. McNerny Chtd.
11/7/2016
$200.00
Monetary Contribution
Steve Sisolak
2016 CE Report 5 (Amended)
Law Offices of Brian Padgett
10/28/2015
$10,000.00
Monetary Contribution
Steve Sisolak
2016 Annual CE Filing
Lawrence A. Eccles
3/29/2018
$50.00
Monetary Contribution
Adam Laxalt
2018 CE Report 1
Lawrence Barnard
12/14/2017
$1,000.00
Monetary Contribution
Steve Sisolak
2018 Annual CE Filing (Amended)
Lawrence Canarelli
9/1/2015
$10,000.00
Monetary Contribution
Steve Sisolak
2016 Annual CE Filing
Lawrence D. Canarelli
11/13/2017
$10,000.00
Monetary Contribution
Steve Sisolak
2018 Annual CE Filing (Amended)
Lawrence J. Domaracki
3/7/2018
$1,000.00
Monetary Contribution
Adam Laxalt
2018 CE Report 1
Lawrence J. Domaracki
3/14/2018
$2,500.00
Monetary Contribution
Adam Laxalt
2018 CE Report 1
Lawrence M. Lehrner
11/3/2016
$500.00
Monetary Contribution
Steve Sisolak
2016 CE Report 4
Lawrence S. Monkarsh
9/1/2016
$2,500.00
Monetary Contribution
Steve Sisolak
2016 CE Report 3
Lawrence S. Monkarsh
5/6/2015
$1,000.00
Monetary Contribution
Steve Sisolak
2016 Annual CE Filing
Lawrence S. Monkarsh
4/12/2016
$1,000.00
Monetary Contribution
Steve Sisolak
2016 CE Report 1
Lawrence S. Monkarsh
3/3/2016
$1,000.00
Monetary Contribution
Steve Sisolak
2016 CE Report 1
Lawrence S. Monkarsh
11/29/2017
$1,000.00
Monetary Contribution
Steve Sisolak
2018 Annual CE Filing (Amended)
Lawrence S. Monkarsh
7/12/2017
$2,500.00
Monetary Contribution
Steve Sisolak
2018 Annual CE Filing (Amended)
LB Ind. LLC FBO Sunset Tenaya
6/28/2017
$10,000.00
Monetary Contribution
Steve Sisolak
2018 Annual CE Filing (Amended)
LB Ind. LLC FBO Sunset Tenaya
3/1/2016
$10,000.00
Monetary Contribution
Steve Sisolak
2016 CE Report 1
LB Ind. LLC FBO Sunset Tenaya
5/18/2015
$2,000.00
Monetary Contribution
Steve Sisolak
2016 Annual CE Filing
Le Pho LLC
10/28/2015
$500.00
Monetary Contribution
Steve Sisolak
2016 Annual CE Filing
Le Thai Dan LLC
10/28/2015
$250.00
Monetary Contribution
Steve Sisolak
2016 Annual CE Filing
Leading Builders of America
12/7/2017
$5,000.00
Monetary Contribution
Adam Laxalt
2018 Annual CE Filing
Leading Builders of America
12/7/2017
$5,000.00
Monetary Contribution
Adam Laxalt
2018 Annual CE Filing
Leading Toxicology Services Inc.
9/28/2015
$10,000.00
Monetary Contribution
Steve Sisolak
2016 Annual CE Filing
Lebo Newman
5/26/2017
$1,000.00
Monetary Contribution
Adam Laxalt
2018 Annual CE Filing
Lebo Newman
11/9/2017
$1,000.00
Monetary Contribution
Adam Laxalt
2018 Annual CE Filing
Lebo Newman
2/9/2018
$250.00
Monetary Contribution
Adam Laxalt
2018 CE Report 1
Lebo Newman
3/28/2018
$100.00
Monetary Contribution
Adam Laxalt
2018 CE Report 1
Lee Amaitis
9/15/2016
$5,000.00
Monetary Contribution
Steve Sisolak
2016 CE Report 3
Lee Brothers Automotive Sales and Leasing
11/15/2017
$250.00
Monetary Contribution
Adam Laxalt
2018 Annual CE Filing
Lee F. Moisio
9/5/2017
$2,000.00
Monetary Contribution
Adam Laxalt
2018 Annual CE Filing
Lee Hoffman
11/9/2017
$250.00
Monetary Contribution
Adam Laxalt
2018 Annual CE Filing
Lee M. Pisiewski
5/29/2018
$100.00
Monetary Contribution
Adam Laxalt
2018 CE Report 2
Lee R. Koegel
4/20/2018
$50.00
Monetary Contribution
Adam Laxalt
2018 CE Report 1
Lee Wesley Major
5/29/2018
$200.00
Monetary Contribution
Adam Laxalt
2018 CE Report 2
Lee's Discount Liquor
8/9/2016
$3,000.00
Monetary Contribution
Steve Sisolak
2016 CE Report 3
Lee's Discount Liquor
12/16/2015
$2,000.00
Monetary Contribution
Steve Sisolak
2016 Annual CE Filing
Lee's Discount Liquor
7/21/2017
$10,000.00
Monetary Contribution
Steve Sisolak
2018 Annual CE Filing (Amended)
LegalZoom Inc.
3/6/2018
$500.00
Monetary Contribution
Adam Laxalt
2018 CE Report 1
LegalZoom Inc.
7/10/2017
$500.00
Monetary Contribution
Adam Laxalt
2018 Annual CE Filing
Leland P. James
8/11/2017
$97.55
Monetary Contribution
Adam Laxalt
2018 Annual CE Filing
Leland R. Campsey
2/19/2018
$50.00
Monetary Contribution
Adam Laxalt
2018 CE Report 1
Leland R. Campsey
4/20/2018
$50.00
Monetary Contribution
Adam Laxalt
2018 CE Report 1
Leland R. Campsey
4/24/2017
$50.00
Monetary Contribution
Adam Laxalt
2018 Annual CE Filing
Leland R. Campsey
11/20/2017
$50.00
Monetary Contribution
Adam Laxalt
2018 Annual CE Filing
Leland R. Campsey
6/4/2018
$50.00
Monetary Contribution
Adam Laxalt
2018 CE Report 2
Leland W. Pratt
6/1/2018
$50.00
Monetary Contribution
Adam Laxalt
2018 CE Report 2
Leland W. Pratt
11/15/2017
$50.00
Monetary Contribution
Adam Laxalt
2018 Annual CE Filing
Len Savage
5/3/2018
$1,000.00
Monetary Contribution
Adam Laxalt
2018 CE Report 1
Lenawee Trust
11/8/2016
$2,500.00
Monetary Contribution
Steve Sisolak
2016 CE Report 5 (Amended)
Lenawee Trust
2/19/2018
$5,000.00
Monetary Contribution
Adam Laxalt
2018 CE Report 1
Lenna Hovanessian
9/9/2016
$150.00
Monetary Contribution
Steve Sisolak
2016 CE Report 3
Lenna Wagner
5/14/2018
$2,500.00
Monetary Contribution
Adam Laxalt
2018 CE Report 1
Leo A Daly Company Political Action Committee
3/21/2018
$1,000.00
Monetary Contribution
Steve Sisolak
2018 CE Report 1 (Amended)
Leo Germin
11/1/2017
$100.00
Monetary Contribution
Adam Laxalt
2018 Annual CE Filing
Leon & Mary Elsarelli
11/25/2015
$1,500.00
Monetary Contribution
Steve Sisolak
2016 Annual CE Filing
Leonard A. Leo
7/10/2017
$2,500.00
Monetary Contribution
Adam Laxalt
2018 Annual CE Filing
Leonard E. Swisher
5/29/2018
$50.00
Monetary Contribution
Adam Laxalt
2018 CE Report 2
Lesley Pittman
12/20/2017
$250.00
Monetary Contribution
Steve Sisolak
2018 Annual CE Filing (Amended)
Leslie Dunn
3/14/2018
$2,500.00
Monetary Contribution
Adam Laxalt
2018 CE Report 1
Leslie Dunn
5/9/2018
$1,500.00
Monetary Contribution
Adam Laxalt
2018 CE Report 1
Leslie Dunn
12/7/2017
$1,000.00
Monetary Contribution
Adam Laxalt
2018 Annual CE Filing
Leslie K Browder MD
2/27/2018
$1,000.00
Monetary Contribution
Steve Sisolak
2018 CE Report 1 (Amended)
Leslie Raggio Righetti
5/26/2017
$100.00
Monetary Contribution
Adam Laxalt
2018 Annual CE Filing
Leslie Raggio Righetti
11/9/2017
$100.00
Monetary Contribution
Adam Laxalt
2018 Annual CE Filing
Leslie Sexton
1/28/2018
$100.00
Monetary Contribution
Steve Sisolak
2018 CE Report 1 (Amended)
Lester L. Phillips
5/29/2018
$50.00
Monetary Contribution
Adam Laxalt
2018 CE Report 2
Letizia Agency
6/26/2017
$500.00
Monetary Contribution
Steve Sisolak
2018 Annual CE Filing (Amended)
Lewis Investment Companies of Nevada, LLC
7/12/2017
$5,000.00
Monetary Contribution
Steve Sisolak
2018 Annual CE Filing (Amended)
Lewis Investment Company of Nevada LLC
5/27/2015
$5,000.00
Monetary Contribution
Steve Sisolak
2016 Annual CE Filing
Lewis Management Corp.
5/17/2018
$1,000.00
Monetary Contribution
Adam Laxalt
2018 CE Report 1
Lewis Roca & Rothgerber Christie
11/5/2016
$1,000.00
Monetary Contribution
Steve Sisolak
2016 CE Report 5 (Amended)
Lewis Roca Rothgerber
10/13/2015
$1,000.00
Monetary Contribution
Steve Sisolak
2016 Annual CE Filing
Lewis Roca Rothgerber Christie
12/22/2017
$2,500.00
Monetary Contribution
Steve Sisolak
2018 Annual CE Filing (Amended)
Lewis Roca Rothgerber Christie
2/16/2018
$2,000.00
Monetary Contribution
Adam Laxalt
2018 CE Report 1
Lewis Roca Rothgerber Christie
6/28/2017
$2,500.00
Monetary Contribution
Adam Laxalt
2018 Annual CE Filing
Lewis Roca Rothgerber Christie
12/26/2017
$2,500.00
Monetary Contribution
Adam Laxalt
2018 Annual CE Filing
Lewis Watson
11/16/2017
$500.00
Monetary Contribution
Adam Laxalt
2018 Annual CE Filing
Lexus of Las Vegas
3/4/2016
$1,000.00
Monetary Contribution
Steve Sisolak
2016 CE Report 1
Lexus of Las Vegas
7/7/2017
$1,000.00
Monetary Contribution
Steve Sisolak
2018 Annual CE Filing (Amended)
LF Mortillaro PHD LTD
3/8/2018
$2,500.00
Monetary Contribution
Steve Sisolak
2018 CE Report 1 (Amended)
LG Architects Inc.
5/14/2015
$500.00
Monetary Contribution
Steve Sisolak
2016 Annual CE Filing
LifeLock
3/16/2017
$2,000.00
Monetary Contribution
Adam Laxalt
2018 Annual CE Filing
Lighting Design Center
4/10/2018
$250.00
Monetary Contribution
Adam Laxalt
2018 CE Report 1
Lila Roth-Dooley
4/19/2017
$100.00
Monetary Contribution
Adam Laxalt
2018 Annual CE Filing
Lilian Chowning
6/7/2018
$50.00
Monetary Contribution
Steve Sisolak
2018 CE Report 2 (Amended)
Linda Bissett
6/9/2017
$100.00
Monetary Contribution
Adam Laxalt
2018 Annual CE Filing
Linda Bullen
10/4/2015
$250.00
Monetary Contribution
Steve Sisolak
2016 Annual CE Filing
Linda Dufurrena
11/4/2017
$250.00
Monetary Contribution
Adam Laxalt
2018 Annual CE Filing
Linda Dufurrena
6/1/2018
$250.00
Monetary Contribution
Adam Laxalt
2018 CE Report 2
Linda Estes
1/22/2018
$500.00
Monetary Contribution
Steve Sisolak
2018 CE Report 1 (Amended)
Linda Faso
4/19/2018
$500.00
Monetary Contribution
Steve Sisolak
2018 CE Report 1 (Amended)
Linda J. Strayton
4/12/2018
$50.00
Monetary Contribution
Adam Laxalt
2018 CE Report 1
Linda J. Strayton
11/22/2017
$50.00
Monetary Contribution
Adam Laxalt
2018 Annual CE Filing
Linda K. Wulf
11/9/2017
$500.00
Monetary Contribution
Adam Laxalt
2018 Annual CE Filing
Linda Moore
5/1/2018
$300.00
Monetary Contribution
Adam Laxalt
2018 CE Report 1
Linda Musselman
4/9/2018
$50.00
Monetary Contribution
Adam Laxalt
2018 CE Report 1
Linda Powers
3/28/2018
$50.00
Monetary Contribution
Adam Laxalt
2018 CE Report 1
Linda Powers
5/17/2018
$50.00
Monetary Contribution
Adam Laxalt
2018 CE Report 1
Linda Rexwinkel
6/30/2017
$50.00
Monetary Contribution
Adam Laxalt
2018 Annual CE Filing
Linda Richardson
5/31/2018
$10,000.00
Monetary Contribution
Steve Sisolak
2018 CE Report 2 (Amended)
Linda Shook
2/27/2018
$50.00
Monetary Contribution
Adam Laxalt
2018 CE Report 1
Linda V. Cook
5/15/2018
$250.00
Monetary Contribution
Adam Laxalt
2018 CE Report 1
Lindsay Egge
12/17/2015
$500.00
Monetary Contribution
Adam Laxalt
2016 Annual CE Filing
Lindsay J. Egge
12/26/2016
$1,000.00
Monetary Contribution
Adam Laxalt
2017 Annual CE Filing
Lindsay J. Egge
1/11/2018
$3,500.00
Monetary Contribution
Adam Laxalt
2018 CE Report 1
Lindsay J. Egge
1/11/2018
$1,500.00
Monetary Contribution
Adam Laxalt
2018 CE Report 1
Lindsay J. Egge
3/27/2018
$1,000.00
Monetary Contribution
Adam Laxalt
2018 CE Report 1
Linnes Chester
8/10/2017
$50.00
Monetary Contribution
Steve Sisolak
2018 Annual CE Filing (Amended)
Linx Card Inc
4/18/2018
$5,000.00
Monetary Contribution
Adam Laxalt
2018 CE Report 1
Linx Card Inc
4/18/2018
$5,000.00
Monetary Contribution
Adam Laxalt
2018 CE Report 1
Lionel Sawyer & Collins PAC
3/2/2016
$2,000.00
Monetary Contribution
Steve Sisolak
2016 CE Report 1
Lippman Media LLC
4/12/2016
$1,000.00
Monetary Contribution
Steve Sisolak
2016 CE Report 1
Lippman Media LLC
8/11/2017
$1,000.00
Monetary Contribution
Steve Sisolak
2018 Annual CE Filing (Amended)
Liquor Library LLC
6/4/2015
$2,500.00
Monetary Contribution
Steve Sisolak
2016 Annual CE Filing
Lisa A. Durette, M.D. PLLC dba Healthy Minds
12/26/2015
$1,000.00
Monetary Contribution
Steve Sisolak
2016 Annual CE Filing
Lisa A. Durette, M.D. PLLC dba Healthy Minds
4/20/2018
$5,000.00
Monetary Contribution
Steve Sisolak
2018 CE Report 1 (Amended)
Lisa A. Roberts
11/9/2017
$2,000.00
Monetary Contribution
Adam Laxalt
2018 Annual CE Filing
Lisa B. Laughlin
3/27/2018
$750.00
Monetary Contribution
Adam Laxalt
2018 CE Report 1
Lisa J. Taylor
4/10/2018
$500.00
Monetary Contribution
Adam Laxalt
2018 CE Report 1
Lisa Jean Williams
3/8/2018
$500.00
Monetary Contribution
Adam Laxalt
2018 CE Report 1
Lisa Levine
5/4/2018
$100.00
Monetary Contribution
Steve Sisolak
2018 CE Report 1 (Amended)
Lisa M. Ferraro
12/22/2016
$5,000.00
Monetary Contribution
Adam Laxalt
2017 Annual CE Filing
Lisa M. Ferraro
12/22/2016
$5,000.00
Monetary Contribution
Adam Laxalt
2017 Annual CE Filing
Lisa Wait
12/30/2017
$2,500.00
Monetary Contribution
Adam Laxalt
2018 Annual CE Filing
List Cattle Co.
5/9/2018
$1,486.80
In Kind Contribution
Adam Laxalt
2018 CE Report 1
Little Church of the West
3/21/2018
$1,000.00
Monetary Contribution
Adam Laxalt
2018 CE Report 1
Liza Bradley
4/19/2018
$500.00
Monetary Contribution
Adam Laxalt
2018 CE Report 1
Liza Leveille
2/11/2018
$100.00
Monetary Contribution
Adam Laxalt
2018 CE Report 1
LK Modi
11/28/2017
$5,000.00
Monetary Contribution
Steve Sisolak
2018 Annual CE Filing (Amended)
Lloyd J. Pickering
6/4/2018
$100.00
Monetary Contribution
Adam Laxalt
2018 CE Report 2
LNF Event Management, LLC
9/8/2015
$10,000.00
Monetary Contribution
Steve Sisolak
2016 Annual CE Filing
LNF Event Management, LLC
1/8/2018
$10,000.00
Monetary Contribution
Steve Sisolak
2018 CE Report 1 (Amended)
Local Union 357 PAC
2/23/2016
$1,003.57
Monetary Contribution
Steve Sisolak
2016 CE Report 1
Local Union 357 Political Action Committee
1/23/2018
$1,003.57
Monetary Contribution
Steve Sisolak
2018 CE Report 1 (Amended)
Lois H. Lewis
4/26/2017
$100.00
Monetary Contribution
Adam Laxalt
2018 Annual CE Filing
Lois H. Lewis
11/15/2017
$300.00
Monetary Contribution
Adam Laxalt
2018 Annual CE Filing
Lombardo for Sheriff
4/15/2016
$1,000.00
Monetary Contribution
Steve Sisolak
2016 CE Report 1
Longhorn Casino
8/30/2016
$1,000.00
Monetary Contribution
Steve Sisolak
2016 CE Report 3
Longhorn Casino
3/7/2018
$1,500.00
Monetary Contribution
Steve Sisolak
2018 CE Report 1 (Amended)
Lora Morrow
6/4/2018
$5,000.00
Monetary Contribution
Adam Laxalt
2018 CE Report 2
Lora Morrow
6/4/2018
$5,000.00
Monetary Contribution
Adam Laxalt
2018 CE Report 2
Loren B. Norris
6/1/2018
$100.00
Monetary Contribution
Adam Laxalt
2018 CE Report 2
Loren B. Norris
4/26/2017
$100.00
Monetary Contribution
Adam Laxalt
2018 Annual CE Filing
Lorenzo J. Fertitta
9/17/2015
$10,000.00
Monetary Contribution
Adam Laxalt
2016 Annual CE Filing
Lorenzo J. Fertitta
11/9/2017
$5,000.00
Monetary Contribution
Adam Laxalt
2018 Annual CE Filing
Lorenzo J. Fertitta
11/9/2017
$5,000.00
Monetary Contribution
Adam Laxalt
2018 Annual CE Filing
Lori E. Kalani
7/10/2017
$1,000.00
Monetary Contribution
Adam Laxalt
2018 Annual CE Filing
Lori E. Kalani
7/27/2016
$500.00
Monetary Contribution
Adam Laxalt
2017 Annual CE Filing
Lori E. Kalani
11/28/2016
$500.00
Monetary Contribution
Adam Laxalt
2017 Annual CE Filing
Lori Kalani
1/23/2015
$500.00
Monetary Contribution
Adam Laxalt
2016 Annual CE Filing
Lori Kalani
8/7/2015
$500.00
Monetary Contribution
Adam Laxalt
2016 Annual CE Filing
Lori M. Blakey
11/15/2017
$50.00
Monetary Contribution
Adam Laxalt
2018 Annual CE Filing
Lorraine H. Bagwell
3/8/2018
$250.00
Monetary Contribution
Adam Laxalt
2018 CE Report 1
Lorraine Hunt-Bono
5/11/2017
$500.00
Monetary Contribution
Adam Laxalt
2018 Annual CE Filing
Lorraine Hunt-Bono
12/7/2017
$250.00
Monetary Contribution
Adam Laxalt
2018 Annual CE Filing
Lorraine Hunt-Bono
12/19/2016
$1,000.00
Monetary Contribution
Adam Laxalt
2017 Annual CE Filing
Lorrie L. Doyle
4/18/2018
$50.00
Monetary Contribution
Adam Laxalt
2018 CE Report 1
Louie Overstreet
3/24/2018
$100.00
Monetary Contribution
Steve Sisolak
2018 CE Report 1 (Amended)
Louis Berger Group, Inc.
4/25/2018
$1,000.00
Monetary Contribution
Steve Sisolak
2018 CE Report 1 (Amended)
Louis J. Gex
2/19/2018
$50.00
Monetary Contribution
Adam Laxalt
2018 CE Report 1
Louis V. Csoka
3/16/2018
$100.00
Monetary Contribution
Adam Laxalt
2018 CE Report 1
Louise Graham
5/31/2018
$50.00
Monetary Contribution
Adam Laxalt
2018 CE Report 2
Louise H Craddock
11/17/2017
$150.00
Monetary Contribution
Adam Laxalt
2018 Annual CE Filing
Loyd Piercy
5/15/2018
$500.00
Monetary Contribution
Adam Laxalt
2018 CE Report 1
LP Equipment LLC
5/16/2018
$5,000.00
Monetary Contribution
Adam Laxalt
2018 CE Report 1
LP Equipment LLC
5/16/2018
$5,000.00
Monetary Contribution
Adam Laxalt
2018 CE Report 1
Lucca Real Property II, LLC
7/15/2015
$10,000.00
Monetary Contribution
Steve Sisolak
2016 Annual CE Filing
Lucky Land LLC
12/26/2015
$500.00
Monetary Contribution
Steve Sisolak
2016 Annual CE Filing
Lucky's Lounge
10/19/2017
$1,750.00
In Kind Contribution
Steve Sisolak
2018 Annual CE Filing (Amended)
Lud Corrao
12/1/2015
$2,500.00
Monetary Contribution
Adam Laxalt
2016 Annual CE Filing
Lud Corrao
10/24/2016
$5,000.00
Monetary Contribution
Adam Laxalt
2017 Annual CE Filing
Lud Corrao
10/24/2016
$5,000.00
Monetary Contribution
Adam Laxalt
2017 Annual CE Filing
Luff Enterprises NV Inc.
4/6/2018
$2,500.00
Monetary Contribution
Adam Laxalt
2018 CE Report 1
Lura K. Weaver
12/31/2017
$50.00
Monetary Contribution
Adam Laxalt
2018 Annual CE Filing
Lurie Family Trust
6/29/2017
$300.00
Monetary Contribution
Steve Sisolak
2018 Annual CE Filing (Amended)
Lurie Family Trust
5/18/2015
$300.00
Monetary Contribution
Steve Sisolak
2016 Annual CE Filing
Lusso Holdings LLC Series A
5/1/2018
$100.00
Monetary Contribution
Adam Laxalt
2018 CE Report 1
Luther Mack
11/9/2017
$1,000.00
Monetary Contribution
Adam Laxalt
2018 Annual CE Filing
Luxor
12/20/2017
$10,000.00
Monetary Contribution
Steve Sisolak
2018 Annual CE Filing (Amended)
Luxor Hotel
3/22/2016
$10,000.00
Monetary Contribution
Steve Sisolak
2016 CE Report 1
LV Badura LLC
7/22/2015
$10,000.00
Monetary Contribution
Steve Sisolak
2016 Annual CE Filing
LV Cactus Schirlls LLC
11/29/2017
$1,000.00
Monetary Contribution
Steve Sisolak
2018 Annual CE Filing (Amended)
LV Jeffreys LLC
8/1/2017
$10,000.00
Monetary Contribution
Steve Sisolak
2018 Annual CE Filing (Amended)
LV Silverado West LLC
8/1/2017
$10,000.00
Monetary Contribution
Steve Sisolak
2018 Annual CE Filing (Amended)
LV St. Rose LLC
8/1/2017
$10,000.00
Monetary Contribution
Steve Sisolak
2018 Annual CE Filing (Amended)
LV St. Rose LLC
7/22/2015
$10,000.00
Monetary Contribution
Steve Sisolak
2016 Annual CE Filing
LVB 5 LLC
10/16/2016
$500.00
Monetary Contribution
Steve Sisolak
2016 CE Report 4
LVB Moberly LLC
7/21/2015
$1,500.00
Monetary Contribution
Steve Sisolak
2016 Annual CE Filing
LVG Ventures LLC
12/23/2015
$5,000.00
Monetary Contribution
Steve Sisolak
2016 Annual CE Filing
LVGV LLC dba M Resort
12/21/2017
$5,000.00
Monetary Contribution
Steve Sisolak
2018 Annual CE Filing (Amended)
LVGV LLC dba M Resort
1/4/2018
$5,000.00
Monetary Contribution
Steve Sisolak
2018 CE Report 1 (Amended)
LVGV, LLC dba M Resort
12/23/2015
$5,000.00
Monetary Contribution
Steve Sisolak
2016 Annual CE Filing
LVMC LLC
12/17/2015
$5,000.00
Monetary Contribution
Steve Sisolak
2016 Annual CE Filing
LVMC LLC
7/1/2015
$5,000.00
Monetary Contribution
Steve Sisolak
2016 Annual CE Filing
LVPPA Inc.
11/28/2017
$10,000.00
Monetary Contribution
Steve Sisolak
2018 Annual CE Filing (Amended)
LVPPAM, Inc PAC
12/22/2015
$10,000.00
Monetary Contribution
Steve Sisolak
2016 Annual CE Filing
LVR Capital LLC
4/24/2017
$5,000.00
Monetary Contribution
Adam Laxalt
2018 Annual CE Filing
LVRV Inc.
3/17/2016
$2,500.00
Monetary Contribution
Steve Sisolak
2016 CE Report 1
LVSG Management Holdings
12/18/2017
$10,000.00
Monetary Contribution
Steve Sisolak
2018 Annual CE Filing (Amended)
Lynda Crossley
2/19/2018
$100.00
Monetary Contribution
Adam Laxalt
2018 CE Report 1
Lynda Crossley
5/17/2018
$100.00
Monetary Contribution
Adam Laxalt
2018 CE Report 1
Lynn Bremer
5/16/2018
$100.00
Monetary Contribution
Steve Sisolak
2018 CE Report 1 (Amended)
Lynna Hodgin
5/30/2018
$50.00
Monetary Contribution
Steve Sisolak
2018 CE Report 2 (Amended)
Lynne Hoffman
11/9/2017
$250.00
Monetary Contribution
Adam Laxalt
2018 Annual CE Filing
M and M Ventures III LLC
12/22/2016
$5,000.00
Monetary Contribution
Adam Laxalt
2017 Annual CE Filing
M and M Ventures III LLC
12/22/2016
$4,000.00
Monetary Contribution
Adam Laxalt
2017 Annual CE Filing
M W Holdings LLC
5/18/2018
$5,000.00
Monetary Contribution
Adam Laxalt
2018 CE Report 1
M. Nafees Nagy
5/2/2018
$2,500.00
Monetary Contribution
Adam Laxalt
2018 CE Report 1
M. Nafees Nagy
5/2/2018
$5,000.00
Monetary Contribution
Adam Laxalt
2018 CE Report 1
M. Nafees Nagy
11/9/2017
$2,500.00
Monetary Contribution
Adam Laxalt
2018 Annual CE Filing
M.H. Sloan
11/29/2017
$2,500.00
Monetary Contribution
Steve Sisolak
2018 Annual CE Filing (Amended)
M.T. Amirana
5/11/2017
$100.00
Monetary Contribution
Adam Laxalt
2018 Annual CE Filing
M&R Limited Partnership
3/30/2016
$100.00
Monetary Contribution
Steve Sisolak
2016 CE Report 1
MacFarlane Group
12/30/2015
$2,500.00
Monetary Contribution
Adam Laxalt
2016 Annual CE Filing
MacFarlane Group
1/26/2015
$2,500.00
Monetary Contribution
Adam Laxalt
2016 Annual CE Filing
Mackie B. Hinricksen
9/11/2017
$50.00
Monetary Contribution
Adam Laxalt
2018 Annual CE Filing
Mackie B. Hinricksen
3/5/2018
$50.00
Monetary Contribution
Adam Laxalt
2018 CE Report 1
MacMurray Petersen & Shuster LLP
7/10/2017
$250.00
Monetary Contribution
Adam Laxalt
2018 Annual CE Filing
MacMurray Petersen & Shuster LLP
2/27/2015
$500.00
Monetary Contribution
Adam Laxalt
2016 Annual CE Filing
MacMurray Petersen & Shuster LLP
12/16/2016
$1,000.00
Monetary Contribution
Adam Laxalt
2017 Annual CE Filing
Mae Steninger
11/9/2017
$500.00
Monetary Contribution
Adam Laxalt
2018 Annual CE Filing
Magdalena Groover
12/22/2017
$200.00
Monetary Contribution
Steve Sisolak
2018 Annual CE Filing (Amended)
Mai Tai Allred
4/19/2018
$100.00
Monetary Contribution
Adam Laxalt
2018 CE Report 1
Maier Gutierrez & Associates
1/24/2018
$5,000.00
Monetary Contribution
Steve Sisolak
2018 CE Report 1 (Amended)
Maier Gutierrez & Associates
3/29/2018
$5,000.00
Monetary Contribution
Steve Sisolak
2018 CE Report 1 (Amended)
Mainor Wirth LLP
1/24/2018
$5,000.00
Monetary Contribution
Steve Sisolak
2018 CE Report 1 (Amended)
Majestic Realty Co.
8/10/2017
$10,000.00
Monetary Contribution
Steve Sisolak
2018 Annual CE Filing (Amended)
Majestic Realty Co.
6/10/2015
$1,000.00
Monetary Contribution
Steve Sisolak
2016 Annual CE Filing
Majestic Realty Co.
11/14/2016
$2,500.00
Monetary Contribution
Steve Sisolak
2016 CE Report 5 (Amended)
Malinda Campbell
11/1/2017
$250.00
Monetary Contribution
Adam Laxalt
2018 Annual CE Filing
Mallinckrodt LLC
5/30/2017
$1,000.00
Monetary Contribution
Adam Laxalt
2018 Annual CE Filing
Mallinckrodt LLC
5/30/2017
$1,500.00
Monetary Contribution
Adam Laxalt
2018 Annual CE Filing
Mallinckrodt LLC
7/11/2017
$1,000.00
Monetary Contribution
Adam Laxalt
2018 Annual CE Filing
Mallinckrodt LLC
7/27/2016
$1,000.00
Monetary Contribution
Adam Laxalt
2017 Annual CE Filing
Mallinckrodt LLC Corporate Contributions
2/27/2015
$3,000.00
Monetary Contribution
Adam Laxalt
2016 Annual CE Filing
Manatt Phelps & Phillips LLP
3/26/2015
$2,500.00
Monetary Contribution
Adam Laxalt
2016 Annual CE Filing
Mancave 10 LLC
8/11/2017
$5,000.00
Monetary Contribution
Adam Laxalt
2018 Annual CE Filing
Marc Colosimo
3/21/2018
$50.00
Monetary Contribution
Steve Sisolak
2018 CE Report 1 (Amended)
Marc Fanticola
3/6/2018
$5,000.00
Monetary Contribution
Steve Sisolak
2018 CE Report 1 (Amended)
Marc Goldman
12/29/2017
$2,700.00
Monetary Contribution
Adam Laxalt
2018 Annual CE Filing
Marc Goldman
5/11/2018
$1,800.00
Monetary Contribution
Adam Laxalt
2018 CE Report 1
Marc Jaude
4/8/2018
$500.00
Monetary Contribution
Adam Laxalt
2018 CE Report 1
Marc Morse
3/4/2016
$10,000.00
Monetary Contribution
Steve Sisolak
2016 CE Report 1
Marc Risman
2/22/2018
$1,000.00
Monetary Contribution
Adam Laxalt
2018 CE Report 1
Marcus Faust
5/14/2015
$1,000.00
Monetary Contribution
Steve Sisolak
2016 Annual CE Filing
Marcus G. Faust P.C.
3/4/2016
$5,000.00
Monetary Contribution
Steve Sisolak
2016 CE Report 1
Marcus G. Faust P.C.
8/11/2017
$5,000.00
Monetary Contribution
Steve Sisolak
2018 Annual CE Filing (Amended)
Maren E. Wagner
2/27/2018
$100.00
Monetary Contribution
Adam Laxalt
2018 CE Report 1
Maren E. Wagner
4/19/2018
$100.00
Monetary Contribution
Adam Laxalt
2018 CE Report 1
Margaret C. Brotherton
4/24/2017
$50.00
Monetary Contribution
Adam Laxalt
2018 Annual CE Filing
Margaret C. Brotherton
11/16/2017
$200.00
Monetary Contribution
Adam Laxalt
2018 Annual CE Filing
Margaret Lambrose
11/8/2017
$300.00
Monetary Contribution
Steve Sisolak
2018 Annual CE Filing (Amended)
Margaret M. Purdue
6/30/2017
$50.00
Monetary Contribution
Adam Laxalt
2018 Annual CE Filing
Margaret M. Purdue
4/26/2018
$50.00
Monetary Contribution
Adam Laxalt
2018 CE Report 1
Margaret VanderLaan
2/28/2018
$50.00
Monetary Contribution
Adam Laxalt
2018 CE Report 1
Margaret W. Benz
5/5/2017
$50.00
Monetary Contribution
Adam Laxalt
2018 Annual CE Filing
Margaret W. Benz
12/21/2017
$100.00
Monetary Contribution
Adam Laxalt
2018 Annual CE Filing
Margaretta C. Shimer
11/27/2017
$50.00
Monetary Contribution
Adam Laxalt
2018 Annual CE Filing
Margaretta C. Shimer
2/19/2018
$50.00
Monetary Contribution
Adam Laxalt
2018 CE Report 1
Margaretta C. Shimer
4/13/2018
$50.00
Monetary Contribution
Adam Laxalt
2018 CE Report 1
Marian E. Lavoy
3/6/2018
$50.00
Monetary Contribution
Adam Laxalt
2018 CE Report 1
Marian E. Lavoy
6/1/2018
$50.00
Monetary Contribution
Adam Laxalt
2018 CE Report 2
Marianne F. Leinassar
5/8/2017
$100.00
Monetary Contribution
Adam Laxalt
2018 Annual CE Filing
Marianne F. Leinassar
11/20/2017
$100.00
Monetary Contribution
Adam Laxalt
2018 Annual CE Filing
Marianne Gibson
6/7/2018
$5,000.00
Monetary Contribution
Adam Laxalt
2018 CE Report 2
Marie C. Bensinger
6/1/2018
$100.00
Monetary Contribution
Adam Laxalt
2018 CE Report 2
Marie C. Simons
2/21/2018
$50.00
Monetary Contribution
Adam Laxalt
2018 CE Report 1
Marie Macricostas
6/6/2018
$5,000.00
Monetary Contribution
Adam Laxalt
2018 CE Report 2
Marie Macricostas
6/6/2018
$5,000.00
Monetary Contribution
Adam Laxalt
2018 CE Report 2
Marilee Hamilton
2/5/2018
$5,000.00
Monetary Contribution
Adam Laxalt
2018 CE Report 1
Marilee Hamilton
2/5/2018
$5,000.00
Monetary Contribution
Adam Laxalt
2018 CE Report 1
Marilyn M. Young
11/15/2017
$250.00
Monetary Contribution
Adam Laxalt
2018 Annual CE Filing
Marilyn Moran
9/8/2015
$1,000.00
Monetary Contribution
Steve Sisolak
2016 Annual CE Filing
Marilyn Taylor
3/27/2017
$500.00
Monetary Contribution
Adam Laxalt
2018 Annual CE Filing
Marilyn Taylor
11/1/2017
$250.00
Monetary Contribution
Adam Laxalt
2018 Annual CE Filing
Marilyn Taylor
5/16/2018
$1,000.00
Monetary Contribution
Adam Laxalt
2018 CE Report 1
Marjon Holdings LLC
12/29/2017
$5,000.00
Monetary Contribution
Adam Laxalt
2018 Annual CE Filing
Marjory Lucas
11/29/2017
$50.00
Monetary Contribution
Adam Laxalt
2018 Annual CE Filing
Mark Abernathy
12/8/2017
$50.00
Monetary Contribution
Adam Laxalt
2018 Annual CE Filing
Mark Anthony Brands, Inc.
4/2/2015
$3,000.00
Monetary Contribution
Adam Laxalt
2016 Annual CE Filing
Mark Cole
12/15/2017
$1,000.00
Monetary Contribution
Adam Laxalt
2018 Annual CE Filing
Mark Doubrava
6/22/2015
$500.00
Monetary Contribution
Steve Sisolak
2016 Annual CE Filing
Mark Dunford
2/24/2016
$500.00
Monetary Contribution
Steve Sisolak
2016 CE Report 1
Mark Dunford
4/9/2015
$500.00
Monetary Contribution
Steve Sisolak
2016 Annual CE Filing
Mark Dunford
7/10/2017
$1,000.00
Monetary Contribution
Steve Sisolak
2018 Annual CE Filing (Amended)
Mark Dunford
11/27/2017
$1,000.00
Monetary Contribution
Steve Sisolak
2018 Annual CE Filing (Amended)
Mark E. Evatz
6/4/2018
$250.00
Monetary Contribution
Adam Laxalt
2018 CE Report 2
Mark E. Rowley
5/17/2017
$100.00
Monetary Contribution
Adam Laxalt
2018 Annual CE Filing
Mark E. Rowley
7/21/2017
$200.00
Monetary Contribution
Adam Laxalt
2018 Annual CE Filing
Mark F. Meich
12/30/2017
$200.00
Monetary Contribution
Adam Laxalt
2018 Annual CE Filing
Mark Fine
11/6/2017
$1,000.00
Monetary Contribution
Steve Sisolak
2018 Annual CE Filing (Amended)
Mark Fine
12/19/2015
$500.00
Monetary Contribution
Adam Laxalt
2016 Annual CE Filing
Mark Fisher
3/6/2018
$100.00
Monetary Contribution
Steve Sisolak
2018 CE Report 1 (Amended)
Mark Gardner
11/6/2017
$250.00
Monetary Contribution
Adam Laxalt
2018 Annual CE Filing
Mark James
1/22/2018
$10,000.00
Monetary Contribution
Steve Sisolak
2018 CE Report 1 (Amended)
Mark James
10/6/2016
$5,000.00
Monetary Contribution
Steve Sisolak
2016 CE Report 3
Mark James
7/1/2015
$5,000.00
Monetary Contribution
Steve Sisolak
2016 Annual CE Filing
Mark James
4/9/2018
$5,000.00
Monetary Contribution
Adam Laxalt
2018 CE Report 1
Mark James
4/9/2018
$5,000.00
Monetary Contribution
Adam Laxalt
2018 CE Report 1
Mark Johnson
5/17/2018
$250.00
Monetary Contribution
Steve Sisolak
2018 CE Report 1 (Amended)
Mark Kalbfleisch
11/6/2016
$150.00
Monetary Contribution
Steve Sisolak
2016 CE Report 5 (Amended)
Mark L. Fine
11/9/2017
$1,000.00
Monetary Contribution
Adam Laxalt
2018 Annual CE Filing
Mark L. Fine
12/7/2017
$1,000.00
Monetary Contribution
Adam Laxalt
2018 Annual CE Filing
Mark L. Fine
12/22/2016
$1,000.00
Monetary Contribution
Adam Laxalt
2017 Annual CE Filing
Mark Maffey
2/8/2018
$1,500.00
Monetary Contribution
Adam Laxalt
2018 CE Report 1
Mark Morrow
6/4/2018
$5,000.00
Monetary Contribution
Adam Laxalt
2018 CE Report 2
Mark Morrow
6/4/2018
$5,000.00
Monetary Contribution
Adam Laxalt
2018 CE Report 2
Mark Ourada
2/27/2015
$500.00
Monetary Contribution
Adam Laxalt
2016 Annual CE Filing
Mark Paris
10/10/2016
$500.00
Monetary Contribution
Steve Sisolak
2016 CE Report 3
Mark Robles
3/6/2018
$1,000.00
Monetary Contribution
Steve Sisolak
2018 CE Report 1 (Amended)
Mark S. Amaro
11/2/2017
$100.00
Monetary Contribution
Adam Laxalt
2018 Annual CE Filing
Mark S. Amaro
1/18/2018
$100.00
Monetary Contribution
Adam Laxalt
2018 CE Report 1
Mark S. Amaro
2/26/2018
$100.00
Monetary Contribution
Adam Laxalt
2018 CE Report 1
Mark S. Gandt
5/14/2018
$500.00
Monetary Contribution
Adam Laxalt
2018 CE Report 1
Mark S. Odom
4/17/2017
$100.00
Monetary Contribution
Adam Laxalt
2018 Annual CE Filing
Mark Stark
3/14/2018
$2,500.00
Monetary Contribution
Adam Laxalt
2018 CE Report 1
Mark Tenner
4/19/2018
$500.00
Monetary Contribution
Steve Sisolak
2018 CE Report 1 (Amended)
Mark W. Corrigan
3/30/2018
$500.00
Monetary Contribution
Adam Laxalt
2018 CE Report 1
Marleina B. Hampton
11/16/2017
$100.00
Monetary Contribution
Adam Laxalt
2018 Annual CE Filing
Marlene Michele Cueto
5/14/2018
$1,000.00
Monetary Contribution
Adam Laxalt
2018 CE Report 1
Marlene S. Wheeler
1/22/2018
$5,000.00
Monetary Contribution
Steve Sisolak
2018 CE Report 1 (Amended)
Marlys A. Williams
6/30/2017
$100.00
Monetary Contribution
Adam Laxalt
2018 Annual CE Filing
Marlys A. Williams
11/1/2017
$500.00
Monetary Contribution
Adam Laxalt
2018 Annual CE Filing
Marnell Gaming LLC
7/21/2016
$5,000.00
Monetary Contribution
Steve Sisolak
2016 CE Report 3
Marnell Gaming LLC
11/28/2016
$5,000.00
Monetary Contribution
Adam Laxalt
2017 Annual CE Filing
Marquis Aurbach Coffing
11/5/2016
$1,000.00
Monetary Contribution
Steve Sisolak
2016 CE Report 5 (Amended)
Marquis Aurbach Coffing
7/11/2017
$1,500.00
Monetary Contribution
Steve Sisolak
2018 Annual CE Filing (Amended)
Marstone Capital LLC
11/9/2017
$1,000.00
Monetary Contribution
Adam Laxalt
2018 Annual CE Filing
Martell Brooks
1/21/2018
$50.00
Monetary Contribution
Adam Laxalt
2018 CE Report 1
Martha E. Romero
4/28/2017
$100.00
Monetary Contribution
Adam Laxalt
2018 Annual CE Filing
Martha E. Romero
11/16/2017
$100.00
Monetary Contribution
Adam Laxalt
2018 Annual CE Filing
Martha E. Romero
3/1/2018
$100.00
Monetary Contribution
Adam Laxalt
2018 CE Report 1
Martha E. Romero
4/12/2018
$100.00
Monetary Contribution
Adam Laxalt
2018 CE Report 1
Martha E. Romero
4/30/2018
$100.00
Monetary Contribution
Adam Laxalt
2018 CE Report 1
Martha E. Romero
6/1/2018
$100.00
Monetary Contribution
Adam Laxalt
2018 CE Report 2
Martin Babione
11/2/2017
$50.00
Monetary Contribution
Adam Laxalt
2018 Annual CE Filing
Martin Iron Works Inc.
11/12/2017
$500.00
Monetary Contribution
Adam Laxalt
2018 Annual CE Filing
Martin J. Maslonka
8/28/2017
$5,000.00
Monetary Contribution
Adam Laxalt
2018 Annual CE Filing
Martin Lee
3/30/2018
$500.00
Monetary Contribution
Adam Laxalt
2018 CE Report 1
Martin Lee Edelman
1/22/2018
$5,000.00
Monetary Contribution
Steve Sisolak
2018 CE Report 1 (Amended)
Martin Obst
3/22/2018
$1,000.00
Monetary Contribution
Adam Laxalt
2018 CE Report 1
Martin W & Jeanne Hendrix
2/19/2018
$1,000.00
Monetary Contribution
Adam Laxalt
2018 CE Report 1
Martin W & Jeanne Hendrix
4/21/2017
$100.00
Monetary Contribution
Adam Laxalt
2018 Annual CE Filing
Marvin C. Safford
11/15/2017
$100.00
Monetary Contribution
Adam Laxalt
2018 Annual CE Filing
Marvin E. Davis
11/20/2017
$50.00
Monetary Contribution
Adam Laxalt
2018 Annual CE Filing
Marvin L. Schreck
2/19/2018
$55.00
Monetary Contribution
Adam Laxalt
2018 CE Report 1
Mary Ann Sichak
11/9/2017
$50.00
Monetary Contribution
Adam Laxalt
2018 Annual CE Filing
Mary Berns
5/17/2018
$5,000.00
Monetary Contribution
Steve Sisolak
2018 CE Report 1 (Amended)
Mary Ellen Peters
5/15/2018
$50.00
Monetary Contribution
Adam Laxalt
2018 CE Report 1
Mary Jean Etchegaray
11/9/2017
$300.00
Monetary Contribution
Adam Laxalt
2018 Annual CE Filing
Mary Jo Higgins-Nielsen
4/19/2017
$100.00
Monetary Contribution
Adam Laxalt
2018 Annual CE Filing
Mary Jo Higgins-Nielsen
11/17/2017
$50.00
Monetary Contribution
Adam Laxalt
2018 Annual CE Filing
Mary Joseph Debord
12/21/2016
$10,000.00
Monetary Contribution
Adam Laxalt
2017 Annual CE Filing
Mary K. Shell
12/8/2017
$50.00
Monetary Contribution
Adam Laxalt
2018 Annual CE Filing
Mary Lou Gervie
11/9/2017
$200.00
Monetary Contribution
Adam Laxalt
2018 Annual CE Filing
Mary Lou Gervie
11/30/2017
$100.00
Monetary Contribution
Adam Laxalt
2018 Annual CE Filing
Mary Louis Martin
1/25/2018
$50.00
Monetary Contribution
Steve Sisolak
2018 CE Report 1 (Amended)
Mary M. Laub
11/20/2017
$250.00
Monetary Contribution
Adam Laxalt
2018 Annual CE Filing
Mary M. Moebs
4/9/2018
$50.00
Monetary Contribution
Adam Laxalt
2018 CE Report 1
Mary Matalin
7/19/2017
$200.00
Monetary Contribution
Adam Laxalt
2018 Annual CE Filing
Mary R. Thompson
4/10/2018
$1,000.00
Monetary Contribution
Adam Laxalt
2018 CE Report 1
MaryAnn Bentley
4/19/2017
$100.00
Monetary Contribution
Adam Laxalt
2018 Annual CE Filing
MaryAnn Bentley
6/19/2017
$100.00
Monetary Contribution
Adam Laxalt
2018 Annual CE Filing
MaryAnn Bentley
8/10/2017
$4,575.00
Monetary Contribution
Adam Laxalt
2018 Annual CE Filing
MaryAnn Bentley
8/10/2017
$425.00
Monetary Contribution
Adam Laxalt
2018 Annual CE Filing
MaryAnn Bentley
4/15/2016
$100.00
Monetary Contribution
Adam Laxalt
2017 Annual CE Filing
MaryAnn Bentley
4/15/2016
$100.00
Monetary Contribution
Adam Laxalt
2017 Annual CE Filing
Master Built Construction LLC
10/27/2017
$1,000.00
Monetary Contribution
Adam Laxalt
2018 Annual CE Filing
MATCAL LLC
5/16/2018
$5,000.00
Monetary Contribution
Adam Laxalt
2018 CE Report 1
MATCAL LLC
5/16/2018
$5,000.00
Monetary Contribution
Adam Laxalt
2018 CE Report 1
Match Point Inc.
4/19/2018
$100.00
Monetary Contribution
Steve Sisolak
2018 CE Report 1 (Amended)
Matt Bowman
4/13/2018
$50.00
Monetary Contribution
Adam Laxalt
2018 CE Report 1
Matt C. Jahnke
11/28/2017
$75.00
Monetary Contribution
Adam Laxalt
2018 Annual CE Filing
Matteo's LLC
7/9/2015
$1,000.00
Monetary Contribution
Steve Sisolak
2016 Annual CE Filing
Matthew Baird
8/25/2017
$250.00
Monetary Contribution
Steve Sisolak
2018 Annual CE Filing (Amended)
Matthew C. Freedman
7/24/2017
$500.00
Monetary Contribution
Adam Laxalt
2018 Annual CE Filing
Matthew Caviglia
11/3/2017
$100.00
Monetary Contribution
Adam Laxalt
2018 Annual CE Filing
Matthew D. Saltzman
12/6/2017
$1,000.00
Monetary Contribution
Adam Laxalt
2018 Annual CE Filing
Matthew Hirsch
12/2/2017
$1,000.00
Monetary Contribution
Steve Sisolak
2018 Annual CE Filing (Amended)
Matthew L. Heinhold
11/9/2017
$2,500.00
Monetary Contribution
Adam Laxalt
2018 Annual CE Filing
Matthew Marsh
1/29/2018
$5,000.00
Monetary Contribution
Steve Sisolak
2018 CE Report 1 (Amended)
Matthew Plourde
4/5/2018
$100.00
Monetary Contribution
Steve Sisolak
2018 CE Report 1 (Amended)
Matthew Ripplinger
5/14/2018
$100.00
Monetary Contribution
Adam Laxalt
2018 CE Report 1
Matthew Ripplinger
4/13/2018
$100.00
Monetary Contribution
Adam Laxalt
2018 CE Report 1
Matthew Sharp
1/24/2018
$5,000.00
Monetary Contribution
Steve Sisolak
2018 CE Report 1 (Amended)
Matthew T. Foley
3/27/2018
$500.00
Monetary Contribution
Adam Laxalt
2018 CE Report 1
Maureen A. Hunemuller
4/17/2018
$50.00
Monetary Contribution
Adam Laxalt
2018 CE Report 1
Maureen M. Barrett
11/29/2017
$250.00
Monetary Contribution
Adam Laxalt
2018 Annual CE Filing
Maurice A. Mayer
4/6/2018
$100.00
Monetary Contribution
Adam Laxalt
2018 CE Report 1
Maurice Gallagher
11/30/2017
$5,000.00
Monetary Contribution
Adam Laxalt
2018 Annual CE Filing
Maurice Gallagher
12/2/2016
$5,000.00
Monetary Contribution
Adam Laxalt
2017 Annual CE Filing
Max Pawn LLC
11/8/2017
$500.00
Monetary Contribution
Steve Sisolak
2018 Annual CE Filing (Amended)
Maxfield Group Consulting
4/26/2016
$1,500.00
Monetary Contribution
Steve Sisolak
2016 CE Report 1
Maynard Wiens
6/4/2018
$1,000.00
Monetary Contribution
Adam Laxalt
2018 CE Report 2
MC LLC dba Jiffy Lube
10/23/2015
$10,000.00
Monetary Contribution
Steve Sisolak
2016 Annual CE Filing
McDaniel Richardson & Calhoun PLLC
5/28/2016
$3,000.00
Monetary Contribution
Adam Laxalt
2017 Annual CE Filing
McDonald Carano Wilson Government Affairs Group
12/19/2016
$2,500.00
Monetary Contribution
Adam Laxalt
2017 Annual CE Filing
McDonald Carano Wilson Government Affairs Group LLC
3/7/2016
$5,000.00
Monetary Contribution
Steve Sisolak
2016 CE Report 1
McDonald's
12/29/2016
$5,000.00
Monetary Contribution
Adam Laxalt
2017 Annual CE Filing
McDonald's Corporation
7/31/2017
$2,500.00
Monetary Contribution
Adam Laxalt
2018 Annual CE Filing
McGuire Woods Federal PAC Fund
12/29/2016
$1,000.00
Monetary Contribution
Adam Laxalt
2017 Annual CE Filing
McGuire Woods Federal PAC Fund
7/11/2016
$500.00
Monetary Contribution
Adam Laxalt
2017 Annual CE Filing
MCNA Dental
12/27/2017
$5,000.00
Monetary Contribution
Adam Laxalt
2018 Annual CE Filing
MCNA Dental
6/1/2018
$5,000.00
Monetary Contribution
Adam Laxalt
2018 CE Report 2
ME Aviation, LLC
3/2/2016
$10,000.00
Monetary Contribution
Steve Sisolak
2016 CE Report 1
Medman Opportunity Fund II LP
11/14/2017
$10,000.00
Monetary Contribution
Steve Sisolak
2018 Annual CE Filing (Amended)
Megan J. Maloney
11/22/2017
$100.00
Monetary Contribution
Adam Laxalt
2018 Annual CE Filing
Megan J. Maloney
4/15/2017
$50.00
Monetary Contribution
Adam Laxalt
2018 Annual CE Filing
Megan Kasden
6/5/2017
$100.00
Monetary Contribution
Adam Laxalt
2018 Annual CE Filing
Megan Tibbals
11/9/2017
$500.00
Monetary Contribution
Adam Laxalt
2018 Annual CE Filing
Melissa Akkaway
6/18/2015
$10,000.00
Monetary Contribution
Steve Sisolak
2016 Annual CE Filing
Melissa Akkaway
12/27/2017
$10,000.00
Monetary Contribution
Steve Sisolak
2018 Annual CE Filing (Amended)
Melodie Solton
2/20/2018
$50.00
Monetary Contribution
Adam Laxalt
2018 CE Report 1
Meow Consulting Inc.
5/15/2018
$5,000.00
Monetary Contribution
Adam Laxalt
2018 CE Report 1
Meow Consulting Inc.
5/15/2018
$5,000.00
Monetary Contribution
Adam Laxalt
2018 CE Report 1
Meow LLC
5/15/2018
$5,000.00
Monetary Contribution
Adam Laxalt
2018 CE Report 1
Meow LLC
5/15/2018
$5,000.00
Monetary Contribution
Adam Laxalt
2018 CE Report 1
MEQ-10410 LLC
2/21/2018
$5,000.00
Monetary Contribution
Steve Sisolak
2018 CE Report 1 (Amended)
MEQ-Billboard LLC
2/21/2018
$2,500.00
Monetary Contribution
Steve Sisolak
2018 CE Report 1 (Amended)
Merlin K Hafen Inc
5/16/2018
$500.00
Monetary Contribution
Adam Laxalt
2018 CE Report 1
Merrie Jo Leite
3/22/2018
$250.00
Monetary Contribution
Adam Laxalt
2018 CE Report 1
Meruelo Enterprises Inc.
9/22/2017
$5,000.00
Monetary Contribution
Adam Laxalt
2018 Annual CE Filing
Meruelo Enterprises Inc.
9/22/2017
$5,000.00
Monetary Contribution
Adam Laxalt
2018 Annual CE Filing
Mesquite Gaming LLC
5/15/2018
$1,658.90
In Kind Contribution
Adam Laxalt
2018 CE Report 1
Mesrop Khachikyan
9/9/2016
$400.00
Monetary Contribution
Steve Sisolak
2016 CE Report 3
MetoMultiMedia Services Inc.
9/16/2015
$5,000.00
Monetary Contribution
Steve Sisolak
2016 Annual CE Filing
MGM Grand Hotel LLC
12/20/2017
$10,000.00
Monetary Contribution
Steve Sisolak
2018 Annual CE Filing (Amended)
MGM Resorts International Operations Inc
3/22/2016
$5,000.00
Monetary Contribution
Steve Sisolak
2016 CE Report 1
MGM Resorts International Operations Inc
11/2/2015
$5,000.00
Monetary Contribution
Steve Sisolak
2016 Annual CE Filing
MGM Resorts International Operations, Inc.
12/20/2017
$10,000.00
Monetary Contribution
Steve Sisolak
2018 Annual CE Filing (Amended)
MH Sloan
11/6/2016
$10,000.00
Monetary Contribution
Steve Sisolak
2016 CE Report 5 (Amended)
Micatrotto Holdings LLC
5/12/2015
$1,000.00
Monetary Contribution
Steve Sisolak
2016 Annual CE Filing
Micatrotto Holdings LLC
8/7/2017
$10,000.00
Monetary Contribution
Steve Sisolak
2018 Annual CE Filing (Amended)
Michael & JoAnn Knapp
11/2/2017
$250.00
Monetary Contribution
Adam Laxalt
2018 Annual CE Filing
Michael & Sonja Saltman
9/19/2016
$1,000.00
Monetary Contribution
Steve Sisolak
2016 CE Report 3
Michael & Yoko Faris
9/7/2015
$500.00
Monetary Contribution
Steve Sisolak
2016 Annual CE Filing
Michael A Saltman
6/10/2015
$1,000.00
Monetary Contribution
Steve Sisolak
2016 Annual CE Filing
Michael A. Chernine PC
5/25/2016
$1,000.00
Monetary Contribution
Steve Sisolak
2016 CE Report 2
Michael A. Chernine PC
5/9/2018
$500.00
Monetary Contribution
Steve Sisolak
2018 CE Report 1 (Amended)
Michael A. Saltman
11/15/2017
$2,500.00
Monetary Contribution
Adam Laxalt
2018 Annual CE Filing
Michael Antonovich
5/3/2017
$100.00
Monetary Contribution
Adam Laxalt
2018 Annual CE Filing
Michael B. McClellan
6/20/2017
$5,000.00
Monetary Contribution
Adam Laxalt
2018 Annual CE Filing
Michael Bakst
2/12/2018
$1,000.00
Monetary Contribution
Steve Sisolak
2018 CE Report 1 (Amended)
Michael Bakst
12/26/2017
$100.00
Monetary Contribution
Steve Sisolak
2018 Annual CE Filing (Amended)
Michael Bakst
9/17/2016
$500.00
Monetary Contribution
Steve Sisolak
2016 CE Report 3
Michael Beckley
11/22/2017
$50.00
Monetary Contribution
Adam Laxalt
2018 Annual CE Filing
Michael C. Cate
11/9/2017
$500.00
Monetary Contribution
Adam Laxalt
2018 Annual CE Filing
Michael C. Dermody
8/25/2017
$1,000.00
Monetary Contribution
Adam Laxalt
2018 Annual CE Filing
Michael C. Dermody
5/8/2018
$1,000.00
Monetary Contribution
Adam Laxalt
2018 CE Report 1
Michael C. Evans
11/20/2017
$250.00
Monetary Contribution
Adam Laxalt
2018 Annual CE Filing
Michael Clifford McKee
4/19/2017
$50.00
Monetary Contribution
Adam Laxalt
2018 Annual CE Filing
Michael Colvin
12/15/2017
$2,500.00
Monetary Contribution
Adam Laxalt
2018 Annual CE Filing
Michael Coster
3/13/2018
$100.00
Monetary Contribution
Adam Laxalt
2018 CE Report 1
Michael D. Antonovich
2/14/2018
$100.00
Monetary Contribution
Adam Laxalt
2018 CE Report 1
Michael D. Antonovich
5/31/2018
$100.00
Monetary Contribution
Adam Laxalt
2018 CE Report 2
Michael D. Marranca
6/1/2018
$2,500.00
Monetary Contribution
Adam Laxalt
2018 CE Report 2
Michael Daidone
11/1/2017
$100.00
Monetary Contribution
Adam Laxalt
2018 Annual CE Filing
Michael Dayton
3/1/2018
$100.00
Monetary Contribution
Adam Laxalt
2018 CE Report 1
Michael Dreitzer
11/25/2017
$200.00
Monetary Contribution
Steve Sisolak
2018 Annual CE Filing (Amended)
Michael E. Martino
12/22/2016
$5,000.00
Monetary Contribution
Adam Laxalt
2017 Annual CE Filing
Michael Edward Buckley
12/31/2017
$100.00
Monetary Contribution
Adam Laxalt
2018 Annual CE Filing
Michael Epstein
3/19/2018
$1,000.00
Monetary Contribution
Adam Laxalt
2018 CE Report 1
Michael F. Mohar
11/29/2017
$100.00
Monetary Contribution
Adam Laxalt
2018 Annual CE Filing
Michael F. Mohar
2/9/2018
$50.00
Monetary Contribution
Adam Laxalt
2018 CE Report 1
Michael Frey
1/29/2018
$1,000.00
Monetary Contribution
Steve Sisolak
2018 CE Report 1 (Amended)
Michael G. Alonso
2/16/2018
$500.00
Monetary Contribution
Adam Laxalt
2018 CE Report 1
Michael Gaughan III
2/27/2018
$1,000.00
Monetary Contribution
Steve Sisolak
2018 CE Report 1 (Amended)
Michael Grodsky
4/5/2018
$250.00
Monetary Contribution
Steve Sisolak
2018 CE Report 1 (Amended)
Michael H. Moisio
9/5/2017
$2,000.00
Monetary Contribution
Adam Laxalt
2018 Annual CE Filing
Michael Halverson
5/11/2018
$5,000.00
Monetary Contribution
Adam Laxalt
2018 CE Report 1
Michael Hamika
4/3/2018
$2,500.00
Monetary Contribution
Steve Sisolak
2018 CE Report 1 (Amended)
Michael Hayford
12/27/2017
$3,000.00
Monetary Contribution
Steve Sisolak
2018 Annual CE Filing (Amended)
Michael I. Burstein
4/2/2018
$1,000.00
Monetary Contribution
Adam Laxalt
2018 CE Report 1
Michael J. Britt
9/17/2015
$250.00
Monetary Contribution
Adam Laxalt
2016 Annual CE Filing
Michael J. Franzoia
11/9/2017
$250.00
Monetary Contribution
Adam Laxalt
2018 Annual CE Filing
Michael J. Kessler
12/19/2016
$1,000.00
Monetary Contribution
Adam Laxalt
2017 Annual CE Filing
Michael J. Kessler
11/30/2017
$2,500.00
Monetary Contribution
Adam Laxalt
2018 Annual CE Filing
Michael J. Kessler
6/7/2018
$1,000.00
Monetary Contribution
Adam Laxalt
2018 CE Report 2
Michael J. Pieper
5/17/2018
$500.00
Monetary Contribution
Adam Laxalt
2018 CE Report 1
Michael J. Pieper
11/30/2017
$500.00
Monetary Contribution
Adam Laxalt
2018 Annual CE Filing
Michael J. Ryan
5/14/2018
$5,000.00
Monetary Contribution
Adam Laxalt
2018 CE Report 1
Michael J. Signorelli
5/14/2015
$250.00
Monetary Contribution
Steve Sisolak
2016 Annual CE Filing
Michael J. Sullivan
11/9/2017
$100.00
Monetary Contribution
Adam Laxalt
2018 Annual CE Filing
Michael K. Ingram
12/7/2017
$1,000.00
Monetary Contribution
Adam Laxalt
2018 Annual CE Filing
Michael K. Ingram
5/17/2018
$1,000.00
Monetary Contribution
Adam Laxalt
2018 CE Report 1
Michael Kasper
4/2/2018
$200.00
Monetary Contribution
Adam Laxalt
2018 CE Report 1
Michael Kasper
4/9/2018
$200.00
Monetary Contribution
Adam Laxalt
2018 CE Report 1
Michael Kasper
6/19/2017
$100.00
Monetary Contribution
Adam Laxalt
2018 Annual CE Filing
Michael Katsonis
6/16/2017
$100.00
Monetary Contribution
Adam Laxalt
2018 Annual CE Filing
Michael Katsonis
11/21/2017
$100.00
Monetary Contribution
Adam Laxalt
2018 Annual CE Filing
Michael Katsonis
11/30/2016
$100.00
Monetary Contribution
Adam Laxalt
2017 Annual CE Filing
Michael Katsonis
1/12/2018
$50.00
Monetary Contribution
Adam Laxalt
2018 CE Report 1
Michael L. Ciccolo
2/21/2018
$50.00
Monetary Contribution
Adam Laxalt
2018 CE Report 1
Michael L. Porter
5/8/2017
$250.00
Monetary Contribution
Adam Laxalt
2018 Annual CE Filing
Michael L. Porter
12/4/2017
$250.00
Monetary Contribution
Adam Laxalt
2018 Annual CE Filing
Michael L. Porter
3/14/2018
$250.00
Monetary Contribution
Adam Laxalt
2018 CE Report 1
Michael M. Wood
12/5/2016
$5,000.00
Monetary Contribution
Adam Laxalt
2017 Annual CE Filing
Michael M. Wood
12/5/2016
$5,000.00
Monetary Contribution
Adam Laxalt
2017 Annual CE Filing
Michael Martino
12/22/2015
$5,000.00
Monetary Contribution
Adam Laxalt
2016 Annual CE Filing
Michael McNerny
5/23/2016
$500.00
Monetary Contribution
Steve Sisolak
2016 CE Report 2
Michael Minden
2/27/2018
$500.00
Monetary Contribution
Steve Sisolak
2018 CE Report 1 (Amended)
Michael Morrissey
11/20/2017
$1,000.00
Monetary Contribution
Adam Laxalt
2018 Annual CE Filing
Michael Nahass
12/20/2017
$5,000.00
Monetary Contribution
Steve Sisolak
2018 Annual CE Filing (Amended)
Michael Nikhman
7/2/2017
$5,000.00
Monetary Contribution
Steve Sisolak
2018 Annual CE Filing (Amended)
Michael Nolan
11/8/2016
$2,500.00
Monetary Contribution
Steve Sisolak
2016 CE Report 5 (Amended)
Michael P. Falcone
5/7/2018
$5,000.00
Monetary Contribution
Adam Laxalt
2018 CE Report 1
Michael P. Falcone
5/7/2018
$5,000.00
Monetary Contribution
Adam Laxalt
2018 CE Report 1
Michael P. Steigman
11/15/2017
$50.00
Monetary Contribution
Adam Laxalt
2018 Annual CE Filing
Michael Parker
2/10/2018
$50.00
Monetary Contribution
Adam Laxalt
2018 CE Report 1
Michael Parker
3/10/2018
$50.00
Monetary Contribution
Adam Laxalt
2018 CE Report 1
Michael Parker
4/10/2018
$50.00
Monetary Contribution
Adam Laxalt
2018 CE Report 1
Michael Parker
5/10/2018
$50.00
Monetary Contribution
Adam Laxalt
2018 CE Report 1
MICHAEL PARKS
2/27/2018
$500.00
Monetary Contribution
Steve Sisolak
2018 CE Report 1 (Amended)
Michael Pollak
2/9/2018
$1,000.00
Monetary Contribution
Adam Laxalt
2018 CE Report 1
Michael Poura
6/1/2018
$2,500.00
Monetary Contribution
Steve Sisolak
2018 CE Report 2 (Amended)
Michael R. Gordon
11/16/2017
$200.00
Monetary Contribution
Adam Laxalt
2018 Annual CE Filing
Michael Rhodes
3/29/2018
$500.00
Monetary Contribution
Steve Sisolak
2018 CE Report 1 (Amended)
Michael Rockingham
4/19/2017
$50.00
Monetary Contribution
Adam Laxalt
2018 Annual CE Filing
Michael Rockingham
6/22/2017
$50.00
Monetary Contribution
Adam Laxalt
2018 Annual CE Filing
Michael Saltman
7/13/2017
$2,500.00
Monetary Contribution
Steve Sisolak
2018 Annual CE Filing (Amended)
Michael Saltman
3/5/2016
$2,000.00
Monetary Contribution
Steve Sisolak
2016 CE Report 1
Michael Severino
11/7/2016
$5,000.00
Monetary Contribution
Steve Sisolak
2016 CE Report 5 (Amended)
Michael Spirtos
8/19/2015
$5,000.00
Monetary Contribution
Steve Sisolak
2016 Annual CE Filing
Michael Starr
5/19/2018
$500.00
Monetary Contribution
Steve Sisolak
2018 CE Report 2 (Amended)
Michael Sweig
3/29/2018
$500.00
Monetary Contribution
Adam Laxalt
2018 CE Report 1
Michael T. Marra
2/20/2018
$100.00
Monetary Contribution
Adam Laxalt
2018 CE Report 1
Michael T. Marra
4/9/2018
$100.00
Monetary Contribution
Adam Laxalt
2018 CE Report 1
Michael T. Marra
5/31/2018
$100.00
Monetary Contribution
Adam Laxalt
2018 CE Report 2
Michael T. Marra
6/19/2017
$50.00
Monetary Contribution
Adam Laxalt
2018 Annual CE Filing
Michael T. Marra
10/4/2017
$50.00
Monetary Contribution
Adam Laxalt
2018 Annual CE Filing
Michael T. Marra
11/15/2017
$50.00
Monetary Contribution
Adam Laxalt
2018 Annual CE Filing
Michael Townsend
5/22/2018
$100.00
Monetary Contribution
Steve Sisolak
2018 CE Report 2 (Amended)
Michael Turk
5/9/2018
$2,500.00
Monetary Contribution
Adam Laxalt
2018 CE Report 1
Michael Vega
5/5/2017
$50.00
Monetary Contribution
Adam Laxalt
2018 Annual CE Filing
Michael Viellion
4/17/2018
$5,000.00
Monetary Contribution
Steve Sisolak
2018 CE Report 1 (Amended)
Michael W. Berry
2/5/2018
$100.00
Monetary Contribution
Adam Laxalt
2018 CE Report 1
Michael Yackira
10/5/2016
$500.00
Monetary Contribution
Steve Sisolak
2016 CE Report 3
Michele Rollins
5/7/2018
$5,000.00
Monetary Contribution
Adam Laxalt
2018 CE Report 1
Michelle M Erlach
11/9/2017
$250.00
Monetary Contribution
Adam Laxalt
2018 Annual CE Filing
Midjit Market Inc dba Green Valley Grocery
12/7/2017
$5,000.00
Monetary Contribution
Adam Laxalt
2018 Annual CE Filing
Mike Bryant
12/9/2017
$50.00
Monetary Contribution
Adam Laxalt
2018 Annual CE Filing
Mike Chipman
11/29/2016
$5,000.00
Monetary Contribution
Adam Laxalt
2017 Annual CE Filing
Mike Chipman
11/29/2016
$5,000.00
Monetary Contribution
Adam Laxalt
2017 Annual CE Filing
Mike Faulstich
5/3/2018
$500.00
Monetary Contribution
Adam Laxalt
2018 CE Report 1
Mike Hayes
11/8/2017
$50.00
Monetary Contribution
Adam Laxalt
2018 Annual CE Filing
Mike Lynch
12/18/2017
$50.00
Monetary Contribution
Adam Laxalt
2018 Annual CE Filing
Mike Lynch
2/26/2018
$100.00
Monetary Contribution
Adam Laxalt
2018 CE Report 1
Mike Schaeffer
9/10/2016
$100.00
Monetary Contribution
Steve Sisolak
2016 CE Report 3
Mike Sloan
12/30/2016
$5,000.00
Monetary Contribution
Adam Laxalt
2017 Annual CE Filing
Mike Sloan
12/30/2016
$5,000.00
Monetary Contribution
Adam Laxalt
2017 Annual CE Filing
Miller Family LTD Partnership
11/7/2016
$5,000.00
Monetary Contribution
Adam Laxalt
2017 Annual CE Filing
Miller Family LTD Partnership
11/7/2016
$5,000.00
Monetary Contribution
Adam Laxalt
2017 Annual CE Filing
Milt Bozanic Properties
6/15/2016
$100.00
Monetary Contribution
Steve Sisolak
2016 CE Report 3
Milt Bozanic Properties
7/17/2017
$100.00
Monetary Contribution
Steve Sisolak
2018 Annual CE Filing (Amended)
Milton Marquis
7/27/2016
$250.00
Monetary Contribution
Adam Laxalt
2017 Annual CE Filing
Milton Marquis
8/7/2015
$500.00
Monetary Contribution
Adam Laxalt
2016 Annual CE Filing
Mirage Casino Hotel
12/20/2017
$10,000.00
Monetary Contribution
Steve Sisolak
2018 Annual CE Filing (Amended)
Miriam Adelson
10/20/2016
$10,000.00
Monetary Contribution
Steve Sisolak
2016 CE Report 4
Miriam Adelson
12/29/2017
$5,000.00
Monetary Contribution
Adam Laxalt
2018 Annual CE Filing
Miriam Adelson
12/29/2017
$5,000.00
Monetary Contribution
Adam Laxalt
2018 Annual CE Filing
Mirnai Enterprises LLC
2/16/2018
$3,000.00
Monetary Contribution
Steve Sisolak
2018 CE Report 1 (Amended)
Mitchell's Entertainment Inc.
6/6/2018
$5,000.00
Monetary Contribution
Adam Laxalt
2018 CE Report 2
Mitchell's Entertainment Inc.
6/6/2018
$5,000.00
Monetary Contribution
Adam Laxalt
2018 CE Report 2
Mitesh Kalthia
11/8/2016
$2,500.00
Monetary Contribution
Steve Sisolak
2016 CE Report 5 (Amended)
Mixer Family Trust
10/23/2017
$1,000.00
Monetary Contribution
Steve Sisolak
2018 Annual CE Filing (Amended)
MJ Maslonka LLC
5/18/2018
$5,000.00
Monetary Contribution
Adam Laxalt
2018 CE Report 1
MJG Investments Inc.
12/23/2016
$5,000.00
Monetary Contribution
Adam Laxalt
2017 Annual CE Filing
MJG Investments Inc.
12/23/2016
$4,000.00
Monetary Contribution
Adam Laxalt
2017 Annual CE Filing
MJH Holdings LLC
12/8/2017
$2,500.00
Monetary Contribution
Adam Laxalt
2018 Annual CE Filing
MJM Properties LLC
11/9/2017
$1,000.00
Monetary Contribution
Adam Laxalt
2018 Annual CE Filing
MLK DP LLC
2/26/2018
$2,500.00
Monetary Contribution
Steve Sisolak
2018 CE Report 1 (Amended)
MM Development Co, LLC
9/7/2017
$10,000.00
Monetary Contribution
Steve Sisolak
2018 Annual CE Filing (Amended)
MM Development Company LLC dba Medzin
4/20/2015
$10,000.00
Monetary Contribution
Steve Sisolak
2016 Annual CE Filing
MMAK LLC
12/29/2017
$5,000.00
Monetary Contribution
Adam Laxalt
2018 Annual CE Filing
MMC Inc
2/8/2018
$5,000.00
Monetary Contribution
Adam Laxalt
2018 CE Report 1
MMMG LLC
1/9/2018
$10,000.00
Monetary Contribution
Steve Sisolak
2018 CE Report 1 (Amended)
MMOF Vegas Retail Inc.
2/22/2018
$10,000.00
Monetary Contribution
Steve Sisolak
2018 CE Report 1 (Amended)
MO Strategies Inc
6/7/2018
$500.00
Monetary Contribution
Adam Laxalt
2018 CE Report 2
Mollie C. Hyer
5/31/2018
$100.00
Monetary Contribution
Adam Laxalt
2018 CE Report 2
Mollie C. Hyer
4/25/2018
$250.00
Monetary Contribution
Adam Laxalt
2018 CE Report 1
Molly's Fort Apache LLC
8/31/2016
$500.00
Monetary Contribution
Steve Sisolak
2016 CE Report 3
Monte Carlo
12/20/2017
$10,000.00
Monetary Contribution
Steve Sisolak
2018 Annual CE Filing (Amended)
Monte Miller
5/18/2015
$1,500.00
Monetary Contribution
Steve Sisolak
2016 Annual CE Filing
Monte Miller
12/14/2017
$5,000.00
Monetary Contribution
Adam Laxalt
2018 Annual CE Filing
Monte Miller
12/14/2017
$5,000.00
Monetary Contribution
Adam Laxalt
2018 Annual CE Filing
Montecito Animal Hospital LLC
12/18/2017
$5,000.00
Monetary Contribution
Steve Sisolak
2018 Annual CE Filing (Amended)
Monti Levy
3/30/2016
$200.00
Monetary Contribution
Steve Sisolak
2016 CE Report 1
Moondeck Studios Inc.
4/9/2018
$5,000.00
Monetary Contribution
Adam Laxalt
2018 CE Report 1
Moondeck Studios Inc.
4/9/2018
$5,000.00
Monetary Contribution
Adam Laxalt
2018 CE Report 1
Moondeck Studios, Inc.
1/22/2018
$10,000.00
Monetary Contribution
Steve Sisolak
2018 CE Report 1 (Amended)
Moonshell LLC
11/28/2017
$7,500.00
In Kind Contribution
Steve Sisolak
2018 Annual CE Filing (Amended)
Morning In Nevada PAC
11/21/2016
$5,000.00
Monetary Contribution
Adam Laxalt
2017 Annual CE Filing
Morning In Nevada PAC
11/21/2016
$5,000.00
Monetary Contribution
Adam Laxalt
2017 Annual CE Filing
Morpheus Investment Inc dba Tire Works Total Car Care
12/15/2015
$10,000.00
Monetary Contribution
Adam Laxalt
2016 Annual CE Filing
Morrissey Insurance Services Inc
6/30/2017
$1,000.00
Monetary Contribution
Steve Sisolak
2018 Annual CE Filing (Amended)
Morrissey Insurance Services Inc.
2/19/2016
$1,000.00
Monetary Contribution
Steve Sisolak
2016 CE Report 1
Morrissey Insurance Services Inc.
4/28/2015
$1,000.00
Monetary Contribution
Steve Sisolak
2016 Annual CE Filing
Morse Wirges Family Trust
1/1/2016
$500.00
Monetary Contribution
Steve Sisolak
2016 CE Report 1
Morse Wirges Family Trust
7/16/2017
$250.00
Monetary Contribution
Steve Sisolak
2018 Annual CE Filing (Amended)
Mortillaro Trust
4/22/2015
$1,000.00
Monetary Contribution
Steve Sisolak
2016 Annual CE Filing
Moto C Inc.
12/29/2015
$5,000.00
Monetary Contribution
Steve Sisolak
2016 Annual CE Filing
Mount Rose Properties LLC
6/7/2018
$5,000.00
Monetary Contribution
Adam Laxalt
2018 CE Report 2
Mount Rose Properties LLC
6/7/2018
$5,000.00
Monetary Contribution
Adam Laxalt
2018 CE Report 2
Mountain View Estates Inc.
12/23/2015
$5,000.00
Monetary Contribution
Steve Sisolak
2016 Annual CE Filing
Murl E. Williams
6/7/2018
$50.00
Monetary Contribution
Adam Laxalt
2018 CE Report 2
Murl E. Williams
4/19/2017
$50.00
Monetary Contribution
Adam Laxalt
2018 Annual CE Filing
Murl E. Williams
11/20/2017
$50.00
Monetary Contribution
Adam Laxalt
2018 Annual CE Filing
Murray Craven
11/5/2016
$1,000.00
Monetary Contribution
Steve Sisolak
2016 CE Report 5 (Amended)
Murray L. Yoffee
11/2/2017
$50.00
Monetary Contribution
Adam Laxalt
2018 Annual CE Filing
MWH
8/6/2015
$1,000.00
Monetary Contribution
Steve Sisolak
2016 Annual CE Filing
MYCB, Inc.
3/4/2016
$1,500.00
Monetary Contribution
Steve Sisolak
2016 CE Report 1
Mylene and Ronaldo Leron
6/5/2018
$200.00
Monetary Contribution
Adam Laxalt
2018 CE Report 2
Myrh Inc.
2/29/2016
$1,000.00
Monetary Contribution
Steve Sisolak
2016 CE Report 1
N. Edward Denton
5/8/2017
$250.00
Monetary Contribution
Adam Laxalt
2018 Annual CE Filing
N. Nafees Nagy
4/11/2018
$5,000.00
Monetary Contribution
Steve Sisolak
2018 CE Report 1 (Amended)
N&G Showcase
12/15/2017
$5,000.00
Monetary Contribution
Steve Sisolak
2018 Annual CE Filing (Amended)
Nada Dilger
4/11/2018
$50.00
Monetary Contribution
Adam Laxalt
2018 CE Report 1
NADEAC
2/27/2018
$2,500.00
Monetary Contribution
Steve Sisolak
2018 CE Report 1 (Amended)
NADEAC
5/26/2017
$2,500.00
Monetary Contribution
Adam Laxalt
2018 Annual CE Filing
NADEAC
12/19/2016
$1,000.00
Monetary Contribution
Adam Laxalt
2017 Annual CE Filing
NADEAC
5/3/2018
$1,500.00
Monetary Contribution
Adam Laxalt
2018 CE Report 1
NADEAC
5/3/2018
$1,000.00
Monetary Contribution
Adam Laxalt
2018 CE Report 1
Nadeem Tariq
4/12/2018
$1,000.00
Monetary Contribution
Steve Sisolak
2018 CE Report 1 (Amended)
NADHC at Eastern Inc.
4/24/2015
$1,000.00
Monetary Contribution
Steve Sisolak
2016 Annual CE Filing
Nadine Connor
4/5/2018
$100.00
Monetary Contribution
Steve Sisolak
2018 CE Report 1 (Amended)
Nadine M. Pullen
5/29/2018
$50.00
Monetary Contribution
Adam Laxalt
2018 CE Report 2
Nancy C. Houssels
2/7/2018
$3,000.00
Monetary Contribution
Adam Laxalt
2018 CE Report 1
Nancy C. Houssels
1/11/2017
$1,500.00
Monetary Contribution
Adam Laxalt
2018 Annual CE Filing
Nancy Croom
4/23/2018
$5,000.00
Monetary Contribution
Adam Laxalt
2018 CE Report 1
Nancy Delia
11/16/2017
$50.00
Monetary Contribution
Adam Laxalt
2018 Annual CE Filing
Nancy Demetriades
1/24/2018
$2,500.00
Monetary Contribution
Adam Laxalt
2018 CE Report 1
Nancy Flanigan
4/6/2018
$250.00
Monetary Contribution
Adam Laxalt
2018 CE Report 1
Nancy Flanigan
4/16/2018
$2,000.00
Monetary Contribution
Adam Laxalt
2018 CE Report 1
Nancy Flanigan
4/16/2018
$2,500.00
Monetary Contribution
Adam Laxalt
2018 CE Report 1
Nancy Hernandez Grounds
3/8/2018
$2,500.00
Monetary Contribution
Steve Sisolak
2018 CE Report 1 (Amended)
Nancy J. Cline
12/21/2016
$5,000.00
Monetary Contribution
Adam Laxalt
2017 Annual CE Filing
Nancy J. Cline
12/21/2016
$5,000.00
Monetary Contribution
Adam Laxalt
2017 Annual CE Filing
Nancy J. Foss
10/13/2017
$100.00
Monetary Contribution
Adam Laxalt
2018 Annual CE Filing
Nancy J. Foss
3/8/2018
$100.00
Monetary Contribution
Adam Laxalt
2018 CE Report 1
Nancy J. Foss
4/26/2018
$500.00
Monetary Contribution
Adam Laxalt
2018 CE Report 1
Naphsika Eliades-Osman
11/28/2016
$1,000.00
Monetary Contribution
Steve Sisolak
2016 CE Report 5 (Amended)
Nariman Rahimzadeh
4/19/2018
$250.00
Monetary Contribution
Adam Laxalt
2018 CE Report 1
Nasrin Sadri
12/20/2015
$500.00
Monetary Contribution
Steve Sisolak
2016 Annual CE Filing
Natale A. Carasali
4/25/2017
$5,000.00
Monetary Contribution
Adam Laxalt
2018 Annual CE Filing
Natale A. Carasali
11/9/2017
$2,500.00
Monetary Contribution
Adam Laxalt
2018 Annual CE Filing
Natalie S Gould PC
2/26/2018
$1,000.00
Monetary Contribution
Steve Sisolak
2018 CE Report 1 (Amended)
Nathan Owens
4/1/2017
$1,000.00
Monetary Contribution
Adam Laxalt
2018 Annual CE Filing
Nathan Owens
12/24/2017
$2,500.00
Monetary Contribution
Adam Laxalt
2018 Annual CE Filing
Nathan White
7/25/2017
$5,000.00
Monetary Contribution
Steve Sisolak
2018 Annual CE Filing (Amended)
National Association of Landscape Professionals Inc.
4/16/2018
$1,000.00
Monetary Contribution
Adam Laxalt
2018 CE Report 1
National Beer Wholesalers Association
3/4/2015
$2,500.00
Monetary Contribution
Adam Laxalt
2016 Annual CE Filing
NCH Inc.
11/30/2017
$5,000.00
Monetary Contribution
Adam Laxalt
2018 Annual CE Filing
NCH Inc.
11/30/2017
$5,000.00
Monetary Contribution
Adam Laxalt
2018 Annual CE Filing
NDL Group Inc.
10/24/2017
$500.00
Monetary Contribution
Steve Sisolak
2018 Annual CE Filing (Amended)
NDX LLC
10/27/2017
$500.00
Monetary Contribution
Adam Laxalt
2018 Annual CE Filing
Neal Electric Corp.
12/27/2017
$5,000.00
Monetary Contribution
Adam Laxalt
2018 Annual CE Filing
Neal Electric Corp.
12/27/2017
$5,000.00
Monetary Contribution
Adam Laxalt
2018 Annual CE Filing
Neal H. Graham
2/26/2018
$50.00
Monetary Contribution
Adam Laxalt
2018 CE Report 1
Neal Klegerman
6/12/2017
$1,114.55
Monetary Contribution
Adam Laxalt
2018 Annual CE Filing
Neal Klegerman
11/10/2017
$1,155.14
Monetary Contribution
Adam Laxalt
2018 Annual CE Filing
Neal Tomlinson
7/1/2015
$500.00
In Kind Contribution
Steve Sisolak
2016 Annual CE Filing
Ned K. Ryder
11/28/2017
$100.00
Monetary Contribution
Adam Laxalt
2018 Annual CE Filing
Ned K. Ryder
4/11/2017
$100.00
Monetary Contribution
Adam Laxalt
2018 Annual CE Filing
Ned K. Ryder
4/11/2017
$100.00
Monetary Contribution
Adam Laxalt
2018 Annual CE Filing
Ned K. Ryder
2/9/2018
$100.00
Monetary Contribution
Adam Laxalt
2018 CE Report 1
Ned K. Ryder
2/26/2018
$100.00
Monetary Contribution
Adam Laxalt
2018 CE Report 1
Ned K. Ryder
3/28/2018
$100.00
Monetary Contribution
Adam Laxalt
2018 CE Report 1
Ned K. Ryder
4/26/2018
$100.00
Monetary Contribution
Adam Laxalt
2018 CE Report 1
Ned K. Ryder
5/18/2018
$100.00
Monetary Contribution
Adam Laxalt
2018 CE Report 1
Ned Mc Nabb
4/19/2018
$100.00
Monetary Contribution
Adam Laxalt
2018 CE Report 1
Neel V. Dhudshia MD LTD.
4/12/2016
$1,000.00
Monetary Contribution
Steve Sisolak
2016 CE Report 1
Neil Corkery
11/22/2016
$5,000.00
Monetary Contribution
Adam Laxalt
2017 Annual CE Filing
Neil Corkery
11/22/2016
$5,000.00
Monetary Contribution
Adam Laxalt
2017 Annual CE Filing
Neil Duncan
4/17/2018
$50.00
Monetary Contribution
Steve Sisolak
2018 CE Report 1 (Amended)
Neil McQueary
11/9/2017
$717.00
Monetary Contribution
Adam Laxalt
2018 Annual CE Filing
Nellis Cab LLC
7/10/2015
$5,000.00
Monetary Contribution
Steve Sisolak
2016 Annual CE Filing
Nelly M. Jaax
4/24/2017
$50.00
Monetary Contribution
Adam Laxalt
2018 Annual CE Filing
Nelly M. Jaax
5/31/2018
$200.00
Monetary Contribution
Adam Laxalt
2018 CE Report 2
Nestor R. Weigand
2/5/2018
$1,000.00
Monetary Contribution
Adam Laxalt
2018 CE Report 1
Netleaders USA Inc.
3/24/2018
$2,500.00
Monetary Contribution
Steve Sisolak
2018 CE Report 1 (Amended)
Nevada Anesthesia Patient Safety PAC
11/9/2017
$1,000.00
Monetary Contribution
Adam Laxalt
2018 Annual CE Filing
Nevada Anesthesia Patient Safety PAC
12/18/2017
$2,000.00
Monetary Contribution
Adam Laxalt
2018 Annual CE Filing
Nevada Anesthesia Patient Safety PAC
12/18/2017
$3,000.00
Monetary Contribution
Adam Laxalt
2018 Annual CE Filing
Nevada Anesthesia Patient Safety PAC
12/19/2016
$2,000.00
Monetary Contribution
Adam Laxalt
2017 Annual CE Filing
Nevada Beer Wholesaler Association PAC
11/5/2016
$1,000.00
Monetary Contribution
Steve Sisolak
2016 CE Report 5 (Amended)
Nevada Beverage
3/27/2015
$2,500.00
Monetary Contribution
Adam Laxalt
2016 Annual CE Filing
Nevada City Partners, LLC
3/31/2015
$500.00
Monetary Contribution
Steve Sisolak
2016 Annual CE Filing
Nevada City Partners, LLC
3/1/2016
$500.00
Monetary Contribution
Steve Sisolak
2016 CE Report 1
Nevada Covenant Group LLC
12/14/2017
$5,000.00
Monetary Contribution
Adam Laxalt
2018 Annual CE Filing
Nevada Covenant Group LLC
3/23/2018
$5,000.00
Monetary Contribution
Adam Laxalt
2018 CE Report 1
Nevada CRT, LLC
4/10/2016
$10,000.00
Monetary Contribution
Steve Sisolak
2016 CE Report 1
Nevada Data Mining
5/11/2018
$150.00
Monetary Contribution
Steve Sisolak
2018 CE Report 1 (Amended)
Nevada Dispensary Association
12/17/2015
$1,000.00
Monetary Contribution
Steve Sisolak
2016 Annual CE Filing
Nevada Expansion Inc
11/17/2017
$5,000.00
Monetary Contribution
Steve Sisolak
2018 Annual CE Filing (Amended)
Nevada Expansion Inc.
3/14/2018
$2,500.00
Monetary Contribution
Adam Laxalt
2018 CE Report 1
Nevada Expansion, Inc.
11/12/2015
$1,000.00
Monetary Contribution
Steve Sisolak
2016 Annual CE Filing
Nevada Heart & Vascular, LLP
4/5/2016
$10,000.00
Monetary Contribution
Steve Sisolak
2016 CE Report 1
Nevada Heart & Vascular, LLP
12/5/2017
$10,000.00
Monetary Contribution
Steve Sisolak
2018 Annual CE Filing (Amended)
Nevada Housing Alliance
5/1/2018
$400.00
Monetary Contribution
Adam Laxalt
2018 CE Report 1
Nevada Legal News
6/1/2018
$10,000.00
Monetary Contribution
Steve Sisolak
2018 CE Report 2 (Amended)
Nevada Milling & Mining LLC
5/11/2015
$5,000.00
Monetary Contribution
Steve Sisolak
2016 Annual CE Filing
Nevada Organic Remedies
12/20/2017
$10,000.00
Monetary Contribution
Steve Sisolak
2018 Annual CE Filing (Amended)
Nevada Pic A Part LLC
9/12/2016
$2,500.00
Monetary Contribution
Steve Sisolak
2016 CE Report 3
Nevada Pic A Part LLC
12/5/2017
$5,000.00
Monetary Contribution
Adam Laxalt
2018 Annual CE Filing
Nevada Power Co dba NV Energy
8/17/2015
$7,500.00
Monetary Contribution
Steve Sisolak
2016 Annual CE Filing
Nevada Power Company dba NV Energy
11/21/2017
$10,000.00
Monetary Contribution
Steve Sisolak
2018 Annual CE Filing (Amended)
Nevada Primary Care Network Aco LLC
12/23/2015
$5,000.00
Monetary Contribution
Steve Sisolak
2016 Annual CE Filing
Nevada Property 1 LLC dba The Cosmopolitan
2/25/2016
$10,000.00
Monetary Contribution
Steve Sisolak
2016 CE Report 1
Nevada Property 1 LLC dba The Cosmopolitan
7/14/2017
$10,000.00
Monetary Contribution
Steve Sisolak
2018 Annual CE Filing (Amended)
Nevada Property 1 LLC dba The Cosmopolitan of Las Vegas
12/27/2016
$5,000.00
Monetary Contribution
Adam Laxalt
2017 Annual CE Filing
Nevada Property 1 LLC dba The Cosmopolitan of Las Vegas
12/27/2016
$5,000.00
Monetary Contribution
Adam Laxalt
2017 Annual CE Filing
Nevada Ready Mix
7/31/2017
$2,500.00
Monetary Contribution
Steve Sisolak
2018 Annual CE Filing (Amended)
Nevada Ready Mix
3/20/2018
$2,500.00
Monetary Contribution
Steve Sisolak
2018 CE Report 1 (Amended)
Nevada Ready Mix
3/10/2016
$1,500.00
Monetary Contribution
Steve Sisolak
2016 CE Report 1
Nevada Ready Mix
8/7/2015
$1,000.00
Monetary Contribution
Steve Sisolak
2016 Annual CE Filing
Nevada Ready Mix
11/9/2017
$2,500.00
Monetary Contribution
Adam Laxalt
2018 Annual CE Filing
Nevada Restaurant Services INC
7/26/2017
$10,000.00
Monetary Contribution
Steve Sisolak
2018 Annual CE Filing (Amended)
Nevada Restaurant Services Inc.
5/11/2017
$5,000.00
Monetary Contribution
Adam Laxalt
2018 Annual CE Filing
Nevada Restaurant Services Inc.
5/11/2017
$5,000.00
Monetary Contribution
Adam Laxalt
2018 Annual CE Filing
Nevada Scooters LLC
12/27/2017
$10,000.00
Monetary Contribution
Steve Sisolak
2018 Annual CE Filing (Amended)
Nevada Senior Care Services LLC
5/3/2018
$1,000.00
Monetary Contribution
Adam Laxalt
2018 CE Report 1
Nevada Skilled Nursing Development LLC
9/29/2017
$10,000.00
Monetary Contribution
Steve Sisolak
2018 Annual CE Filing (Amended)
Nevada Soft Drink Association PAC
11/6/2017
$1,000.00
Monetary Contribution
Steve Sisolak
2018 Annual CE Filing (Amended)
Nevada Soft Drink Association PAC
11/9/2017
$2,500.00
Monetary Contribution
Adam Laxalt
2018 Annual CE Filing
Nevada State Apartment Association
8/31/2016
$1,000.00
Monetary Contribution
Steve Sisolak
2016 CE Report 3
Nevada Strong PAC
3/26/2018
$500.00
Monetary Contribution
Steve Sisolak
2018 CE Report 1 (Amended)
Nevada Subcontractors Association Political Action Committee
1/17/2018
$5,000.00
Monetary Contribution
Adam Laxalt
2018 CE Report 1
Nevada Subcontractors Association Political Action Committee
1/17/2018
$5,000.00
Monetary Contribution
Adam Laxalt
2018 CE Report 1
Nevada Sunset LLC
11/9/2017
$100.00
Monetary Contribution
Adam Laxalt
2018 Annual CE Filing
Nevada Title Company
1/17/2018
$1,000.00
Monetary Contribution
Steve Sisolak
2018 CE Report 1 (Amended)
Nevada Title Company
5/21/2016
$2,500.00
Monetary Contribution
Steve Sisolak
2016 CE Report 2
Nevada Tri Partners LLC
5/26/2017
$2,500.00
Monetary Contribution
Adam Laxalt
2018 Annual CE Filing
Nevada Tri Partners LLC
12/4/2017
$2,500.00
Monetary Contribution
Adam Laxalt
2018 Annual CE Filing
Nevada Tri Partners LLC
12/30/2016
$5,000.00
Monetary Contribution
Adam Laxalt
2017 Annual CE Filing
Nevada Trucking Association
12/19/2016
$5,000.00
Monetary Contribution
Adam Laxalt
2017 Annual CE Filing
Nevada Trucking Association
12/19/2016
$5,000.00
Monetary Contribution
Adam Laxalt
2017 Annual CE Filing
Nevada West Partners IV LLC
7/22/2015
$10,000.00
Monetary Contribution
Steve Sisolak
2016 Annual CE Filing
Nevada Yellow Cab Corp
7/23/2015
$5,000.00
Monetary Contribution
Steve Sisolak
2016 Annual CE Filing
Never Too Hung Over LLC
7/3/2017
$7,500.00
Monetary Contribution
Steve Sisolak
2018 Annual CE Filing (Amended)
Nevius Chiropractic Inc
5/14/2018
$500.00
Monetary Contribution
Adam Laxalt
2018 CE Report 1
New Jersey Film Political Action Committee
12/23/2015
$1,000.00
Monetary Contribution
Adam Laxalt
2016 Annual CE Filing
New Russell One LLC dba The Gramercy Las Vegas
2/22/2018
$1,000.00
Monetary Contribution
Steve Sisolak
2018 CE Report 1 (Amended)
New Tropicana Estates Inc.
12/21/2016
$5,000.00
Monetary Contribution
Steve Sisolak
2016 CE Report 5 (Amended)
New Tropicana Estates Inc.
11/25/2015
$2,000.00
Monetary Contribution
Steve Sisolak
2016 Annual CE Filing
New Tropicana Estates, Inc
7/2/2017
$3,000.00
Monetary Contribution
Steve Sisolak
2018 Annual CE Filing (Amended)
New York New York
12/20/2017
$10,000.00
Monetary Contribution
Steve Sisolak
2018 Annual CE Filing (Amended)
New-Com Inc.
11/16/2017
$5,000.00
Monetary Contribution
Steve Sisolak
2018 Annual CE Filing (Amended)
New-Com Inc.
9/27/2016
$5,000.00
Monetary Contribution
Steve Sisolak
2016 CE Report 3
Newmeyer & Dillion LLP
6/1/2018
$5,000.00
Monetary Contribution
Adam Laxalt
2018 CE Report 2
Newmont Ventures Limited
6/8/2017
$5,000.00
Monetary Contribution
Adam Laxalt
2018 Annual CE Filing
Newport Funding
6/1/2018
$1,000.00
Monetary Contribution
Steve Sisolak
2018 CE Report 2 (Amended)
Nexpedition, LLC
3/21/2018
$1,000.00
Monetary Contribution
Steve Sisolak
2018 CE Report 1 (Amended)
NextEra Energy Resources Inc.
1/16/2018
$5,000.00
Monetary Contribution
Steve Sisolak
2018 CE Report 1 (Amended)
NextEra Energy Resources Inc.
9/1/2015
$5,000.00
Monetary Contribution
Steve Sisolak
2016 Annual CE Filing
NextEra Energy Resources Inc.
5/21/2018
$5,000.00
Monetary Contribution
Steve Sisolak
2018 CE Report 2 (Amended)
NIADA-PAC
4/27/2017
$495.00
Monetary Contribution
Adam Laxalt
2018 Annual CE Filing
Nicco J. Fertitta
11/9/2017
$5,000.00
Monetary Contribution
Adam Laxalt
2018 Annual CE Filing
Nicco J. Fertitta
11/9/2017
$5,000.00
Monetary Contribution
Adam Laxalt
2018 Annual CE Filing
Nicholas Anast
4/19/2018
$100.00
Monetary Contribution
Adam Laxalt
2018 CE Report 1
Nicholas D.E. Rossi
11/9/2017
$1,000.00
Monetary Contribution
Adam Laxalt
2018 Annual CE Filing
Nicholas Iarossi
1/2/2018
$2,000.00
Monetary Contribution
Adam Laxalt
2018 CE Report 1
Nicholas J. Santoro
4/9/2018
$1,000.00
Monetary Contribution
Adam Laxalt
2018 CE Report 1
Nicholas J. Thanos
2/28/2018
$3,000.00
Monetary Contribution
Steve Sisolak
2018 CE Report 1 (Amended)
Nicholas Kovacevich
5/3/2018
$1,000.00
Monetary Contribution
Adam Laxalt
2018 CE Report 1
Nicholas Maier
4/12/2018
$100.00
Monetary Contribution
Adam Laxalt
2018 CE Report 1
Nicholas Miller
12/14/2017
$5,000.00
Monetary Contribution
Adam Laxalt
2018 Annual CE Filing
Nicholas Sinatra
6/1/2018
$5,000.00
Monetary Contribution
Adam Laxalt
2018 CE Report 2
Nicholas Trutanich
4/19/2018
$500.00
Monetary Contribution
Adam Laxalt
2018 CE Report 1
Nicholas Trutanich
11/6/2017
$500.00
Monetary Contribution
Adam Laxalt
2018 Annual CE Filing
Nicholas Tselikis
4/8/2016
$1,000.00
Monetary Contribution
Steve Sisolak
2016 CE Report 1
Nicholas Tselikis, MD. Ltd.
12/6/2017
$1,000.00
Monetary Contribution
Steve Sisolak
2018 Annual CE Filing (Amended)
Nicholas V. Citino
12/6/2017
$500.00
Monetary Contribution
Adam Laxalt
2018 Annual CE Filing
Nick Christensen
4/9/2018
$50.00
Monetary Contribution
Steve Sisolak
2018 CE Report 1 (Amended)
Nick Christensen
2/20/2018
$50.00
Monetary Contribution
Steve Sisolak
2018 CE Report 1 (Amended)
Nick Kho
4/7/2018
$100.00
Monetary Contribution
Steve Sisolak
2018 CE Report 1 (Amended)
Nick M. Spirtos M.D. P.C.
2/28/2018
$3,000.00
Monetary Contribution
Steve Sisolak
2018 CE Report 1 (Amended)
Nick Sinatra
12/24/2017
$5,000.00
Monetary Contribution
Adam Laxalt
2018 Annual CE Filing
Nick V. Andrusyshyn
2/19/2018
$100.00
Monetary Contribution
Adam Laxalt
2018 CE Report 1
Nick V. Andrusyshyn
11/15/2017
$100.00
Monetary Contribution
Adam Laxalt
2018 Annual CE Filing
Nick V. Andrusyshyn
6/1/2018
$100.00
Monetary Contribution
Adam Laxalt
2018 CE Report 2
Nicola M. Costello
5/14/2018
$500.00
Monetary Contribution
Adam Laxalt
2018 CE Report 1
Nicola M. Spirtos M.D.
10/31/2017
$5,000.00
Monetary Contribution
Steve Sisolak
2018 Annual CE Filing (Amended)
Nicola Spirtos
8/19/2015
$5,000.00
Monetary Contribution
Steve Sisolak
2016 Annual CE Filing
Nicolas L. Brown
12/18/2017
$2,500.00
Monetary Contribution
Adam Laxalt
2018 Annual CE Filing
Nicolas L. Brown
6/26/2017
$2,500.00
Monetary Contribution
Adam Laxalt
2018 Annual CE Filing
Nicole M. Barranco
7/24/2017
$250.00
Monetary Contribution
Adam Laxalt
2018 Annual CE Filing
Niel Shank
5/18/2018
$1,000.00
Monetary Contribution
Adam Laxalt
2018 CE Report 1
Nigro Assocaites
5/23/2016
$500.00
Monetary Contribution
Steve Sisolak
2016 CE Report 2
Nigro Construction Inc.
12/1/2017
$1,250.00
Monetary Contribution
Adam Laxalt
2018 Annual CE Filing
Nigro Construction Inc.
12/30/2016
$2,000.00
Monetary Contribution
Adam Laxalt
2017 Annual CE Filing
Nigro Development LLC
5/23/2016
$500.00
Monetary Contribution
Steve Sisolak
2016 CE Report 2
Nigro Development LLC
6/29/2017
$1,000.00
Monetary Contribution
Steve Sisolak
2018 Annual CE Filing (Amended)
Nigro Management Inc.
5/11/2017
$2,500.00
Monetary Contribution
Adam Laxalt
2018 Annual CE Filing
Nikea LLC
6/6/2018
$5,000.00
Monetary Contribution
Adam Laxalt
2018 CE Report 2
Nikea LLC
6/6/2018
$5,000.00
Monetary Contribution
Adam Laxalt
2018 CE Report 2
Nils Nilson
6/30/2017
$50.00
Monetary Contribution
Adam Laxalt
2018 Annual CE Filing
Nils Nilson
12/15/2017
$50.00
Monetary Contribution
Adam Laxalt
2018 Annual CE Filing
Nite Owl LLC
3/31/2016
$2,000.00
Monetary Contribution
Steve Sisolak
2016 CE Report 1
NMTA Activities Inc.
12/19/2016
$5,000.00
Monetary Contribution
Adam Laxalt
2017 Annual CE Filing
NMTA Activities Inc.
12/19/2016
$5,000.00
Monetary Contribution
Adam Laxalt
2017 Annual CE Filing
No Regrets Bar
5/8/2018
$224.00
In Kind Contribution
Adam Laxalt
2018 CE Report 1
Noble Title
8/10/2017
$100.00
Monetary Contribution
Steve Sisolak
2018 Annual CE Filing (Amended)
Norm Jenkins
11/9/2017
$1,000.00
Monetary Contribution
Adam Laxalt
2018 Annual CE Filing
Norman Dianda
5/7/2018
$1,000.00
Monetary Contribution
Adam Laxalt
2018 CE Report 1
Norman Dianda
11/28/2017
$1,000.00
Monetary Contribution
Adam Laxalt
2018 Annual CE Filing
Norman Reeder
3/26/2018
$100.00
Monetary Contribution
Adam Laxalt
2018 CE Report 1
Northern Nevada Restaurant Services Inc.
5/11/2017
$5,000.00
Monetary Contribution
Adam Laxalt
2018 Annual CE Filing
Northern Nevada Restaurant Services Inc.
5/11/2017
$5,000.00
Monetary Contribution
Adam Laxalt
2018 Annual CE Filing
Northshore Plaza LLC
3/7/2018
$5,000.00
Monetary Contribution
Steve Sisolak
2018 CE Report 1 (Amended)
Nova Geotechnical & Inspection Services
11/28/2017
$1,000.00
Monetary Contribution
Steve Sisolak
2018 Annual CE Filing (Amended)
NP Land LLC
12/11/2015
$10,000.00
Monetary Contribution
Steve Sisolak
2016 Annual CE Filing
NP Land LLC
8/4/2017
$10,000.00
Monetary Contribution
Steve Sisolak
2018 Annual CE Filing (Amended)
NP Land LLC
1/22/2018
$5,000.00
Monetary Contribution
Adam Laxalt
2018 CE Report 1
NRA-Political Victory Fund
7/17/2017
$2,500.00
Monetary Contribution
Adam Laxalt
2018 Annual CE Filing
Nu Wu Dispensary
5/23/2018
$2,500.00
Monetary Contribution
Steve Sisolak
2018 CE Report 2 (Amended)
Nuca Las Vegas PAC Account
10/5/2016
$1,000.00
Monetary Contribution
Steve Sisolak
2016 CE Report 3
Nuleaf Capital Investors Group LLC
10/28/2015
$5,000.00
Monetary Contribution
Steve Sisolak
2016 Annual CE Filing
Nuleaf Capital Investors Group LLC
2/17/2018
$549.94
In Kind Contribution
Steve Sisolak
2018 CE Report 1 (Amended)
Nunzio J. Rossi
12/21/2017
$100.00
Monetary Contribution
Adam Laxalt
2018 Annual CE Filing
Nutrient Foods LLC
10/28/2016
$5,000.00
Monetary Contribution
Adam Laxalt
2017 Annual CE Filing
Nutrient Foods LLC
10/28/2016
$5,000.00
Monetary Contribution
Adam Laxalt
2017 Annual CE Filing
NUVEDA LLC
12/16/2015
$1,500.00
Monetary Contribution
Steve Sisolak
2016 Annual CE Filing
NV Cann Labs LLC
4/23/2015
$500.00
Monetary Contribution
Steve Sisolak
2016 Annual CE Filing
NV Energy
8/7/2015
$2,000.00
Monetary Contribution
Adam Laxalt
2016 Annual CE Filing
NV Energy
12/31/2015
$1,000.00
Monetary Contribution
Adam Laxalt
2016 Annual CE Filing
NV Energy
12/19/2016
$2,000.00
Monetary Contribution
Adam Laxalt
2017 Annual CE Filing
NV I-215 Buffalo LLC
7/22/2015
$10,000.00
Monetary Contribution
Steve Sisolak
2016 Annual CE Filing
NV I-215 Buffalo LLC
8/1/2017
$10,000.00
Monetary Contribution
Steve Sisolak
2018 Annual CE Filing (Amended)
NV Industrial Management Escondido LLC
5/25/2016
$1,000.00
Monetary Contribution
Steve Sisolak
2016 CE Report 2
NVHBA PAC
11/28/2017
$5,000.00
Monetary Contribution
Steve Sisolak
2018 Annual CE Filing (Amended)
NYLV Investors, LLC
11/9/2016
$5,000.00
Monetary Contribution
Steve Sisolak
2016 CE Report 5 (Amended)
O'Gara Orthodontics
4/19/2018
$500.00
Monetary Contribution
Adam Laxalt
2018 CE Report 1
O'Reilly Law Group LLC
11/5/2016
$1,000.00
Monetary Contribution
Steve Sisolak
2016 CE Report 5 (Amended)
O'Reilly Law Group LLC
6/29/2015
$500.00
Monetary Contribution
Steve Sisolak
2016 Annual CE Filing
Oasis Auto Spa, LLC
12/18/2017
$663.00
In Kind Contribution
Steve Sisolak
2018 Annual CE Filing (Amended)
Oasis Las Vegas LLC
10/20/2017
$10,000.00
Monetary Contribution
Steve Sisolak
2018 Annual CE Filing (Amended)
Oasis Las Vegas LLC
12/30/2015
$3,000.00
Monetary Contribution
Steve Sisolak
2016 Annual CE Filing
Obidike Iheanacho
6/7/2018
$50.00
Monetary Contribution
Steve Sisolak
2018 CE Report 2 (Amended)
Ocean Providence Las Vegas LLC
9/9/2015
$5,000.00
Monetary Contribution
Steve Sisolak
2016 Annual CE Filing
Ocean Providence Las Vegas LLC
1/8/2018
$10,000.00
Monetary Contribution
Steve Sisolak
2018 CE Report 1 (Amended)
Ochoa Development Corporation
3/14/2018
$5,000.00
Monetary Contribution
Steve Sisolak
2018 CE Report 1 (Amended)
Odyssey Realty LLC
10/20/2016
$1,000.00
Monetary Contribution
Steve Sisolak
2016 CE Report 4
Oganna Brown
5/20/2018
$10,000.00
Monetary Contribution
Steve Sisolak
2018 CE Report 2 (Amended)
Olcese Waste Service
11/17/2017
$100.00
Monetary Contribution
Adam Laxalt
2018 Annual CE Filing
Oleksandra Ruffin
10/27/2017
$5,000.00
Monetary Contribution
Adam Laxalt
2018 Annual CE Filing
Oleksandra Ruffin
10/27/2017
$5,000.00
Monetary Contribution
Adam Laxalt
2018 Annual CE Filing
Olympia Companies LLC
11/14/2017
$10,000.00
Monetary Contribution
Steve Sisolak
2018 Annual CE Filing (Amended)
One Nevada PAC
3/31/2016
$500.00
Monetary Contribution
Adam Laxalt
2017 Annual CE Filing
One Stop Ticket and Tour Shop
12/28/2017
$5,000.00
Monetary Contribution
Adam Laxalt
2018 Annual CE Filing
One Stop Ticket and Tour Shop
12/28/2017
$5,000.00
Monetary Contribution
Adam Laxalt
2018 Annual CE Filing
One Touch Living
3/16/2018
$10,000.00
Monetary Contribution
Steve Sisolak
2018 CE Report 1 (Amended)
Operating Engineers Local #3 Statewide PAC
6/1/2018
$5,000.00
Monetary Contribution
Steve Sisolak
2018 CE Report 2 (Amended)
Orin D. Cole
2/19/2018
$50.00
Monetary Contribution
Adam Laxalt
2018 CE Report 1
Ormat Nevada Inc.
3/6/2018
$1,000.00
Monetary Contribution
Adam Laxalt
2018 CE Report 1
Orrick Herrington & Sutcliffe LLP California Political Action Com
8/17/2016
$350.00
Monetary Contribution
Adam Laxalt
2017 Annual CE Filing
Orrick Herrington & Sutcliffe LLP California Political Action Com
11/21/2016
$500.00
Monetary Contribution
Adam Laxalt
2017 Annual CE Filing
Orrick, Herrington & Sutcliffe LLP California Political Action Co
2/9/2015
$1,000.00
Monetary Contribution
Adam Laxalt
2016 Annual CE Filing
Orthopedic Motion Inc.
12/7/2017
$1,000.00
Monetary Contribution
Adam Laxalt
2018 Annual CE Filing
Osama Haikal
10/29/2015
$2,000.00
Monetary Contribution
Steve Sisolak
2016 Annual CE Filing
Osama Haikal
5/5/2016
$8,000.00
Monetary Contribution
Steve Sisolak
2016 CE Report 1
Osama Haikal MD
2/15/2018
$10,000.00
Monetary Contribution
Steve Sisolak
2018 CE Report 1 (Amended)
Osprey Real Estate Capital
8/1/2017
$2,000.00
Monetary Contribution
Steve Sisolak
2018 Annual CE Filing (Amended)
Osprey Real Estate Capital
5/25/2016
$2,000.00
Monetary Contribution
Steve Sisolak
2016 CE Report 2
Osvaldo Fumo
2/22/2018
$250.00
Monetary Contribution
Steve Sisolak
2018 CE Report 1 (Amended)
Outclick Media
12/19/2017
$5,000.00
Monetary Contribution
Adam Laxalt
2018 Annual CE Filing
Outclick Media
12/19/2017
$5,000.00
Monetary Contribution
Adam Laxalt
2018 Annual CE Filing
Owen Nitz
5/1/2017
$250.00
Monetary Contribution
Adam Laxalt
2018 Annual CE Filing
P.W. Mouskondis
11/20/2017
$1,500.00
Monetary Contribution
Steve Sisolak
2018 Annual CE Filing (Amended)
Pacific Dental Services
8/25/2017
$5,000.00
Monetary Contribution
Adam Laxalt
2018 Annual CE Filing
Pacific Dental Services
5/4/2018
$5,000.00
Monetary Contribution
Adam Laxalt
2018 CE Report 1
Pacific Polymers Inc.
3/8/2018
$2,500.00
Monetary Contribution
Adam Laxalt
2018 CE Report 1
Paige C Yahraus
3/22/2016
$1,500.00
Monetary Contribution
Steve Sisolak
2016 CE Report 1
Palace Station Hotel & Casino
12/30/2016
$2,000.00
Monetary Contribution
Adam Laxalt
2017 Annual CE Filing
Palace Station Hotel & Casino
12/30/2016
$5,000.00
Monetary Contribution
Adam Laxalt
2017 Annual CE Filing
Palace Station Hotel & Casino Cage Account
12/30/2017
$5,000.00
Monetary Contribution
Steve Sisolak
2018 Annual CE Filing (Amended)
Palace Station Hotel & Casino Cage Account
1/25/2018
$5,000.00
Monetary Contribution
Steve Sisolak
2018 CE Report 1 (Amended)
Palle Jensen
12/29/2017
$500.00
Monetary Contribution
Adam Laxalt
2018 Annual CE Filing
Palm Mortuary Inc
3/8/2016
$1,000.00
Monetary Contribution
Steve Sisolak
2016 CE Report 1
Palms Casino Resort
1/26/2018
$10,000.00
Monetary Contribution
Steve Sisolak
2018 CE Report 1 (Amended)
Pam Benzing
11/28/2017
$100.00
Monetary Contribution
Adam Laxalt
2018 Annual CE Filing
Pam Graven
3/8/2018
$100.00
Monetary Contribution
Steve Sisolak
2018 CE Report 1 (Amended)
Pam Thorne
5/9/2017
$5,000.00
Monetary Contribution
Adam Laxalt
2018 Annual CE Filing
Pam Thorne
5/9/2017
$5,000.00
Monetary Contribution
Adam Laxalt
2018 Annual CE Filing
Pamela Blasco
9/21/2017
$5,000.00
Monetary Contribution
Steve Sisolak
2018 Annual CE Filing (Amended)
Pamela Blasco
4/20/2015
$1,000.00
Monetary Contribution
Steve Sisolak
2016 Annual CE Filing
Pamela Caldwell
12/2/2017
$100.00
Monetary Contribution
Adam Laxalt
2018 Annual CE Filing
Pamela L. Stocks
3/8/2018
$200.00
Monetary Contribution
Adam Laxalt
2018 CE Report 1
Pamela Pierson
3/18/2018
$100.00
Monetary Contribution
Adam Laxalt
2018 CE Report 1
Pamela Pierson
4/18/2018
$100.00
Monetary Contribution
Adam Laxalt
2018 CE Report 1
Pamela Pierson
5/18/2018
$100.00
Monetary Contribution
Adam Laxalt
2018 CE Report 1
Panbor LLC
9/19/2016
$2,500.00
Monetary Contribution
Steve Sisolak
2016 CE Report 3
Panbor LLC
8/9/2017
$5,000.00
Monetary Contribution
Steve Sisolak
2018 Annual CE Filing (Amended)
Par Development Inc.
8/10/2017
$2,000.00
Monetary Contribution
Steve Sisolak
2018 Annual CE Filing (Amended)
Paradise Development LTD
8/3/2017
$5,000.00
Monetary Contribution
Steve Sisolak
2018 Annual CE Filing (Amended)
Paradise Development LTD
6/28/2016
$2,500.00
Monetary Contribution
Steve Sisolak
2016 CE Report 3
Paradise Development LTD
6/4/2015
$5,000.00
Monetary Contribution
Steve Sisolak
2016 Annual CE Filing
Paragon Gaming Holding Company, LLC
4/13/2016
$5,000.00
Monetary Contribution
Steve Sisolak
2016 CE Report 1
Paragon Gaming Holding Company, LLC
11/12/2015
$5,000.00
Monetary Contribution
Steve Sisolak
2016 Annual CE Filing
Paramount Marketing Inc.
5/21/2018
$10,000.00
Monetary Contribution
Steve Sisolak
2018 CE Report 2 (Amended)
Paramount Marketing Inc.
12/28/2017
$5,000.00
Monetary Contribution
Adam Laxalt
2018 Annual CE Filing
Paramount Marketing Inc.
12/28/2017
$5,000.00
Monetary Contribution
Adam Laxalt
2018 Annual CE Filing
Parbell Newco LLC DBA Ballys Las Vegas
5/16/2018
$5,000.00
Monetary Contribution
Adam Laxalt
2018 CE Report 1
Pardee Homes
7/8/2015
$3,500.00
Monetary Contribution
Steve Sisolak
2016 Annual CE Filing
Pardee Homes
8/2/2016
$5,000.00
Monetary Contribution
Steve Sisolak
2016 CE Report 3
Paris Las Vegas Operating Company LLC
11/7/2016
$5,000.00
Monetary Contribution
Steve Sisolak
2016 CE Report 5 (Amended)
Paris Las Vegas Operating Company LLC
6/2/2018
$5,000.00
Monetary Contribution
Steve Sisolak
2018 CE Report 2 (Amended)
Paris Las Vegas Operating Company LLC
5/16/2018
$5,000.00
Monetary Contribution
Adam Laxalt
2018 CE Report 1
Paris Las Vegas Operating Company LLC Cage Account
11/29/2017
$5,000.00
Monetary Contribution
Steve Sisolak
2018 Annual CE Filing (Amended)
Paris Naderi
6/7/2018
$5,000.00
Monetary Contribution
Adam Laxalt
2018 CE Report 2
Paris Naderi
6/7/2018
$5,000.00
Monetary Contribution
Adam Laxalt
2018 CE Report 2
Parker Nelson & Associates
1/24/2018
$5,000.00
Monetary Contribution
Steve Sisolak
2018 CE Report 1 (Amended)
Parkway Retail Centre
8/3/2017
$4,000.00
Monetary Contribution
Steve Sisolak
2018 Annual CE Filing (Amended)
Parkway Retail Centre
7/23/2015
$5,000.00
Monetary Contribution
Steve Sisolak
2016 Annual CE Filing
Parkway Retail Centre
4/20/2016
$4,000.00
Monetary Contribution
Steve Sisolak
2016 CE Report 1
Parkway Retail Centre, LLC
3/7/2018
$1,000.00
Monetary Contribution
Steve Sisolak
2018 CE Report 1 (Amended)
Parsons
11/9/2016
$5,000.00
Monetary Contribution
Steve Sisolak
2016 CE Report 5 (Amended)
Pat Lundvall
12/5/2016
$2,000.00
Monetary Contribution
Adam Laxalt
2017 Annual CE Filing
Pat Lundvall
11/30/2017
$2,000.00
Monetary Contribution
Adam Laxalt
2018 Annual CE Filing
Pat Packard
2/12/2018
$50.00
Monetary Contribution
Adam Laxalt
2018 CE Report 1
Pathos Investors LLC
10/1/2015
$5,000.00
Monetary Contribution
Steve Sisolak
2016 Annual CE Filing
Patricia A Puliz
6/1/2018
$5,000.00
Monetary Contribution
Steve Sisolak
2018 CE Report 2 (Amended)
Patricia Campbell
4/12/2018
$1,000.00
Monetary Contribution
Adam Laxalt
2018 CE Report 1
Patricia Campbell
11/9/2017
$250.00
Monetary Contribution
Adam Laxalt
2018 Annual CE Filing
Patricia Corrao
10/24/2016
$5,000.00
Monetary Contribution
Adam Laxalt
2017 Annual CE Filing
Patricia Corrao
10/24/2016
$5,000.00
Monetary Contribution
Adam Laxalt
2017 Annual CE Filing
Patricia D. Cafferata
3/18/2016
$100.00
Monetary Contribution
Adam Laxalt
2017 Annual CE Filing
Patricia D. Cafferata
4/17/2017
$250.00
Monetary Contribution
Adam Laxalt
2018 Annual CE Filing
Patricia D. Cafferata
5/26/2017
$1,000.00
Monetary Contribution
Adam Laxalt
2018 Annual CE Filing
Patricia D. Cafferata
10/16/2017
$250.00
Monetary Contribution
Adam Laxalt
2018 Annual CE Filing
Patricia D. Cafferata
4/19/2018
$250.00
Monetary Contribution
Adam Laxalt
2018 CE Report 1
Patricia D. Price
11/9/2017
$50.00
Monetary Contribution
Adam Laxalt
2018 Annual CE Filing
Patricia D. Price
11/9/2017
$50.00
Monetary Contribution
Adam Laxalt
2018 Annual CE Filing
Patricia Heeran
5/30/2018
$50.00
Monetary Contribution
Adam Laxalt
2018 CE Report 2
Patricia K. Miller
12/15/2017
$200.00
Monetary Contribution
Adam Laxalt
2018 Annual CE Filing
Patricia M. Wade
4/19/2018
$250.00
Monetary Contribution
Adam Laxalt
2018 CE Report 1
Patricia Myers
4/17/2018
$50.00
Monetary Contribution
Adam Laxalt
2018 CE Report 1
PATRICIA RIVERS ESTEY
5/11/2017
$5,000.00
Monetary Contribution
Adam Laxalt
2018 Annual CE Filing
PATRICIA RIVERS ESTEY
5/11/2017
$5,000.00
Monetary Contribution
Adam Laxalt
2018 Annual CE Filing
Patricia Sprincin
7/15/2017
$100.00
Monetary Contribution
Steve Sisolak
2018 Annual CE Filing (Amended)
Patrick & Dawn King
3/1/2018
$100.00
Monetary Contribution
Adam Laxalt
2018 CE Report 1
Patrick Blach
11/9/2017
$1,000.00
Monetary Contribution
Adam Laxalt
2018 Annual CE Filing
Patrick Blach
5/28/2016
$1,000.00
Monetary Contribution
Adam Laxalt
2017 Annual CE Filing
Patrick Donahoe
10/21/2017
$5,000.00
Monetary Contribution
Adam Laxalt
2018 Annual CE Filing
Patrick Frink
3/24/2018
$1,000.00
Monetary Contribution
Adam Laxalt
2018 CE Report 1
Patrick G. Lewis-Nebot
11/9/2017
$2,500.00
Monetary Contribution
Adam Laxalt
2018 Annual CE Filing
Patrick Jacobs
4/13/2018
$500.00
Monetary Contribution
Adam Laxalt
2018 CE Report 1
Patrick Lynch Group
3/26/2015
$1,000.00
Monetary Contribution
Adam Laxalt
2016 Annual CE Filing
Patrick Lynch Group
5/28/2016
$1,000.00
Monetary Contribution
Adam Laxalt
2017 Annual CE Filing
Patrick O'Shaughnessy
12/22/2017
$2,500.00
Monetary Contribution
Adam Laxalt
2018 Annual CE Filing
Patrick Robinson
1/22/2018
$2,500.00
Monetary Contribution
Steve Sisolak
2018 CE Report 1 (Amended)
Patrick Vaughan
3/9/2018
$50.00
Monetary Contribution
Steve Sisolak
2018 CE Report 1 (Amended)
Patrick Vaughan
5/3/2018
$50.00
Monetary Contribution
Steve Sisolak
2018 CE Report 1 (Amended)
Patrick Vaughan
6/4/2018
$50.00
Monetary Contribution
Steve Sisolak
2018 CE Report 2 (Amended)
Patriot Contractors LLC
4/6/2016
$5,000.00
Monetary Contribution
Steve Sisolak
2016 CE Report 1
Patsy M. Kennedy
11/15/2017
$100.00
Monetary Contribution
Adam Laxalt
2018 Annual CE Filing
Patti Sgro & Lewis
9/9/2015
$3,000.00
Monetary Contribution
Steve Sisolak
2016 Annual CE Filing
Patti Wise
1/24/2018
$1,000.00
Monetary Contribution
Steve Sisolak
2018 CE Report 1 (Amended)
Paul B. Syphus
3/31/2017
$50.00
Monetary Contribution
Adam Laxalt
2018 Annual CE Filing
Paul C. Gross
3/8/2018
$250.00
Monetary Contribution
Adam Laxalt
2018 CE Report 1
Paul Caprio and Associates
9/26/2017
$2,500.00
Monetary Contribution
Adam Laxalt
2018 Annual CE Filing
Paul Caprio and Associates
5/14/2018
$1,500.00
Monetary Contribution
Adam Laxalt
2018 CE Report 1
Paul E. Smith
3/26/2018
$2,500.00
Monetary Contribution
Adam Laxalt
2018 CE Report 1
Paul E. Smith
5/26/2017
$2,000.00
Monetary Contribution
Adam Laxalt
2018 Annual CE Filing
Paul F. Peppard
6/12/2017
$400.00
Monetary Contribution
Adam Laxalt
2018 Annual CE Filing
Paul F. Peppard
4/13/2018
$400.00
Monetary Contribution
Adam Laxalt
2018 CE Report 1
Paul G. Haaga
3/5/2018
$1,000.00
Monetary Contribution
Adam Laxalt
2018 CE Report 1
Paul G. Haaga
4/9/2018
$1,000.00
Monetary Contribution
Adam Laxalt
2018 CE Report 1
Paul J. Enos
5/29/2017
$1,000.00
Monetary Contribution
Adam Laxalt
2018 Annual CE Filing
Paul J. Enos
1/18/2017
$100.00
Monetary Contribution
Adam Laxalt
2018 Annual CE Filing
Paul Loukas
4/2/2018
$100.00
Monetary Contribution
Adam Laxalt
2018 CE Report 1
Paul Makarechian
12/21/2017
$2,500.00
Monetary Contribution
Adam Laxalt
2018 Annual CE Filing
Paul Padda Law PLLC
1/24/2018
$5,000.00
Monetary Contribution
Steve Sisolak
2018 CE Report 1 (Amended)
Paul Padda Law, PLLC
11/28/2017
$750.00
Monetary Contribution
Steve Sisolak
2018 Annual CE Filing (Amended)
Paul Panuwat
12/7/2017
$50.00
Monetary Contribution
Adam Laxalt
2018 Annual CE Filing
Paul Purcell
5/1/2018
$2,500.00
Monetary Contribution
Adam Laxalt
2018 CE Report 1
Paul Renois
5/18/2018
$100.00
Monetary Contribution
Steve Sisolak
2018 CE Report 1 (Amended)
Paul S. Mead
4/12/2017
$50.00
Monetary Contribution
Adam Laxalt
2018 Annual CE Filing
Paul Schlds
12/17/2015
$500.00
Monetary Contribution
Steve Sisolak
2016 Annual CE Filing
Paul Stewart
11/6/2016
$1,000.00
Monetary Contribution
Steve Sisolak
2016 CE Report 5 (Amended)
Paul Truman
5/3/2018
$5,000.00
Monetary Contribution
Adam Laxalt
2018 CE Report 1
Paul Truman
5/3/2018
$5,000.00
Monetary Contribution
Adam Laxalt
2018 CE Report 1
Paul W. Deane
5/16/2017
$50.00
Monetary Contribution
Adam Laxalt
2018 Annual CE Filing
Paul W. Deane
10/20/2017
$100.00
Monetary Contribution
Adam Laxalt
2018 Annual CE Filing
Paula Farrell
5/16/2018
$100.00
Monetary Contribution
Adam Laxalt
2018 CE Report 1
Paula Graziano
11/20/2017
$1,000.00
Monetary Contribution
Steve Sisolak
2018 Annual CE Filing (Amended)
PB Strategies Inc
2/27/2018
$500.00
Monetary Contribution
Steve Sisolak
2018 CE Report 1 (Amended)
PDC Inc. - Panattoni Development Company Inc.
8/8/2016
$5,000.00
Monetary Contribution
Steve Sisolak
2016 CE Report 3
PDOK 2 LLC
12/21/2017
$6,600.00
Monetary Contribution
Steve Sisolak
2018 Annual CE Filing (Amended)
Peccole Nevada Corporation
12/22/2015
$1,000.00
Monetary Contribution
Steve Sisolak
2016 Annual CE Filing
Peel & Brimley LLP
6/16/2017
$1,000.00
Monetary Contribution
Adam Laxalt
2018 Annual CE Filing
Peggy Gray
3/1/2018
$100.00
Monetary Contribution
Adam Laxalt
2018 CE Report 1
Peggy Hlatky
4/19/2018
$150.00
Monetary Contribution
Adam Laxalt
2018 CE Report 1
Pelican Capital LLC
5/5/2016
$10,000.00
Monetary Contribution
Steve Sisolak
2016 CE Report 1
Penn National Gaming, Inc
12/23/2015
$5,000.00
Monetary Contribution
Steve Sisolak
2016 Annual CE Filing
Penta Building Group LLC
9/3/2015
$5,000.00
Monetary Contribution
Steve Sisolak
2016 Annual CE Filing
Peppermill Casinos Inc
3/28/2018
$10,000.00
Monetary Contribution
Steve Sisolak
2018 CE Report 1 (Amended)
Peppermill Casinos Inc
3/13/2018
$5,000.00
Monetary Contribution
Adam Laxalt
2018 CE Report 1
Peppermill Casinos Inc
3/13/2018
$5,000.00
Monetary Contribution
Adam Laxalt
2018 CE Report 1
Pere Antoine Inc.
5/9/2018
$5,000.00
Monetary Contribution
Adam Laxalt
2018 CE Report 1
Pere Antoine Inc.
5/9/2018
$5,000.00
Monetary Contribution
Adam Laxalt
2018 CE Report 1
Performance Contracting, Inc.
3/22/2018
$2,500.00
Monetary Contribution
Steve Sisolak
2018 CE Report 1 (Amended)
Peri & Sons Farms Inc.
6/6/2017
$2,500.00
Monetary Contribution
Adam Laxalt
2018 Annual CE Filing
Peri & Sons Farms Inc.
6/27/2017
$2,500.00
Monetary Contribution
Adam Laxalt
2018 Annual CE Filing
Peri & Sons Farms Inc.
12/11/2017
$5,000.00
Monetary Contribution
Adam Laxalt
2018 Annual CE Filing
Perry D. Forstrom
5/31/2018
$50.00
Monetary Contribution
Adam Laxalt
2018 CE Report 2
Pete Echaniz
5/31/2018
$100.00
Monetary Contribution
Adam Laxalt
2018 CE Report 2
Pete Echaniz
11/14/2017
$100.00
Monetary Contribution
Adam Laxalt
2018 Annual CE Filing
Pete King Commercial LLC
10/30/2017
$750.00
Monetary Contribution
Adam Laxalt
2018 Annual CE Filing
Peter A. Simon
12/30/2016
$500.00
Monetary Contribution
Adam Laxalt
2017 Annual CE Filing
Peter A. Simon
6/1/2017
$500.00
Monetary Contribution
Adam Laxalt
2018 Annual CE Filing
Peter and Jennifer Hansen
7/5/2017
$50.00
Monetary Contribution
Adam Laxalt
2018 Annual CE Filing
Peter and Victoria Silvia
6/22/2017
$50.00
Monetary Contribution
Adam Laxalt
2018 Annual CE Filing
Peter and Victoria Silvia
4/11/2018
$50.00
Monetary Contribution
Adam Laxalt
2018 CE Report 1
Peter Barton
8/31/2017
$50.00
Monetary Contribution
Adam Laxalt
2018 Annual CE Filing
Peter Braglia
5/5/2017
$5,000.00
Monetary Contribution
Adam Laxalt
2018 Annual CE Filing
Peter Braglia
12/29/2017
$5,000.00
Monetary Contribution
Adam Laxalt
2018 Annual CE Filing
Peter Brunt
5/3/2017
$50.00
Monetary Contribution
Adam Laxalt
2018 Annual CE Filing
Peter D. Krueger
5/11/2018
$100.00
Monetary Contribution
Steve Sisolak
2018 CE Report 1 (Amended)
Peter Eliades
6/29/2017
$10,000.00
Monetary Contribution
Steve Sisolak
2018 Annual CE Filing (Amended)
Peter Eliades
11/10/2015
$10,000.00
Monetary Contribution
Steve Sisolak
2016 Annual CE Filing
Peter Feinstein
8/31/2016
$500.00
Monetary Contribution
Steve Sisolak
2016 CE Report 3
Peter G. Kypreos
3/2/2018
$500.00
Monetary Contribution
Steve Sisolak
2018 CE Report 1 (Amended)
Peter Gardiner
12/7/2017
$300.00
Monetary Contribution
Adam Laxalt
2018 Annual CE Filing
Peter H. Huizenga
3/19/2018
$1,000.00
Monetary Contribution
Adam Laxalt
2018 CE Report 1
Peter J. Deangeli
6/1/2018
$50.00
Monetary Contribution
Adam Laxalt
2018 CE Report 2
Peter Lik
9/5/2017
$5,000.00
Monetary Contribution
Steve Sisolak
2018 Annual CE Filing (Amended)
Peter M. Castleman
5/15/2018
$5,000.00
Monetary Contribution
Adam Laxalt
2018 CE Report 1
Peter M. Castleman
5/11/2018
$5,000.00
Monetary Contribution
Adam Laxalt
2018 CE Report 1
Peter R. Samuolis
5/31/2018
$100.00
Monetary Contribution
Adam Laxalt
2018 CE Report 2
Peter Sadowski
11/5/2016
$10,000.00
Monetary Contribution
Steve Sisolak
2016 CE Report 5 (Amended)
Peter Simon
6/1/2017
$2,500.00
Monetary Contribution
Adam Laxalt
2018 Annual CE Filing
Peter Simon
12/4/2017
$1,000.00
Monetary Contribution
Adam Laxalt
2018 Annual CE Filing
Peter Simon
12/30/2016
$5,000.00
Monetary Contribution
Adam Laxalt
2017 Annual CE Filing
Peter Simon II
5/18/2018
$1,500.00
Monetary Contribution
Adam Laxalt
2018 CE Report 1
Peter Stoddard
5/21/2018
$1,000.00
Monetary Contribution
Steve Sisolak
2018 CE Report 2 (Amended)
Peterbilt Company
4/23/2018
$2,500.00
Monetary Contribution
Adam Laxalt
2018 CE Report 1
Petersen Management LLC
8/3/2017
$2,500.00
Monetary Contribution
Steve Sisolak
2018 Annual CE Filing (Amended)
Petersen Management, LLC
6/27/2017
$5,000.00
Monetary Contribution
Steve Sisolak
2018 Annual CE Filing (Amended)
Petersen Management, LLC
7/23/2015
$3,500.00
Monetary Contribution
Steve Sisolak
2016 Annual CE Filing
PFC Park Holdings LLC
10/28/2016
$5,000.00
Monetary Contribution
Adam Laxalt
2017 Annual CE Filing
PFC Park Holdings LLC
10/28/2016
$5,000.00
Monetary Contribution
Adam Laxalt
2017 Annual CE Filing
Pfizer Inc
1/13/2015
$2,500.00
Monetary Contribution
Adam Laxalt
2016 Annual CE Filing
Pfizer Inc.
12/21/2016
$2,500.00
Monetary Contribution
Adam Laxalt
2017 Annual CE Filing
PH Metro LLC
10/20/2016
$5,000.00
Monetary Contribution
Steve Sisolak
2016 CE Report 4
Phil & Oleksandra Ruffin
11/12/2015
$1,000.00
Monetary Contribution
Steve Sisolak
2016 Annual CE Filing
Phil Bravo
10/24/2017
$500.00
Monetary Contribution
Adam Laxalt
2018 Annual CE Filing
Phil Ruffin
8/29/2016
$5,000.00
Monetary Contribution
Steve Sisolak
2016 CE Report 3
Phil Ruffin
8/14/2017
$1,000.00
Monetary Contribution
Steve Sisolak
2018 Annual CE Filing (Amended)
Philip E. Bender
5/6/2017
$250.00
Monetary Contribution
Adam Laxalt
2018 Annual CE Filing
Philip E. Bender
3/12/2018
$50.00
Monetary Contribution
Adam Laxalt
2018 CE Report 1
Philip J. Purcell
5/7/2018
$5,000.00
Monetary Contribution
Adam Laxalt
2018 CE Report 1
Philip J. Purcell
5/7/2018
$5,000.00
Monetary Contribution
Adam Laxalt
2018 CE Report 1
Philip Musser
7/24/2017
$500.00
Monetary Contribution
Adam Laxalt
2018 Annual CE Filing
Philip Patterson
12/13/2017
$50.00
Monetary Contribution
Adam Laxalt
2018 Annual CE Filing
Philip Patterson
2/17/2018
$50.00
Monetary Contribution
Adam Laxalt
2018 CE Report 1
Philip Patterson
2/27/2018
$50.00
Monetary Contribution
Adam Laxalt
2018 CE Report 1
Philip R. Brisack
11/27/2017
$100.00
Monetary Contribution
Adam Laxalt
2018 Annual CE Filing
Philip R. Brown
3/5/2018
$50.00
Monetary Contribution
Adam Laxalt
2018 CE Report 1
Philip Richards
1/10/2018
$2,500.00
Monetary Contribution
Steve Sisolak
2018 CE Report 1 (Amended)
Philip Smith Richards
4/12/2018
$100.00
Monetary Contribution
Adam Laxalt
2018 CE Report 1
Phillip Dahan
4/30/2018
$500.00
Monetary Contribution
Adam Laxalt
2018 CE Report 1
Phillip J. Maloof
6/4/2015
$2,000.00
Monetary Contribution
Steve Sisolak
2016 Annual CE Filing
Phillip M. Gardiner
4/16/2018
$100.00
Monetary Contribution
Adam Laxalt
2018 CE Report 1
Phillip R Say
4/5/2018
$2,000.00
Monetary Contribution
Steve Sisolak
2018 CE Report 1 (Amended)
Phillip Ruffin
10/27/2017
$5,000.00
Monetary Contribution
Adam Laxalt
2018 Annual CE Filing
Phillip Ruffin
10/27/2017
$5,000.00
Monetary Contribution
Adam Laxalt
2018 Annual CE Filing
PHW Las Vegas LLC DBA Planet Hollywood Resort
5/16/2018
$5,000.00
Monetary Contribution
Adam Laxalt
2018 CE Report 1
Phyllis M. Cope
9/25/2017
$10,000.00
Monetary Contribution
Steve Sisolak
2018 Annual CE Filing (Amended)
Phyllis M. Cope
12/29/2015
$10,000.00
Monetary Contribution
Steve Sisolak
2016 Annual CE Filing
Phyllis V Noblitt
4/14/2017
$50.00
Monetary Contribution
Adam Laxalt
2018 Annual CE Filing
Phyllis V Noblitt
11/16/2017
$50.00
Monetary Contribution
Adam Laxalt
2018 Annual CE Filing
Phyllis V. Noblitt
2/21/2018
$50.00
Monetary Contribution
Adam Laxalt
2018 CE Report 1
Phyllis V. Noblitt
4/12/2018
$50.00
Monetary Contribution
Adam Laxalt
2018 CE Report 1
Picerne Development Corp.
1/16/2018
$10,000.00
Monetary Contribution
Steve Sisolak
2018 CE Report 1 (Amended)
Pier Construction & Development, LLC
4/21/2016
$2,500.00
Monetary Contribution
Steve Sisolak
2016 CE Report 1
Piero's Cuisine
12/6/2017
$5,000.00
In Kind Contribution
Adam Laxalt
2018 Annual CE Filing
Pieros
11/29/2017
$3,500.00
In Kind Contribution
Steve Sisolak
2018 Annual CE Filing (Amended)
Pierre Redmond
2/23/2018
$5,000.00
Monetary Contribution
Adam Laxalt
2018 CE Report 1
Pierre Redmond
5/10/2018
$3,500.00
In Kind Contribution
Adam Laxalt
2018 CE Report 1
Pinches Tacos
9/10/2015
$1,000.00
Monetary Contribution
Steve Sisolak
2016 Annual CE Filing
Pinnacle Painting LLC
5/26/2017
$1,000.00
Monetary Contribution
Adam Laxalt
2018 Annual CE Filing
Pinnacle West Capital Corporation
9/5/2017
$5,000.00
Monetary Contribution
Adam Laxalt
2018 Annual CE Filing
Pioneer Analytics & Consulting Group
12/22/2016
$5,000.00
Monetary Contribution
Adam Laxalt
2017 Annual CE Filing
Pioneer Torino LLC
11/5/2016
$250.00
Monetary Contribution
Steve Sisolak
2016 CE Report 5 (Amended)
Pioneer Torino LLC
10/17/2016
$250.00
Monetary Contribution
Steve Sisolak
2016 CE Report 4
Pitney Bowes
9/19/2016
$500.00
Monetary Contribution
Adam Laxalt
2017 Annual CE Filing
Pitney Bowes
8/7/2015
$1,000.00
Monetary Contribution
Adam Laxalt
2016 Annual CE Filing
Pizza Forte
10/31/2017
$1,000.00
Monetary Contribution
Steve Sisolak
2018 Annual CE Filing (Amended)
PJ Becker
6/17/2015
$5,000.00
Monetary Contribution
Steve Sisolak
2016 Annual CE Filing
PJ2 Investments
5/21/2016
$1,500.00
Monetary Contribution
Steve Sisolak
2016 CE Report 2
Placer LLC
5/22/2017
$2,500.00
Monetary Contribution
Adam Laxalt
2018 Annual CE Filing
Plain Green LLC
7/11/2016
$2,500.00
Monetary Contribution
Adam Laxalt
2017 Annual CE Filing
Platinum Realty LLC
11/28/2017
$1,000.00
Monetary Contribution
Steve Sisolak
2018 Annual CE Filing (Amended)
Players Network Inc.
12/18/2017
$1,000.00
Monetary Contribution
Steve Sisolak
2018 Annual CE Filing (Amended)
PlayLV Gaming Operations LLC
4/24/2018
$5,000.00
Monetary Contribution
Steve Sisolak
2018 CE Report 1 (Amended)
Poggemeyer Design Corp.
5/27/2016
$2,500.00
Monetary Contribution
Steve Sisolak
2016 CE Report 2
Poggemeyer Design Group
1/11/2018
$5,000.00
Monetary Contribution
Steve Sisolak
2018 CE Report 1 (Amended)
Poker Central LLC
10/19/2016
$5,000.00
Monetary Contribution
Adam Laxalt
2017 Annual CE Filing
Poker Central LLC
10/19/2016
$5,000.00
Monetary Contribution
Adam Laxalt
2017 Annual CE Filing
Poker Productions LLC
5/10/2017
$5,000.00
Monetary Contribution
Adam Laxalt
2018 Annual CE Filing
Poker Productions LLC
5/10/2017
$5,000.00
Monetary Contribution
Adam Laxalt
2018 Annual CE Filing
Policy Communications
3/30/2018
$250.00
Monetary Contribution
Steve Sisolak
2018 CE Report 1 (Amended)
Policy Communications
10/19/2017
$5,000.00
Monetary Contribution
Steve Sisolak
2018 Annual CE Filing (Amended)
Policy Communications
8/18/2015
$5,000.00
Monetary Contribution
Steve Sisolak
2016 Annual CE Filing
Polina V. James
10/10/2016
$10,000.00
Monetary Contribution
Steve Sisolak
2016 CE Report 3
Political Action Committee Local 525
11/8/2016
$1,000.00
Monetary Contribution
Steve Sisolak
2016 CE Report 5 (Amended)
Portland Cement Association
3/28/2018
$500.00
Monetary Contribution
Adam Laxalt
2018 CE Report 1
Positively Vegas Ventures Ancient Hills Lane
5/18/2018
$5,000.00
Monetary Contribution
Adam Laxalt
2018 CE Report 1
Positively Vegas Ventures Ancient Hills Lane
5/18/2018
$5,000.00
Monetary Contribution
Adam Laxalt
2018 CE Report 1
Post & Wynn Investments LLC
12/12/2015
$500.00
Monetary Contribution
Steve Sisolak
2016 Annual CE Filing
Potco, LLC
6/15/2016
$10,000.00
Monetary Contribution
Steve Sisolak
2016 CE Report 3
Pouya Mohajer
2/27/2018
$500.00
Monetary Contribution
Steve Sisolak
2018 CE Report 1 (Amended)
Power House Plastering Inc
5/16/2018
$5,000.00
Monetary Contribution
Adam Laxalt
2018 CE Report 1
Power House Plastering Inc
5/16/2018
$5,000.00
Monetary Contribution
Adam Laxalt
2018 CE Report 1
Precedent Properties LLC
1/28/2018
$3,000.00
Monetary Contribution
Steve Sisolak
2018 CE Report 1 (Amended)
Precision Aggregate Products LLC
2/8/2018
$500.00
Monetary Contribution
Adam Laxalt
2018 CE Report 1
Prem Rental Props
9/30/2015
$1,000.00
Monetary Contribution
Steve Sisolak
2016 Annual CE Filing
Premier CM dba Level CM
9/28/2017
$10,000.00
Monetary Contribution
Steve Sisolak
2018 Annual CE Filing (Amended)
Premier Trust Inc
11/7/2017
$10,000.00
Monetary Contribution
Steve Sisolak
2018 Annual CE Filing (Amended)
Presidential Limousine
8/31/2017
$5,000.00
Monetary Contribution
Steve Sisolak
2018 Annual CE Filing (Amended)
Prime Equity Solution LLC
11/27/2017
$5,000.00
Monetary Contribution
Steve Sisolak
2018 Annual CE Filing (Amended)
Prime Equity Solution LLC
11/15/2015
$2,000.00
Monetary Contribution
Steve Sisolak
2016 Annual CE Filing
Priscilla Strommen
12/29/2017
$500.00
Monetary Contribution
Adam Laxalt
2018 Annual CE Filing
Priti Narula
12/6/2017
$1,000.00
Monetary Contribution
Steve Sisolak
2018 Annual CE Filing (Amended)
Pritpal & Ramanreet Bhatti
5/21/2016
$1,500.00
Monetary Contribution
Steve Sisolak
2016 CE Report 2
Pritpal Bhatti
11/28/2017
$1,000.00
Monetary Contribution
Steve Sisolak
2018 Annual CE Filing (Amended)
Probity International Corp.
12/6/2017
$5,000.00
Monetary Contribution
Adam Laxalt
2018 Annual CE Filing
Probity International Corp.
12/6/2017
$5,000.00
Monetary Contribution
Adam Laxalt
2018 Annual CE Filing
Procter J. Hug
12/19/2016
$500.00
Monetary Contribution
Adam Laxalt
2017 Annual CE Filing
Procter J. Hug
3/2/2016
$250.00
Monetary Contribution
Adam Laxalt
2017 Annual CE Filing
Procter J. Hug
11/9/2017
$1,000.00
Monetary Contribution
Adam Laxalt
2018 Annual CE Filing
PROFICIENT MANAGEMENT LLC
3/29/2018
$100.00
Monetary Contribution
Steve Sisolak
2018 CE Report 1 (Amended)
Progressive Construction Inc.
12/30/2015
$5,000.00
Monetary Contribution
Steve Sisolak
2016 Annual CE Filing
Promed Management Group LLC
4/10/2018
$1,000.00
Monetary Contribution
Adam Laxalt
2018 CE Report 1
Promila Singal
8/22/2017
$2,500.00
Monetary Contribution
Steve Sisolak
2018 Annual CE Filing (Amended)
PS PAC
12/14/2017
$5,000.00
Monetary Contribution
Adam Laxalt
2018 Annual CE Filing
PSP Holdings, LLC dba Prime Sourcing Partners
5/26/2016
$1,000.00
Monetary Contribution
Steve Sisolak
2016 CE Report 2
Pueblo Medical Imaging
12/7/2017
$1,500.00
Monetary Contribution
Steve Sisolak
2018 Annual CE Filing (Amended)
Puonyarat Premsrirut
5/8/2018
$2,000.00
Monetary Contribution
Steve Sisolak
2018 CE Report 1 (Amended)
Puoy K. Premsrirut
10/28/2015
$400.00
In Kind Contribution
Steve Sisolak
2016 Annual CE Filing
Puoy K. Premsrirut
10/28/2015
$1,500.00
Monetary Contribution
Steve Sisolak
2016 Annual CE Filing
Purdue Marion & Associates
12/2/2015
$500.00
Monetary Contribution
Steve Sisolak
2016 Annual CE Filing
Purdue Pharma L.P.
3/31/2016
$1,000.00
Monetary Contribution
Adam Laxalt
2017 Annual CE Filing
Purdue Pharma L.P.
7/8/2016
$750.00
Monetary Contribution
Adam Laxalt
2017 Annual CE Filing
Purdue Pharma L.P.
8/17/2015
$750.00
Monetary Contribution
Adam Laxalt
2016 Annual CE Filing
Q & D Construction Inc
4/20/2017
$1,000.00
Monetary Contribution
Adam Laxalt
2018 Annual CE Filing
Quality Care Consultants LLC
12/21/2015
$1,000.00
Monetary Contribution
Steve Sisolak
2016 Annual CE Filing
Quality Transportation Inc
4/20/2017
$5,000.00
Monetary Contribution
Adam Laxalt
2018 Annual CE Filing
Quality Transportation Inc
6/7/2018
$5,000.00
Monetary Contribution
Adam Laxalt
2018 CE Report 2
Quarry 3 LLC
5/4/2017
$5,000.00
Monetary Contribution
Adam Laxalt
2018 Annual CE Filing
Quarry 3 LLC
5/4/2017
$5,000.00
Monetary Contribution
Adam Laxalt
2018 Annual CE Filing
Quarry Capital LLC
5/4/2017
$5,000.00
Monetary Contribution
Adam Laxalt
2018 Annual CE Filing
Quarry Capital LLC
5/4/2017
$5,000.00
Monetary Contribution
Adam Laxalt
2018 Annual CE Filing
Quinton Singleton
12/2/2015
$100.00
Monetary Contribution
Adam Laxalt
2016 Annual CE Filing
R & A Song Trustees of Song Family Trust
4/21/2016
$50.00
Monetary Contribution
Steve Sisolak
2016 CE Report 1
R & O Construction
12/10/2015
$2,000.00
Monetary Contribution
Steve Sisolak
2016 Annual CE Filing
R & S Leasing LLC
12/9/2016
$2,500.00
Monetary Contribution
Adam Laxalt
2017 Annual CE Filing
R. Bryan Walworth
3/15/2018
$250.00
Monetary Contribution
Adam Laxalt
2018 CE Report 1
R. Lee Sterrett
5/7/2018
$100.00
Monetary Contribution
Adam Laxalt
2018 CE Report 1
R. Scott Dugan
12/27/2017
$500.00
Monetary Contribution
Steve Sisolak
2018 Annual CE Filing (Amended)
R. Scott Johnson
5/14/2018
$1,000.00
Monetary Contribution
Adam Laxalt
2018 CE Report 1
R.D. Prabhu/Lata Shete M.D. Ltd.
11/28/2017
$1,000.00
Monetary Contribution
Steve Sisolak
2018 Annual CE Filing (Amended)
R.L. Jackson Electric
10/27/2017
$2,000.00
Monetary Contribution
Adam Laxalt
2018 Annual CE Filing
R&S Investment Properties
4/29/2015
$10,000.00
Monetary Contribution
Steve Sisolak
2016 Annual CE Filing
R&S Leasing LLC
9/6/2017
$10,000.00
Monetary Contribution
Steve Sisolak
2018 Annual CE Filing (Amended)
Racoon Enterprises LLC
5/2/2018
$10,000.00
Monetary Contribution
Steve Sisolak
2018 CE Report 1 (Amended)
Rafael & Diana Valencia
4/12/2016
$1,000.00
Monetary Contribution
Steve Sisolak
2016 CE Report 1
Rafael Construction
5/22/2018
$3,000.00
Monetary Contribution
Steve Sisolak
2018 CE Report 2 (Amended)
Rafael Valencia MD PC
12/4/2017
$1,000.00
Monetary Contribution
Steve Sisolak
2018 Annual CE Filing (Amended)
RAGA Nevada PAC
10/15/2015
$10,000.00
Monetary Contribution
Adam Laxalt
2016 Annual CE Filing
Rahul N. Mediwala
4/19/2018
$250.00
Monetary Contribution
Adam Laxalt
2018 CE Report 1
RAI Services Company
9/16/2015
$2,500.00
Monetary Contribution
Adam Laxalt
2016 Annual CE Filing
RAI Services Company
8/12/2016
$1,000.00
Monetary Contribution
Adam Laxalt
2017 Annual CE Filing
Railroad Pass Hotel & Casino
5/11/2017
$5,000.00
Monetary Contribution
Adam Laxalt
2018 Annual CE Filing
Railroad Pass Investment Group
1/8/2018
$500.00
Monetary Contribution
Steve Sisolak
2018 CE Report 1 (Amended)
Raj Chanderraj
12/14/2017
$1,000.00
Monetary Contribution
Steve Sisolak
2018 Annual CE Filing (Amended)
Raj Chanderraj, M.D., Ltd.
4/12/2016
$1,000.00
Monetary Contribution
Steve Sisolak
2016 CE Report 1
Raj Chanderraj, M.D., Ltd.
11/5/2016
$5,000.00
Monetary Contribution
Steve Sisolak
2016 CE Report 5 (Amended)
Rajesh Shrotriya
4/5/2018
$1,000.00
Monetary Contribution
Adam Laxalt
2018 CE Report 1
Ralph W. Eaton
2/8/2018
$500.00
Monetary Contribution
Adam Laxalt
2018 CE Report 1
Ram Challapalli
4/17/2018
$1,850.00
In Kind Contribution
Adam Laxalt
2018 CE Report 1
RAN Services Inc.
12/19/2016
$5,000.00
Monetary Contribution
Adam Laxalt
2017 Annual CE Filing
RAN Services Inc.
12/19/2016
$5,000.00
Monetary Contribution
Adam Laxalt
2017 Annual CE Filing
Rancharrah Holdings LLC
5/3/2018
$5,000.00
Monetary Contribution
Adam Laxalt
2018 CE Report 1
Rancharrah Holdings LLC
5/3/2018
$5,000.00
Monetary Contribution
Adam Laxalt
2018 CE Report 1
Randadev Mukherjee
5/25/2018
$5,000.00
Monetary Contribution
Steve Sisolak
2018 CE Report 2 (Amended)
Randal J. Gibson
3/30/2018
$500.00
Monetary Contribution
Adam Laxalt
2018 CE Report 1
Randall Brown
5/19/2018
$50.00
Monetary Contribution
Steve Sisolak
2018 CE Report 2 (Amended)
Randall Colquitt
3/29/2018
$500.00
Monetary Contribution
Adam Laxalt
2018 CE Report 1
Randall Colquitt
4/10/2018
$500.00
Monetary Contribution
Adam Laxalt
2018 CE Report 1
Randall Gilhart
5/2/2018
$50.00
Monetary Contribution
Adam Laxalt
2018 CE Report 1
Randy and Patricia Idler
4/19/2018
$150.00
Monetary Contribution
Adam Laxalt
2018 CE Report 1
Randy E. Stanley
2/23/2018
$200.00
Monetary Contribution
Adam Laxalt
2018 CE Report 1
Randy Kendrick
11/20/2017
$5,000.00
Monetary Contribution
Adam Laxalt
2018 Annual CE Filing
Randy Kendrick
11/20/2017
$5,000.00
Monetary Contribution
Adam Laxalt
2018 Annual CE Filing
Randy Kozuch
7/8/2016
$1,000.00
Monetary Contribution
Adam Laxalt
2017 Annual CE Filing
Randy Quirk
10/28/2016
$2,500.00
Monetary Contribution
Steve Sisolak
2016 CE Report 4
Randy Stanley
4/19/2017
$100.00
Monetary Contribution
Adam Laxalt
2018 Annual CE Filing
Raveendra Suryadevara
4/17/2017
$50.00
Monetary Contribution
Adam Laxalt
2018 Annual CE Filing
Raveendra Suryadevara
11/9/2017
$250.00
Monetary Contribution
Adam Laxalt
2018 Annual CE Filing
Ray Reynolds
11/20/2017
$50.00
Monetary Contribution
Adam Laxalt
2018 Annual CE Filing
Raymond
3/15/2018
$2,500.00
Monetary Contribution
Steve Sisolak
2018 CE Report 1 (Amended)
Raymond C. Avansino
4/30/2018
$2,000.00
Monetary Contribution
Adam Laxalt
2018 CE Report 1
Raymond C. Avansino
5/1/2018
$500.00
Monetary Contribution
Adam Laxalt
2018 CE Report 1
Raymond C. Avansino
11/9/2017
$2,500.00
Monetary Contribution
Adam Laxalt
2018 Annual CE Filing
Raymond E. Wharton
11/13/2017
$100.00
Monetary Contribution
Adam Laxalt
2018 Annual CE Filing
Raymond E. Wharton
2/16/2018
$50.00
Monetary Contribution
Adam Laxalt
2018 CE Report 1
Raymond E. Wharton
6/6/2018
$50.00
Monetary Contribution
Adam Laxalt
2018 CE Report 2
Raymond Etcheverry
3/27/2018
$1,000.00
Monetary Contribution
Adam Laxalt
2018 CE Report 1
Raymond F. Dissette
4/13/2018
$50.00
Monetary Contribution
Adam Laxalt
2018 CE Report 1
Raymond Ingersoll
11/16/2017
$50.00
Monetary Contribution
Adam Laxalt
2018 Annual CE Filing
Raymond Ingersoll
4/12/2018
$50.00
Monetary Contribution
Adam Laxalt
2018 CE Report 1
Raymond J. Malloy
2/16/2018
$100.00
Monetary Contribution
Adam Laxalt
2018 CE Report 1
Raymond J. Malloy
6/19/2017
$100.00
Monetary Contribution
Adam Laxalt
2018 Annual CE Filing
Raymond J. Malloy
11/15/2017
$100.00
Monetary Contribution
Adam Laxalt
2018 Annual CE Filing
Raymond J. Winters
4/30/2018
$1,000.00
Monetary Contribution
Steve Sisolak
2018 CE Report 1 (Amended)
Raymond L. Friedlob
2/16/2018
$1,000.00
Monetary Contribution
Adam Laxalt
2018 CE Report 1
Raymond Lam
3/28/2017
$5,000.00
Monetary Contribution
Steve Sisolak
2018 Annual CE Filing (Amended)
Raymond M Chenoweth
7/26/2017
$5,000.00
Monetary Contribution
Steve Sisolak
2018 Annual CE Filing (Amended)
Raymond M. Gurries
2/23/2018
$50.00
Monetary Contribution
Adam Laxalt
2018 CE Report 1
Raymond M. Gurries
11/22/2017
$50.00
Monetary Contribution
Adam Laxalt
2018 Annual CE Filing
Raymond M. Marin
2/23/2018
$500.00
Monetary Contribution
Adam Laxalt
2018 CE Report 1
Raymond P. Tolles
4/19/2018
$500.00
Monetary Contribution
Adam Laxalt
2018 CE Report 1
Raymond P. Tolles
5/3/2018
$500.00
Monetary Contribution
Adam Laxalt
2018 CE Report 1
Raymond R. Soard
3/14/2018
$2,500.00
Monetary Contribution
Adam Laxalt
2018 CE Report 1
RB Properties dba Bilbray Industries
8/24/2016
$3,000.00
Monetary Contribution
Steve Sisolak
2016 CE Report 3
RB Properties dba Bilbray Industries
2/25/2016
$3,000.00
Monetary Contribution
Steve Sisolak
2016 CE Report 1
RB Properties dba Bilbray Industries
2/25/2016
$3,000.00
Monetary Contribution
Steve Sisolak
2016 CE Report 1
RB Properties, INc.
8/8/2017
$5,000.00
Monetary Contribution
Steve Sisolak
2018 Annual CE Filing (Amended)
RBG LLC
3/14/2018
$5,000.00
Monetary Contribution
Adam Laxalt
2018 CE Report 1
RBG LLC
3/14/2018
$5,000.00
Monetary Contribution
Adam Laxalt
2018 CE Report 1
RCI Services LLC
2/27/2018
$500.00
Monetary Contribution
Steve Sisolak
2018 CE Report 1 (Amended)
RD Prabhu-Lata Shete MD LTD
12/12/2017
$1,000.00
Monetary Contribution
Steve Sisolak
2018 Annual CE Filing (Amended)
RD Prabhu-Lata Shete MD LTD
8/19/2015
$5,000.00
Monetary Contribution
Steve Sisolak
2016 Annual CE Filing
RD Prabhu-Lata Shete MD LTD
1/26/2016
$5,000.00
Monetary Contribution
Steve Sisolak
2016 CE Report 1
Realty Holdings LTD
11/28/2017
$2,500.00
Monetary Contribution
Steve Sisolak
2018 Annual CE Filing (Amended)
Rebecca Dickson
5/1/2018
$500.00
Monetary Contribution
Adam Laxalt
2018 CE Report 1
Rebekah Mercer
12/30/2016
$5,000.00
Monetary Contribution
Adam Laxalt
2017 Annual CE Filing
Rebekah Mercer
12/30/2016
$5,000.00
Monetary Contribution
Adam Laxalt
2017 Annual CE Filing
Rebel Oil Co., Inc
3/3/2016
$2,000.00
Monetary Contribution
Steve Sisolak
2016 CE Report 1
Rebel Oil Co., Inc
7/10/2017
$1,000.00
Monetary Contribution
Steve Sisolak
2018 Annual CE Filing (Amended)
Recording Industry Association of America
6/3/2016
$2,000.00
Monetary Contribution
Adam Laxalt
2017 Annual CE Filing
Recording Industry Association of America
3/4/2015
$1,000.00
Monetary Contribution
Adam Laxalt
2016 Annual CE Filing
Recording Industry Association of America
5/3/2017
$1,000.00
Monetary Contribution
Adam Laxalt
2018 Annual CE Filing
Red Rock Casino Resort Spa
12/30/2016
$2,000.00
Monetary Contribution
Adam Laxalt
2017 Annual CE Filing
Red Rock Casino Resort Spa
12/30/2016
$5,000.00
Monetary Contribution
Adam Laxalt
2017 Annual CE Filing
Red Rock Casino Resort Spa Cage Account
12/30/2017
$5,000.00
Monetary Contribution
Steve Sisolak
2018 Annual CE Filing (Amended)
Red Rock Casino Resort Spa Cage Account
12/30/2017
$5,000.00
Monetary Contribution
Steve Sisolak
2018 Annual CE Filing (Amended)
Red Rock Strategies
12/7/2017
$1,000.00
Monetary Contribution
Adam Laxalt
2018 Annual CE Filing
Red Star Investments Inc
12/27/2017
$10,000.00
Monetary Contribution
Steve Sisolak
2018 Annual CE Filing (Amended)
Red Wolf Dead, LLC
11/20/2017
$5,000.00
Monetary Contribution
Steve Sisolak
2018 Annual CE Filing (Amended)
Reece Keener
11/9/2017
$1,000.00
Monetary Contribution
Adam Laxalt
2018 Annual CE Filing
Reed Horsley
4/5/2018
$3,000.00
In Kind Contribution
Steve Sisolak
2018 CE Report 1 (Amended)
ReedSmith LLP
2/27/2015
$1,000.00
Monetary Contribution
Adam Laxalt
2016 Annual CE Filing
Reef Dispensaries
11/16/2017
$10,000.00
Monetary Contribution
Steve Sisolak
2018 Annual CE Filing (Amended)
Reid Enterprises LLC
12/12/2017
$200.00
Monetary Contribution
Steve Sisolak
2018 Annual CE Filing (Amended)
Remark Holdings Inc.
11/14/2017
$10,000.00
Monetary Contribution
Steve Sisolak
2018 Annual CE Filing (Amended)
REMARK Media Inc.
10/20/2016
$10,000.00
Monetary Contribution
Steve Sisolak
2016 CE Report 4
Remington Commercial, LLC
2/1/2017
$2,500.00
Monetary Contribution
Steve Sisolak
2018 Annual CE Filing (Amended)
Renee R Reuther Professional Corporation
2/27/2018
$500.00
Monetary Contribution
Steve Sisolak
2018 CE Report 1 (Amended)
Reno Buick GMC Cadillac
11/9/2017
$2,500.00
Monetary Contribution
Adam Laxalt
2018 Annual CE Filing
Reno Diagnostic Centers
5/8/2018
$1,000.00
Monetary Contribution
Adam Laxalt
2018 CE Report 1
Reno Dodge Sales Inc.
5/3/2018
$2,500.00
Monetary Contribution
Adam Laxalt
2018 CE Report 1
Reno Dodge Sales Inc.
11/9/2017
$1,000.00
Monetary Contribution
Adam Laxalt
2018 Annual CE Filing
Reno-Sparks Indian Colony
12/12/2017
$500.00
Monetary Contribution
Steve Sisolak
2018 Annual CE Filing (Amended)
Reno-Sparks Indian Colony
1/12/2015
$500.00
Monetary Contribution
Adam Laxalt
2016 Annual CE Filing
Reno-Sparks Investment Properties LLC
4/20/2017
$2,500.00
Monetary Contribution
Adam Laxalt
2018 Annual CE Filing
Reno-Sparks Investment Properties LLC
6/7/2018
$2,500.00
Monetary Contribution
Adam Laxalt
2018 CE Report 2
Reno-Sparks Investment Properties LLC
6/7/2018
$5,000.00
Monetary Contribution
Adam Laxalt
2018 CE Report 2
Reno-Tahoe Construction Inc.
4/20/2017
$1,000.00
Monetary Contribution
Adam Laxalt
2018 Annual CE Filing
Rent-A-Center
2/27/2015
$500.00
Monetary Contribution
Adam Laxalt
2016 Annual CE Filing
Rent-A-Center
7/11/2016
$750.00
Monetary Contribution
Adam Laxalt
2017 Annual CE Filing
Renu Oil of America
10/20/2016
$1,250.00
Monetary Contribution
Steve Sisolak
2016 CE Report 4
Repete's Bar & Grill LLC
12/22/2015
$1,000.00
Monetary Contribution
Steve Sisolak
2016 Annual CE Filing
Repete's Bar & Grill LLC
5/12/2015
$1,000.00
Monetary Contribution
Steve Sisolak
2016 Annual CE Filing
Republic Dumpco Inc
3/16/2016
$5,000.00
Monetary Contribution
Steve Sisolak
2016 CE Report 1
Republic Dumpco Inc
3/16/2016
$5,000.00
Monetary Contribution
Steve Sisolak
2016 CE Report 1
Republic Enviornmental Technologies, Inc.
10/27/2015
$5,000.00
Monetary Contribution
Steve Sisolak
2016 Annual CE Filing
Republic Environmental Technologies Inc
10/27/2015
$5,000.00
Monetary Contribution
Steve Sisolak
2016 Annual CE Filing
Republic Environmental Technologies Inc
2/5/2018
$5,000.00
Monetary Contribution
Steve Sisolak
2018 CE Report 1 (Amended)
Republic Environmental Technologies Inc
2/5/2018
$5,000.00
Monetary Contribution
Steve Sisolak
2018 CE Report 1 (Amended)
Republic Silver State Disposal
6/23/2016
$2,500.00
Monetary Contribution
Adam Laxalt
2017 Annual CE Filing
Republic Silver State Disposal
12/30/2016
$2,500.00
Monetary Contribution
Adam Laxalt
2017 Annual CE Filing
Republic Silver State Disposal Inc
10/27/2015
$5,000.00
Monetary Contribution
Steve Sisolak
2016 Annual CE Filing
Republic Silver State Disposal Inc.
10/27/2015
$5,000.00
Monetary Contribution
Steve Sisolak
2016 Annual CE Filing
Republic Silver State Disposal Inc.
10/10/2017
$5,000.00
Monetary Contribution
Steve Sisolak
2018 Annual CE Filing (Amended)
Republic Silver STate Disposal Inc.
10/10/2017
$5,000.00
Monetary Contribution
Steve Sisolak
2018 Annual CE Filing (Amended)
Resorts World Las Vegas
10/19/2015
$10,000.00
Monetary Contribution
Steve Sisolak
2016 Annual CE Filing
Resorts World Las Vegas
7/6/2017
$10,000.00
Monetary Contribution
Steve Sisolak
2018 Annual CE Filing (Amended)
RESORTS WORLD LAS VEGAS
12/16/2016
$5,000.00
Monetary Contribution
Adam Laxalt
2017 Annual CE Filing
RESORTS WORLD LAS VEGAS
12/16/2016
$5,000.00
Monetary Contribution
Adam Laxalt
2017 Annual CE Filing
Resorts World Miami LLC
3/9/2018
$5,000.00
Monetary Contribution
Adam Laxalt
2018 CE Report 1
Resortsta International LLC
5/8/2015
$10,000.00
Monetary Contribution
Steve Sisolak
2016 Annual CE Filing
Resortsta International LLC
9/7/2016
$10,000.00
Monetary Contribution
Steve Sisolak
2016 CE Report 3
Resortstay International LLC
10/28/2016
$5,000.00
Monetary Contribution
Adam Laxalt
2017 Annual CE Filing
Resortstay International LLC
10/28/2016
$5,000.00
Monetary Contribution
Adam Laxalt
2017 Annual CE Filing
Restaurant Consultants LLC
11/8/2017
$10,000.00
Monetary Contribution
Steve Sisolak
2018 Annual CE Filing (Amended)
Reverse America Advisors Inc
5/30/2017
$5,000.00
Monetary Contribution
Adam Laxalt
2018 Annual CE Filing
Reverse America Advisors Inc
12/29/2017
$5,000.00
Monetary Contribution
Adam Laxalt
2018 Annual CE Filing
Rew R. Goodenow
11/20/2017
$500.00
Monetary Contribution
Adam Laxalt
2018 Annual CE Filing
Rex and Jeanne Sinquefield
1/4/2018
$5,000.00
Monetary Contribution
Adam Laxalt
2018 CE Report 1
Rex and Jeanne Sinquefield
1/4/2018
$5,000.00
Monetary Contribution
Adam Laxalt
2018 CE Report 1
Rex Steninger
3/31/2018
$100.00
Monetary Contribution
Adam Laxalt
2018 CE Report 1
Rex Steninger
11/9/2017
$250.00
Monetary Contribution
Adam Laxalt
2018 Annual CE Filing
Rex Steninger
12/29/2017
$100.00
Monetary Contribution
Adam Laxalt
2018 Annual CE Filing
Rex Verley
11/9/2017
$1,000.00
Monetary Contribution
Adam Laxalt
2018 Annual CE Filing
Reza Jahangiri
12/29/2016
$5,000.00
Monetary Contribution
Adam Laxalt
2017 Annual CE Filing
Reza Jahangiri
12/29/2016
$5,000.00
Monetary Contribution
Adam Laxalt
2017 Annual CE Filing
Riana Durrett
7/1/2015
$500.00
Monetary Contribution
Steve Sisolak
2016 Annual CE Filing
Riaz Rohani
10/17/2016
$500.00
Monetary Contribution
Steve Sisolak
2016 CE Report 4
Ribeiro Companies LLC
12/6/2017
$2,500.00
Monetary Contribution
Steve Sisolak
2018 Annual CE Filing (Amended)
Ribeiro Companies LLC
4/10/2018
$1,000.00
Monetary Contribution
Adam Laxalt
2018 CE Report 1
Richard & Charlene Harrison
11/12/2015
$2,500.00
Monetary Contribution
Steve Sisolak
2016 Annual CE Filing
Richard A Barnhart
2/26/2018
$100.00
Monetary Contribution
Adam Laxalt
2018 CE Report 1
Richard A. Browning
3/8/2018
$100.00
Monetary Contribution
Adam Laxalt
2018 CE Report 1
Richard A. Browning
5/3/2017
$100.00
Monetary Contribution
Adam Laxalt
2018 Annual CE Filing
Richard A. Schield
5/30/2018
$1,000.00
Monetary Contribution
Adam Laxalt
2018 CE Report 2
Richard Alcini
5/18/2018
$50.00
Monetary Contribution
Adam Laxalt
2018 CE Report 1
Richard B. Cheney
12/11/2017
$500.00
Monetary Contribution
Adam Laxalt
2018 Annual CE Filing
Richard Babbitt
5/17/2018
$50.00
Monetary Contribution
Adam Laxalt
2018 CE Report 1
Richard C Bercik
11/20/2017
$100.00
Monetary Contribution
Adam Laxalt
2018 Annual CE Filing
Richard C. Baker
5/14/2018
$250.00
Monetary Contribution
Adam Laxalt
2018 CE Report 1
Richard C. Gallegos
11/5/2016
$250.00
Monetary Contribution
Steve Sisolak
2016 CE Report 5 (Amended)
Richard C. Simmonds
2/26/2018
$100.00
Monetary Contribution
Adam Laxalt
2018 CE Report 1
Richard C. Simmonds
3/19/2018
$100.00
Monetary Contribution
Adam Laxalt
2018 CE Report 1
Richard C. Simmonds
4/23/2018
$250.00
Monetary Contribution
Adam Laxalt
2018 CE Report 1
Richard Cardella
5/30/2018
$2,500.00
Monetary Contribution
Steve Sisolak
2018 CE Report 2 (Amended)
Richard Copeland
3/8/2018
$500.00
Monetary Contribution
Steve Sisolak
2018 CE Report 1 (Amended)
Richard Cox
11/5/2016
$5,000.00
Monetary Contribution
Steve Sisolak
2016 CE Report 5 (Amended)
Richard D. Howe
6/12/2017
$100.00
Monetary Contribution
Adam Laxalt
2018 Annual CE Filing
Richard D. Howe
11/9/2017
$100.00
Monetary Contribution
Adam Laxalt
2018 Annual CE Filing
Richard D. Sargent
12/20/2016
$2,500.00
Monetary Contribution
Adam Laxalt
2017 Annual CE Filing
Richard D. Sargent
5/4/2017
$2,500.00
Monetary Contribution
Adam Laxalt
2018 Annual CE Filing
Richard D. Sargent
5/4/2017
$2,500.00
Monetary Contribution
Adam Laxalt
2018 Annual CE Filing
Richard D. Sargent
1/30/2018
$1,000.00
Monetary Contribution
Adam Laxalt
2018 CE Report 1
Richard DeLong
11/1/2017
$250.00
Monetary Contribution
Adam Laxalt
2018 Annual CE Filing
Richard E. Hansen
2/19/2018
$1,000.00
Monetary Contribution
Adam Laxalt
2018 CE Report 1
Richard E. Hansen
5/9/2018
$1,000.00
Monetary Contribution
Adam Laxalt
2018 CE Report 1
Richard E. Hansen
5/30/2018
$700.00
Monetary Contribution
Adam Laxalt
2018 CE Report 2
Richard E. Hansen
6/1/2018
$2,300.00
Monetary Contribution
Adam Laxalt
2018 CE Report 2
Richard E. Hansen
6/1/2018
$700.00
Monetary Contribution
Adam Laxalt
2018 CE Report 2
Richard E. Monnier
2/19/2018
$100.00
Monetary Contribution
Adam Laxalt
2018 CE Report 1
Richard E. Monnier
11/15/2017
$50.00
Monetary Contribution
Adam Laxalt
2018 Annual CE Filing
Richard E. Offerdahl
1/23/2017
$2,000.00
Monetary Contribution
Adam Laxalt
2018 Annual CE Filing
Richard E. Uihlein
1/22/2016
$5,000.00
Monetary Contribution
Adam Laxalt
2017 Annual CE Filing
Richard E. Uihlein
1/22/2016
$5,000.00
Monetary Contribution
Adam Laxalt
2017 Annual CE Filing
Richard Frost
4/10/2018
$50.00
Monetary Contribution
Adam Laxalt
2018 CE Report 1
Richard Green
5/30/2018
$100.00
Monetary Contribution
Steve Sisolak
2018 CE Report 2 (Amended)
Richard Grosch
5/3/2017
$100.00
Monetary Contribution
Adam Laxalt
2018 Annual CE Filing
Richard H. Collins
6/14/2017
$5,000.00
Monetary Contribution
Adam Laxalt
2018 Annual CE Filing
Richard H. Snyder
12/30/2017
$50.00
Monetary Contribution
Adam Laxalt
2018 Annual CE Filing
Richard Harris Law Firm
1/24/2018
$5,000.00
Monetary Contribution
Steve Sisolak
2018 CE Report 1 (Amended)
Richard Haskins
12/30/2016
$5,000.00
Monetary Contribution
Adam Laxalt
2017 Annual CE Filing
Richard Haskins
12/30/2016
$5,000.00
Monetary Contribution
Adam Laxalt
2017 Annual CE Filing
Richard J. Reviglio
5/25/2017
$1,500.00
In Kind Contribution
Adam Laxalt
2018 Annual CE Filing
Richard Jost
2/22/2018
$100.00
Monetary Contribution
Steve Sisolak
2018 CE Report 1 (Amended)
Richard Kern
4/16/2018
$50.00
Monetary Contribution
Adam Laxalt
2018 CE Report 1
Richard Kern
5/2/2018
$50.00
Monetary Contribution
Adam Laxalt
2018 CE Report 1
Richard Kern
6/4/2018
$50.00
Monetary Contribution
Adam Laxalt
2018 CE Report 2
Richard Long
2/28/2018
$100.00
Monetary Contribution
Adam Laxalt
2018 CE Report 1
Richard M. Wasserman PC
2/28/2018
$500.00
Monetary Contribution
Steve Sisolak
2018 CE Report 1 (Amended)
Richard Metzler
7/19/2017
$2,500.00
Monetary Contribution
Steve Sisolak
2018 Annual CE Filing (Amended)
Richard Metzler
9/27/2016
$500.00
Monetary Contribution
Steve Sisolak
2016 CE Report 3
Richard Ries
3/6/2018
$100.00
Monetary Contribution
Adam Laxalt
2018 CE Report 1
Richard Robledo
12/7/2017
$1,500.00
Monetary Contribution
Adam Laxalt
2018 Annual CE Filing
Richard Rosenfield
12/13/2017
$5,000.00
Monetary Contribution
Adam Laxalt
2018 Annual CE Filing
Richard Shanor
5/16/2017
$50.00
Monetary Contribution
Adam Laxalt
2018 Annual CE Filing
Richard Shanor
12/10/2017
$50.00
Monetary Contribution
Adam Laxalt
2018 Annual CE Filing
Richard Shanor
1/12/2018
$50.00
Monetary Contribution
Adam Laxalt
2018 CE Report 1
Richard Shehane
3/31/2016
$1,000.00
Monetary Contribution
Steve Sisolak
2016 CE Report 1
Richard Shehane MD
11/28/2017
$1,000.00
Monetary Contribution
Steve Sisolak
2018 Annual CE Filing (Amended)
Richard Sked
4/29/2018
$100.00
Monetary Contribution
Adam Laxalt
2018 CE Report 1
Richard T. Crawford
11/9/2017
$1,000.00
Monetary Contribution
Adam Laxalt
2018 Annual CE Filing
Richard Taylor
11/15/2017
$250.00
Monetary Contribution
Adam Laxalt
2018 Annual CE Filing
Richard Tretter
4/16/2018
$100.00
Monetary Contribution
Adam Laxalt
2018 CE Report 1
Richard W. Bushart
5/15/2017
$100.00
Monetary Contribution
Adam Laxalt
2018 Annual CE Filing
Richard W. Porter
5/18/2018
$1,000.00
Monetary Contribution
Adam Laxalt
2018 CE Report 1
Richard Weiner
6/27/2017
$1,000.00
Monetary Contribution
Steve Sisolak
2018 Annual CE Filing (Amended)
Richard Westrup
2/20/2018
$50.00
Monetary Contribution
Adam Laxalt
2018 CE Report 1
Richard Wright
4/30/2018
$500.00
Monetary Contribution
Steve Sisolak
2018 CE Report 1 (Amended)
Richard Yukes
11/20/2017
$1,000.00
Monetary Contribution
Steve Sisolak
2018 Annual CE Filing (Amended)
Richardson Gastropub LLC dba Public House
12/28/2017
$10,000.00
Monetary Contribution
Steve Sisolak
2018 Annual CE Filing (Amended)
Richfield Properties LLC
10/18/2016
$5,000.00
Monetary Contribution
Adam Laxalt
2017 Annual CE Filing
Richfield Properties LLC
10/18/2016
$5,000.00
Monetary Contribution
Adam Laxalt
2017 Annual CE Filing
Richmond Limited Partnership
10/23/2015
$10,000.00
Monetary Contribution
Steve Sisolak
2016 Annual CE Filing
Rick and Ruth Ann Schwartze
4/19/2018
$250.00
Monetary Contribution
Adam Laxalt
2018 CE Report 1
Rick Darnold
11/9/2017
$250.00
Monetary Contribution
Adam Laxalt
2018 Annual CE Filing
Rick Massey
11/5/2016
$10,000.00
Monetary Contribution
Steve Sisolak
2016 CE Report 5 (Amended)
Rickey M. Payne
5/31/2018
$100.00
Monetary Contribution
Adam Laxalt
2018 CE Report 2
Ricky Wallace
11/15/2017
$100.00
Monetary Contribution
Adam Laxalt
2018 Annual CE Filing
Riggins Court LLC
5/1/2018
$2,000.00
Monetary Contribution
Adam Laxalt
2018 CE Report 1
Riggs Abney Neal Turpen Orbison & Lewis
2/27/2015
$500.00
Monetary Contribution
Adam Laxalt
2016 Annual CE Filing
Rilite Aggregate Compoany
5/26/2017
$1,250.00
Monetary Contribution
Adam Laxalt
2018 Annual CE Filing
Risposta LLC dba Ferraro's Restaurant
9/9/2015
$1,000.00
Monetary Contribution
Steve Sisolak
2016 Annual CE Filing
Risposta LLC dba Ferraro's Restaurant
10/31/2017
$2,500.00
Monetary Contribution
Steve Sisolak
2018 Annual CE Filing (Amended)
Riverside Development LLC
9/14/2017
$5,000.00
Monetary Contribution
Steve Sisolak
2018 Annual CE Filing (Amended)
RJR1st LLC
12/21/2015
$5,000.00
Monetary Contribution
Steve Sisolak
2016 Annual CE Filing
RM Tiberti
1/19/2018
$5,000.00
Monetary Contribution
Steve Sisolak
2018 CE Report 1 (Amended)
Road and Highway Builders
4/20/2017
$1,000.00
Monetary Contribution
Adam Laxalt
2018 Annual CE Filing
Rob Roy
6/16/2015
$10,000.00
Monetary Contribution
Steve Sisolak
2016 Annual CE Filing
Rob Roy
5/18/2018
$5,000.00
Monetary Contribution
Adam Laxalt
2018 CE Report 1
Rob Roy
5/18/2018
$5,000.00
Monetary Contribution
Adam Laxalt
2018 CE Report 1
Robert & Kristy Dennerlein
6/1/2018
$100.00
Monetary Contribution
Adam Laxalt
2018 CE Report 2
Robert A. Adams LLC
11/28/2017
$250.00
Monetary Contribution
Steve Sisolak
2018 Annual CE Filing (Amended)
Robert A. Spottswood
5/11/2018
$1,000.00
Monetary Contribution
Adam Laxalt
2018 CE Report 1
Robert A. Winkel
5/3/2018
$500.00
Monetary Contribution
Adam Laxalt
2018 CE Report 1
Robert A. Winkel
5/3/2018
$2,000.00
Monetary Contribution
Adam Laxalt
2018 CE Report 1
Robert A. Winkel
5/26/2017
$2,500.00
Monetary Contribution
Adam Laxalt
2018 Annual CE Filing
Robert A. Winkel
11/9/2017
$1,000.00
Monetary Contribution
Adam Laxalt
2018 Annual CE Filing
Robert A. Winkel
12/18/2017
$500.00
Monetary Contribution
Adam Laxalt
2018 Annual CE Filing
Robert A. Winkel
12/18/2015
$500.00
Monetary Contribution
Adam Laxalt
2016 Annual CE Filing
Robert Adams
1/24/2018
$100.00
In Kind Contribution
Steve Sisolak
2018 CE Report 1 (Amended)
Robert Adams
1/18/2018
$500.00
Monetary Contribution
Steve Sisolak
2018 CE Report 1 (Amended)
Robert and Audrey G. Ferrari
3/13/2018
$100.00
Monetary Contribution
Adam Laxalt
2018 CE Report 1
Robert and Audrey G. Ferrari
4/13/2018
$100.00
Monetary Contribution
Adam Laxalt
2018 CE Report 1
Robert and Audrey G. Ferrari
4/19/2018
$375.00
Monetary Contribution
Adam Laxalt
2018 CE Report 1
Robert and Audrey G. Ferrari
4/19/2018
$1,625.00
Monetary Contribution
Adam Laxalt
2018 CE Report 1
Robert and Audrey G. Ferrari
5/13/2018
$100.00
Monetary Contribution
Adam Laxalt
2018 CE Report 1
Robert and Camille Tartarilla
5/16/2018
$50.00
Monetary Contribution
Adam Laxalt
2018 CE Report 1
Robert and Laura Tramonte
3/27/2018
$500.00
Monetary Contribution
Adam Laxalt
2018 CE Report 1
Robert and Sharon O'Berg
2/27/2018
$50.00
Monetary Contribution
Adam Laxalt
2018 CE Report 1
Robert and Sharon O'Berg
4/12/2018
$100.00
Monetary Contribution
Adam Laxalt
2018 CE Report 1
Robert and Sharon O'Berg
6/26/2017
$100.00
Monetary Contribution
Adam Laxalt
2018 Annual CE Filing
Robert B. MacKay
5/3/2018
$1,000.00
Monetary Contribution
Adam Laxalt
2018 CE Report 1
Robert Bennett
1/31/2018
$100.00
Monetary Contribution
Adam Laxalt
2018 CE Report 1
Robert Berkley
12/14/2017
$1,000.00
Monetary Contribution
Steve Sisolak
2018 Annual CE Filing (Amended)
Robert Blair
3/21/2018
$2,450.00
In Kind Contribution
Adam Laxalt
2018 CE Report 1
Robert Bray
1/30/2018
$2,500.00
Monetary Contribution
Adam Laxalt
2018 CE Report 1
Robert C Anderson
9/12/2017
$2,500.00
Monetary Contribution
Steve Sisolak
2018 Annual CE Filing (Amended)
Robert C Anderson
7/1/2015
$250.00
Monetary Contribution
Steve Sisolak
2016 Annual CE Filing
Robert C. McNair
6/5/2017
$5,000.00
Monetary Contribution
Adam Laxalt
2018 Annual CE Filing
Robert C. Wesley Jr. MD A Professional Corporation
3/24/2016
$1,000.00
Monetary Contribution
Steve Sisolak
2016 CE Report 1
Robert Campbell
4/12/2018
$1,000.00
Monetary Contribution
Adam Laxalt
2018 CE Report 1
Robert Campbell
11/9/2017
$250.00
Monetary Contribution
Adam Laxalt
2018 Annual CE Filing
Robert Cashell
5/26/2017
$1,000.00
Monetary Contribution
Adam Laxalt
2018 Annual CE Filing
Robert Cashell
5/3/2018
$1,000.00
Monetary Contribution
Adam Laxalt
2018 CE Report 1
Robert Castro
3/16/2018
$500.00
Monetary Contribution
Adam Laxalt
2018 CE Report 1
Robert Castro
5/28/2018
$500.00
Monetary Contribution
Adam Laxalt
2018 CE Report 2
Robert D Greenhalgh
4/16/2018
$75.00
Monetary Contribution
Adam Laxalt
2018 CE Report 1
Robert D Greenhalgh
11/15/2017
$50.00
Monetary Contribution
Adam Laxalt
2018 Annual CE Filing
Robert D. Jackson
5/29/2018
$50.00
Monetary Contribution
Adam Laxalt
2018 CE Report 2
Robert D. Martin
2/16/2018
$500.00
Monetary Contribution
Adam Laxalt
2018 CE Report 1
Robert E. Fulton
2/19/2018
$500.00
Monetary Contribution
Adam Laxalt
2018 CE Report 1
Robert E. Garrison
5/29/2018
$1,000.00
Monetary Contribution
Adam Laxalt
2018 CE Report 2
Robert E. Huggins
5/29/2018
$100.00
Monetary Contribution
Adam Laxalt
2018 CE Report 2
Robert E. Marling
11/14/2017
$5,000.00
Monetary Contribution
Adam Laxalt
2018 Annual CE Filing
Robert E. Marling
11/14/2017
$5,000.00
Monetary Contribution
Adam Laxalt
2018 Annual CE Filing
Robert E. McDonald
2/23/2018
$100.00
Monetary Contribution
Adam Laxalt
2018 CE Report 1
Robert Eglet
1/24/2018
$100.00
In Kind Contribution
Steve Sisolak
2018 CE Report 1 (Amended)
Robert F. Joslin
5/17/2018
$500.00
Monetary Contribution
Adam Laxalt
2018 CE Report 1
Robert F. Joslin
11/9/2017
$1,000.00
Monetary Contribution
Adam Laxalt
2018 Annual CE Filing
Robert F. Merchant
5/29/2018
$100.00
Monetary Contribution
Adam Laxalt
2018 CE Report 2
Robert Frank List
8/28/2017
$5,000.00
Monetary Contribution
Adam Laxalt
2018 Annual CE Filing
Robert Freiheit
5/3/2018
$500.00
Monetary Contribution
Adam Laxalt
2018 CE Report 1
Robert G. Dixon
5/29/2018
$50.00
Monetary Contribution
Adam Laxalt
2018 CE Report 2
Robert G. Ferrari
5/3/2017
$1,000.00
Monetary Contribution
Adam Laxalt
2018 Annual CE Filing
Robert G. Ferrari
5/16/2017
$2,000.00
Monetary Contribution
Adam Laxalt
2018 Annual CE Filing
Robert G. Ferrari
8/31/2017
$50.00
Monetary Contribution
Adam Laxalt
2018 Annual CE Filing
Robert G. Ferrari
11/9/2017
$1,000.00
Monetary Contribution
Adam Laxalt
2018 Annual CE Filing
Robert G. Ferrari
12/30/2017
$250.00
Monetary Contribution
Adam Laxalt
2018 Annual CE Filing
Robert G. Ferrari
11/30/2016
$100.00
Monetary Contribution
Adam Laxalt
2017 Annual CE Filing
Robert Gaston
5/18/2018
$100.00
Monetary Contribution
Steve Sisolak
2018 CE Report 1 (Amended)
Robert Gatson
1/18/2018
$100.00
Monetary Contribution
Steve Sisolak
2018 CE Report 1 (Amended)
Robert Gibbs
2/9/2018
$50.00
Monetary Contribution
Adam Laxalt
2018 CE Report 1
Robert Giuffra
6/5/2018
$1,000.00
Monetary Contribution
Adam Laxalt
2018 CE Report 2
Robert Goldstein
10/20/2016
$5,000.00
Monetary Contribution
Steve Sisolak
2016 CE Report 4
Robert H. Thalgott, DMD, MS
2/26/2016
$200.00
Monetary Contribution
Steve Sisolak
2016 CE Report 1
Robert H. Thalgott, DMD, MS
7/21/2017
$200.00
Monetary Contribution
Steve Sisolak
2018 Annual CE Filing (Amended)
Robert Hunter
11/19/2015
$250.00
Monetary Contribution
Steve Sisolak
2016 Annual CE Filing
Robert Hunter
4/22/2015
$200.00
Monetary Contribution
Steve Sisolak
2016 Annual CE Filing
Robert J. Coyle
11/16/2017
$1,000.00
Monetary Contribution
Steve Sisolak
2018 Annual CE Filing (Amended)
Robert J. Girard
2/16/2018
$50.00
Monetary Contribution
Adam Laxalt
2018 CE Report 1
Robert J. Richard
6/1/2018
$55.00
Monetary Contribution
Adam Laxalt
2018 CE Report 2
Robert J. Sanchez
12/17/2015
$5,000.00
Monetary Contribution
Adam Laxalt
2016 Annual CE Filing
Robert J. Sanchez
10/31/2016
$5,000.00
Monetary Contribution
Adam Laxalt
2017 Annual CE Filing
Robert J. Smeath
6/1/2018
$200.00
Monetary Contribution
Adam Laxalt
2018 CE Report 2
Robert John Kolesar
11/9/2017
$500.00
Monetary Contribution
Adam Laxalt
2018 Annual CE Filing
Robert John Kolesar Jr
2/28/2018
$500.00
Monetary Contribution
Steve Sisolak
2018 CE Report 1 (Amended)
Robert Kuske
5/17/2018
$1,000.00
Monetary Contribution
Steve Sisolak
2018 CE Report 1 (Amended)
Robert Kutner
5/16/2018
$50.00
Monetary Contribution
Steve Sisolak
2018 CE Report 1 (Amended)
Robert L Thrower Sr
5/11/2018
$50.00
Monetary Contribution
Steve Sisolak
2018 CE Report 1 (Amended)
Robert L Thrower Sr
4/16/2018
$100.00
Monetary Contribution
Steve Sisolak
2018 CE Report 1 (Amended)
Robert L Thrower Sr
6/5/2018
$50.00
Monetary Contribution
Steve Sisolak
2018 CE Report 2 (Amended)
Robert L. King
5/29/2018
$100.00
Monetary Contribution
Adam Laxalt
2018 CE Report 2
Robert L. Maddox
2/28/2018
$250.00
Monetary Contribution
Adam Laxalt
2018 CE Report 1
Robert L. Maddox
6/6/2018
$100.00
Monetary Contribution
Adam Laxalt
2018 CE Report 2
Robert L. Margison
6/15/2017
$1,500.00
Monetary Contribution
Adam Laxalt
2018 Annual CE Filing
Robert L. Zerga
11/22/2017
$500.00
Monetary Contribution
Adam Laxalt
2018 Annual CE Filing
Robert L. Zerga
2/19/2018
$500.00
Monetary Contribution
Adam Laxalt
2018 CE Report 1
Robert Lambert Gresham
5/31/2018
$150.00
Monetary Contribution
Adam Laxalt
2018 CE Report 2
Robert Lambert Gresham
2/19/2018
$250.00
Monetary Contribution
Adam Laxalt
2018 CE Report 1
Robert Levy
5/17/2018
$100.00
Monetary Contribution
Steve Sisolak
2018 CE Report 1 (Amended)
Robert Levy
12/20/2017
$50.00
Monetary Contribution
Steve Sisolak
2018 Annual CE Filing (Amended)
Robert Lewallen
11/17/2017
$50.00
Monetary Contribution
Adam Laxalt
2018 Annual CE Filing
Robert Lewallen
2/26/2018
$50.00
Monetary Contribution
Adam Laxalt
2018 CE Report 1
Robert M Davidson
12/22/2017
$5,000.00
Monetary Contribution
Adam Laxalt
2018 Annual CE Filing
Robert M. St. Louis
2/15/2018
$50.00
Monetary Contribution
Adam Laxalt
2018 CE Report 1
Robert N. Berkley, MD
3/25/2016
$1,000.00
Monetary Contribution
Steve Sisolak
2016 CE Report 1
Robert N. Fitzgerald
5/26/2017
$2,500.00
Monetary Contribution
Adam Laxalt
2018 Annual CE Filing
Robert N. Fitzgerald
5/3/2018
$2,500.00
Monetary Contribution
Adam Laxalt
2018 CE Report 1
Robert P. Anderson
11/27/2017
$500.00
Monetary Contribution
Adam Laxalt
2018 Annual CE Filing
Robert Pace
4/25/2017
$50.00
Monetary Contribution
Adam Laxalt
2018 Annual CE Filing
Robert Pace
2/20/2018
$50.00
Monetary Contribution
Adam Laxalt
2018 CE Report 1
Robert R. Black Sr.
11/28/2017
$3,000.00
Monetary Contribution
Steve Sisolak
2018 Annual CE Filing (Amended)
Robert R. Black Sr.
12/26/2017
$5,000.00
Monetary Contribution
Steve Sisolak
2018 Annual CE Filing (Amended)
Robert Rather
7/21/2015
$5,000.00
Monetary Contribution
Steve Sisolak
2016 Annual CE Filing
Robert Ray
11/28/2017
$1,000.00
Monetary Contribution
Steve Sisolak
2018 Annual CE Filing (Amended)
Robert Richardson
3/7/2018
$2,500.00
Monetary Contribution
Steve Sisolak
2018 CE Report 1 (Amended)
Robert S. Aiken
7/26/2017
$1,000.00
Monetary Contribution
Adam Laxalt
2018 Annual CE Filing
Robert S. Schachter
11/1/2017
$50.00
Monetary Contribution
Adam Laxalt
2018 Annual CE Filing
Robert Scott O'Neil
6/20/2017
$500.00
Monetary Contribution
Adam Laxalt
2018 Annual CE Filing
Robert Sechrist
4/15/2016
$100.00
Monetary Contribution
Adam Laxalt
2017 Annual CE Filing
Robert Shields
3/30/2018
$100.00
Monetary Contribution
Adam Laxalt
2018 CE Report 1
Robert Stoeckig
11/28/2017
$50.00
Monetary Contribution
Steve Sisolak
2018 Annual CE Filing (Amended)
Robert Thalgott
4/17/2015
$250.00
Monetary Contribution
Steve Sisolak
2016 Annual CE Filing
Robert Tyre
5/18/2018
$50.00
Monetary Contribution
Steve Sisolak
2018 CE Report 1 (Amended)
Robert Uithoven
5/24/2017
$2,500.00
Monetary Contribution
Adam Laxalt
2018 Annual CE Filing
Robert Unger
10/14/2016
$250.00
Monetary Contribution
Steve Sisolak
2016 CE Report 3
Robert W Dunbar
2/19/2018
$100.00
Monetary Contribution
Adam Laxalt
2018 CE Report 1
Robert W. Martin
6/22/2017
$50.00
Monetary Contribution
Adam Laxalt
2018 Annual CE Filing
Robert W. Martin
4/25/2017
$100.00
Monetary Contribution
Adam Laxalt
2018 Annual CE Filing
Robert W. Martin
5/29/2017
$50.00
Monetary Contribution
Adam Laxalt
2018 Annual CE Filing
Robert W. Martin
2/23/2018
$50.00
Monetary Contribution
Adam Laxalt
2018 CE Report 1
Robert W. Martin
4/13/2018
$100.00
Monetary Contribution
Adam Laxalt
2018 CE Report 1
Robert Walsh
4/19/2018
$645.20
In Kind Contribution
Steve Sisolak
2018 CE Report 1 (Amended)
Robert Weise
3/26/2018
$2,500.00
Monetary Contribution
Adam Laxalt
2018 CE Report 1
Roberta Cuomo
4/24/2017
$100.00
Monetary Contribution
Adam Laxalt
2018 Annual CE Filing
Roberta K. Skelton
5/30/2018
$100.00
Monetary Contribution
Adam Laxalt
2018 CE Report 2
Robertson + Partners
11/29/2017
$1,500.00
Monetary Contribution
Steve Sisolak
2018 Annual CE Filing (Amended)
Robin A. Davis
2/23/2018
$100.00
Monetary Contribution
Adam Laxalt
2018 CE Report 1
Robin Davis
4/1/2017
$50.00
Monetary Contribution
Adam Laxalt
2018 Annual CE Filing
Robin Davis
12/1/2016
$100.00
Monetary Contribution
Adam Laxalt
2017 Annual CE Filing
Robin H. Joyce
4/23/2017
$100.00
Monetary Contribution
Adam Laxalt
2018 Annual CE Filing
Robin L. Rosenzweig
7/14/2017
$5,000.00
Monetary Contribution
Adam Laxalt
2018 Annual CE Filing
Robin L. Rosenzweig
7/14/2017
$5,000.00
Monetary Contribution
Adam Laxalt
2018 Annual CE Filing
Robin Titus for AD-38
3/30/2018
$1,000.00
Monetary Contribution
Adam Laxalt
2018 CE Report 1
Robin Titus for AD-38
6/1/2018
$1,000.00
Monetary Contribution
Adam Laxalt
2018 CE Report 2
Rock Canyon Consulting LLC
10/12/2017
$10,000.00
Monetary Contribution
Steve Sisolak
2018 Annual CE Filing (Amended)
Rocky Mountain Aviation
5/31/2018
$10,000.00
Monetary Contribution
Steve Sisolak
2018 CE Report 2 (Amended)
Rocky Mountain Support Services
5/31/2018
$10,000.00
Monetary Contribution
Steve Sisolak
2018 CE Report 2 (Amended)
Rocky Mountain Support Services
11/5/2016
$3,400.00
Monetary Contribution
Steve Sisolak
2016 CE Report 5 (Amended)
Rocky Savio
3/28/2017
$500.00
Monetary Contribution
Steve Sisolak
2018 Annual CE Filing (Amended)
Roderick McKenzie
5/14/2018
$50.00
Monetary Contribution
Adam Laxalt
2018 CE Report 1
Rodney D Wood
5/29/2018
$50.00
Monetary Contribution
Adam Laxalt
2018 CE Report 2
Rodney Smith
12/8/2017
$100.00
Monetary Contribution
Adam Laxalt
2018 Annual CE Filing
Roger B. Primm TTEE
10/27/2016
$10,000.00
Monetary Contribution
Steve Sisolak
2016 CE Report 4
Roger Chavez
3/2/2018
$50.00
Monetary Contribution
Adam Laxalt
2018 CE Report 1
Roger Hatin
4/1/2018
$100.00
Monetary Contribution
Adam Laxalt
2018 CE Report 1
Roger Jansen
6/4/2018
$100.00
Monetary Contribution
Adam Laxalt
2018 CE Report 2
Roger Jansen
11/8/2017
$50.00
Monetary Contribution
Adam Laxalt
2018 Annual CE Filing
Roger Jansen
11/21/2017
$50.00
Monetary Contribution
Adam Laxalt
2018 Annual CE Filing
Roger Jones
11/28/2017
$1,000.00
Monetary Contribution
Steve Sisolak
2018 Annual CE Filing (Amended)
Roger Olsen
11/16/2017
$50.00
Monetary Contribution
Adam Laxalt
2018 Annual CE Filing
Roger Olsen
2/23/2018
$50.00
Monetary Contribution
Adam Laxalt
2018 CE Report 1
Roger Primm
6/2/2018
$5,000.00
Monetary Contribution
Steve Sisolak
2018 CE Report 2 (Amended)
Roger S. Jewkes TTEE
11/5/2016
$2,500.00
Monetary Contribution
Steve Sisolak
2016 CE Report 5 (Amended)
Roger Schublom
1/14/2018
$50.00
Monetary Contribution
Adam Laxalt
2018 CE Report 1
Roger Schublom
5/10/2018
$50.00
Monetary Contribution
Adam Laxalt
2018 CE Report 1
Roger Schublom
5/29/2017
$50.00
Monetary Contribution
Adam Laxalt
2018 Annual CE Filing
Roger Sheppard
5/1/2018
$100.00
Monetary Contribution
Adam Laxalt
2018 CE Report 1
Rogers Mastrangelo Carvalho & Mitchell LTD
11/8/2017
$10,000.00
Monetary Contribution
Steve Sisolak
2018 Annual CE Filing (Amended)
Rogers Mastrangelo Carvalho & Mitchell LTD
9/9/2015
$2,500.00
Monetary Contribution
Steve Sisolak
2016 Annual CE Filing
Romeo Development LLC
12/27/2017
$10,000.00
Monetary Contribution
Steve Sisolak
2018 Annual CE Filing (Amended)
Ron Bath
11/6/2017
$500.00
Monetary Contribution
Adam Laxalt
2018 Annual CE Filing
Ron DeSantis for Florida
12/9/2016
$1,500.00
Monetary Contribution
Adam Laxalt
2017 Annual CE Filing
Ron Lawrence
11/8/2017
$50.00
Monetary Contribution
Adam Laxalt
2018 Annual CE Filing
Ron McMillan
3/1/2018
$100.00
Monetary Contribution
Adam Laxalt
2018 CE Report 1
Ron Parratt
6/20/2017
$100.00
Monetary Contribution
Adam Laxalt
2018 Annual CE Filing
Ronald A. Hill
4/19/2017
$1,000.00
Monetary Contribution
Adam Laxalt
2018 Annual CE Filing
Ronald A. Hill
11/7/2017
$1,000.00
Monetary Contribution
Adam Laxalt
2018 Annual CE Filing
Ronald A. Hill
10/20/2016
$2,500.00
Monetary Contribution
Adam Laxalt
2017 Annual CE Filing
Ronald A. Simms
4/16/2018
$2,000.00
Monetary Contribution
Adam Laxalt
2018 CE Report 1
Ronald Cameron
8/23/2017
$5,000.00
Monetary Contribution
Adam Laxalt
2018 Annual CE Filing
Ronald Cameron
5/9/2018
$5,000.00
Monetary Contribution
Adam Laxalt
2018 CE Report 1
Ronald F. Keeler
11/20/2017
$50.00
Monetary Contribution
Adam Laxalt
2018 Annual CE Filing
Ronald F. Keeler
4/16/2018
$50.00
Monetary Contribution
Adam Laxalt
2018 CE Report 1
Ronald G. Hone
5/29/2018
$100.00
Monetary Contribution
Adam Laxalt
2018 CE Report 2
Ronald Ishida
4/19/2018
$2,500.00
Monetary Contribution
Steve Sisolak
2018 CE Report 1 (Amended)
Ronald J. Thomsen
2/20/2018
$50.00
Monetary Contribution
Adam Laxalt
2018 CE Report 1
Ronald J. Thomsen
12/21/2017
$50.00
Monetary Contribution
Adam Laxalt
2018 Annual CE Filing
Ronald N. Stueve
2/21/2018
$50.00
Monetary Contribution
Adam Laxalt
2018 CE Report 1
Ronald N. Stueve
4/20/2018
$50.00
Monetary Contribution
Adam Laxalt
2018 CE Report 1
Ronald Parratt
3/13/2018
$100.00
Monetary Contribution
Adam Laxalt
2018 CE Report 1
Ronald Parratt
5/17/2018
$500.00
Monetary Contribution
Adam Laxalt
2018 CE Report 1
Ronald T. Coury
6/26/2017
$1,000.00
Monetary Contribution
Steve Sisolak
2018 Annual CE Filing (Amended)
Ronald T. Coury
8/16/2016
$1,000.00
Monetary Contribution
Steve Sisolak
2016 CE Report 3
Ronda Clifton
4/19/2018
$1,000.00
Monetary Contribution
Adam Laxalt
2018 CE Report 1
Rone Chang
9/9/2016
$1,000.00
Monetary Contribution
Steve Sisolak
2016 CE Report 3
Ronnie Lam
5/23/2018
$2,500.00
Monetary Contribution
Steve Sisolak
2018 CE Report 2 (Amended)
Rosalba M. Ferraro
6/4/2015
$1,000.00
Monetary Contribution
Steve Sisolak
2016 Annual CE Filing
Rosalynd Alatorre
4/28/2015
$500.00
Monetary Contribution
Steve Sisolak
2016 Annual CE Filing
Ross L. Crown
5/18/2018
$250.00
Monetary Contribution
Adam Laxalt
2018 CE Report 1
Rowe Law Group LTD
10/5/2016
$1,000.00
Monetary Contribution
Steve Sisolak
2016 CE Report 3
Rowe Law Group LTD
7/14/2017
$500.00
Monetary Contribution
Steve Sisolak
2018 Annual CE Filing (Amended)
Roxanne Sweeney
1/2/2018
$2,500.00
Monetary Contribution
Steve Sisolak
2018 CE Report 1 (Amended)
Roy Anderson
5/24/2018
$50.00
Monetary Contribution
Adam Laxalt
2018 CE Report 2
Roy Edgington
4/28/2017
$100.00
Monetary Contribution
Adam Laxalt
2018 Annual CE Filing
Roy Engelbretson
6/22/2017
$100.00
Monetary Contribution
Steve Sisolak
2018 Annual CE Filing (Amended)
Roy Greenawalt
3/15/2018
$50.00
Monetary Contribution
Adam Laxalt
2018 CE Report 1
Roy UWE Horn
4/5/2018
$2,500.00
Monetary Contribution
Steve Sisolak
2018 CE Report 1 (Amended)
Royal E. Orser
2/19/2018
$100.00
Monetary Contribution
Adam Laxalt
2018 CE Report 1
Royce W. Anderson
5/14/2018
$1,000.00
Monetary Contribution
Adam Laxalt
2018 CE Report 1
RRP Properties LLC
8/12/2015
$750.00
Monetary Contribution
Steve Sisolak
2016 Annual CE Filing
RRP Properties LLC Series II Operating Account
1/8/2018
$500.00
Monetary Contribution
Steve Sisolak
2018 CE Report 1 (Amended)
Ruby Forest
3/19/2018
$50.00
Monetary Contribution
Adam Laxalt
2018 CE Report 1
Rudolph Family Trust
11/20/2017
$5,000.00
Monetary Contribution
Steve Sisolak
2018 Annual CE Filing (Amended)
Russ Bishop
4/18/2018
$500.00
Monetary Contribution
Adam Laxalt
2018 CE Report 1
Russ Bishop
6/7/2018
$500.00
Monetary Contribution
Adam Laxalt
2018 CE Report 2
Russ Gray
11/13/2017
$50.00
Monetary Contribution
Adam Laxalt
2018 Annual CE Filing
Russ Olsen
9/15/2017
$5,000.00
Monetary Contribution
Steve Sisolak
2018 Annual CE Filing (Amended)
Russ Roth
4/19/2018
$645.20
In Kind Contribution
Steve Sisolak
2018 CE Report 1 (Amended)
Russel Warthen
5/11/2017
$1,000.00
Monetary Contribution
Adam Laxalt
2018 Annual CE Filing
Russel Warthen
12/7/2017
$1,000.00
Monetary Contribution
Adam Laxalt
2018 Annual CE Filing
Russell & Diph Shah
12/12/2017
$6,800.00
In Kind Contribution
Steve Sisolak
2018 Annual CE Filing (Amended)
Russell & Dipti Shah
2/28/2018
$1,000.00
Monetary Contribution
Steve Sisolak
2018 CE Report 1 (Amended)
Russell and Ardyth Browne
4/16/2018
$100.00
Monetary Contribution
Adam Laxalt
2018 CE Report 1
Russell Browne
4/19/2017
$100.00
Monetary Contribution
Adam Laxalt
2018 Annual CE Filing
Russell Dorn
5/3/2015
$1,000.00
Monetary Contribution
Steve Sisolak
2016 Annual CE Filing
Russell H. Taub
1/8/2018
$5,000.00
Monetary Contribution
Adam Laxalt
2018 CE Report 1
Russell H. Taub
2/13/2018
$2,500.00
Monetary Contribution
Adam Laxalt
2018 CE Report 1
Russell McMullen
3/23/2018
$250.00
Monetary Contribution
Adam Laxalt
2018 CE Report 1
Russell Price
3/26/2015
$1,000.00
Monetary Contribution
Adam Laxalt
2016 Annual CE Filing
Russell R. Maggio
4/24/2017
$50.00
Monetary Contribution
Adam Laxalt
2018 Annual CE Filing
Russell R. Maggio
11/20/2017
$100.00
Monetary Contribution
Adam Laxalt
2018 Annual CE Filing
Russell Roth
4/25/2018
$2,000.00
Monetary Contribution
Steve Sisolak
2018 CE Report 1 (Amended)
Russell Shah
11/28/2017
$1,000.00
Monetary Contribution
Steve Sisolak
2018 Annual CE Filing (Amended)
Russell W. Dorn Jr.
7/10/2017
$1,000.00
Monetary Contribution
Steve Sisolak
2018 Annual CE Filing (Amended)
Russell W. Dorn Jr.
3/22/2016
$1,000.00
Monetary Contribution
Steve Sisolak
2016 CE Report 1
Ruth A. Hodgkinson
11/15/2017
$100.00
Monetary Contribution
Adam Laxalt
2018 Annual CE Filing
Ruth and Rick Sender
3/15/2018
$750.00
In Kind Contribution
Adam Laxalt
2018 CE Report 1
Ruth Miller
12/30/2017
$100.00
Monetary Contribution
Steve Sisolak
2018 Annual CE Filing (Amended)
Ruth Tekabe
8/19/2015
$5,000.00
Monetary Contribution
Steve Sisolak
2016 Annual CE Filing
Rutt Premsrirut
4/5/2018
$1,000.00
Monetary Contribution
Steve Sisolak
2018 CE Report 1 (Amended)
RVS Southwest LLC
5/15/2018
$5,000.00
Monetary Contribution
Adam Laxalt
2018 CE Report 1
RWG Brokerage Corp.
12/15/2017
$10,000.00
Monetary Contribution
Steve Sisolak
2018 Annual CE Filing (Amended)
RWM Holdings LLC
4/5/2017
$2,500.00
Monetary Contribution
Adam Laxalt
2018 Annual CE Filing
RWM Holdings LLC
4/5/2017
$5,000.00
Monetary Contribution
Adam Laxalt
2018 Annual CE Filing
RWM Holdings LLC
12/6/2016
$2,500.00
Monetary Contribution
Adam Laxalt
2017 Annual CE Filing
RWM Holdings, LLC.
4/2/2015
$2,000.00
Monetary Contribution
Steve Sisolak
2016 Annual CE Filing
Ryan Burns
11/9/2017
$500.00
Monetary Contribution
Adam Laxalt
2018 Annual CE Filing
Ryan Burns
5/7/2018
$4,500.00
Monetary Contribution
Adam Laxalt
2018 CE Report 1
Ryan Burns
5/7/2018
$500.00
Monetary Contribution
Adam Laxalt
2018 CE Report 1
Ryan Jerome
3/19/2018
$100.00
Monetary Contribution
Adam Laxalt
2018 CE Report 1
Ryan P. McHugh
4/10/2018
$500.00
Monetary Contribution
Adam Laxalt
2018 CE Report 1
Ryan Schultz
2/17/2018
$250.00
Monetary Contribution
Steve Sisolak
2018 CE Report 1 (Amended)
S&R Production Co. (UWE Horn)
9/28/2015
$1,250.00
Monetary Contribution
Steve Sisolak
2016 Annual CE Filing
S&R Production Co. (Siegfried Fischbacher)
9/28/2015
$1,250.00
Monetary Contribution
Steve Sisolak
2016 Annual CE Filing
Saba K. Alim
12/14/2017
$1,000.00
Monetary Contribution
Steve Sisolak
2018 Annual CE Filing (Amended)
Sage 11 Ventures LLC
12/12/2017
$1,500.00
Monetary Contribution
Steve Sisolak
2018 Annual CE Filing (Amended)
Sagebrush Holdings Co.
11/28/2017
$1,000.00
Monetary Contribution
Steve Sisolak
2018 Annual CE Filing (Amended)
Sagebrush North LLC
12/15/2015
$2,500.00
Monetary Contribution
Steve Sisolak
2016 Annual CE Filing
Sahara Center LLC
5/9/2018
$5,000.00
Monetary Contribution
Adam Laxalt
2018 CE Report 1
Sahara Center LLC
5/9/2018
$5,000.00
Monetary Contribution
Adam Laxalt
2018 CE Report 1
Sahara Crossing Development Co. LLC
6/23/2015
$2,500.00
Monetary Contribution
Steve Sisolak
2016 Annual CE Filing
Sahara Crysler Jeep Dodge Ram
5/7/2015
$10,000.00
Monetary Contribution
Steve Sisolak
2016 Annual CE Filing
Sahara Merchants LLC
5/8/2018
$10,000.00
Monetary Contribution
Steve Sisolak
2018 CE Report 1 (Amended)
Sahara Motors Unimited LLC
11/9/2015
$1,000.00
Monetary Contribution
Steve Sisolak
2016 Annual CE Filing
Sahara Motors Unimited LLC
2/22/2016
$1,000.00
Monetary Contribution
Steve Sisolak
2016 CE Report 1
Sahara Motors Unlimited LLC
7/18/2017
$1,000.00
Monetary Contribution
Steve Sisolak
2018 Annual CE Filing (Amended)
Sahara West Urgent Care and Welness LLC
11/9/2017
$1,000.00
Monetary Contribution
Adam Laxalt
2018 Annual CE Filing
Sally Bowman
11/9/2017
$50.00
Monetary Contribution
Adam Laxalt
2018 Annual CE Filing
Sally Diamond Wiley
11/9/2017
$100.00
Monetary Contribution
Adam Laxalt
2018 Annual CE Filing
Sam A. Palazzolo
5/11/2018
$50.00
Monetary Contribution
Adam Laxalt
2018 CE Report 1
Sam Wonnell
11/9/2017
$100.00
Monetary Contribution
Adam Laxalt
2018 Annual CE Filing
Sam's Town Hotel & Gambling Hall
7/29/2015
$5,000.00
Monetary Contribution
Steve Sisolak
2016 Annual CE Filing
Sam's Town Hotel & Gambling Hall
5/22/2018
$5,000.00
Monetary Contribution
Steve Sisolak
2018 CE Report 2 (Amended)
Samantha Hudson
3/29/2018
$5,000.00
Monetary Contribution
Adam Laxalt
2018 CE Report 1
Samir Pancholi
1/26/2018
$2,018.00
Monetary Contribution
Steve Sisolak
2018 CE Report 1 (Amended)
Samuel A. Schwartz
11/20/2017
$2,500.00
Monetary Contribution
Steve Sisolak
2018 Annual CE Filing (Amended)
Samuel E. Nicholson
7/10/2017
$1,000.00
Monetary Contribution
Adam Laxalt
2018 Annual CE Filing
Samuel J. Routson
5/27/2018
$100.00
Monetary Contribution
Adam Laxalt
2018 CE Report 2
Samuel L. Katz
5/18/2018
$5,000.00
Monetary Contribution
Adam Laxalt
2018 CE Report 1
Samuel L. Katz
3/27/2017
$5,000.00
Monetary Contribution
Adam Laxalt
2018 Annual CE Filing
Samuel L. Roach
5/2/2018
$50.00
Monetary Contribution
Adam Laxalt
2018 CE Report 1
Samuel McMullen
8/30/2016
$250.00
Monetary Contribution
Steve Sisolak
2016 CE Report 3
Samuel Schaul Separate Property Trust
5/19/2018
$500.00
Monetary Contribution
Steve Sisolak
2018 CE Report 2 (Amended)
Sande Law Group
11/7/2016
$1,000.00
Monetary Contribution
Steve Sisolak
2016 CE Report 5 (Amended)
Sandra A Mallin
2/16/2018
$500.00
Monetary Contribution
Adam Laxalt
2018 CE Report 1
Sandra Boots Tiberti
12/16/2016
$2,500.00
Monetary Contribution
Adam Laxalt
2017 Annual CE Filing
Sandra Haugner
12/8/2017
$50.00
Monetary Contribution
Adam Laxalt
2018 Annual CE Filing
Sandra k Mcfarren
3/12/2018
$100.00
Monetary Contribution
Steve Sisolak
2018 CE Report 1 (Amended)
Sandra K. McCarroll
2/16/2018
$250.00
Monetary Contribution
Adam Laxalt
2018 CE Report 1
Sandra Maier
5/15/2018
$1,000.00
Monetary Contribution
Adam Laxalt
2018 CE Report 1
Sands Expo & Convention Center
1/19/2016
$10,000.00
Monetary Contribution
Steve Sisolak
2016 CE Report 1
Sands Expo & Convention Center
5/15/2018
$5,000.00
Monetary Contribution
Adam Laxalt
2018 CE Report 1
Sands Expo & Convention Center
5/15/2018
$5,000.00
Monetary Contribution
Adam Laxalt
2018 CE Report 1
Sandy Yesnick
8/31/2017
$50.00
Monetary Contribution
Adam Laxalt
2018 Annual CE Filing
Sanjay Malhotra Prof Corp
3/25/2016
$1,000.00
Monetary Contribution
Steve Sisolak
2016 CE Report 1
Sanjay Malhotra Prof Corp
12/14/2017
$1,000.00
Monetary Contribution
Steve Sisolak
2018 Annual CE Filing (Amended)
Sansone Companies
5/17/2018
$1,000.00
Monetary Contribution
Adam Laxalt
2018 CE Report 1
Santa Fe Mining Company LLC
1/14/2018
$1,000.00
Monetary Contribution
Steve Sisolak
2018 CE Report 1 (Amended)
Santa Fe Mining Company LLC
10/25/2017
$2,500.00
Monetary Contribution
Adam Laxalt
2018 Annual CE Filing
Santa Fe Mining Company LLC
11/21/2016
$5,000.00
Monetary Contribution
Adam Laxalt
2017 Annual CE Filing
Santa Fe Station Hotel & Casino
12/30/2016
$5,000.00
Monetary Contribution
Adam Laxalt
2017 Annual CE Filing
Santa Fe Station Hotel & Casino
12/30/2016
$5,000.00
Monetary Contribution
Adam Laxalt
2017 Annual CE Filing
Santa Fe Station Hotel & Casino Cage Account
1/26/2018
$5,000.00
Monetary Contribution
Steve Sisolak
2018 CE Report 1 (Amended)
Santa Fe Station Hotel & Casino Cage Account
11/30/2017
$5,000.00
Monetary Contribution
Steve Sisolak
2018 Annual CE Filing (Amended)
Santo Gaming & Consulting, LLC
12/21/2015
$5,000.00
Monetary Contribution
Steve Sisolak
2016 Annual CE Filing
Santoro Whitmire LTD
9/9/2015
$1,000.00
Monetary Contribution
Steve Sisolak
2016 Annual CE Filing
Santoro Whitmire LTD
7/11/2017
$2,500.00
Monetary Contribution
Steve Sisolak
2018 Annual CE Filing (Amended)
Sapphire
11/12/2015
$5,000.00
Monetary Contribution
Steve Sisolak
2016 Annual CE Filing
Sara C. Weber
11/9/2017
$150.00
Monetary Contribution
Adam Laxalt
2018 Annual CE Filing
Sara C. Weber
2/16/2018
$50.00
Monetary Contribution
Adam Laxalt
2018 CE Report 1
Sara Costello
5/11/2015
$1,000.00
Monetary Contribution
Steve Sisolak
2016 Annual CE Filing
Sara Costello
6/24/2017
$2,500.00
Monetary Contribution
Steve Sisolak
2018 Annual CE Filing (Amended)
Sara T. Fagen
7/24/2017
$1,000.00
Monetary Contribution
Adam Laxalt
2018 Annual CE Filing
Sarmad Khojasteh
5/29/2018
$1,000.00
Monetary Contribution
Adam Laxalt
2018 CE Report 2
Sasso Duro Pizza LLC
9/9/2015
$2,500.00
Monetary Contribution
Steve Sisolak
2016 Annual CE Filing
Sauvage Real Estate, LLC
7/17/2017
$10,000.00
Monetary Contribution
Steve Sisolak
2018 Annual CE Filing (Amended)
Savage and Son
11/15/2017
$500.00
Monetary Contribution
Adam Laxalt
2018 Annual CE Filing
Savant Investment Partners LLC
7/13/2017
$7,500.00
Monetary Contribution
Steve Sisolak
2018 Annual CE Filing (Amended)
SB Industries
2/27/2018
$10,000.00
Monetary Contribution
Steve Sisolak
2018 CE Report 1 (Amended)
SB Specialties, Inc. dba the Coffee Bean & Tea Leaf #3
12/6/2017
$10,000.00
Monetary Contribution
Steve Sisolak
2018 Annual CE Filing (Amended)
SB Strategic Consulting Inc.
5/5/2018
$2,500.00
Monetary Contribution
Adam Laxalt
2018 CE Report 1
Schaefer Business Properties LLC
12/5/2016
$5,000.00
Monetary Contribution
Adam Laxalt
2017 Annual CE Filing
Schaefer Business Properties LLC
12/5/2016
$5,000.00
Monetary Contribution
Adam Laxalt
2017 Annual CE Filing
Schuetze & McGaha PC
1/24/2018
$1,500.00
Monetary Contribution
Steve Sisolak
2018 CE Report 1 (Amended)
Scott & Cassandra Smith
4/19/2018
$250.00
Monetary Contribution
Adam Laxalt
2018 CE Report 1
Scott & Stephanie Sibley
8/19/2015
$1,580.65
In Kind Contribution
Steve Sisolak
2016 Annual CE Filing
Scott Anderson
5/18/2018
$2,500.00
Monetary Contribution
Adam Laxalt
2018 CE Report 1
Scott Canepa
5/21/2016
$1,000.00
Monetary Contribution
Steve Sisolak
2016 CE Report 2
Scott Canepa
9/4/2015
$1,500.00
Monetary Contribution
Steve Sisolak
2016 Annual CE Filing
Scott Dance
3/1/2018
$100.00
Monetary Contribution
Adam Laxalt
2018 CE Report 1
Scott Dillard
5/3/2018
$50.00
Monetary Contribution
Adam Laxalt
2018 CE Report 1
Scott Donnelly
5/16/2018
$5,000.00
Monetary Contribution
Adam Laxalt
2018 CE Report 1
Scott Donnelly
5/16/2018
$5,000.00
Monetary Contribution
Adam Laxalt
2018 CE Report 1
Scott Godino
7/23/2015
$5,000.00
Monetary Contribution
Steve Sisolak
2016 Annual CE Filing
Scott Godino
5/8/2018
$2,500.00
Monetary Contribution
Adam Laxalt
2018 CE Report 1
Scott Godino
12/27/2016
$1,000.00
Monetary Contribution
Adam Laxalt
2017 Annual CE Filing
Scott Gragson
10/24/2017
$913.68
In Kind Contribution
Steve Sisolak
2018 Annual CE Filing (Amended)
Scott Guysi
12/8/2017
$75.00
Monetary Contribution
Adam Laxalt
2018 Annual CE Filing
Scott Jolcover
12/15/2017
$100.00
Monetary Contribution
Adam Laxalt
2018 Annual CE Filing
Scott M Nielson
2/5/2018
$5,000.00
Monetary Contribution
Steve Sisolak
2018 CE Report 1 (Amended)
Scott P. Schoch
5/9/2018
$50.00
Monetary Contribution
Adam Laxalt
2018 CE Report 1
Scott Scherer
12/29/2017
$100.00
Monetary Contribution
Adam Laxalt
2018 Annual CE Filing
Scott Wills
2/12/2018
$50.00
Monetary Contribution
Adam Laxalt
2018 CE Report 1
Scott Wrye
4/17/2018
$100.00
Monetary Contribution
Adam Laxalt
2018 CE Report 1
Scott Y. MacTaggart
11/9/2017
$250.00
Monetary Contribution
Adam Laxalt
2018 Annual CE Filing
SDIP ME LLC
11/28/2017
$1,000.00
Monetary Contribution
Steve Sisolak
2018 Annual CE Filing (Amended)
SDIP SC LLC
11/28/2017
$1,000.00
Monetary Contribution
Steve Sisolak
2018 Annual CE Filing (Amended)
SDIP SW3 LLC
5/20/2015
$2,000.00
Monetary Contribution
Steve Sisolak
2016 Annual CE Filing
SDIP SW3 LLC
11/18/2015
$1,000.00
Monetary Contribution
Steve Sisolak
2016 Annual CE Filing
Sealy Family Trust
2/14/2018
$1,000.00
Monetary Contribution
Steve Sisolak
2018 CE Report 1 (Amended)
Sean Fieler
12/28/2016
$5,000.00
Monetary Contribution
Adam Laxalt
2017 Annual CE Filing
Sean Fieler
12/28/2016
$5,000.00
Monetary Contribution
Adam Laxalt
2017 Annual CE Filing
Sean J Riley
7/13/2016
$250.00
Monetary Contribution
Adam Laxalt
2017 Annual CE Filing
Sean Margulis LLC
11/28/2017
$1,250.00
Monetary Contribution
Steve Sisolak
2018 Annual CE Filing (Amended)
Sean Petronzi
1/24/2018
$250.00
Monetary Contribution
Steve Sisolak
2018 CE Report 1 (Amended)
Sean Smith
5/23/2018
$500.00
Monetary Contribution
Adam Laxalt
2018 CE Report 2
Seashore Holdings, Inc.
5/3/2018
$10,000.00
Monetary Contribution
Steve Sisolak
2018 CE Report 1 (Amended)
Select Electric
12/27/2017
$5,000.00
Monetary Contribution
Adam Laxalt
2018 Annual CE Filing
Select Electric
12/27/2017
$5,000.00
Monetary Contribution
Adam Laxalt
2018 Annual CE Filing
Select Management Resources LLC
4/3/2017
$2,500.00
Monetary Contribution
Adam Laxalt
2018 Annual CE Filing
Select Management Resources LLC
4/3/2017
$2,500.00
Monetary Contribution
Adam Laxalt
2018 Annual CE Filing
Select Management Resources, LLC
8/7/2015
$2,500.00
Monetary Contribution
Adam Laxalt
2016 Annual CE Filing
Selling Source LLC
1/28/2015
$2,500.00
Monetary Contribution
Adam Laxalt
2016 Annual CE Filing
Selling Source LLC
12/30/2016
$2,500.00
Monetary Contribution
Adam Laxalt
2017 Annual CE Filing
Selling Source LLC
3/31/2017
$5,000.00
Monetary Contribution
Adam Laxalt
2018 Annual CE Filing
Sempra Energy
1/5/2018
$1,500.00
Monetary Contribution
Steve Sisolak
2018 CE Report 1 (Amended)
Sempra Energy
9/1/2017
$2,500.00
Monetary Contribution
Steve Sisolak
2018 Annual CE Filing (Amended)
Sempra Energy
10/21/2016
$1,500.00
Monetary Contribution
Steve Sisolak
2016 CE Report 4
Sentek Cyber LLC
5/18/2018
$5,000.00
Monetary Contribution
Adam Laxalt
2018 CE Report 1
Service Rock Products
7/31/2017
$2,500.00
Monetary Contribution
Steve Sisolak
2018 Annual CE Filing (Amended)
Seth Atwood
1/31/2018
$50.00
Monetary Contribution
Adam Laxalt
2018 CE Report 1
SF-Paris LLC
1/4/2016
$5,000.00
Monetary Contribution
Steve Sisolak
2016 CE Report 1
SFHI inc
6/28/2017
$2,500.00
Monetary Contribution
Adam Laxalt
2018 Annual CE Filing
SH Architecture
10/27/2017
$500.00
Monetary Contribution
Adam Laxalt
2018 Annual CE Filing
Shahabuddin Khan, MD, Ltd.
4/5/2016
$1,000.00
Monetary Contribution
Steve Sisolak
2016 CE Report 1
Shahabuddin Khan, MD, Ltd.
11/4/2017
$1,000.00
Monetary Contribution
Steve Sisolak
2018 Annual CE Filing (Amended)
Shamim N. Nagy
4/26/2017
$50.00
Monetary Contribution
Adam Laxalt
2018 Annual CE Filing
Shamim N. Nagy
11/9/2017
$2,500.00
Monetary Contribution
Adam Laxalt
2018 Annual CE Filing
Shamim N. Nagy
5/2/2018
$2,450.00
Monetary Contribution
Adam Laxalt
2018 CE Report 1
Shamim N. Nagy
5/2/2018
$50.00
Monetary Contribution
Adam Laxalt
2018 CE Report 1
Shamim Nagy
4/11/2018
$5,000.00
Monetary Contribution
Steve Sisolak
2018 CE Report 1 (Amended)
Shango
5/3/2018
$5,000.00
Monetary Contribution
Steve Sisolak
2018 CE Report 1 (Amended)
Shanin Azarmehr
11/28/2017
$1,000.00
Monetary Contribution
Steve Sisolak
2018 Annual CE Filing (Amended)
Shari L. Koutzen
4/12/2018
$50.00
Monetary Contribution
Adam Laxalt
2018 CE Report 1
Sharon Banta
11/15/2017
$100.00
Monetary Contribution
Adam Laxalt
2018 Annual CE Filing
Sharon C. Frank
5/3/2017
$250.00
Monetary Contribution
Adam Laxalt
2018 Annual CE Filing
Sharon F. Wagner
6/20/2017
$100.00
Monetary Contribution
Adam Laxalt
2018 Annual CE Filing
Sharon J. David
12/4/2017
$50.00
Monetary Contribution
Adam Laxalt
2018 Annual CE Filing
Sharon Johnson
3/31/2018
$100.00
Monetary Contribution
Adam Laxalt
2018 CE Report 1
Sharon L. Schmitt
6/4/2018
$100.00
Monetary Contribution
Adam Laxalt
2018 CE Report 2
Sharon M. Ramis
11/15/2017
$50.00
Monetary Contribution
Adam Laxalt
2018 Annual CE Filing
Sharon MacCabee Arms
11/6/2017
$250.00
Monetary Contribution
Adam Laxalt
2018 Annual CE Filing
Sharon Starbuck
4/27/2018
$100.00
Monetary Contribution
Adam Laxalt
2018 CE Report 1
Sharon Wehrly
2/3/2018
$100.00
Monetary Contribution
Adam Laxalt
2018 CE Report 1
Sharyn Brown
9/20/2017
$10,000.00
Monetary Contribution
Steve Sisolak
2018 Annual CE Filing (Amended)
Shauna Forsythe
6/4/2015
$250.00
Monetary Contribution
Steve Sisolak
2016 Annual CE Filing
Shawn Lane
2/23/2018
$500.00
Monetary Contribution
Adam Laxalt
2018 CE Report 1
Shawn Lochhead
2/27/2018
$500.00
Monetary Contribution
Steve Sisolak
2018 CE Report 1 (Amended)
Shawn Olson
5/9/2018
$100.00
Monetary Contribution
Adam Laxalt
2018 CE Report 1
Shayla Gifford
5/29/2017
$1,000.00
Monetary Contribution
Adam Laxalt
2018 Annual CE Filing
Shearing Family Trust
7/5/2015
$2,000.00
Monetary Contribution
Steve Sisolak
2016 Annual CE Filing
Sheet Metal Workers Int'l Association
1/5/2018
$2,500.00
Monetary Contribution
Steve Sisolak
2018 CE Report 1 (Amended)
Sheet Metal Workers International Ass'n Local Union No. 88
5/22/2018
$2,500.00
Monetary Contribution
Steve Sisolak
2018 CE Report 2 (Amended)
Sheet Metal Workers International Association P.A.L. Local Union
7/1/2016
$2,500.00
Monetary Contribution
Steve Sisolak
2016 CE Report 3
Sheila Colfer
2/19/2018
$520.00
In Kind Contribution
Adam Laxalt
2018 CE Report 1
Sheila Strusser
4/16/2018
$100.00
Monetary Contribution
Steve Sisolak
2018 CE Report 1 (Amended)
Shelby Tsai
5/28/2016
$500.00
Monetary Contribution
Adam Laxalt
2017 Annual CE Filing
Sheldon G. Adelson
10/20/2016
$10,000.00
Monetary Contribution
Steve Sisolak
2016 CE Report 4
Sheldon G. Adelson
12/29/2017
$5,000.00
Monetary Contribution
Adam Laxalt
2018 Annual CE Filing
Sheldon G. Adelson
12/29/2017
$5,000.00
Monetary Contribution
Adam Laxalt
2018 Annual CE Filing
Shele Pandl
5/18/2018
$50.00
Monetary Contribution
Adam Laxalt
2018 CE Report 1
Shelley Berkley
6/24/2015
$500.00
Monetary Contribution
Steve Sisolak
2016 Annual CE Filing
Shelley F Adelson
10/20/2016
$10,000.00
Monetary Contribution
Steve Sisolak
2016 CE Report 4
Shelley Rhodes
3/29/2018
$100.00
Monetary Contribution
Adam Laxalt
2018 CE Report 1
Shelley Rhodes
4/29/2018
$100.00
Monetary Contribution
Adam Laxalt
2018 CE Report 1
Shelley Rhodes
5/29/2018
$100.00
Monetary Contribution
Adam Laxalt
2018 CE Report 2
Sherrill Edwards
4/6/2018
$50.00
Monetary Contribution
Adam Laxalt
2018 CE Report 1
Sherry Colquitt
4/10/2018
$1,000.00
Monetary Contribution
Adam Laxalt
2018 CE Report 1
Shincoln PAC
10/18/2016
$2,500.00
Monetary Contribution
Steve Sisolak
2016 CE Report 4
Shincoln PAC
7/8/2015
$1,500.00
Monetary Contribution
Steve Sisolak
2016 Annual CE Filing
Shirley & Banister Public Affairs
3/12/2018
$500.00
Monetary Contribution
Adam Laxalt
2018 CE Report 1
Shirley Carleone
12/20/2017
$5,000.00
Monetary Contribution
Adam Laxalt
2018 Annual CE Filing
Shirley Carleone
12/12/2016
$5,000.00
Monetary Contribution
Adam Laxalt
2017 Annual CE Filing
Shirley J. Reiman
5/29/2018
$2,000.00
Monetary Contribution
Adam Laxalt
2018 CE Report 2
Shirley M. LeGoy
6/7/2018
$50.00
Monetary Contribution
Adam Laxalt
2018 CE Report 2
Shirley Maxwell
11/14/2017
$100.00
Monetary Contribution
Adam Laxalt
2018 Annual CE Filing
Shirley Phillips
6/27/2017
$50.00
Monetary Contribution
Adam Laxalt
2018 Annual CE Filing
Shlincoln PAC
5/25/2016
$1,500.00
Monetary Contribution
Steve Sisolak
2016 CE Report 2
Shon Comiskey
4/19/2017
$50.00
Monetary Contribution
Adam Laxalt
2018 Annual CE Filing
Shon R. Comiskey
6/6/2018
$50.00
Monetary Contribution
Adam Laxalt
2018 CE Report 2
Shooting Range Industries LLC
6/5/2018
$5,000.00
Monetary Contribution
Adam Laxalt
2018 CE Report 2
Short Line Express Market
5/4/2015
$500.00
Monetary Contribution
Steve Sisolak
2016 Annual CE Filing
Short Line Express Market
9/20/2017
$1,000.00
Monetary Contribution
Steve Sisolak
2018 Annual CE Filing (Amended)
Shruti Basho
4/19/2018
$250.00
Monetary Contribution
Adam Laxalt
2018 CE Report 1
Sibley 1998 Trust
12/19/2017
$10,000.00
Monetary Contribution
Steve Sisolak
2018 Annual CE Filing (Amended)
Sibley 1998 Trust
8/19/2015
$10,000.00
Monetary Contribution
Steve Sisolak
2016 Annual CE Filing
Siegfried Fischbacher
4/5/2018
$2,500.00
Monetary Contribution
Steve Sisolak
2018 CE Report 1 (Amended)
Sierra Air Conditioning Inc
8/22/2017
$10,000.00
Monetary Contribution
Steve Sisolak
2018 Annual CE Filing (Amended)
Sierra Air Conditioning Inc
12/6/2016
$2,500.00
Monetary Contribution
Adam Laxalt
2017 Annual CE Filing
Sierra Air Conditioning Inc
12/6/2016
$5,000.00
Monetary Contribution
Adam Laxalt
2017 Annual CE Filing
Sierra Air Conditioning Inc
12/28/2015
$2,500.00
Monetary Contribution
Adam Laxalt
2016 Annual CE Filing
Sierra Air Conditioning Inc.
7/25/2016
$2,500.00
Monetary Contribution
Steve Sisolak
2016 CE Report 3
Sierra Air Conditioning Inc.
7/25/2016
$2,500.00
Monetary Contribution
Steve Sisolak
2016 CE Report 3
Sierra LLC
5/17/2018
$5,000.00
Monetary Contribution
Adam Laxalt
2018 CE Report 1
Sierra Med Services
1/24/2018
$1,000.00
Monetary Contribution
Steve Sisolak
2018 CE Report 1 (Amended)
Sierra Nevada Construction Inc.
4/20/2017
$2,000.00
Monetary Contribution
Adam Laxalt
2018 Annual CE Filing
Sierra Nevada Construction Inc.
5/26/2017
$2,500.00
Monetary Contribution
Adam Laxalt
2018 Annual CE Filing
Sierra Nevada Corporation
5/22/2018
$5,000.00
Monetary Contribution
Adam Laxalt
2018 CE Report 2
Sierra Strategies LLC
11/9/2017
$250.00
Monetary Contribution
Adam Laxalt
2018 Annual CE Filing
Signe Johnson
5/29/2018
$50.00
Monetary Contribution
Adam Laxalt
2018 CE Report 2
Signe Johnson
4/16/2018
$50.00
Monetary Contribution
Adam Laxalt
2018 CE Report 1
Signe Johnson
3/22/2018
$50.00
Monetary Contribution
Adam Laxalt
2018 CE Report 1
Silver Bear Swim School LLC
5/2/2018
$1,000.00
Monetary Contribution
Adam Laxalt
2018 CE Report 1
Silver Legacy Reno
12/27/2017
$5,000.00
Monetary Contribution
Adam Laxalt
2018 Annual CE Filing
Silver Legacy Reno
12/27/2017
$5,000.00
Monetary Contribution
Adam Laxalt
2018 Annual CE Filing
Silver State International
5/14/2018
$5,000.00
Monetary Contribution
Adam Laxalt
2018 CE Report 1
Silver State International
5/14/2018
$5,000.00
Monetary Contribution
Adam Laxalt
2018 CE Report 1
Silver State Payroll Services LLC
4/5/2018
$100.00
Monetary Contribution
Steve Sisolak
2018 CE Report 1 (Amended)
Silver State Transportation
9/12/2016
$2,500.00
Monetary Contribution
Steve Sisolak
2016 CE Report 3
Silver State Transportation
5/21/2018
$1,000.00
Monetary Contribution
Steve Sisolak
2018 CE Report 2 (Amended)
Silverado Mechanical LLC
5/16/2018
$5,000.00
Monetary Contribution
Adam Laxalt
2018 CE Report 1
Silverado Mechanical LLC
4/5/2017
$2,500.00
Monetary Contribution
Adam Laxalt
2018 Annual CE Filing
Silverado Mechanical LLC
12/12/2017
$2,500.00
Monetary Contribution
Adam Laxalt
2018 Annual CE Filing
Silverton Casino
4/26/2018
$5,000.00
Monetary Contribution
Steve Sisolak
2018 CE Report 1 (Amended)
Silverton Casino Hotel
12/30/2015
$3,500.00
Monetary Contribution
Steve Sisolak
2016 Annual CE Filing
Simco Imported Shoes Inc.
7/5/2017
$200.00
Monetary Contribution
Adam Laxalt
2018 Annual CE Filing
Simpson Coulter Studio
10/24/2016
$1,000.00
Monetary Contribution
Steve Sisolak
2016 CE Report 4
Sinatra and Company
12/24/2017
$5,000.00
Monetary Contribution
Adam Laxalt
2018 Annual CE Filing
Sinatra and Company
12/28/2016
$5,000.00
Monetary Contribution
Adam Laxalt
2017 Annual CE Filing
Six Bells LLC
8/3/2015
$2,500.00
Monetary Contribution
Steve Sisolak
2016 Annual CE Filing
SJJ Development LLC
12/13/2017
$6,600.00
Monetary Contribution
Steve Sisolak
2018 Annual CE Filing (Amended)
SkinnyFats Worldwide LLC
11/28/2017
$5,000.00
Monetary Contribution
Steve Sisolak
2018 Annual CE Filing (Amended)
Skyvue Las Vegas LLC
2/27/2018
$500.00
Monetary Contribution
Steve Sisolak
2018 CE Report 1 (Amended)
Slater Hanifan Group
3/31/2016
$10,000.00
Monetary Contribution
Steve Sisolak
2016 CE Report 1
Sletten Construction of Nevada Inc
7/13/2015
$2,500.00
Monetary Contribution
Steve Sisolak
2016 Annual CE Filing
Sletten Construction of Nevada Inc
3/6/2018
$2,500.00
Monetary Contribution
Steve Sisolak
2018 CE Report 1 (Amended)
Sletten Construction of Nevada Inc.
10/25/2016
$2,500.00
Monetary Contribution
Steve Sisolak
2016 CE Report 4
Sloane C. Castleman
8/22/2017
$5,000.00
Monetary Contribution
Adam Laxalt
2018 Annual CE Filing
Sloane C. Castleman
8/22/2017
$2,000.00
Monetary Contribution
Adam Laxalt
2018 Annual CE Filing
Sloane C. Castleman
5/11/2018
$1,500.00
Monetary Contribution
Adam Laxalt
2018 CE Report 1
Sloane C. Castleman
5/11/2018
$1,500.00
Monetary Contribution
Adam Laxalt
2018 CE Report 1
SLS Las Vegas
10/14/2015
$2,287.50
In Kind Contribution
Steve Sisolak
2016 Annual CE Filing
SMC Construction Co.
5/26/2017
$1,000.00
Monetary Contribution
Adam Laxalt
2018 Annual CE Filing
Smiles Today Dental Group
9/8/2016
$1,500.00
Monetary Contribution
Steve Sisolak
2016 CE Report 3
Smith & Shapiro PLLC
12/18/2017
$250.00
Monetary Contribution
Steve Sisolak
2018 Annual CE Filing (Amended)
SMYRNI LLC
6/4/2018
$5,000.00
Monetary Contribution
Adam Laxalt
2018 CE Report 2
SMYRNI LLC
6/4/2018
$5,000.00
Monetary Contribution
Adam Laxalt
2018 CE Report 2
Snap Towing
11/28/2017
$5,000.00
Monetary Contribution
Steve Sisolak
2018 Annual CE Filing (Amended)
Snell & Wilmer LLP
7/1/2015
$1,000.00
Monetary Contribution
Steve Sisolak
2016 Annual CE Filing
So Cal Eats Inc.
5/8/2018
$10,000.00
Monetary Contribution
Steve Sisolak
2018 CE Report 1 (Amended)
So NV Building & Construction Trades
5/25/2016
$1,000.00
Monetary Contribution
Steve Sisolak
2016 CE Report 2
So NV Building & Construction Trades Political Action Fund
8/18/2016
$500.00
Monetary Contribution
Steve Sisolak
2016 CE Report 3
So NV Building & Construction Trades Political Action Fund
10/16/2017
$5,000.00
Monetary Contribution
Steve Sisolak
2018 Annual CE Filing (Amended)
Soil Tech
10/24/2017
$2,500.00
Monetary Contribution
Steve Sisolak
2018 Annual CE Filing (Amended)
Solace Holdings LLLP
4/7/2018
$2,500.00
Monetary Contribution
Adam Laxalt
2018 CE Report 1
SolarCity
6/23/2016
$1,000.00
Monetary Contribution
Adam Laxalt
2017 Annual CE Filing
Solterra Holdings Nevada LLC
1/16/2018
$1,500.00
Monetary Contribution
Steve Sisolak
2018 CE Report 1 (Amended)
Solutions Recovery Inc
10/1/2015
$2,500.00
Monetary Contribution
Steve Sisolak
2016 Annual CE Filing
Somersett Development Company Ltd LLC
5/26/2017
$2,500.00
Monetary Contribution
Adam Laxalt
2018 Annual CE Filing
Song Family Trust
11/29/2017
$60.00
Monetary Contribution
Steve Sisolak
2018 Annual CE Filing (Amended)
Sonia Rivelli
5/10/2017
$100.00
Monetary Contribution
Adam Laxalt
2018 Annual CE Filing
Sonja Saltman
11/15/2017
$2,500.00
Monetary Contribution
Adam Laxalt
2018 Annual CE Filing
Sonny Newman
2/20/2018
$2,500.00
Monetary Contribution
Steve Sisolak
2018 CE Report 1 (Amended)
Sonny Newman
5/8/2017
$2,500.00
Monetary Contribution
Adam Laxalt
2018 Annual CE Filing
Sonoma Capital Corp.
5/15/2018
$5,000.00
Monetary Contribution
Adam Laxalt
2018 CE Report 1
Sonoma Capital Corp.
5/15/2018
$5,000.00
Monetary Contribution
Adam Laxalt
2018 CE Report 1
Sonya Healy
1/16/2018
$250.00
Monetary Contribution
Adam Laxalt
2018 CE Report 1
Sonya Healy
3/13/2018
$100.00
Monetary Contribution
Adam Laxalt
2018 CE Report 1
Sorenson Group Management, LLC
1/27/2016
$1,500.00
Monetary Contribution
Steve Sisolak
2016 CE Report 1
Sorokac Law Office, PLLC dba Reisman Sorokac
10/28/2016
$1,500.00
Monetary Contribution
Steve Sisolak
2016 CE Report 4
Sorokac Law Office, PLLC dba Reisman Sorokac
2/5/2018
$1,500.00
Monetary Contribution
Steve Sisolak
2018 CE Report 1 (Amended)
South Point Hotel & Casino
3/1/2016
$5,000.00
Monetary Contribution
Steve Sisolak
2016 CE Report 1
South Point Hotel & Casino
6/12/2015
$5,000.00
Monetary Contribution
Steve Sisolak
2016 Annual CE Filing
South Point Hotel and Casino
2/2/2018
$5,000.00
Monetary Contribution
Steve Sisolak
2018 CE Report 1 (Amended)
South Point Hotel and Casino
5/11/2017
$5,000.00
Monetary Contribution
Adam Laxalt
2018 Annual CE Filing
South Point Hotel and Casino
11/15/2016
$5,000.00
Monetary Contribution
Adam Laxalt
2017 Annual CE Filing
Southern Highlands Investment Partners
11/14/2017
$10,000.00
Monetary Contribution
Steve Sisolak
2018 Annual CE Filing (Amended)
Southern Highlands Investment Partners
10/1/2015
$10,000.00
Monetary Contribution
Steve Sisolak
2016 Annual CE Filing
Southern Highlands Investment Partners
5/15/2018
$5,000.00
Monetary Contribution
Adam Laxalt
2018 CE Report 1
Southern Highlands Investment Partners
5/15/2018
$5,000.00
Monetary Contribution
Adam Laxalt
2018 CE Report 1
Southwest Gas Corporation
10/20/2015
$2,500.00
Monetary Contribution
Steve Sisolak
2016 Annual CE Filing
Southwest Gas Corporation
2/1/2018
$5,000.00
Monetary Contribution
Steve Sisolak
2018 CE Report 1 (Amended)
Southwest Gas Corporation
12/21/2016
$2,500.00
Monetary Contribution
Adam Laxalt
2017 Annual CE Filing
Southwest Gas Corporation
5/11/2017
$2,500.00
Monetary Contribution
Adam Laxalt
2018 Annual CE Filing
Southwest Gas Corporation
5/11/2017
$2,500.00
Monetary Contribution
Adam Laxalt
2018 Annual CE Filing
Southwest Gas Corporation
11/9/2017
$2,500.00
Monetary Contribution
Adam Laxalt
2018 Annual CE Filing
Southwest Regional Council of Carpenters Political Action Fund
9/10/2016
$5,000.00
Monetary Contribution
Steve Sisolak
2016 CE Report 3
Southwest Regional Council of Carpenters Political Action Funds
9/29/2017
$4,500.00
Monetary Contribution
Steve Sisolak
2018 Annual CE Filing (Amended)
Spanish Springs Associates Limited Partnership
6/5/2017
$1,250.00
Monetary Contribution
Adam Laxalt
2018 Annual CE Filing
Spano's Enterprises LLC
2/24/2018
$500.00
Monetary Contribution
Steve Sisolak
2018 CE Report 1 (Amended)
Specialized Transport LLC
5/26/2017
$1,250.00
Monetary Contribution
Adam Laxalt
2018 Annual CE Filing
Spectrum Services Inc.
12/29/2017
$5,000.00
Monetary Contribution
Adam Laxalt
2018 Annual CE Filing
Speed Vegas LLC
10/17/2017
$2,500.00
Monetary Contribution
Steve Sisolak
2018 Annual CE Filing (Amended)
Speed Vegas LLC
10/24/2016
$1,250.00
Monetary Contribution
Steve Sisolak
2016 CE Report 4
Speedee Mart, Inc
11/11/2016
$500.00
Monetary Contribution
Steve Sisolak
2016 CE Report 5 (Amended)
Sporting Life Bar Jones LLC
10/24/2017
$500.00
Monetary Contribution
Steve Sisolak
2018 Annual CE Filing (Amended)
Sprague Silver
11/15/2017
$50.00
Monetary Contribution
Adam Laxalt
2018 Annual CE Filing
Spring Valley Development LLC
12/14/2017
$5,000.00
Monetary Contribution
Steve Sisolak
2018 Annual CE Filing (Amended)
SR Construction
10/27/2017
$1,000.00
Monetary Contribution
Adam Laxalt
2018 Annual CE Filing
SR Construction
4/18/2018
$1,000.00
Monetary Contribution
Adam Laxalt
2018 CE Report 1
Stable Development LLC
11/28/2017
$1,000.00
Monetary Contribution
Steve Sisolak
2018 Annual CE Filing (Amended)
Stable Development LLC
2/23/2018
$1,000.00
Monetary Contribution
Adam Laxalt
2018 CE Report 1
Stacey Arnold
12/28/2017
$5,000.00
Monetary Contribution
Steve Sisolak
2018 Annual CE Filing (Amended)
Stacey Hudson
3/25/2018
$5,000.00
Monetary Contribution
Adam Laxalt
2018 CE Report 1
Staci L. Alonso
11/9/2017
$2,500.00
Monetary Contribution
Adam Laxalt
2018 Annual CE Filing
Stacia Leigh Lemke Irrevocable Trust
9/1/2015
$5,000.00
Monetary Contribution
Steve Sisolak
2016 Annual CE Filing
Stacie Mathewson
12/21/2017
$5,000.00
Monetary Contribution
Adam Laxalt
2018 Annual CE Filing
Stacy M. Woodbury
3/8/2018
$500.00
Monetary Contribution
Adam Laxalt
2018 CE Report 1
Stacy Standley
8/13/2017
$200.00
Monetary Contribution
Steve Sisolak
2018 Annual CE Filing (Amended)
Stage Deli - MGM
11/29/2017
$2,500.00
Monetary Contribution
Steve Sisolak
2018 Annual CE Filing (Amended)
Stan Goodin
11/9/2017
$250.00
Monetary Contribution
Adam Laxalt
2018 Annual CE Filing
Stan Johnson
6/1/2018
$2,000.00
Monetary Contribution
Steve Sisolak
2018 CE Report 2 (Amended)
Standard Drywall Inc.
3/13/2018
$2,500.00
Monetary Contribution
Steve Sisolak
2018 CE Report 1 (Amended)
Stanley Boney
12/5/2017
$5,000.00
Monetary Contribution
Adam Laxalt
2018 Annual CE Filing
Stanley Boney
12/5/2017
$5,000.00
Monetary Contribution
Adam Laxalt
2018 Annual CE Filing
Stanley H. Rosen
2/23/2018
$55.00
Monetary Contribution
Adam Laxalt
2018 CE Report 1
Stanley H. Rosen
4/12/2018
$100.00
Monetary Contribution
Adam Laxalt
2018 CE Report 1
Stanley Holdings LLC
1/6/2016
$1,000.00
Monetary Contribution
Steve Sisolak
2016 CE Report 1
Stanley M Herzog LLC
6/28/2017
$5,000.00
Monetary Contribution
Adam Laxalt
2018 Annual CE Filing
Stanley M Herzog LLC
6/28/2017
$5,000.00
Monetary Contribution
Adam Laxalt
2018 Annual CE Filing
Stanley R. Manske
11/15/2017
$100.00
Monetary Contribution
Adam Laxalt
2018 Annual CE Filing
Stanley R. Manske
3/2/2017
$50.00
Monetary Contribution
Adam Laxalt
2018 Annual CE Filing
Stanley R. Manske
3/26/2018
$100.00
Monetary Contribution
Adam Laxalt
2018 CE Report 1
Star Nursery
7/21/2017
$5,000.00
Monetary Contribution
Steve Sisolak
2018 Annual CE Filing (Amended)
Star of the West, LLC
11/28/2017
$5,000.00
Monetary Contribution
Steve Sisolak
2018 Annual CE Filing (Amended)
Starpoint Resort Group Inc
12/22/2015
$10,000.00
Monetary Contribution
Adam Laxalt
2016 Annual CE Filing
Starpoint Resort Partners Inc
5/12/2017
$5,000.00
Monetary Contribution
Adam Laxalt
2018 Annual CE Filing
Starpoint Resort Partners Inc
5/12/2017
$5,000.00
Monetary Contribution
Adam Laxalt
2018 Annual CE Filing
Starr & Bermuda LLC
8/21/2017
$5,000.00
Monetary Contribution
Steve Sisolak
2018 Annual CE Filing (Amended)
Stateside Associates Inc
2/27/2015
$300.00
Monetary Contribution
Adam Laxalt
2016 Annual CE Filing
Station Casinos dba Boulder Station Hotel & Casino
8/27/2015
$5,000.00
Monetary Contribution
Steve Sisolak
2016 Annual CE Filing
Station Casinos dba Fiesta Rancho Hotel & Casino
8/27/2015
$5,000.00
Monetary Contribution
Steve Sisolak
2016 Annual CE Filing
Station Casinos dba Red Rock Spa & Casino
8/27/2015
$5,000.00
Monetary Contribution
Steve Sisolak
2016 Annual CE Filing
Station Casinos dba Santa Fe Station Hotel & Casino
8/27/2015
$5,000.00
Monetary Contribution
Steve Sisolak
2016 Annual CE Filing
Station Casinos dba Sunset Station Hotel & Casino
8/27/2015
$5,000.00
Monetary Contribution
Steve Sisolak
2016 Annual CE Filing
Station Casinos LLC
2/2/2018
$10,000.00
Monetary Contribution
Steve Sisolak
2018 CE Report 1 (Amended)
Station Casinos LLC
8/28/2017
$2,000.00
Monetary Contribution
Adam Laxalt
2018 Annual CE Filing
Station Casinos LLC
8/28/2017
$3,000.00
Monetary Contribution
Adam Laxalt
2018 Annual CE Filing
Station Casinos LLC Green Valley Ranch Resort Spa Casino
10/29/2015
$3,000.00
Monetary Contribution
Adam Laxalt
2016 Annual CE Filing
Station Casinos LLC Palace Station Hotel & Casino
10/29/2015
$3,000.00
Monetary Contribution
Adam Laxalt
2016 Annual CE Filing
Station Casinos LLC Red Rock Casino Resort Spa
10/29/2015
$3,000.00
Monetary Contribution
Adam Laxalt
2016 Annual CE Filing
Station Casinos LLC Santa Fe Station Hotel & Casino
10/29/2015
$3,000.00
Monetary Contribution
Adam Laxalt
2016 Annual CE Filing
Station Casinos LLC Sunset Station Hotel & Casino
10/29/2015
$3,000.00
Monetary Contribution
Adam Laxalt
2016 Annual CE Filing
Steelman Partners
12/22/2015
$10,000.00
Monetary Contribution
Steve Sisolak
2016 Annual CE Filing
Steelman Partners
12/7/2017
$5,000.00
Monetary Contribution
Adam Laxalt
2018 Annual CE Filing
Steelman Partners
12/7/2017
$5,000.00
Monetary Contribution
Adam Laxalt
2018 Annual CE Filing
Steinberg Diagnostic Medical Imaging
9/21/2015
$1,000.00
Monetary Contribution
Steve Sisolak
2016 Annual CE Filing
Steinberg Diagnostic Medical Imaging
5/2/2016
$2,000.00
Monetary Contribution
Steve Sisolak
2016 CE Report 1
Steiner's Management Company Inc.
5/4/2015
$500.00
Monetary Contribution
Steve Sisolak
2016 Annual CE Filing
Steljes Cardiology PC
12/1/2017
$1,000.00
Monetary Contribution
Steve Sisolak
2018 Annual CE Filing (Amended)
Stella Roy
6/16/2015
$10,000.00
Monetary Contribution
Steve Sisolak
2016 Annual CE Filing
Stephen A. Wynn
12/31/2015
$5,000.00
Monetary Contribution
Adam Laxalt
2016 Annual CE Filing
Stephen and Lou Ann Caruthers
3/27/2018
$2,000.00
Monetary Contribution
Adam Laxalt
2018 CE Report 1
Stephen Bell
9/27/2016
$2,500.00
Monetary Contribution
Steve Sisolak
2016 CE Report 3
Stephen C Benna
11/2/2017
$500.00
Monetary Contribution
Adam Laxalt
2018 Annual CE Filing
Stephen C. Rose
2/23/2018
$50.00
Monetary Contribution
Adam Laxalt
2018 CE Report 1
Stephen C. Rose
5/29/2018
$100.00
Monetary Contribution
Adam Laxalt
2018 CE Report 2
Stephen Cootey
11/9/2017
$2,500.00
Monetary Contribution
Adam Laxalt
2018 Annual CE Filing
Stephen Dvorchak
10/25/2017
$100.00
Monetary Contribution
Adam Laxalt
2018 Annual CE Filing
Stephen E. Thorne
11/2/2016
$5,000.00
Monetary Contribution
Adam Laxalt
2017 Annual CE Filing
Stephen E. Thorne
11/2/2016
$5,000.00
Monetary Contribution
Adam Laxalt
2017 Annual CE Filing
Stephen Goodwin
9/8/2017
$2,500.00
Monetary Contribution
Steve Sisolak
2018 Annual CE Filing (Amended)
Stephen Hanselman
11/9/2017
$130.00
Monetary Contribution
Adam Laxalt
2018 Annual CE Filing
Stephen J Cloobeck Seperate Property Trust
10/20/2016
$10,000.00
Monetary Contribution
Steve Sisolak
2016 CE Report 4
Stephen J Meyer
1/24/2018
$500.00
Monetary Contribution
Steve Sisolak
2018 CE Report 1 (Amended)
Stephen Jones
3/15/2018
$1,000.00
Monetary Contribution
Adam Laxalt
2018 CE Report 1
Stephen M. Rice, Professional
2/27/2018
$1,000.00
Monetary Contribution
Steve Sisolak
2018 CE Report 1 (Amended)
Stephen Macricostas
6/6/2018
$5,000.00
Monetary Contribution
Adam Laxalt
2018 CE Report 2
Stephen Macricostas
6/6/2018
$5,000.00
Monetary Contribution
Adam Laxalt
2018 CE Report 2
Stephen Perkins
5/9/2018
$100.00
Monetary Contribution
Adam Laxalt
2018 CE Report 1
Stephen Treese
12/22/2017
$2,500.00
Monetary Contribution
Adam Laxalt
2018 Annual CE Filing
Stephen V. Savran
4/7/2016
$1,000.00
Monetary Contribution
Steve Sisolak
2016 CE Report 1
Stephen W. Case
6/1/2018
$55.00
Monetary Contribution
Adam Laxalt
2018 CE Report 2
Sterling Partners LLC
10/27/2017
$300.00
Monetary Contribution
Adam Laxalt
2018 Annual CE Filing
Steve Bridges
2/19/2018
$50.00
Monetary Contribution
Adam Laxalt
2018 CE Report 1
Steve Bridges
11/21/2017
$50.00
Monetary Contribution
Adam Laxalt
2018 Annual CE Filing
Steve Dimopoulos
2/2/2018
$1,000.00
Monetary Contribution
Steve Sisolak
2018 CE Report 1 (Amended)
Steve Hall
4/19/2018
$750.00
Monetary Contribution
Steve Sisolak
2018 CE Report 1 (Amended)
Steve Menzies
8/23/2017
$10,000.00
Monetary Contribution
Steve Sisolak
2018 Annual CE Filing (Amended)
Steve Menzies
8/19/2015
$2,500.00
Monetary Contribution
Steve Sisolak
2016 Annual CE Filing
Steve Menzies
12/23/2015
$5,000.00
Monetary Contribution
Steve Sisolak
2016 Annual CE Filing
Steve Monzo
6/3/2018
$100.00
Monetary Contribution
Adam Laxalt
2018 CE Report 2
Steve Robinson
3/8/2018
$250.00
Monetary Contribution
Adam Laxalt
2018 CE Report 1
Steve Robinson
11/9/2017
$250.00
Monetary Contribution
Adam Laxalt
2018 Annual CE Filing
Steve S. Johnson
11/9/2017
$1,000.00
Monetary Contribution
Adam Laxalt
2018 Annual CE Filing
Steve S. Johnson
5/3/2018
$1,000.00
Monetary Contribution
Adam Laxalt
2018 CE Report 1
Steve Schneider
3/30/2018
$500.00
Monetary Contribution
Adam Laxalt
2018 CE Report 1
Steve Symms
4/14/2017
$200.00
Monetary Contribution
Adam Laxalt
2018 Annual CE Filing
Steven & Elena Brady
4/19/2018
$50.00
Monetary Contribution
Adam Laxalt
2018 CE Report 1
Steven A Mack
7/13/2017
$10,000.00
Monetary Contribution
Steve Sisolak
2018 Annual CE Filing (Amended)
Steven A. Webster
6/14/2017
$5,000.00
Monetary Contribution
Adam Laxalt
2018 Annual CE Filing
Steven B. Cohen
12/30/2015
$2,500.00
Monetary Contribution
Steve Sisolak
2016 Annual CE Filing
Steven C Biczak
11/4/2017
$50.00
Monetary Contribution
Adam Laxalt
2018 Annual CE Filing
Steven C. Wrenn
5/22/2017
$100.00
Monetary Contribution
Adam Laxalt
2018 Annual CE Filing
Steven C. Wrenn
3/12/2018
$100.00
Monetary Contribution
Adam Laxalt
2018 CE Report 1
Steven Cohen
6/1/2018
$3,000.00
Monetary Contribution
Steve Sisolak
2018 CE Report 2 (Amended)
Steven F. Saterlie
3/19/2018
$50.00
Monetary Contribution
Adam Laxalt
2018 CE Report 1
Steven Kwon
8/4/2017
$2,500.00
Monetary Contribution
Steve Sisolak
2018 Annual CE Filing (Amended)
Steven P. O'Brien
11/21/2016
$5,000.00
Monetary Contribution
Adam Laxalt
2017 Annual CE Filing
Steven P. O'Brien
11/21/2016
$5,000.00
Monetary Contribution
Adam Laxalt
2017 Annual CE Filing
Steven Pachoe
10/24/2017
$500.00
Monetary Contribution
Steve Sisolak
2018 Annual CE Filing (Amended)
Steven Rosen
6/1/2018
$2,500.00
Monetary Contribution
Steve Sisolak
2018 CE Report 2 (Amended)
Steven Singer
6/4/2018
$2,500.00
Monetary Contribution
Steve Sisolak
2018 CE Report 2 (Amended)
Steven Singer
6/1/2018
$2,500.00
Monetary Contribution
Steve Sisolak
2018 CE Report 2 (Amended)
Steven T. Hamilton
2/5/2018
$5,000.00
Monetary Contribution
Adam Laxalt
2018 CE Report 1
Steven T. Hamilton
2/5/2018
$5,000.00
Monetary Contribution
Adam Laxalt
2018 CE Report 1
Steven Taylor
12/30/2017
$1,000.00
Monetary Contribution
Adam Laxalt
2018 Annual CE Filing
Steven Vincent Lee
2/28/2018
$2,500.00
Monetary Contribution
Steve Sisolak
2018 CE Report 1 (Amended)
Steven W. Field
5/3/2018
$1,000.00
Monetary Contribution
Adam Laxalt
2018 CE Report 1
Steven Wilson
1/18/2018
$100.00
Monetary Contribution
Adam Laxalt
2018 CE Report 1
Stewart's Ninety-Six Ranch LLC
6/15/2017
$100.00
Monetary Contribution
Adam Laxalt
2018 Annual CE Filing
STI Firearms LLC dba STI International
10/28/2016
$5,000.00
Monetary Contribution
Adam Laxalt
2017 Annual CE Filing
STI Firearms LLC dba STI International
10/28/2016
$5,000.00
Monetary Contribution
Adam Laxalt
2017 Annual CE Filing
StorageOne Inc.
7/1/2015
$1,000.00
Monetary Contribution
Steve Sisolak
2016 Annual CE Filing
Story Book Homes
7/22/2015
$2,000.00
Monetary Contribution
Steve Sisolak
2016 Annual CE Filing
Story Book Homes
7/25/2016
$1,000.00
Monetary Contribution
Steve Sisolak
2016 CE Report 3
Story Book Homes
2/20/2018
$5,000.00
Monetary Contribution
Steve Sisolak
2018 CE Report 1 (Amended)
Strategic Realty Services LLC
2/17/2018
$2,500.00
Monetary Contribution
Adam Laxalt
2018 CE Report 1
Stratosphere Las Vegas
12/14/2017
$10,000.00
Monetary Contribution
Steve Sisolak
2018 Annual CE Filing (Amended)
Stratosphere Las Vegas
12/1/2017
$5,000.00
Monetary Contribution
Adam Laxalt
2018 Annual CE Filing
Stratosphere Las Vegas
12/1/2017
$5,000.00
Monetary Contribution
Adam Laxalt
2018 Annual CE Filing
Strawberry Beauty International LLC
11/9/2017
$500.00
Monetary Contribution
Adam Laxalt
2018 Annual CE Filing
Stuart Family Trust
10/24/2017
$500.00
Monetary Contribution
Steve Sisolak
2018 Annual CE Filing (Amended)
Stuart P. Smith
5/5/2017
$1,000.00
Monetary Contribution
Adam Laxalt
2018 Annual CE Filing
Stuart P. Smith
11/9/2017
$2,500.00
Monetary Contribution
Adam Laxalt
2018 Annual CE Filing
Stuart R. Engs
6/14/2017
$1,000.00
Monetary Contribution
Adam Laxalt
2018 Annual CE Filing
Stuart R. Engs
11/9/2017
$1,500.00
Monetary Contribution
Adam Laxalt
2018 Annual CE Filing
Success Marketing LLC
6/8/2015
$500.00
Monetary Contribution
Steve Sisolak
2016 Annual CE Filing
Sue K. Crystal
2/26/2018
$100.00
Monetary Contribution
Adam Laxalt
2018 CE Report 1
Sue Lowden
12/7/2017
$1,500.00
Monetary Contribution
Adam Laxalt
2018 Annual CE Filing
Sue P. Fahami
4/19/2018
$125.00
Monetary Contribution
Adam Laxalt
2018 CE Report 1
Summerlin Hospital Medical Center
4/1/2016
$1,000.00
Monetary Contribution
Steve Sisolak
2016 CE Report 1
Summerlin Hospital Medical Center
10/27/2016
$1,000.00
Monetary Contribution
Steve Sisolak
2016 CE Report 4
Summerlin Hospital Medical Center
5/24/2018
$2,500.00
Monetary Contribution
Steve Sisolak
2018 CE Report 2 (Amended)
Summit Homes of Nevada
7/25/2017
$5,000.00
Monetary Contribution
Steve Sisolak
2018 Annual CE Filing (Amended)
Summitt Homes of Nevada
7/23/2015
$2,500.00
Monetary Contribution
Steve Sisolak
2016 Annual CE Filing
Sunbelt Development & Realty
11/28/2017
$1,000.00
Monetary Contribution
Steve Sisolak
2018 Annual CE Filing (Amended)
Sunglow LLC
5/31/2018
$10,000.00
Monetary Contribution
Steve Sisolak
2018 CE Report 2 (Amended)
Sunil Kalla, M.D. P.C.
12/14/2017
$1,000.00
Monetary Contribution
Steve Sisolak
2018 Annual CE Filing (Amended)
Sunil Kalla, M.D. P.C.
4/13/2016
$1,000.00
Monetary Contribution
Steve Sisolak
2016 CE Report 1
Sunrise Healthcare System - Good Goverment Fund PAC
5/8/2018
$5,000.00
Monetary Contribution
Steve Sisolak
2018 CE Report 1 (Amended)
Sunrise Healthcare System Good Goverment Fund PAC
2/18/2016
$5,000.00
Monetary Contribution
Steve Sisolak
2016 CE Report 1
Sunrise Healthcare System Good Government PAC Fund
6/28/2017
$5,000.00
Monetary Contribution
Adam Laxalt
2018 Annual CE Filing
Sunrise Healthcare System Good Government PAC Fund
5/11/2018
$5,000.00
Monetary Contribution
Adam Laxalt
2018 CE Report 1
Sunset Durango Partners LLC
1/16/2018
$500.00
Monetary Contribution
Steve Sisolak
2018 CE Report 1 (Amended)
Sunset Durango Partners LLC
8/29/2017
$5,000.00
Monetary Contribution
Steve Sisolak
2018 Annual CE Filing (Amended)
Sunset Station Hotel & Casino
12/30/2016
$5,000.00
Monetary Contribution
Adam Laxalt
2017 Annual CE Filing
Sunset Station Hotel & Casino
12/30/2016
$2,000.00
Monetary Contribution
Adam Laxalt
2017 Annual CE Filing
Sunset Station Hotel & Casino Cage Account
1/26/2018
$10,000.00
Monetary Contribution
Steve Sisolak
2018 CE Report 1 (Amended)
Supriya & Ashok Mirchandani
4/14/2016
$500.00
Monetary Contribution
Steve Sisolak
2016 CE Report 1
Susan Bunce
10/19/2017
$1,500.00
Monetary Contribution
Steve Sisolak
2018 Annual CE Filing (Amended)
Susan Grosch
5/3/2017
$100.00
Monetary Contribution
Adam Laxalt
2018 Annual CE Filing
Susan Grosch
11/9/2017
$500.00
Monetary Contribution
Adam Laxalt
2018 Annual CE Filing
Susan Henderson
12/29/2017
$100.00
Monetary Contribution
Adam Laxalt
2018 Annual CE Filing
Susan K. Grosch
3/19/2018
$100.00
Monetary Contribution
Adam Laxalt
2018 CE Report 1
Susan K. Grosch
6/5/2018
$400.00
Monetary Contribution
Adam Laxalt
2018 CE Report 2
Susan Kay Sullivan
2/19/2018
$250.00
Monetary Contribution
Adam Laxalt
2018 CE Report 1
Susan Kay Sullivan
11/9/2017
$250.00
Monetary Contribution
Adam Laxalt
2018 Annual CE Filing
Susan Kay Sullivan
4/28/2017
$100.00
Monetary Contribution
Adam Laxalt
2018 Annual CE Filing
Susan L. Groff
4/2/2018
$5,000.00
Monetary Contribution
Adam Laxalt
2018 CE Report 1
Susan Middleton Werber
4/6/2018
$100.00
Monetary Contribution
Adam Laxalt
2018 CE Report 1
Susan Morse
3/4/2016
$10,000.00
Monetary Contribution
Steve Sisolak
2016 CE Report 1
Susan Morse
11/7/2017
$10,000.00
Monetary Contribution
Steve Sisolak
2018 Annual CE Filing (Amended)
Susan Reynolds
5/5/2018
$100.00
Monetary Contribution
Steve Sisolak
2018 CE Report 1 (Amended)
Susan S. Huckabay
5/30/2018
$100.00
Monetary Contribution
Adam Laxalt
2018 CE Report 2
Susanna Dokupil
6/14/2017
$2,000.00
Monetary Contribution
Adam Laxalt
2018 Annual CE Filing
Suzan Forvilly
3/29/2018
$100.00
Monetary Contribution
Adam Laxalt
2018 CE Report 1
Suzan G. Hey
12/4/2017
$100.00
Monetary Contribution
Adam Laxalt
2018 Annual CE Filing
Suzan G. Hey
3/12/2018
$100.00
Monetary Contribution
Adam Laxalt
2018 CE Report 1
Suzan G. Hey
5/4/2018
$100.00
Monetary Contribution
Adam Laxalt
2018 CE Report 1
Suzanne Prouty
5/3/2018
$100.00
Monetary Contribution
Steve Sisolak
2018 CE Report 1 (Amended)
Suzanne Renee West
4/17/2018
$1,000.00
Monetary Contribution
Steve Sisolak
2018 CE Report 1 (Amended)
SWG Inc
12/26/2015
$5,000.00
Monetary Contribution
Steve Sisolak
2016 Annual CE Filing
Switch LTD
5/11/2017
$5,000.00
Monetary Contribution
Adam Laxalt
2018 Annual CE Filing
Switch LTD
12/19/2016
$5,000.00
Monetary Contribution
Adam Laxalt
2017 Annual CE Filing
Switch LTD
12/30/2015
$5,000.00
Monetary Contribution
Adam Laxalt
2016 Annual CE Filing
Switch LTD.
6/19/2015
$10,000.00
Monetary Contribution
Steve Sisolak
2016 Annual CE Filing
Switch LTD.
10/31/2017
$10,000.00
Monetary Contribution
Steve Sisolak
2018 Annual CE Filing (Amended)
Sydney M. Smith
5/15/2018
$100.00
Monetary Contribution
Adam Laxalt
2018 CE Report 1
Sylvia Davison
3/16/2018
$1,000.00
Monetary Contribution
Adam Laxalt
2018 CE Report 1
Sylvia M Fiore
1/29/2018
$50.00
Monetary Contribution
Adam Laxalt
2018 CE Report 1
Sylvia M Fiore
3/6/2018
$50.00
Monetary Contribution
Adam Laxalt
2018 CE Report 1
T Nickolas Co
3/12/2018
$1,000.00
Monetary Contribution
Steve Sisolak
2018 CE Report 1 (Amended)
T-Star III LLC
12/30/2015
$5,000.00
Monetary Contribution
Steve Sisolak
2016 Annual CE Filing
T. Boone Pickens
12/14/2016
$5,000.00
Monetary Contribution
Adam Laxalt
2017 Annual CE Filing
T. Boone Pickens
12/14/2016
$5,000.00
Monetary Contribution
Adam Laxalt
2017 Annual CE Filing
T&J Fallon Family Trust
8/14/2017
$5,000.00
Monetary Contribution
Steve Sisolak
2018 Annual CE Filing (Amended)
T&J Fallon Family Trust
2/25/2016
$2,000.00
Monetary Contribution
Steve Sisolak
2016 CE Report 1
Tahoe 8 Ventures LLC
11/7/2016
$5,000.00
Monetary Contribution
Adam Laxalt
2017 Annual CE Filing
Tahoe 8 Ventures LLC
11/7/2016
$5,000.00
Monetary Contribution
Adam Laxalt
2017 Annual CE Filing
Tahoe Reno Industrial Center LLC
12/18/2017
$5,000.00
Monetary Contribution
Adam Laxalt
2018 Annual CE Filing
Take A Break Travel Inc.
12/28/2017
$5,000.00
Monetary Contribution
Adam Laxalt
2018 Annual CE Filing
Take A Break Travel Inc.
12/28/2017
$5,000.00
Monetary Contribution
Adam Laxalt
2018 Annual CE Filing
Takuya Ishida
11/29/2017
$500.00
Monetary Contribution
Adam Laxalt
2018 Annual CE Filing
Takuya Ishida
2/23/2018
$500.00
Monetary Contribution
Adam Laxalt
2018 CE Report 1
Tamara Kelly
1/30/2018
$50.00
Monetary Contribution
Adam Laxalt
2018 CE Report 1
Tamarack Crossing LLC
12/18/2017
$5,000.00
Monetary Contribution
Adam Laxalt
2018 Annual CE Filing
Tambra Keener
11/9/2017
$1,000.00
Monetary Contribution
Adam Laxalt
2018 Annual CE Filing
Tami Campa
7/27/2017
$1,000.00
Monetary Contribution
Steve Sisolak
2018 Annual CE Filing (Amended)
Tanamera Construction LLC
5/3/2018
$1,000.00
Monetary Contribution
Adam Laxalt
2018 CE Report 1
Tanamera Construction LLC
5/3/2018
$1,000.00
Monetary Contribution
Adam Laxalt
2018 CE Report 1
Tanner Campbell
5/22/2018
$250.00
Monetary Contribution
Adam Laxalt
2018 CE Report 2
Tanner Law Firm Ltd
1/24/2018
$250.00
Monetary Contribution
Steve Sisolak
2018 CE Report 1 (Amended)
Tara Lynn
12/15/2015
$500.00
Monetary Contribution
Steve Sisolak
2016 Annual CE Filing
Tatjana Ensign
4/9/2018
$3,000.00
In Kind Contribution
Adam Laxalt
2018 CE Report 1
Taylor Consulting Group LLC
4/18/2016
$100.00
Monetary Contribution
Steve Sisolak
2016 CE Report 1
Taylor Edgin
3/17/2018
$60.00
Monetary Contribution
Steve Sisolak
2018 CE Report 1 (Amended)
Taylor S. Gross
3/27/2018
$500.00
Monetary Contribution
Adam Laxalt
2018 CE Report 1
TCE Living Trust
8/18/2017
$10,000.00
Monetary Contribution
Steve Sisolak
2018 Annual CE Filing (Amended)
Team Ford Lincoln
5/29/2018
$3,000.00
Monetary Contribution
Adam Laxalt
2018 CE Report 2
Teamsters Local Union No. 14
3/28/2016
$500.00
Monetary Contribution
Steve Sisolak
2016 CE Report 1
Technology Management Inc.
6/4/2018
$5,000.00
Monetary Contribution
Steve Sisolak
2018 CE Report 2 (Amended)
Ted Borda
2/23/2018
$1,000.00
Monetary Contribution
Adam Laxalt
2018 CE Report 1
Ted Chuen Loh
4/23/2018
$2,500.00
Monetary Contribution
Adam Laxalt
2018 CE Report 1
Ted E Hartung
11/2/2017
$50.00
Monetary Contribution
Adam Laxalt
2018 Annual CE Filing
Ted E Hartung
12/7/2017
$50.00
Monetary Contribution
Adam Laxalt
2018 Annual CE Filing
Ted Mulvaney
11/6/2017
$500.00
Monetary Contribution
Adam Laxalt
2018 Annual CE Filing
Ted Mulvaney
5/15/2018
$2,000.00
Monetary Contribution
Adam Laxalt
2018 CE Report 1
Tedric Coleman
4/9/2018
$100.00
Monetary Contribution
Adam Laxalt
2018 CE Report 1
Teller
11/25/2015
$10,000.00
Monetary Contribution
Steve Sisolak
2016 Annual CE Filing
Teller
4/9/2018
$10,000.00
Monetary Contribution
Steve Sisolak
2018 CE Report 1 (Amended)
Ten15 Blue Diamond Decatur, LLC
1/16/2018
$500.00
Monetary Contribution
Steve Sisolak
2018 CE Report 1 (Amended)
Ten15 Blue Diamond Decatur, LLC
10/20/2016
$2,500.00
Monetary Contribution
Steve Sisolak
2016 CE Report 4
Ten15 Buffalo Warm Springs LLC
1/16/2018
$500.00
Monetary Contribution
Steve Sisolak
2018 CE Report 1 (Amended)
Ten15 Buffalo Warm Springs LLC
1/29/2018
$2,500.00
Monetary Contribution
Steve Sisolak
2018 CE Report 1 (Amended)
Ten15 Buffalo Warm Springs, LLC
10/20/2016
$2,500.00
Monetary Contribution
Steve Sisolak
2016 CE Report 4
Ten15 Sunset Grier, LLC
1/16/2018
$500.00
Monetary Contribution
Steve Sisolak
2018 CE Report 1 (Amended)
TEN15 Winterwood
1/16/2018
$500.00
Monetary Contribution
Steve Sisolak
2018 CE Report 1 (Amended)
TEN15 Winterwood
8/29/2017
$5,000.00
Monetary Contribution
Steve Sisolak
2018 Annual CE Filing (Amended)
Tenley V. Miller
6/6/2018
$100.00
Monetary Contribution
Adam Laxalt
2018 CE Report 2
Teresa Borden
11/20/2017
$3,000.00
Monetary Contribution
Steve Sisolak
2018 Annual CE Filing (Amended)
Teresa J. Fertitta
11/9/2017
$5,000.00
Monetary Contribution
Adam Laxalt
2018 Annual CE Filing
Teresa J. Fertitta
11/9/2017
$5,000.00
Monetary Contribution
Adam Laxalt
2018 Annual CE Filing
Terra Tech Corp.
12/4/2015
$10,000.00
Monetary Contribution
Steve Sisolak
2016 Annual CE Filing
Terra Tech Corporation
10/17/2017
$10,000.00
Monetary Contribution
Steve Sisolak
2018 Annual CE Filing (Amended)
Terrell Jones
6/1/2018
$1,000.00
Monetary Contribution
Steve Sisolak
2018 CE Report 2 (Amended)
Terrence E. Lalonde
4/19/2017
$100.00
Monetary Contribution
Adam Laxalt
2018 Annual CE Filing
Terrence O'Donnell
3/26/2018
$500.00
Monetary Contribution
Adam Laxalt
2018 CE Report 1
Terrible Herbst Inc.
7/24/2017
$10,000.00
Monetary Contribution
Steve Sisolak
2018 Annual CE Filing (Amended)
Terrible Herbst Inc.
4/14/2016
$5,000.00
Monetary Contribution
Steve Sisolak
2016 CE Report 1
Terrible Herbst Inc.
6/15/2015
$5,000.00
Monetary Contribution
Steve Sisolak
2016 Annual CE Filing
Terrible Herbst Inc.
5/14/2018
$5,000.00
Monetary Contribution
Adam Laxalt
2018 CE Report 1
Terrible Herbst Inc.
12/7/2017
$5,000.00
Monetary Contribution
Adam Laxalt
2018 Annual CE Filing
Territory Incorporated
5/15/2018
$5,000.00
Monetary Contribution
Adam Laxalt
2018 CE Report 1
Terry & Patsy Dye
11/9/2017
$50.00
Monetary Contribution
Adam Laxalt
2018 Annual CE Filing
Terry H. Gough
5/23/2017
$250.00
Monetary Contribution
Adam Laxalt
2018 Annual CE Filing
Terry H. Gough
6/20/2017
$250.00
Monetary Contribution
Adam Laxalt
2018 Annual CE Filing
Terry H. Gough
2/19/2018
$500.00
Monetary Contribution
Adam Laxalt
2018 CE Report 1
Terry K. Graves
4/10/2018
$500.00
Monetary Contribution
Adam Laxalt
2018 CE Report 1
Terry K. Graves
5/26/2017
$500.00
Monetary Contribution
Adam Laxalt
2018 Annual CE Filing
Terry K. Graves
12/15/2015
$1,000.00
Monetary Contribution
Adam Laxalt
2016 Annual CE Filing
Terry L. Caudill
4/20/2018
$250.00
Monetary Contribution
Adam Laxalt
2018 CE Report 1
Terry M. Wade
11/3/2017
$250.00
Monetary Contribution
Adam Laxalt
2018 Annual CE Filing
Terry Manley
5/19/2018
$1,000.00
Monetary Contribution
Steve Sisolak
2018 CE Report 2 (Amended)
Terry Miller
11/29/2017
$5,000.00
Monetary Contribution
Steve Sisolak
2018 Annual CE Filing (Amended)
Terry Van Noy
3/21/2018
$1,000.00
Monetary Contribution
Adam Laxalt
2018 CE Report 1
Tew for School Board Trustee
2/26/2018
$1,000.00
Monetary Contribution
Adam Laxalt
2018 CE Report 1
Texas Station Gambling Hall & Hotel
6/20/2017
$5,000.00
Monetary Contribution
Adam Laxalt
2018 Annual CE Filing
Texas Station Gambling Hall & Hotel
11/9/2017
$2,000.00
Monetary Contribution
Adam Laxalt
2018 Annual CE Filing
Texas Station Gambling Hall & Hotel Cage Account
1/31/2018
$10,000.00
Monetary Contribution
Steve Sisolak
2018 CE Report 1 (Amended)
TFA LLC
5/4/2017
$5,000.00
Monetary Contribution
Adam Laxalt
2018 Annual CE Filing
TFA LLC
5/4/2017
$5,000.00
Monetary Contribution
Adam Laxalt
2018 Annual CE Filing
TFH LLC
3/9/2018
$5,000.00
Monetary Contribution
Adam Laxalt
2018 CE Report 1
TFH LLC
3/9/2018
$5,000.00
Monetary Contribution
Adam Laxalt
2018 CE Report 1
TGIG, LLC
5/25/2016
$1,000.00
Monetary Contribution
Steve Sisolak
2016 CE Report 2
TGIG, LLC
10/18/2016
$1,000.00
Monetary Contribution
Steve Sisolak
2016 CE Report 4
TGIG, LLC
10/16/2016
$500.00
Monetary Contribution
Steve Sisolak
2016 CE Report 4
TGIG, LLC
10/17/2016
$1,000.00
Monetary Contribution
Steve Sisolak
2016 CE Report 4
Thad White
6/6/2018
$100.00
Monetary Contribution
Steve Sisolak
2018 CE Report 2 (Amended)
Tharaldson Hospitality Development
7/27/2017
$10,000.00
Monetary Contribution
Steve Sisolak
2018 Annual CE Filing (Amended)
Thatcher Dilley
7/20/2017
$250.00
Monetary Contribution
Steve Sisolak
2018 Annual CE Filing (Amended)
Thatcher Dilley
4/15/2015
$250.00
Monetary Contribution
Steve Sisolak
2016 Annual CE Filing
Thatcher Dilley
4/11/2016
$200.00
Monetary Contribution
Steve Sisolak
2016 CE Report 1
THC Nevada, LLC
12/22/2015
$2,500.00
Monetary Contribution
Steve Sisolak
2016 Annual CE Filing
THC Nevada, LLC
5/19/2018
$4,000.00
Monetary Contribution
Steve Sisolak
2018 CE Report 2 (Amended)
The Anschutz Corporation
1/13/2017
$5,000.00
Monetary Contribution
Adam Laxalt
2018 Annual CE Filing
The Anschutz Corporation
1/13/2017
$5,000.00
Monetary Contribution
Adam Laxalt
2018 Annual CE Filing
The Atkins North America Holding Corporation PAC
3/29/2016
$2,000.00
Monetary Contribution
Steve Sisolak
2016 CE Report 1
The Atkins North America Holding Corporation PAC
8/16/2017
$1,500.00
Monetary Contribution
Steve Sisolak
2018 Annual CE Filing (Amended)
The Big Teton II, LLC
6/1/2016
$500.00
Monetary Contribution
Steve Sisolak
2016 CE Report 2
The Cambridge Investment Group LLC
3/12/2018
$5,000.00
Monetary Contribution
Adam Laxalt
2018 CE Report 1
The Cambridge Investment Group LLC
3/12/2018
$5,000.00
Monetary Contribution
Adam Laxalt
2018 CE Report 1
The Clinic Nevada LLC
12/15/2015
$2,500.00
Monetary Contribution
Steve Sisolak
2016 Annual CE Filing
The Club at Rock Creek
5/29/2018
$10,000.00
Monetary Contribution
Steve Sisolak
2018 CE Report 2 (Amended)
The Coffee Mug
6/4/2018
$500.00
In Kind Contribution
Adam Laxalt
2018 CE Report 2
The Compound LLC dba Machine Guns Vegas
11/24/2015
$2,000.00
Monetary Contribution
Steve Sisolak
2016 Annual CE Filing
The Compound LLC dba Machine Guns Vegas
10/17/2017
$2,500.00
Monetary Contribution
Steve Sisolak
2018 Annual CE Filing (Amended)
The Compound LLC dba Machine Guns Vegas
12/7/2017
$1,000.00
Monetary Contribution
Adam Laxalt
2018 Annual CE Filing
The Elm Group Inc.
7/23/2015
$5,000.00
Monetary Contribution
Steve Sisolak
2016 Annual CE Filing
The Ferraro Group
11/5/2016
$1,000.00
Monetary Contribution
Steve Sisolak
2016 CE Report 5 (Amended)
The Forever Green Trust
11/2/2017
$2,500.00
Monetary Contribution
Steve Sisolak
2018 Annual CE Filing (Amended)
The Griffin Company LLC
8/19/2015
$2,500.00
Monetary Contribution
Steve Sisolak
2016 Annual CE Filing
The Grove
9/25/2017
$5,000.00
Monetary Contribution
Steve Sisolak
2018 Annual CE Filing (Amended)
The Gubler Family Trust
11/2/2016
$500.00
Monetary Contribution
Steve Sisolak
2016 CE Report 4
The Jewelers Inc.
2/18/2016
$1,500.00
Monetary Contribution
Steve Sisolak
2016 CE Report 1
The Katbird Company LP
6/7/2017
$1,000.00
Monetary Contribution
Adam Laxalt
2018 Annual CE Filing
The Korte Company
11/8/2016
$500.00
Monetary Contribution
Steve Sisolak
2016 CE Report 5 (Amended)
The Lamar Companies
3/16/2018
$500.00
Monetary Contribution
Steve Sisolak
2018 CE Report 1 (Amended)
The Laughton Company
2/23/2018
$350.00
Monetary Contribution
Adam Laxalt
2018 CE Report 1
The Law Firm of Herb Santos Jr.
11/9/2017
$1,000.00
Monetary Contribution
Adam Laxalt
2018 Annual CE Filing
The Lee Living Trust
6/29/2017
$10,000.00
Monetary Contribution
Steve Sisolak
2018 Annual CE Filing (Amended)
The Lee Living Trust
5/7/2015
$10,000.00
Monetary Contribution
Steve Sisolak
2016 Annual CE Filing
The Leslie Jeffe Trust
2/27/2018
$500.00
Monetary Contribution
Steve Sisolak
2018 CE Report 1 (Amended)
The Lincoln Club of San Diego County
12/22/2017
$4,500.00
Monetary Contribution
Adam Laxalt
2018 Annual CE Filing
The Lincoln Club of San Diego County
1/5/2018
$500.00
Monetary Contribution
Adam Laxalt
2018 CE Report 1
The Lincoln Club of San Diego County
1/5/2018
$2,000.00
Monetary Contribution
Adam Laxalt
2018 CE Report 1
The Lionel Trust
4/16/2018
$1,000.00
Monetary Contribution
Steve Sisolak
2018 CE Report 1 (Amended)
The Lionel Trust
6/27/2017
$1,500.00
Monetary Contribution
Steve Sisolak
2018 Annual CE Filing (Amended)
The Lionel Trust, Samuel S. Lionel, Trustee
9/23/2016
$1,000.00
Monetary Contribution
Steve Sisolak
2016 CE Report 3
The Lodge
11/20/2017
$1,000.00
Monetary Contribution
Steve Sisolak
2018 Annual CE Filing (Amended)
The Lodge at Cactus
12/22/2016
$4,000.00
Monetary Contribution
Steve Sisolak
2016 CE Report 5 (Amended)
The Marlon Family Trust
5/6/2015
$5,000.00
Monetary Contribution
Steve Sisolak
2016 Annual CE Filing
The Marlon Family Trust
8/11/2016
$5,000.00
Monetary Contribution
Steve Sisolak
2016 CE Report 3
The Marlon Family Trust
7/19/2017
$5,000.00
Monetary Contribution
Steve Sisolak
2018 Annual CE Filing (Amended)
The Marshall Retail Group LLC
2/1/2018
$5,000.00
Monetary Contribution
Steve Sisolak
2018 CE Report 1 (Amended)
The Marshall Retail Group LLC
9/30/2015
$10,000.00
Monetary Contribution
Steve Sisolak
2016 Annual CE Filing
The Medmen of Nevada 2 LLC
10/9/2017
$10,000.00
Monetary Contribution
Steve Sisolak
2018 Annual CE Filing (Amended)
The Michael J. Signorelli Rev. Trust
4/19/2018
$750.00
Monetary Contribution
Steve Sisolak
2018 CE Report 1 (Amended)
The Milan T Trust
6/25/2015
$1,000.00
Monetary Contribution
Steve Sisolak
2016 Annual CE Filing
The Mirage Hotel & Casino
3/22/2016
$10,000.00
Monetary Contribution
Steve Sisolak
2016 CE Report 1
The Orleans Hotel & Casino
7/30/2015
$5,000.00
Monetary Contribution
Steve Sisolak
2016 Annual CE Filing
The Orleans Hotel & Casino
3/20/2018
$1,000.00
Monetary Contribution
Steve Sisolak
2018 CE Report 1 (Amended)
The Orleans Hotel & Casino
2/22/2018
$2,500.00
Monetary Contribution
Steve Sisolak
2018 CE Report 1 (Amended)
The Orleans Hotel & Casino
5/9/2018
$5,000.00
Monetary Contribution
Adam Laxalt
2018 CE Report 1
The Orleans Hotel & Casino
11/27/2017
$5,000.00
Monetary Contribution
Adam Laxalt
2018 Annual CE Filing
The Perkins Company
11/5/2016
$1,000.00
Monetary Contribution
Steve Sisolak
2016 CE Report 5 (Amended)
The Plaster Family Trust
10/18/2016
$5,000.00
Monetary Contribution
Steve Sisolak
2016 CE Report 4
The Presidential Coalition LLC
4/2/2018
$5,000.00
Monetary Contribution
Adam Laxalt
2018 CE Report 1
The Shaboogeez Trust
5/5/2015
$2,000.00
Monetary Contribution
Steve Sisolak
2016 Annual CE Filing
The Siegel Group
11/12/2017
$10,000.00
Monetary Contribution
Steve Sisolak
2018 Annual CE Filing (Amended)
The Siegel Group Nevada, Inc.
8/14/2015
$2,500.00
Monetary Contribution
Steve Sisolak
2016 Annual CE Filing
The Signature Condominiums LLC
12/20/2017
$10,000.00
Monetary Contribution
Steve Sisolak
2018 Annual CE Filing (Amended)
The SS Separate Property Trust
12/8/2017
$1,000.00
Monetary Contribution
Steve Sisolak
2018 Annual CE Filing (Amended)
The Tiberti Company
7/23/2015
$1,250.00
Monetary Contribution
Steve Sisolak
2016 Annual CE Filing
The Tiberti Company
10/24/2016
$1,000.00
Monetary Contribution
Steve Sisolak
2016 CE Report 4
The Vaccine Center
10/4/2017
$1,000.00
Monetary Contribution
Steve Sisolak
2018 Annual CE Filing (Amended)
The Vince Group Inc.
11/16/2017
$1,000.00
Monetary Contribution
Adam Laxalt
2018 Annual CE Filing
The William D. Lynch Company
12/6/2017
$5,000.00
Monetary Contribution
Adam Laxalt
2018 Annual CE Filing
The Woodbury Family Trust
11/1/2015
$500.00
Monetary Contribution
Steve Sisolak
2016 Annual CE Filing
The702Firm
1/24/2018
$5,000.00
Monetary Contribution
Steve Sisolak
2018 CE Report 1 (Amended)
Theodore & Cheryl Lachowicz
4/26/2016
$2,000.00
Monetary Contribution
Steve Sisolak
2016 CE Report 1
Theodore B. Olson
7/14/2017
$2,500.00
Monetary Contribution
Adam Laxalt
2018 Annual CE Filing
Theodore G. Arbuckle
6/1/2018
$100.00
Monetary Contribution
Adam Laxalt
2018 CE Report 2
Theresa Dawn Gibbons
4/19/2018
$99.00
Monetary Contribution
Adam Laxalt
2018 CE Report 1
Thomas & Cinthia Mizzone
7/15/2015
$2,500.00
Monetary Contribution
Steve Sisolak
2016 Annual CE Filing
Thomas & EC Kerestesi
3/2/2016
$250.00
Monetary Contribution
Steve Sisolak
2016 CE Report 1
Thomas & Mack Company
4/25/2016
$5,000.00
Monetary Contribution
Steve Sisolak
2016 CE Report 1
Thomas & Mack Company
6/1/2015
$2,500.00
Monetary Contribution
Steve Sisolak
2016 Annual CE Filing
Thomas & Mack Company
7/19/2017
$5,000.00
Monetary Contribution
Steve Sisolak
2018 Annual CE Filing (Amended)
Thomas & Mack Company
8/30/2017
$5,000.00
Monetary Contribution
Adam Laxalt
2018 Annual CE Filing
Thomas Albert Bath
6/12/2017
$150.00
Monetary Contribution
Adam Laxalt
2018 Annual CE Filing
Thomas Bruce Regenhard
11/13/2017
$100.00
Monetary Contribution
Adam Laxalt
2018 Annual CE Filing
Thomas Bruce Regenhard
2/16/2018
$100.00
Monetary Contribution
Adam Laxalt
2018 CE Report 1
Thomas Czyz
5/18/2018
$5,000.00
Monetary Contribution
Adam Laxalt
2018 CE Report 1
Thomas D. Lynch
4/19/2018
$200.00
Monetary Contribution
Adam Laxalt
2018 CE Report 1
Thomas Dillard
12/26/2017
$100.00
Monetary Contribution
Steve Sisolak
2018 Annual CE Filing (Amended)
Thomas E. Killeen
4/19/2018
$250.00
Monetary Contribution
Adam Laxalt
2018 CE Report 1
Thomas F. Guanci
3/16/2018
$2,000.00
Monetary Contribution
Adam Laxalt
2018 CE Report 1
Thomas F. Riley
4/20/2017
$50.00
Monetary Contribution
Adam Laxalt
2018 Annual CE Filing
Thomas F. Riley
11/16/2017
$100.00
Monetary Contribution
Adam Laxalt
2018 Annual CE Filing
Thomas F. Riley
2/23/2018
$50.00
Monetary Contribution
Adam Laxalt
2018 CE Report 1
Thomas F. Riley
4/12/2018
$100.00
Monetary Contribution
Adam Laxalt
2018 CE Report 1
Thomas Gallagher
5/9/2018
$2,000.00
Monetary Contribution
Steve Sisolak
2018 CE Report 1 (Amended)
Thomas H. Hillery
5/5/2017
$100.00
Monetary Contribution
Adam Laxalt
2018 Annual CE Filing
Thomas J. Colby
11/9/2017
$250.00
Monetary Contribution
Adam Laxalt
2018 Annual CE Filing
thomas kaplan
10/22/2017
$1,000.00
Monetary Contribution
Steve Sisolak
2018 Annual CE Filing (Amended)
Thomas Keck
5/14/2018
$50.00
Monetary Contribution
Steve Sisolak
2018 CE Report 1 (Amended)
Thomas L Belaustegui
5/17/2017
$100.00
Monetary Contribution
Adam Laxalt
2018 Annual CE Filing
Thomas L. Enos
11/9/2017
$1,000.00
Monetary Contribution
Adam Laxalt
2018 Annual CE Filing
Thomas L. Enos
11/9/2017
$1,000.00
Monetary Contribution
Adam Laxalt
2018 Annual CE Filing
Thomas L. Enos
4/28/2017
$500.00
Monetary Contribution
Adam Laxalt
2018 Annual CE Filing
Thomas L. Enos
5/26/2017
$2,000.00
Monetary Contribution
Adam Laxalt
2018 Annual CE Filing
Thomas L. Enos
5/15/2018
$500.00
Monetary Contribution
Adam Laxalt
2018 CE Report 1
Thomas L. Enos
5/15/2018
$2,000.00
Monetary Contribution
Adam Laxalt
2018 CE Report 1
Thomas Lund
7/5/2017
$500.00
Monetary Contribution
Adam Laxalt
2018 Annual CE Filing
Thomas Lund
4/12/2018
$1,000.00
Monetary Contribution
Adam Laxalt
2018 CE Report 1
Thomas M Arlt
12/25/2015
$200.00
Monetary Contribution
Steve Sisolak
2016 Annual CE Filing
Thomas M. Friel
11/9/2017
$2,500.00
Monetary Contribution
Adam Laxalt
2018 Annual CE Filing
Thomas McCurry
4/20/2018
$100.00
Monetary Contribution
Adam Laxalt
2018 CE Report 1
Thomas McDonald
3/2/2018
$500.00
Monetary Contribution
Adam Laxalt
2018 CE Report 1
Thomas Michael Vadnais
2/27/2018
$50.00
Monetary Contribution
Adam Laxalt
2018 CE Report 1
Thomas Moran
5/25/2018
$100.00
Monetary Contribution
Adam Laxalt
2018 CE Report 2
Thomas Neil Carmena
4/13/2018
$50.00
Monetary Contribution
Adam Laxalt
2018 CE Report 1
Thomas P. Keating
11/9/2017
$250.00
Monetary Contribution
Adam Laxalt
2018 Annual CE Filing
Thomas Pitaro
10/24/2016
$500.00
Monetary Contribution
Steve Sisolak
2016 CE Report 4
Thomas R. Conklin
6/4/2018
$200.00
Monetary Contribution
Adam Laxalt
2018 CE Report 2
Thomas R. Moore
2/23/2018
$100.00
Monetary Contribution
Adam Laxalt
2018 CE Report 1
Thomas R. Moore
7/21/2017
$50.00
Monetary Contribution
Adam Laxalt
2018 Annual CE Filing
Thomas R. Moore
11/27/2017
$100.00
Monetary Contribution
Adam Laxalt
2018 Annual CE Filing
Thomas R. Reviglio
1/9/2017
$2,500.00
Monetary Contribution
Adam Laxalt
2018 Annual CE Filing
Thomas R. Reviglio
4/24/2017
$500.00
Monetary Contribution
Adam Laxalt
2018 Annual CE Filing
Thomas R. Reviglio
5/26/2017
$2,000.00
Monetary Contribution
Adam Laxalt
2018 Annual CE Filing
Thomas R. Reviglio
5/26/2017
$500.00
Monetary Contribution
Adam Laxalt
2018 Annual CE Filing
Thomas R. Reviglio
11/9/2017
$500.00
Monetary Contribution
Adam Laxalt
2018 Annual CE Filing
Thomas R. Reviglio
12/15/2017
$2,000.00
Monetary Contribution
Adam Laxalt
2018 Annual CE Filing
Thomas R. Reviglio
4/5/2018
$1,000.00
Monetary Contribution
Adam Laxalt
2018 CE Report 1
Thomas Rastin
12/6/2017
$5,000.00
Monetary Contribution
Adam Laxalt
2018 Annual CE Filing
Thomas Rastin
12/6/2017
$5,000.00
Monetary Contribution
Adam Laxalt
2018 Annual CE Filing
Thomas Thomas
5/22/2015
$1,000.00
Monetary Contribution
Steve Sisolak
2016 Annual CE Filing
Thomas Thomas
8/28/2017
$2,000.00
Monetary Contribution
Steve Sisolak
2018 Annual CE Filing (Amended)
Thomas Thomas
2/28/2018
$2,500.00
Monetary Contribution
Adam Laxalt
2018 CE Report 1
Thomas W. Sudberry
11/29/2017
$500.00
Monetary Contribution
Adam Laxalt
2018 Annual CE Filing
Thurbert E. Baker
1/23/2015
$500.00
Monetary Contribution
Adam Laxalt
2016 Annual CE Filing
Tiffany S. East
11/1/2017
$100.00
Monetary Contribution
Adam Laxalt
2018 Annual CE Filing
Tiffany Square
12/16/2016
$1,000.00
Monetary Contribution
Adam Laxalt
2017 Annual CE Filing
Tillio Olcese
3/8/2018
$250.00
Monetary Contribution
Adam Laxalt
2018 CE Report 1
Tim Duvall
11/1/2017
$100.00
Monetary Contribution
Adam Laxalt
2018 Annual CE Filing
Tim Garon
3/27/2018
$1,000.00
Monetary Contribution
Adam Laxalt
2018 CE Report 1
Tim Macy
11/1/2017
$50.00
Monetary Contribution
Adam Laxalt
2018 Annual CE Filing
Tim Soder Physical Therapy & Sports Rehab
2/17/2016
$500.00
Monetary Contribution
Steve Sisolak
2016 CE Report 1
Timbers Hospitality Group
10/30/2017
$1,000.00
Monetary Contribution
Steve Sisolak
2018 Annual CE Filing (Amended)
Timothy & Denise Cashman Revocable Trust
3/2/2016
$1,000.00
Monetary Contribution
Steve Sisolak
2016 CE Report 1
Timothy A. Janiga
4/19/2018
$500.00
Monetary Contribution
Adam Laxalt
2018 CE Report 1
Timothy E Docter
4/17/2017
$100.00
Monetary Contribution
Adam Laxalt
2018 Annual CE Filing
Timothy E Docter
11/1/2017
$50.00
Monetary Contribution
Adam Laxalt
2018 Annual CE Filing
TIMOTHY HOPE
11/5/2017
$60.00
Monetary Contribution
Adam Laxalt
2018 Annual CE Filing
Timothy J McGarry
8/18/2016
$500.00
Monetary Contribution
Steve Sisolak
2016 CE Report 3
Timothy J. McGarry
3/12/2016
$500.00
Monetary Contribution
Steve Sisolak
2016 CE Report 1
Timothy J. McGarry
8/7/2017
$1,000.00
Monetary Contribution
Steve Sisolak
2018 Annual CE Filing (Amended)
Timothy Jefferson
5/15/2018
$50.00
Monetary Contribution
Steve Sisolak
2018 CE Report 1 (Amended)
Timothy M. Dyhr
3/2/2018
$50.00
Monetary Contribution
Adam Laxalt
2018 CE Report 1
Timothy M. Dyhr
11/28/2017
$200.00
Monetary Contribution
Adam Laxalt
2018 Annual CE Filing
Timothy McGarry
5/25/2015
$500.00
Monetary Contribution
Steve Sisolak
2016 Annual CE Filing
Timothy Morse
2/25/2016
$500.00
Monetary Contribution
Steve Sisolak
2016 CE Report 1
Timothy Morse
10/17/2017
$1,000.00
Monetary Contribution
Steve Sisolak
2018 Annual CE Filing (Amended)
Timothy N Poster
5/11/2017
$4,000.00
Monetary Contribution
Adam Laxalt
2018 Annual CE Filing
Timothy N Poster
5/11/2017
$1,000.00
Monetary Contribution
Adam Laxalt
2018 Annual CE Filing
Timothy N Poster
11/8/2017
$4,000.00
Monetary Contribution
Adam Laxalt
2018 Annual CE Filing
Timothy Poster
12/15/2015
$1,000.00
Monetary Contribution
Adam Laxalt
2016 Annual CE Filing
Timothy Schick
2/17/2018
$1,000.00
Monetary Contribution
Steve Sisolak
2018 CE Report 1 (Amended)
Timothy Schick
10/28/2015
$1,000.00
Monetary Contribution
Steve Sisolak
2016 Annual CE Filing
Tina T. Bird-Domaracki
3/14/2018
$2,500.00
Monetary Contribution
Adam Laxalt
2018 CE Report 1
Tio S Difederico Real Estate
7/27/2017
$250.00
Monetary Contribution
Steve Sisolak
2018 Annual CE Filing (Amended)
Tio S Difederico Real Estate Appraisal Inc.
4/29/2016
$100.00
Monetary Contribution
Steve Sisolak
2016 CE Report 1
Titan Electrical Contracting
4/20/2017
$1,000.00
Monetary Contribution
Adam Laxalt
2018 Annual CE Filing
Titan Systems Inc.
3/21/2018
$5,000.00
Monetary Contribution
Steve Sisolak
2018 CE Report 1 (Amended)
TITLEMAX Carrollton
12/15/2015
$5,000.00
Monetary Contribution
Adam Laxalt
2016 Annual CE Filing
TitleMax Savannah
1/15/2015
$5,000.00
Monetary Contribution
Adam Laxalt
2016 Annual CE Filing
Tito Tiberti
3/20/2018
$2,000.00
Monetary Contribution
Steve Sisolak
2018 CE Report 1 (Amended)
Tito Tiberti
7/22/2015
$1,000.00
Monetary Contribution
Steve Sisolak
2016 Annual CE Filing
Tito Tiberti
12/16/2016
$2,500.00
Monetary Contribution
Adam Laxalt
2017 Annual CE Filing
TJ Fechser Seperate Property Trust
9/22/2016
$10,000.00
Monetary Contribution
Steve Sisolak
2016 CE Report 3
TJ Simple CBOA LLC
12/29/2015
$10,000.00
Monetary Contribution
Steve Sisolak
2016 Annual CE Filing
TJ Simple CBOA, LLC
9/25/2017
$10,000.00
Monetary Contribution
Steve Sisolak
2018 Annual CE Filing (Amended)
Toby M. McEvoy
11/15/2017
$200.00
Monetary Contribution
Adam Laxalt
2018 Annual CE Filing
Today's Realty Inc.
5/7/2018
$5,000.00
Monetary Contribution
Adam Laxalt
2018 CE Report 1
Today's Realty Inc.
5/7/2018
$5,000.00
Monetary Contribution
Adam Laxalt
2018 CE Report 1
Todd Leany
12/6/2017
$1,000.00
Monetary Contribution
Steve Sisolak
2018 Annual CE Filing (Amended)
Todd Leavitt
5/17/2018
$500.00
Monetary Contribution
Adam Laxalt
2018 CE Report 1
Todd Marshall
3/6/2018
$10,000.00
Monetary Contribution
Steve Sisolak
2018 CE Report 1 (Amended)
Todd Marshall
10/19/2015
$10,000.00
Monetary Contribution
Steve Sisolak
2016 Annual CE Filing
Toft Commercial Real Estate Inc.
10/16/2016
$1,250.00
Monetary Contribution
Steve Sisolak
2016 CE Report 4
Tom Breitling
12/13/2017
$1,000.00
Monetary Contribution
Adam Laxalt
2018 Annual CE Filing
Tom C. Korologos
12/13/2017
$500.00
Monetary Contribution
Adam Laxalt
2018 Annual CE Filing
Tom Cluff
5/26/2018
$50.00
Monetary Contribution
Steve Sisolak
2018 CE Report 2 (Amended)
Tom Gioia
6/7/2018
$2,500.00
Monetary Contribution
Adam Laxalt
2018 CE Report 2
Tom O'Gara
12/4/2017
$100.00
Monetary Contribution
Adam Laxalt
2018 Annual CE Filing
Tom Thomas
5/24/2018
$1,000.00
Monetary Contribution
Adam Laxalt
2018 CE Report 2
Tom Tighe
3/9/2018
$100.00
Monetary Contribution
Adam Laxalt
2018 CE Report 1
Tomlinson Law Group PLLC
12/17/2015
$500.00
Monetary Contribution
Steve Sisolak
2016 Annual CE Filing
Tompkins Plaza LLC
1/1/2015
$1,000.00
Monetary Contribution
Steve Sisolak
2016 Annual CE Filing
Tompkins Plaza LLC
5/19/2015
$2,000.00
Monetary Contribution
Steve Sisolak
2016 Annual CE Filing
Tompkins Plaza LLC
11/26/2017
$1,000.00
Monetary Contribution
Steve Sisolak
2018 Annual CE Filing (Amended)
Toni Stephenson
12/5/2016
$5,000.00
Monetary Contribution
Adam Laxalt
2017 Annual CE Filing
Toni Stephenson
12/5/2016
$5,000.00
Monetary Contribution
Adam Laxalt
2017 Annual CE Filing
Tony Tegano
2/22/2018
$500.00
Monetary Contribution
Steve Sisolak
2018 CE Report 1 (Amended)
Tony Tegano
11/29/2017
$500.00
Monetary Contribution
Steve Sisolak
2018 Annual CE Filing (Amended)
Tony Tipton
11/5/2017
$100.00
Monetary Contribution
Adam Laxalt
2018 Annual CE Filing
Toots LP
4/12/2018
$5,000.00
Monetary Contribution
Adam Laxalt
2018 CE Report 1
Toots LP
4/12/2018
$5,000.00
Monetary Contribution
Adam Laxalt
2018 CE Report 1
Top Golf USA Inc.
2/22/2018
$5,000.00
Monetary Contribution
Steve Sisolak
2018 CE Report 1 (Amended)
Topmmy Rocker
1/31/2018
$100.00
Monetary Contribution
Steve Sisolak
2018 CE Report 1 (Amended)
Torben Scholer
12/14/2017
$500.00
Monetary Contribution
Steve Sisolak
2018 Annual CE Filing (Amended)
Torben Scholer
4/12/2016
$750.00
Monetary Contribution
Steve Sisolak
2016 CE Report 1
Torben Scholer
4/12/2016
$350.00
Monetary Contribution
Steve Sisolak
2016 CE Report 1
Touchstone Living Inc.
5/25/2016
$2,000.00
Monetary Contribution
Steve Sisolak
2016 CE Report 2
Touchstone Living, Inc.
2/1/2018
$10,000.00
Monetary Contribution
Steve Sisolak
2018 CE Report 1 (Amended)
Towbin Dodge Ram Superstore
10/24/2016
$2,000.00
Monetary Contribution
Steve Sisolak
2016 CE Report 4
Tracy Eglet
1/24/2018
$100.00
In Kind Contribution
Steve Sisolak
2018 CE Report 1 (Amended)
Tracy M Crane
11/9/2016
$5,000.00
Monetary Contribution
Adam Laxalt
2017 Annual CE Filing
Tracy M Crane
11/9/2016
$5,000.00
Monetary Contribution
Adam Laxalt
2017 Annual CE Filing
Tracy Muscari
3/5/2018
$250.00
Monetary Contribution
Adam Laxalt
2018 CE Report 1
Tradewinds Construction
10/30/2017
$500.00
Monetary Contribution
Adam Laxalt
2018 Annual CE Filing
Tradewinds Construction
12/31/2017
$1,000.00
Monetary Contribution
Adam Laxalt
2018 Annual CE Filing
Transcontinental Realty Investors Inc.
4/19/2017
$5,000.00
Monetary Contribution
Steve Sisolak
2018 Annual CE Filing (Amended)
Travis Brady
11/30/2017
$2,000.00
Monetary Contribution
Steve Sisolak
2018 Annual CE Filing (Amended)
Travis Brady
5/26/2017
$5,000.00
Monetary Contribution
Adam Laxalt
2018 Annual CE Filing
Travis Brady
11/30/2017
$5,000.00
Monetary Contribution
Adam Laxalt
2018 Annual CE Filing
Treasure Island
4/3/2017
$5,000.00
Monetary Contribution
Adam Laxalt
2018 Annual CE Filing
Treasure Island
4/3/2017
$5,000.00
Monetary Contribution
Adam Laxalt
2018 Annual CE Filing
Trevor C. Rowley
2/23/2018
$500.00
Monetary Contribution
Adam Laxalt
2018 CE Report 1
Trevor Hartzell
5/3/2018
$500.00
Monetary Contribution
Adam Laxalt
2018 CE Report 1
Trinity Industries Employee PAC
12/18/2017
$3,000.00
Monetary Contribution
Adam Laxalt
2018 Annual CE Filing
Trinity Industries Inc.
2/6/2015
$1,000.00
Monetary Contribution
Adam Laxalt
2016 Annual CE Filing
Trisha R. Black Chernine
12/17/2015
$1,000.00
Monetary Contribution
Steve Sisolak
2016 Annual CE Filing
Triton Management Services LLC
9/8/2017
$2,500.00
Monetary Contribution
Adam Laxalt
2018 Annual CE Filing
Trop Auto 1.1AC LLC
3/22/2018
$2,000.00
Monetary Contribution
Steve Sisolak
2018 CE Report 1 (Amended)
Trop Auto 1.1AC LLC
12/16/2016
$3,000.00
Monetary Contribution
Adam Laxalt
2017 Annual CE Filing
Trop Auto 1.1AC, LLC
7/22/2015
$2,000.00
Monetary Contribution
Steve Sisolak
2016 Annual CE Filing
Tropicana Animal Hospital
12/1/2016
$5,000.00
Monetary Contribution
Adam Laxalt
2017 Annual CE Filing
Tropicana Animal Hospital
12/1/2016
$5,000.00
Monetary Contribution
Adam Laxalt
2017 Annual CE Filing
Tropicana Las Vegas Inc.
12/21/2015
$5,000.00
Monetary Contribution
Steve Sisolak
2016 Annual CE Filing
Tropicana Las Vegas Inc.
1/20/2018
$5,000.00
Monetary Contribution
Steve Sisolak
2018 CE Report 1 (Amended)
Tropicana Veterinary Clinic Ltd.
3/3/2016
$10,000.00
Monetary Contribution
Steve Sisolak
2016 CE Report 1
Tropicana/Ft. Apache
1/23/2018
$5,000.00
Monetary Contribution
Steve Sisolak
2018 CE Report 1 (Amended)
Troutman Sanders LLP
11/28/2016
$250.00
Monetary Contribution
Adam Laxalt
2017 Annual CE Filing
Troutman Sanders LLP
5/11/2015
$1,000.00
Monetary Contribution
Adam Laxalt
2016 Annual CE Filing
Troy E. Payton
5/29/2018
$100.00
Monetary Contribution
Adam Laxalt
2018 CE Report 2
Troy Gillespie
5/14/2018
$2,500.00
Monetary Contribution
Adam Laxalt
2018 CE Report 1
Tru Development LLC
7/6/2017
$2,000.00
Monetary Contribution
Steve Sisolak
2018 Annual CE Filing (Amended)
Tru-West Development Inc.
3/2/2018
$500.00
Monetary Contribution
Steve Sisolak
2018 CE Report 1 (Amended)
Tru-West Development Inc.
12/23/2015
$2,500.00
Monetary Contribution
Steve Sisolak
2016 Annual CE Filing
True Botanic Inc
4/27/2018
$1,500.00
Monetary Contribution
Steve Sisolak
2018 CE Report 1 (Amended)
True Botanic Inc.
1/22/2018
$2,500.00
Monetary Contribution
Steve Sisolak
2018 CE Report 1 (Amended)
True Botanic Inc.
1/22/2018
$1,000.00
Monetary Contribution
Steve Sisolak
2018 CE Report 1 (Amended)
TruGreen
8/10/2017
$2,500.00
Monetary Contribution
Adam Laxalt
2018 Annual CE Filing
TruGreen
8/10/2017
$5,000.00
Monetary Contribution
Adam Laxalt
2018 Annual CE Filing
TruGreen
4/21/2016
$2,500.00
Monetary Contribution
Adam Laxalt
2017 Annual CE Filing
Truman Passmore
6/1/2018
$50.00
Monetary Contribution
Adam Laxalt
2018 CE Report 2
Tryke Companies Reno LLC
5/3/2018
$3,000.00
Monetary Contribution
Steve Sisolak
2018 CE Report 1 (Amended)
Tryke Companies So. NV, LLC
11/17/2017
$5,000.00
Monetary Contribution
Steve Sisolak
2018 Annual CE Filing (Amended)
Tryke Companies So. NV. LLC
8/14/2015
$10,000.00
Monetary Contribution
Steve Sisolak
2016 Annual CE Filing
Tryke Industries
11/16/2017
$5,000.00
Monetary Contribution
Steve Sisolak
2018 Annual CE Filing (Amended)
TSK
9/12/2017
$2,500.00
Monetary Contribution
Steve Sisolak
2018 Annual CE Filing (Amended)
TSK
11/2/2016
$2,000.00
Monetary Contribution
Steve Sisolak
2016 CE Report 4
TSPT Tim Soder Physical Therapy Wellness and Sports Performance
10/25/2017
$500.00
Monetary Contribution
Steve Sisolak
2018 Annual CE Filing (Amended)
TSPT Tim Soder Physical Therapy Wellness and Sports Performance
10/25/2017
$500.00
Monetary Contribution
Steve Sisolak
2018 Annual CE Filing (Amended)
TSR Payables LLC paymaster for Eldorado Resorts Corp.
12/17/2015
$2,000.00
Monetary Contribution
Steve Sisolak
2016 Annual CE Filing
TSR Payables LLC Paymaster for The Berkley Group Inc.
10/12/2017
$2,000.00
Monetary Contribution
Steve Sisolak
2018 Annual CE Filing (Amended)
Tuan N. Nguyen
11/1/2017
$100.00
Monetary Contribution
Adam Laxalt
2018 Annual CE Filing
TVH LLC
5/4/2017
$5,000.00
Monetary Contribution
Adam Laxalt
2018 Annual CE Filing
TVH LLC
5/4/2017
$5,000.00
Monetary Contribution
Adam Laxalt
2018 Annual CE Filing
TWC Construction, Inc.
12/9/2015
$1,000.00
Monetary Contribution
Steve Sisolak
2016 Annual CE Filing
Twin Creeks Farm & Ranch LLC
4/27/2018
$5,000.00
Monetary Contribution
Adam Laxalt
2018 CE Report 1
Twin Creeks Farm & Ranch LLC
4/27/2018
$5,000.00
Monetary Contribution
Adam Laxalt
2018 CE Report 1
Twisted Marketing LLC
5/31/2018
$1,000.00
Monetary Contribution
Steve Sisolak
2018 CE Report 2 (Amended)
Two C Transportation
12/28/2017
$2,000.00
Monetary Contribution
Steve Sisolak
2018 Annual CE Filing (Amended)
Ty Maynarich
6/7/2018
$50.00
Monetary Contribution
Steve Sisolak
2018 CE Report 2 (Amended)
U.S. Ordnance
11/3/2017
$5,000.00
Monetary Contribution
Adam Laxalt
2018 Annual CE Filing
U.S. Ordnance
11/3/2017
$5,000.00
Monetary Contribution
Adam Laxalt
2018 Annual CE Filing
UFCW Western States Council
7/12/2016
$2,500.00
Monetary Contribution
Steve Sisolak
2016 CE Report 3
Ulrika Miyashiro
4/25/2017
$250.00
Monetary Contribution
Adam Laxalt
2018 Annual CE Filing
Ulrika Miyashiro
11/9/2017
$250.00
Monetary Contribution
Adam Laxalt
2018 Annual CE Filing
Ultimate Collision and Repair Center
9/9/2015
$1,500.00
Monetary Contribution
Steve Sisolak
2016 Annual CE Filing
Ultimate Experience LLC
3/30/2016
$100.00
Monetary Contribution
Steve Sisolak
2016 CE Report 1
Umer Z. Malik
11/28/2017
$5,000.00
Monetary Contribution
Steve Sisolak
2018 Annual CE Filing (Amended)
Union Cab LLC
7/21/2017
$2,000.00
Monetary Contribution
Steve Sisolak
2018 Annual CE Filing (Amended)
Union Cab LLC
12/22/2016
$2,000.00
Monetary Contribution
Adam Laxalt
2017 Annual CE Filing
Union Pacific Railroad Company
10/25/2017
$500.00
Monetary Contribution
Adam Laxalt
2018 Annual CE Filing
Unique Builder Co LLC
11/9/2017
$1,000.00
Monetary Contribution
Adam Laxalt
2018 Annual CE Filing
Unique Builder Co LLC
4/10/2018
$1,000.00
Monetary Contribution
Adam Laxalt
2018 CE Report 1
United Construction Company
10/30/2017
$1,000.00
Monetary Contribution
Adam Laxalt
2018 Annual CE Filing
United Health Group Inc
5/31/2018
$5,000.00
Monetary Contribution
Steve Sisolak
2018 CE Report 2 (Amended)
United Health Group Inc.
5/31/2018
$5,000.00
Monetary Contribution
Steve Sisolak
2018 CE Report 2 (Amended)
United Landco LP
9/26/2016
$500.00
Monetary Contribution
Steve Sisolak
2016 CE Report 3
United Nissan
8/22/2017
$10,000.00
Monetary Contribution
Steve Sisolak
2018 Annual CE Filing (Amended)
United Realty Investments LLC
2/24/2016
$5,000.00
Monetary Contribution
Steve Sisolak
2016 CE Report 1
United Warehouse Investment, LP
9/26/2016
$500.00
Monetary Contribution
Steve Sisolak
2016 CE Report 3
UnitedHealth Group
4/21/2016
$1,000.00
Monetary Contribution
Adam Laxalt
2017 Annual CE Filing
UnitedHealth Group Inc
11/17/2015
$1,000.00
Monetary Contribution
Adam Laxalt
2016 Annual CE Filing
UnitedHealth Group Inc
5/18/2018
$3,000.00
Monetary Contribution
Adam Laxalt
2018 CE Report 1
UnitedHealth Group Inc
5/18/2018
$5,000.00
Monetary Contribution
Adam Laxalt
2018 CE Report 1
Universal Electric
5/23/2016
$1,000.00
Monetary Contribution
Steve Sisolak
2016 CE Report 2
Urban Development
9/30/2015
$10,000.00
Monetary Contribution
Steve Sisolak
2016 Annual CE Filing
USAA
3/11/2015
$1,000.00
Monetary Contribution
Adam Laxalt
2016 Annual CE Filing
Val D. Jensen
11/27/2017
$100.00
Monetary Contribution
Adam Laxalt
2018 Annual CE Filing
Valerie Clark
11/9/2017
$250.00
Monetary Contribution
Adam Laxalt
2018 Annual CE Filing
Valerie Clark
5/28/2018
$1,000.00
Monetary Contribution
Adam Laxalt
2018 CE Report 2
Valerie E. Moonin
3/29/2018
$75.00
Monetary Contribution
Adam Laxalt
2018 CE Report 1
Valerie E. Moonin
6/20/2017
$50.00
Monetary Contribution
Adam Laxalt
2018 Annual CE Filing
Valerie Kennedy
2/27/2018
$500.00
Monetary Contribution
Steve Sisolak
2018 CE Report 1 (Amended)
Van Buren Leasing LLC
12/16/2016
$1,500.00
Monetary Contribution
Adam Laxalt
2017 Annual CE Filing
Vance Padelford
2/23/2018
$100.00
Monetary Contribution
Adam Laxalt
2018 CE Report 1
Vance Padelford
5/9/2018
$100.00
Monetary Contribution
Adam Laxalt
2018 CE Report 1
Vazrik A. Makarian
6/23/2016
$500.00
Monetary Contribution
Steve Sisolak
2016 CE Report 3
Vazrik A. Makarian
9/6/2016
$5,000.00
Monetary Contribution
Steve Sisolak
2016 CE Report 3
Vegas - Western Cab LLC
7/21/2017
$2,000.00
Monetary Contribution
Steve Sisolak
2018 Annual CE Filing (Amended)
Vegas - Western Cab LLC
12/22/2016
$2,000.00
Monetary Contribution
Adam Laxalt
2017 Annual CE Filing
Vegas Dogs LLC
3/18/2017
$500.00
Monetary Contribution
Steve Sisolak
2018 Annual CE Filing (Amended)
Vegas Guest Services Inc
12/28/2017
$5,000.00
Monetary Contribution
Adam Laxalt
2018 Annual CE Filing
Vegas Guest Services Inc
12/28/2017
$5,000.00
Monetary Contribution
Adam Laxalt
2018 Annual CE Filing
Vegas Media, Ltd.
9/9/2016
$500.00
Monetary Contribution
Steve Sisolak
2016 CE Report 3
Vegas Specialtees, LLC
5/24/2018
$1,000.00
Monetary Contribution
Steve Sisolak
2018 CE Report 2 (Amended)
Velda Suter
4/9/2018
$50.00
Monetary Contribution
Adam Laxalt
2018 CE Report 1
Venetian Casino Resort
1/19/2016
$10,000.00
Monetary Contribution
Steve Sisolak
2016 CE Report 1
Venetian Casino Resort
5/15/2018
$5,000.00
Monetary Contribution
Adam Laxalt
2018 CE Report 1
Venetian Casino Resort
5/15/2018
$5,000.00
Monetary Contribution
Adam Laxalt
2018 CE Report 1
Verne O. Wellman
11/16/2017
$100.00
Monetary Contribution
Adam Laxalt
2018 Annual CE Filing
Vernice Doyle Strange
2/22/2018
$300.00
Monetary Contribution
Adam Laxalt
2018 CE Report 1
Vernon A. Watts
11/29/2017
$50.00
Monetary Contribution
Adam Laxalt
2018 Annual CE Filing
Vernon P. Lee
10/11/2017
$50.00
Monetary Contribution
Adam Laxalt
2018 Annual CE Filing
Vernon P. Lee
4/6/2018
$50.00
Monetary Contribution
Adam Laxalt
2018 CE Report 1
Vernon P. Lee
2/16/2018
$50.00
Monetary Contribution
Adam Laxalt
2018 CE Report 1
Verville & Associates Inc.
4/2/2018
$500.00
Monetary Contribution
Adam Laxalt
2018 CE Report 1
Vicki M. Hargrove
5/29/2018
$50.00
Monetary Contribution
Adam Laxalt
2018 CE Report 2
Vicki Mazzorana M.D. P.C.
12/14/2017
$5,000.00
Monetary Contribution
Steve Sisolak
2018 Annual CE Filing (Amended)
Vickie A. Scott
12/21/2017
$50.00
Monetary Contribution
Adam Laxalt
2018 Annual CE Filing
Vicky Palivos
6/12/2015
$1,500.00
Monetary Contribution
Steve Sisolak
2016 Annual CE Filing
Victor Fuchs
6/13/2017
$1,000.00
In Kind Contribution
Adam Laxalt
2018 Annual CE Filing
Victor Holderby
4/1/2018
$250.00
Monetary Contribution
Steve Sisolak
2018 CE Report 1 (Amended)
Victor K. Atkins
2/19/2018
$1,000.00
Monetary Contribution
Adam Laxalt
2018 CE Report 1
Victor Onufrieff
5/11/2017
$5,000.00
Monetary Contribution
Adam Laxalt
2018 Annual CE Filing
Victor Onufrieff
6/29/2017
$100.00
Monetary Contribution
Adam Laxalt
2018 Annual CE Filing
Victor Onufrieff
11/9/2017
$500.00
Monetary Contribution
Adam Laxalt
2018 Annual CE Filing
Victor Onufrieff
5/18/2018
$2,500.00
Monetary Contribution
Adam Laxalt
2018 CE Report 1
Victor Orphan
12/17/2017
$100.00
Monetary Contribution
Steve Sisolak
2018 Annual CE Filing (Amended)
Victor Priebe
3/16/2018
$100.00
Monetary Contribution
Adam Laxalt
2018 CE Report 1
Victoria Courtney
6/4/2018
$100.00
Monetary Contribution
Steve Sisolak
2018 CE Report 2 (Amended)
Victoria Fertitta
11/9/2017
$5,000.00
Monetary Contribution
Adam Laxalt
2018 Annual CE Filing
Victoria Fertitta
11/9/2017
$5,000.00
Monetary Contribution
Adam Laxalt
2018 Annual CE Filing
Victoria Fouce Otter
4/24/2018
$1,000.00
Monetary Contribution
Adam Laxalt
2018 CE Report 1
Victoria Rivera
4/10/2018
$500.00
Monetary Contribution
Adam Laxalt
2018 CE Report 1
Victoria S. Tambunting
3/29/2018
$50.00
Monetary Contribution
Steve Sisolak
2018 CE Report 1 (Amended)
Victoria Seaman
11/9/2017
$250.00
Monetary Contribution
Adam Laxalt
2018 Annual CE Filing
Victoria Seaman
12/7/2017
$100.00
Monetary Contribution
Adam Laxalt
2018 Annual CE Filing
Victoria Toensing
7/24/2017
$500.00
Monetary Contribution
Adam Laxalt
2018 Annual CE Filing
Vidler Water Company Inc
10/13/2017
$2,500.00
Monetary Contribution
Adam Laxalt
2018 Annual CE Filing
Vidler Water Company Inc
4/20/2018
$1,000.00
Monetary Contribution
Adam Laxalt
2018 CE Report 1
Vidler Water Company Inc
5/15/2018
$1,000.00
Monetary Contribution
Adam Laxalt
2018 CE Report 1
Viet D. Dinh
10/20/2016
$5,000.00
Monetary Contribution
Adam Laxalt
2017 Annual CE Filing
Viet D. Dinh
10/20/2016
$5,000.00
Monetary Contribution
Adam Laxalt
2017 Annual CE Filing
Viewpointe Professional Office Center
11/1/2017
$2,500.00
Monetary Contribution
Steve Sisolak
2018 Annual CE Filing (Amended)
Viewpointe Professional Office Center
2/1/2016
$500.00
Monetary Contribution
Steve Sisolak
2016 CE Report 1
Viktoriya Tamlenova-Montano
11/11/2017
$250.00
Monetary Contribution
Adam Laxalt
2018 Annual CE Filing
Village Pub Management Inc.
7/16/2015
$5,000.00
Monetary Contribution
Steve Sisolak
2016 Annual CE Filing
Vince Bussio
10/27/2016
$2,500.00
Monetary Contribution
Steve Sisolak
2016 CE Report 4
Vincent A. Rossi
11/9/2017
$2,500.00
Monetary Contribution
Adam Laxalt
2018 Annual CE Filing
Vincent and Eileen Tramonte
3/27/2018
$1,000.00
Monetary Contribution
Adam Laxalt
2018 CE Report 1
Vincent G. Bratton
5/29/2018
$3,000.00
Monetary Contribution
Adam Laxalt
2018 CE Report 2
Vincent L. Schantz
5/29/2018
$50.00
Monetary Contribution
Adam Laxalt
2018 CE Report 2
Virgie Miller
5/17/2018
$1,500.00
Monetary Contribution
Adam Laxalt
2018 CE Report 1
Virgie Miller
5/17/2018
$1,000.00
Monetary Contribution
Adam Laxalt
2018 CE Report 1
Virgie Miller
4/17/2017
$1,000.00
Monetary Contribution
Adam Laxalt
2018 Annual CE Filing
Virgie Miller
11/9/2017
$2,500.00
Monetary Contribution
Adam Laxalt
2018 Annual CE Filing
Virgin Valley Cab LLC
7/21/2017
$2,000.00
Monetary Contribution
Steve Sisolak
2018 Annual CE Filing (Amended)
Virgin Valley Cab LLC
12/22/2016
$2,000.00
Monetary Contribution
Adam Laxalt
2017 Annual CE Filing
Virginia Simmons
5/23/2018
$5,000.00
Monetary Contribution
Adam Laxalt
2018 CE Report 2
Virginia Simmons
5/23/2018
$5,000.00
Monetary Contribution
Adam Laxalt
2018 CE Report 2
Virginia Stickell
11/30/2016
$5,000.00
Monetary Contribution
Adam Laxalt
2017 Annual CE Filing
Virginia Swedenborg
4/16/2018
$50.00
Monetary Contribution
Adam Laxalt
2018 CE Report 1
Virginia Valentine
7/1/2015
$500.00
Monetary Contribution
Steve Sisolak
2016 Annual CE Filing
Visa Smith
11/2/2017
$100.00
Monetary Contribution
Adam Laxalt
2018 Annual CE Filing
Vishvinder Sharma
5/25/2018
$5,000.00
Monetary Contribution
Steve Sisolak
2018 CE Report 2 (Amended)
Viva Media LLC
12/21/2015
$5,000.00
Monetary Contribution
Steve Sisolak
2016 Annual CE Filing
Vivian P. Joy
11/14/2017
$50.00
Monetary Contribution
Adam Laxalt
2018 Annual CE Filing
Vivian P. Joy
2/19/2018
$50.00
Monetary Contribution
Adam Laxalt
2018 CE Report 1
Vlajko Djordjevic
3/29/2018
$5,000.00
In Kind Contribution
Adam Laxalt
2018 CE Report 1
Vlajko Djordjevic
12/15/2017
$5,000.00
Monetary Contribution
Adam Laxalt
2018 Annual CE Filing
Vonna Hlavka
4/11/2017
$50.00
Monetary Contribution
Adam Laxalt
2018 Annual CE Filing
VSL Properties LLC
9/19/2017
$2,500.00
Monetary Contribution
Steve Sisolak
2018 Annual CE Filing (Amended)
Vu Luu
12/6/2017
$2,500.00
Monetary Contribution
Steve Sisolak
2018 Annual CE Filing (Amended)
Vu Luu
2/28/2018
$2,500.00
Monetary Contribution
Steve Sisolak
2018 CE Report 1 (Amended)
Vu Luu MD, Anesthesiology PC
12/17/2015
$500.00
Monetary Contribution
Steve Sisolak
2016 Annual CE Filing
Vu Luu MD, Anesthesiology PC
9/9/2016
$1,000.00
Monetary Contribution
Steve Sisolak
2016 CE Report 3
W. Ben Maze
4/10/2018
$500.00
Monetary Contribution
Adam Laxalt
2018 CE Report 1
W. Rockwell Wirtz
5/17/2018
$5,000.00
Monetary Contribution
Adam Laxalt
2018 CE Report 1
W.A. Richardson Builders, LLC
3/21/2018
$7,351.74
In Kind Contribution
Steve Sisolak
2018 CE Report 1 (Amended)
Wade Alan Stooks
2/16/2018
$500.00
Monetary Contribution
Adam Laxalt
2018 CE Report 1
Wade Sears
12/28/2017
$5,000.00
Monetary Contribution
Adam Laxalt
2018 Annual CE Filing
Wade Sears
12/28/2017
$5,000.00
Monetary Contribution
Adam Laxalt
2018 Annual CE Filing
Wagon Trail 4145 LLC
4/20/2018
$10,000.00
Monetary Contribution
Steve Sisolak
2018 CE Report 1 (Amended)
Wagon Trail 4145 LLC
1/27/2016
$10,000.00
Monetary Contribution
Steve Sisolak
2016 CE Report 1
Wal-Mart Stores Inc.
7/11/2016
$1,000.00
Monetary Contribution
Adam Laxalt
2017 Annual CE Filing
Waldman Inc
9/21/2015
$10,000.00
Monetary Contribution
Steve Sisolak
2016 Annual CE Filing
Walgreen Co.
12/30/2016
$2,500.00
Monetary Contribution
Adam Laxalt
2017 Annual CE Filing
Walgreen Co.
1/19/2015
$5,000.00
Monetary Contribution
Adam Laxalt
2016 Annual CE Filing
Walker Engineering LLC
4/23/2015
$1,000.00
Monetary Contribution
Steve Sisolak
2016 Annual CE Filing
Wallis C. McGhie
4/19/2017
$50.00
Monetary Contribution
Adam Laxalt
2018 Annual CE Filing
Walmart
4/10/2015
$2,500.00
Monetary Contribution
Adam Laxalt
2016 Annual CE Filing
Walsh & Freidman LTD.
11/29/2017
$1,000.00
Monetary Contribution
Steve Sisolak
2018 Annual CE Filing (Amended)
Walsh & Freidman, LTD
1/24/2018
$1,000.00
Monetary Contribution
Steve Sisolak
2018 CE Report 1 (Amended)
Walsh & Friedman, LTD
4/19/2018
$2,500.00
Monetary Contribution
Steve Sisolak
2018 CE Report 1 (Amended)
Walter A. Roskoski
4/18/2018
$100.00
Monetary Contribution
Adam Laxalt
2018 CE Report 1
Walter E. Caron
4/24/2017
$50.00
Monetary Contribution
Adam Laxalt
2018 Annual CE Filing
Walter E. Caron
2/19/2018
$50.00
Monetary Contribution
Adam Laxalt
2018 CE Report 1
Walter Emery
5/16/2017
$2,000.00
Monetary Contribution
Adam Laxalt
2018 Annual CE Filing
Walter Emery
11/30/2017
$2,000.00
Monetary Contribution
Adam Laxalt
2018 Annual CE Filing
Walter George Reulbach
4/19/2017
$50.00
Monetary Contribution
Adam Laxalt
2018 Annual CE Filing
Walter K. Rosenberg
11/22/2017
$50.00
Monetary Contribution
Adam Laxalt
2018 Annual CE Filing
Walter K. Rosenberg
4/12/2018
$50.00
Monetary Contribution
Adam Laxalt
2018 CE Report 1
Walter M. Nowosad
7/26/2017
$50.00
Monetary Contribution
Adam Laxalt
2018 Annual CE Filing
Walter Marting
11/6/2017
$500.00
Monetary Contribution
Adam Laxalt
2018 Annual CE Filing
Walter R. Cannon
3/30/2018
$300.00
Monetary Contribution
Adam Laxalt
2018 CE Report 1
Walters Dealership LP
12/30/2015
$5,000.00
Monetary Contribution
Steve Sisolak
2016 Annual CE Filing
Ward Huisman
12/28/2017
$5,000.00
Monetary Contribution
Adam Laxalt
2018 Annual CE Filing
Ward Huisman
12/28/2017
$2,500.00
Monetary Contribution
Adam Laxalt
2018 Annual CE Filing
Warmington Residential Nevada
5/21/2016
$2,000.00
Monetary Contribution
Steve Sisolak
2016 CE Report 2
Warmington Residential Nevada Inc.
11/21/2017
$5,000.00
Monetary Contribution
Steve Sisolak
2018 Annual CE Filing (Amended)
Warren Gilbert
12/11/2017
$500.00
Monetary Contribution
Adam Laxalt
2018 Annual CE Filing
Warren Riley
12/21/2017
$50.00
Monetary Contribution
Adam Laxalt
2018 Annual CE Filing
Warren Riley
2/27/2018
$50.00
Monetary Contribution
Adam Laxalt
2018 CE Report 1
Warren W. Tripp
2/20/2018
$50.00
Monetary Contribution
Adam Laxalt
2018 CE Report 1
Warren/Janis Watkins
5/15/2018
$100.00
Monetary Contribution
Steve Sisolak
2018 CE Report 1 (Amended)
Washworks Express LLC
11/28/2017
$2,000.00
Monetary Contribution
Steve Sisolak
2018 Annual CE Filing (Amended)
Wayne A. Bliss
2/19/2018
$50.00
Monetary Contribution
Adam Laxalt
2018 CE Report 1
Wayne A. Bliss
4/24/2017
$50.00
Monetary Contribution
Adam Laxalt
2018 Annual CE Filing
Wayne C. Gundersen
4/24/2017
$50.00
Monetary Contribution
Adam Laxalt
2018 Annual CE Filing
Wayne Hogue
3/20/2016
$100.00
Monetary Contribution
Adam Laxalt
2017 Annual CE Filing
Wayne Hogue
4/7/2016
$1,500.00
Monetary Contribution
Adam Laxalt
2017 Annual CE Filing
Wayne Pearson
6/22/2017
$2,000.00
Monetary Contribution
Adam Laxalt
2018 Annual CE Filing
Wayne Petersen
1/18/2018
$50.00
Monetary Contribution
Adam Laxalt
2018 CE Report 1
Wayne Petersen
4/4/2018
$50.00
Monetary Contribution
Adam Laxalt
2018 CE Report 1
Wayne Rankin
1/27/2018
$2,700.00
Monetary Contribution
Adam Laxalt
2018 CE Report 1
Wayne Schley
2/12/2018
$50.00
Monetary Contribution
Adam Laxalt
2018 CE Report 1
Wayne Schley
4/23/2018
$100.00
Monetary Contribution
Adam Laxalt
2018 CE Report 1
Wayne Schley
5/31/2018
$100.00
Monetary Contribution
Adam Laxalt
2018 CE Report 2
Wayne Schley
12/8/2017
$50.00
Monetary Contribution
Adam Laxalt
2018 Annual CE Filing
WB Murrieta Re LLC
12/22/2015
$5,000.00
Monetary Contribution
Steve Sisolak
2016 Annual CE Filing
Weedsb, LLC
7/23/2015
$5,000.00
Monetary Contribution
Steve Sisolak
2016 Annual CE Filing
Wells Cargo Inc.
5/29/2018
$5,000.00
Monetary Contribution
Steve Sisolak
2018 CE Report 2 (Amended)
Wells Cargo Inc.
10/27/2017
$5,000.00
Monetary Contribution
Adam Laxalt
2018 Annual CE Filing
Wells Cargo, Inc.
10/25/2016
$5,000.00
Monetary Contribution
Steve Sisolak
2016 CE Report 4
Wells Family 2001 Trust
3/21/2018
$2,500.00
Monetary Contribution
Steve Sisolak
2018 CE Report 1 (Amended)
Wells Fargo (Interest)
12/31/2017
$1,871.46
Monetary Contribution
Steve Sisolak
2018 Annual CE Filing (Amended)
Wells Fargo (Interest)
12/31/2016
$1,391.50
Monetary Contribution
Steve Sisolak
2016 CE Report 5 (Amended)
Wells Fargo & Co Employee PAC
4/25/2016
$1,000.00
Monetary Contribution
Adam Laxalt
2017 Annual CE Filing
Wells Fargo Bank (Interest)
12/31/2015
$703.05
Monetary Contribution
Steve Sisolak
2016 Annual CE Filing
Wendelin W Schaefer
3/19/2018
$200.00
Monetary Contribution
Adam Laxalt
2018 CE Report 1
Wendell J. Olson
2/28/2018
$50.00
Monetary Contribution
Adam Laxalt
2018 CE Report 1
Wendell J. Olson
4/24/2018
$50.00
Monetary Contribution
Adam Laxalt
2018 CE Report 1
Wendy & Glenn Hoffman
4/18/2018
$50.00
Monetary Contribution
Steve Sisolak
2018 CE Report 1 (Amended)
Wendy Damonte
11/6/2017
$250.00
Monetary Contribution
Adam Laxalt
2018 Annual CE Filing
Wendy Fanticola
3/6/2018
$5,000.00
Monetary Contribution
Steve Sisolak
2018 CE Report 1 (Amended)
West Coast Development Nevada LLC
10/18/2017
$5,000.00
Monetary Contribution
Steve Sisolak
2018 Annual CE Filing (Amended)
West Hollywood Development Co.
1/29/2018
$10,000.00
Monetary Contribution
Steve Sisolak
2018 CE Report 1 (Amended)
Westar Properties Inc.
8/19/2015
$2,500.00
Monetary Contribution
Steve Sisolak
2016 Annual CE Filing
Western Elite
7/29/2015
$1,000.00
Monetary Contribution
Steve Sisolak
2016 Annual CE Filing
Western Elite
10/25/2017
$2,500.00
Monetary Contribution
Steve Sisolak
2018 Annual CE Filing (Amended)
Western Elite
9/22/2015
$1,000.00
Monetary Contribution
Steve Sisolak
2016 Annual CE Filing
Western Elite
8/10/2016
$1,000.00
Monetary Contribution
Steve Sisolak
2016 CE Report 3
Western Elite
5/27/2016
$1,000.00
Monetary Contribution
Steve Sisolak
2016 CE Report 2
Western Nevada Supply Co.
12/19/2016
$5,000.00
Monetary Contribution
Adam Laxalt
2017 Annual CE Filing
Western Nevada Supply Co.
4/20/2017
$1,000.00
Monetary Contribution
Adam Laxalt
2018 Annual CE Filing
Western Nevada Supply Co.
5/26/2017
$2,500.00
Monetary Contribution
Adam Laxalt
2018 Annual CE Filing
Western Regional Center for Brain & Spine Surgery
6/10/2015
$7,500.00
Monetary Contribution
Steve Sisolak
2016 Annual CE Filing
Western States Contracting, Inc
11/12/2015
$500.00
Monetary Contribution
Steve Sisolak
2016 Annual CE Filing
Westgate Las Vegas Resort & Casino
4/13/2016
$5,000.00
Monetary Contribution
Steve Sisolak
2016 CE Report 1
Westgate Las Vegas Resort & Casino
5/15/2018
$5,000.00
Monetary Contribution
Adam Laxalt
2018 CE Report 1
Westgate Las Vegas Resort & Casino
5/15/2018
$5,000.00
Monetary Contribution
Adam Laxalt
2018 CE Report 1
Weststar Development Corporation
10/16/2015
$1,000.00
Monetary Contribution
Steve Sisolak
2016 Annual CE Filing
Westwind Investors Management Co LLC
10/28/2016
$5,000.00
Monetary Contribution
Adam Laxalt
2017 Annual CE Filing
Westwind Investors Management Co LLC
10/28/2016
$5,000.00
Monetary Contribution
Adam Laxalt
2017 Annual CE Filing
Westwood Development Corp.
12/23/2015
$10,000.00
Monetary Contribution
Steve Sisolak
2016 Annual CE Filing
Westwood Development Nevada Inc.
3/14/2018
$5,000.00
Monetary Contribution
Steve Sisolak
2018 CE Report 1 (Amended)
WFK Enterprises
2/23/2018
$100.00
Monetary Contribution
Adam Laxalt
2018 CE Report 1
WG Development Co. LLC
12/30/2015
$5,000.00
Monetary Contribution
Steve Sisolak
2016 Annual CE Filing
Whitaker L. Askew
7/20/2017
$1,000.00
Monetary Contribution
Adam Laxalt
2018 Annual CE Filing
Whitestone Home Improvement
12/1/2016
$1,000.00
Monetary Contribution
Adam Laxalt
2017 Annual CE Filing
Whittlesea Blue Cab Company
7/16/2015
$3,500.00
Monetary Contribution
Steve Sisolak
2016 Annual CE Filing
Whittlesea Blue Cab Company
3/16/2018
$1,000.00
Monetary Contribution
Adam Laxalt
2018 CE Report 1
Wilford E. Deming
4/24/2017
$50.00
Monetary Contribution
Adam Laxalt
2018 Annual CE Filing
Wilford E. Deming
11/15/2017
$100.00
Monetary Contribution
Adam Laxalt
2018 Annual CE Filing
Wilford E. Deming
5/2/2018
$50.00
Monetary Contribution
Adam Laxalt
2018 CE Report 1
Wilfred A. Olafson
2/19/2018
$70.00
Monetary Contribution
Adam Laxalt
2018 CE Report 1
Wilfred A. Olafson
4/23/2018
$70.00
Monetary Contribution
Adam Laxalt
2018 CE Report 1
Will Kemp
9/6/2016
$5,000.00
Monetary Contribution
Steve Sisolak
2016 CE Report 3
Will Kemp
12/13/2017
$10,000.00
Monetary Contribution
Steve Sisolak
2018 Annual CE Filing (Amended)
William & Wendy Hornbuckle
3/8/2016
$5,000.00
Monetary Contribution
Steve Sisolak
2016 CE Report 1
William A Richardson
5/31/2018
$10,000.00
Monetary Contribution
Steve Sisolak
2018 CE Report 2 (Amended)
William A. Paganetti
3/13/2018
$2,500.00
Monetary Contribution
Adam Laxalt
2018 CE Report 1
William A. Paganetti
4/25/2017
$5,000.00
Monetary Contribution
Adam Laxalt
2018 Annual CE Filing
William A. Paganetti
11/9/2017
$2,500.00
Monetary Contribution
Adam Laxalt
2018 Annual CE Filing
William A. Richardson
6/19/2015
$10,000.00
Monetary Contribution
Steve Sisolak
2016 Annual CE Filing
William A. Richardson
12/30/2016
$5,000.00
Monetary Contribution
Adam Laxalt
2017 Annual CE Filing
William A. Richardson
12/30/2016
$5,000.00
Monetary Contribution
Adam Laxalt
2017 Annual CE Filing
William and Marilyn Sherman
6/6/2017
$50.00
Monetary Contribution
Adam Laxalt
2018 Annual CE Filing
William and Marilyn Sherman
2/19/2018
$50.00
Monetary Contribution
Adam Laxalt
2018 CE Report 1
William and Mary Ann Middleton
5/14/2018
$500.00
Monetary Contribution
Adam Laxalt
2018 CE Report 1
William B. Keleher
11/20/2017
$150.00
Monetary Contribution
Adam Laxalt
2018 Annual CE Filing
William B. Terry, Chartered
3/31/2016
$250.00
Monetary Contribution
Steve Sisolak
2016 CE Report 1
William Bacon
4/5/2018
$100.00
Monetary Contribution
Steve Sisolak
2018 CE Report 1 (Amended)
William Bevilacqua
5/9/2018
$1,000.00
Monetary Contribution
Steve Sisolak
2018 CE Report 1 (Amended)
William Bible
7/10/2017
$1,000.00
Monetary Contribution
Steve Sisolak
2018 Annual CE Filing (Amended)
William Brown
6/22/2017
$50.00
Monetary Contribution
Adam Laxalt
2018 Annual CE Filing
William Brown
3/13/2018
$100.00
Monetary Contribution
Adam Laxalt
2018 CE Report 1
William Brown
2/16/2018
$100.00
Monetary Contribution
Adam Laxalt
2018 CE Report 1
William C Libby
5/28/2018
$71.00
Monetary Contribution
Adam Laxalt
2018 CE Report 2
William C Wortman
10/18/2016
$10,000.00
Monetary Contribution
Steve Sisolak
2016 CE Report 4
William C. Anton
1/30/2018
$5,000.00
Monetary Contribution
Adam Laxalt
2018 CE Report 1
William Cartwright
4/17/2017
$250.00
Monetary Contribution
Adam Laxalt
2018 Annual CE Filing
William D. Gregory
4/26/2017
$100.00
Monetary Contribution
Adam Laxalt
2018 Annual CE Filing
William D. Kleppe
4/21/2017
$50.00
Monetary Contribution
Adam Laxalt
2018 Annual CE Filing
William D. Kleppe
8/2/2017
$75.00
Monetary Contribution
Adam Laxalt
2018 Annual CE Filing
William D. Kleppe
11/3/2017
$50.00
Monetary Contribution
Adam Laxalt
2018 Annual CE Filing
William D. Kleppe
5/3/2018
$50.00
Monetary Contribution
Adam Laxalt
2018 CE Report 1
William D. Sullivan
4/11/2018
$2,500.00
Monetary Contribution
Adam Laxalt
2018 CE Report 1
William Dehaan
10/13/2017
$500.00
Monetary Contribution
Steve Sisolak
2018 Annual CE Filing (Amended)
William E. Von Tobel
6/1/2017
$50.00
Monetary Contribution
Adam Laxalt
2018 Annual CE Filing
William E. Walker
2/19/2018
$100.00
Monetary Contribution
Adam Laxalt
2018 CE Report 1
William F. Dunbar
11/28/2017
$1,000.00
Monetary Contribution
Steve Sisolak
2018 Annual CE Filing (Amended)
William F. O'Keeffe
4/13/2017
$250.00
Monetary Contribution
Adam Laxalt
2018 Annual CE Filing
William Foley
11/5/2016
$10,000.00
Monetary Contribution
Steve Sisolak
2016 CE Report 5 (Amended)
William G. Horstman
4/10/2018
$100.00
Monetary Contribution
Adam Laxalt
2018 CE Report 1
William Gregory Communications Inc.
11/9/2017
$250.00
Monetary Contribution
Adam Laxalt
2018 Annual CE Filing
William H. MacDonald
4/4/2018
$500.00
Monetary Contribution
Adam Laxalt
2018 CE Report 1
William J. Durant
4/19/2018
$50.00
Monetary Contribution
Adam Laxalt
2018 CE Report 1
William J. Jackson
5/28/2016
$2,000.00
Monetary Contribution
Adam Laxalt
2017 Annual CE Filing
William K. Stockdale
3/2/2018
$100.00
Monetary Contribution
Adam Laxalt
2018 CE Report 1
William Keith
<