Indy DC Download: Congress avoids government shutdown with passage of another short-term spending package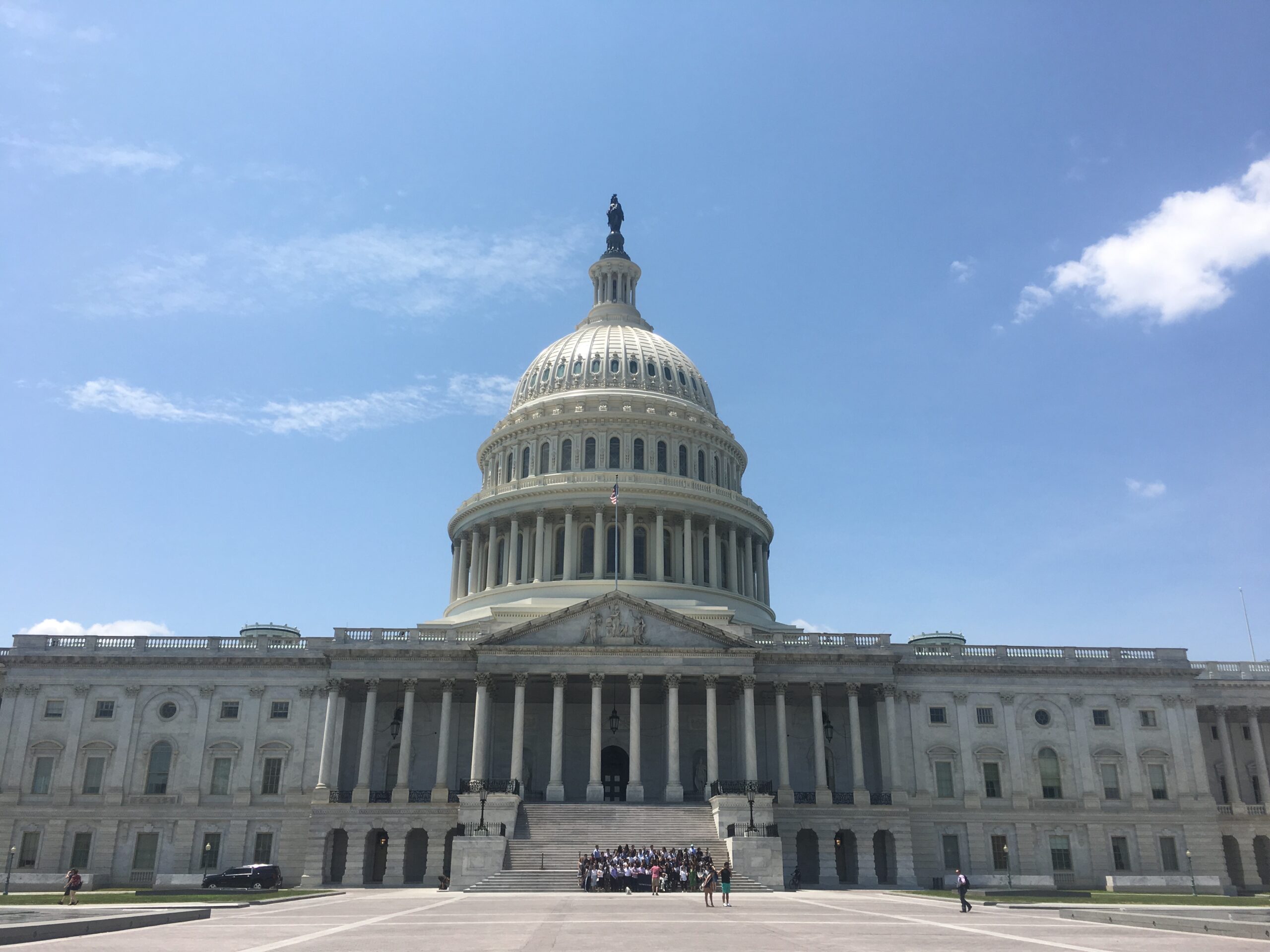 Good morning, and welcome to the Indy DC Download newsletter, a weekly look at what's going on in the nation's capitol as it relates to Nevada.
If a colleague or associate emailed this newsletter to you, please click here to sign up and receive your own copy of Indy DC Download in your inbox.
Congress approved a new stopgap spending bill to keep the federal government funded through Feb. 18, after the Senate defeated a GOP amendment to keep funds from being used to enforce any federal vaccine mandate.
Both Sen. Catherine Cortez Masto (D-NV) and Sen. Jacky Rosen (D-NV) voted for the so-called continuing resolution (CR), which passed 69 to 28, including 19 Republicans.
Both also opposed the amendment offered by Sen. Roger Marshall (R-KS) to prohibit using federal funds for implementing or enforcing COVID-19 vaccine mandates. The proposal failed on a 48 to 50 party-line vote.
Before the vote, Cortez Masto, in a brief interview, said that medical experts should decide the issue of mandates.
"I think there are opportunities for Congress to weigh in on important things that we should be doing policy-wise, but when it comes to certain decisions that–I think, rightfully so–should be left to the experts, like science and health care, you should be listening to them."
She also questioned the need for the amendment, noting that three separate vaccine mandates issued by the White House for federal contractors, health care workers and businesses with over 100 employees have been blocked from going into effect by recent lawsuits.
The vote on Marshall's amendment came after he and a group of 14 other GOP senators threatened to delay consideration of the CR past the midnight Friday shutdown deadline unless the Senate voted on his amendment with only a simple majority needed for passage.
Earlier Thursday, Marshall told reporters that the mandate threatened the reliability of the power grid and national security, with many utility workers and National Guard personnel unvaccinated.
"An unconstitutional federal vaccine man is going to lead to an economic shutdown, jobs lost back home," Marshall said. "It's going to lead to brownouts. I was with a group of folks, union workers from a nuclear plant, the people that keep your electricity on and they're going to walk off if they're forced to get this vaccine mandate. And then lastly, national security. Maybe half of our National Guard is not vaccinated yet. So think about the impact that would have on national security."
The House passed the CR earlier Thursday evening on a 221 to 212 vote, with only one Republican, Rep. Adam Kinzinger of Illinois, voting with all House Democrats to pass the CR and avoid a government shutdown.
Rep. Kay Granger (R-TX), ranking member of the House Appropriations Committee, argued that the CR and any other spending should not be considered while Democrats are planning on passing their $1.9 trillion social spending and climate change bill known as the Build Back Better Act (BBB). The House passed the BBB last month and the Senate could take it up before the Christmas break.
"Our constituents are demanding that we take a comprehensive look at all spending this year," Granger said. "With our debts skyrocketing and inflation at the highest levels in 30 years, we cannot afford to think about appropriations bills in isolation."
The CR will give more time for Democratic and Republican appropriators to agree on the top line of each of the 12 annual bills. But during the debate, both sides sparred over the unwillingness of the other to compromise. It remains to be seen whether another CR will be needed.
National Defense Authorization Act
Congress managed to avoid a government shutdown, but the annual defense policy bill—known as the National Defense Authorization Act (NDAA)—stalled in the Senate over a push to include an amendment to ban Chinese imports tied to Uyghur slave labor.
The NDAA would authorize about $780 billion in national security spending, including $100 million for five MQ-9 Reaper remotely-piloted aircraft. The MQ-9s are based at Creech Air Force Base, located about 35 miles northwest of Las Vegas, and support troops overseas for intelligence, surveillance and reconnaissance purposes.
Sen. Marco Rubio (R-FL) held up an agreement to wrap up the NDAA with a series of votes on a package of 25 amendments because it did not include his proposal banning imports from Xinjiang, where Uyghur and other minority groups, an estimated one million people, are being held in re-education camps.
The proposal is supported by both Republicans and Democrats. But the bill was not included in the package because it would raise revenue and all revenue and spending bills must originate in the House. Including Rubio's amendment in NDAA would require the Senate to pass it again without the offending provision.
The Senate passed a bill similar to Rubio's amendment in July, but the House has not taken it up. Speaker Nancy Pelosi (D-CA) said Thursday that the House would take up "a strong Uyghur bill."
It's unclear whether Pelosi's comments will have any effect on Rubio's position. With the Florida Republican the only holdout on finishing the NDAA with the 25 amendment package, House and Senate Democratic leaders are considering pulling the bill from the Senate floor to expedite a compromise and pass it quickly.
Pulling the bill off the floor would deny Republicans an opportunity to get Democrats to vote on amendments that the GOP hopes will embarrass Democrats.
One of the 25 amendments is a provision from Sen. Steve Daines (D-MT) that would prohibit the payment of cash settlements to the families of undocumented children separated from their families under the policy established by President Donald Trump.
Cortez Masto said she would likely oppose the amendment, preferring that the courts settle the issue.
"I appreciate his concerns," Cortez Masto said. "I think many had concerns, and they have every right to, but I'm not going to second guess a court. I think it's up to the judge."
"Ultimately, at the end of the day...it's a court settlement and that's for the judge and individuals to decide," she continued. "And I do not think that Congress really should be weighing in on that and that process."
Build Back Better
The BBB is currently going through the so-called "Byrd bath," which is part of the budget reconciliation process. The bath is a legislative scrub designed to ensure that provisions in the bill have budget impacts that do not outweigh the policy changes, including those on immigration. 
Named for the late Sen. Robert Byrd (D-WV) who devised it, the Byrd bath allows the Senate parliamentarian to make a call on whether a provision that would provide deportation deferral and work authorization, known as parole, to undocumented people, meets the test.
According to Cortez Masto, a decision could come soon. She is one of a group of senators making the case to the parliamentarian.
"Hopefully we'll have something next week from her," Cortez Masto said.
Reconciliation allows the Senate to pass the BBB on a simple majority vote and avoid any GOP filibuster.
Senate Majority Leader Chuck Schumer (D-NY) said that the Senate could take up the BBB the week before Christmas.
Cortez Masto also said she has concerns with the language in the House-passed version of the BBB that would raise the $10,000 limit on the amount of state and local taxes (SALT) that can be deducted from federal taxes to $80,000.
When asked whether the House bill meets her test of focusing on the middle class, she said, "Not from the numbers that I've seen."
Cortez Masto said she is still going through the House bill through the lens of its impact on the state and its middle class.
"I'm interested in the impact in Nevada and because we don't have a state income tax, it really doesn't have that much of an impact to folks in Nevada, albeit some Nevadans have taken advantage of it," Cortez Masto said of the SALT tax.
She joins a chorus of other Democratic senators on the matter, including Sen. Bernie Sanders (I-VT), who believes the House provision is too generous for upper-income earners. Sanders is working on a compromise with Sen. Bob Menendez (D-NJ).
"I understand Sens. Menendez and Sanders are looking at a Senate version of that and I want to see if it really focuses on the middle class," Cortez Masto said
The SALT cap was imposed by the 2017 tax reform law, pushed through by Republicans and Trump. It hit taxpayers hard in states with high taxes, such as New York, New Jersey and California.
White House Travel testing
With the advent of what appears to be the highly transmissible omicron coronavirus variant, the White House announced that International travelers coming to the U.S. must be tested for COVID-19 24 hours before departure. That's down from 72 hours under the current testing protocol.
Rep. Steven Horsford (D-NV) said the new testing regime is a compromise from some in the White House who were contemplating travel bans, which could hurt Nevada's economic recovery.
"I flagged this for the administration," Horsford said in an interview Thursday.
Horsford has close ties to the White House. He serves as the second-in-command of the Congressional Black Caucus. Earlier this year, he was tapped by the White House to help identify candidates of color to fill roles in the administration.
He said he reached out to the travel industry and worked with them to reinforce to the White House the damage that travel bans can have.
"We're working hard to recover," Horsford continued. "Yes, the variant is serious, but we need to not panic. There are safeguards that can be taken into account that don't cause detrimental harm to particularly international travelers, who are the lifeblood of our tourism industry."
Rep. Susie Lee (D-NV) said the intensified testing shows that the nation is using less destructive tools than when the pandemic began.
"To me, it's a way to try to manage it without completely shutting down the economy," Lee said in a brief interview Thursday. "But ultimately, our goal is to get this pandemic under control, get our economy back on track and I think that we have learned plenty over the past two years on how we can manage this."
Sen. Jacky Rosen, chair of the Senate Commerce Committee's Tourism, Trade, and Export Promotion Subcommittee, welcomed the testing enforcement.
"Increased testing in line with public health guidance will help us reduce the spread of COVID-19 as we continue to re-open international travel and safely bring more overseas visitors back to Nevada and the rest of the United States," Rosen said in a statement provided by her office.
Miscellany 
The latest jobs report from the Bureau of Labor Statistics (BLS) showed that the leisure and hospitality sector gained only 23,000 jobs in November after increasing at a higher rate in recent months.
Fitch Ratings analyst Olu Sonola said that slowing in the sector could show up in Nevada's employment numbers later this month.
"Given Nevada's reliance on leisure and hospitality, it does make sense to think that the employment stagnation in the leisure and hospitality sector, highlighted in the latest national jobs report, will trickle down to the state," Sonola said in an interview Friday.
But Sonola said that the actual impact would only be known when the BLS issues state-level figures on Dec. 17.
He also warned that states can sometimes buck national trends.
The report also revised jobs figures from the past two months upward. The nation added 82,000 more jobs than initially reported in September and October. Biden stressed that in comments he made Friday.
Biden also focused on the drop in the national unemployment rate to 4.2 percent from 4.6 percent.
Also, Rep. Elise Stefanik (R-NY) endorsed April Becker to take on Lee to represent Congressional District three in the midterm election. Stefanik, the chair of the House Republican caucus, one of the House GOP leadership posts, has championed electing women to the House.
"We have a swing district in Nevada district three, and my opponent votes with Nancy Pelosi 99 percent of the time," Becker said at a press conference at the Republican National Committee in Washington. "She doesn't represent a district. It's time for that to change and I look forward to representing Nevada in 2022 when we take back the House,"
Becker ran and narrowly lost to Senate Majority Leader Nicole Cannizzaro in 2022. She later said the election was tainted by widespread voter fraud. A lawsuit filed by Becker asking for a new election was later dismissed, and an investigation by the secretary of state's office found no "evidentiary support" for claims of widespread fraud.
Election prognosticators at The Cook Political Report and Sabato's Crystal Ball rate the race "lean Democrat."
For a full rundown of the measures the delegates supported or opposed this week, check out The Nevada Independent's congressional vote tracker and other information below.
SEN. CATHERINE CORTEZ MASTO
Legislation co-sponsored:
S.3294 – A bill to obtain and direct the placement in the Capitol or on the Capitol Grounds of a statue to honor Associate Justice of the Supreme Court of the United States Sandra Day O'Connor and a statue to honor Associate Justice of the Supreme Court of the United States Ruth Bader Ginsburg.
bill to require the Consumer Product Safety Commission to promulgate a consumer product safety rule for freestanding clothing storage units to protect children from tip-over related death or injury, and for other purposes.
SEN. JACKY ROSEN
Legislation sponsored:
S.3296 – A bill to require the TSA to develop a plan to ensure that TSA material disseminated in major airports can be better understood by more people accessing such airports, and for other purposes.
S.3284 – A bill to require the Secretary of Veterans Affairs to establish a toll-free telephone helpline for veterans and other eligible individuals to use to obtain information about the benefits and services provided by the Department of Veterans Affairs, and for other purposes.
REP. DINA TITUS
Legislation co-sponsored:
H.R.6117 – To increase access to pre-exposure prophylaxis to reduce the transmission of HIV.
Comment Policy (updated 4/20/2021): Please keep your comments civil. We reserve the right to delete comments or ban users who engage in personal attacks, use an excess of profanity, make verifiably false statements or are otherwise nasty. Comments that contain links must be approved by admin.