Indy DC Download: Senate votes to restrain Trump on Iran; House approves bills to designate wilderness lands and help ratify the ERA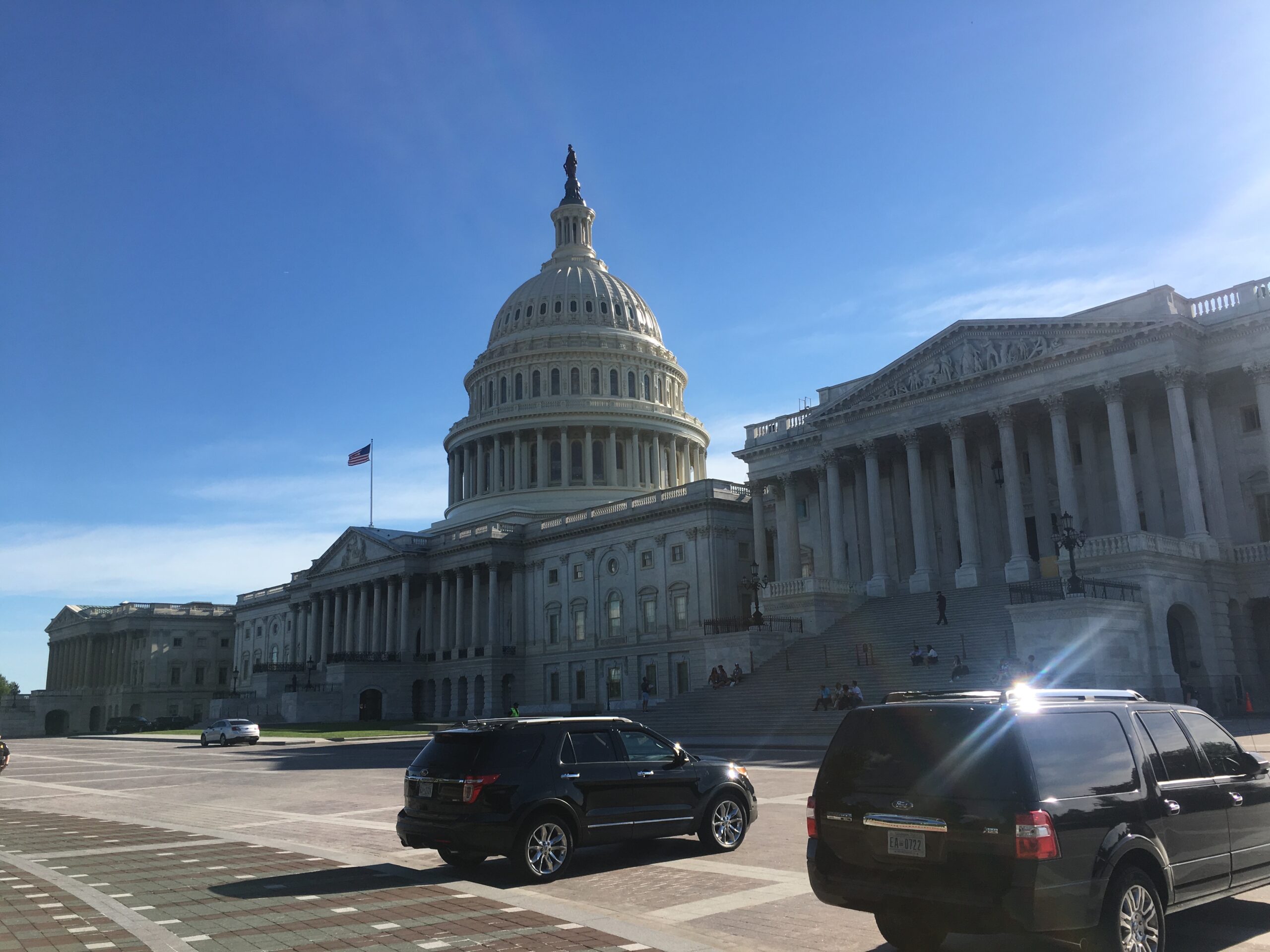 The Senate last week approved legislation to limit President Donald Trump's ability to wage war with Iran as the House passed bills designating 1.3 million acres as protected wilderness and removed the deadline for ratification of the Equal Rights Amendment.
All the measures face uncertain futures with the White House threatening to veto them — or raising constitutional questions (ERA).
Those votes came as Trump released his fiscal 2021 budget, which for the first time in his presidency included no funds to build a national nuclear waste repository at Yucca Mountain. The budget also said the administration would explore alternatives to Yucca, but it was unclear whether this would be a permanent change in policy.
"We're going to look at new technologies that might allow us to address the spent fuel," Energy Secretary Dan Brouillette said on a call with reporters when asked for details. "But importantly we're going to work with governors, we're going to work with policymakers, we're going to work with private industry to find solutions that may turn out to be on an interim basis. But we are going to find solutions to this important problem."
Nuclear waste is currently stored at 121 sites in 39 states around the country.
War powers
Sen. Catherine Cortez Masto and Sen. Jacky Rosen both voted in favor of a resolution to rein in Trump on Iran, which passed 55 to 45, with eight Republicans voting with Democrats and independents to pass the legislation.
The "President should be consulting with Congress, as well as with our diplomatic, intelligence, and military communities, and with our allies, to prevent the country from stumbling into actions that could do more harm to Americans and to America's national security," said Cortez Masto, who is a co-sponsor of the resolution, in a release.
Introduced by Sen. Tim Kaine of Virginia under the 1973 War Powers Act, the resolution would require the removal of forces involved in hostilities with Iran within 30 days of being enacted.
The resolution was prompted by Trump's decision to target Iranian general Qasem Soleimani, who was killed by a U.S. drone strike last month.
The Soleimani strike raised tension with Iran which retaliated by attacking an Iraqi military base where American soldiers were stationed and resulted in more than 100 soldiers suffering from traumatic brain injury. The White House initially said there had been no injuries.
The resolution is also meant to provide a check on the president's warfighting powers and reassert Congress' authority to declare war under the Constitution.
The resolution also comes after an administration briefing in which the administration claimed authority for the strike under the 2002 Iraq war authorization for use of military force and to prevent an imminent attack that left many members of Congress, including Cortez Masto and Rep. Dina Titus, with more questions than answers.
The measure now goes to the House which is expected to approve the measure. The House passed its own resolution last month, but it was never taken up by the Senate.
However, the 55 votes are short of the two-thirds majority needed to overturn a veto, which the White House said Wednesday was possible claiming that passage of the resolution could undermine the ability of the nation to protect Americans whom Iran continues to seek to harm.
"It is very important for our Country's SECURITY that the United States Senate not vote for the Iran War Powers Resolution. We are doing very well with Iran and this is not the time to show weakness." Trump said on Twitter.
Budget
Members of the state's congressional delegation welcomed the president's new position on storing the nation's nuclear waste at Yucca while panning proposals targeting Medicare, Medicaid and Social Security.
"While I am relieved to hear that the President has heard the voices of Nevadans across the state who have long opposed Yucca Mountain, I'm disappointed to see him take aim again at our nation's health care system," Rosen said in a release.
The $4.8 trillion non-binding budget blueprint, which Congress tends to ignore as they write the annual appropriations bills, would balance in 15 years and slows health care spending, including a $450 billion spending reduction over 10 years on Medicare. But the Medicare savings would not affect benefits and would come from payments to doctors and hospitals that could lead to reduced costs for seniors and taxpayers, according to the nonpartisan Committee for a Responsible Budget.
The budget also includes $900 billion in savings by converting Medicaid into a block grant program, which would threaten the coverage of 630,000 Medicaid beneficiaries in Nevada. Rep. Steven Horsford has raised concerns about a similar proposal put forth by the administration earlier in February.
Medicaid is funded by the federal government and the states; funding rises with the cost of health-care services and increased enrollment in the program. The budget would cap the federal share of the funding each year in exchange for giving states more flexibility on how they can spend the funds.
The budget also proposes a roughly $70 billion cut over 10 years from two Social Security disability programs.
At a House Budget Committee hearing, Horsford upbraided Office and Management Budget acting Director Russell Vought for axing funds in the Southern Nevada Public Lands Management Act (SNPLMA), a program designating which federal public lands the Bureau of Land Management is allowed to sell to developers. Most of the proceeds go to conservation projects, with the rest going to the water authority and the state, including the state general education fund.
"Sweeping money from the children of Nevada to balance your budget on the backs of working Americans after giving a tax cut to the very wealthy and big corporations is not going to happen," Horsford said. "Not on my watch."
The budget also would eliminate funding for Brand USA, which markets tourism to the U.S. abroad.
Rep. Susie Lee, who sits on the House Education and Labor Committee, raised concerns about a proposed $6.2 billion cut in the Department of Education budget, including the elimination of funding for afterschool programs.
"Our already underfunded schools will suffer, no doubt," Lee said. "These programs are essential building blocks to helping families succeed, making these cuts particularly cruel, as they pointedly hurt those families and children who need it the most."
With regard to Yucca, Rep. Mark Amodei, a Republican, said players in the state, such as the leaders of the state's gaming industry, which opposes the project, should seek to drive what alternatives to the nuclear waste dump the Department of Energy considers.
"Now that they're looking at other ways, why don't you see what the opportunities are and make a Nevada presentation," Amodei said.
Cortez Masto said she was thinking along the same lines and is looking to work collaboratively with those in the state and with DOE.
"Our window is closing," she said noting that the change in administration policy may not last too long after the election if it was only an effort to curry favor with the Nevada electorate.
House votes
The House approved two measures last week, including one that would designate 1.3 million acres in Colorado, California and Washington as wilderness, which would ban any logging, mining, drilling, road building or any other type of development on the land.
The bill was approved 231 to 183, including all of Nevada's House Democrats. Six Republicans voted for the bill, but Amodei was not among them.
The Nevada Republican said he believes the bill was considered only for purely political purposes and not to legislate sound lands policy.
"They're doing it for messaging," Amodei said adding that Republicans did the same thing when they were in the majority.
"If you're going to draw a line around it and call it special, you'd better talk about [wild] horses, you better talk about fuels management, you better talk about sage hen," Amodei said to contrast with the measure, which is silent on those issues. "You know, these days of just giving it a name and then hoping that it doesn't burn, I think, need to be over for both sides."
The House also approved, 232 to 183, a resolution that would get rid of the deadline for ratifying the ERA.
But the Senate is not expected to take it up. Majority Leader Mitch McConnell said earlier this month "I'm personally not a supporter, but I haven't thought about it."
The Department of Justice Office of Legal Counsel issued an opinion that the ERA is no longer pending before the states because the deadline has expired.
All Nevada Democrats voted for the bill, but Amodei opposed it, describing it as a messaging exercise and citing the legal issues.
"This is messaging for some consultants somewhere, to spend a bunch of money on TV ads and hope nobody does their homework," he said.
Congress approved the amendment, to prohibit discrimination based on sex, in 1972 sending it to the states for ratification. The states had until March of 1979 for 38, or three-fourths of the 50 states, to ratify the ERA for it to become part of the Constitution.
Congress extended the deadline until 1982, but that extension has been challenged in court and remains unsettled law. By then only 35 states had ratified the ERA. Nevada became the 36th state in 2017, followed by Illinois in 2018 and Virginia in January.
Supreme Court Justice Ruth Bader Ginsberg said last week that it would be best if the process started over.
"I'd like it to start over," Ginsberg said at an event on the 19th Amendment at Georgetown University. "There's too much controversy about latecomers, Virginia long after the deadline. Plus a number of states have withdrawn their ratification. So, if you count a latecomer on the plus side, how can you disregard states that said we've changed our minds."
Five states, including Kentucky, Nebraska, Tennessee, South Dakota and Idaho, initially ratified the ERA and subsequently withdrew their ratification.
For a full rundown of the measures the delegates supported or opposed this week, check out The Nevada Independent's congressional vote tracker and other information below.
SEN. CATHERINE CORTEZ MASTO
Legislation sponsored:
S. 3289 – A bill to require the Administrator of the Small Business Administration to establish an Innovation Voucher Grant Program.
Legislation co-sponsored:
S. 3307 – A bill to amend the Public Health Service Act to provide for the implementation of curricula for training students, teachers, parents, and school personnel to understand, recognize, prevent, and respond to signs of human trafficking and exploitation in children and youth, and for other purposes.
S. 3303 – A bill to amend title 49, United States Code, to promote transportation career opportunities and improve diversity in the workforce.
S. 3290 – A bill to amend title XI of the Social Security Act to require the Secretary of Health and Human Services to verify whether a health care provider is licensed in good standing before issuing the provider a unique health identifier, and for other purposes.
SEN. JACKY ROSEN
Legislation co-sponsored:
S. 3311 – A bill to direct the Assistant Secretary of Commerce for Communications and Information to take certain actions to enhance the representation of the United States and promote United States leadership in communications standards-setting bodies, and for other purposes.
S. 3307 – A bill to amend the Public Health Service Act to provide for the implementation of curricula for training students, teachers, parents, and school personnel to understand, recognize, prevent, and respond to signs of human trafficking and exploitation in children and youth, and for other purposes.
S. 3303 – A bill to amend title 49, United States Code, to promote transportation career opportunities and improve diversity in the workforce.
S. 3269 – A bill to set and meet a national goal of net-zero greenhouse gas emissions by not later than 2050, and for other purposes.
SEN. DINA TITUS
Legislation sponsored:
H.R. 5822 – Homeland Security Acquisition Professional Career Program Act
Legislation co-sponsored:
H.R. 5891 – To amend title 23, United States Code, with respect funding for certain safety projects, and for other purposes.
H.R. 5823 – State and Local Cybersecurity Improvement Act
SEN. STEVEN HORSFORD
Legislation sponsored:
H.R. 5869 – To amend the Internal Revenue Code to provide business with a tax credit for investing in work-based learning for workers with low skill levels.
Legislation co-sponsored:
H.R. 5889 – To amend the Patient Protection and Affordable Care Act to require the Secretary of Health and Human Services to set forth a method of determining maximum out-of-pocket limits and annual updates to premium tax credit eligibility.
IndyFest is proudly sponsored by:
Comment Policy (updated 4/20/2021): Please keep your comments civil. We reserve the right to delete comments or ban users who engage in personal attacks, use an excess of profanity, make verifiably false statements or are otherwise nasty. Comments that contain links must be approved by admin.