Indy Environment: Heat waves, wildfires and the fingerprints of climate change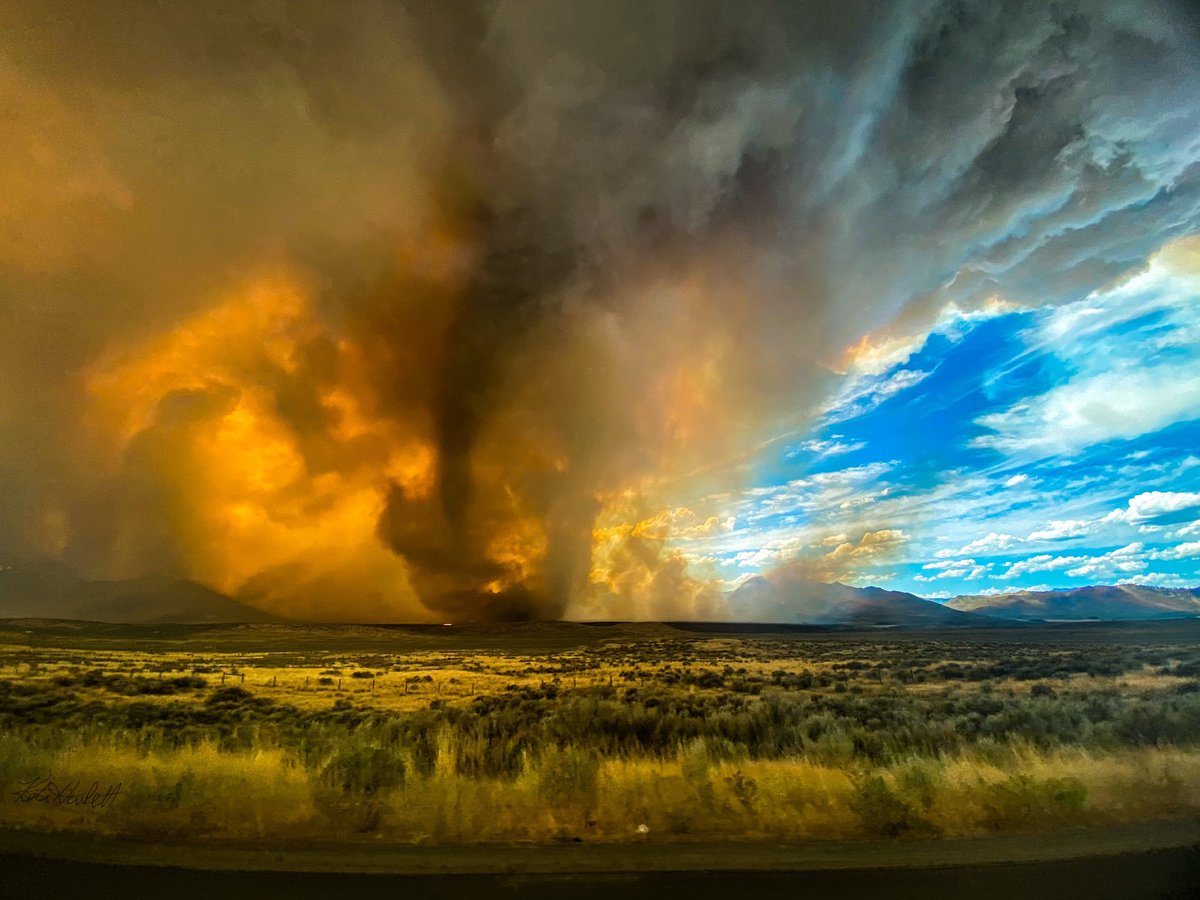 Good morning, and welcome to the Indy Environment newsletter.
To get this newsletter in your inbox, subscribe here.
As always, we want to hear from readers. Let us know what you're seeing on the ground and how policies are affecting you. Email me with any tips or suggestions at [email protected].
---
In 2018, at a meeting in Las Vegas, the Nevada Division of Emergency Management presented its risk assessments for the state. What was most revealing was that many, if not the majority, of the threats were related to weather. Severe Heat. Wildfire. Floods. Earthquakes.
Flash forward to this week. The challenges posed by weather are evident.
On Saturday afternoon, the National Weather Service in Reno issued what was believed to be the first warning ever for a "fire tornado," The Reno Gazette Journal reported. Extreme weather at the Loyalton Fire, about 40 miles outside of Reno, sent smoke into the city on Sunday, prompting the Washoe County School District to push back the first day of school.
By Wednesday, the Washoe County Health District posted a notice with ways to protect oneself from wildfire smoke. It included the following recommendation: "consider relocating temporarily."
A fire in the Mojave Desert National Preserve, near the Nevada border, has burned stands of Joshua trees in an ecosystem that is slow to recover to wildfire, The Desert Sun reported.
On Tuesday, the Clark County Department of Environment and Sustainability issued an air quality advisory because of "elevated levels of smoke and ozone" caused by wildfires. All of these air quality warnings, of course, come during a pandemic attacking the respiratory system.
Then a heat wave. Death Valley hit 130 degrees on Sunday, which once verified, is likely to be the highest temperature ever reliably recorded on Earth, the New York Times reported.
In Las Vegas and across the West, the heat wave increased power demand as residents cranked on the A/C. The spike in demand, coupled with the loss of a gas unit and wind power in California, hit that state especially hard and strained supplies throughout the region (more on that below).
All of these issues have some fingerprint of climate change on them.
In an interview, Kristen Averyt, the state's climate policy coordinator, discussed the "cascading impacts" of climate change, how changes over time ripple through an entire system, affecting everything from soil moisture to air-conditioning consumption to wildfire behavior.
Dan McEvoy, a regional climatologist for the Western Regional Climate Center, said in general, scientists have observed more extreme weather behavior as the climate has changed. McEvoy noted that "background temperatures are consistently warmer."
"The fire situation," he added, "is a lot more complex." (See this video he recommended).
When it comes to specific fires, additional (though not always unrelated) factors play a role in driving behavior, including the water cycle and the availability of fuels, like invasive grasses. Fires are complex and often specific to a location. But when fire is taken together, research has already indicated that increasing temperatures have led to a larger burn area.
In the case of this heat wave, McEvoy noted a high-pressure system centered over the Utah-Nevada border. This type of weather system has led to higher temperatures.
"The part we could definitely expect more of are record-breaking high-pressure systems that lead to record-breaking temperature outbreaks," McEvoy said Wednesday.
Averyt, a lead author on the 2014 National Climate Assessment, said what is happening right now is "consistent with everything that we projected and everything we're observing."
---
Here's what else I'm watching this week:
A drier future on the Colorado River: Nevada, Arizona and Mexico are required to continue cutting their official Colorado River allocations next year in an effort to avoid an official shortage in Lake Mead, a critical reservoir for the Southwest. A closely-watched federal study showed the elevation of Lake Mead is expected to remain in a zone that triggers cuts for the two states and Mexico under a set of agreements that include the Drought Contingency Plan finalized last year.
What it means for Nevada: In Nevada, the current cuts do not affect the supply of water coming through the tap. By disincentivizing outdoor use and recycling indoor water, the Southern Nevada Water Authority's consumptive use is already below its allocation (here's a chart explaining that). Other states are also using less water.
It could be a lot worse: Jennifer Pitt, the Colorado River program manager for the Audubon Society, said that action by the states to voluntarily reduce use, and thereby keep more water in Lake Mead, played a big role in avoiding further cuts this year. "The good news is that water users are showing that they can conserve water," she said.
The bad news: The forecast from federal water managers at the Bureau of Reclamation predicts runoff to be about half of normal (52 percent), despite about normal snowpack throughout much of Colorado. "Even in a year when we got a decent snowpack, it's disappearing because we have those warming temperatures," Pitt said. "And that's bad news for the basin." As The Arizona Republic reported this year, researchers have demonstrated how increased temperatures have contributed to decreasing river flows — with projections that warming temperatures could reduce a quarter of the river's flow by 2050. For more on this, Brad Udall, a climate scientist who studies the Colorado River, published an informative Twitter thread on this topic earlier this year. His takeaway: The region is becoming more arid.
---
'This is a resources issue and not a renewables issue.' That's a quote from the CEO of the California Independent System Operator in an excellent explainer by CalMatters on the reasons for the rolling blackouts in California and the energy scarcity issues facing the region this week. After rolling blackouts last Friday, the state's grid operator continued to face an imbalance between supply and demand, for a variety of complex institutional and structural reasons that are analyzed thoughtfully (to the extent the reasons are fully known) in this Utility Dive piece.
On Tuesday, a scorching day across the West, NV Energy sent a notice to customers urging them to conserve power to reduce the strain on the grid. My colleague Riley Snyder has a story this morning looking at why NV Energy took that step. The utility's CEO said it was a proactive measure to ensure their supply, and it worked. The conservation measures shaved about 250-300 MW off the utility's peak demand, a significant amount.
As in California, some were quick to target solar for the capacity concerns in Nevada — without providing any evidence (other than the obvious fact that the sun reliably goes down each night) for their claims. When it comes to solar deployment on the grid, Nevada is not California. But it's helpful to return to the framing of this being a resource issue, not necessarily a renewable issue.
Are there challenges to integrating an intermittent resource like solar? Yes. Are there different challenges as more solar is added to the grid? Yes. But they are not unpredictable. We can plan for them. This is a planning issue. The Los Angeles Times published a great story about ways to achieve clean energy goals reliably. Some are California specific but several could apply here.
To bring the newsletter full circle, it is worth considering why demand was so high (a heat wave) and its relationship to why so many are pushing to transition from fossil fuels? Climate change.
Siting solar: In the latest tension between clean energy and conservation, "renewable energy corporations have launched an eleventh-hour campaign to derail a petition seeking endangered species protection for Joshua trees, saying it could hinder development of the solar and wind power projects California needs to wean itself off fossil fuels," the L.A. Times reported.
---
Changes at the Nevada Conservation League: The Nevada Conservation League announced new leadership earlier this week. The group appointed Paul Selberg, formerly the Nevada state director for Mayor Pete Buttigieg's campaign, as the new executive director. Verna Mandez, a former energy and natural resources staffer for Sen. Catherine Cortez Masto, will take over as the deputy director. The organization is also working to focus more attention on environmental justice issues, according to a press release announcing the leadership changes this week.
The Pahrump poolfish: "Repeated home aquarium dumps complicate the Pahrump poolfish's improbable comeback from the brink of extinction," The Sierra Nevada Ally reports.
Wetland restoration: The Audubon Society featured an effort to restore a wetland on a former golf course in Reno. From the article: "Since the 1970s, agricultural and urban projects replaced a vast network of wetlands in the area, and drove birds like Black-Headed Grosbeak and Willow Flycatcher out. One such project, the former Rosewood Lakes Golf Course, sits on one of the last vestiges of the disappearing wetlands. Invasive plants like salt cedar and tall whitetop that harm birds and the local ecosystem overran the site from the time it was decommissioned in 2015—but that's now changing."
The Nevada Independent is raising $200,000 by Dec. 31 to support coverage of the 2024 election.
Tax-deductible donations from readers like you fund this critical work.
If you give today,your donation will be matched dollar-for-dollar.
Give + Get Matched
Featured Videos