Indy Explains: What Nevadans need to know about COVID, flu and RSV vaccines in 2023
Public health officials recommend the COVID-19 and flu vaccine to remain protected. RSV vaccines are also recommended for certain vulnerable populations.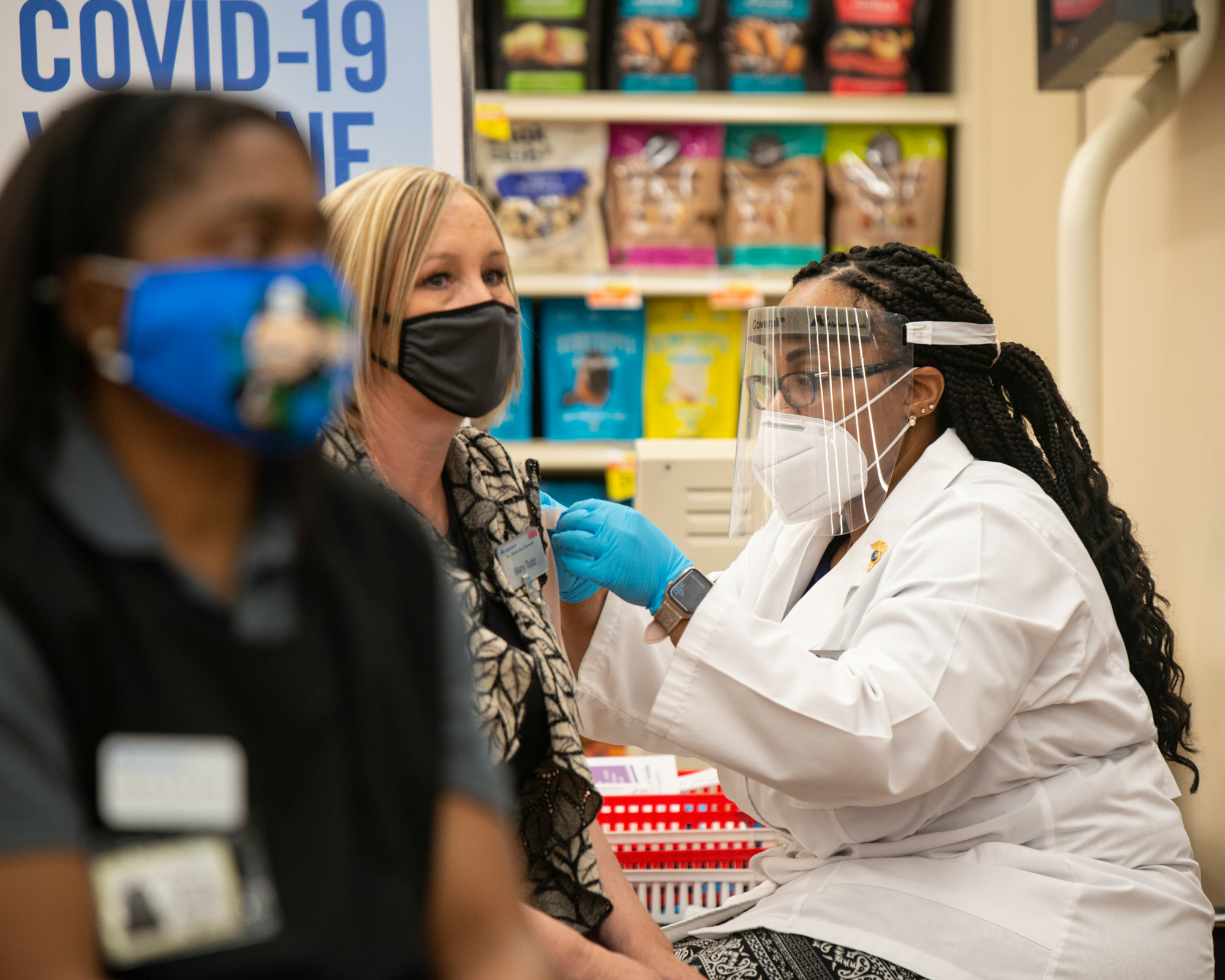 Along with pumpkin spice lattes, apple picking and Halloween decor, another fall staple is on the horizon: vaccines.
State officials announced Wednesday that updated COVID-19 vaccines are available for Nevadans, recommending that those 6 months and older get the latest vaccine to prevent serious illness.
The news came one week after the U.S. Food and Drug Administration (FDA) and the Centers for Disease Control and Prevention (CDC) approved the latest vaccine from Moderna and Pfizer-BioNTech.
"Vaccinating against COVID-19 is the best protection against COVID-19 related serious infection, hospitalization and death," said Kristy Zigenis, section manager for the Nevada State Immunization Program. "As long as you have not received a COVID-19 vaccine in the past two months, you are eligible for the new COVID-19 vaccine to ensure the best protection through this winter."
In Northern Nevada, officials with Northern Nevada Public Health, formerly known as the Washoe County Health District, said that the region saw an uptick in cases in early September but that the case count is decreasing.
"We expect most of our cases to be reported in the December-January time frame based off recent trends but it's too early to tell how this season will compare to others," officials said.
Cortland Lohff, a chief medical officer with the Southern Nevada Health District, said that COVID-19 numbers in the region are "fairly low" despite a slight spike of cases in August, but added that health officials "can never be sure" of the severity of spikes.
It's difficult to know the exact case numbers because data is based on samples collected at medical facilities and does not include at-home tests. Officials said that residents should get tested if they're not feeling well, and if they have any respiratory illness, including COVID-19, they should stay home from work or school to recover and limit contact with individuals who are immunocompromised or otherwise would be disproportionately affected by contracting the disease.
Public health officials nationwide recommend that people schedule and receive COVID-19 and flu vaccines to remain protected this winter. RSV vaccines are also recommended for people at higher risk of complications.
For more details about the vaccines, how to get them and other information, check out our frequently asked questions below, where public health experts weigh in on the issues:
Kirsten Hokeness, Ph.D., director of the School of Health and Behavioral Sciences at Bryant University in Rhode Island, said that the latest COVID-19 booster is a monovalent booster, which means that it contains antigens (the parts of the vaccine that stimulate antibody production) for just one strain of COVID.

She said the vaccine targets the dominant XBB subvariant family, specifically XBB.1.5, adding that this is different from previous boosters, which were bivalent and contained antigens from the original COVID and Omicron strains.
Hokeness said immunity fades over time, and the immune system works best when it is tested or exercised a bit, which is why it's important to get the latest vaccine.

"Antibodies will start to wane, some suggesting between eight months to a year after, but that is still being determined with more long-term studies," she said. "Therefore, priming the immune system with fresh antigen that is targeted toward the circulating strain is a good idea."

She and other public health experts say that the vaccine will allow people to develop a robust and meaningful response to limit the severity of infection — particularly for those who may not have been exposed to the Omicron variants.
Officials with the CDC and FDA recommend the updated COVID-19 vaccines from Moderna and Pfizer-BioNTech for everyone 6 months of age and older.
For more eligibility information, visit this
link
.
Officials from Southern and Northern Nevada said there does not appear to be concerns about a shortage of COVID-19 vaccines at this time.
Though the federal government paid for the COVID-19 vaccine during the height of the pandemic, private insurers and government payers such as Medicare will need to negotiate the costs of the latest version of the vaccine.
Most health plans will cover the COVID-19 vaccine at no cost to the recipient as long as he or she receives it through an in-network provider. State officials said this will ensure most Nevadans will be able to receive this vaccine for free.
But for those Nevadans with plans that do not cover the cost of the COVID-19 vaccine, or those who do not have health insurance, state officials said they can receive a vaccine for free from a pharmacy enrolled in the Bridge Access Program. To find a participating location, go to
vaccines.gov.
and, when searching, choose locations "Participating in Bridge Access Program."
RSV is a common respiratory virus
that usually causes cold and flu-like symptoms. Though most people recover from the virus within a few weeks, it can be serious for infants and older adults. Among children younger than 1, the virus can also lead to pneumonia and bronchiolitis (inflammation of the small airways in the lung).
Officials with Northern Nevada Public Health said the
CDC recommends
"one dose of nirsevimab (an RSV vaccine) for all infants younger than 8 months, born during — or entering — their first RSV season (typically fall through spring). For a small group of children between the ages of 8 and 19 months who are at increased risk of severe RSV disease, such as children who are severely immunocompromised, a dose is recommended in their second season."
The
CDC recommends
that people over the age of 60 should speak to their medical provider to determine if an RSV vaccine would benefit them.
Lohff said the RSV vaccine is recommended for adults with underlying illnesses and chronic conditions who could be at higher risk for complications if they catch the virus.
Northern Nevada Public Health officials said that based on projections they're receiving, they expect a "moderate flu season." However, regardless of the severity of the expected flu season, the
CDC recommends
that everyone over the age of 6 months receive an annual flu vaccination.
Lohff said it's too early to tell what flu season will look like in Southern Nevada, but cases typically increase in the late fall and early winter.
"The flu vaccine is your most effective tool to prevent contracting, or spreading, the flu," officials with Northern Nevada Public Health said. "Those who are in sensitive groups or immunocompromised should get the flu vaccine. A special high-dose vaccine for seniors 65-plus is also recommended for that age group."

Lohff said every year, the vaccine is updated to protect against the most recent virus variant.

"Anybody can get vaccinated, regardless of what their age is, whether or not [they have] a chronic medical condition or not," he said.
Lohff said that's a possibility.
"We've seen that
in the past
, of course. We're concerned that that could happen again," Lohff said. "These viruses behave much in the same way, how they're spread, what their symptoms are. So we can all take a very common sense approach to prevent these infections by getting vaccinated."
The updated COVID-19 and flu vaccines are available through major pharmacies such as CVS and Walgreens, and doctor's offices. You can find locations offering the latest COVID-19 and flu vaccines at
vaccines.gov.
Those with insurance are advised to go to their doctor or local pharmacy. But public health agencies can offer the vaccines free, particularly for those who are uninsured or under-insured.
In Northern Nevada, Northern Nevada Public Health will be offering the flu vaccine to residents in October (but not the special high-dose flu vaccine for seniors 65-plus).
The RSV vaccine will be available at Northern Nevada Public Health for infants in October. Officials said Northern Nevada Public Health is working to obtain the updated COVID-19 vaccines and more information about that will be available soon.
The Southern Nevada Health District (SNHD) announced Sept. 25 that updated COVID-19 vaccines are available at SNHD clinics throughout Southern Nevada. To locate a COVID-19 vaccine clinic, visit this
website
.
Click here
for more information about getting the flu vaccine through the health district.
The U.S. government is expected to reopen orders for free COVID-19 tests through the United States Postal Service on Sept. 25. The government gave out free test kits last winter, but paused the program to preserve the supply of tests.
Households can order four free tests through
http://COVIDTests.gov
, but that amount could be increased later. The tests are
designed
to detect the latest variants and are intended to be used by the end of the year. Reporting from
CBS News
indicates that the government is paying dozens of test manufacturers $600 million to keep producing tests.
COVID-19 tests are also available at pharmacies and stores for a cost.
This story was updated on Monday, Sept. 25 at 10:02 a.m. to include that updated COVID-19 vaccines are available at Southern Nevada Health District clinics throughout Southern Nevada.
The Nevada Independent is raising $200,000 by Dec. 31 to support coverage of the 2024 election.
Tax-deductible donations from readers like you fund this critical work.
If you give today,your donation will be matched dollar-for-dollar.
Give + Get Matched
Featured Videos