COVID in Context: Health officials concerned over triple threat of COVID, RSV and flu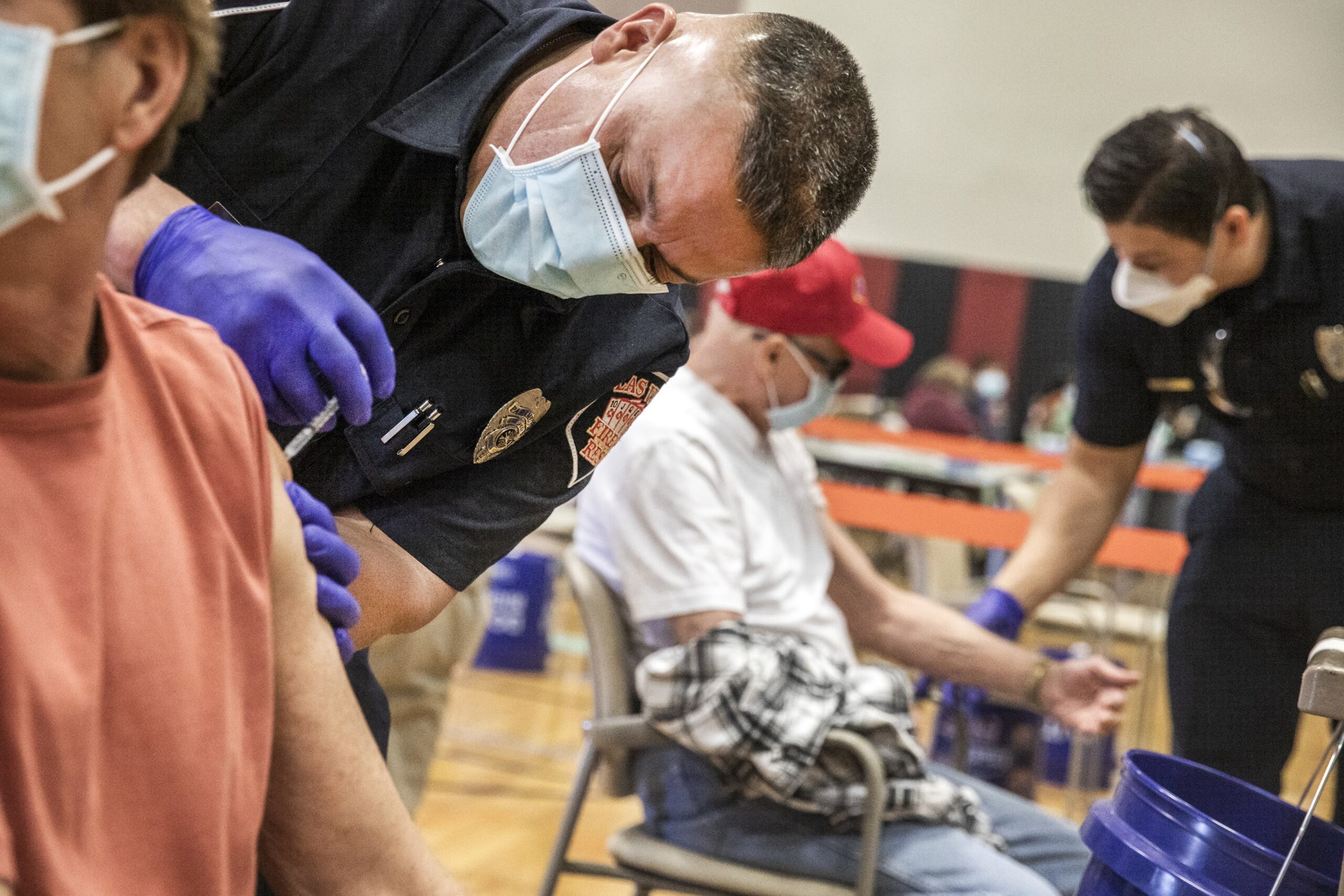 Welcome to COVID in Context, where staff at The Nevada Independent provide context and clarity on what's happening with COVID-19 in Nevada.
COVID in Context will change depending on the situation at hand. If you have any questions, thoughts or suggestions, please reach out to [email protected], send me a direct message on Twitter, or submit them using this form.
For daily updates, check out our constantly updating data page.
Vaccination remains the best way to protect against flu and COVID as RSV cases rise
During the pandemic, illnesses associated with respiratory viruses lessened. Researchers attributed the trend to mask-wearing and social distancing, among other precautions. But as the world returned to in-person activities and mask mandates dropped, cases of RSV infections (or respiratory syncytial virus) and the flu began to surge.
Dr. Jose Cucalon Calderon, an assistant professor of pediatrics at UNR and a general pediatrician at Renown Health, has experienced this firsthand. Cucalon Calderon said he dealt with RSV cases throughout the summer, which is uncommon, given that RSV infections typically peak in the fall and decline by early spring.
RSV is a common respiratory virus that usually causes cold and flu-like symptoms. Though most people recover from the virus within a few weeks, it can be serious for infants and older adults. Among children younger than the age of 1, the virus can also cause pneumonia and bronchiolitis (inflammation of the small airways in the lung).
Though it is strange to see RSV infections rise during the summer, Cucalon Calderon said he is more worried about the increase in cases as the weather grows colder, flu season gets underway and COVID continues to circulate. He added that the problem is compounded by low vaccination rates, especially among children.
"We have no way of knowing how severely ill somebody can get, very young or very old, when you are exposed to all three of them (COVID, influenza or RSV)," Cucalon Calderon said. "Or if you actually have all three of them, either at the same time or in continuation."
As of Saturday, approximately 1,786,983 Nevada residents were up-to-date on their vaccine series and eligible to receive a COVID-19 bivalent Omicron booster. Of those, 9 percent, or 152,668 people, had received it. Nationwide, fewer than 20 million people have received the latest booster, accounting for 8.5 percent of those eligible to receive it.
The Centers for Disease Control and Prevention recommends that people ages 5 and older receive a bivalent booster if it has been at least two months since they last received a COVID-19 vaccine dose. More than 1.6 million eligible Nevada residents have yet to receive their bivalent booster.
Cucalon Calderon said vaccines are the best protection against COVID and influenza (there is not yet a vaccine to protect against RSV). He added that the more unvaccinated people there are, the likelier the virus will go through another development cycle and potentially morph into something more dangerous to human health.
But hesitancy surrounding vaccine safety remains prevalent, especially for families with young children. Often, Cucalon Calderon said he has an easier time convincing adults of the vaccine's efficacy, but many remain wary of giving it to their children.
Part of the struggle stems from the understanding that COVID-19 is milder for children under the age of 5, Cucalon Calderon said. In reality, he noted that COVID-19 infections in young children could predispose them to future infections and poor health outcomes, including long-term COVID-19 and death. Some studies also indicate a higher likelihood of developing diabetes.
"As of May of this year, we still had more than 400 children (nationally) who were around this age group who had died from COVID-19," Cucalon Calderon said. "As well as over 8,000 kids who had gotten multisystem inflammatory syndrome associated with COVID-19 — which is something that is almost completely vaccine-preventable."
As the co-chair and developer for the Nevada chapter of the National Hispanic Medical Association, Cucalon Calderon has focused on advocacy and outreach, especially around vaccination. Within the Latino community, he said, hesitancy grows out of several factors, including distrust of the health care system, the misperception that vaccines are experiential and could be unsafe for children, and information about vaccines not coming from a trusted source.
When he talks to patients, Cucalon Calderon said he explains the merits of the vaccines, how they prevent the virus from mutating and that it's the best option for protecting families and children from severe illness and adverse reactions. Cucalon Calderon added that children are especially vulnerable to exposure from viruses and other diseases.
"For school-age children who get exposed to absolutely everything, all the time, every single day, the safest choice … is to be able to have their vaccination status updated," he said. "You have no way of controlling what they come in contact with at school, or if they are unvaccinated, how sick they can get from COVID-19 or who else they can actually give it to."
Part of the reason for the recent spread of viruses and illness is that most people were isolated for about two years during the pandemic. As society has returned to some semblance of normalcy, people are more exposed to viruses. But Cucalon Calderon said it is vital to remain vigilant and take precautions such as getting vaccinated or wearing a mask if experiencing symptoms of illness.
"COVID-19 still has not gone away," he said. "So long as we have people dying from COVID-19, which is a vaccine-preventable disease at this time, COVID-19 is not going to be gone … the pandemic still is present, and it is a different phase of it."
— Tabitha Mueller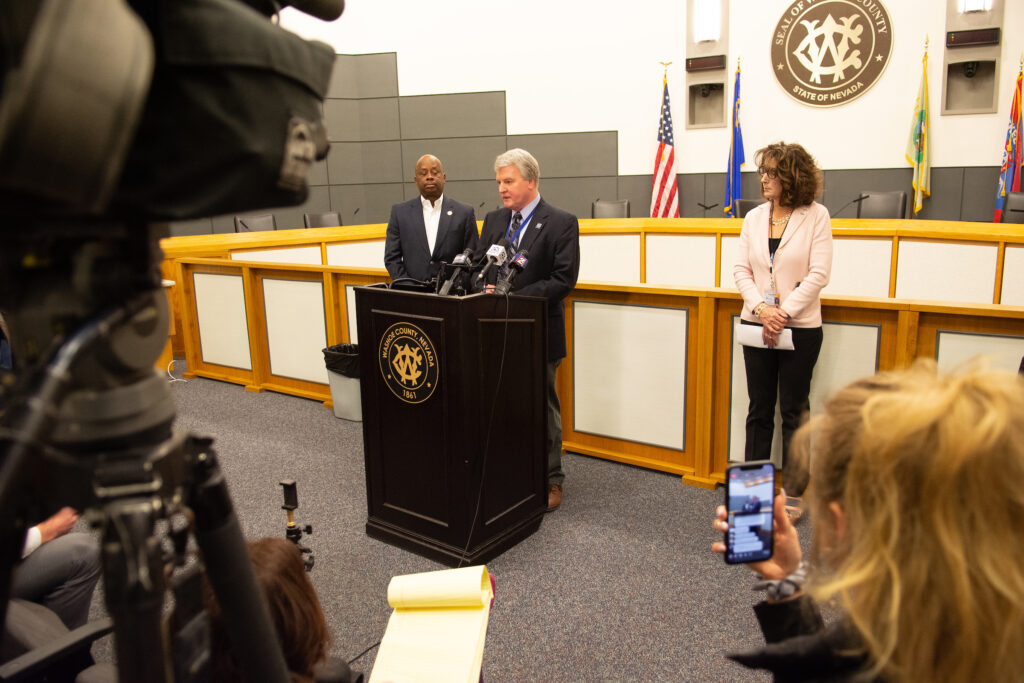 Ahead of flu season, WCHD stress importance of COVID and flu vaccination
Washoe County Health District officials are emphasizing the importance of getting the updated COVID booster — now available to children 5 and older — and the flu vaccine ahead of what experts predict will be a particularly bad flu season.
Officials with the health district pointed to a severe flu outbreak in the southern hemisphere — which typically experiences a flu season before the northern hemisphere — as one indicator of what is expected to be higher-than-usual rates of influenza this year. During the peak of Australia's flu season, the weekly number of flu cases exceeded the five-year average.
"We don't want lives unnecessarily lost," Washoe County Health Officer Kevin Dick said at the Oct. 19 COVID update meeting, as he stressed the importance of Washoe residents getting vaccinated.
During the ever-approaching colder months — a time of the year already rampant with respiratory infections — the health district could be dealing with two major respiratory illnesses this winter. Officials said the infection rate could be worse than usual because nearly two-thirds of Washoe County residents haven't received the latest COVID booster or a flu shot.
To prepare for an uptick in respiratory infections, the WCHD is holding vaccine clinics at the Reno-Sparks Convention Center. Residents can also schedule an appointment with the health district or their health care provider to receive the updated COVID booster, which better protects against omicron BA4 and BA5, the most common variants in Washoe County.
Though the seven-day moving average of cases has seen a slight uptick over the last six days, Washoe County is maintaining low levels of COVID-19, according to Centers for Disease Control (CDC) standards.
"Overall, we're looking pretty good," Dick said.
As of Wednesday, there were a little more than 30 cases reported on average each day over the last week, down from 31 cases the week before and 25 hospitalizations — more than double the hospitalizations Washoe County had on Oct. 11. So far, Washoe County has had two COVID-related deaths in October.
Though the health district is experiencing a manageable caseload, Dick said the low rate of Washoe residents who have been boosted is concerning. He stressed that not only does a more vaccinated population keep cases manageable for hospital staff, but it maintains the health of the county overall.
Phasing out of free vaccines
For now, COVID-19 vaccines are free. But starting early next year, when the U.S. government stops providing the vaccines, CNN Health reported that the price for getting vaccinated could be about $130 per dose.
Though $130 is the listing price once the vaccines become commercialized, Pfizer said that most people would not have to pay out-of-pocket costs, and there will be assistance programs for people without insurance.
However, a recently published report from the Kaiser Family Foundation shows that without additional funding or protections for COVID-19 vaccines and therapies, the commercialization of the vaccines is likely to create barriers to access, especially among underinsured and uninsured populations.
Representatives for the Nevada Department of Health and Human Services emphasized that there is no firm date for when COVID-19 vaccines will head to the commercial market.
"There are multiple factors at play regarding the public being charged for them," a spokesperson wrote in an email. "What is known is that the COVID-19 vaccines will continue to be widely available at no charge to Nevadans until federal government contracts run out, which may take place post-commercialization."
Dr. Jose Cucalon Calderon with Renown Health noted that though vaccines may soon become commercialized, health care professionals are committed to getting patients the care they need.
"We are definitely going to advocate and fight for our children to be able to get the vaccines that they need, at the time they need it and in a way that they can afford it," he said. "Vaccines are the most successful preventive medicine we have in all the history of mankind."
— Tabitha Mueller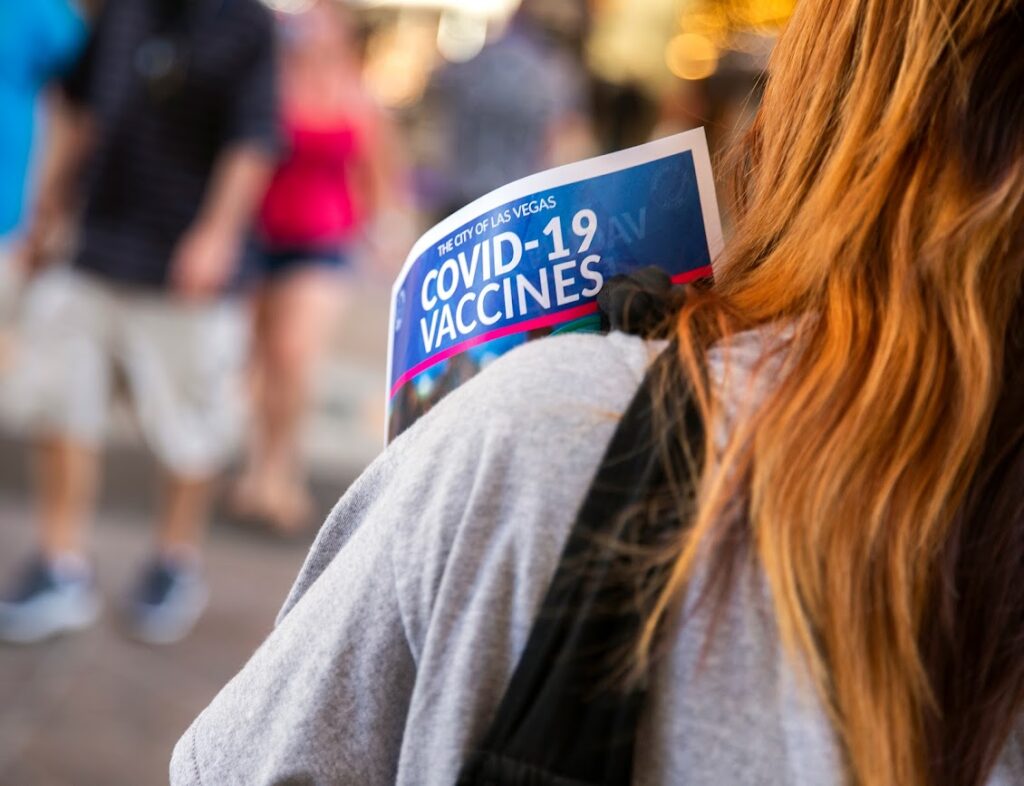 News you can use
Get a vaccine
Flu and Covid Vaccines: Vaccines.gov
Washoe County Health District: Immunization Clinic
Southern Nevada Health District: Immunization Clinic
Immunize Nevada: Statewide Vaccine Provider Search
Proof of vaccination
If you got your vaccine in Nevada, you can access and download your COVID-19 vaccination records through the state's immunization information system here.
If you receive an error message as you try to sign into the system, call 1-800-401-0946 or email [email protected].
Are you searching for COVID-19 testing and treatment options?
Free therapies are available throughout Nevada for COVID-19 patients, including Evusheld, Sotrovimab, Paxlovid and Molnupiavir.
Patients can complete the pre-screening tool at https://nevadacovidtreatment.com/ or call 800-401-0946 (7 a.m. to 8 p.m., seven days a week) to locate and schedule these treatments.
For those looking for testing, individuals should visit testing sites, not hospital emergency departments.
To find a testing site in Nevada, including pharmacies, head to the state's COVID-19 test site finder.
Rapid Tests
As part of a federal effort, private insurance companies will cover at-home test kits purchased at pharmacies. Companies will cover up to eight kits per month, depending on the number of people on a health plan.
Here's a guide for getting your over-the-counter COVID-19 test reimbursed.
COVID-19 Guidelines
The Centers for Disease Control and Prevention's COVID-19 guidelines focus on a combination of three metrics to determine risk levels: new COVID-related hospital admissions, percentage of hospital beds occupied by COVID-19 patients and new cases per 100,000 people.
The CDC sorts community levels of COVID-19 into low, medium and high categories.
Recommendations for counties falling within the categories are as follows:
Low: Stay up-to-date with COVID-19 vaccines and get tested if you have symptoms
Medium: For those at high risk for severe illness, discuss precautions, talk with a health care provider, get tested if you have symptoms and stay up-to-date on COVID-19 vaccinations.
High: Wear a mask in indoor public places, stay up-to-date with COVID-19 vaccines and get tested if you have symptoms.
As of Thursday, all counties within the state fall within the "low" risk level category.
To find complete guidelines and recommendations surrounding quarantine and isolation guidelines, visit the CDC's COVID-19 Quarantine and Isolation page.
What we're reading
Hospitals are experiencing unusually high numbers of sick children suffering from RSV infections, or respiratory syncytial virus. ABC News reports that more than 70 percent of pediatric hospital beds in the U.S. are full amid a surge in respiratory illnesses.
New versions of the Omicron variant could pose additional threats to people with immune deficiencies. NBC News has the details about the latest variants.
As flu season gets underway, The New York Times put together a list of the most popular home remedies for the flu or cold that show "at least a little promise" in alleviating symptoms.
The Nevada Independent's Carly Sauvageau details the more than $222 million from the federal American Rescue Plan that will go toward child care programs in the Silver State.
The Nevada Independent is raising $200,000 by Dec. 31 to support coverage of the 2024 election.
Tax-deductible donations from readers like you fund this critical work.
If you give today,your donation will be matched dollar-for-dollar.
Give + Get Matched
Featured Videos