Indy Gaming: Aristocrat execs say NFL slot machines have scored a touchdown
A year ago, Aristocrat hid the games away from G2E attendees. The company hopes to have additional versions in casinos by Super Bowl LVIII.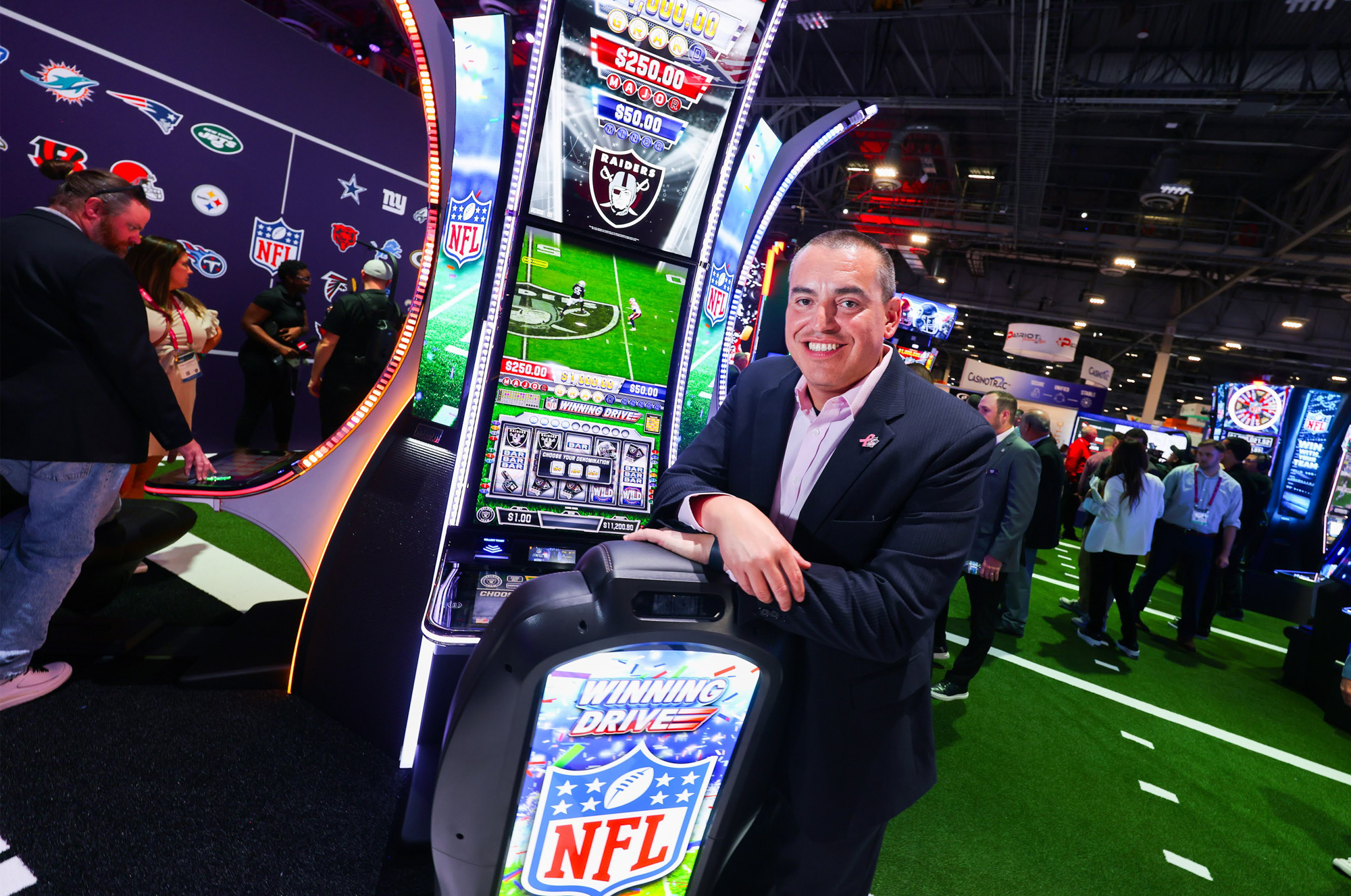 Good morning, and welcome to the Indy Gaming newsletter, a weekly look at gaming matters nationally and internationally and how the events tie back to Nevada.
If a colleague or associate emailed this newsletter to you, please click here to sign up and receive your own copy of Indy Gaming in your inbox. - Howard Stutz
---
At the Global Gaming Expo (G2E) a year ago, Aristocrat Gaming hid the prototype for its NFL-themed slot machines behind closed doors, guarded by an oversized football helmet and security officers who could have been mistaken for defensive linemen.
The slot machine developer and the NFL didn't want to display the games to the masses given they were in the development phase and the technology was still being tested. It took a special invite to enter the room.
Last week, the curtain was lifted and the games were prominently displayed at the center of the company's G2E booth complete with a mini football field and a goal post, quickly becoming one of the most visited spaces at the three-day tradeshow.
Two versions are already in casinos nationwide and Aristocrat officials said additional themes could be on the market by Super Bowl LVIII in February, which will be played at Allegiant Stadium in Las Vegas.
In a statement, NFL Players Association Vice President Terese Whitehead said the games "offer a unique opportunity for fans across the country to be engaged in a new way."
The games have various football-themed bonus features, such as the red zone and field goal challenges. Players can customize their gaming experience with the logos and helmets of any of the 32 NFL teams. The machines are also programmed with six minutes of video highlights for each team.
Aristocrat officials said the company can track which NFL teams are the most popular among customers playing the games.
The slot machines have been in development for two years. Aristocrat Gaming CEO Hector Fernandez cited company research that showed some 30 million NFL fans already play slot machines. He said the technology in the games could be used for other leagues, such as the NBA or Major League Baseball.
"Our teams have worked diligently," Fernandez said. "The result is a lineup of games that match multiple player segments, bringing the excitement and energy of the NFL."  
Before he posed for a photo with one of the NFL games, Fernandez programmed the machine so it would feature the Las Vegas Raiders.
"I have to support the home team," he said.
---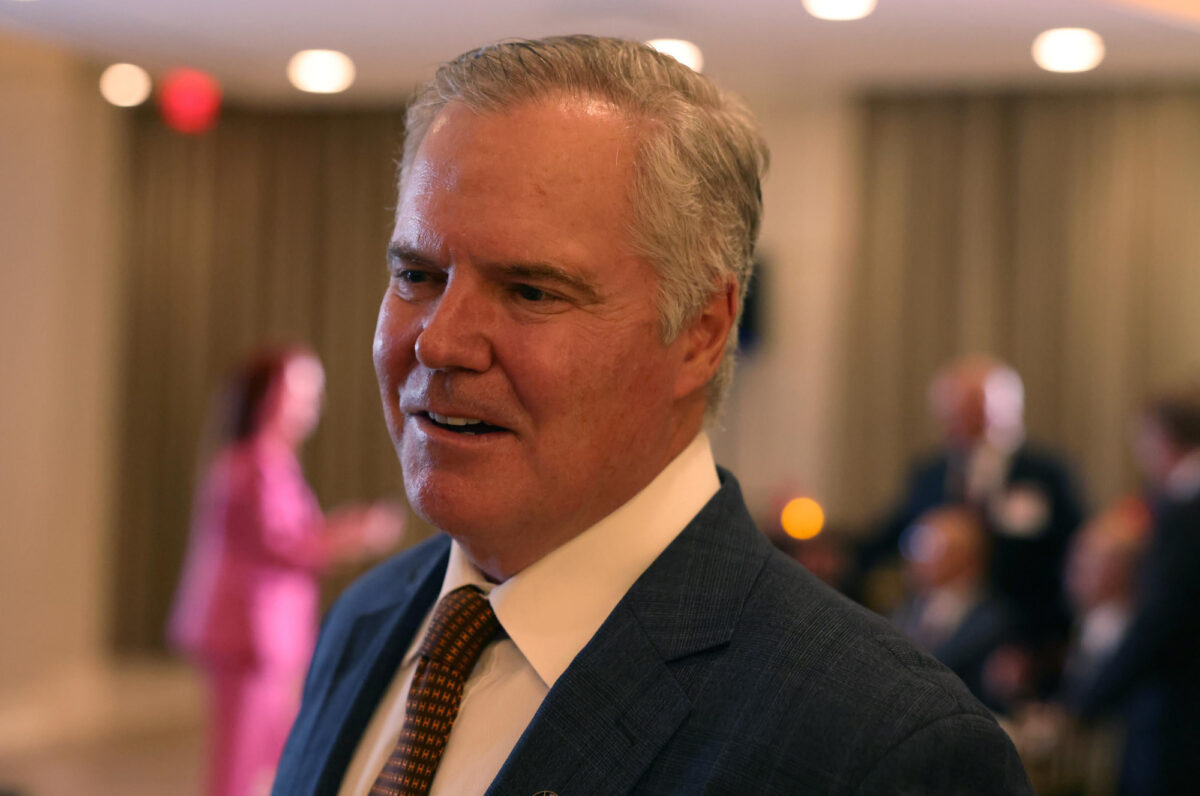 Murren accepts Hall of Fame honor, declines comment on UAE role
Jim Murren's induction to the Gaming Hall of Fame included remarks by two former Nevada governors who highlighted his role in growing MGM Resorts International from a one-casino company to the Strip's dominant gaming operator with resorts in eight states and Macau.
What went unmentioned was his current job, albeit a part-time position, as chairman of a new gaming regulatory authority established by the United Arab Emirates.
Murren was honored on the opening night of G2E, along with longtime gaming supplier executive Robert Miodunski, Oklahoma tribal gaming leader Bill Anoatubby and Wynn Resorts General Counsel Ellen Whittemore.
Former Gov. Steve Sisolak introduced Murren ahead of a video that included congratulations from former Gov. Brian Sandoval, now president of UNR and a former MGM employee, and MGM Resorts CEO Bill Hornbuckle.
As CEO, Murren helped bring the NHL's Vegas Golden Knights to the city when MGM Resorts partnered with sports venue developer AEG to build the $375 million T-Mobile Arena.
At the outset of the pandemic, Sisolak appointed Murren to head a private-sector task force that secured millions of dollars in donations and personal protective equipment for hospitals and health care providers.
Murren, who retired from MGM Resorts in 2020, has stayed busy. In May, he was named CEO of the Ritz-Carlton Yacht Collection, which offers seven-to-10-night voyages in the Mediterranean, Caribbean and Central America.
In 2021, Murren helped take Las Vegas-based social gaming provider PlayStudios public through a special purpose acquisition company (SPAC) he created with two former Morgan Stanley executives. He remains a director on the PlayStudios board.
Murren declined to discuss his role with the UAE's newly created gaming board, which was established to introduce a regulatory framework for a national lottery and commercial gaming. More appointments to the panel are expected.
His former company, MGM Resorts, is partnering with a subsidiary of Dubai-based wasl Asset Management Group on a 25-acre non-gaming resort development on a man-made island in the emirate. The project will include three hotel towers totaling 1,500 rooms branded under the Aria, MGM Grand and Bellagio names.
---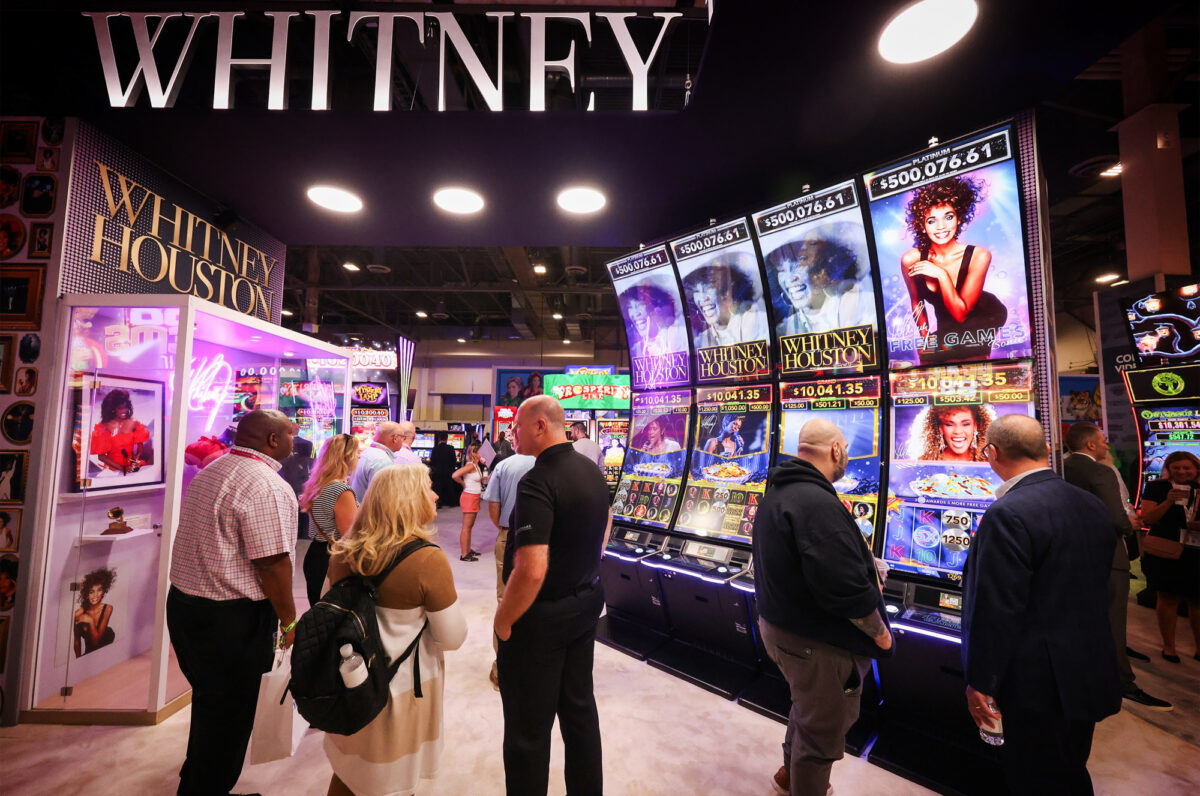 IGT dances with Whitney Houston, but who will dance with IGT?
International Game Technology unveiled its latest themed slot machine featuring the songs of Grammy Award-winning music icon Whitney Houston. The game, which features videos from her performances, is expected to land on casino floors by next spring.
The underlying question —who will own IGT?
IGT, which is headquartered in Italy but maintains a small corporate office in Las Vegas and a manufacturing facility in Reno, said in June it was "evaluating strategic alternatives" for its gaming division and digital operations, which includes the company's sports betting platform.
At G2E, IGT officials were happy to discuss the Whitney Houston game, which was prominently displayed surrounded by several of her famous concert outfits and near one of her six Grammy Awards, or the company's other products, such as the latest version of Wheel of Fortune, which remains one of the industry's best-selling brands.
The company displayed bartop video poker machines that also link to a casino's sportsbook where customers can place sports bets on the device. The games are being used by casinos in Wisconsin and North Dakota.
"No comment," was the answer from company officials when asked about the strategic review process.
"While management did not have specific updates to provide on the strategic review, they noted they are running multiple processes concurrently," Truist Securities gaming analyst Barry Jonas wrote in a September research note.
---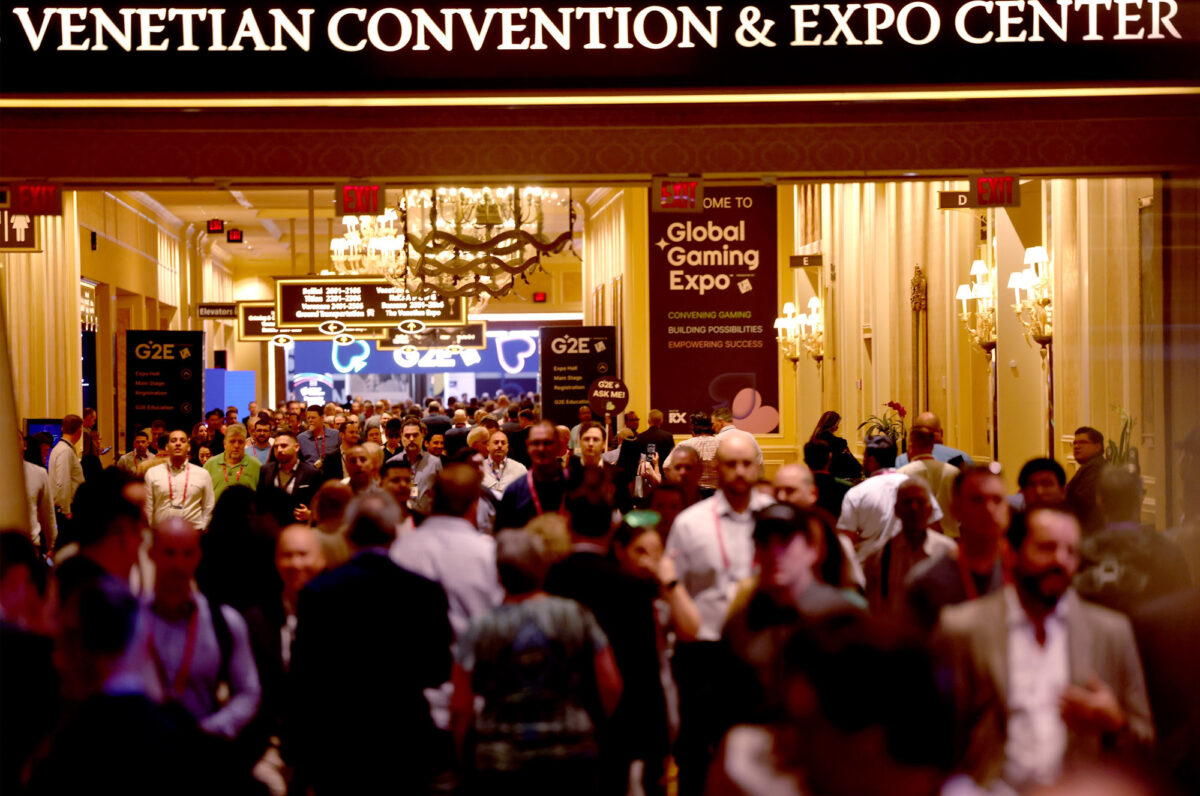 News, notes and quotes from G2E
G2E attendance tops 25K
Preliminary figures released Friday by the American Gaming Association showed G2E drew more than 25,000 attendees to the four-day conference and tradeshow. The event inside the Venetian Expo attracted exhibitors and attendees from 125 counties, territories and regions with regulated gaming.
"This year's show truly highlighted the innovation and collaboration that is driving gaming's current growth and paving the way for our future," said AGA CEO Bill Miller.
***
Advisory firm: $8.4B in gaming equipment sales expected
Gaming equipment providers are expected to see a single-year record of $8.4 billion generated by the combined sales of slot machines, table games and casino management systems in 2023, according to a report by Eilers & Krejcik Gaming.
The Southern California advisory firm, in a report submitted at the outset of G2E, said the figure would be an 11 percent increase from 2022. Eilers & Krejcik said gaming equipment sales to casinos in the U.S. and Canada would generate nearly two-thirds of all sales.
***
LVCVA boss: Upcoming events could provide $15B in economic support
The Formula One Las Vegas Grand Prix is just the starting line for the next five months of special events and large-scale conferences in Las Vegas. Ahead of G2E, Las Vegas Convention and Visitors Authority CEO Steve Hill said the economic impact from the events could reach $15 billion.
"You just think about [the Consumer Electronics Show] and what they bring every year," Hill said. "It's a $700 million economic impact there. [Super Bowl LVIII is] going to be in the same range. Formula One is going to be higher than that. All of these major events in that four-month period are going to add up into the tens of billions of dollars."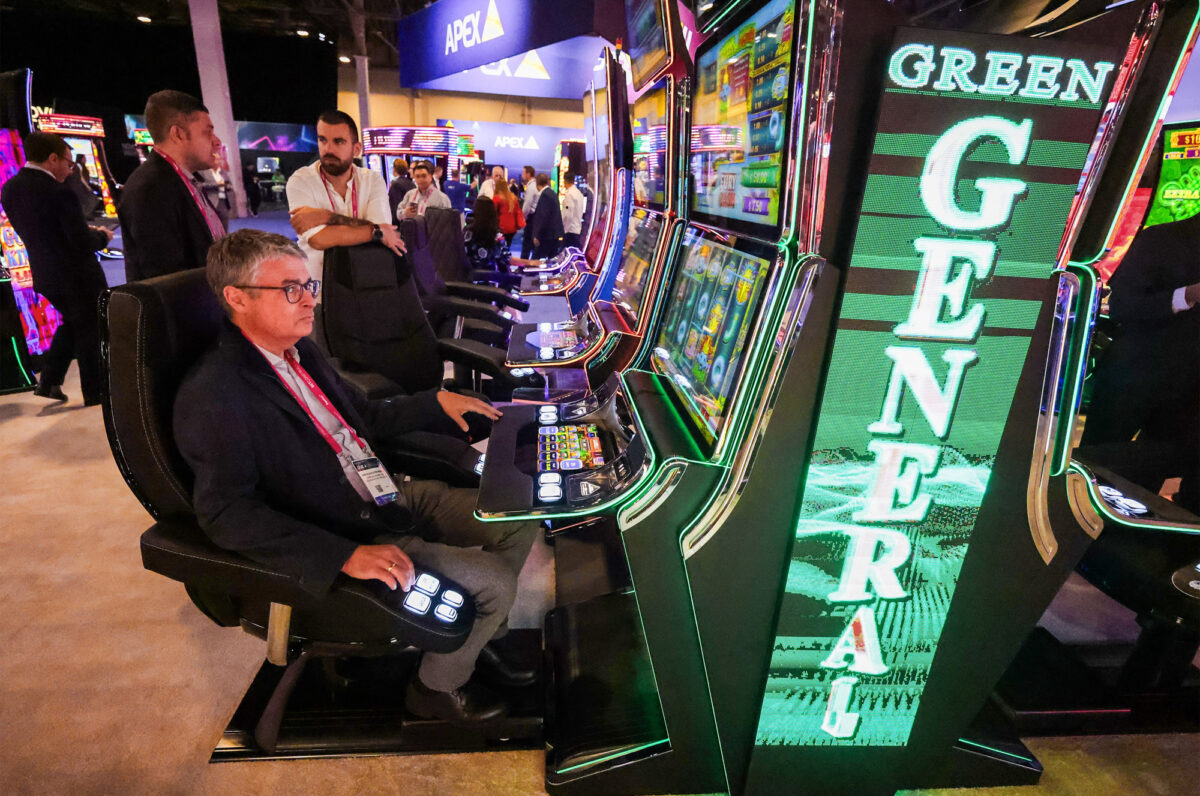 ***
Casey Clark to depart AGA for a CEO position
American Gaming Association Senior Vice President Casey Clark was named CEO of the Virginia-based National Association of Professional Employer Organizations (NAPEO). In December, he will assume the new role for the organization that provides human resources solutions for small and midsize businesses.
Clark joined the AGA in 2017 and handled organizational strategy, operations, communications and research. He oversaw the AGA's communications strategy to advance legal sports betting in the U.S.
***
CDC Gaming Reports founder Jeffrey Compton announces his retirement
Jeffrey Compton, whose CDC Gaming Reports has chronicled casino issues and developments since 2002, announced his retirement ahead of G2E. CDC Gaming has grown into one of the largest gaming-industry business news websites in the world and distributes more than 70 newsletters a month to over 23,000 casino-industry executives. Compton named Cory Roberts as publisher in 2020 but continued to oversee the company's income streams and other business matters.
***
Manz and Rocha earn AGEM's 2023 Memorial Awards
Tribal gaming spokesman and advocate Victor Rocha and the late gaming supplier executive Bob Manz are the 2023 recipients of the Association of Gaming Equipment Manufacturers (AGEM) Memorial Awards.
Manz spent over a half-century in the gaming supplier sector, including a 35-year stint with Bally Gaming and a decade with Rocket Gaming. His family accepted the Jens Halle Memorial Award Honoring Excellence in Commercial Gaming Professionalism in his honor.
Rocha, a member of Southern California's Pechanga Band of Luiseño Indians, has been involved in Indian gaming since 1998. He operates the Pechanga.net news website. Rocha received the Peter Mead Memorial Award Honoring Excellence in Gaming Media & Communications.
The Nevada Independent is raising $200,000 by Dec. 31 to support coverage of the 2024 election.
Tax-deductible donations from readers like you fund this critical work.
If you give today,your donation will be matched dollar-for-dollar.
Give + Get Matched
Featured Videos