Indy Gaming: Sports business continues to grow in Las Vegas
During an IndyFest discussion, speakers talk of expanding local fan bases coupled with growing sports tourism.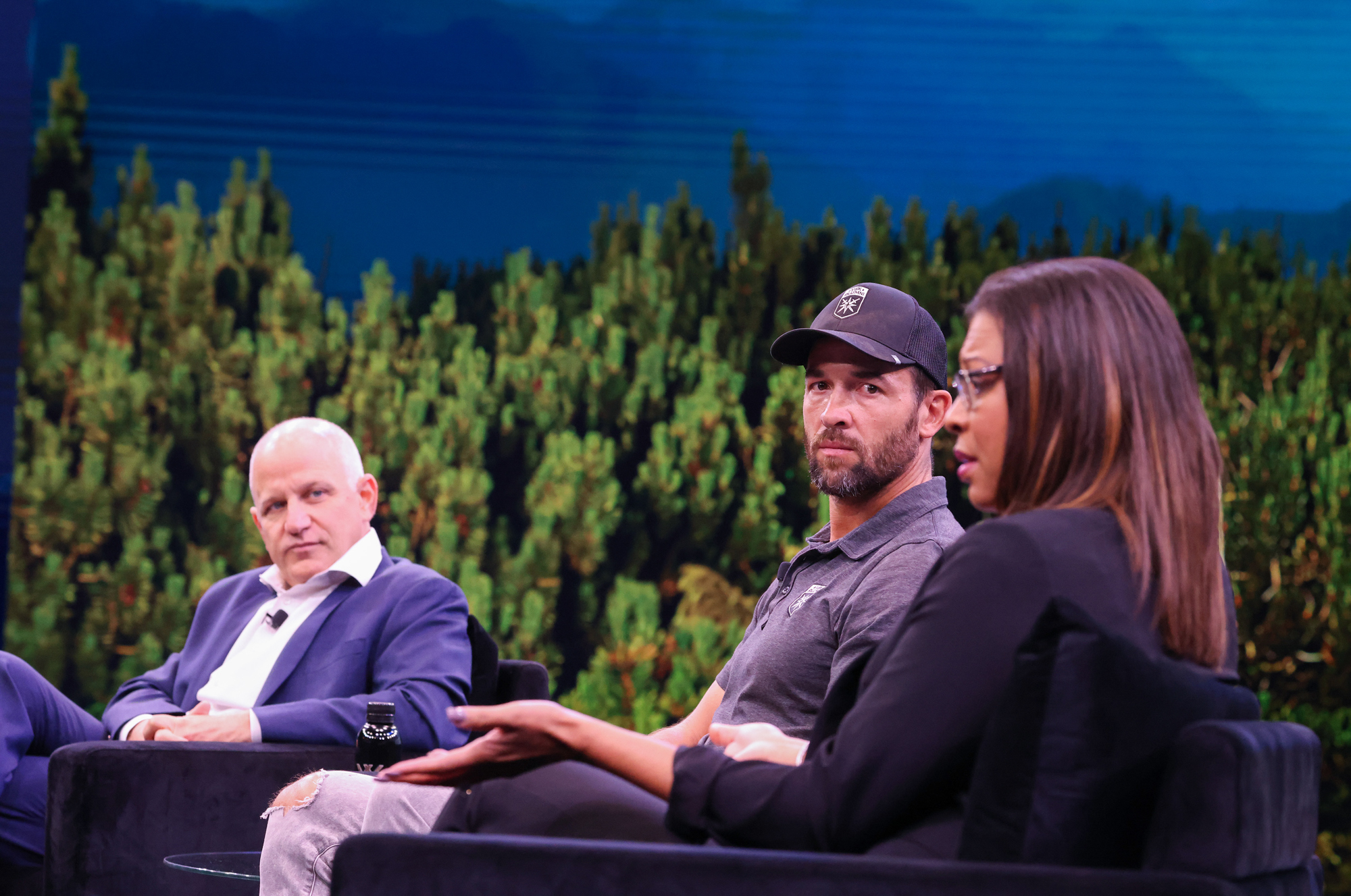 Good morning, and welcome to the Indy Gaming newsletter, a weekly look at gaming matters nationally and internationally and how the events tie back to Nevada.
If a colleague or associate emailed this newsletter to you, please click here to sign up and receive your own copy of Indy Gaming in your inbox. - Howard Stutz
---
Will Las Vegas land an NBA franchise?
Oak View Arena President Marc Badain didn't give away many secrets about any possible future tenants in the planned 20,000-seat sports venue under development for 25 acres of a 66-acre parcel near the intersection of Las Vegas Boulevard South and Blue Diamond Road, part of a $10 billion hotel, gaming and entertainment district.
"Since we announced this project, we've been very careful and we don't want to make any presumptions or assumptions," Badain said during an IndyFest panel discussion last week covering the business of sports.
"The league has obviously talked about expansion," Badain, the former president of the Las Vegas Raiders, said. "There are a couple of really obvious candidates for it [with] Vegas being one of them. That will be a decision by the commissioner and the 30 owners to decide where they want to expand."
Nikki Fargas, president of the WNBA's Las Vegas Aces, said the league has a great relationship with the NBA. The Aces are one of three WNBA teams (along with Seattle Storm and Connecticut Sun) that do not share their market with an NBA counterpart.
"You can see a lot of the crossover with some of the other franchises that do have NBA teams in their market," Fargas said. "So I think the synergy is already there."
However, she added, "Selfishly, I like it just being the women."
Still, the potential addition of an NBA franchise and the pending move by the Oakland A's would make Las Vegas just the 14th metropolitan area in the nation to have teams from all four major sports leagues — a rapid growth kicked off by the launch of the expansion Vegas Golden Knights in 2017.
IndyFest panelists including Badain, Fargas and retired Vegas Golden Knights player Deryk Engelland, who is now a special assistant to team owner Bill Foley, focused their comments during the 50-minute discussion on how sports contribute toward Las Vegas' annual visitation number, which topped 42 million before the pandemic.
All three said the local sports consumer was just as important.
Fargas recognized the "girl dad phenomenon" of fathers bringing their daughters to watch the Aces, the defending WNBA champions who won their opener Sunday in this year's best-of-five championship series against the New York Liberty,.
"We're excited this community has embraced all of these professional sports teams," she said.
Engelland, who was selected by the Knights in the 2017 expansion draft, has lived in Southern Nevada since 2003. He met his wife, Melissa, while playing for the minor league Las Vegas Wranglers.
As part of Las Vegas' first major professional league team, he said he wanted to help build a fan base.
"We were going around the city doing some community events because we needed to put ourselves out there," Engelland said.
That connection was evident after the Oct. 1, 2017 shooting massacre that killed 58 and injured hundreds at a Las Vegas country music festival. Ten days later, the Knights postponed the team's celebration of its first game in Las Vegas to honor the victims and first responders. Engelland spoke on behalf of the players with a memorable speech that helped forever connect the team with the community.
"Probably my most proud moment as a hockey player is that speech," Engelland said. "I still hear from many people today who tell me how much the team helped them that year."
The Knights engraved their place in sports history in June by winning the Stanley Cup in just the team's sixth season.
Though professional sports long shied away from Las Vegas, the 1983 opening of the 18,000-seat Thomas & Mack Center at UNLV was the city's first foray into the sports business world. The arena helped draw the National Finals Rodeo away from Oklahoma City two years later, and the event continues to fill hotel rooms in Las Vegas over the first two weeks of December, once considered a down period for tourism.
November's Formula One Las Vegas Grand Prix and Super Bowl LVIII in February are expected to each provide economic impacts exceeding $700 million, according to the Las Vegas Convention and Visitors Authority.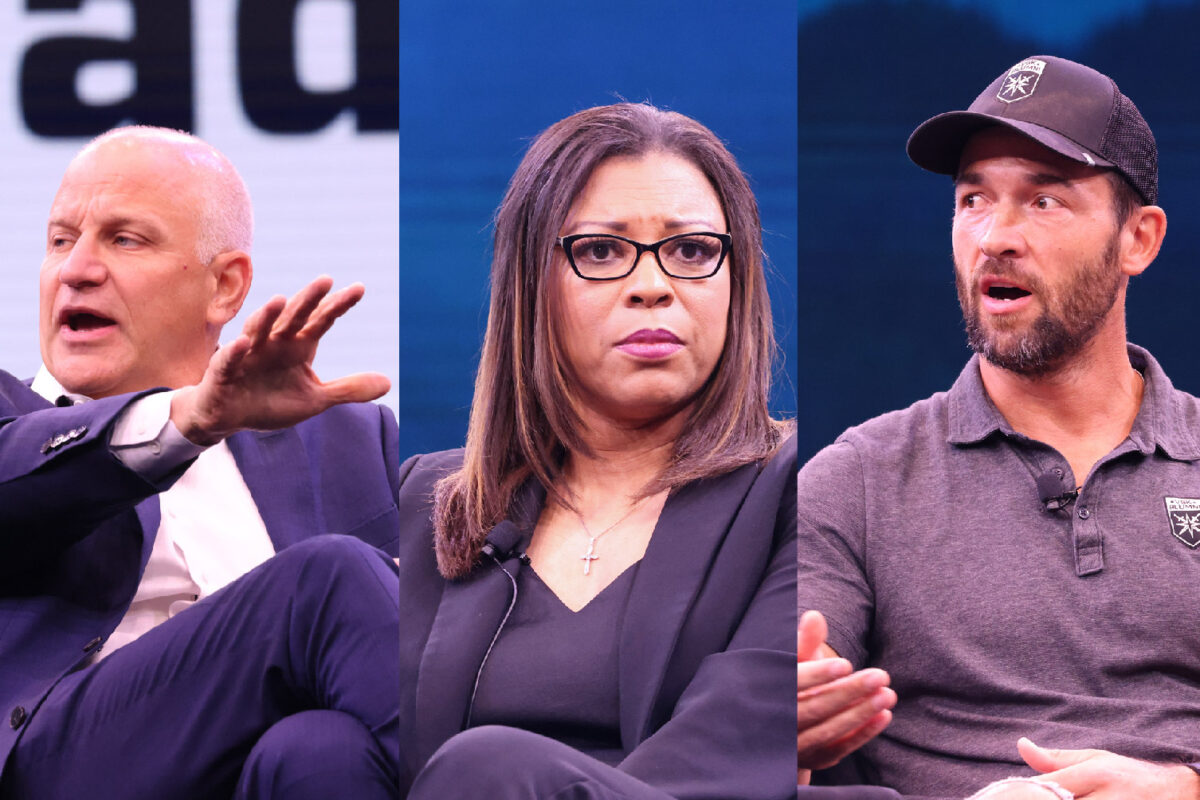 Las Vegas has also proven to be an attractive date for fans of the visiting teams playing the Raiders and the Golden Knights. Fargas said the Aces also see large numbers of opposing team's fans. She suggested fans look at their team's road schedule and circle Las Vegas as the one place they would go to support their team.
"Why wouldn't you come to Vegas?" she asked.
Oftentimes, visiting fans outnumber Raiders fans. Badain said that isn't a new phenomenon as barriers that once made it challenging to access NFL tickets in many markets have disappeared.
Engelland said Knights fans helped players deal with large visiting fan bases during the inaugural 2017-18 season by drowning them out with their own raucous cheering.
Badain, who as president of the Raiders helped spearhead the building of the $1.9 billion Allegiant Stadium, said the 65,000-seat venue (funded by $750 million in hotel room tax money) has surpassed expectations.
"I think if you look out the next two or three years, the number of events are going to continue to exceed all of those projections," Badain said, crediting Las Vegas' more than 152,000 hotel rooms.
Meanwhile, Las Vegas could be home to Major League Baseball by 2028 if owners approve the relocation of the Oakland A's to a proposed $1.5 billion, 33,000-seat stadium on the site of the Tropicana Hotel and Casino. State lawmakers this year approved a $380 million public funding package to help construct the stadium.
Badain admitted there were issues between the Raiders and the A's when the teams shared the Oakland Coliseum. "You expect a level of honesty and professionalism that just didn't exist," he said.
But he did offer the A's some advice.
"I know what we put into building Allegiant Stadium, and you better build something special here," Badain said. "I know what we're doing for the arena. You can't just build some cookie-cutter facility. You have to come up with something dynamic, and something that's going to draw attention and is going to be worthy of this market."
Click here to view the entire IndyFest "Business of Sports in Nevada" discussion.
---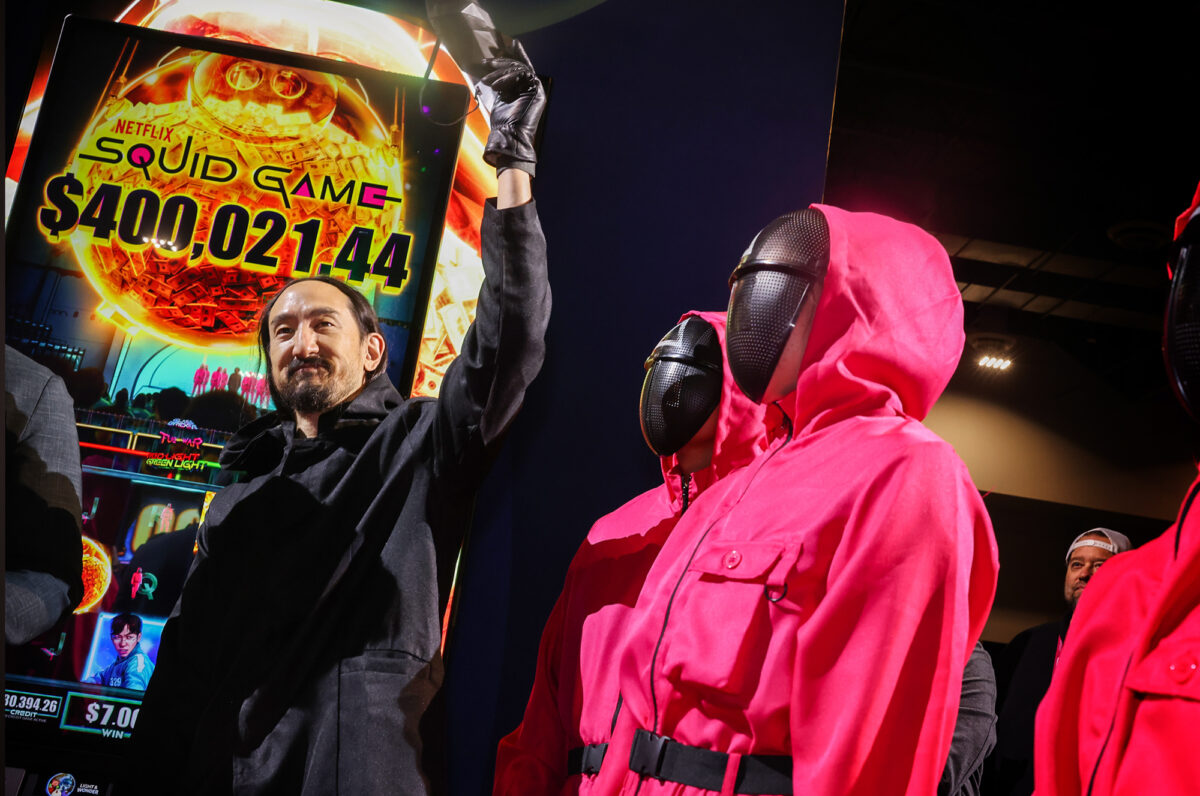 'Squid Game' heading to casino floors — without the blood
Clearly, no one will die playing the slot machine version of the hit Netflix show "Squid Game." 
That wouldn't be good for business.
Gaming equipment developer Light & Wonder unveiled its "Squid Game" slot machine at the Global Gaming Expo on Tuesday. Reportedly, there was no blood on the floor of the Venetian Expo.
The game is based on the South Korean-produced survival television series in which players, all of whom are in deep financial debt, risk their lives playing a series of deadly children's games. Those games are depicted on the slot machine and include, "Red Light, Green Light"; "Tug of War" and "The Glass Tile."
"We've seen how combining fan-favorite shows with immersive gameplay can resonate with audiences both digitally and on casino floors," Light & Wonder CEO Matt Wilson said.
---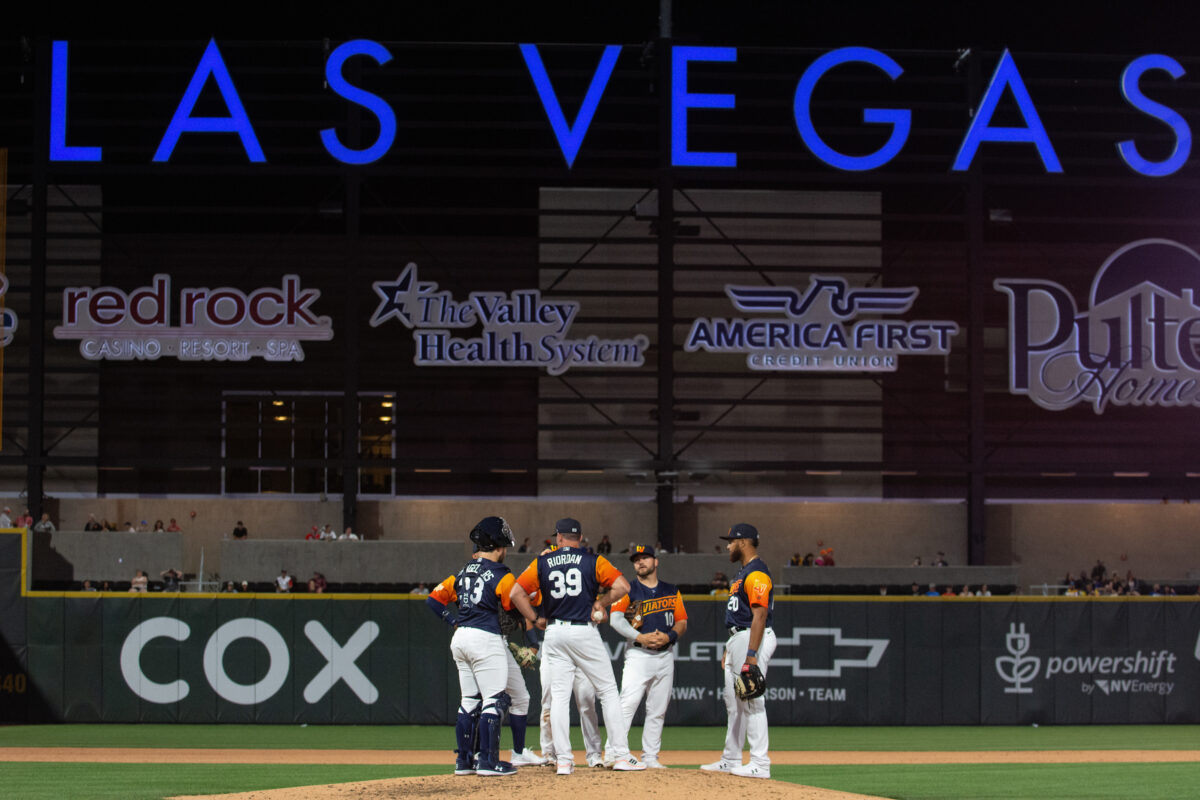 Quotable
Via press release from Howard Hughes Properties
A spin-off business that includes two Las Vegas entities and will be headed by a former MGM Resorts International executive was announced by Howard Hughes Properties. Anton Nikodemus will be the CEO of Seaport Entertainment. The Las Vegas Aviators minor league baseball team and an 80 percent interest in the air rights above the Strip's Fashion Show Mall are part of the new company. Seaport intends to create a new casino at the Fashion Show but didn't provide details. Seaport also includes the Seaport development in Lower Manhattan and ownership in Jean-Georges restaurants
"There is tremendous opportunity ahead as we harness the potential and unlock the value inherent in these one-of-a-kind assets located in New York and Las Vegas — two of our country's most dynamic entertainment destinations."
Anton Nikodemus, CEO, Seaport Entertainment
Via press release from Light & Wonder
Gaming equipment provider Light & Wonder named Mark Yoseloff as a consultant for the company's table game business. Yoseloff, a member of the Gaming Hall of Fame, was responsible for several products in the Light & Wonder portfolio. The company's predecessor acquired Shuffle Master, where Yoseloff was chairman and CEO.
"Mark's exceptional track record and insights will be instrumental in steering our strategic initiatives and reinforces our commitment to delivering an elevated player experience."
Mike McKiski, senior vice president, Light & Wonder
Via press release from Accel Entertainment
The Illinois-based parent company of Nevada slot machine route operator Century Gaming has promoted Mark Phelan as president of the company's U.S. gaming division. Phelan has been Accel's chief revenue officer.
"Mark has driven significant revenue growth and helped shepherd Accel's expansion into new markets. This newly created position will enable Mark to focus even more of his time and energy on our go-forward strategy to expand our geographical presence."
Andy Rubenstein, CEO, Accel Entertainment
The Nevada Independent is raising $200,000 by Dec. 31 to support coverage of the 2024 election.
Tax-deductible donations from readers like you fund this critical work.
If you give today,your donation will be matched dollar-for-dollar.
Give + Get Matched
Featured Videos