Clark County School District Superintendent Jesus Jara discusses his goals during an interview in his office on Friday, July 27, 2018. (Jeff Scheid/The Nevada Independent)
Indy Q&A: Jara discusses 'lofty' education goals, ideas to bolster equity across Clark County schools
August 6th, 2018 - 2:00am
Every school year brings a fresh start, filled with new teachers, new friends, new supplies and maybe even a new building.
This year, Clark County students and staff can add another item to that list — a new leader overseeing the nation's fifth-largest school district. Superintendent Jesus Jara assumed the top management role June 19, taking the reins from his predecessor, Pat Skorkowsky, who retired that same month.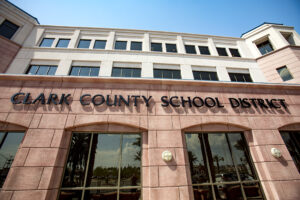 Jara's arrival coincided with a rocky few months for the district, which experienced back-to-back budget crises as well as an increasingly fractured Board of Trustees. His selection capped an end to a contentious search process that pitted an "outsider" versus an "insider" for the all-important position. Ultimately, a split board chose to give Jara — then-deputy superintendent of Orange County Public Schools in Orlando — the chance to boost the long-struggling Clark County School District.
During his first school visit earlier this summer, Jara declared his mission going forward: "We're going to be one team with one clear goal, and that's to be the No. 1 district in America."
With a new school year just around the corner, The Nevada Independent sat down with Jara to discuss his observations so far and plans for the future. The following interview has been lightly edited for brevity and clarity:
Shortly after you arrived, you released a 90-day entry plan and mentioned possibly creating a new strategic plan afterward. What topics might you include in that new plan?
Transparency is going to be one. From what I'm hearing from the school folks, from principals, they want to see how we improve our communications with the school, so those are just two of the big ones.
What do you mean by "transparency"?
I'm going with fiscal transparency. I'm going with academic transparency. Looking at our data. We have to make data-driven decisions. Every percentage and every number, there's a face behind that. So that's what I'm talking about — not only for our schools, but for our community.
Your entry plan also states you want fully staffed classrooms by the first day of school. How's that going?
We're not fully staffed. I'm glad you asked that question. That's a commitment that I have. We need to have a sense of urgency that we have fully staffed classrooms. We may not meet that goal this year, but it's a target. I want a highly qualified teacher in every single classroom. You have to have lofty and uncommon goals.
Do you think we'll ever see a day when the Clark County School District doesn't start a new academic year with teaching vacancies?
Absolutely.
The State Board of Education recently discussed an equity report, which details how teacher experience and, thus, salaries vary by school in Clark County. What do you think needs to be done to ensure equity for students across the school district?
First of all, it's not just for Clark County. I want to make sure that we're clear that that's a national issue, especially when you're in urban schools. I'm glad the state has the report because now it's time, now it's documented. I want to partner with the state, with the Legislature, the governor's office and this community to really look at different things. I hope it's not a takeaway that it's how Clark County budgets.
I think it's really, how do we incentivize teachers and recruit teachers and retain teachers in schools that are facing some of the greatest challenges? And I say challenges from the social aspect of home life. Those kids can learn at high levels if given the support.
As deputy superintendent in Orlando, how did you work toward closing equity gaps — or, in other words, ensure that children from challenging backgrounds have what they need to succeed academically?
We identified problems with some of the same schools we're talking about here. We worked with the teachers' union and created an incentive program for teachers and for principals. We paid them extra money to recruit them and then, obviously, for performance if they improve the schools.
(Jara went on to explain that his prior school district paid principals a $10,000 recruitment bonus to work in more at-risk schools. If their work led to academic improvement at those schools, they received another $5,000 or $10,000 performance bonus. The amount was determined by how high the schools climbed in Florida's rating system. The school district also gave teachers a $2,500 recruitment bonus for working in those schools along with $2,500 for professional development.)
Did those monetary incentives work?
It did. We started our turnaround office (which focuses on transforming struggling schools) about five years ago. We had 20 schools. When I left, I left them with nine. So the other schools left. They went back into their zoned schools, into what we call the learning community.
Where did you find the money to pay for those incentives?
It was Title 1 money, which is federal.
Do you support the so-called weighted funding formula, which would funnel more per-pupil dollars to students with extra needs?
I think the entire formula for how we fund schools here in Nevada has to really be looked at. That's part of the conversation that I want to have with the state Legislature to say, "Let's just do this right." I have lofty goals. So the conversation with the Legislature is let's look at it. Let's fund it appropriately. And then hold me accountable in this community and the board. Hold me accountable for the results, but fund me and fund our kids to receive the education they deserve.
You entered the school district a time when the Board of Trustees has been very fractured. How would you characterize your interactions with board members so far?
They're starting to get to know me, and I'm getting to know them. So we're working on that. We're building our relationship. I think it has been positive. Individually, we've had really good conversations, and i think some of the individual concerns that I'm hearing are legitimate. It's how do we address them, but then, it's how do we work as a board?
One of the longstanding board controversies has revolved around Trustee Kevin Child. Your predecessor, Pat Skorkowsky, banned Child from visiting schools based on complaints about his behavior. Will you uphold that decision?
That's something that I'm working on right now, and I really don't want to comment further on that.
Lastly, how are you gearing up for the next legislative session, which is only about six months away?
Building relationships right now — getting to know all the legislators, the decision-makers. I'm putting together an ad hoc group that is going to align our education priorities. We're going to create an opportunity for our trustees and everybody to go to Carson City to advocate for our kids.
Comment Policy (updated 3/21/19): We welcome reader comments on our stories. However, in keeping with our general policy of transparency, accuracy and accountability, we do not accept comments from anonymous accounts. Anonymous accounts are those without a valid first and last name. Any such comments will be deleted, and anonymous users will be blocked from commenting further. We also will block commenters who use offensive language, engage in personal attacks or state things that are verifiably false.
get our morning newsletter,
The Daily Indy
@TheNVIndy ON TWITTER