Indy Q+A: Korbulic departs exchange during its 'least volatile' period in the last six years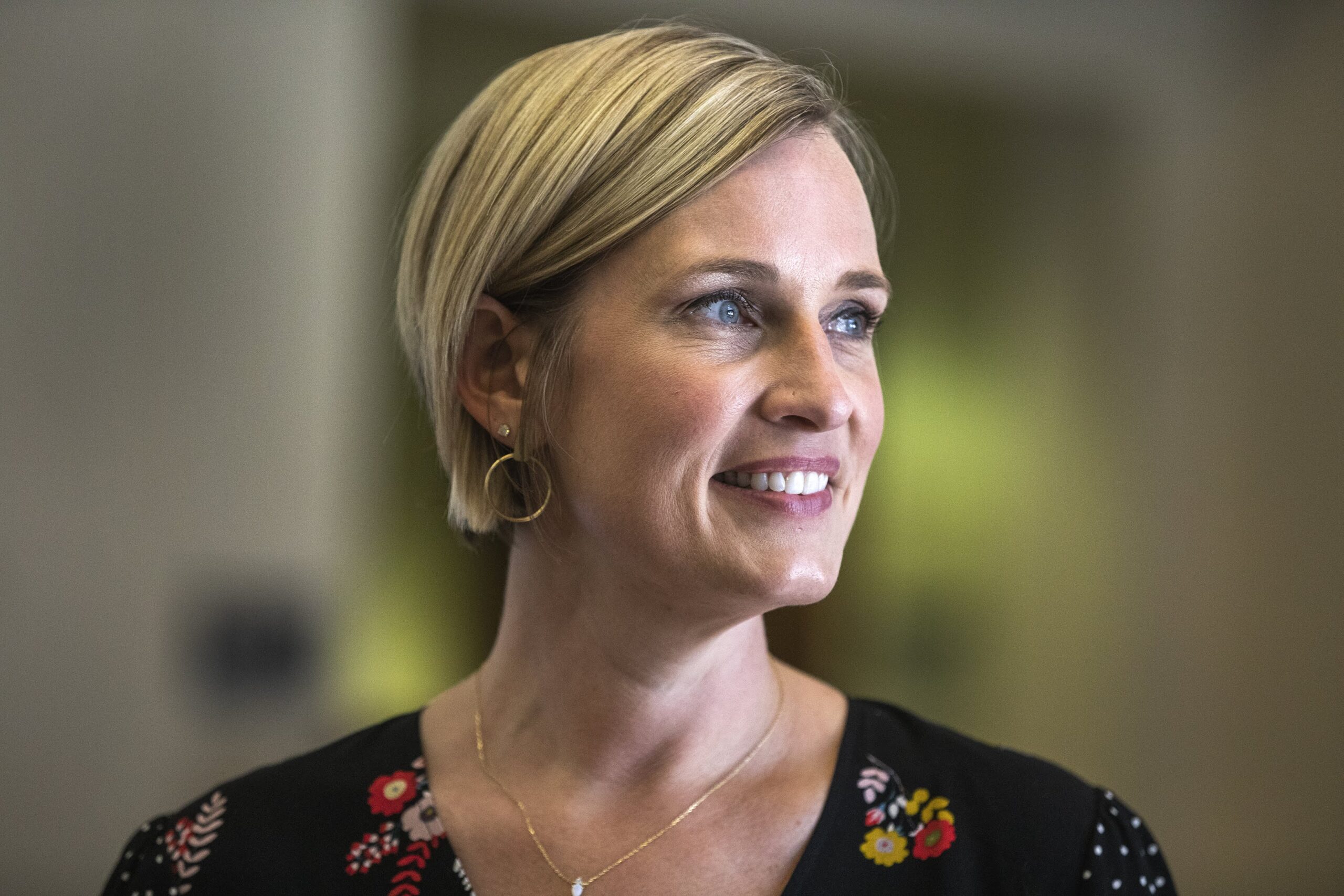 Efforts to repeal and replace the Affordable Care Act in 2017 created immense volatility in the insurance marketplaces across the country.
But Heather Korbulic, outgoing director of the Silver State Health Insurance Exchange, says that turbulent period also created an opportunity to dive into the federal health care law and explore what works. The pandemic, meanwhile, has only further underscored the importance of health insurance for policymakers and everyday Nevadans alike, she said.
"Though the systems that we currently have are imperfect, they certainly are adding value — adding value by saving lives and helping people get preventative care and access to emergency care that isn't going to bankrupt them," said Korbulic, who has led the exchange since 2016.
Korbulic stepped down as the exchange's executive director on Friday and is leaving state government service after 13 years. In addition to her work at the exchange, Korbulic served as director of the Department of Employment, Training and Rehabilitation early in the pandemic and as policy director for Gov. Steve Sisolak's office during the 2021 session.
"When I walked into DETR and realized that we were experiencing a 5,000-year flood, I don't even know how to express to you how stunned I was at the volume and how overwhelming it was for the system as a whole and for people who were suffering," Korbulic said. "That was such a consequential and emotional moment for so many people."
Korbulic spoke with The Nevada Independent this week about the significant changes the exchange has experienced over the last six years, from the turbulent days of repeal and replace to the transition to a fully state-based exchange in 2019.
This interview has been edited for clarity and length.
The health care landscape in Nevada, and the U.S. broadly, has changed so much since you took this position in 2016. What sticks out to you as being the most significant changes between where we were then and where we are today?
The more things change, the more they stay the same. A lot has changed, but we're still in a very complex web of health policy and health care systems that don't always work well together. I think there is still a lot of room for good policy to solve very complex problems, but I think the biggest difference that I see from the last — maybe a decade — but the last six years, certainly, is the awareness that people have around health insurance. I mean, you had the Trump administration whose first act in office was to try to tear down the Affordable Care Act. As devastating and complex as his tenure was for health policy, the bright side was that you had a lot more people talking about and caring about health insurance and health policy.
I guess I can say it now on this side of things, but even the activities that went on with the repeal and replace ideas that were fast and furious back in 2017 and 18, those policies gave us a really interesting opportunity to find out what works with the Affordable Care Act. I remember long weekends and long nights sitting in my office, reading through those and thinking about how they would have an impact on the way that things existed now — and most of the time a negative impact. Though the systems that we currently have are imperfect, they certainly are adding value — adding value by saving lives and helping people get preventative care and access to emergency care that isn't going to bankrupt them.
Do you see that increased interest and understanding about health insurance among everyday people, or among lawmakers and policymakers?
I think it's both. You can see it in an individual savviness. It's a positive consequence of a serious negative situation with the pandemic. We have a lot of people who are looking at health insurance and the complexities around health insurance and getting an education quickly on the differences between Medicaid, the exchange and employer sponsored coverage. There's just a lot more people in the know.
In terms of legislators and public officials, just looking at what polls highest among their constituencies' interests, it's always health care and affordability and access to health care near the top. I think lawmakers have been put in a position where they must have a fundamental understanding of at least the state's health care infrastructure in order to best serve their constituents.
2017 strikes me as a very uncertain time in health care for the state. Nevada was grappling with how to ensure that 14 so-called "bare" counties had at least one plan available to them for purchase on the exchange. All of that was happening at the same time as efforts to repeal and replace of the Affordable Care Act. Compare that to this year, where there are seven companies offering plans for sale on the exchange during open enrollment. Acknowledging all the challenges that still exist, do things feel less uncertain with the exchange than they did back in 2017?
Absolutely. Part of the reason that I have accepted another offer and am feeling confident about where we are at the exchange is because this is the least volatile situation I've ever experienced working in health policy at the state. The Trump administration and the calls to repeal and replace really created such wild volatility in the marketplace as a whole across the country but more specifically in Nevada when we were looking at having bare counties and the consequences for people in rural Nevada that would have unfolded as a result of that. I think back to Governor Sandoval having to make personal phone calls to help address that scenario and just how far we've come. Whether it was weathering policy changes and papercut policymaking from the Trump administration to coming full swing now to an administration that has been very supportive of exchanges and getting people insured, down to the state level where we have a body of lawmakers who are supportive of the work of the exchange and the work of Medicaid and the idea of having good public health and good economic health as a result of having people insured, all of these carriers interested in being and participating in this marketplace, along with the fact that we have this incredibly seasoned team at the exchange, people who know what they're doing, they understand the vision and the mission of this organization — all of that makes me feel really comfortable with stepping away and allowing someone new to come in and innovate even further.
Nevada transitioned to a fully state-based exchange in 2019. How different would the exchange's operations been during the pandemic had it not made that transition?
A case had to be made to state legislators, to the governor — Governor Sandoval at the time — that it was a good idea to transition from healthcare.gov to our own state-based exchange, despite previous failings. We built an argument around three different things: One was affordability, and the ability for us to do this cheaper and more effectively than the federal government; the second was the autonomy that could come from it, being able to implement state policy and doing things that were best for Nevadans rather than being connected to a system that was too large to really kind of turn at a dime when we needed to address Nevada's needs; and the third was data and making sure that we had all of the data on who we were insuring and where they were so that we could do a better job of targeting those people.
Seeing the progress in our enrollment year over year — this will be our third open enrollment period as a state-based exchange — we're tracking to have just as good if not probably, hopefully better than any other year before. All of that speaks to the value of being able to have a state-based exchange that can really respond to Nevada's needs.
More specifically to the pandemic, when this started in March of 2020, we were quickly in a position to implement a special enrollment period for anybody who had lost a job or anyone who wasn't covered had this great opportunity to get connected to Nevada Health Link and healthcare.gov just simply didn't do anything. That's a small example, but there are many, many others that have really borne through of the three original arguments that were made.
Where are those gains in enrollment coming from?
We're seeing growth across the board. We saw almost 6 percent growth during plan year '21, where in normal years we would see attrition of about 15 percent. That's all tied back to the expansion of federal subsidies in the American Rescue Plan Act. That has allowed people who are already on the exchange to get more subsidies, but then all of these other people who were previously ineligible because their income was slightly too high are now able to get that subsidized assistance, and that's making a world of difference.
We're waiting to see what the Senate does with the Build Back Better Act now that the House has passed it, but what kind of an impact would extending those enhanced subsidies, even for a finite period of time, have on the exchange and people's ability to get insurance?
It is incredibly consequential for the exchange to have the subsidies extended past the current 2022 plan year, and we're really hopeful that Congress will take action and make that happen here really shortly. But we know it's very hard to take things back once they've been given. We've got a population of almost 90,000 Nevadans who are getting subsidy assistance from the federal government that makes their insurance more affordable than it's ever been. To unwind that can be done technically but will have a significant consequence for Nevadans and their ability to purchase insurance, and that's dangerous territory for Nevada. We don't want to go backwards in our progress.
There has been a lot of national attention in the health insurance space on Nevada's public option. What do you think that will look like moving forward as the exchange continues its operations and that plan continues to be developed over the next few years?
It's certainly an interesting and welcome conversation, especially in light of the waiting game that we're currently facing with the passage of the Build Back Better Act. There is a real conversation that needs to be had — and I would say this conversation needs to be happening at a national level downward — around affordability and access. One of the most significant points of access that is blocked off for many Nevadans is whether they have a legal residency. That prevents people from getting access to any insurance from the exchange and from Medicaid. While the public option is an important part of that conversation, I'm not sure that it solves that problem specifically. It's a really dynamic problem. I don't think there's any one solution that is going to be a perfect fit and will allow everybody in, but I certainly applaud the efforts to talk about affordability and accessibility.
It strikes me that in Nevada, if you have an interesting health policy idea and you can get enough lawmakers to support it, you might be able to pass it — whether that's the public option or drug pricing transparency. But there's only so much that can be done at the state level. What do you see as the pros and cons of trying to pass health policies at a state level versus a national level?
The states have always been a Petri dish of innovation. On small, but consequential, levels we had seen dramatic policy changes at a federal level from states. Massachusetts health insurance exchange was long before the Affordable Care Act's passage, and I think about how great that has been and what a marvelous example of exchanges that Massachusetts is. But, ultimately, if you think about health care and the health care industry in the country, there is a significant amount of money that goes and flows into these complex systems. So really taking a federal look at, "How do we make a meaningful difference in people's lives at a state level by making federal policy changes?" — those have really consequential financial impacts. Those are the kind of policy decisions that are really difficult for states to navigate because we rely on federal funding, Medicaid is a significant portion of federal feeding. We are subject to federal rules, and there's only so much flexibility a state can have.
What are the biggest challenges the exchange faces moving forward?
There are a few things that the new director is going to have to be thinking about. The good news is that you have an exchange that's in the most stable place that it's ever been in and you have a seasoned team who's going to be able to keep their eye on the mission of the organization. The challenges that we're facing are really focused around making sure that the Build Back Better Act is passed — if not that act, something that extends those enhanced subsidies for years to come for Americans and, more specifically, Nevadans.
The other item on the horizon is the end of the public health emergency. When the public health emergency ends, we know Medicaid will have to go back and reassess some over 800,000 individuals who are on Medicaid for eligibility, and many of them will lose access to their benefits, some because they didn't participate in the redetermination process — they didn't partake in the administrative acts that need to happen in order to keep their Medicaid — and others because they're over eligibility thresholds that would make them eligible for the exchange, and that's a significant portion of the population. It's something that the next director is going to have to be very laser focused on, making sure that we're capturing those folks.
I also think we have such an opportunity to leverage the data the exchange collects to make very reasonable and sound policy recommendations both to the governor and the Legislature, and I really encourage that person to start digging into that and thinking about what makes a meaningful difference, what could be small things that actually add up in a big way to improve Nevada's accessibility and affordability.
We talk a lot about how Nevada ranks at the bottom of all the wrong lists on health care. Where do you think the state has the most room to grow in the health care space generally?
A problem that Nevada has had since I started working here 13 years ago — and I'm sure it dates back before my time, too — is just the lack of workforce. That health care workforce is critically important in terms of keeping people healthy and making sure they have accessibility to health care. That focus has to kind of go back to the roots of what really is our state's needs, and it has been and likely will continue to be making sure we have a good workforce available. You can get as many people as you want insured, but if there's no doctors for them to see, that's a real problem. Once we can tackle that problem, a lot of the other rippling consequences of that could be at least mitigated if not solved.
You also served as director of the Department of Employment, Training and Rehabilitation during some of the pandemic's darkest days when unemployment rates were sky high. How have you reflected on your time at DETR since then?
The recovery we are seeing is just as jaw dropping to me as it was when I walked in and fully recognized how significant the unemployment crisis was. When I walked into DETR and realized that we were experiencing a 5,000-year flood, I don't even know how to express to you how stunned I was at the volume and how overwhelming it was for the system as a whole and for people who were suffering. That was such a consequential and emotional moment for so many people, and then to watch the state climb out of that and really kind of build back an economy thinking about people's lives and their livelihood, with every decision that the governor has had to make over the last 21 months, it's impressive to see the resiliency of this state, and I feel really humbled by that experience.
The Nevada Independent is raising $200,000 by Dec. 31 to support coverage of the 2024 election.
Tax-deductible donations from readers like you fund this critical work.
If you give today,your donation will be matched dollar-for-dollar.
Give + Get Matched
Featured Videos