University of Nevada, Reno on Tuesday, Aug. 26, 2020. (David Calvert/The Nevada Independent)
Indy Q&A: New Chancellor Melody Rose on managing higher ed amid coronavirus, budget crises
September 8th, 2020 - 2:00am
Melody Rose took the reins of the Nevada System of Higher Education as its newest chancellor Tuesday, entering the system's top job at a time when NSHE and its eight institutions are faced with the deepest budget crisis since the Great Recession and the still-lingering health threats posed by the coronavirus pandemic.
A 25-year veteran of higher ed who served briefly as the Oregon University System chancellor and president of Marylhurst University, also in Oregon, Rose takes the reins as one of a handful of new top-level appointees at Nevada's higher education institutions. She follows newly appointed UNLV President Keith Whitfield, who started the job late last month, as well as the yet-to-be-determined replacement for outgoing UNR President Marc Johnson.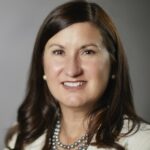 In an interview Tuesday, Rose discussed her role in steering the system through those crises, as well as her broader goals as the system's newest chancellor. This transcript has been edited for length and clarity.
---
Colleges nationwide spent months planning for a fall semester amid the pandemic, but at many of those institutions, the rollout of those plans has often been rockier than administrators might have hoped. How would you rate Nevada's preparations for the fall?
You know, I think that everybody has been anticipating an uncertain fall term, and I think that one of the things that Nevada did exceptionally well was to embrace that uncertainty. So what I see when I read all eight of the plans that were developed by the institutions is a high degree of flexibility and ability to pivot based on conditions.
I think that's the moment we're living in, right? This is a moment about resilience and ability to deal with uncertainty, and the plans, as I've reviewed them, do exactly that. So I think we're in good shape heading into the second week of the term, and I look forward to working with the presidents and other stakeholders to continue the good work.
I think we're really well-positioned, and I think so for a few reasons. One, of course, is that we have a lot of expertise in health care. So the fact that we can draw on local knowledge in our own faculty and administration puts us in a really enviable position to use that local knowledge and area-expertise to the benefit of our students, staff and faculty. It's something that not every institution has nationwide, not every system has nationwide.
The other aspect of strength that starts us off this term, though, is the fact that we dealt with this issue from the beginning of needing to be what we are calling 'HyFlex.' So we've got a larger than usual number of courses already online. Each institution looked at its particular situation and particular student needs and infrastructure and made really savvy, locally-based decisions about the balance of classes it could manage online versus in-person. So we're already positioned really well, and I think that you've got as great a chance as you could possibly have for our plans to go off exactly as expected.
Even in just the first months of the pandemic, the system has already absorbed deep cuts to state appropriations. Considering your priorities and your vision, how do you foresee the system navigating this budget crisis as it continues into FY2022 and beyond?
I appreciate you thinking the long game here, because this clearly is a long game. And I'll start with, again, some of the strengths that we have coming into this crisis that not every state enjoys. It's important to remember that our demographics are pretty favorable to weathering these conditions. Compared to some other states in the Midwest and the Northeast, where the college going population has been in rapid decline, we don't have that challenge here in Nevada. And in fact, we have seen stable enrollments to small growth enrollments this fall. So I think compared to other places in the country, we start from a position of strength.
Now, what I would also say is that I believe very firmly, when it comes to tough budget conditions, that you can't cut your way out of a crisis. You really do have to think about growing your way out of a crisis to the best of your ability. And here's where it comes to some of my priorities. One of the things that we are also focused on in Nevada is the incredible wealth of diversity that we have in our state, and you know that we've been doing a better and better job matriculating brown and black students into our institutions. But we don't see the kind of persistence and completion among those populations that we need to see. So one of the best things you can do in a crisis is to keep your customers, one of the best things you can do is to wrap your arms around those students, provide them with the scaffolding they need, and increase your persistence and completion numbers. That's going to buoy your revenue side of the ledger, and I start by focusing there.
To your point, though, this is going to be a long road. We're not alone; the whole world is facing this. And I do think that there are some cost savings that the system and our institutions will be looking at very seriously. One of the advantages of being a holistic system is we can look around and say, 'Well, what are the kinds of back-of-the-house shared services that we can scale, that maybe each institution doesn't need to provide for themselves, but that we can come together and create some cost savings.' So those are the kinds of things initially that we'll be looking at when we consider those budgets in the out years.
What are your top priorities heading into your tenure as chancellor?
I've already said job one is to really be on a listening tour. And we have a lot of constituencies in higher education, as you know. And so a lot of my time will be spent with them and hearing from folks and trying to get a finer sense of what everyone needs from us. But beyond that, I see two really critical opportunities for us.
One of them is that we are one of a few systems in the nation that combines community colleges with four-year institutions. And that provides us with a unique opportunity to assist students in moving through the pipeline of higher education. So of course, you know, somebody might start out just wanting to take a few classes to get a badge or certificate to be recertified for employment. That might turn into interest in an associate's degree. And then, you know, this prospective student might say, 'gosh, what would it take for me to stretch and be that first person in our family to get a bachelor's degree?' In a system like ours, we can plug the holes in the pipeline all the way through, which allows us to lower the cost and time to a degree for our students. So I am really excited about that potential and excited to look at the data to understand where we can improve that pipeline for the benefit of the state Legislature who invests in all of this and for students.
Secondly, I think we have an enormous and vital opportunity to close the achievement gap in the state. And as I mentioned in my earlier remarks, one of the things that attracted me to this opportunity is that the state has been doing a better and better job of getting diverse classes of students into their institutions that reflect the communities that they represent. But we still have work to do, and there's a place where I think if we really create a laser focus with clear goals and outcomes and a passion for results, we could be among the top states in the nation at closing the achievement gap, and that would be the achievement of a lifetime.
In your view, what is the best way to maintain or grow levels of enrollment among historically underserved or underrepresented student groups, as well as the best way to ensure they graduate once they make it into Nevada institutions?
I wish we had a whole hour for this conversation because it's a passion of mine. And because there's a lot to bring to this conversation, but a few headliners for you. One of the things is that we have to really think differently about how we recruit students. So different populations of students, different demographics want to be approached in different ways. And so really devising a sophisticated inclusive recruitment program means recognizing those differences across target populations. For example, from my time in Oregon, I can tell you that some of the best recruiting we did of Latino and Latina students was through non-traditional events — farmers markets, churches, a lot of different locales — where communities come together and gather and not necessarily focusing just on high schools.
The other thing to put into play here is it matters who's doing the recruiting, right? Who are the folks that we're sending out on the road to recruit, attract and retain these students? Do they look like those prospective students? Do they speak their languages? Do they have a cultural affinity? So having all of that at the ready really makes a difference in terms of advertising yourself and truly being a welcoming representative place.
And then in terms of persistence and completion, there, too — what students experience on their campuses in terms of student life, in terms of the programmatic opportunities for them. If they have come from challenging high schools, getting them up to speed, those are all resources that we need to bring to bear and invest in in order to support all students getting across the dais on commencement day.
An issue that has only worsened with the financial impact of the pandemic is the increasingly unaffordable cost and crushing long-term debt of higher education in the U.S. How will you try to maintain affordability or expand it and make sure that students who are entering the system aren't leaving in massive debt?
I think there's no bigger travesty in higher education in America today than what I call the problem of "debt but no degree." So we don't really serve students, and I would go so far as to say it's not really an ethical practice if we invite students into our campus without the necessary supports and scaffolding, and then they drop out before completion and carry debt along the way. So we absolutely have to be mindful of this challenge.
That's not particular to Nevada by any stretch. We're a very affordable state, and I think that that commitment from the regents and from elected officials has been very consistent. But we need to have a conversation, as a nation, about the fact that school is not just about tuition, room and board. I'll share that as a mother of two college students right now, tuition, room and board is only part of the expense of going to school, right? There's lost income because you're studying and going to class; you may have daycare needs that you wouldn't otherwise have. You've got transportation costs, which can be very difficult in certain parts of the state if you don't own a vehicle of your own. So we need to be thinking, I think, as a nation, and certainly this is part of the conversation that I will bring home here to Nevada, about all of the expenses associated with going to college.
All of that said, the data still tells us that the return on investment for getting a college degree is very high. So even as students are making tough decisions to be in school right now, when they and their families may have suffered economic loss, we have got to keep our eyes on the prize and understand that that return on investment is there. And what we can do at the system is try to keep our costs low and therefore our prices low and bring in as much as we can in terms of some of the wonderful scholarship opportunities that we've already begun to build.
Nevada universities have reached certain academic milestones over the last several years, most notably the designation of UNR and UNLV as Carnegie R1 research universities. Amid deep budget cuts, how does the system maintain the academic quality of universities and colleges across Nevada?
I think that R1 status for both of our institutions is just an incredible leap forward for them. And understand, of course, that that academic prowess, that research capability is part of the recruiting strategy of those institutions. So these things are connected. So when you have that R1 status, you're creating a great brand around academic excellence that will bring more students into those institutions. So it's really important for all of us to remember that these things are not disconnected.
In terms of how we continue to advance and protect the good work that has been done, you know, this is where the presidents of those institutions will be working with every stakeholder group as we go into the next round of budgeting to look at what are our highest priorities, and of course, maintaining that access to excellence is going to be primary among their budgeting tasks. So one of the things that universities will often do, of course, is grow their research profile after they've become R1 institutions and have greater access to that kind of federal funding. That creates some offsets, administrative offsets, and that can be very helpful.
But I also think we, again, have to tie this back to tuition. When You're an R1 institution, and if you create opportunities for students to be part of the research agenda, that's what we call a high-impact practice. And students who are participating in research at their R1 institutions are far more likely to persist and complete, which again, will protect that tuition revenue. So this is a complex problem with really complex solutions. At the bottom line, it's about putting your clearest intention around your goals and holding students harmless and advancing the academic mission and letting go perhaps occasionally of things that you don't need to be doing any longer.
Research is one thing, skills training or retraining programs are another. How should the system look to promote such programs at community colleges or other institutions at a time when the health and financial impacts of the pandemic are still serious concerns for prospective students?
What I would say about that, of course, is that our community colleges are going to be completely vital to the economic recovery of this day, they are an essential component to re-skilling up-skilling and to pivoting because, as you suggest, even before the pandemic hit, America has been going through its Fourth Industrial Revolution. There's a whole shift happening and as you have noticed and you know, new industries coming in, particularly around the Reno area, are bringing in new opportunities for our workforce. Our job is to work hand-in-glove with our local industries with industries we want to bring here and make sure that we're partnering with them to provide the workforce development that they know they need now and well into the future. So we have the immediate problem of course of unemployment, and getting out there and providing options and opportunities for unemployed or underemployed Nevadans.
But you know, I also like to remind folks that we need to be thinking about the long haul. So as we think about our community colleges, workforce development, growing the industrial diversity of our state so that we are a more stable economy into the future, we need to be asking ourselves, what are kids who are eight years-old-today — what are they going to need from us 10 years from now? And that's the kind of future thinking that we will be doing at the system. As you know, working with workforce development is one of our strategic goals as a system, and all of our institutions are tied into that mandate.
Considering the higher ed faculty across Nevada and how the pandemic has affected their lives and their jobs, how does the system navigate this without losing faculty and maintaining a system that is attractive to new faculty who may want to move here down the line?
Well, again, the entire world is in the same boat. So we're not facing a situation that is unique to Nevada. And so we can look to sister states and sister institutions for innovations and share our own. But one of the things that I would say, having been on faculty myself for nearly two decades, I certainly understand that uncertainty, and that fear about losing positions. I think one of the things that's unique about working as a faculty member, is that we do have particularly for faculty who are in a tenure track situation is that we do have a culture unlike other industries of thinking about being in one place, perhaps for a very long part of one's career.
And so that that makes it especially uneasy for faculty to consider challenges like the one that we're in. And, you know, here's where I think, again, the institutions are going to focus on what are the academic programs that are most essential to workforce development, that most clearly map on to the expertise of the local faculty at any given institution, and that advanced their mission.
So those are the three sort of circles in the Venn diagram, if you will, that institutions will be looking at to hold programs harmless, but as you know, at times like this, sometimes we have to tighten our belts and I think, as you know, that Nevada may be considering furloughs here in the near future. And we're all on the same team. And we're gonna try and get through that together as best as we can and hold our students and faculty harmless as best we can. But to be fair, it's an imperfect situation. And I think the key to working through any imperfect situation is having a transparent and open and inclusive process to get to the outcomes in these tough decisions.
In terms of educational attainment, Nevada ranks among the lowest number of college graduates as a percentage of the population in the country. When it comes to increasing that number, or improving student outcomes more broadly, how should the system approach that problem?
One of the things that I've learned fairly recently about the state of Nevada as a new resident, myself, is that for a long time, there have been industries here that are pretty well paid for high school graduates. And so that becomes a distraction, I think, if you will, or students who maybe are first generation and really hadn't considered what college would look like for them, having in the past had some pretty attractive workforce opportunities at very young ages. 
And I think we're in a situation again, going back to that Fourth Industrial Revolution and some of our industries really changing, that all of the national aggregate data will tell you that that pattern is on the decline, that more and more jobs of the future are going to require advanced learning. And that could mean a lot of different things, right? Advanced learning might be an associate's degree in your industry, it might require a master's degree, or a badge or certificate to indicate attainment. So there are lots of ways to get there. But I think it's important to recognize that the old industry of the past that may have been able to provide you with a living wage on a high school degree is, in the aggregate, in decline.
So if we know that again, that's going back to my idea of let's think about the kiddos in Nevada that are eight years old today. And let's think ahead about what kinds of things we will need to do to prepare them for their future. And that goes back to so many of the things that you've already called upon, right? Affordability, investing in the scaffolding and the complete wraparound services to help them retain and complete and to provide them frankly, with the academic programming that maps on to the skills that Nevada needs. So those are all long-term strategies. There's no easy fix. But if we keep students I think as our North Star in all of our decision making, we'll get there.
On the issue of accountability and transparency for the system and for your office and considering the looming vote on Question 1, what is your responsibility in making sure that the Legislature and other politicians understand where you're coming from, and making sure that the system itself and you and everyone under you remains accountable?
It's not lost on me, as a new voter here in Nevada, that I'm going to have to make a decision on Election Day as well. And what I can tell you is this, the first job I do in these early weeks and months is to listen. And so one way to be accountable is to listen to stakeholders of all kinds. And one of the things that I very much look forward to doing is to listen to students, staff, faculty, policymakers, the governor's office to understand what they need from their system of higher education, and how can we answer questions that arise for them?
You know, it's my view that the state of Nevada, like many states, has made a significant investment in the future of its citizens through higher education. And so we who are stewards of that investment owe a debt of transparency and accountability back to the people of Nevada. And so it will be absolutely my job-one to listen to folks to answer questions openly and honestly, and to work together with all of our stakeholders in order to get ourselves where we need to be.
Comment Policy (updated 10/4/19): Please keep your comments civil. We reserve the right to delete comments or ban users who engage in personal attacks, use an excess of profanity, make verifiably false statements or are otherwise nasty.