Indy Q+A: Vegas Realtors president expects cooling housing market in 2022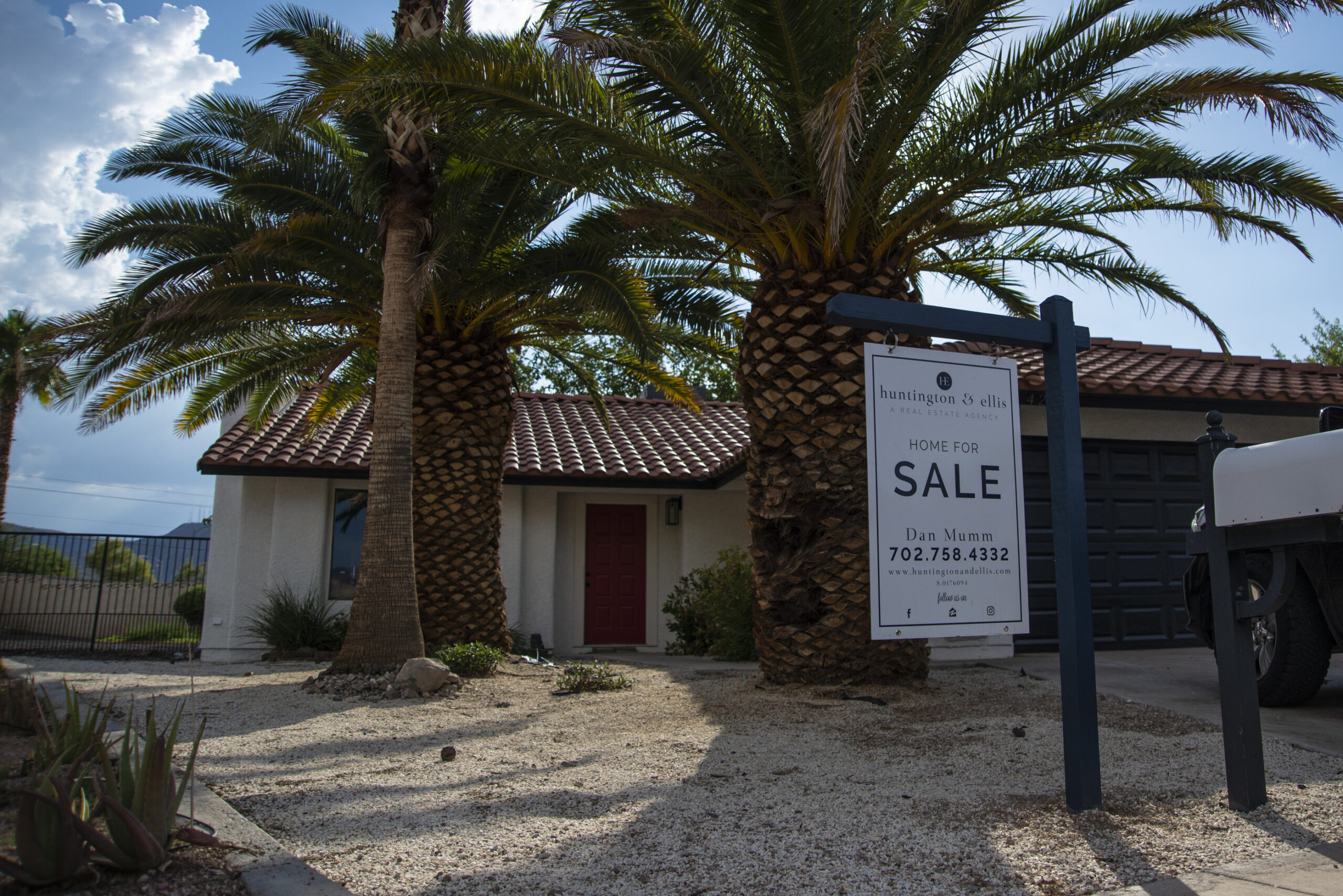 Throughout 2021, the Las Vegas housing market experienced an unprecedented rise in home prices, seeing double-digit increases for the second year in a row.
The median sales price for a single-family home in the Las Vegas area reached a record high of $420,000 in November, up 21.7 percent from the previous year. Meanwhile, Reno's median sales price hit $535,000 that month.
But incoming president of the Las Vegas Realtors Association Brandon Roberts expects the market to stabilize in the new year.
"I think it's going to be a strong market. I think it's good for sellers that are trying to sell at this point. They're gonna get value for a property and be able to cash out some of their equity," Roberts said. "It's also good for buyers. Interest rates are low. There's great properties out there. There's new construction stuff coming online. So there's properties out there and just be patient."
Still, he said home buyers, realtors, and politicians will have to continue to navigate the need for more inventory and more affordable housing.
"When we've got a shortage of homes for sale in the market, that obviously drives prices up," Roberts said. "Which makes affordable housing even harder to come by and it makes it harder for a lot of people here locally … to be able to afford housing."
Roberts has worked in the real estate industry for almost 25 years, moving to Las Vegas from Salt Lake City in 2008 and founding his own real estate and property management brokerage in 2013. Beginning in January of 2022, he will serve as the president of the Las Vegas Realtors Association, a local trade organization representing and serving more than 17,000 individuals working in the real estate industry in Southern Nevada.
Roberts spoke with The Nevada Independent about how the Las Vegas real estate market has changed since the start of the pandemic, what next year may have in store for housing and how increasing home prices may shape the future of Las Vegas.
This interview has been edited for clarity and length. Explanations of certain terms or ideas have been added in italics as needed.
How do you think future development will shape the greater Las Vegas area in the coming year? Are there any specific areas where you expect to see more development taking place or where we might expect to see more homes go on the market?
We're seeing a lot more development in the Northwest and even in the North Vegas area. We continue to expand. I think we need it. I think we really have a housing shortage. I'm hoping we see more growth. I'd like to see some more vertical growth, too — more high-rises or more condo type projects where you're not sprawling the city out as much.
How do you think about the need for affordable housing? What challenges does the industry face when constructing/selling affordable housing versus newer, more luxury homes?
We need more affordable housing projects. I know there was one approved, I believe, off Cactus and between Rainbow and Buffalo and then we've got about 30 or so affordable housing apartment complexes, but there's not enough of it.
The challenge would be when you hear things being thrown around rent control and different things like that, which can hurt your common retired homeowner. I think we need to get some reform and maybe some incentives for people to build these projects or turn their projects into a little bit more affordable housing.
Why is it so difficult to build affordable housing or find someone affordable housing?
To build it, land still costs a lot of money, your construction materials and the time and labor and the permits and all that take a long time. And so your holding costs of that land go up. So it's expensive to build.
When you spend that money to build it, you want to try to get a return on your investment, and that's not always [the case] with affordable housing. And then, on the realtor side, there just isn't a lot of it.
What do you expect will happen with the housing market in 2022? Do you expect prices to even out?
I anticipate we're still going to see a rise — not in double digits like we did the last two years — but maybe a 3 to 5 percent increase.
The reason is that we just don't have the inventory, and supply and demand determine pricing (low supply and high demand mean higher prices, high supply and low demand mean lower prices). If interest rates continue to stay low, people's buying power remains strong— they're able to pay more for properties.
Why are we having such a difficult time meeting the demand for housing?
We need over a million units across the country. It's not easy just to throw up a million homes.
But the problem stems way back from the Great Recession. Going into that, builders were building a lot of properties, but over the past ten or so years, they'd slowed down, but the population didn't, and so they've got to make that up, and it's going to take some time to do it.
Supply chains, the length of time to get permits, and materials; everything makes it more challenging to meet the demand for housing.
From the residential real estate market perspective, what is in store for the coming months, say December to March?
I think we're going to have what we call a 'warm winter.' Typically, you have a little bit of seasonal change in pricing and maybe inventory as fewer people may be looking, but I think we're going to stay pretty warm for our season, and we're still going to see record numbers.
We saw record numbers of luxury home sales or homes priced at more than a million dollars. Do you expect the number of those sales to slow down?
I don't think it is, because what you get for a million dollars today is not the same you got for a million dollars five years ago.
And that's in part because of just the increasing housing prices overall.
What would you tell people who are worried about a market crash similar to what happened in 2008? Are we headed toward another one?
Unfortunately, nobody has a crystal ball. But I would say that I wouldn't be as fearful of what happened in 2008 because of the equity in people's homes and the way people have gotten their mortgages and purchased property.
Back then, there were a lot of high-risk loans, people basically saying what they made, buying property they didn't qualify for. Nowadays, you have to qualify. You're putting in the proper documentation showing that you can afford it, and people are putting in down payments … so I think we're less likely to see a crash like that.
Can you tell me how today's market compares to the market that led to the housing bubble and recession in 2008? What might be similar? What is different?
Similar would be, you're getting an increase in prices, almost this buyer frenzy. What's different is you're not having the same amount of construction; you're not having the same amount of homes flooding the market. We're short on inventory as opposed to being overbuilt.
What would you tell someone on the fence about purchasing a home right now?
I would say buy a home. If you can buy a home, you're still better off than renting. Rental prices are increasing significantly, and by owning your home, you can kind of control your own destiny and start to build some equity.
What are you hearing from buyers or sellers about the market and where it's heading?
Frustration. You've got to write a lot of offers sometimes to get something accepted. They're competing with not only the rising prices and other first-time homebuyers or people buying in the median income bracket, but they're also competing against a lot of investors that are putting a lot of marketing into this, or a lot of cash.
Why do you use the word frustration?
Because you go out and you look at houses, you find a house you like or you want to buy, and then you put [in] an offer and you don't get it. You're going to go do it again and again and again. And that can be frustrating, and a lot of buyers are actually putting themselves on the sidelines thinking maybe now's not the right time.
What's the fear of stepping out of the market?
Rising interest rates and prices. What you could buy a home for today might seem like a lot, but if the interest rates change, your payment and what you actually pay for the home over the life of the loan go up significantly.
If you buy today at an interest rate of 2 to 3 percent, what you pay in interest over the life of your loan is a lot less than, let's say, if you paid between 3 and 4 percent. And so that means that house costs you more money over time to purchase.
How has the pandemic shaped the realty industry?
When the pandemic first started, this is not what I anticipated. In fact, there was a lot of fear of going back to 2007, 2008, the market crashing, all that stuff, but housing seemed to be in a protective shield, so to speak, as we went through it.
Agents had to adapt to how they did business because of the pandemic and people not wanting to go out, but there was still a need for people to buy homes. So we've seen the increase in Zoom meetings, virtual open houses, virtual tours, a lot of the technology that was already around but just wasn't being adopted and highly used by the real estate professionals or the industry.
I think our industry would have gotten around to using this technology, but the pandemic has fast-tracked it.
I think it affected buyers in a lot of ways. Number one, when you're at your house, you start to realize you do need more space, or you want that vacation home, or you want something in a different area.
And then [with] a lot of people working from home all of a sudden, you're able to go out a little bit more to the outskirts because you didn't have to worry about the commute times and stuff. I think it created a lot of need for a lot of people to upgrade or to purchase a home.
The Nevada Independent is raising $200,000 by Dec. 31 to support coverage of the 2024 election.
Tax-deductible donations from readers like you fund this critical work.
If you give today,your donation will be matched dollar-for-dollar.
Give + Get Matched
Featured Videos