Infrastructure bill: More than $4 billion headed to Nevada for roads, bridges, airports and broadband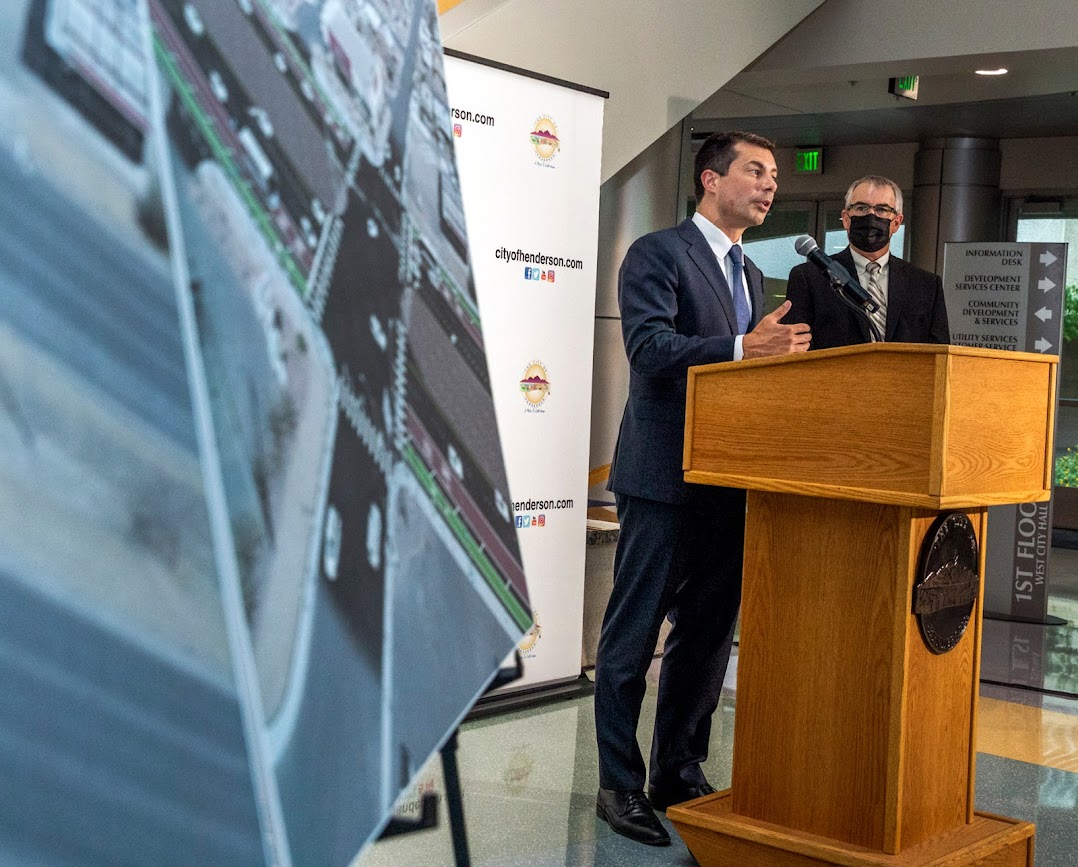 Nevada is poised to receive more than $4 billion over five years for highways, transit, broadband, airports and drought mitigation under the $1.2 trillion bipartisan infrastructure package recently approved by the House and sent to President Joe Biden for his signature.
At a press conference Saturday, Biden called the Infrastructure Investment and Jobs Act "a once-in-a-generation investment that's going to create millions of jobs modernizing our infrastructure — our roads, our bridges, our broadband, a whole range of things."
He said he plans to sign the measure soon, possibly after the House and Senate return from their recess next week.
House approval of the bill came after Congress approved a stopgap spending measure to temporarily extend the nation's surface transportation program, which had been set to expire at the end of September. The federal infrastructure bill includes $110 billion for roads and bridges, $39.2 billion for transit systems, $25 billion for airports and $65 billion for broadband.
Nevada's $4 billion share is considerable. The state's take is comparable to neighbor Utah, which received $3.9 billion. But it was more than Idaho's share of $3 billion and Wyoming's $2.5 billion.
Highways and bridges
The state will receive $2.5 billion to build and repair highways and $225 million for bridge replacement and repairs over five years.
The Nevada Department of Transportation (NDOT) applauded passage of the measure and it's five-year window of funding.
"We are particularly pleased to see that this legislation includes five years of funding certainty, which is important for NDOT to be able to enter into contracts with the local construction and engineering community and advance large, impactful projects faster that will boost our economy, support road users, and create thousands of good-paying jobs, NDOT spokesman Ryan McInerney said in an email.
The funding will help Nevada repair the 28 bridges and more than 1,090 miles of highway that are in poor condition and have added to commute times — increased by nearly eight percent since 2011, the White House said in a release highlighting items in the package for the Silver State.
According to the office of Rep. Steven Horsford (D-NV), the average Nevada driver pays $558 in auto expenses per year because of roads in need of repair; he said the measure will help bring down those costs.
Nevada will also be able to compete for the $12.5 billion Bridge Investment Program included in the bill for economically significant bridges, and nearly $16 billion of additional national funding in the bill dedicated for major projects that will deliver economic benefits to communities.
Transit
Nevada will also receive $459 million over five years to improve public transportation across the state, according to the White House.
That will help Nevadans who use public transportation and spend an extra 134 percent of their time commuting, accoridng to the White House, which noted that non-White households are twice as likely to commute by public transportation.
The administration also noted that five percent of public transit vehicles in the state are past their useful life.
Broadband
Nevada is also entitled under the bill to receive at least $100 million to help expand broadband connectivity across the state.
Under the measure, $42.5 billion will be distributed to states under a formula designed to foster broadband deployment in high-need areas. To receive funds, projects will have to meet a minimum download/upload build standard of 100/20 megabits per second.
States will be required to have plans in place to address all of their unserved regions as a condition of receiving funding for projects in underserved areas.
Fourteen percent of Nevada households do not have an internet subscription and four percent of Nevadans live in areas where there is no broadband infrastructure, according to the White House.
The bill also establishes the $14.2 billion Affordability Connectivity Benefit, which will subsidize the cost of broadband service for low-income families. About 825,000 Nevadans will be eligible for the benefit.
Sen. Jacky Rosen (D-NV) was part of a bipartisan group of 22 senators who came together to work on the bill. She helped draft the broadband provision.
The bill included provisions Rosen championed, such as the Middle Mile Broadband Deployment Act. 'Middle mile' is a term that describes the connection between the backbone of the internet and a local connection site — the provision supported by Rosen would create a federal grants program to build middle-mile infrastructure.
Airports
The state's airports will receive about $293 million for infrastructure development over the next five years. Annual allocations will change from year to year because passenger boarding and cargo data are used to determine yearly funding.
Passage of the bill comes as the international travel ban was lifted Monday, allowing most travelers to enter the country with proof of a COVID vaccination. The ban affected 33 countries, including China, whose travelers provide tourism dollars to Las Vegas.
The pandemic and lack of international travel has hurt the Las Vegas economy and the state's airports, but they stand to recover with the loosening of restrictions and the continued penetration of the vaccine.
McCarran International Airport saw more than 3.8 million passengers during August, down 8.3 percent from July. In September, McCarran saw 3.77 million passengers, a 12.6 percent decline from pre-pandemic September 2019.
Infrastructure projects that are eligible for funding include runways, gates, taxiways, a new terminal, concession and multimodal connections projects.
EV charging
The bill includes $7.5 billion to build electric vehicle (EV) charging infrastructure around the country. Nevada is set to receive $38 million of that over five years to expand the state's EV charging network.
The state will also be eligible to apply for funds under a $2.5 billion grant funding program dedicated to EV charging infrastructure.
Drinking water
The state is projected to get $403 million over five years to improve water infrastructure and ensure access to clean, safe drinking water.
Those funds will go to provide financing for the state's drinking water and waste water revolving loan funds (SRFs), which acts like a bank and offers low-interest loans to localities and water systems to build water infrastructure.
The interest payments on the loans go back into the fund and are loaned out again.
Provisions of note
The bill also provides $8.3 billion for Western water infrastructure and drought resilience and another $8 billion for wildfire prevention, risk reduction, detection and restoration, according to Sen. Catherine Cortez Masto's (D-NV) office.
The state is already seeing the effect of climate change with wildfires and droughts that have plagued the region. These impacts are chronicled in the state's climate strategy, which projects an increased likelihood of higher temperatures, more frequent drought and changes to snowpack, the primary source of drinking water for much of the West.
Among the $8.3 billion for water is $450 million for a new grant program to help fund large-scale water recycling projects in the Western U.S.
The provision was introduced as a standalone bill by Cortez Masto in the summer and cosponsored by Rep. Susie Lee (D-NV) in the House. According to Cortez Masto's office, it could help fund a regional water recycling project to produce enough water to serve more than 500,000 households in Southern California and Nevada.
The package also includes provisions secured by Cortez Masto to provide a total of $3.4 billion for wildfire prevention activities across the nation and an additional $10 million for wildfire detection equipment, like Lake Tahoe's ALERTWildfire camera network.
The bill also included a provision introduced by Rep. Dina Titis (D-NV) to encourage drivers with child passengers to place and install car seats properly. Her office said that children from underserved communities face a higher risk of fatal injuries from a car crash.
The measure would direct funds to child passenger safety services and education directed towards underserved communities.
"While we have significantly improved child passenger safety over the last several decades, even one preventable death of a child is far too many," Titus said in a release. "My legislation would ensure that parents and guardians have the resources and knowledge they need to keep child passengers safe. When used properly, car seats save lives."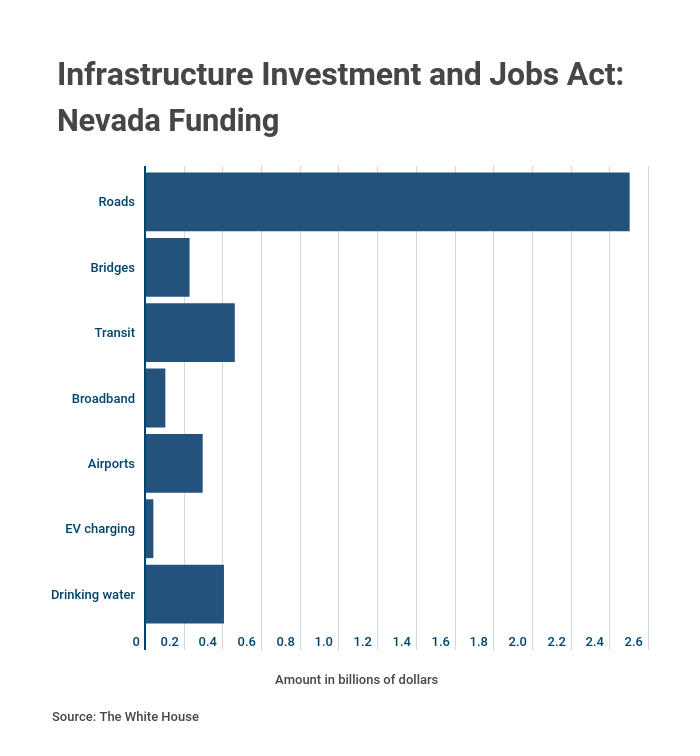 This story was corrected on Wednesday, Nov. 10, 2021, at 3.59 p.m. to indicate that wildfire prevention provisions secured by Sen. Catherine Cortez Masto (D-NV) for the entire nation totaled $3.4 billion. This story was corrected on Tuesday, Nov. 9, 2021, at 11:16 a.m. to note that the bill includes $3.4 million for a wildfire prevention provision secured by Sen. Catherine Cortez Masto (D-NV).
The Nevada Independent is raising $200,000 by Dec. 31 to support coverage of the 2024 election.
Tax-deductible donations from readers like you fund this critical work.
If you give today,your donation will be matched dollar-for-dollar.
Give + Get Matched
Featured Videos