Interior Secretary noncommittal on proposed oil leasing ban, praises Trump administration for opening public lands to hunters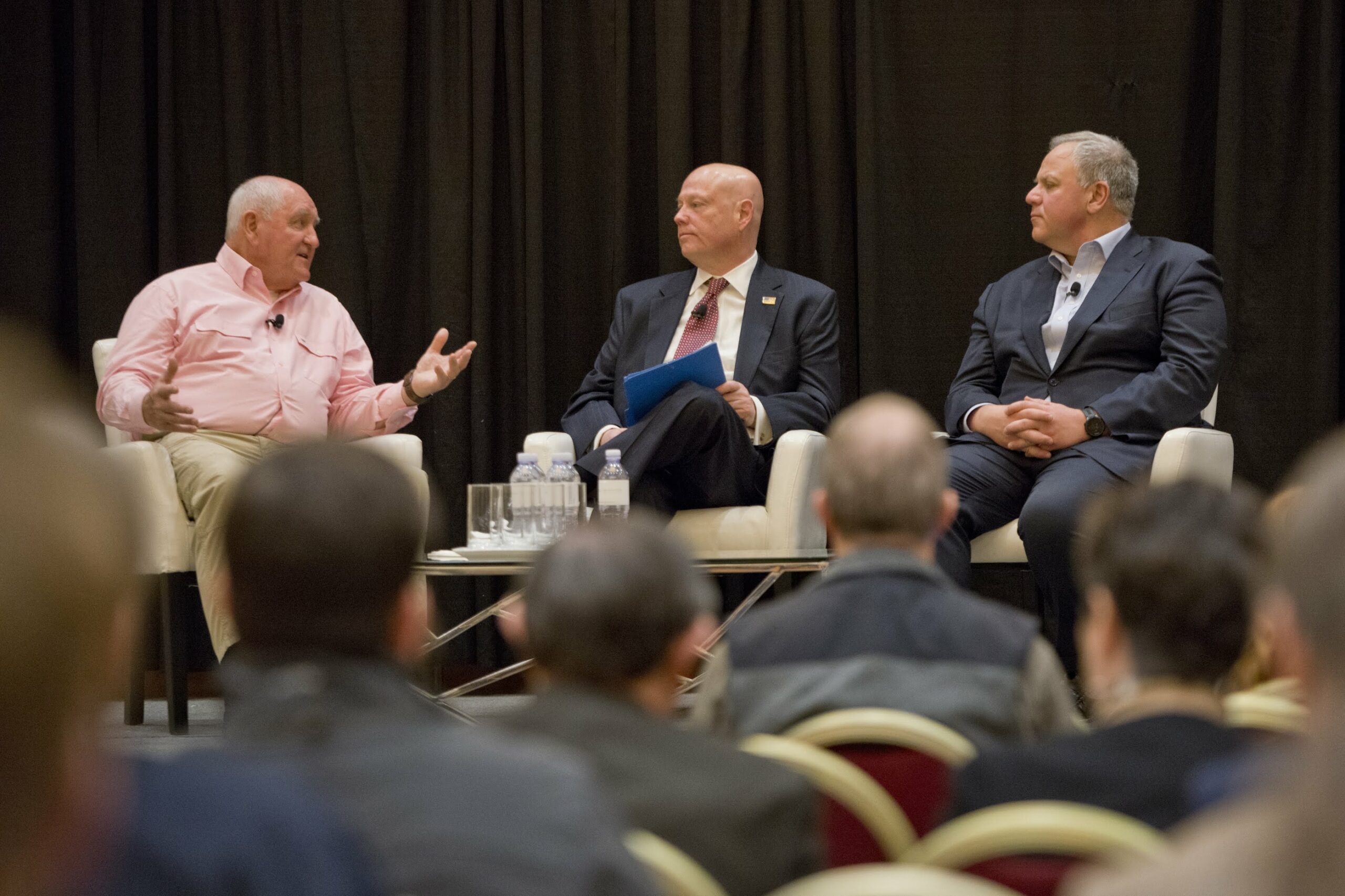 U.S. Interior Secretary David Bernhardt did not to take a firm position on proposed legislation from Sen. Catherine Cortez Masto to ban speculative oil and gas leasing on public land when asked at the annual Shooting, Hunting, Outdoor Trade (SHOT) Show in Las Vegas on Tuesday.

While answering questions following a public discussion with Secretary of Agriculture Sonny Perdue, Bernhardt said that if Congress were to pass the legislation, his department would "faithfully execute it."

About 67 percent of land in Nevada is controlled by the Bureau of Land Management, a Department of Interior agency that oversees the oil leasing program and has put an emphasis on energy development under the Trump administration. The proposed legislation would place a ban on the leasing of federal public land on low potential areas throughout the West.

"Congress has a lot of people who can come up with bills, and they can decide if they can pass a bill, and that's their job," said Bernhardt, a former lobbyist for the oil and gas industry.

At the Tuesday gathering, Perdue and Bernhardt argued that the Trump administration opened up more public land for hunting and outdoor recreation.

The SHOT Show, held annually by the National Shooting Sports Foundation (NSSF), hosts more than 2,000 exhibits and about 60,000 attendees, making it the industry's largest exhibition for shooting sports, hunting, and outdoor accessories as well as firearms and tactical equipment for law enforcement and the armed forces.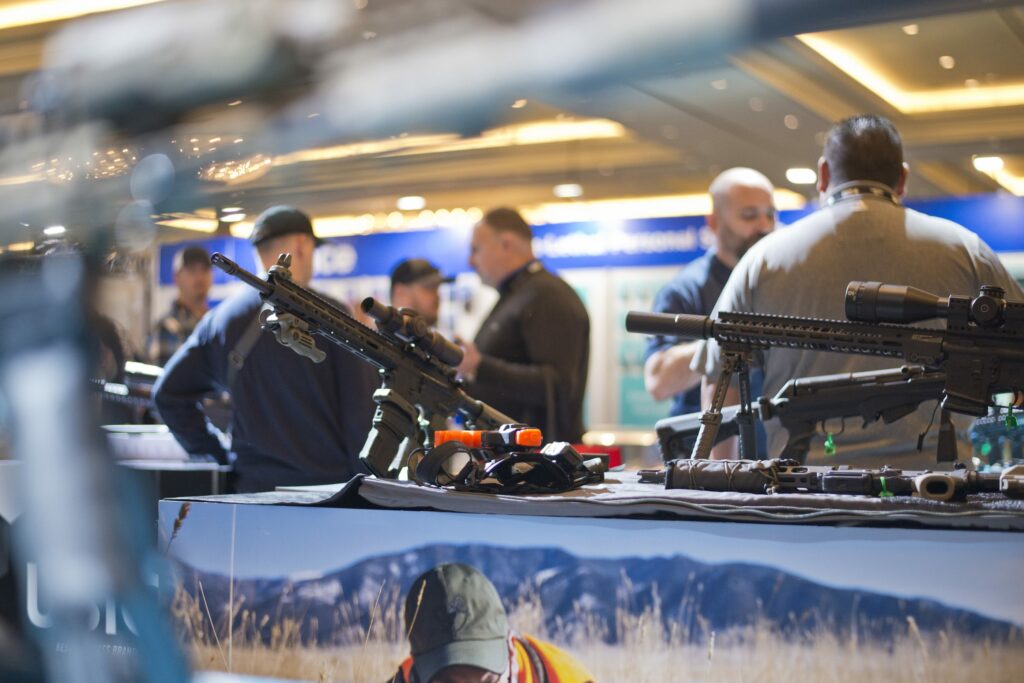 Larry Keane, senior vice president of NSSF, also took part in the discussion, asking the secretaries about recent legislation that has changed the way public lands are utilized by federal and state governments and drawing out some nostalgia about their own hunting experiences.

Perdue and Bernhardt's backgrounds as hunters and fishermen have helped to inform their policy decisions regarding public land use and where hunting should be permitted.

"I was lucky to live in a community that was surrounded by public lands, so I could be hunting and fishing, and all it cost was a fishing pole," Bernhardt said, "but you can't do that everywhere in America."

In August 2019, Bernhardt announced expanded access to 1.4 million acres of public land that would allow for new hunting and fishing opportunities. The expansion opened up 77 national wildlife refuges and 15 national fish hatcheries to allow either first time recreational access or access to new game species.

But the expansion drew criticism from some conservation groups who are concerned that it may negatively impact some of the threatened and endangered species living in these refuges.

In general, Bernhardt said he wanted to emphasize public access that is beneficial to the land.

"We have a rule in any acquisition that's going to take place, or disposal or transfer of land, requires an evaluation [sent] to me of why, of how public access will be a benefit, because if it's going to be a harm, we're not doing it," he said.

Even before Bernhardt took over as secretary, conservation groups have consistently criticized the administration for reversing or weakening policies that protected wildlife on federal public land. Such decisions include an alteration to the Migratory Bird Treaty Act which makes it harder to hold individuals and companies accountable for actions that result in the death of birds.

As an example of the administration's efforts to protect public land, Bernhardt pointed to  the passage of The John D. Dingell, Jr. Conservation, Management, and Recreation Act, US S.47, a bipartisan effort to set provisions about resource management and conservation on federal lands. 

"You look at this Congress and you see the biggest public lands package in a decade was done under this president's watch," said Bernhardt, referring to the bill, which was signed into law in March.

Perdue said the legislation, which consolidated over a hundred bills relating to public lands, would allow the federal government "to really utilize the multi-purpose aspect of public lands from a sporting and hunting perspective." He also credited hunting, fishing and conservation groups with helping get the legislation through Congress.

"It was these folks out here and all the organizations coming together, the conservation groups that got the Senate Bill 47— the Dingell bill— across the line as well," Perdue said, "all of you bombarding Congress in a bipartisan way for the rights of people to use public lands."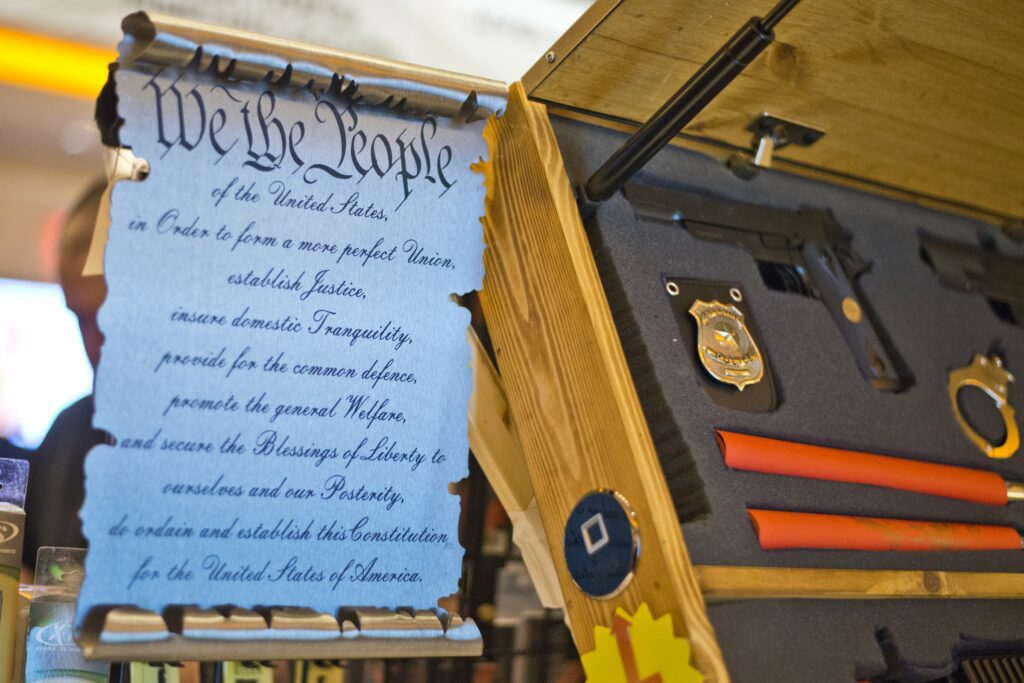 Programs from various states are included in the legislation, which addresses matters such as wildland fire operations and funding for the Land and Water Conservation Fund as well as reauthorizing the Historic Black Colleges and Universities Historic Preservation Program.

The legislation was supported by all four Nevada representatives in the House and both senators. It contained multiple provisions specifically relating to public lands in Nevada.

One of these provisions establishes a Desert Tortoise Conservation Center along the California-Nevada border. The legislation also updated the Nevada Wilderness Protection Act of 1989 and set aside land in Lincoln County for a landfill.

Both secretaries credited the Trump administration for allowing their agencies to work closely in designing policies that respond to environmental needs and increase access to public lands for hunting and other recreational uses.

"Based on the leadership of the president with One Federal Decision, you've got Dave and I standing shoulder to shoulder. We're trying to do common policies," said Perdue.

One Federal Decision refers to an executive order issued in August 2017 relating to environmental reviews and authorizations for major infrastructure projects which require the collaboration of multiple federal agencies. This order was meant to facilitate cooperation between agencies, allowing them to complete their reviews and make authorization decisions within two years of a notice intent being published.

Perdue said that these changes have made it simpler to ensure that laws regarding public lands at different levels align, making it easier for individuals to understand how they are able to utilize land for hunting or other types of recreation.
The Nevada Independent is raising $200,000 by Dec. 31 to support coverage of the 2024 election.
Tax-deductible donations from readers like you fund this critical work.
If you give today,your donation will be matched dollar-for-dollar.
Give + Get Matched
Featured Videos