Intrigued by his ads, Nevadans are giving Steyer a closer look ahead of next month's caucus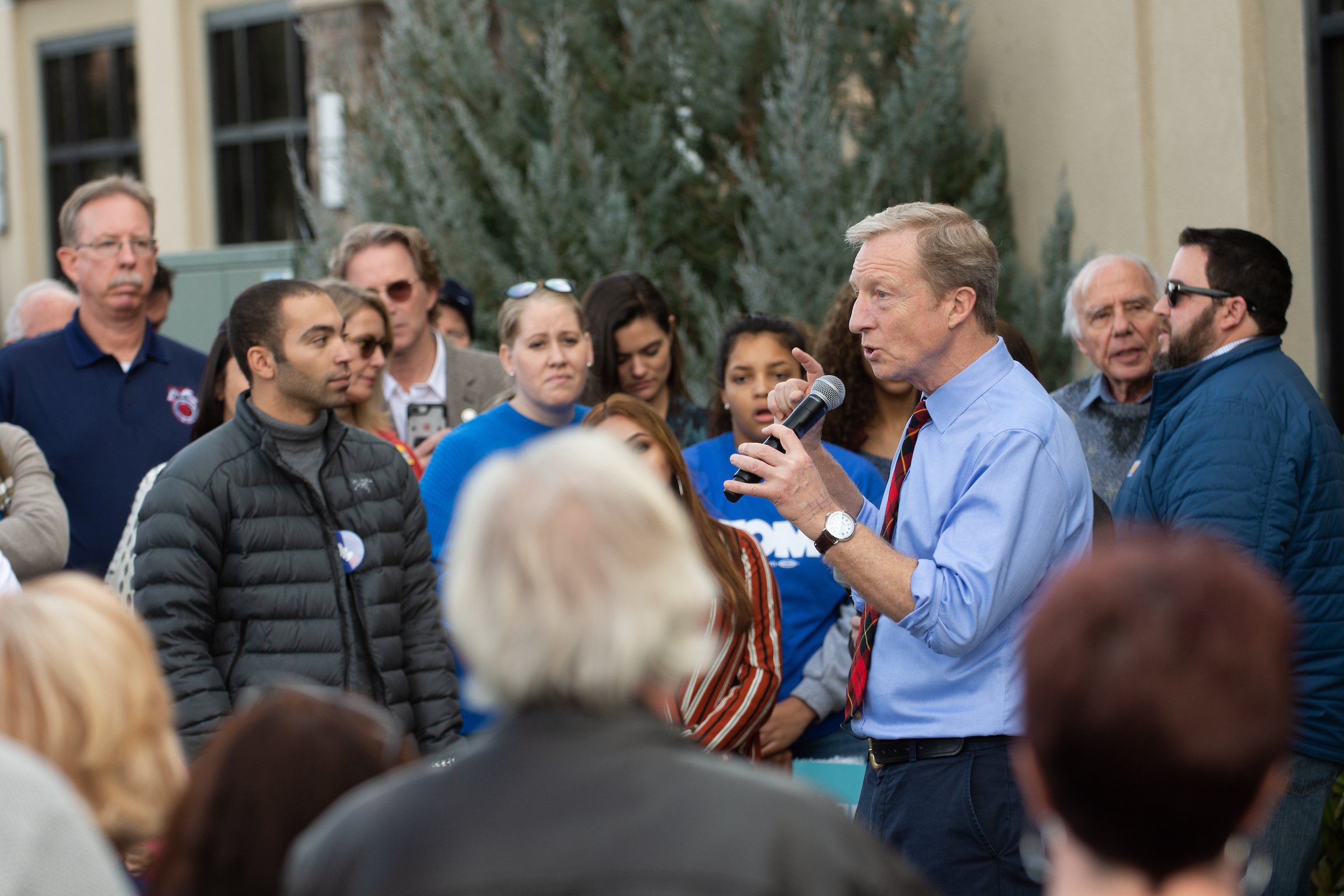 Eight days before the Democratic presidential caucus in Iowa, Joe Biden was rallying supporters in Des Moines and Marshalltown. Elizabeth Warren was in Davenport and Cedar Rapids. Bernie Sanders was in Sioux City. Pete Buttigieg was in Des Moines.
And Tom Steyer, the California billionaire turned Democratic presidential hopeful?
Well, Steyer was in Nevada. And no, not the city in Iowa.
To hear Steyer tell it, it's simple why he would choose to spend the second to last weekend before the Iowa caucus in Nevada while all of his opponents are halfway across the country.
"I'm a Westerner. I live in the west of the United States. This is a Western state," Steyer told The Nevada Independent on Sunday. "I'm used to the idea that you have to fly for six hours to get someplace. That's been part of my life for decades. And I take this state really seriously, and I try and show up to show that I care."
In some ways, it is as simple as that. He's one of only two Westerners left in the race, and he's had a longstanding relationship with the state because of his political advocacy work.
Steyer traveled to Nevada more times than any other Democratic presidential hopeful in the run-up to the midterm election in 2018, participating in immigration panels, attending progressive summits and hosting impeachment town halls. His youth voter mobilization organization, NextGen America, was part of a turnout machine here that helped Democrats turn a key U.S. Senate race blue and take control of the governor's mansion for the first time in two decades.
He also backed a 2018 ballot measure in Nevada, known as Question 6, to raise the state's Renewable Portfolio Standard to 50 percent by 2030. It passed with 59 percent support and needs to pass once more this year to be placed into the state's constitution, though a statutory version of the proposal was signed into law last year.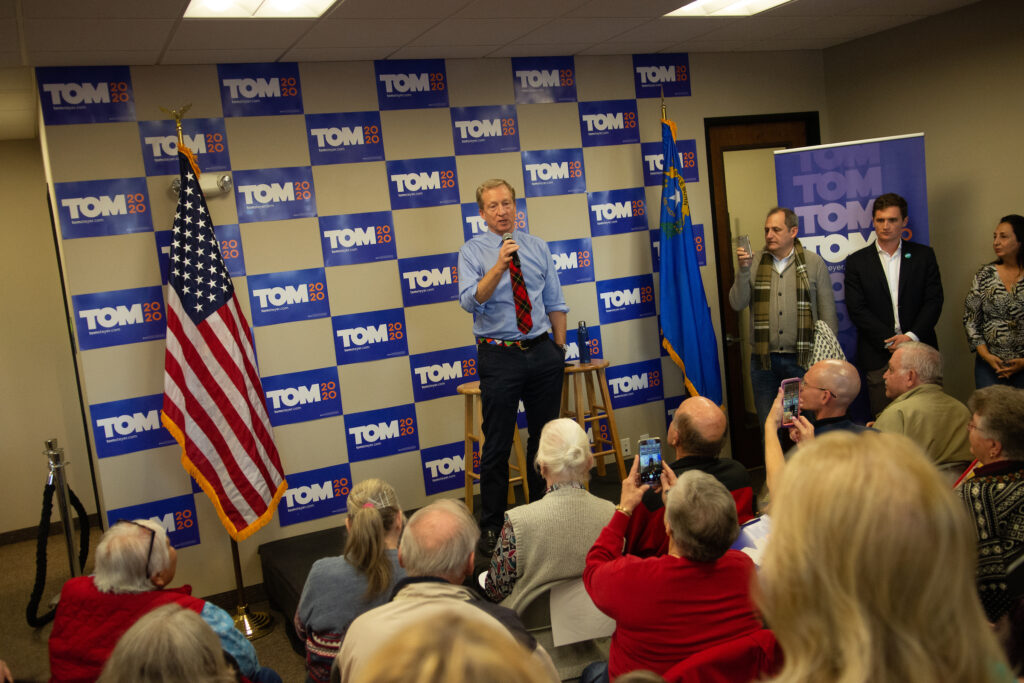 Steyer takes care to emphasize these details on the campaign trail, to remind voters that he didn't just show up in this state after launching his campaign in July and start asking for their support.
"Our partnership knocked on 500,000 doors in Nevada in 2018," Steyer told members of SEIU Local 1107 at their summit on Sunday, referring to the collective voter engagement efforts between NextGen, labor unions and other progressive organizations. "And this state is what the United States has to follow the pattern of."
But Steyer's strategy in Nevada is also calculated. He's spent more than $10.4 million on advertising in the Silver State, dwarfing his next highest-spending opponent by 71-1, according to data from Advertising Analytics published by NBC News earlier this month. It's an approach he's taken in South Carolina, too.
And it's paid off. Steyer shot up from fifth place in two November polls in Nevada to tied for third- and fourth-place in two January polls with Warren and Buttigieg, respectively. The same was true in South Carolina, where the latest poll has him in second place only behind Biden.
In the wake of those polls, the campaign sent out a missive touting its grassroots organizing work in Nevada and highlighting the nontraditional community events they have been holding, including a play at the campaign's Las Vegas headquarters in celebration of the Day of the Virgin Mary.
"No other campaign in the state of Nevada is doing this type of work. We're not simply focusing our efforts on interacting with the political establishment elites," the missive said. "In addition to our campaign vision, Tom's supporters in Nevada support us because our state campaign team is making real relationships. Those relationships are now being reflected in the polls, even without the fanfare other campaigns have had."
But talk to those attending his events, and they'll cite a number of reasons that they're giving Steyer a closer look. For many of them it's his ads, which blanket TVs, radios and billboards in Nevada. For others, it's the relentless text messaging from his campaign or an appreciation for his past advocacy work.
Ruth Derrivan, 80, came to Steyer's campaign event at Smiling with Hope Pizza in Reno to see how the candidate presented himself in person.
"We came up because on TV it's great, but you don't know the person, you don't see them. Does that make sense? And I'm not trying to knock TV. I mean, it's very personable, but when you actually see someone, and you see their soul, I think that's it," she said.
After hearing him speak at the pizza parlor, Derrivan said she was "blown away."
Leo Gonzalez, 25, said he first heard about Steyer when he launched his Need to Impeach initiative, which focused on boosting popular support for impeaching President Donald Trump. But the recent ads, on billboards along the freeway in Northern Nevada and on YouTube, have made him consider Steyer more.
"(Steyer) sounds really, really genuine. He sounds really passionate," Gonzalez said at Steyer's campaign office opening in Sparks on Saturday. "Honestly, when he first announced that he was running, it kind of felt like he just was jumping in almost for fun. But actually listening to him and hearing what he has to say about the issues, it sounds more realistic."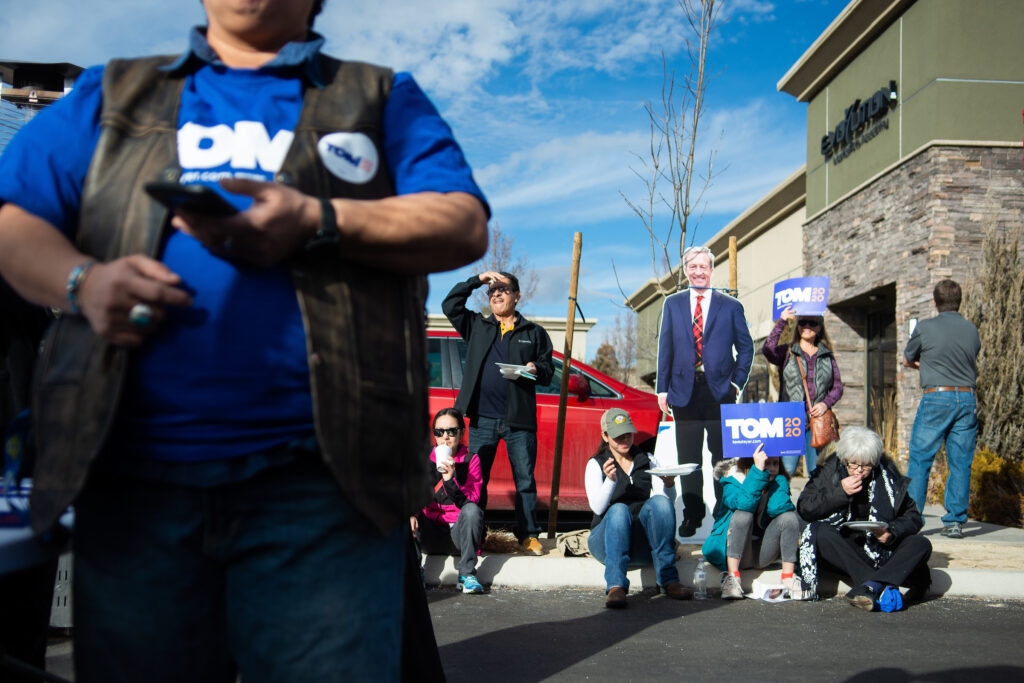 Shelly Chavez, a programmer from Reno, said that she has seen Steyer's advertisements but started to take him seriously as a candidate after she found out about his work on climate change. She also wasn't surprised that roughly 400 people turned out on a Saturday afternoon for the office opening, which had people spilling far outside the actual office.
"(Steyer's) got a very well organized machine. They texted me. They called me," she said with a laugh. "His organization is very good, so I'm not surprised. I wish they would've had it in a bigger room."
Barbara Goldberg, a retired flight attendant, attended an environmental town hall hosted by Steyer at Springs Preserve in Las Vegas on Sunday. She had only seen Steyer in advertisements before and, after seeing him in person, said that he's a good speaker but that she's still deciding between Warren, Sanders and Buttigieg.
She said she'll vote for any Democrat in the general election, though.
"Well, I don't really care. I don't care. Any Democrat. I'm desperate now," Goldberg said.
Her husband Sheldon Goldberg said Warren was his first choice but that he's "just fed up with these guys fighting," referring to the recent scuffle between Warren and Sanders. He now likes Steyer and former New York City Mayor Michael Bloomberg, who did not file to appear on the presidential preference card in Nevada.
"Well that solves that question," he said, after being told that Bloomberg wasn't a choice in Nevada.
All in all, the campaign's efforts seem to be paying off. People see his ads, and they might like him. They might even show up to campaign events to hear more about him. And if they like him, they might tell pollsters that they like him. Those polls, in turn, qualify him for the Democratic debate stage, where even more people might decide they like him.
And the message he has is unique. He may be moderate on some policies — for instance, he favors a government-run public health insurance option over Medicare for all — but he has ambitious plans on others, including climate change, a wealth tax and term limits for members of Congress. And he's not moderate in the way he wants to accomplish it.
"This is not a time for a marginal change … Some people running for president are saying, 'I have a terrific personality, I know how to get along with Republicans, if you just put me in a room, they're going to realize that I'm a reasonable person and we're going to get a lot done.' I'm not that person," Steyer told attendees of an annual progressive summit in Las Vegas on Sunday evening, to cheers of approval. "I'm the person saying, 'Grassroots organizing, double the turnout with everything the way we did in Nevada, let's get some actual change.'"
His pitch for the presidency is the same one he's been making for years as the head of NextGen: Get the policies you want not by playing the game but by changing who's playing it.
"Pete and Tom right now are my top two... because I think they're both very genuine people," said 71-year-old Joe Sutton, a retired military veteran who attended Steyer's Sparks office opening. "They're not contaminated by politics too much themselves yet, which is, I think, a good thing."
Steyer has taken a gamble, on Nevada and on South Carolina, that that pitch is going to carry him to the White House. But there are still two states standing in his way: Iowa and New Hampshire.
Four Iowa polls released over the weekend show Steyer hovering around seventh place, with between 1 and 5 percent support, among the Democratic presidential field. Steyer, asked whether he was concerned about the new polls on Sunday, said he hadn't seen them yet.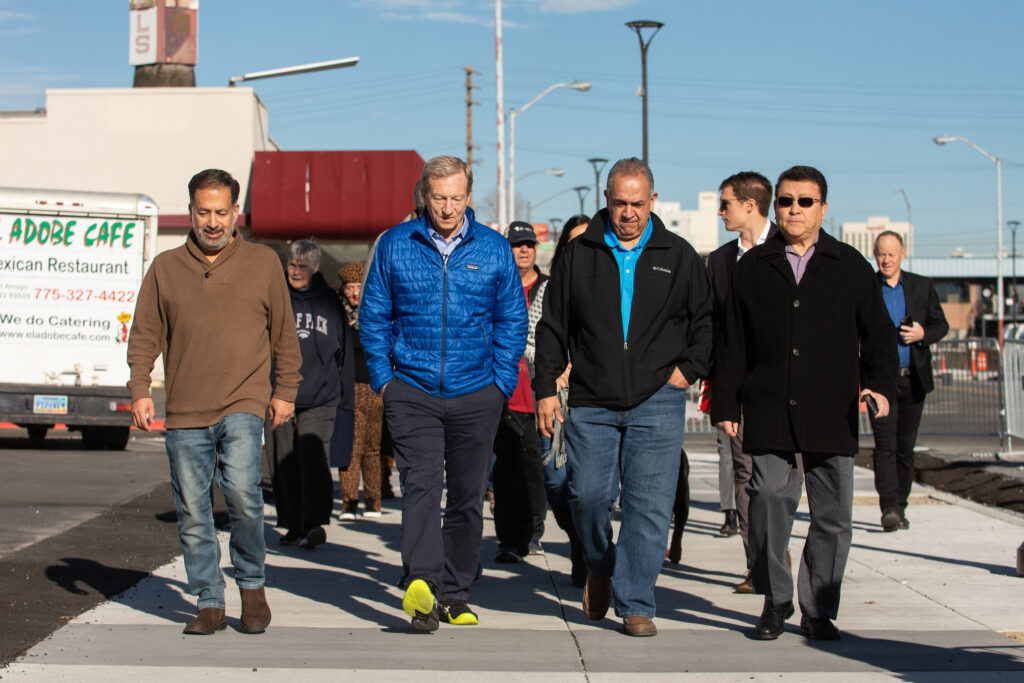 "Let's see what actually happens," he said.
Steyer, asked what he was going to do to make sure his campaign can even make it through Iowa and New Hampshire at a union town hall in Las Vegas earlier this month, said that he was trying to get in front of as many people as possible.
"I started late in July, my numbers have gone up consistently," Steyer said. "My goal is to stay in front of as many people, and get in front of as many people, look them in the eye and have them look me in the eye, so I can hear what they're saying and they can hear who I am and what I'm saying."
That's exactly what he was doing at a town hall with black voters in North Las Vegas on Sunday night, talking about his plans to focus on communities of color first in addressing climate change, end cash bail and invest $125 billion in historically black colleges and universities.
And voters are still getting to know him.
"I liked what he said, his involvement as far as wanting to get in the black community," siad James Jackson, a Navy veteran who lives in Spring Valley.
Jackson said that he backed Hillary Clinton, the former secretary of state, in 2016 and is deciding between Biden, Steyer and Buttigieg this time around.
Others were less sold on his message.
Tammy Green, a scholarship coach from North Las Vegas, still didn't feel like she had a full understanding of how Steyer plans to enact his policies after the event.
"Everything in his platform, it's not just something he can do as president," Green said. "Obama served eight years and still couldn't get anything done with a Republican Congress."
As far as who she likes, Green said her favorites have already dropped out of the race.
"I'm not really excited," Green said. "But I'm an educated voter, so I come out and hear all of the different candidates."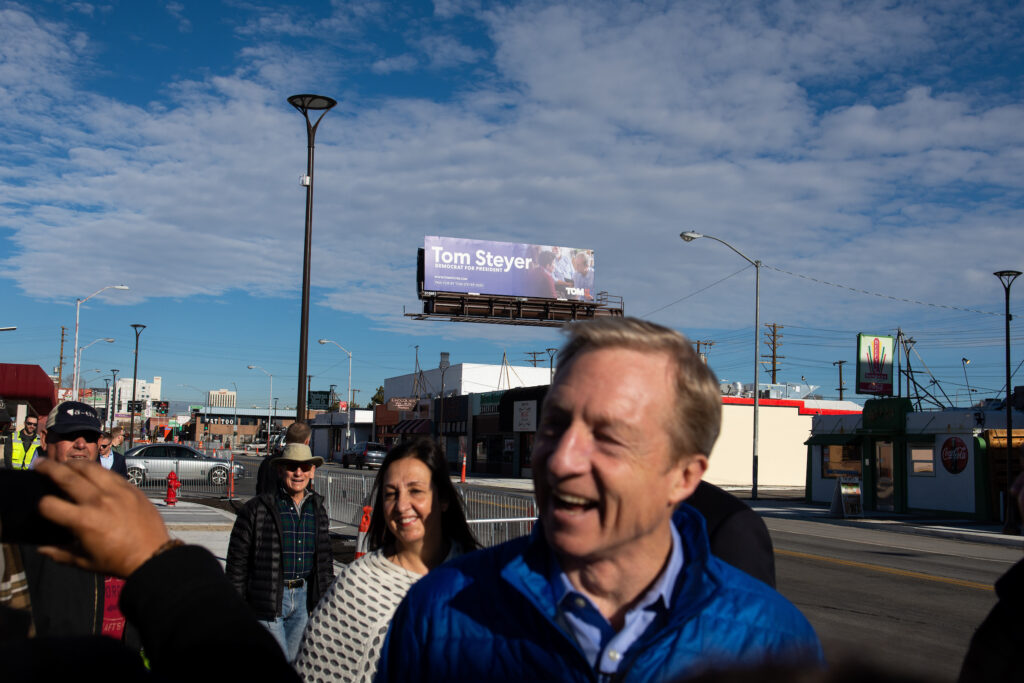 The Nevada Independent is raising $200,000 by Dec. 31 to support coverage of the 2024 election.
Tax-deductible donations from readers like you fund this critical work.
If you give today,your donation will be matched dollar-for-dollar.
Give + Get Matched
Featured Videos