Isolated but not alone: Window visits, video calls become new normal for nursing home residents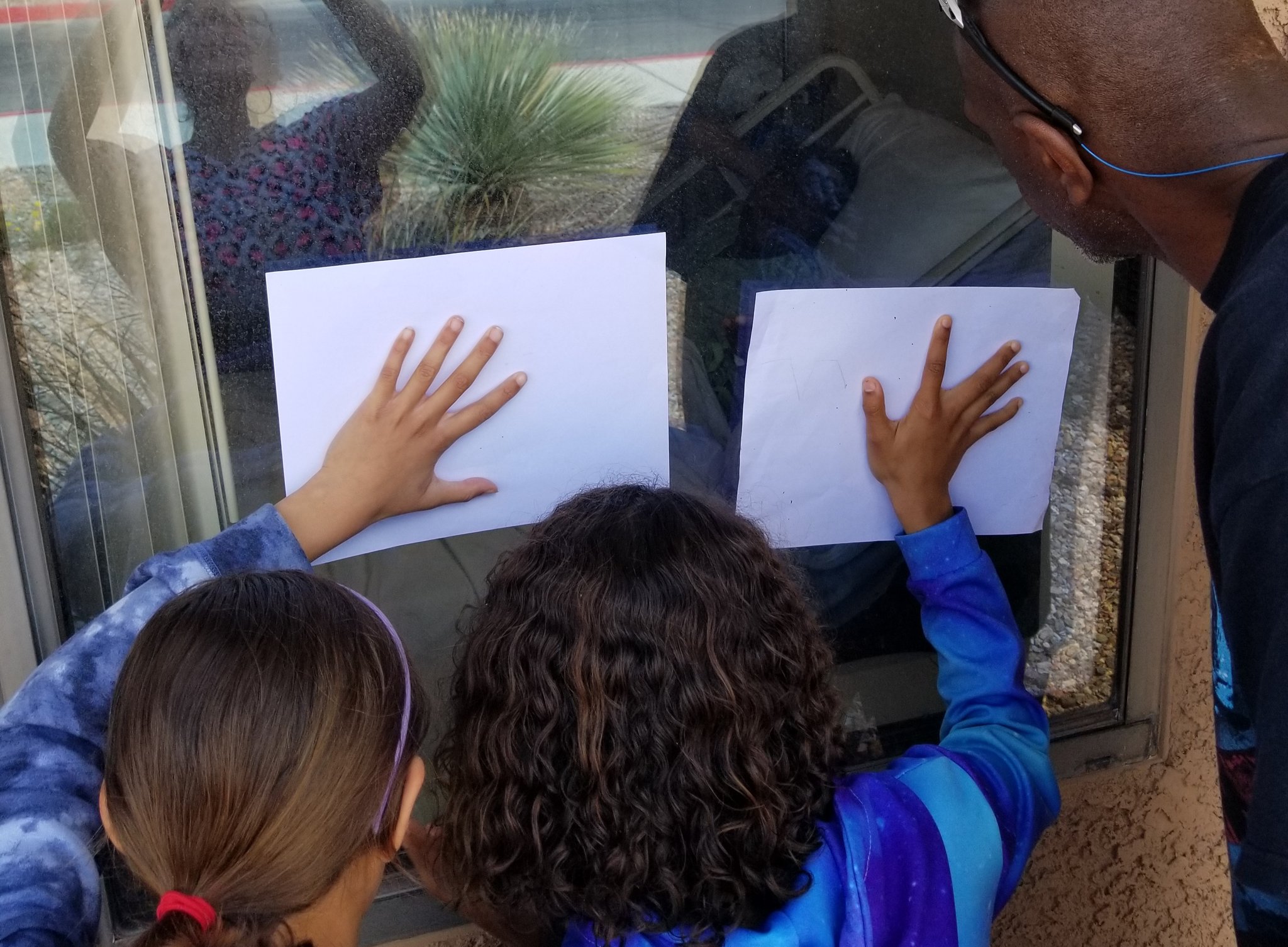 When Becky Czarnik's 86-year-old mother fell ill with rapid onset pneumonia the week before Easter, she feared the worst.
The assisted living facility where Czarnik's mom lives, Summit Estates in Reno, had no known cases of the novel coronavirus. But the pathogen was spreading like wildfire through nursing homes across the nation, claiming the lives of the particularly vulnerable sick and elderly residents who live there. Pneumonia, in normal times, is the leading cause of death due to infectious disease among the elderly; in the time of coronavirus, it's a serious complication associated with contracting the illness.
Czarnik's mother was hospitalized for five days. When they finally got the diagnosis, they were relieved.
"We were so grateful she only had pneumonia," Czarnik said. "It was just pneumonia."
After the brief hospitalization, Czarnik brought her mother home for a month to recover her strength. But her mom quickly missed life at Summit Estates, where residents have been confined to the floor on which they live but are otherwise able to socialize with their friends and lean over balconies to wave to those on different floors.
"It was almost like I was listening to my teenage daughter. 'Oh, did you know this is going on? This is the news from the first floor. Here's the news from the second floor.' It was really precious," Czarnik said. "Once my mom regained her strength, she really wanted to go back to that community. We talked about it, and it was an acceptable risk."
So her mom, in the middle of a pandemic that has brought assisted living facilities and nursing homes into the spotlight, returned home.
It's a calculation similar to the one that many families across Nevada and the nation have been making as they navigate how best to protect the physical and mental health of their elderly loved ones in the time of coronavirus.
Nearly 1,200 cases of COVID-19 and 115 deaths have been tied to assisted living facilities and nursing homes in Nevada, with nursing homes, which provide a higher level of care than assisted living facilities, responsible for the lion's share. Together, the homes are responsible for 12 percent of the state's confirmed cases and 27 percent of deaths.
The majority of the cases and deaths in nursing homes and assisted living facilities in Nevada have been isolated to large outbreaks in a handful of facilities, where state officials have blamed improper mask-wearing protocols, poor handwashing procedures and failure to isolate sick residents for the virus's spread. But nursing homes and assisted living facilities across the state are grappling with how best to protect their residents, even those with a small number or no cases of the virus.
In practical terms for residents, that has often meant no more bingo, limited communal dining or in-room dining only, and, crucially, no visits from loved ones.
So families have gotten creative, as best as they can.
***
Chris Pippins, whose 74-year-old mother lives at Life Care Center in Las Vegas, counts himself among the relatively lucky ones. His mom, Mary Pippins, has a first-floor window and, when he visits, staff will draw back the blinds so he can see her and talk to her through the glass, though she doesn't respond much after suffering a stroke in 2005.
"It's been months since I've touched her, but I can see her, and I know she's doing well," Pippins said. "If I call and I want to speak to a nurse, it's possible, but I only do that if I see something is wrong. She's not in pain, not crying. She doesn't look distressed when I speak with her. She's been doing really well, considering."
Pippins used to visit at least once a week, on Sundays. Now he tries to go twice or three times a week, if he can manage, just to talk with her briefly and give her updates on the family.
Still, he worries about his mom, who is elderly, African American and has diabetes. Studies have shown that black Americans have been dying at higher rates from the virus because of pre-existing conditions, like diabetes, that disproportionately affect the African American community, the fact that workers of color make up a large share of the essential workforce and longstanding structural inequities in health care as a result of racial bias and discrimination.
On top of that, nearly 30 percent of the residents at Life Care Center have contracted COVID-19, according to a state dashboard that tracks coronavirus cases in congregant living facilities.
"They've done I guess about as good a job as anyone can do," Pippins said. "Every day you'd see an uptick in the cases, but it's flatlined and started to go down. There haven't been any added cases there recently."
Like Czarnik, Pippins had a difficult decision to make about whether to move his mom out of the facility. But it would've meant transferring her to a nursing home an hour and a half away in Laughlin, where there weren't any reported cases.
"You go, do I move her physically to keep her safe? But then she'll be miserable far from family. I think it's more important for her, as bad as this sounds, to see us every day or consistently than to not see us at all and be completely safe," Pippins said. "That's the way my mother lived her life. If she has to go, I want her to go in her way. I want her to at least see her family rather than be completely isolated and safe. She's still a woman. She's still human."
Valeri Wood, whose mother has lived at the Lodge Assisted Living and Memory Care in Carson City for the last year, has similar concerns. Wood said the facility tested all of its residents and staff two weeks ago and found no COVID-19 cases; still, a couple of people on her mom's floor have passed away in recent weeks, while others have been moved out by their families because of the pandemic.
"The community is really experiencing a ton of loss, their freedom, their families, and then the deaths of residents," Wood said. "Everybody is safe, but I worry about the emotion and the isolation."
Her mom, who is a deacon at her church, has also struggled to adjust to online services and Wood can't be there to help. Her mom also misses the little things, like being able to go out and get her nails done, Wood said.
But Wood is grateful to still be able to visit in person. Her mom will sometimes come down to the lobby to wave at her from afar when she drops off packages, and the facility has set up a visiting window in the lobby where residents and their family members can talk through an open screen window while wearing masks. Wood said that's how she, her brother and the grandkids celebrated her mom's 88th birthday last month.
"I think there were eight or nine of us that helped her celebrate as best we could through the window," Wood said.
She said the facility has done an "admirable" job trying to keep families informed about the goings-on and keeping the residents entertained. She also tries to keep it all in perspective: When her mom used to live in Ely, they used to talk once a week on the phone on Sundays. At least now they can see each other in person, even if it's through a window.
"I reminded her when I was going to graduate school in Florida I saw her twice a year. That seems to help her," Wood said. "Last week I called and said, 'How about if I bring dinner and I'll eat outside and we'll just eat dinner together?' and she thought that was a lovely idea. We're just trying to do some of those things that make her feel engaged and connected."
***
But not all families have been able to connect in the same way. Irma Hyman, 95, lives in a memory care unit at Sunrise of Henderson; her daughter, Toby Hyman, hasn't been able to see her at all in person since mid-March. It's a stark change from the three- or four-times a week visits Hyman used to make pre-pandemic to check in on her and do her laundry.
"I miss her terribly. They call dementia the long goodbye, and this is making it even worse," Hyman said. "It's one thing when I was able to see her and she would recognize me and she would smile. She couldn't carry on a conversation, but there was some comfort in being with her. We do FaceTime, but she just stares into the phone and doesn't seem to recognize me."
But Hyman is still grateful to be able to see her mom, who she says looks good and well taken care of. She stays in regular contact with her mom's caregivers and receives weekly or more than once a week communications from the facility by email and through the mail. She noted that there was a COVID "scare" early on after the shutdown — the state dashboard shows one case among a staff member — and there was a lack of communication early on about Sunrise's no-visitor policy but that she feels that the staff "got their sea legs" and have done a "very good job" caring for her mother and adapting to the pandemic.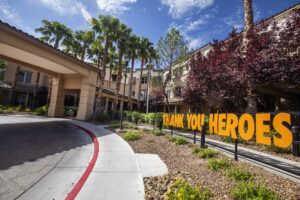 Hyman said that her mom's condition has remained "pretty steady;" in fact, her mom doesn't take any medication, only Tylenol as needed. Still, she was recently put on hospice so she could receive additional care at Sunrise without having to be transferred.
Hyman was hopeful that hospice might mean she would finally get to see her mom — patients receiving end-of-life care are typically granted an exception from the no-visitor rule — but she has been told that her mom's condition is still too stable for that to happen. She also recently learned that the facility is starting window visits for residents in the assisted living facility and is eager for them to expand the program to the memory care unit.
"I'll be the first in line," Hyman said.
Hyman remembers her mom as the woman who got her master's degree in social work in 1946, worked as the director of an early intervention program in Providence, Rhode Island for 25 years and was "so bright and so respected in her field." She said that, in some ways, the pandemic came at the right time for her mom.
"If this happened a number of years ago, I would've been concerned. But she's in a position now that she doesn't have a clue what's going on," Hyman said. "In a way, it struck her at an okay time because she doesn't have a clue."
***
Families across the state have been adapting to the new parameters that the pandemic has imposed upon them. But some of them are also eager for guidance on what to expect moving forward.
Kristin Edholm, whose mom lives at TLC Las Vegas, said she would like to see more details from Gov. Steve Sisolak's office on what the plan is to eventually reopen nursing facilities. She described herself as generally a fan of the governor but said that she would like to see more testing for workers in nursing homes, not just to protect her mom but to keep the workers safe as well.
"I've been reaching out to the governor's office, called and emailed. I'm trying not to call and just be a complainer. I've volunteered to be part of a committee or any sort of anything to represent families that are in this situation so at least our voices can be heard when it comes to protecting our vulnerable population," Edholm said.
She also didn't find out about the facility's first COVID-19 case until two months after it happened through a letter in the mail. As of Friday, the facility is up to three positive cases, one resident and three staff members.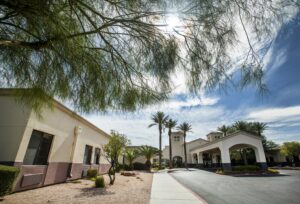 Edholm said that she isn't "super frustrated" and that the facility is doing the best it can. However, the delayed communication underscored her concerns about what the plan is for eventually reopening nursing homes.
"Once they start letting visitors in, what's the plan to protect everybody?" Edholm said. "That's kind of my big disappointment.
In the meantime, Edholm, like Pippins, is grateful that her mom's bed is near a window, which allows her to do window visits with her mom while talking to her on the phone. She's also able to make deliveries, provided that staff checks her temperature at the front desk first. When she can't be there in person, they FaceTime.
"My mom is a ridiculously positive person. I've talked to her every day. We get to be on FaceTime every day. We're lucky there too," Edholm said. "We all watch shows together, get on the phone and talk about that. We're trying to keep her as active as possible."
For Czarnik's mom, the road to recovery following her hospitalization has been slow but steady.
"She's not quite back to her pre-pneumonia level, but she's functional," Czarnik said. "She still gets a little tired. It's just taking her awhile to get back her energy level."
Czarnik said that communication with the staff at Summit Estates has been "wonderful," with the facility sending out regular emails to family members. When the staff didn't have enough masks early on, Czarnik took it upon herself to order 100 masks from the Reno Charity Stitchers, a local mask-making volunteer group, and drop them off at the facility.
Her mom lives on the second floor, which means their window visits have entailed a lot of waving at each other from a distance while talking on their cell phones. But Czarnik said that her mom feels "quite comfortable" being back, particularly as a retired nurse who "has lived and breathed infection control her whole life."
She said that staff have also done their best to encourage social distancing among the residents.
"They'll try to fit two people at a table of four so there is some distance between people while they're dining, and then they look like little ducklings when they go out for their walks," Czarnik said. "They naturally space themselves out as they walk around the building with their walkers, but they do recognize that spacing is good."
For now, Czarnik is just thankful that her mom's biggest gripe is the marshmallow tosses.
"This is the difference between being a family member and a resident. As a family member, I'm really grateful that mom can socialize and be entertained, but as a resident, she's like, 'I really don't need to have a marshmallow toss. I don't need to be entertained. I can entertain myself,'" Czarnik said. "But part of it is that level of engagement. It's a way for the staff to really make sure that people are engaged and not just curled up in their room."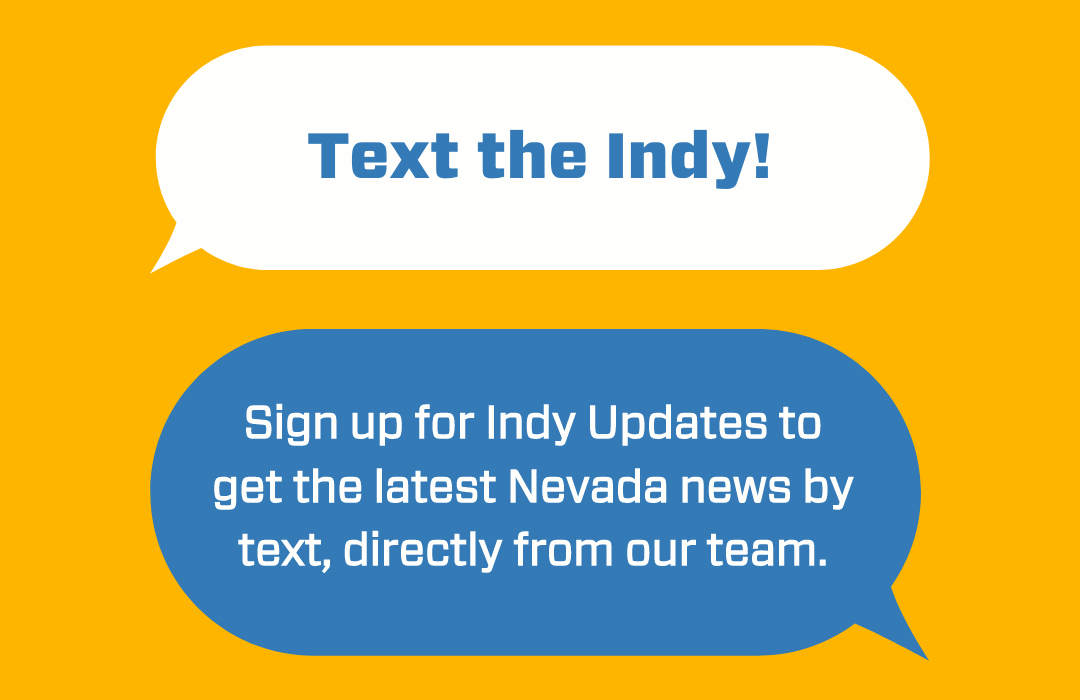 Featured Videos