It's hard to imagine a Nevada GOP without Trump these days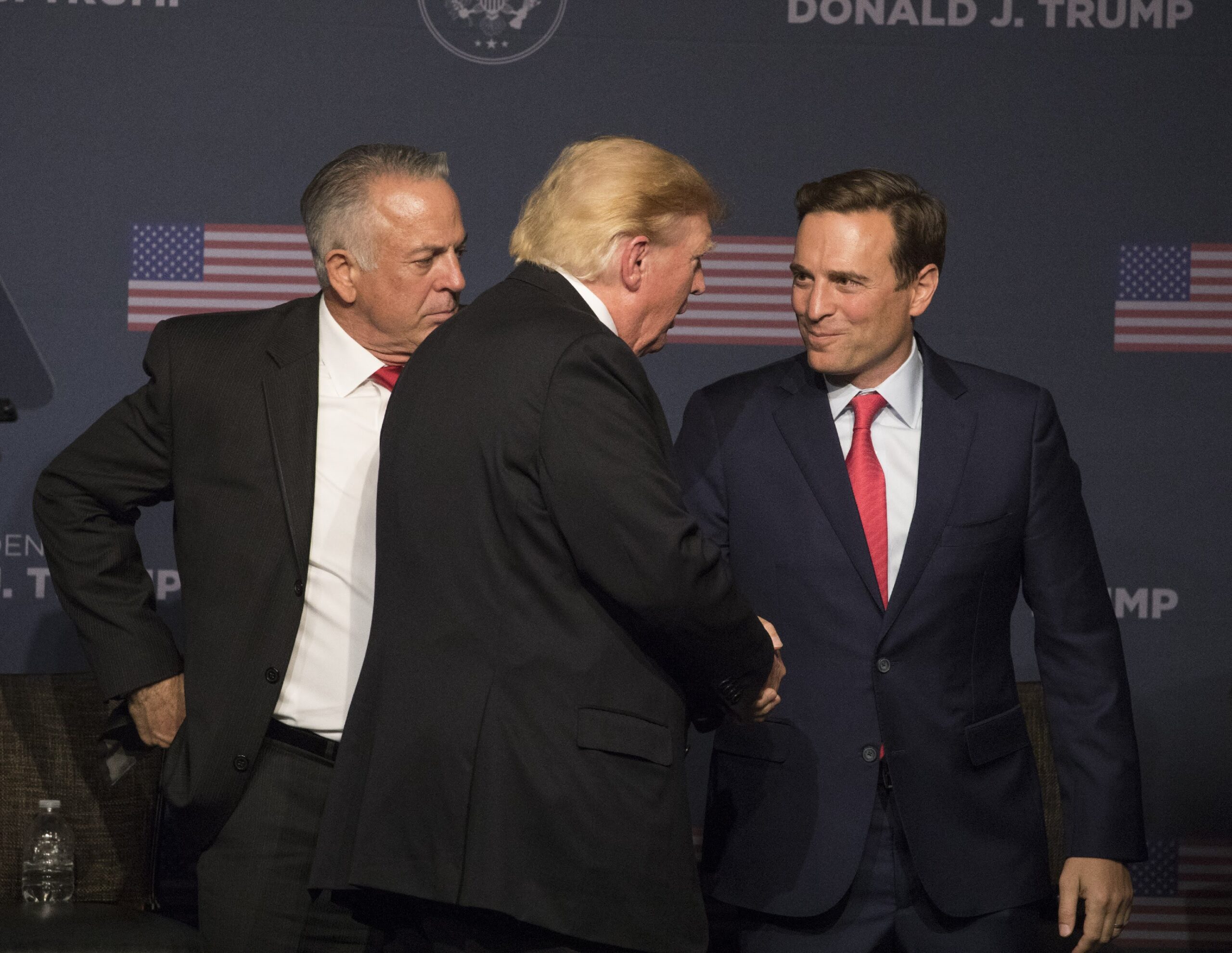 To hear some media outlets tell it, Republican candidates across the country are starting to trim their campaign websites of extremist references to abortion rights, downplaying their feckless leader's voter fraud conspiracies, and even curbing their enthusiasm for Donald Trump endorsements.
Frankly, I'm not buying it. At least, not yet. And certainly not in Nevada.
Some candidates are more sensitive than others to the potential blowback from the GOP's hardline anti-abortion stance and the former president being mired in an investigation by the Department of Justice and FBI of the possible theft of sensitive and even Top Secret government documents. Reporters are noting increases in social media deletions and website rewrites.
In a recent article in The New York Times, Maggie Astor almost made it sound like Republican U.S. Sen. candidate Adam Laxalt had finally gotten the message about the optics of so much Trump worship. She wrote, "For months, the campaign website for Adam Laxalt, the Republican Senate nominee in Nevada, greeted visitors with a huge banner exalting his endorsement from former President Donald J. Trump in all capital letters. Now, that information is nowhere on his home page."
With so much on the line, had Laxalt finally gotten over his teenybopper Trump crush?
Hardly. As Astor also pointed out, a Laxalt spokesperson called questions about changes to the website "ridiculous," noted the Trump love had been moved to another page on the website, and reminded all concerned that, "We are proud of our Trump endorsement."
Forget Trump's rooting for an attempted insurrection, the multiple civil and criminal probes he faces, that hard-to-ignore stolen document deal, and even his decision to plead the Fifth more than 440 times in a deposition in an investigation by the New York attorney general's office into the Trump organization. Laxalt still proudly trumpets Trump's embrace.
You must admit, it's hard to top this bouquet from the campaign's endorsements page: "Adam Laxalt is running for Senate in Nevada to defeat Harry Reid's, Chuck Schumer's, and Nancy Pelosi's handpicked successor, and win an America First majority in the U.S. Senate … Adam has my Complete and Total Endorsement!"
That's a lot of Laxalt love, and obviously the feeling is still mutual. The former state sttorney general has downplayed the Jan. 6, 2021 riot at the U.S. Capitol and heralded Trump's big fraud about widespread voter fraud in the 2020 election even as he has touted his own credentials as a crimefighter and combat veteran.
Among many endorsements, he also touts full-throated cheers from Gen. Michael Flynn, the former Trump national security adviser who pleaded the Fifth during his deposition by the Jan. 6 Committee when asked whether he believed in a peaceful transfer of power.
Who can forget Laxalt's comment in 2021 about the Jan. 6 riot, not as an example of an attack on the seat of our democracy, but as, "That fateful day in January when they pulled him off of social media and pulled him off of Twitter." This was the same tough-on-crime candidate who claimed "very few" of those who participated in the event should be prosecuted. Instead, he blamed the Democrats for playing politics.
Rather than calling out those responsible, he found the media coverage "reprehensible and reminded those listening to his "America First with Sebastian Gorka" broadcast, "This is not in the top 100 issues that matter to ordinary Nevadans."
It remains one of Trump's top issues.
In a recent interview with radio host Wendy Bell, Trump claimed that, should he return to office, he would "look very, very favorably about full pardons" for those convicted in association with the riot he helped start. He also claimed he was providing financial support to the "people that are incredible. … It's a disgrace what they've done to them."
For those who may need reminding, the riot led to several deaths, injured more than 140 police officers, generated 850 arrests including more than 250 assault charges against law enforcement personnel, and seditious conspiracy allegations against far-right Oath Keepers members.
Even with all that and a stack of Top-Secret documents ripped from his possession, Team Laxalt remains "proud of our Trump endorsement."
Although candidates have been known to experience political epiphanies at the most fortuitous moments, early voting is just weeks away. It is more than a bit late for the light of truth to piece the clouds of conspiracy.
Don't expect it to happen in the Nevada GOP, and certainly not in Camp Laxalt.
John L. Smith is an author and longtime columnist. He was born in Henderson and his family's Nevada roots go back to 1881. His stories have appeared in Time, Readers Digest, The Daily Beast, Reuters, Ruralite and Desert Companion, among others. He also offers weekly commentary on Nevada Public Radio station KNPR.
Featured Videos
Comment Policy (updated 4/20/2021): Please keep your comments civil. We reserve the right to delete comments or ban users who engage in personal attacks, use an excess of profanity, make verifiably false statements or are otherwise nasty. Comments that contain links must be approved by admin.