At CES, Ivanka Trump asks companies to 'reskill' existing workers, expand apprenticeships
Ivanka Trump championed apprenticeships and encouraged employers to invest in their workers during her keynote Tuesday afternoon in Las Vegas at CES, the world's largest consumer technology show.
Trump's appearance, however, sparked controversy before she even took the ballroom stage, as some tech industry members criticized her inclusion, questioned her qualification and vowed to boycott the annual conference.
Despite the backlash, the first daughter and White House adviser appeared with Gary Shapiro, president and CEO of the Consumer Technology Association, for a discussion about the future of work — not far from convention floors featuring technology that could disrupt the workforce by potentially threatening jobs or creating new industries.
Trump described herself as a "big believer in innovation" but said she has "little sympathy" for companies that bemoan the shortage of skilled workers after laying off employees who don't have the skills needed in today's constantly evolving technology landscape.
"It is our responsibility, as we think about this country and the health of all Americans, to be anticipating where there will be disruptions — whether it's long term or short term — and coming up with a plan to help transition those people," she said.
During her comments, Trump plugged Pledge to America's Workers, an initiative started by her father's administration. More than 300 companies and organizations, including ones showcasing their latest products at CES, have signed the pledge to expand programs that "educate, train and reskill American workers from high-school age to near-retirement."
If training workers is one part of the equation, the other is preparing future employees. To that end, Trump said apprenticeships shouldn't solely exist in the trades — they should be expanded to sectors such as cybersecurity and health care to bolster the workforce.
In June, the Labor Department announced nearly $300 million worth of grants dedicated to expanding apprenticeships.
The first daughter said a massive national ad campaign touting career pathways that don't necessarily require a four-year degree will be unveiled soon. It's a message that has gained more traction in recent years in Nevada, as education and state officials try to align curriculum with workforce needs.
"One of the challenges we have in this country is that there is a belief that has been ingrained in society that there's one pathway — and that's four-year college," Trump said Tuesday. "And while that's a great path for many Americans, most Americans don't take that path, and it's not the right path for all Americans."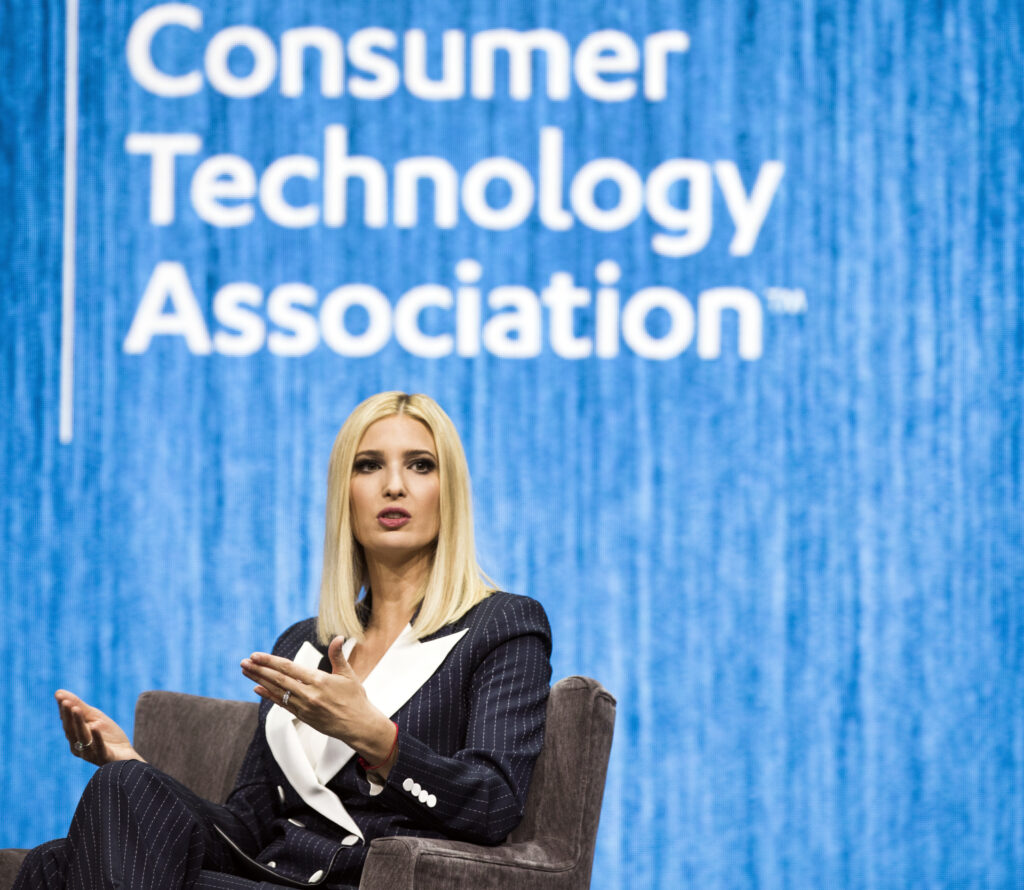 Trump touched on a variety of other topics during the nearly 40-minute discussion, including paid parental leave and affordable child care. Last month, Congress passed and President Donald Trump signed into law paid parental leave for federal employees, a provision that was tucked into the National Defense Authorization Act.
"We cannot ask all of you to offer this benefit to your workforces if we're not willing to do it ourselves," she said. "We must lead by example."
Asked how the United States can keep a workforce pipeline open to immigrants — many of whom add to the innovation or start businesses — Trump returned to her mantra of investing in workers.
"We need to do both: We need to recruit and retain the greatest talent in the world to help us grow and innovate," she said, "but we need to invest in American workers and reach over to the sidelines, draw them into our workforce and equip them with the skills they need to thrive. We can't just seek to import that."
Her time on stage didn't draw any audible protests within the Venetian ballroom where she was speaking, but Democrats quickly panned her appearance.
"She can't spin the truth: Donald Trump has been a devastating failure for working families," Nevada Democratic Party Executive Director Alana Mounce, said in a statement.
Tuesday marked the kickoff of CES, which runs through Friday and is expected to bring more than 175,000 attendees to the Las Vegas Strip.