Medical marijuana and retail customers stand in line to check out at the+source dispensary in Henderson on Thursday, November 9, 2017. (Jeff Scheid/The Nevada Independent)
Jeff Sessions, Congress and crackdowns: Four things to know about how Washington D.C. is handling pot
November 20th, 2017 - 2:05am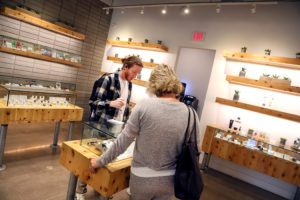 While states including Nevada build up their lucrative recreational marijuana industries, and as even more have legalized pot for medical purposes, they face a lurking threat in the form of the federal government.
Marijuana is still classified by the federal government as a Schedule 1 controlled substance — the same category as hard drugs including heroin, LSD and psychedelic mushrooms. A federal ban not only means that state-legal industries could be shut down at federal officials' whim, but that basic services such as banking are effectively out of reach for marijuana businesses.
At MJBizCon, a marijuana business conference that attracted some 18,000 people to Las Vegas last week, Reps. Dina Titus (D-NV) and Dana Rohrabacher (R-CA) joined marijuana lobbyists Michael Liszewski and Michael Correia on a panel on Friday to discuss why very little has been done to address the conundrum in Congress.
They also offered an outlook on law enforcement under the leadership of Attorney General Jeff Sessions, a vocal critic of marijuana. Here are some takeaways:
Law keeping feds from raiding dispensaries could expire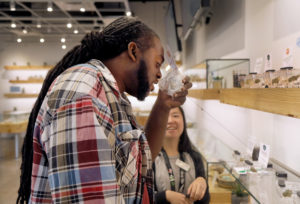 A measure described as the only thing holding back federal agents from raiding state-licensed medical marijuana businesses is set to expire on Dec. 8.
The Rohrabacher-Blumenauer amendment — first enacted in 2014 and named after sponsors Rohrabacher and Rep. Earl Blumenauer (D-CA) — prohibits the Department of Justice from using federal resources to interfere with state-legal marijuana businesses. It is adopted as an addendum to the Justice department's budget and must be renewed annually.
The concept suffered a blow when the House Committee on Rules blocked it from a floor vote in September. Rohrabacher said several Republicans didn't want it to come up for a vote, but he said he's been promised by House leadership that they'll fold it into the budget at a step later in the process, such as a conference committee where differences in legislation between the House and the Senate are reconciled.
"That's what I've been promised. If not, it's time to lead a revolution," Rohrabacher told attendees at the panel discussion. "Generally you can trust people to keep their words on those promises."
Titus said she's more skeptical that Republican leaders will follow through on extending the provision.
Ensuring the amendment doesn't expire is a top priority for marijuana lobbyists in Washington, D.C. Although it could be part of an appropriations bill that's supposed to be passed by Dec. 8, Congress might not meet that deadline and could keep the status quo on spending by simply passing a continuing resolution.
Although a continuing resolution will preserve the amendment temporarily, it also means marijuana lobbyists cannot focus their efforts on more proactive pot legislation and will be preoccupied with defending the amendment past the next temporary deadline.
Congressional action lags behind public opinion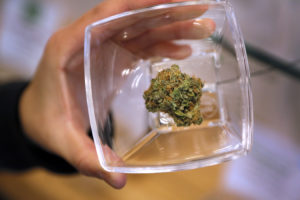 Congress virtually never holds a hearing specifically for marijuana legalization bills, but that belies the broad public support for pot.
A Harvard-Harris Poll survey in August found that 86 percent of Americans believe marijuana should be legal for at least some uses. That includes 37 percent who believe it should only be legal for medicinal purposes and 49 percent who believe it should be allowed for both recreational and medicinal use.
Rohrabacher chalks that up to individual lawmakers' personal beliefs that marijuana is addictive or harmful to users. Panelists said Republican lawmakers who are against marijuana and control influential committees include House Ways and Means Committee Chairman Kevin Brady (R-TX), House Judiciary Committee Chairman Bob Goodlatte (R-VA) and Senate Judiciary Committee Chairman Chuck Grassley (R-IA).
"There is a group of Republicans that is wrongly concerned about protecting you from yourself when it comes to cannabis," Rohrabacher said.
Marijuana lobbyists say they're seeing more Republicans supporting marijuana legislation and are seeing ever-higher numbers of co-sponsors on cannabis bills, but acknowledged they're still in a defensive posture. They said they don't believe they can advance pro-pot legislation until there's a reshuffling of committee chairs and legislators more interested in allowing hearings for marijuana take over.
In the meantime, Titus said she tries to tie marijuana discussions to bills not directly related to marijuana, such as talking about veterans' access to pot.
"Let's really change the guard and throw out Republicans from the majority," Titus said.
"Then you'll be taxed out of business," Rohrbacher shot back in defense of his party.
He suggested one effective way to convince lawmakers to support marijuana would be to help veterans' groups come to Washington D.C. and tell members of Congress how medical pot has helped them.
The Jeff Sessions Conundrum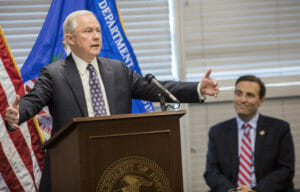 While President Donald Trump hasn't been particularly out front on the marijuana issue, he did say several times on the campaign trail that he supports medical marijuana and thinks broader legalization should be decided state-by-state.
But his administration has given mixed signals since then, and his pick for attorney general, Jeff Sessions, is viewed by many pot legalization advocates as Public Enemy No. 1. Sessions has been outspoken against marijuana, discouraged renewal of the Rohrabacher-Blumenauer amendment and has left open the possibility of enforcing federal law banning the drug.
"We need grown-ups in charge in Washington to say marijuana is not the kind of thing that ought to be legalized… that it is, in fact, a very real danger," Sessions said at a congressional hearing in April 2016, when he was still an Alabama senator.
Rohrabacher described Sessions as representing a segment of society "that's just totally out of touch on this issue."
"They're still living back in the '60s when it comes to this issue," he said. "They just think that anybody who smokes marijuana is going to grow their hair long and fornicate in the park."
Marijuana lobbyists are heartened that Sessions said last week that Obama-era practices are still in place.
"Our policy is the same, really, fundamentally as the Holder-Lynch policy, which is that the federal law remains in effect and a state can legalize marijuana for its law enforcement purposes but it still remains illegal with regard to federal purposes," Sessions said in a House Judiciary Committee hearing.
Some interpret that as meaning he will keep in place the Cole Memo, which generally allows state-regulated medical marijuana industries to operate undisturbed by the federal government but is a policy and does not have the force of law. One possibility is that he will enforce the memo's eight tenets more strictly.
But Titus said she's still concerned about what steps he might take.
"I know that Attorney General Sessions said that we're going to leave the Obama provisions in place for now but I don't trust him for a minute. He said 'I don't know any Russians,'" she said, referring to the attorney general's statements at a hearing on Russian interference in U.S. elections.
Sessions' own future in the position is in doubt. U.S. News and World Report White House correspondent Kenneth Walsh pointed out at MJBizCon that Trump is not happy with Sessions' decision to recuse himself from the Russia investigation, which opened the door for a special prosecutor to carry the mantle of the case and likely means a less predictable outcome.
If Sessions is booted from the position, Walsh said, it would be hard to find a replacement that takes such a strident position as Sessions on marijuana.
To schedule or not?
Marijuana is still classified as a Schedule I drug under the Controlled Substances Act, meaning it has a high potential for abuse and no currently accepted medical use. That top categorization gives the Drug Enforcement Administration wide latitude to regulate its production and research; it is classified even higher on the five-tier scale than cocaine and methamphetamine.
Marijuana's schedule classification can change through two routes: Congress can pass a law moving marijuana to a lower tier in the classification or removing it completely from the jurisdiction of the Controlled Substances Act, or the executive branch can change the classification through a lengthy administrative process.
In 2016, under the Obama Administration, the DEA retained marijuana in the Schedule 1 category. Part of the problem with moving it lower on the scale is that there hasn't been much research to prove the medical benefits of cannabis; the federal prohibition on pot has also put tight strictures on scientific studies.
Rohrabacher and Titus split on what course of action is best to prevent big pharmaceutical companies from using the classification process to gain control of the market, potentially squashing small businesses. Titus said she thinks marijuana should be reclassified to a lower tier, while Rohrabacher believes it should be eliminated entirely from the scheduling system.
Either way, panelists struck down the idea that Big Pharma lobbying is the reason why marijuana legislation overall has stalled so consistently in Congress.
"They're not actively conspiring," Rohrabacher said.
Comment Policy (updated 4/20/2021): Please keep your comments civil. We reserve the right to delete comments or ban users who engage in personal attacks, use an excess of profanity, make verifiably false statements or are otherwise nasty. Comments that contain links must be approved by admin.