Joey Gilbert's latest bill for Douglas County school legal fees is double previous month's
The school board is expected to vote on a set of invoices totaling $74,000 during an upcoming meeting next week.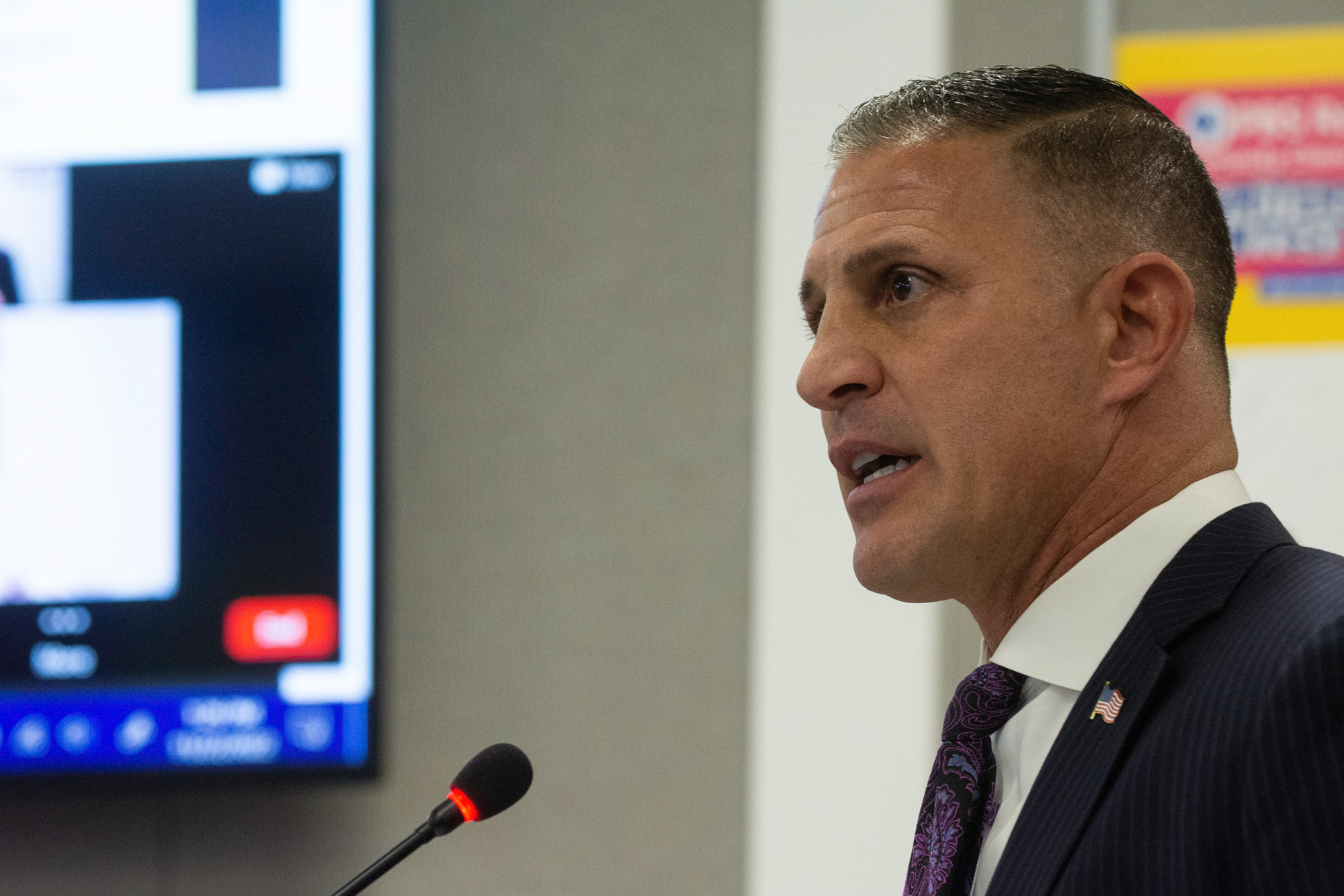 After the Douglas County School District saw a massive spike in legal fees in the first month since hiring Reno lawyer and former Republican governor candidate Joey Gilbert, costs for his firm's services have again spiked and are on track to significantly exceed the district's budget for legal counsel.
Records obtained by The Nevada Independent show Gilbert's firm, Joey Gilbert Law, submitted a set of invoices to the district Sept. 21 totaling more than $74,000 for fees incurred primarily over the previous month.
That amount is on top of the roughly $36,000 charged by the firm on Aug. 21 after its first month as counsel and exceeds the less than $18,000 average monthly cost of the board's previous counsel.
The total amount for the September charges is expected to be made public Thursday as part of the supporting materials for the board's regularly scheduled meeting set for Tuesday, Oct. 10.
Superintendent Keith Lewis, who has clashed with the board over the new firm's hiring, said in an interview last month that he was concerned that the costs for the new counsel, which had no experience in education law prior to being hired, would bust the district's budget.
"I'm responsible for what has been budgeted, about $160,000, and we're certainly on pace to blow past that. That's on my watch. In that way, I think I have a right to be concerned," he said.
The costs for the first two months have totaled about $110,000, and if costs continue at the current pace, the district is set to exceed its annual budget for legal services in October — just three months after hiring Gilbert.
The charges from Gilbert's firm for September include:
$24,897.50 for "DCSD Board Meetings"
$16,731.60 for "Writ of Mandamus"
$10,672.50 for "General Board Administration"
$5,492.50 for "Public Records Requests"
$5,070 for "OAG OML Complaint" (these acronyms likely stand for Office of the Attorney General Open Meeting Law)
$3,737.50 for "Employer-Employee Organizations"
and $7,500 for the firm's monthly retainer fee.
The costs for the previous month — approved during the board's September meeting despite protests from a pair of trustees — included the $7,500 monthly retainer and more than $28,000 in costs for hourly services.
The district's previous law firm, Maupin, Cox & LeGoy, a Reno-based firm with decades of experience in education law, charged a monthly retainer fee of $5,000, and generally billed other work at $225 per hour — a step down from the $325 per hour charged for work done by Gilbert and by Kiera Sears, an employee of Gilbert's who is not licensed as an attorney.
Trustees Linda Gilkerson and Carey Kangas, who have opposed the use of Gilbert's services, criticized the costs for Sears at the September meeting. Kangas noted that in the Aug. 21 billing, Sears "was referenced about 50 times in those invoices to the tune of about $21,000," while Gilbert was listed 39 times.
Attorneys who spoke with The Nevada Independent about Gilbert's hiring also raised questions about the fees and legal advice provided by Gilbert's firm.
Benjamin Edwards, an attorney and UNLV law professor who specializes in legal ethics, said that hiring an attorney who lacks experience in the specified area can lead to higher costs, though it does not preclude one from being hired.
"A lawyer who has no expertise in a particular area can ethically take it on, so long as they put in the time and do the work to become competent in providing those services," Edwards said. "Now, if you are in the position of hiring counsel, you may or may not want to pay for them to spend that additional time to develop that expertise."
Weeks before Gilbert's hiring in July, Lewis warned the board about the potential for higher costs for the district (DCSD).
"While I understand my opinion probably means nothing, I believe strongly that DCSD has been well served by Maupin, Cox and Legoy … Education law is very complicated, and especially when it comes to employee and special education law," Lewis wrote in a June 1 email to the board's officers obtained via a records request by The Nevada Independent. "It could be extremely costly to the district if we hire counsel that does not have the expertise required in today's litigious world."
In a special meeting set for Friday, the board is set to consider the termination of Lewis' contract.
Gilbert and Sears did not respond to a request for comment Tuesday, nor did Board President Susan Jansen.
The Nevada Independent is raising $200,000 by Dec. 31 to support coverage of the 2024 election.
Tax-deductible donations from readers like you fund this critical work.
If you give today,your donation will be matched dollar-for-dollar.
Give + Get Matched
Featured Videos