JROTC programs expand in Clark County, giving students another way to hone their leadership skills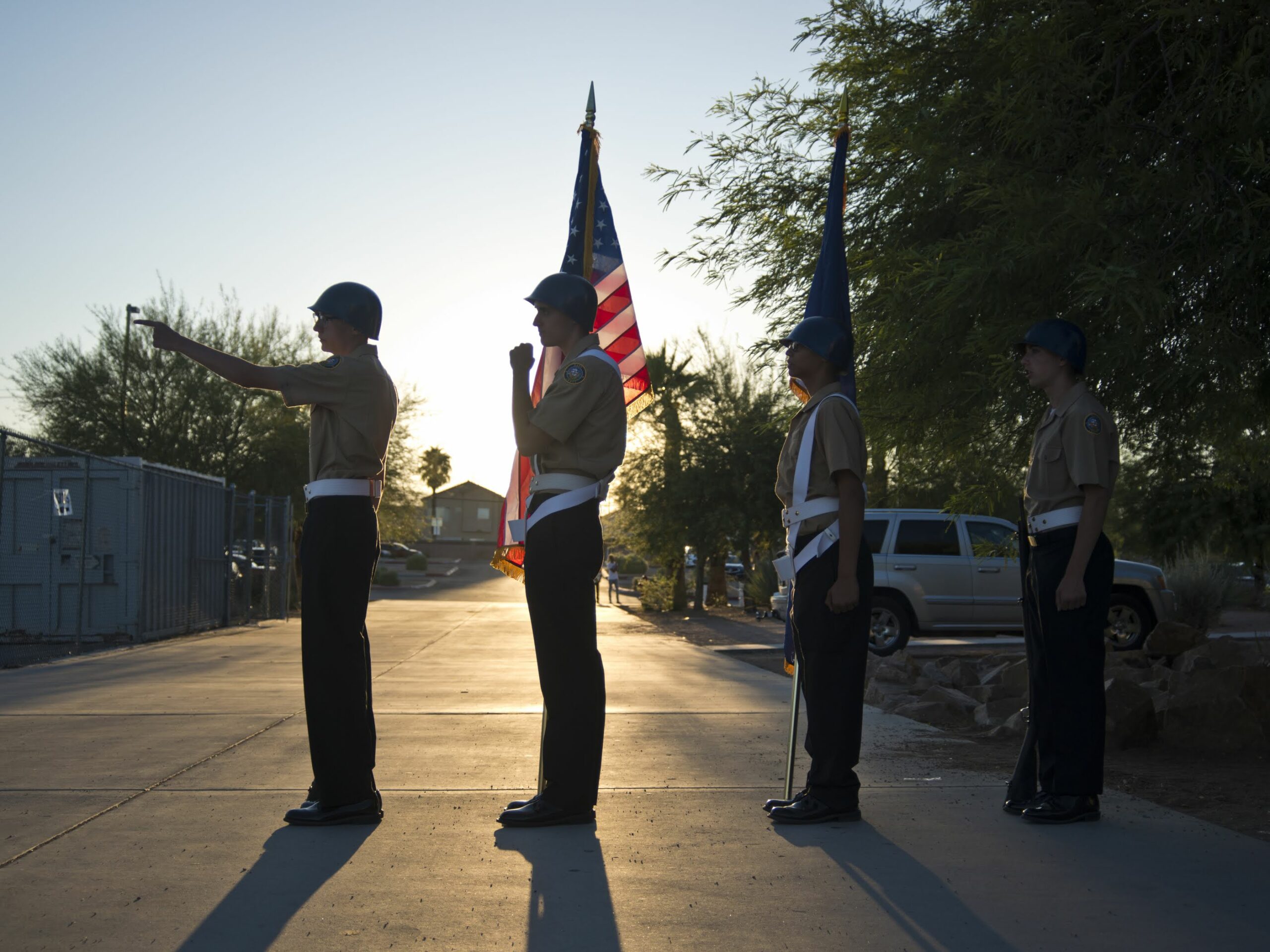 The boxes piled in a Ford F-250 truck bed offered a gift and a challenge to Spring Valley High School students.
Under the blazing afternoon sun on a recent weekday, several students peered into the boxes containing shirts, trousers, belts, shoes and workout clothes. Dylan Carubio, 16, inspected a black dress shoe in need of some shining.
"Overall, these are in really nice condition," he said. His classmates nodded in agreement.
It was like Christmas had come early for the school's new Junior Reserve Officers' Training Corps program, otherwise known as JROTC. Launched this school year, the program had the two most critical elements — an instructor and students — but it needed the gear. And on this day, the gear had arrived in the form of donations from other local JROTC programs. Now, it was up to students to organize the donated goods.
As they carted box after box to a nearby storage unit, Lt. Cmdr. Edward Dambach watched with a twinkle in his eye. His 31-year military career had brought him around the world, but here in southwest Las Vegas, the teenagers were displaying the same camaraderie he learned as a Navy SEAL.
"It's about how you confront the challenges with your teammates to get things done," he said. "It's more about heart than talent."
While the leadership-based programs don't necessarily receive as much attention as classrooms featuring the latest technology and related applications, education officials say JROTC programs continue to grow in the Clark County School District and offer "soft skills" that serve students well beyond their high school years. Two schools welcomed JROTC programs this year — Spring Valley High School as a Navy affiliate and Del Sol Academy of the Performing Arts as an Army affiliate.
Just six weeks into the school year, it's impossible to predict how the new programs and their students will fare over time. Will they continue expanding? Inspire students to consider the military as a career option? Or enlighten them to certain skills that would benefit them in other careers?
The Navy estimates that about 61 percent of JROTC graduates continue on to higher education, including military academies and institutions with ROTC programs, and 47 percent of graduates intend to enter military service at some point.
A successful JROTC program doesn't happen by chance, though. There's classroom work, grooming standards, uniform inspections, drill practice and more drill practice.
"We're crawling and then walking and running," Dambach said.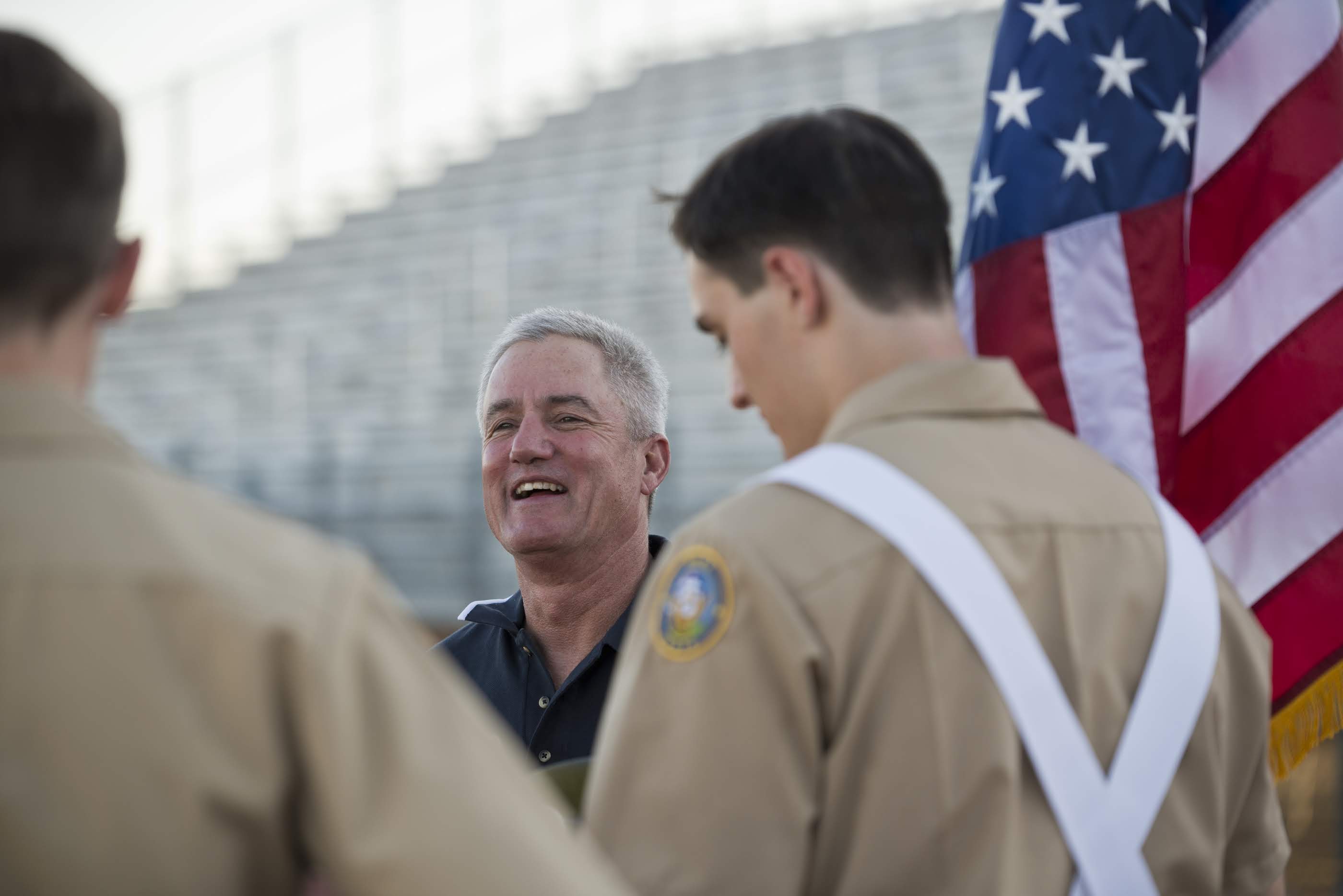 ***
More than 3,000 high schools nationwide have a JROTC program affiliated with a branch of the U.S. military. In Clark County, 24 high schools house one, with students enrolled in military science courses taught by retired officers or enlisted personnel.
Given the district's proximity to Nellis Air Force Base, that branch leads with nine JROTC programs in Southern Nevada. The remaining schools have affiliations with the Army (eight programs), the Navy (five programs) and the Marines (2 programs).
"We are pretty full compared to other urban districts nationwide," said Kerry Larnerd, director of career and technical education for the school district.
Tam Larnerd, principal of Spring Valley High School, said a student approached him during his first week leading the school and asked for a JROTC program. That was in January 2014.
"Without having any idea what an undertaking that is, I said 'sure,'" he said.
The yearslong process involved an application submitted to the Pentagon and, ultimately, agreements signed by the school district and military, he said. Spring Valley needed to prove it had space for the program, a qualified person to run it and self-funding capacity for two years during the establishment phase. After a school shows it has a sustainable program, the Navy pays for half of the instructor's salary.
As Spring Valley leaders navigated the application process, the school's computer science teacher said his brother was retiring from the Navy. Enter Dambach.
These days you can spot the the lieutenant commander arriving to school early and staying late as he shepherds the program through its inaugural year. Tam Larnerd said he hoped the program would attract 100 students to start. Instead, roughly 130 enrolled.
"It's just amazing how much pride the students have taken in this program in such a short amount of time," Larnerd said.
The program certainly isn't for everyone. As the principal noted, some students weren't too keen on the grooming standard prohibiting a "man bun."
But the discipline that comes with the JROTC program is what others like. Carubio, who wants to join the Navy after graduation, said he appreciates the work ethic among his peers in the program. He's one of a dozen or so students who routinely stay after school to practice.
"They have a plan and that's what I like," he said.
There's no requirement or expectation that JROTC students pursue a military career, although cadets who enlist after completing the program are eligible for a higher pay grade. The military science courses emphasize citizenship development and touch on public speaking skills, study habits, teamwork, physical fitness and leadership, among other topics, Dambach said.
The drill teams, in essence, put all those skills to action.
Dambach said the number of students staying after school to practice has grown each week as enthusiasm builds and friendships bud.
"It's just priceless," Dambach said. "The thing is they're volunteering to do this. No one is making them do it."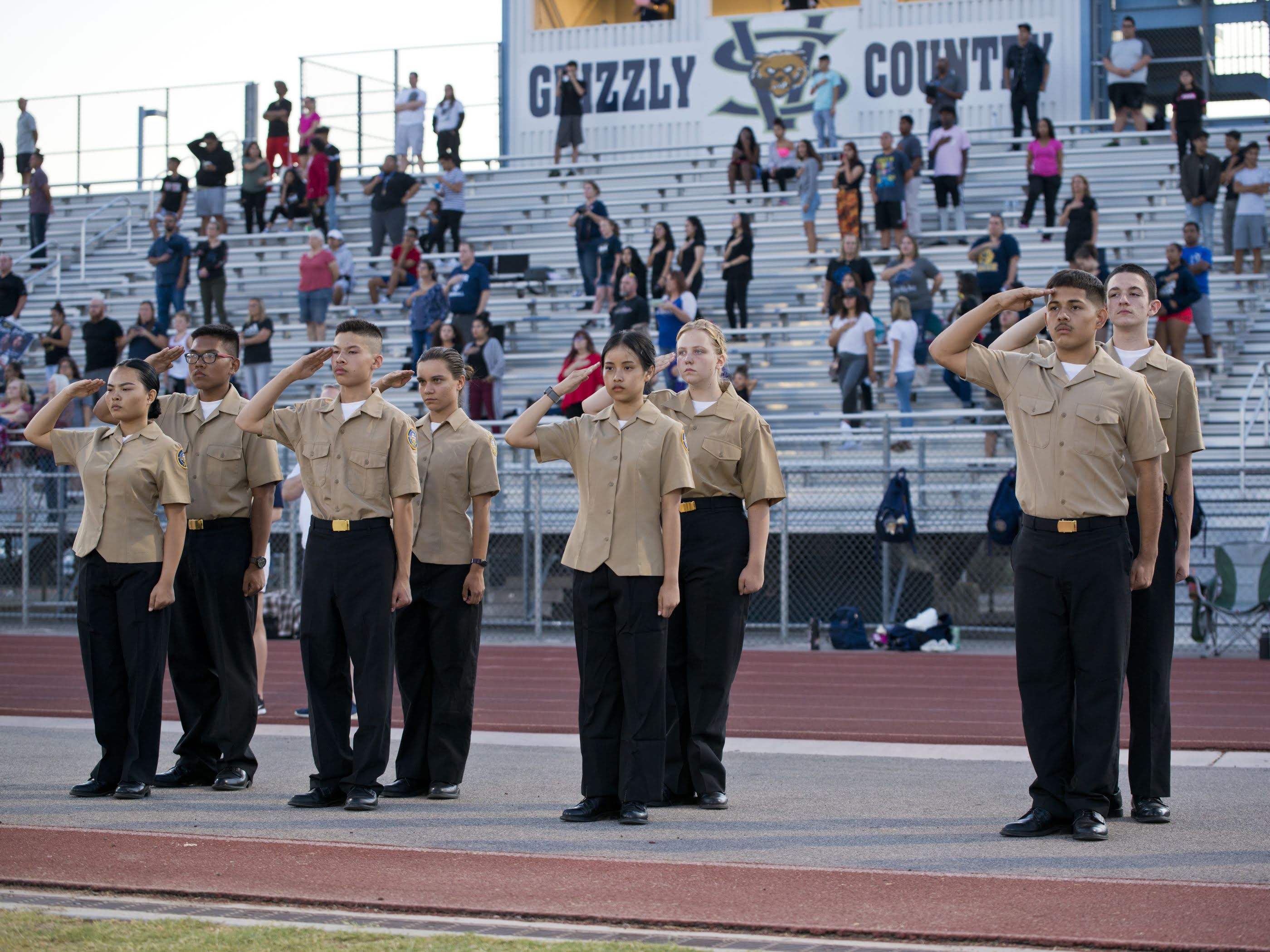 ***
As a setting sun cast long shadows on Spring Valley's football field Friday evening, an eight--person cadet team marched in unison just outside its perimeter.
"Left, left, left, right, left," they chanted.
Their peers forming the color guard stood at attention on a nearby sidewalk. The clock was nearing 6:45 p.m., which is when they'd make their debut at the school's first home varsity football game. The Spring Valley Grizzlies would be facing off against the Bonanza High School Bengals.
Like a proud parent, Dambach grinned from afar. In the weeks leading up to this moment, he had weaved subtle suggestions and questions into even the most trivial decisions.
"Maybe if I pulled my truck over here, it would be better and easier to unload," he said on the day students were handling the donated gear.
The sentence elicited conversation among the male and female students who had stayed after school to help. Without realizing it, they were doing exactly what Dambach had hoped — taking leadership and forming a plan. He wants them to take charge.
"They have no idea what they are capable of," he said. "I'm trying to build up their confidence."
Assistant Principal Yvonne Arguello said she already has seen one student transformation. A teen with a challenging home environment who had moved frequently growing up struggled immensely last year, she said. But he decided to give the JROTC program a shot this year and, so far, it has proved to be the right fit.
"He's gone from an angry young man to a young man who can possibly be a great leader," she said. "... It's one of those stories that just makes you glad you're in education."
Dambach, who's new to the education world, echoed her sentiment.
His reaction after watching their first ceremonial activity: "They did superlative."
Then he followed them off the football field and into the stands to watch the game.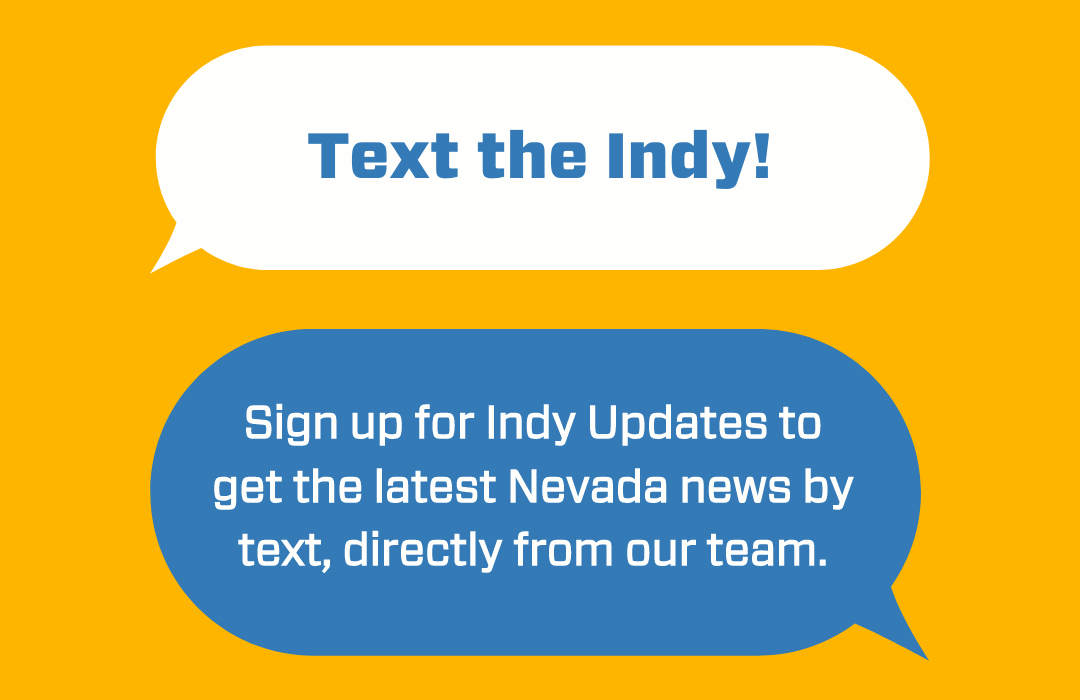 Featured Videos
Comment Policy (updated 4/20/2021): Please keep your comments civil. We reserve the right to delete comments or ban users who engage in personal attacks, use an excess of profanity, make verifiably false statements or are otherwise nasty. Comments that contain links must be approved by admin.