Kihuen's large federal war chest likely not transferable to City Council race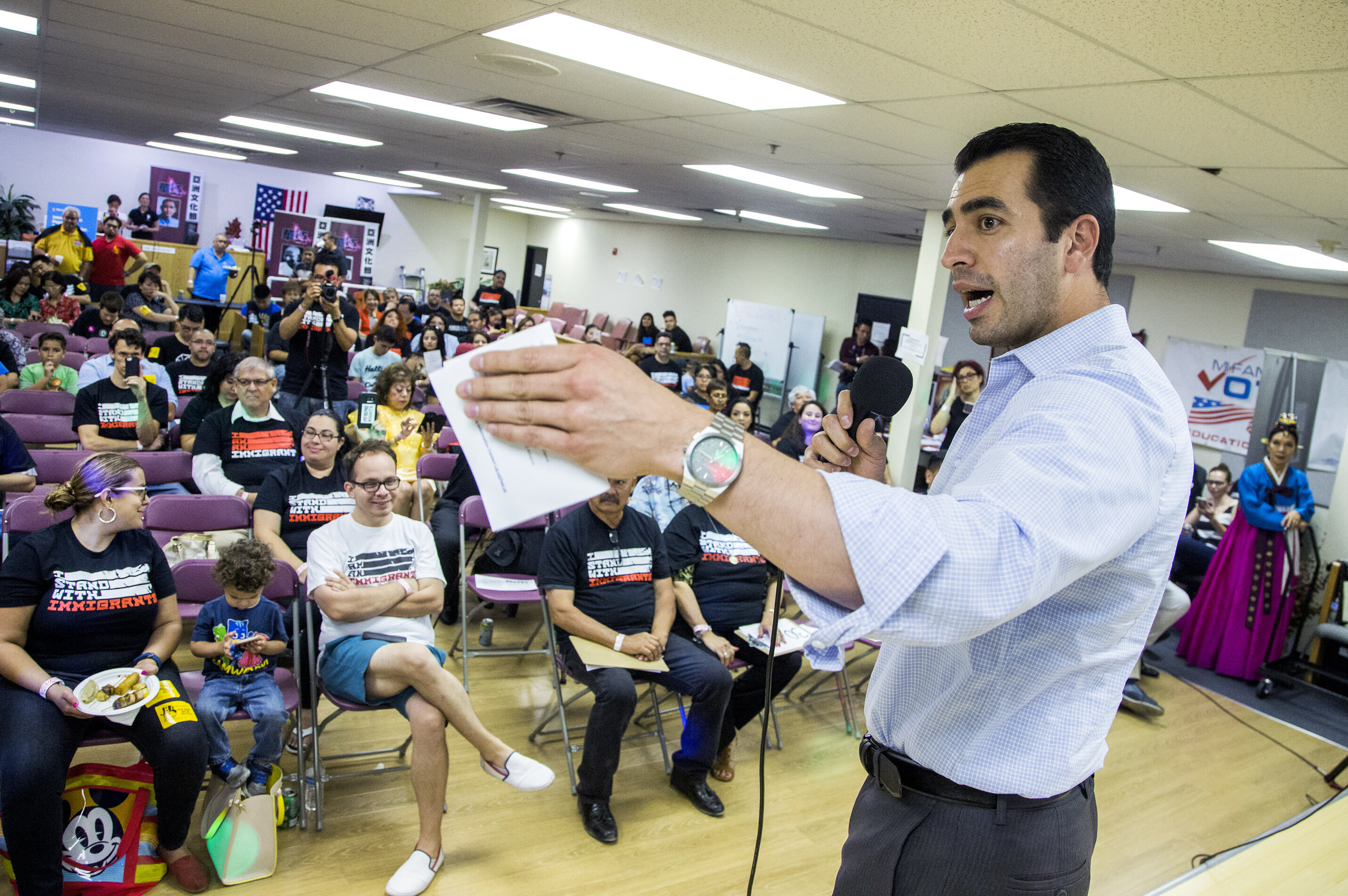 Former Congressman Ruben Kihuen still has more than $300,000 in his federal campaign account, but it's questionable whether he will be able to use that money in his bid for Las Vegas City Council.
Kihuen has stopped fundraising since announcing in 2017 that he would not run for re-election to his U.S. House seat, amid multiple accusations of unwanted sexual conduct that were largely substantiated by a House Ethics Committee report finding the congressman "made persistent and unwanted advances toward women who were required to work with him."
But according to his most recent filing with the Federal Election Commission, Kihuen still has more than $318,000 in available cash in his federal campaign account — a modest sum for a U.S. House candidate but a huge war chest for a municipal candidate in a low-turnout, off-year election. Kihuen announced his bid for the Ward 3 City Council seat earlier this month and officially filed to run for the office on Wednesday.
State officials and legal experts warn that Kihuen will be hard-pressed to directly tap into those federal funds for a state level campaign without running afoul of state law.
There's no overarching federal rule on whether candidates seeking state or local office can transfer funds from their federal campaign accounts to their new race. The rules are typically left up to states. Depending on state law, candidates in the past have either been able to transfer the full balance of their accounts or have sought roundabout ways to move the money over, either refunding contributions with an expectation that equivalent funds would be donated to their new campaign or given to a party or PAC to indirectly support their candidacy.
In an email sent last June when rumors of Kihuen's city council bid first arose, Nevada Deputy Secretary of State for Elections Wayne Thorley said that although Nevada state law doesn't directly allow or prohibit federal-to-state campaign transfers, the office would view any transfer of funds from a federal PAC as regular contributions subject to normal contribution limits.
"Nevada law does not expressly allow or prohibit the transfer of (federal) funds to state campaign accounts," he said in the email. "Given this, any (federal) funds transferred to a state campaign account would be treated like a regular contribution to a state campaign account and would be subject to the normal contribution limits: $5,000 for the primary election and $5,000 for the general election ($10,000 total for the election cycle)."
Thorley declined to answer emailed follow-up questions this week.
Bradley Schrager, an election law attorney with Wolf, Rfikin, Shapiro, Schulman & Rabkin, said in an email that state law clearly prohibits a mass transfer of federal funds to a state or local level candidate.  Schrager is also representing former Assemblywoman Olivia Diaz in her bid for the city council seat.
"Federal campaign funds belong not to the candidate but to his or her committee — in other words, an entity," he said in an email. "Entities can contribute to state races in Nevada, but are limited to $10,000. You can do a lot of things with $300,000 in leftover federal campaign money, but giving it all to a Nevada state race is not among them."
Even if Kihuen transfers the funds into his state account, he'll likely face additional restrictions on how to use the funds given differences between federal and state law. For one, candidates for any non-federal office in Nevada are restricted to raising $10,000 from a single source in any campaign cycle, which for Las Vegas City Council candidates started on May 7, 2015.
Because the technical fundraising period covered two congressional campaign cycles, a number of Kihuen's donors to his federal campaign gave more than the maximum allowed limit of $10,000 that would be in place if the funds were being used for a statewide or local campaign. In total, roughly $108,000 of Kihuen's available cash came from donors who had already contributed at least $10,000.
Kihuen would also likely need to balance spending between primary and general elections — the $10,000 contribution cap consists of $5,000 limits for the primary and general campaigns each. He'd also have to follow a state law requiring the loser of a primary election to return campaign donations in excess of $5,000 to the contributors within two months of the election.
Regardless of how Kihuen decides to fund his campaign, voters and members of the public won't get a chance to look at his campaign finances until after the April 2 primary election.
That's because of a law passed by the Legislature in 2017 that included changing the state's campaign finance reporting requirements, effective as of Jan. 1. The final version of the bill changed the reporting deadlines in election years to a quarterly reporting system, with reports now due on the 15th of April, July, October and January of the next year.
That means nearly two weeks will come and go after the municipal primary Election Day before candidates are required to disclose who they raised money from and how they spent campaign dollars. Kihuen's actions with his federal campaign account also won't be disclosed until the federal reporting deadline of April 15.
In a twist, the change in reporting requirements — which was part of a larger bill affecting voter registration and requiring candidates to disclose cash on hand and to itemize expenses charged to credit cards — was pushed by former Democratic Assemblywoman and fellow Ward 3 candidate Diaz, who called the changes part of the "Diaz Amendment" during a 2017 committee hearing.
In an interview, Diaz said that the bill was an overall "step in the right direction" but acknowledged the lack of reporting before municipal primary elections was an oversight not raised by anyone until after the bill had been signed into law. Diaz said she believed in accountability and transparency and would consider disclosing her own donors publicly prior to the election.
"Voters do deserve to know where money is coming and who's funding us, however we are in circumstance there's no mandate to do so before the primary," she said. "It's going to be left up to each candidate with what they want to do with financial information and how honest they want to be about funding."
Besides Kihuen and Diaz, filed candidates for the Ward 3 seat include Aaron Bautista, Melissa Clary, David Lopez and Shawn Mooneyham. The top two vote-getters will advance to the general election on June 11, but if any candidate receives more than 50 percent of the vote in the primary election, he or she will be automatically placed in the seat.
Updated at 9:28 a.m. to disclose that Bradley Schrager is representing Olivia Diaz's city council campaign.
Comment Policy (updated 4/20/2021): Please keep your comments civil. We reserve the right to delete comments or ban users who engage in personal attacks, use an excess of profanity, make verifiably false statements or are otherwise nasty. Comments that contain links must be approved by admin.