After House sanctions over sexual misconduct allegations, Kihuen launches Las Vegas council bid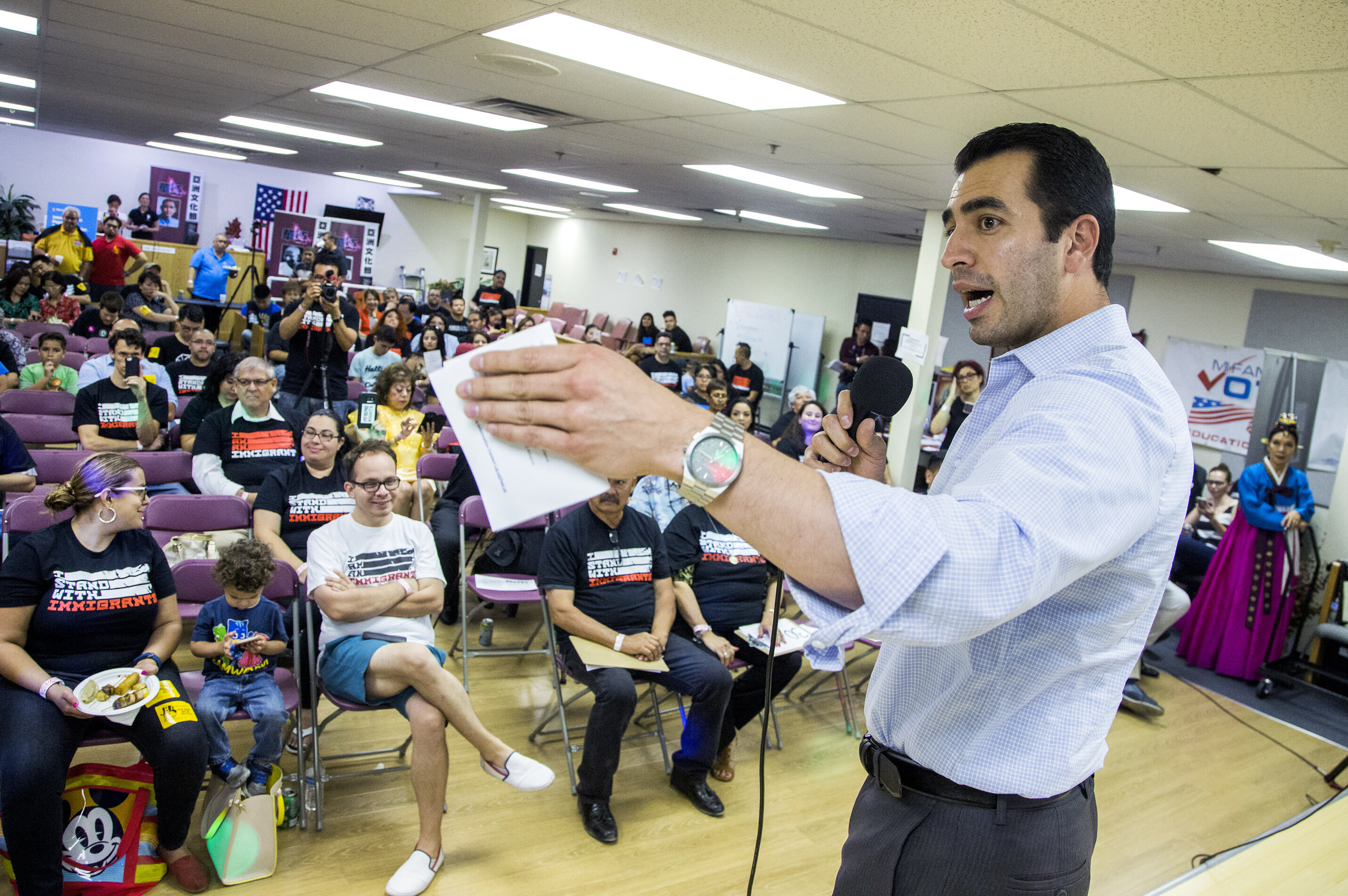 Former Democratic Rep. Ruben Kihuen, who was formally censured by House Ethics officials over credible accusations of sexual misconduct by multiple women, announced on Tuesday that he is running for Las Vegas City Council.
Kihuen confirmed his plans in a Twitter post on Tuesday, two months after the House Ethics Committee released a report determining the freshman Democrat "made persistent and unwanted advances toward women who were required to work with him" in violation of House rules. The former congressman has maintained his innocence though House investigators found his denials unconvincing and formally reprimanded him.
The former congressman who spent a decade in the Nevada Legislature has made little secret of his desire to run for office again, filing initial paperwork in December to create a 527 political organization for a municipal election. Incumbent Ward 3 Councilman Bob Coffin declined to run for re-election in 2018 and has said he does not plan to endorse a successor.
In a video posted on Twitter, Kihuen, clad in a "Vegas Strong" t-shirt, hammers an "Estamos con Ruben Kihuen" sign into the ground.
"It may be raining out here, but the rain's not going to stop us," Kihuen says. "I'm Ruben Kihuen, candidate for Las Vegas City Council, and I hope to earn your support."
A primary election for City Council seats is scheduled for April 2, and unless a candidate takes a majority of the vote, the top two vote-getters will advance to a general election on June 11. Council members serve four-year terms and make about $79,000 a year in base pay, according to Transparent Nevada.
Former Assemblywoman Olivia Diaz, who announced she was running for the seat in December, declined to comment on the allegations and the House Ethics committee report on Kihuen.
"I think every candidate that makes a decision to jump into the race will have to do so based on their values and if they feel they're the best fit for the district," Diaz said in a phone interview Tuesday night. "I've known my neighbors here in Ward 3 for the last 30 plus years and they'll be the best judge of character when it comes to decide who they want to represent them on the City Council. I can tell you no one can represent this ward better than me."
Fellow candidate David Lopez, a former city parks commissioner, said he was "deeply offended" that Kihuen would "thumb his nose at his constituents and overlook the serious nature of the sexual harassment allegations against him that turned out to be true."
"We must not accept this kind of proven behavior on the Las Vegas City Council," he said in an email on Wednesday. "Our city's taxpayers deserve much better. The public will have the ultimate say. I hope they vote their conscience."
Other announced candidates for the seat include Melissa Clary and Shawn Mooneyham.
Prior to Kihuen's bid, a political action committee called "No Means No, Ruben PAC" was formed for the stated purpose to "keep Ruben Kihuen from political office in 2019." The PAC, which was registered on Jan. 3, is headed by Maria-Teresa Liebermann, a progressive activist with Battle Born Progress.
In an emailed statement, Nevada State Democratic Party spokeswoman Molly Forgey said the party "takes seriously all allegations of sexual misconduct and continues to hold all of our leaders accountable." Party Chair William McCurday said last year that the party was "disappointed" by the allegation and that there is "no place for this behavior in our party."
Pro-abortion rights group NARAL called on Kihuen to immediately renounce his candidacy.
"Kihuen's announcement that he is running for City Council after a proven record of sexually harassing multiple women demonstrates his complete lack of regard for the health and safety of the women of Nevada," said NARAL Nevada State Director,Caroline Mello Roberson. "Nevada voters have proven that we are moving our state forward and we will not tolerate or turn a blind eye to elected officials—or anyone—who chooses to harass, disrespect, and otherwise create a hostile work environment for women."
Witnesses who spoke to the House's investigative subcommittee testified that Kihuen described a primary opponent as a "slut" in front of his campaign staff, asked a woman whose firm worked for him if she would consider cheating on her husband, suggested to a campaign staffer that the two get a room together at the Aria casino and made "progressively more sexually aggressive" advances to a Nevada lobbyist while he was a state senator.
He acknowledged "immaturity and overconfidence" in a statement released when the House Ethics Committee report came out, but said he "never intended to make anyone feel uncomfortable or disrespected."
This story was updated at 8 AM on Wednesday with a quote from Olivia Diaz. Updated again at 12:35 p.m. to include a statement from the Nevada State Democratic Party. Updated at 2:30 p.m. to include a statement from David Lopez and from NARAL.
The Nevada Independent is raising $200,000 by Dec. 31 to support coverage of the 2024 election.
Tax-deductible donations from readers like you fund this critical work.
If you give today,your donation will be matched dollar-for-dollar.
Give + Get Matched
Featured Videos