Las Vegas' F1 race is 19 months away, but interest is already at 200 mph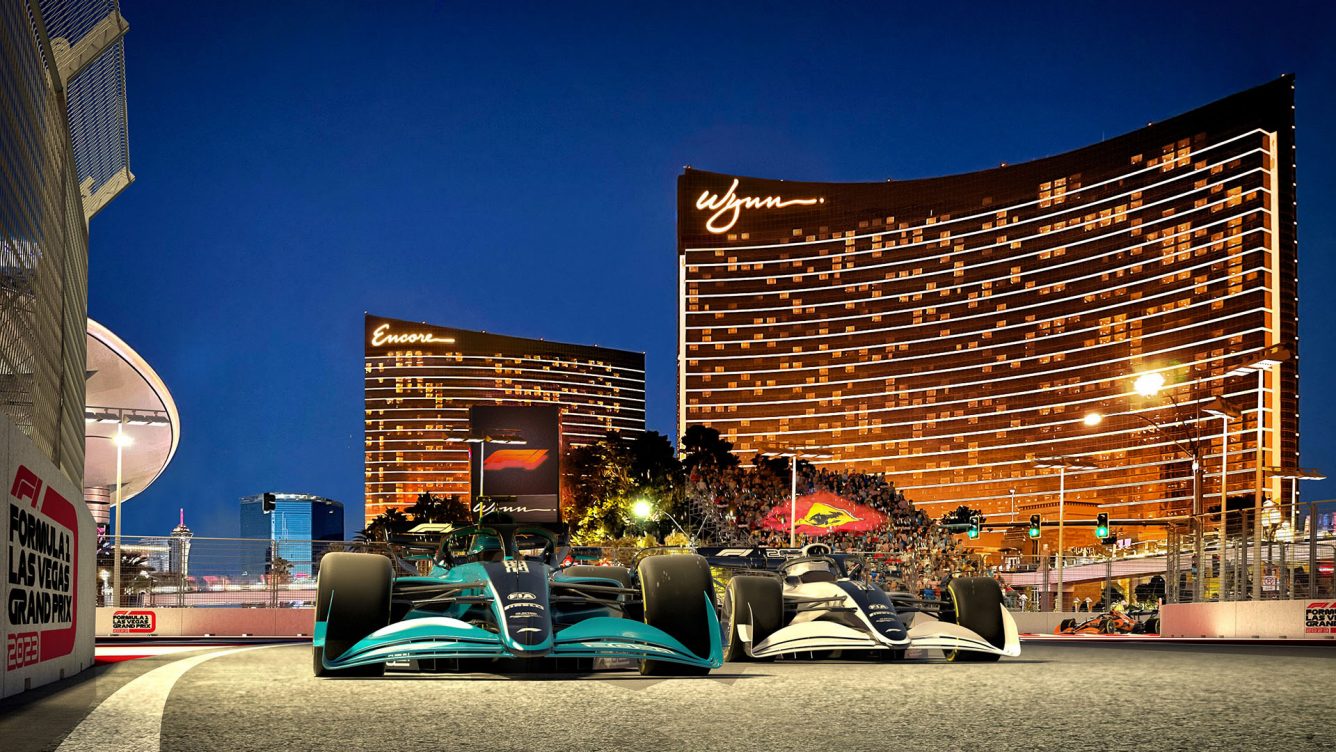 In the 24 hours following the official announcement that Formula One was bringing a Grand Prix race to Las Vegas in November 2023, Wynn Las Vegas and Encore saw more requests for hotel room reservations than any other one-day period in the Strip properties' history.
The event has not set an official date. Also, Wynn won't release room reservations for at least 12 months before the actual date.
But those facts didn't deter international and domestic fans of F1 from at least trying.
Wynn Las Vegas and Encore President Brian Gullbrants wasn't surprised by the customer interest, given the European-based auto racing competition's worldwide following.
The U.S. audience for F1 has grown dramatically in the last few years and rumors of Las Vegas hosting an event permeated social media over several months and fueled additional interest.
"F1 has over 500 million fans globally, so it wasn't a surprise." Gullbrants said, referencing the volume of room inquiries. "Having F1 is as good as it gets for global exposure and marketing for both the destination and for Wynn Las Vegas."
Gullbrants said Strip resort operators are natural competitors. But he suggested events such as the Las Vegas Grand Prix, Super Bowl LVIII in February 2024 and other high-profile events bring the gaming community together to support the destination as a whole.
"It elevates all of us at the same time to a global stage, where I think we all benefit," he said.
Other Strip properties situated along the future 3.8-mile, 14-turn course that includes a stretch of Las Vegas Boulevard between Sands and Harmon avenues had similar interactions with their customers.
Sean McBurney, Caesars Entertainment's regional president for Las Vegas, said the resort industry's initial meeting with F1 officials led to many questions surrounding the race logistics, such as getting spectators and customers in and out of the venues. But he believes they will be easily addressed.
"It's not the most straightforward type of event to execute, but everybody in the room immediately saw how powerful this would be both for Las Vegas and frankly Formula One," McBurney said. "When you think about some of our properties – Flamingo, Harrah's, Bally's, Paris and Planet Hollywood – all will have front-row seats to the action."
McBurney said F1 anticipates the race alone will attract 170,000 people to Las Vegas.
"Those are real numbers, and on top of that, you have a global viewership pushing 100 million," he said. "The energy in the town is going to be incredible, which is really exciting and great for the market."
Las Vegas Convention and Visitors Authority CEO Steve Hill imagined those types of comments when the tourism organization first brought the idea of F1 in Las Vegas to the resort industry. The Las Vegas Grand Prix – part of a three-year deal – was announced March 30 in an early evening closed-circuit press conference from the pool deck of The Cosmopolitan of Las Vegas. In the background, Strip marquees flashed the F1 logo.
The popularity explosion in the U.S. surrounding the motorsport has been attributed to Liberty Media Corp. (a media conglomerate that also owns the Atlanta Braves and SiriusXM) acquiring the racing series in 2017. The deal led to an increase in marketing efforts. The sport also saw sudden fame from the Netflix docuseries, "Drive to Survive." Four seasons of episodes have profiled and provided insight into F1's drivers, managers and team owners.
Hill — who participated in the race's announcement along with Liberty Media CEO Greg Maffei, F1 CEO Stefano Domenicali, Live Nation Entertainment CEO Michael Rapinio, and Gov. Steve Sisolak — said he knew the LVCVA needed Strip operators' support to make the event a reality.
"Las Vegas has a culture of trying to figure out how to do really big, cool events," Hill said. "Certainly, everybody (casino leaders and Clark County officials) had different concerns. The idea was, let's just list the concerns and go to work on trying to figure out a solution to each one of them."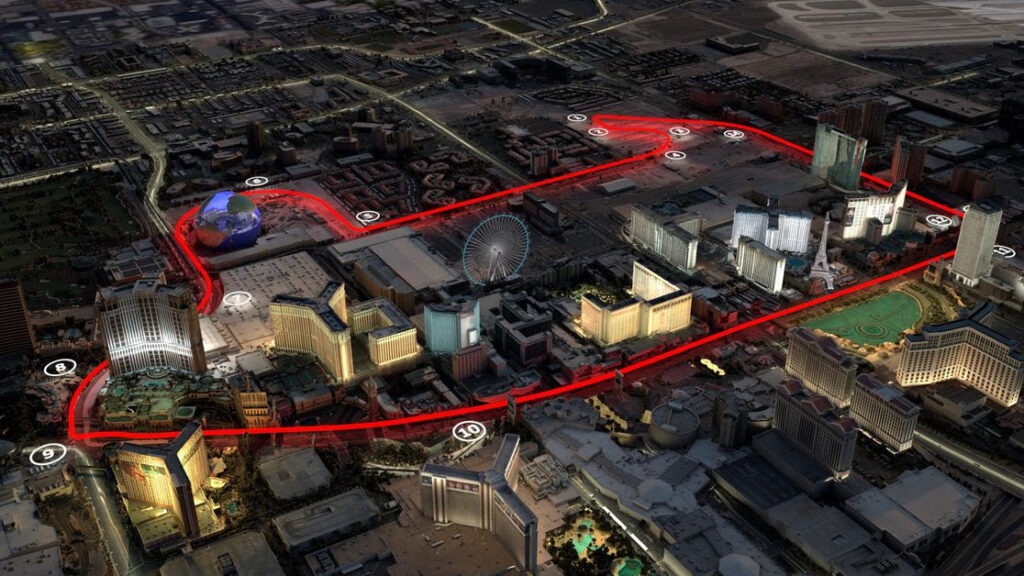 Closing down the Strip
The logistics of the race – primarily closing down a large portion of the Strip and several surrounding streets – is no longer an unheard-of event. The Strip closes to vehicle traffic annually for a New Year's Eve fireworks show and the Rock 'n' Roll Las Vegas Marathon. In February, a portion of the Strip near the Bellagio was closed for festivities surrounding the NHL All-Star Game. And that same area of the Strip will close next week for several events related to the NFL Draft.
Venetian and Palazzo CEO George Markantonis said it's unclear for now how the entrances to the Strip properties will be affected by the F1-related closures, but his operations team has time to work through the logistics.
The current configuration of the track shows his company's properties – Venetian, Palazzo, Venetian Expo and the under-construction MSG Sphere – all surrounded by the course.
"This is such an incredible opportunity for the destination," Markantonis said. "It was about working together as a destination to bring this historic event to Las Vegas and further adding to the ever-growing list of reasons why Las Vegas is the entertainment and sports capital of the world."
A spokesman for MSG Sphere, a $1.9 billion entertainment attraction being built by Madison Square Garden, said the company is collaborating with F1 on the Las Vegas Grand Prix and echoed other operators, noting that it's a "special opportunity to showcase" the venue.
MGM Resorts International, Caesars and Wynn Las Vegas are the founding partners of the Las Vegas Grand Prix. Lance Evans, senior vice president of sports for MGM Resorts, said the economic impact from the race "will be huge," for both the company and Las Vegas.
"It will be incredible to watch these vehicles racing past Bellagio at 200 miles per hour," he said.
The F1 race will have three components: practice runs on Thursday, qualifying races on Friday and the actual race on Saturday, which covers 50 laps around the course.
All the events will take place at night, which means the primary Strip closures will be in the evening.
"If you're going to do a race in Las Vegas, you want to do it at night because the visual aspect is so spectacular," Hill said. "But it also has the benefit of being during the day in Europe and the Middle East, the core of the F1 international fan base. They won't have to be up in the middle of the night to watch the race, so it works out well for us and works out well for their television audience."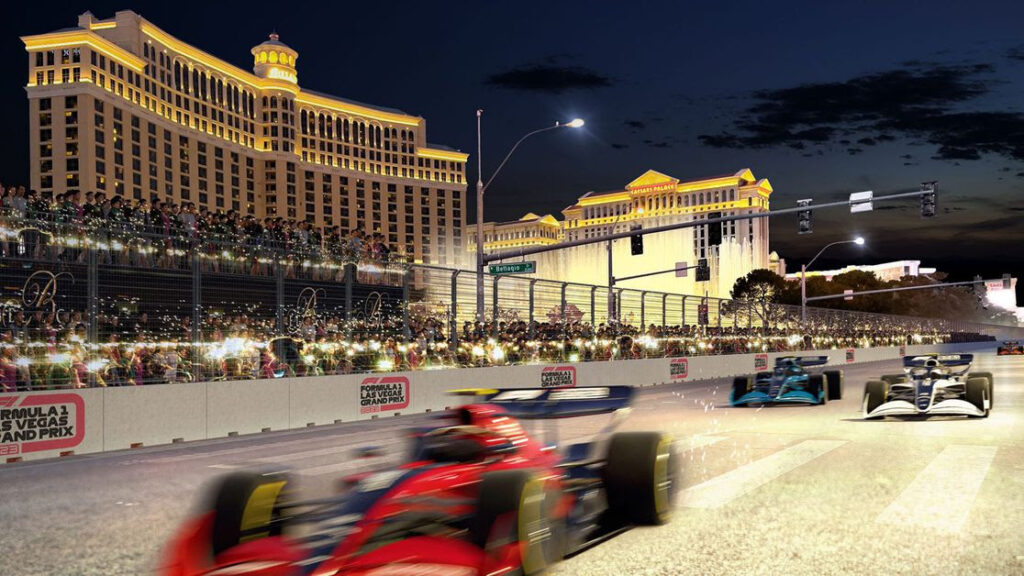 A marketing and revenue opportunity
Gaming analysts and the investment community said F1 will attract a large international audience, helping to revive and expand an important customer segment that has been slowly returning after the pandemic shut down international travel for nearly two years.
"Some of those folks will be Las Vegas customers already on a regular basis, but some of them will not have ever been here," Hill said. "It gives us an opportunity to greatly expand that customer base."
The race will provide numerous commercial opportunities for the Strip's hotel-casinos, all of Las Vegas, and F1 sponsors.
Applied Analysis Principal Brian Gordon said it is too early to consider the economic impact F1 will have on the Strip. But he credited Las Vegas tourism leaders with attracting an event that will fill hotel rooms during what is normally a fairly low visitation season.
"We're going to see people travel significant distances to come to Las Vegas, and they will tend to carry a significant spend profile relative to the typical visitor," Gordon said. "They are going to pull people from all over the world that are going to seek out Las Vegas as a destination only for the reason of F1. They are going to be squarely focused on attending this event."
Gordon also suggested F1 fans traveling internationally would stay longer than a typical Las Vegas visitor, given the multi-day aspect of the Grand Prix.
"The goal was probably just to focus on how do we increase overall demand for Las Vegas, bring many incremental visitors into the market, generate significant premiums and activate the entire city around a single event," Gordon said. "I think they've hit the nail on the head."
Truist Securities gaming analyst Barry Jonas said some of the economic benefits related to F1 would include construction and other jobs associated with creating a venue that will include viewing areas in front of several Strip properties.
Jonas agreed with Gordon that higher visitation from F1 could result in "sizable" spending in both gaming and non-gaming areas of the resort industry.
Las Vegas will be the third U.S. city to host F1. The group has raced at Circuit of the Americas in Austin, Texas, since 2012, and will debut a Miami Grand Prix next month.
Brendan Bussmann, managing partner of Las Vegas-based advisory firm B2 Global, said a Las Vegas F1 race would surpass any attendance records set previously by the race in Austin.
"F1 is a game-changer for the destination," Bussmann said. "Very few events can match the passion of F1 fans as it is a growing sport. Adding this international opportunity to showcase Las Vegas will only enhance our ability to host other high-profile and unique events."
Chris Krafcik, managing director of Southern California advisory firm Eilers & Krejcik Gaming, said hosting an F1 race "signals Las Vegas' growing stature as not only a professional sports city but also as a professional sports destination."
He compared Las Vegas with New York City, Chicago, and Los Angeles as only a few locales that have that "dual-threat potential."
"We expect the deepening of ties between professional sports and Las Vegas will continue to throw up interesting opportunities at the intersection of sport and gambling," Krafcik said.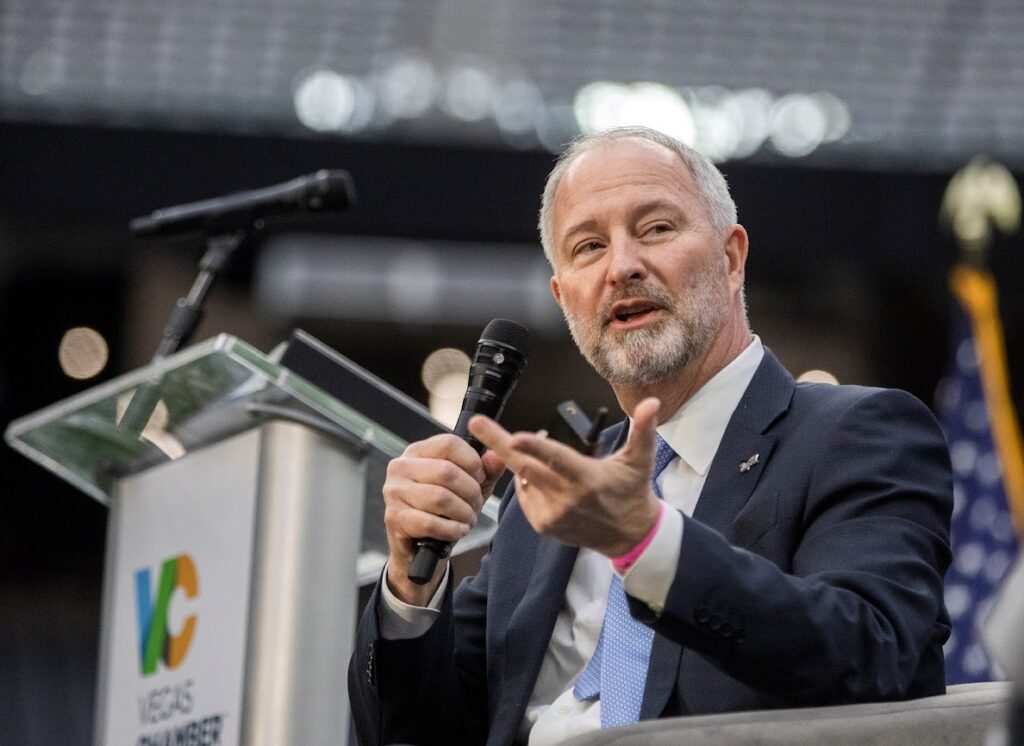 The work ahead of the race
Hill said the LVCVA will spend $6.5 million annually as part of the agreement with F1 to pay for services such as police, fire, medical and race volunteers. The tourism agency will also provide guidance to F1 for making inroads in Southern Nevada outside of the Strip.
"Formula One is very interested in integration into Las Vegas," Hill said. "They want to be a permanent member of the Las Vegas community, so we've agreed that we will help in providing and identifying opportunities."
F1 and Liberty Media are promoting the race in partnership with Live Nation Entertainment and the LVCVA. Hill said F1 is responsible for resurfacing portions of the racetrack and constructing the safety barriers and other racetrack features.
"We've had a conversation with the county where some of the work that Formula One has to do in order to create a circuit will replace work that the county had already planned," he said. "So there will be a little bit of a public-private partnership along those lines."
(Reporter Jacob Solis and Multimedia Editor Joey Lovato contributed to this story.)
The Nevada Independent is raising $200,000 by Dec. 31 to support coverage of the 2024 election.
Tax-deductible donations from readers like you fund this critical work.
If you give today,your donation will be matched dollar-for-dollar.
Give + Get Matched
Featured Videos