Las Vegas homeless navigate their quest for a resting spot amid new ordinance that limits legal options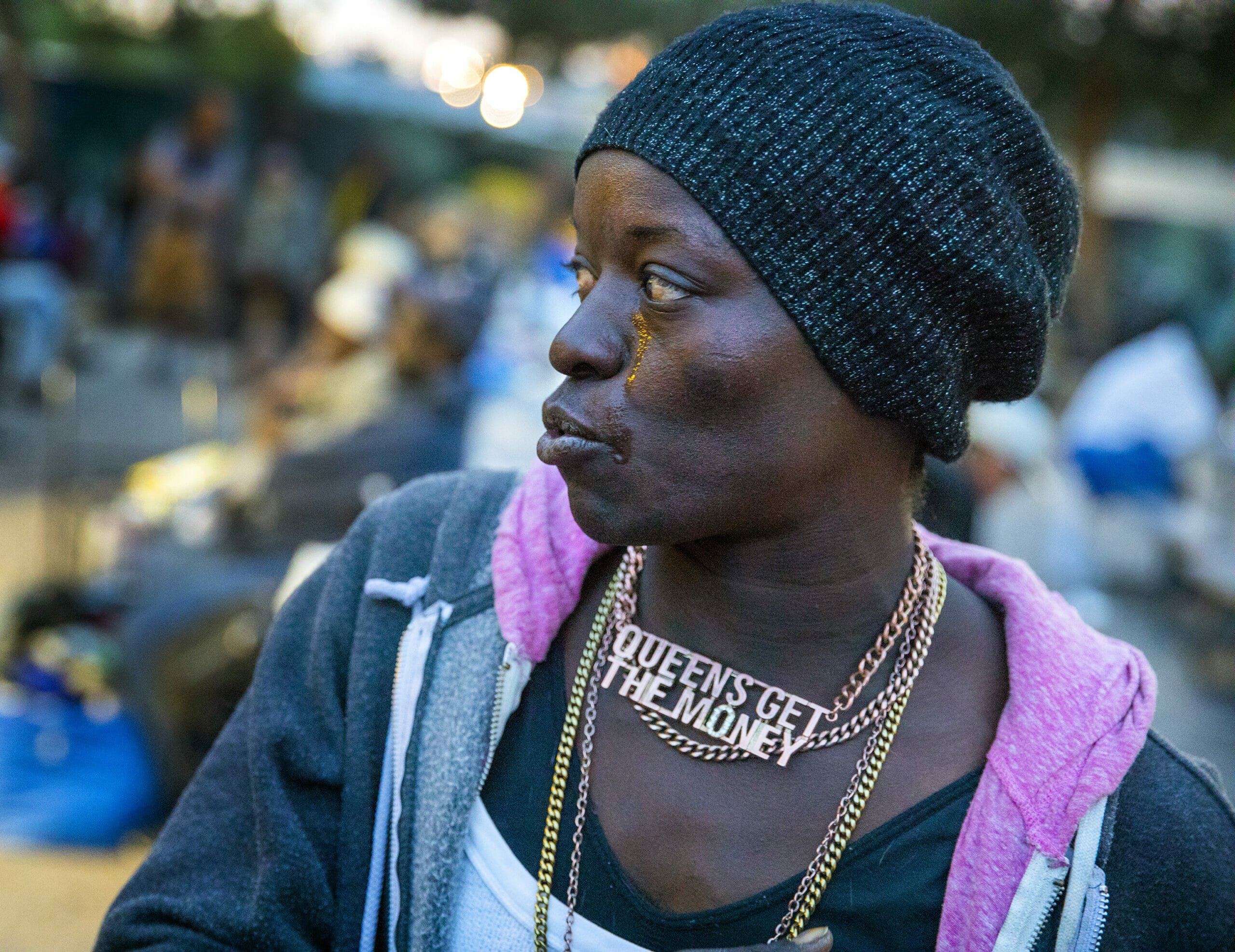 As daylight turned to dusk late Wednesday afternoon, the question that dictates daily life for many of the city's less fortunate residents became more urgent.

Where would they sleep?

Elan Millbrook, a recent transplant from Sacramento, didn't have an answer yet. The 49-year-old had been staying in an off-Strip hotel until funds ran dry, temporarily rendering her homeless as she awaits the transfer of her Section 8 housing voucher, she said. Standing on a sidewalk outside Catholic Charities with a suitcase, duffel bag and pink backpack, Millbrook remained optimistic.

"I won't give up until I make it happen for myself," she said.

Down the street and around the corner, inside a designated area called the Courtyard Homeless Resource Center, Kenya Obote clutched a tan-colored Chihuahua she had nicknamed "Found." The pair likely would be spending the night here, joining dozens of other people — and some of their pets — in the same situation.

"Any moment now you can hear the sound of life," Obote, 35, said, looking at the tables filled with people surrounding her. "It's like a house of siblings with one parent."

Not everyone congregating inside the Courtyard would stay the night, though. Anwar Cherry, 49, planned to grab a blanket and head to a nearby park. He wanted a quieter and less crowded space, free from yapping dogs or nighttime conversations, to collect his thoughts and sleep.

"You can't think," he said.

Where they decide to rest and recharge has taken on a new level of importance. It's no longer just about safety, familiarity or some sense of peace of mind. Soon the decision could carry legal implications. Around the same time a week earlier, the Las Vegas City Council was nearing the end of an hours-long, contentious meeting, where members ultimately voted 5-2 to make sleeping or camping in downtown a misdemeanor crime.

The action thrust Las Vegas into a cohort of cities nationwide that have adopted the controversial ordinance, which critics say criminalizes homelessness but defenders say funnels people toward resources that could help them. While the full ripple-effect won't be known for months, if not years, the new law has left those affected pondering how to adjust.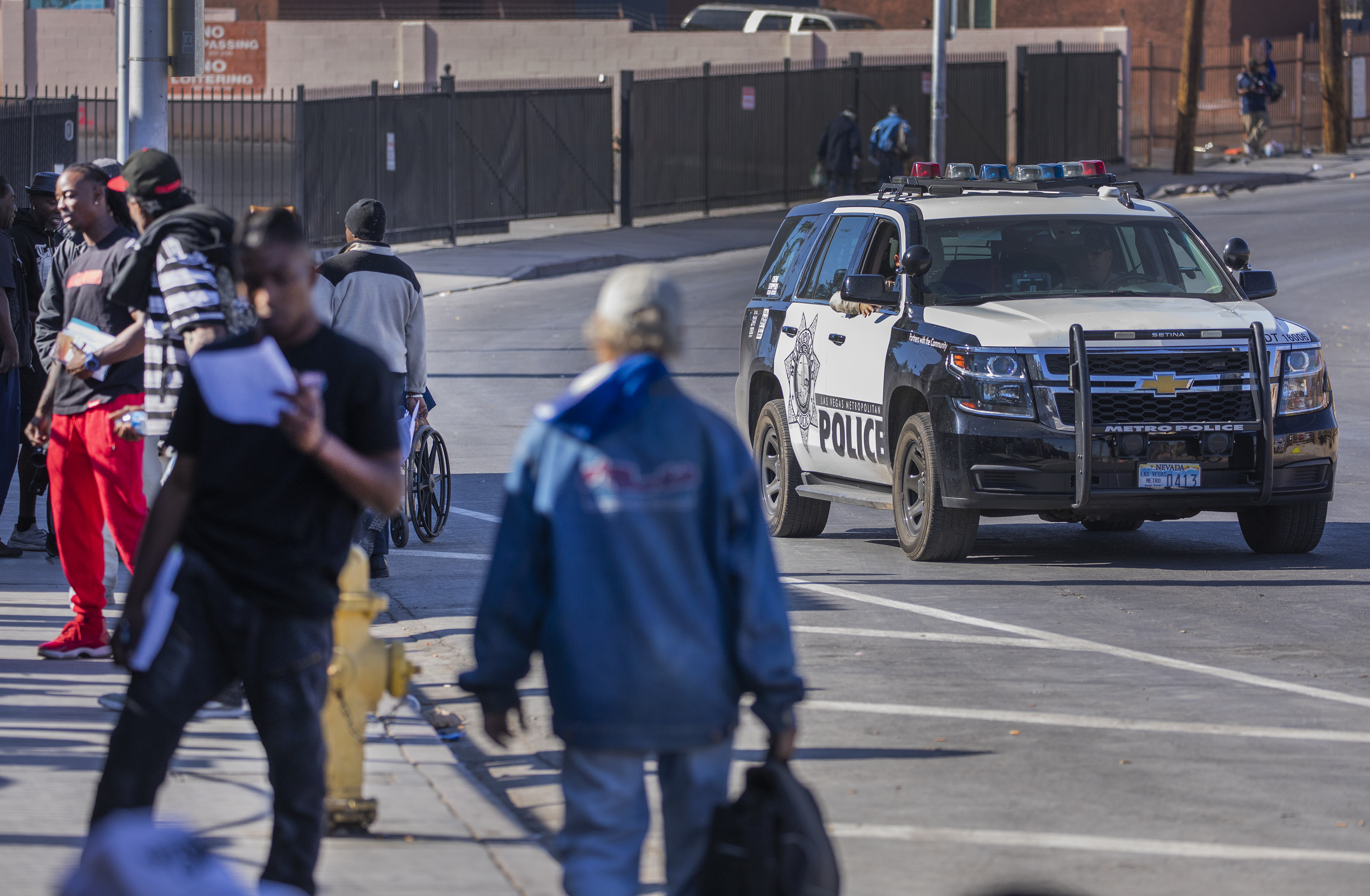 The city's rationale

The city's ordinance, sponsored by Mayor Carolyn Goodman, outlaws certain sitting and camping activities on public rights-of-way downtown and adjacent to zoned residential properties. It also bans such activities within 500 feet of a receiving dock for food-processing facilities.

The ordinance went into effect Nov. 10, but it essentially has been in a transition period, allowing public officials time to spread awareness, identify shelter needs and refine enforcement procedures. Penalties won't be meted out until Feb. 1.

It's hardly the first such ordinance. Cities such as Cleveland, Wichita, Miami, Minneapolis, Boston, Dallas and New York have some form of a camping ban. Of the 187 cities surveyed by the National Law Center on Homelessness and Poverty, 33 percent prohibit public camping city-wide and 50 percent prohibit camping in specific public places.

The proliferation of the so-called encampment laws has led to legal challenges. In September, the 9th Circuit Court sided with six people who sued the City of Boise for arresting and jailing them when they were homeless. The court ruled it unconstitutional for cities to ticket or arrest people for sleeping outside if there are no other options. Because of that ruling, Portland and San Francisco stopped enforcing their sleeping and camping ban.

During the Nov. 6 council meeting, Deputy City Attorney Jeff Dorocak said he wrote the ordinance with the Boise court decision in mind. That's why the Las Vegas ordinance, he said, includes a provision stating it wouldn't be enforced if shelters have reached capacity.

"In Boise, the city did nothing and waited for the shelters to tell them they were full. [The City of Las Vegas] will reach out and we will find out when all the other shelters are at maximum capacity and when the Courtyard is also a maximum capacity," Dorocak told council members.

If the shelters are full, the ordinance says tickets and arrests will be suspended until 6 a.m. the following day.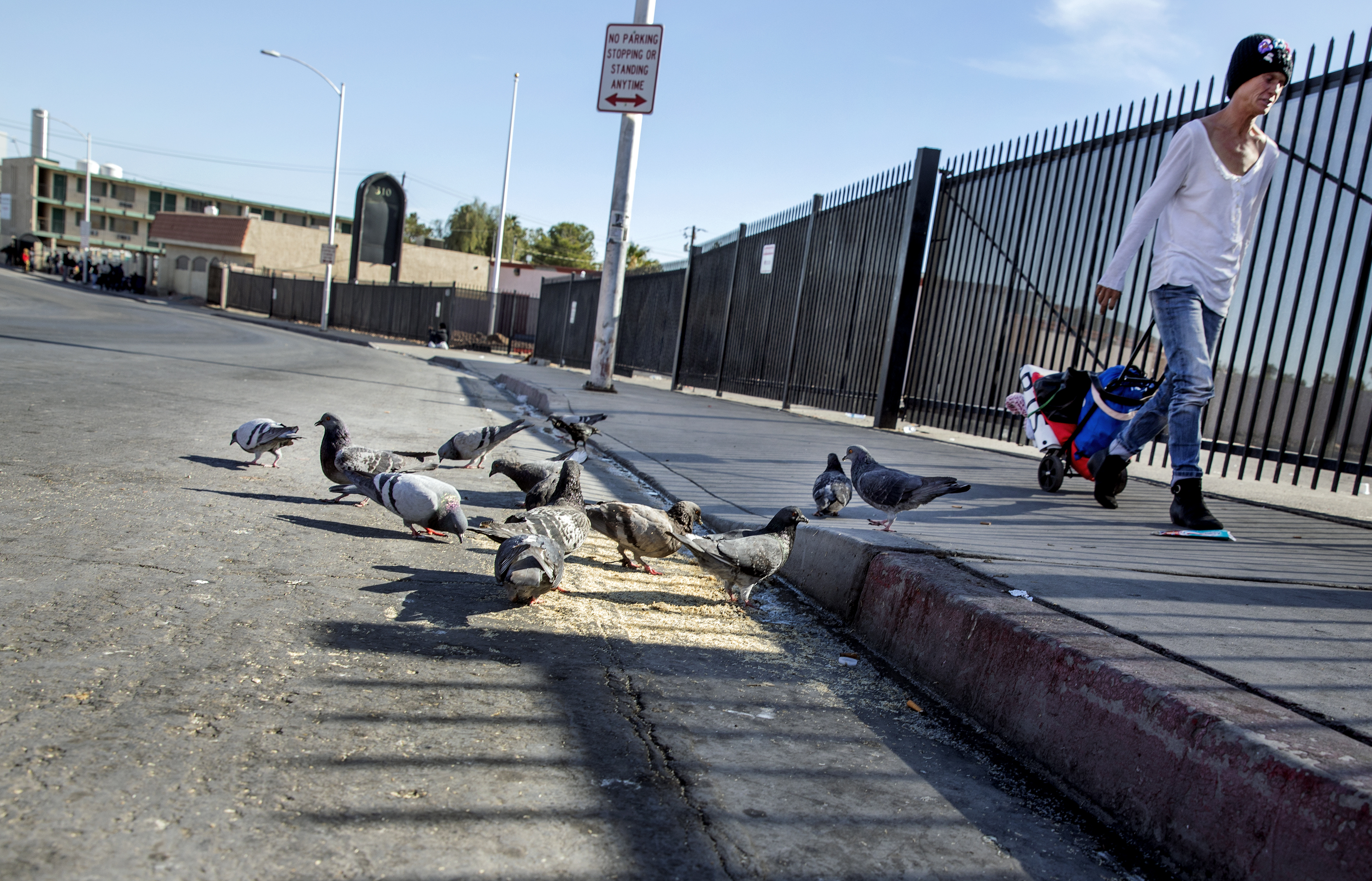 Concerns have been raised that there are not enough beds — about 1,400 beds in the city's list of approved shelters, which includes Shade Tree, Las Vegas Rescue Mission, Salvation Army and Catholic Charities — for roughly 5,500 homeless individuals counted in the 2019 point-in-time census.

Will Pregman, communications director for Battle Born Progress, a group opposing the ordinance, warned council members about the potential cause-and-effect of the logistics: He said there would need to be airtight communication among its community services office, shelters and law enforcement to avoid taxpayers "footing the bill" for a lawsuit.
Even so, city officials defended the ordinance during the tense meeting, arguing that encampments create a string of concerns. Among them: the spread of disease, water quality, fire hazards, pedestrian-vehicle accidents, personal safety and blight.

There's also the business nexus. The Las Vegas Metro Chamber of Commerce was one of the groups that spoke in favor of the ordinance.

"Businesses, especially in the downtown corridor, have been very frustrated because people have been allowed to sleep. There's been trash. There's been human waste," Cara Clarke, the chamber's vice president of communications, said in an interview with The Nevada Independent. "It hasn't been very conducive to their ability to open their doors and serve their customers, and certainly it has put a barrier to people wanting to go into their establishments."

The business community, however, doesn't see the ordinance as a panacea. The chamber considers it a starting point for linking the region's homeless with services and, ultimately, housing.

"There is no one solution," Clarke said. "It's going to take a lot of people at the table figuring out how our community can solve for this problem."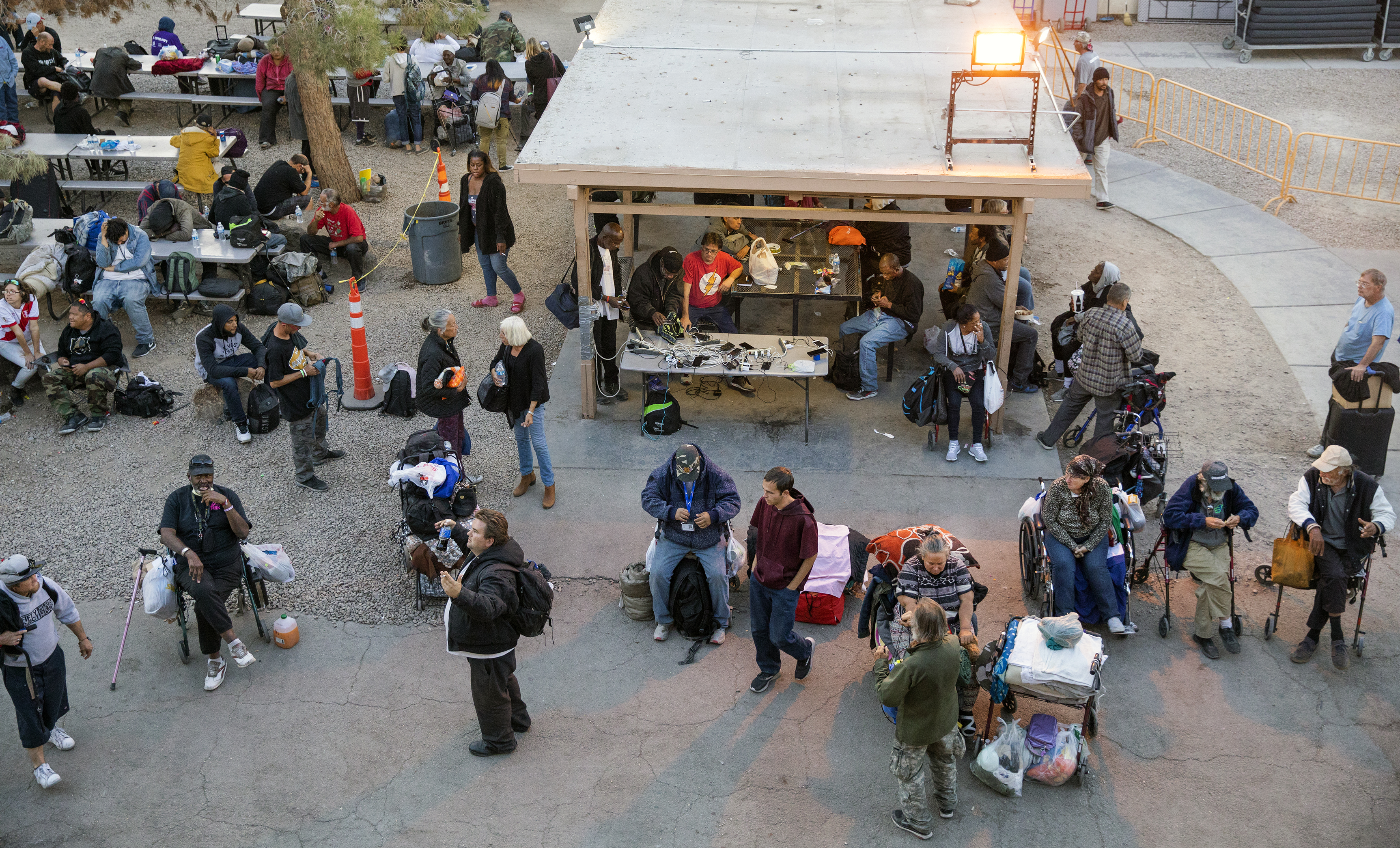 Potential side effects

Critics of the law don't buy the notion that it will usher homeless people to helpful services. Officials from the National Law Center on Homelessness and Poverty, who wrote a letter to council members opposing the ordinance, said it could have the opposite effect — driving people to less-secure places where they could be harmed.

Libraries, bus stations and hospitals also could see an uptick in homeless people seeking refuge, said Eric Tars, the center's legal director. Or if people refuse to move and are arrested, he said, they will cycle through the justice system, racking up fines and building a record that could pose an additional barrier to escaping homelessness.

"If you don't provide people with a place to be, then you're just moving people around and making them less safe, less secure," Tars said.

Local service providers have expressed skepticism as well. Deacon Tom Roberts of Catholic Charities of Southern Nevada called the ordinance a "Band-Aid solution" that doesn't address the problem's underlying issues such as addiction and mental illness, pointing out that a large portion of those surveyed in the 2019 homeless census — 48 percent — self-reported mental illness as a factor contributing to homelessness.

Roberts also criticized the city's decision to build a gate on the corner of Foremaster Lane and Las Vegas Boulevard — which he said will make it more difficult for people to access Catholic Charities — and its plans to expand the Courtyard, which doesn't have barriers to entry. Designed as a one-stop shop, the resource center accepts all those who enter regardless of their sobriety and provides 24-hour security, mats for outdoor sleeping and access to services.

The Courtyard expansion plans — estimated to be done in 2022 — include classrooms, an intake center, shower and restroom facilities, mailboxes, a pet kennel and kitchen.

But Roberts said the homeless would be better served by bolstering treatment services rather than bulking up the Courtyard's footprint, which he described as an "expensive solution that isn't working."

The National Law Center also casts blame on the lack of affordable housing. Federally subsidized housing has been on a decades-long decline, with only 1 in 4 eligible renters receiving financial assistance. Tars said the gap hasn't been made up at the state or local level, including through incentives for developers to build affordable housing.

Nevada has the greatest shortage of affordable housing in the nation with 19 extremely low income units supplied for every 100 in demand. On the flip side, Las Vegas' portfolio of luxury apartments has grown in recent years. One-hundred percent of the apartments built in the Las Vegas metropolitan area in 2017 were considered high-end, according to data from Yardi Matrix, an apartment information service. Last year, the share of high-end properties was 88 percent.

"The city knows that it needs apartments for the folks working the casinos, not just the CEOs of the casinos, but that's not what they're building," Tars said.

The bottom line, he said, is the ordinance wouldn't be necessary if enough housing options existed for people on all sides of the income spectrum.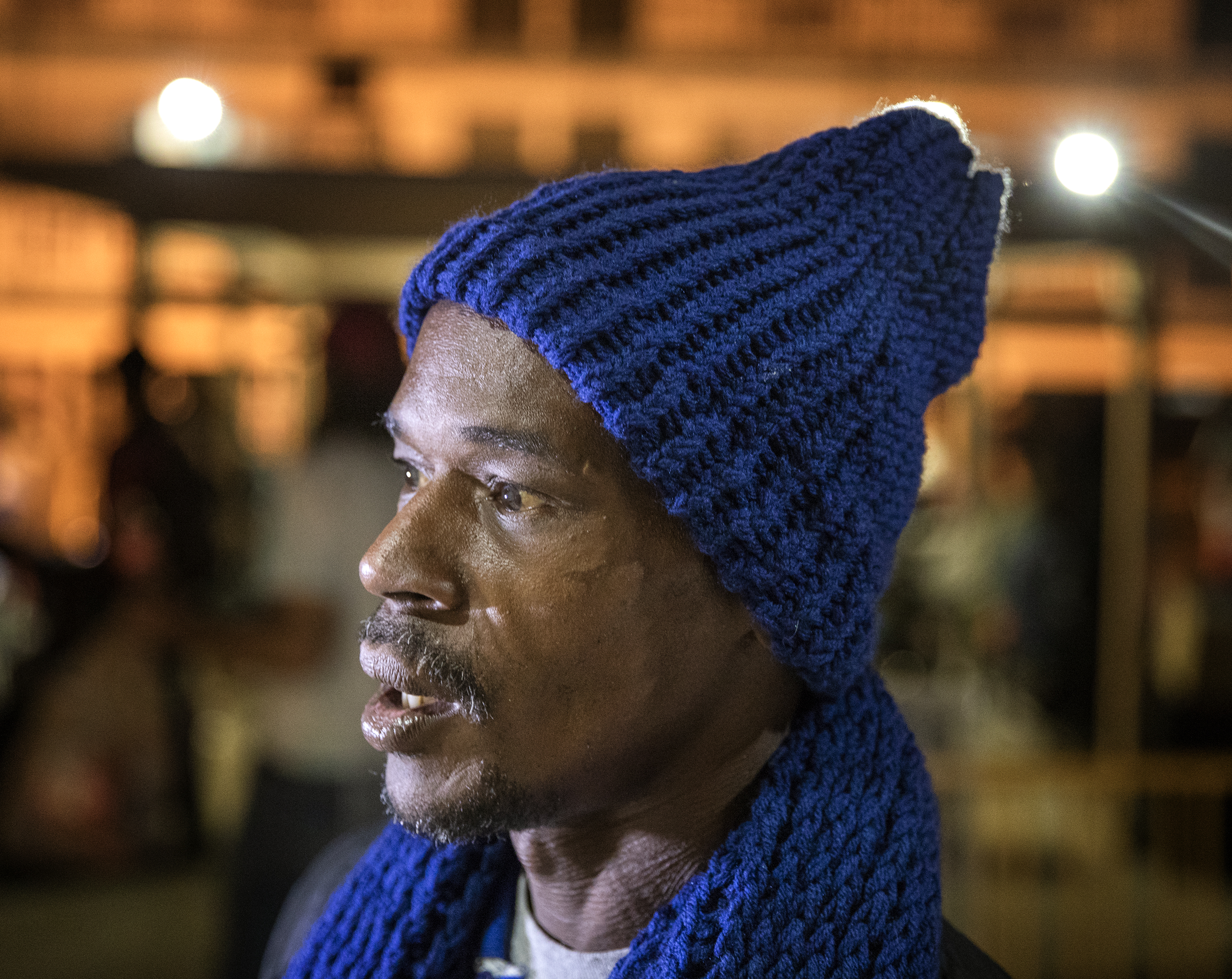 Adjusting to the new law

For some of the city's homeless population, the new law seems like an attack on their existence — another way to shove them out of the money-making tourist corridor. Aside from a few exceptions, such as parades, medical conditions, wheelchair usage or waiting for public transportation, it's unlawful to sit, lie or camp in enforcement areas.

Sitting against a wall on Foremaster Lane on Tuesday morning, Robert Mitchel shook his head when asked about the ordinance. Days earlier, he said, city marshals told him to leave when they spotted him sitting on a sidewalk near the Downtown Grand Hotel and Casino.

The 55-year-old, who came to Las Vegas several months ago after the death of his father, considers it an unfair targeting of people like himself who have wound up without shelter.

"You're not allowed to sit down on any cement with a bag, but I've seen tourists drunk sitting on cement," said Mitchel, who worries the herding of homeless people to the Courtyard area will lead to overcrowding.

Others are forming strategies to escape detection in prohibited areas. Trinidad Camargo, 60, said he plans to "find a place more secretive" for outdoor sleeping — and flee if law enforcement authorities stumble upon him.

Originally from California, Camargo said he has lived in Las Vegas for 25 years and has been homeless 18 of those. Work slowed down after his initial few years here. Then he said drugs led him to homelessness and, eventually, jail, where he received a psychiatric evaluation and bipolar diagnosis.

Camargo has been seeing a psychiatrist for five years and taking medication that he said keeps the voices he hears and hallucinations he sees at bay. But Camargo said he lost his medications after spending a night in jail in April and has been struggling to obtain a new prescription.

"I have to wait three weeks for meds to come in," he said Wednesday night while hanging out in the Courtyard.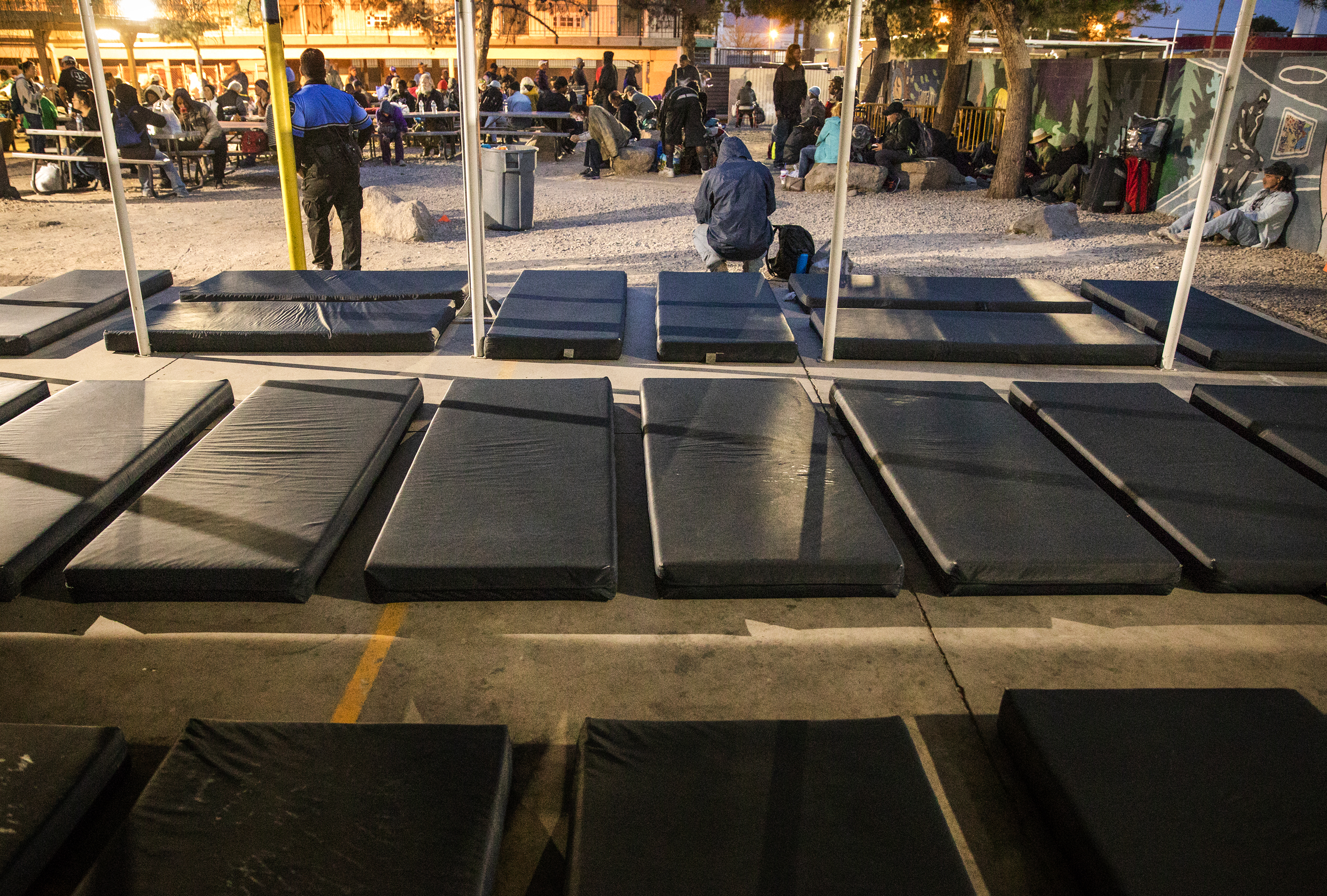 While interviews with homeless people revealed a mixture of annoyance, anger and ambivalence about the new ordinance, Anwar Cherry stopped short of blasting the city. Instead, he offered gratitude for the Courtyard, particularly because of its security feature.

"You can't say Las Vegas is not caring about the homeless," he said. "You can't say that. But then at the same time, you know, care for them to make them better, to let them feel like human beings."

Cherry said he became homeless roughly two months ago after losing his job with a cleaning company. He considers his situation temporary and, like any proud father, peppers the conversation with praise for his adult daughter, whom he says is leading a successful life. His advice to city officials: Provide more access to medical care and case workers but also remind homeless people of the better days they once had and the loved ones they may still have.

Shelter is one thing, but rebuilding their confidence is another.

"These people lost their second nature of life," he said.

By this time Wednesday evening, the sun had disappeared. Chatter filled the air around Cherry in the Courtyard, where sleeping mats had arrived for those who wanted one.

He didn't.
The Nevada Independent is raising $200,000 by Dec. 31 to support coverage of the 2024 election.
Tax-deductible donations from readers like you fund this critical work.
If you give today,your donation will be matched dollar-for-dollar.
Give + Get Matched
Featured Videos