Laxalt beats Brown in Senate primary; Nevada's GOP House field takes shape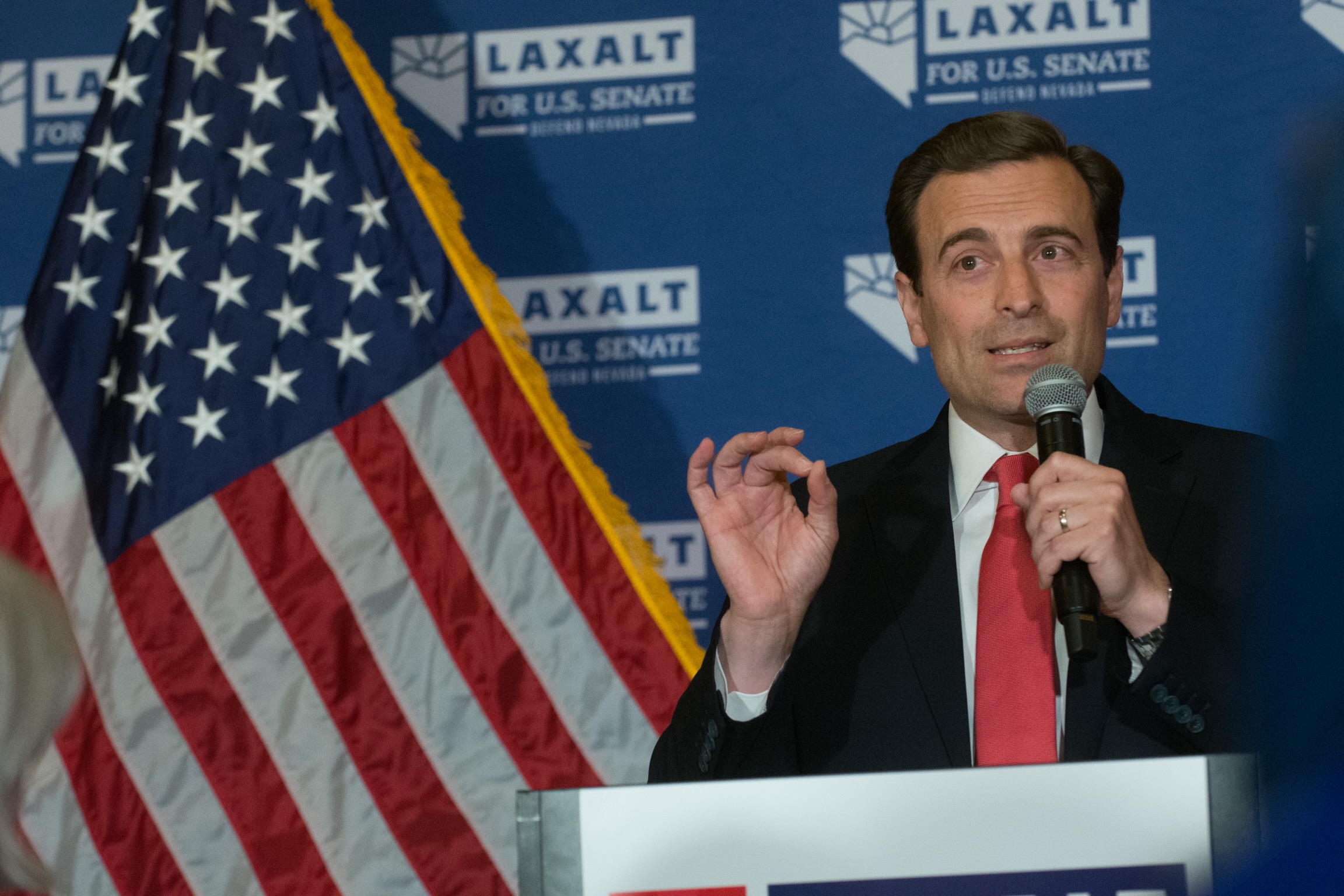 Trump-endorsed former Attorney General Adam Laxalt will face Democratic Sen. Catherine Cortez Masto in the general election this November, as the vulnerable incumbent looks to defend her seat in one of the highest-profile Senate races in the country.
Nevada's 2022 primary election, held Tuesday, also set the stage for a trio of nationally watched general election congressional matchups.
Democratic District 1 Rep. Dina Titus easily knocked off progressive primary challenger Amy Vilela, and will face Republican former U.S. Army Colonel Mark Robertson in the general election. Attorney April Becker won the Republican nomination in District 3 and will take on Democratic Rep. Susie Lee. And Democratic Rep. Steven Horsford will defend his District 4 seat against insurance agent Sam Peters, who declared victory in his primary race against Mesquite Assemblywoman Annie Black on Wednesday morning.
In District 2, Republican Rep. Mark Amodei emerged victorious in his re-election bid against perennial candidate Danny Tarkanian, who had most recently won a race that installed him as a Douglas County commissioner. Amodei, who was backed by a GOP super PAC, is practically a lock to win his general election contest in November in ruby red District 2.
Nevada will likely appear at the center stage of the midterm war between Republicans and Democrats this fall. The Senate race and all three Southern Nevada congressional races are rated "toss-up" by The Cook Political Report.
The Congressional Leadership Fund, a Republican super PAC affiliated with House Minority Leader Rep. Kevin McCarthy (R-CA), and the House Majority PAC, the largest super PAC aiding House Democrats, both appear on track to spend more money on television ads in the Las Vegas market than anywhere else this fall.
Trump-backed Laxalt wins GOP Senate primary, setting up match with Cortez Masto
Former Attorney General Adam Laxalt handily won the Republican primary in the race for Nevada's U.S. Senate seat Tuesday, setting the stage for a long-expected race against incumbent Democrat Catherine Cortez Masto, who ran without a serious challenger in the Democratic primary.
Laxalt easily outpaced his closest rival, veteran Sam Brown, leading by nearly 20 percentage points as of early Wednesday morning. None of the other six candidates in the race received more than 3 percent of the vote.
Laxalt — a staunch conservative who first made a name for himself by sparring with the Obama administration during his days as attorney general — has long courted support as the Republican Party's preferred candidate for the 2022 Senate race. Since announcing his campaign last summer, he has secured the endorsement of both the Trump-aligned conservative wing of the party and Trump himself.
After losing a 2018 bid for governor, Laxalt served as the Trump re-election campaign's Nevada co-chair. There, Laxalt was key to early efforts by the Trump team to overturn the presidential election results, including falsely claiming that tens of thousands of illegal votes had been cast.
Laxalt's Trump-world support has translated into a significant financial backing in the crucial late stages of the primary, where he not only began significantly out-fundraising Brown, but also saw hundreds of thousands of dollars in outside money poured into TV advertising blitz in his favor.
Those last-minute ads could have played a role in slowing late-race momentum from Brown, who saw a trend of improving poll results blunted in the final days before Election Day.
"Together, we will restore American strength, confidence and the exceptionalism that we all still believe in together," Laxalt said during a victory speech Tuesday night in Reno.
Brown, a retired Army captain who was severely wounded during a tour in the Middle East, mounted an increasingly competitive campaign in the final months, buoyed in large part by consecutive fundraising quarters of roughly $1 million in donations each.
That money dwindled over the last three weeks, however, as Brown sought to boost his name recognition and his credentials as a political outsider. Though Brown mounted a failed bid for a state legislative seat in Texas in 2013, he had virtually no political profile in Nevada since moving to the state in 2018.
In a statement, Brown congratulated Laxalt and pledged to support Republican campaigns in the November general election — though he did not explicitly outline support for Laxalt's bid.
"We raised millions of dollars without PAC money," Brown's statement said. "We won tens of thousands of votes without big name endorsements. We simply told the truth about changing Washington, and the movement grew and grew. But millions of dollars in D.C. Super PAC spending proved too difficult to overcome."
Nevada's Senate race will be among the most consequential in the country, as an expected tight race between Laxalt and Cortez Masto may decide control of a Senate balanced on a 50-50 partisan tightrope.
In a statement Tuesday, Cortez Masto's campaign attacked Laxalt as a "corrupt politician Nevadans don't trust," making reference to both his failed run for governor and criticizing roughly $2 million in outside money spent by PACs to boost his primary campaign.
Titus landslides in initial primary results; Robertson pulls off surprise in Republican primary
Congressional District 1 incumbent Dina Titus, who has held the seat since 2013, is projected to win the Democratic nomination after roundly defeating her top contender, progressive candidate Amy Vilela.
"This is the most crucial election of our lifetimes," Titus said in a statement Tuesday night. "From voting rights and reproductive freedom to economic recovery and workers' rights, there is too much at stake to sit on the sidelines."
Vilela ran her campaign based on Sen. Bernie Sanders' (I-VT) policy positions, including Medicare for All, defunding the police to invest in other policy priorities, and supporting a Green New Deal. Sanders endorsed Vilela just before the end of early voting.
With about 75 percent of the vote reported early Wednesday, Titus was outpacing Vilela by nearly six votes to one.
In the weeks following redistricting, Titus expressed her disapproval of the newly shaped District 1 that added Republican residents and turned the safe-blue territory into competitive grounds. While she felt optimistic about the primary, she told reporters Tuesday evening at a volunteer phone bank that it will be hard work to win in a district that has recently been labeled as a "toss-up."
"We never take any race for granted," she said. "The issues that are out there that make a difference… I think it will be a hard-fought battle, but we'll come out on the right side of history."
In the general election, Titus will be facing Henderson resident and former U.S. Army Colonel Mark Robertson, who defeated several other Republican primary candidates including former Rep. Crescent Hardy and former Latinos for Trump leader Carolina Serrano, who out-raised her opponents and was endorsed by the Nevada GOP.
Robertson told The Nevada Independent in an interview late Tuesday that he was grateful for the volunteers and voters who support him and is optimistic for November as people in the district "are ready for a change that improves their lives."
He added that it was nice to see the eight Republicans "compete without being divisive."
"Together we can take back our country," he said. "I'm pleased to say that all candidates treated each other with dignity and respect … At the end of the day, we all love our country and want freedom and prosperity for the families in CD1."
But the bitterness expected in the general election appeared Wednesday morning, when Titus took her first volley at her newly minted opponent.
"While I was fighting to protect workers' rights, keep families in their homes, and ensure that sky-high corporate profits don't come at the expense of working Southern Nevadans, Mark Robertson has spent the last twenty years as a 'financial architect' helping the ultra-rich avoid paying their fair share," Titus said in a statement. "I am confident that the voters I fight for every day will agree that he is simply not right for Southern Nevada."
Tarkanian loses primary for District 2
Incumbent Rep. Mark Amodei won the Republican primary for Congressional District 2 on his way to running for his sixth term, after surpassing Douglas County Commissioner Danny Tarkanian.
As of early Wednesday, Amodei was leading Tarkanian by more than 20 percentage points.
Amodei thanked voters for "sticking with the home team" in a Wednesday morning statement, alluding to his history in Northern Nevada and as an alumnus of UNR.
"I take nothing for granted, work hard, and am committed to Nevada-first each day, so it is deeply gratifying and rewarding that, once again, each county in Nevada's Second Congressional District chose thoughtful leadership, truth, and transparency," he said in the statement.
Tarkanian, son of UNLV basketball legend Jerry Tarkanian, has lost several races the past two decades, including the 2018 general election for the 3rd Congressional District, in which Democrat Rep. Susie Lee took the win by 9 percentage points.
Tarkanian largely centered his campaign on criticizing Amodei as not sufficiently conservative, especially on issues regarding immigration, abortion, health care and government spending. Although Tarkanian ran and lost for the District 2 nomination, he will continue to serve the remainder of his four-year term on the Douglas County Commission.
In the Democratic primary, underdog Elizabeth Mercedes Krause, an educator and union advocate, will go against Amodei in the only solidly red district in the state. Krause showed a significant lead in initial primary results.
Krause has not reported any fundraising with the Federal Election Commission.
On her website, Krause notes her citizenship in the Oglala, Lakota Nation and prominently notes her platform that all projects and developments affecting Indigenous communities should first receive prior consent from those communities, not simply consultation.
Establishment-backed Becker will take on Lee in toss-up District 3 race
Las Vegas real estate attorney April Becker, a well-funded candidate supported by national and establishment Republicans, appears on track to handily win the GOP primary for Congressional District 3, setting up a frontline battle with incumbent Democratic Rep. Susie Lee.
Though redistricting saw more Democrats added to District 3 in November, national groups representing both Democrats and Republicans have placed a significant focus on the toss-up district and plan to spend millions of dollars on the race in the fall. That spending helps highlight Lee's vulnerability, as she runs for a third consecutive term in the historically swingy district amid negative political conditions for congressional Democrats.
As both Becker and Lee appeared headed for convincing primary victories, the two butted heads on election night, attacking one another in statements touting their wins.
"I am grateful to the Republican voters that have entrusted me to be their nominee to flip District 3 and retire Nancy Pelosi and Susie Lee," Becker said. "With inflation at record highs, gas prices soaring, and Nevadans having a tough time making ends meet, Susie Lee refuses to offer solutions or even acknowledge her role in this disaster."
Lee, meanwhile, described Becker as "out of touch with southern Nevadans" and tied her to "extremist groups that want to enact a nationwide abortion ban." She also described the midterm fight as "a referendum … on our democracy."
Becker entered the primary with support from both the National Republican Congressional Committee and the Congressional Leadership Fund, a super PAC affiliated with House Minority Leader Rep. Kevin McCarthy (R-CA), and in turn, she significantly outraised her Republican opponents.
In the primary, Becker dispatched a slew of Republican challengers, including veteran and attorney Noah Malgeri and construction company owner John Kovacs, a pair of candidates who poured thousands of dollars of their personal funds into their campaigns.
Malgeri, a self-proclaimed "Ultra MAGA," far-right candidate who has promoted conspiracy theories, such as COVID-19 being a creation of the Chinese military, had distinguished himself from Becker by embracing his position as a radical.
Kovacs, a New Jersey transplant whose Nevada residence sits in District 1, pitched himself as an "America First Constitutional Conservative."
But a range of attacks on Becker did not do enough damage to overcome her significant fundraising advantage and her support from widely known Republicans, including Republican Senate candidate Adam Laxalt.
Becker will carry that support into what is expected to be a close-fought general election matchup with Lee. Becker also has some experience with tight races — in 2020, she narrowly lost a state Senate race against Senate Majority Leader Nicole Cannizarro (D-Las Vegas).
Still, as Lee appears headed for a sweeping victory over her single primary opponent, veteran Randell Hynes, the incumbent Democrat maintains some advantages in the race. As of late May, Lee has $2.3 million in her campaign war chest compared with $250,000 for Becker.
Lee has also performed better in her district than Democratic presidential candidates. In 2018, she defeated Republican Danny Tarkanian by 8 points, two years after Hillary Clinton lost to Trump by 1 point in the district. And in 2020, she won her race by 3 points, as Biden defeated Trump by just 0.2 points in the district, according to data from Daily Kos.
Horsford will face pro-Trump Peters in District 4 race
In the Congressional District 4 primary battle between two far-right, pro-Trump Republicans, veteran and insurance firm owner Sam Peters has emerged victorious over Mesquite-based Assemblywoman Annie Black.
Peters, who finished second in the District 4 Republican primary in 2020, will advance to face incumbent Democratic Rep. Steven Horsford in a closely watched general election matchup that could help swing control of the House, as Republicans hope to secure a victory in District 4 for just the second time in its roughly decade-long history.
In a statement released Wednesday, Peters highlighted his status as a veteran and pointed to the economy as a key issue in the race. He added just one comment on his general opponent, saying "Horsford has been in office for far too long."
But Horsford did not hold back on attacking his opponent Wednesday, casting Peters as an opponent to abortion access and a promoter of unproven claims of election fraud. Peters has not outright said whether he believes the 2020 election was illegitimate, but has been a vocal opponent of Dominion Voting Systems, a company that supplies electronic voting machines to most Nevada counties.
"I am confident that Fourth District voters will see right through his dangerous, fraudulent claims and continued promotion of 'the Big Lie,'" Horsford said.
Peters has firmly aligned himself with Trump, using the former president's image in campaign materials and pushed for finishing "Trump's wall" at the southern border.
In the primary, he defeated another staunchly pro-Trump candidate in Black. The assemblywoman, who had been critical of Peters for his lack of experience in office, attended the "Stop the Steal" rally in support of Trump at the nation's capital on Jan. 6, 2021, though she did not participate in the riot at the Capitol building.
Though a Republican candidate has only won the district once before — when Cresent Hardy defeated Horsford amid a red wave in 2014 — the current political conditions, including high inflation and a Democratic president with poor approval ratings, could propel Peters to a victory over Horsford in another potential red wave.
Still, as Horsford entered late May with more than $2 million in campaign cash, Peters will have to overcome significant financial shortcomings and a more than 10-point Democratic voter registration advantage. But Peters, who has garnered endorsements from the far-right ranks of Congress, will have the backing of national Republicans who are pouring money into the Las Vegas market as they hope to flip the "toss-up" seat.
Update: 6/15/2022 at 12:20 p.m. — This story was updated to reflect Sam Peters' win in the District 4 Republican primary.
The Nevada Independent is raising $200,000 by Dec. 31 to support coverage of the 2024 election.
Tax-deductible donations from readers like you fund this critical work.
If you give today,your donation will be matched dollar-for-dollar.
Give + Get Matched
Featured Videos