Legal Aid Center of Southern Nevada continues to provide invaluable community service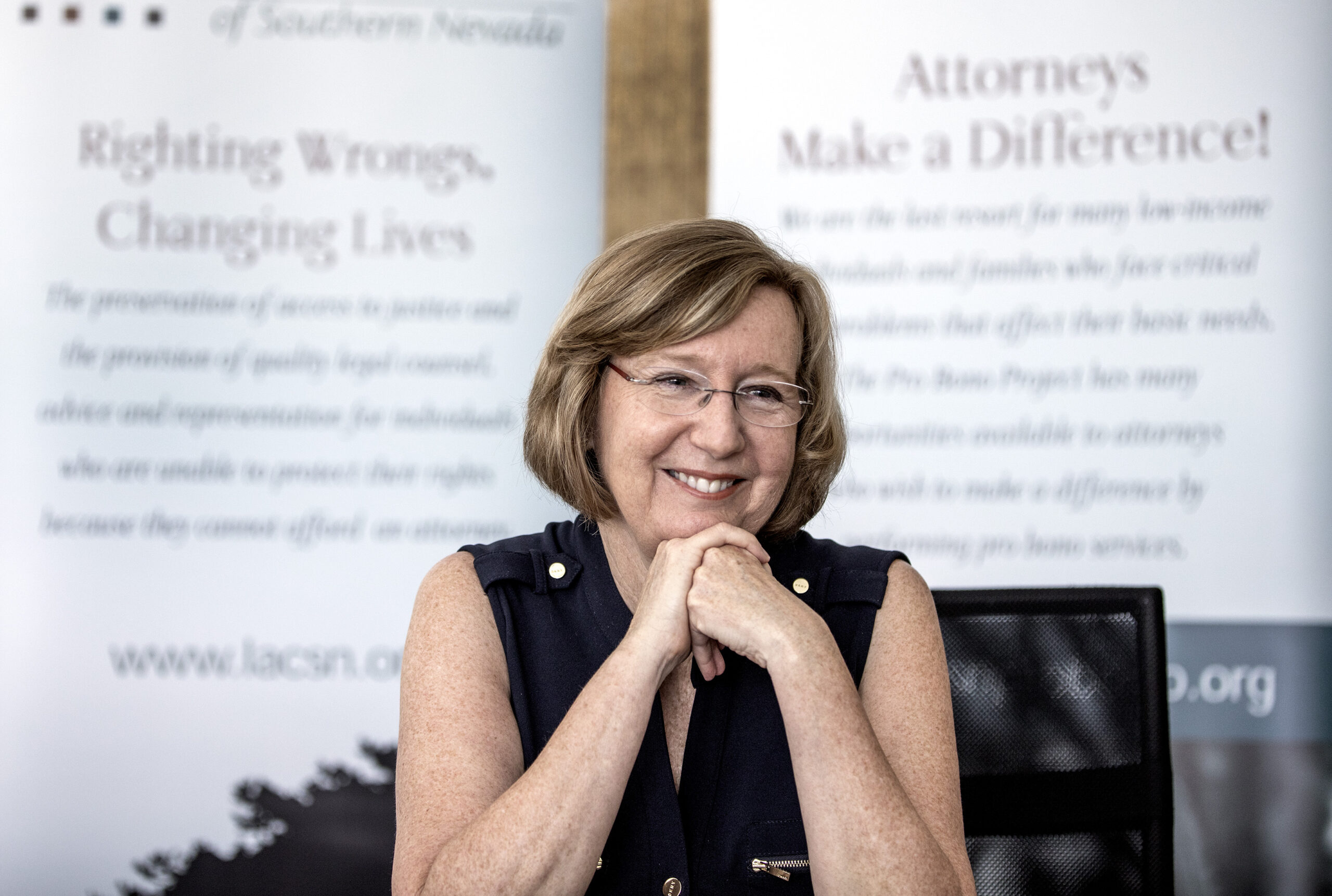 Years have passed, and an endless parade of clients has come through the doors of the Legal Aid Center of Southern Nevada, but Barbara Buckley will never forget the panic in the young mother's voice.
On the verge of losing her children during a mean-spirited custody battle, the kind that are so common in Family Court, she reached out to Buckley's executive director's office at the center, which since 1958 has provided free legal services to those who can't afford a lawyer.
"I don't know what I'm going to do," the woman said, sobbing, her desperation palpable.
Buckley helped calm her fears, explained the confusing process, gave her a legal strategy and a tether of hope born of experience. In time, the facts were separated from the emotion, and justice rose from the chaos.
"A year later, she friended me on Facebook," Buckley recalled recently. "She said, 'I got my kids back today. I want you to know I'll never forget you.'"
And she didn't.
Of course, not all the stories at the nonprofit Legal Aid center end happily.  There's no shortage of heartache when your indigent clients are in foster care, seeking a restraining order, faced with the threat of eviction or foreclosure, or battling credit card companies and payday lenders. While those in the criminal justice system are afforded legal counsel, the endless thousands navigating the civil side often are forced to fend for themselves. That's where Legal Aid comes in.
"For someone who's not familiar with the court system, the legal system can be stressful, confusing and intimidating," Buckley said. "I think we all feel fortunate not to have much interaction with it."
Starting with a single full-time lawyer back in the Eisenhower era, the Legal Aid center has grown into a large, diverse law office with 64 full-time attorneys and as many more on staff. The office's workload has grown along with the community of need: from 7,000 clients in 1999 to 125,000 clients in 2018. Its civil law and family court self-help centers reach 100,000 annually.
For her part, Buckley started as a staff attorney at Legal Aid in 1989. She has led the office as its executive director since 1996. She may be best known to followers of Nevada politics as the former speaker of the Assembly. That legislative experience no doubt has come in handy as she's worked to help Legal Aid grow to meet the needs of the community. In that regard, the office has been helped in dramatic fashion by a $10 million challenge grant from the Engelstad Family Foundation and a $500,000 contribution from the Kemp, Jones & Coulthard law firm.
It's the kind of investment in the community that helps ensure the justice system is more fair to more people, no matter their life's station.
That includes the nearly 4,000 children in Southern Nevada foster care. Traditionally buffeted by circumstance and left without direct legal representation, children are charges of the court. Legal Aid today provides services to virtually every young person in the system through its Children's Attorneys Project.
Buckley recalls the story of a teen-age girl named Stephanie, who had been physically abused by her mother's boyfriend. Stephanie gave testimony before a legislative committee in 2017. She was headed for foster care, but thanks to Legal Aid she was able to redirect the court and argue successfully to be sent to her grandmother.
"It was then she really started being able to live her life," Buckley said.
But Legal Aid helps lives hanging in the balance every day.
"In the criminal system, you have a right to an attorney, but if you're losing your kid, or your car, or house, you're often on your own," she said, noting that three of four people in the civil system are there without a lawyer. "The cruel irony is that you could have done nothing wrong your whole life and be ruined. We can help, but only if we have enough resources available."
After three decades as the center's leader, she's more confident than ever that the needs of the community can be met. It's challenging work, but client appreciation is one of the job's greatest benefits.
Which brings us back to that desperate mother Buckley fought for years ago. She not only regained custody of her children, but she went on to law school.
When she graduated, she sent her advocate from Legal Aid a message of gratitude.
"She said, 'I'll never forget what you did for me,'" Buckley said. "What's better than that?"
John L. Smith is an author and longtime columnist. He was born in Henderson and his family's Nevada roots go back to 1881. His stories have appeared in Time, Readers Digest, The Daily Beast, Reuters, Ruralite and Desert Companion, among others. He also offers weekly commentary on Nevada Public Radio station KNPR. His newest book—a biography of iconic Nevada civil rights and political leader, Joe Neal—"Westside Slugger: Joe Neal's Lifelong Fight for Social Justice" is published by University of Nevada Press and is available at Amazon.com. Contact him at [email protected]. On Twitter: @jlnevadasmith
The Nevada Independent is raising $200,000 by Dec. 31 to support coverage of the 2024 election.
Tax-deductible donations from readers like you fund this critical work.
If you give today,your donation will be matched dollar-for-dollar.
Give + Get Matched
Featured Videos