Lombardo calls public option 'bullshit,' drawing attacks from Sisolak, progressives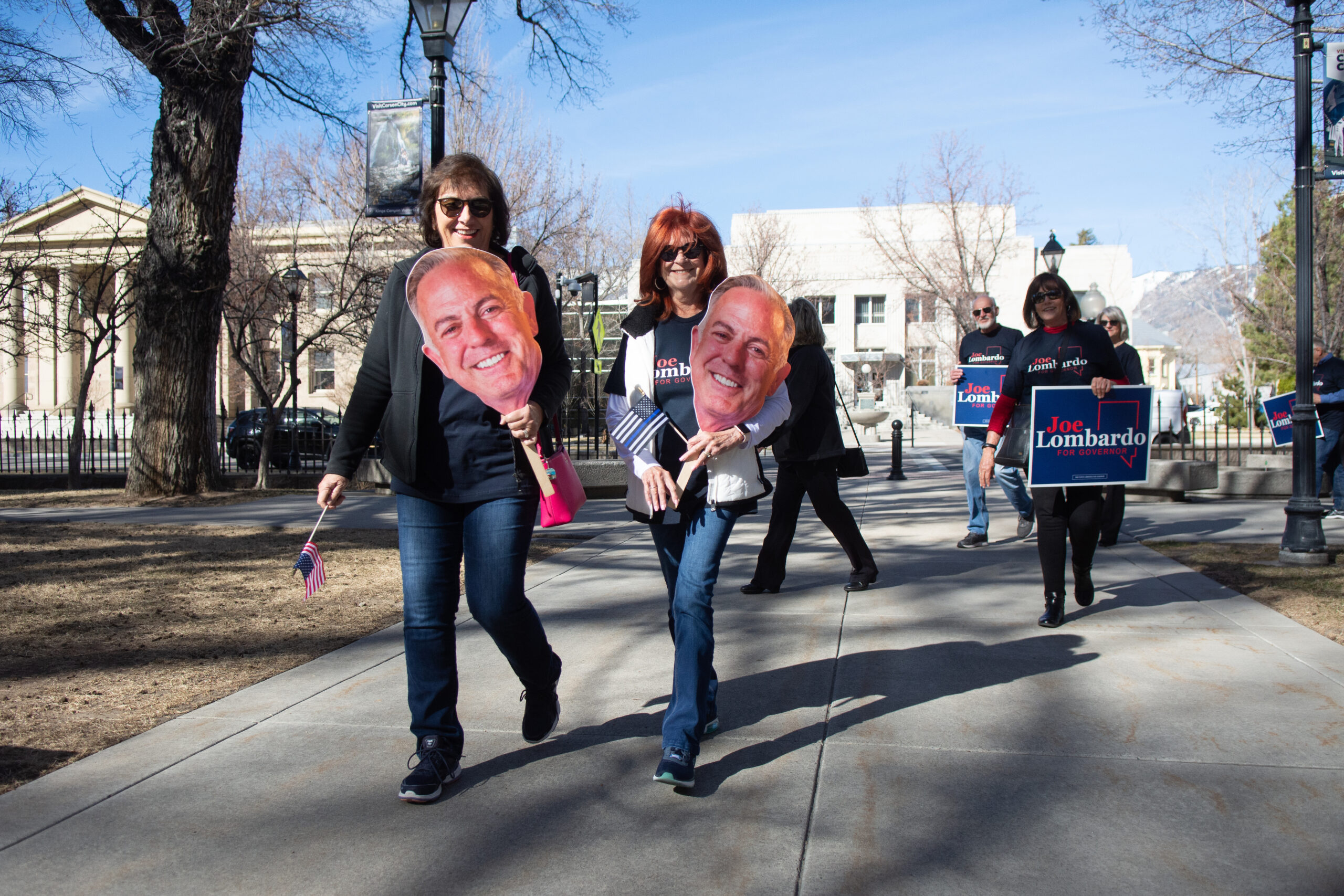 Clark County Sheriff Joe Lombardo, a leading candidate in the Republican gubernatorial primary, described the public health care option approved by Democratic Gov. Steve Sisolak last year as "bullshit" during Tuesday's forum of GOP governor candidates.
"Resources, beds … the governor could make that a priority," Lombardo told attendees at a Southern Hills Republican Women luncheon in Henderson in regards to providing help to homeless individuals in Nevada. "He's said his priority is health, but he's talking about bullshit things like public option."
The remark, which was followed by laughter and applause from the audience of Republicans, drew criticism from Democrats on social media, and Sisolak's campaign responded by lumping Lombardo with health insurance companies that opposed the bill to establish a state-managed public health insurance option by 2026.
"Even after living through a pandemic, Lombardo would rather side with Big Insurance over Nevada families in need of health care," said Reeves Oyster, a campaign spokesperson for Sisolak.
During the 2021 legislative session, Democratic lawmakers approved SB420 along party lines, pushing forward a bill that will require insurers that bid to provide coverage to the state's Medicaid population to also offer a public option plan similar to existing qualified health plans on the state health insurance exchange system, but at a 5 percent markdown.
Advocates of the measure have argued that it will help expand affordable health care coverage to approximately 350,000 Nevadans who are living without insurance.
Opponents of the legislation, including private insurance companies, argued that by requiring premium reductions, the public option would not reduce costs, but shift those costs elsewhere. They also suggested that Nevada should instead focus on signing up uninsured residents who are already eligible for Medicaid for coverage, rather than seeking to address the entire uninsured population.
Last year, Sabrina Corlette, an expert on health insurance reforms, told The Nevada Independent she was not sure the public option would have a "dramatic impact" on reducing the state's uninsured rate, but described the option as a "noble approach" to reducing health care system costs.
Nevada is set to become just the third state with a public option, following Washington and Colorado, where the option will be established by 2023.
At the gubernatorial forum, Lombardo's answer came from a question about homelessness in Nevada, not specifically health care. He said local governments should have the proper resources to help those individuals.
"Create an environment, a health environment, so local governments have resources for those individuals to get the proper mental health resources and education and drugs and everything that goes along with it," he said. "Prevent my jail from being the number one facility in Nevada."
Still, Lombardo faced some opposition after his public option comment reached a wider audience.
"So [Lombardo] thinks lowering healthcare costs and expanding coverage is 'bullshit,'" the progressive advocacy group Battle Born Progress tweeted. "In other words, he's got no plan to insure the 350,000 Nevadans who don't have coverage, and essentially just gave them the finger. Just pathetic 'leadership.'"
Editor's Note: This story appears in Indy 2022, The Nevada Independent's newsletter dedicated to comprehensive coverage of the 2022 election. Sign up for the newsletter here.