Lombardo used work email to communicate strategy with top consultants, records show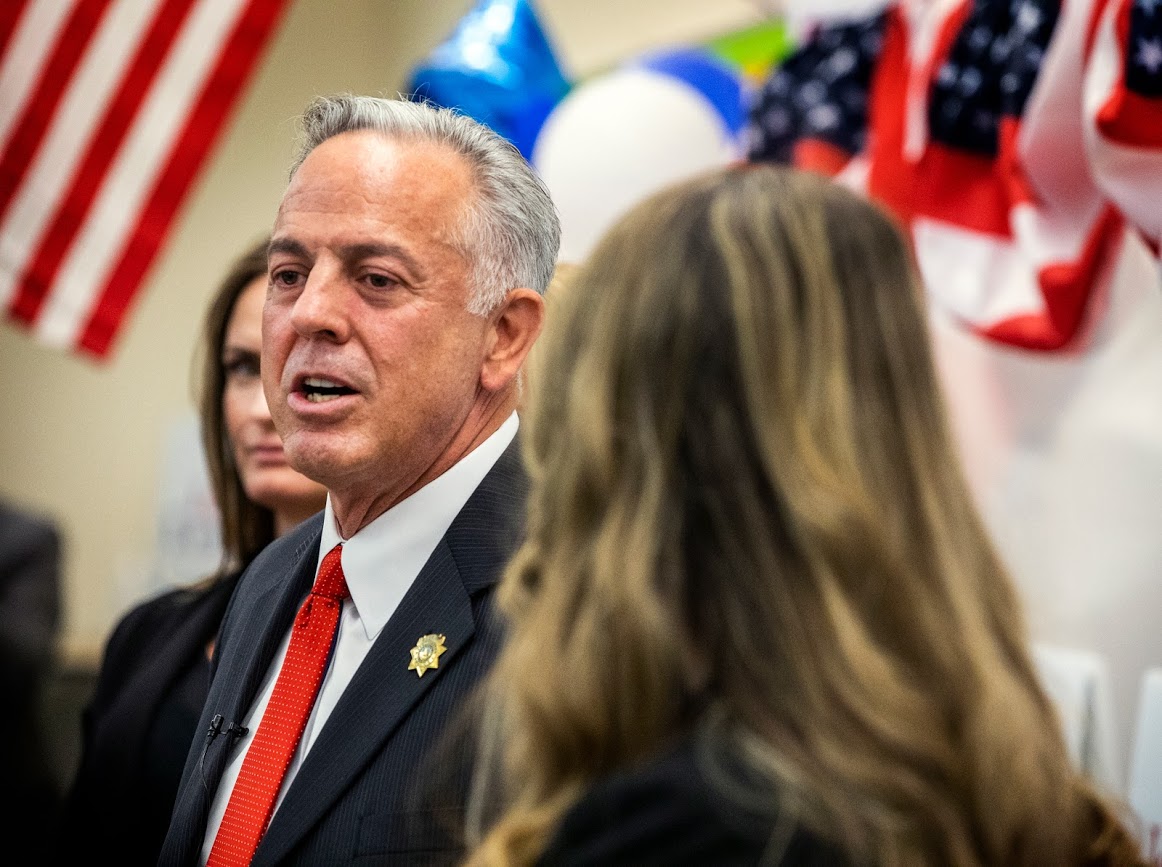 Clark County Sheriff Joe Lombardo, the Republican candidate for governor, used his official police department email to communicate with his campaign team and direct department employees to conduct research later used by his campaign, emails obtained by The Nevada Independent show.
The four emails, part of a set of 40 that were reviewed and ordered to be released by a judge following a lengthy public records lawsuit, detail a handful of communications in 2021 between Lombardo and his top campaign consultants in his campaign for governor — Mike Slanker of November, Inc. and Ryan Erwin of Red Rock Strategies.
The emails broadly include the sharing of information on criminal justice trends and immigration between staff of the Las Vegas Metropolitan Police Department, Lombardo and his campaign consultants. Democrats have used the lawsuit and legal fight over release of the emails as campaign fodder, calling it evidence that he is using his "government email for political gain."
"Largely sent from his personal devices, Sheriff Lombardo's occasional emails to campaign staff are neither noteworthy nor significant, nor do they present any conflict with state ethics law," a Lombardo campaign spokeswoman said in an email to The Nevada Independent.
Nevada's state ethics law prohibits any public officer or employee from using "governmental time, property, equipment or other facility to benefit a significant personal or pecuniary interest," though exceptions are carved out if the use "does not interfere with the performance of the public officer's or employee's public duties," or if the cost or value is "nominal" or does not create the "appearance of impropriety."
In August 2021, Lombardo, using his email address with the Las Vegas Metropolitan Police Department, asked a department lobbyist to work with other department staff on a "crime comparison of legislative changes and the effect on crime," which Lombardo later forwarded to a campaign consultant.
The scope of the research coincides with materials released by Lombardo's campaign, which has attacked Democratic Gov. Steve Sisolak for "soft-on-crime" legislation he signed in 2019, blaming AB236, a major criminal justice reform measure, for increases in crime.
By the end of August, Lombardo forwarded Erwin an outline for future research drafted by Metro staff, which identifies determining the effects of that bill as an objective, exploring how burglaries, larcenies and other crimes have changed since it took effect.
In May 2021, Lombardo forwarded a press release from the governor's office to Erwin with the message "for opp. research." The press release highlighted bills signed by Sisolak meant to provide physical and mental health support to first responders. Opposition research, referred to in an abbreviated way by Lombardo, typically refers to the practice of collecting and packaging damaging information about a political opponent for use in campaigns.
In another instance, in July 2021, Lombardo used a personal email address to forward a department employee an article on immigration he was sent by Slanker. The article from the Center for Immigration Studies referenced the busing of thousands of migrants from border towns to cities across the country. In an email to Lombardo, Sasha Larkin, a deputy chief at Metro, wrote that the bus loads referenced in the article were not transporting migrants to Las Vegas or Southern Nevada.
Slanker replied, "Helpful. Let us know if it changes."
In early June, a Democratic-linked research firm filed a public records lawsuit against Metro, claiming the police agency was withholding email records between the sheriff and several of his top campaign consultants, including Slanker, Erwin, and former Nevada Lt. Gov. Mark Hutchison.
In late August, a Clark County District Court judge ruled that the bulk of emails exchanged between Lombardo and his political consultants were excluded from the state's public records law because they covered "documents of a personal nature."
That order, which nonetheless stated that it is "undisputed that Sheriff Lombardo engaged in political activity using his government email account," required the release of four of the 40 emails turned over and reviewed by the court.