Lucey loses Washoe Commission primary; Schieve and Lorton rematch for Reno mayor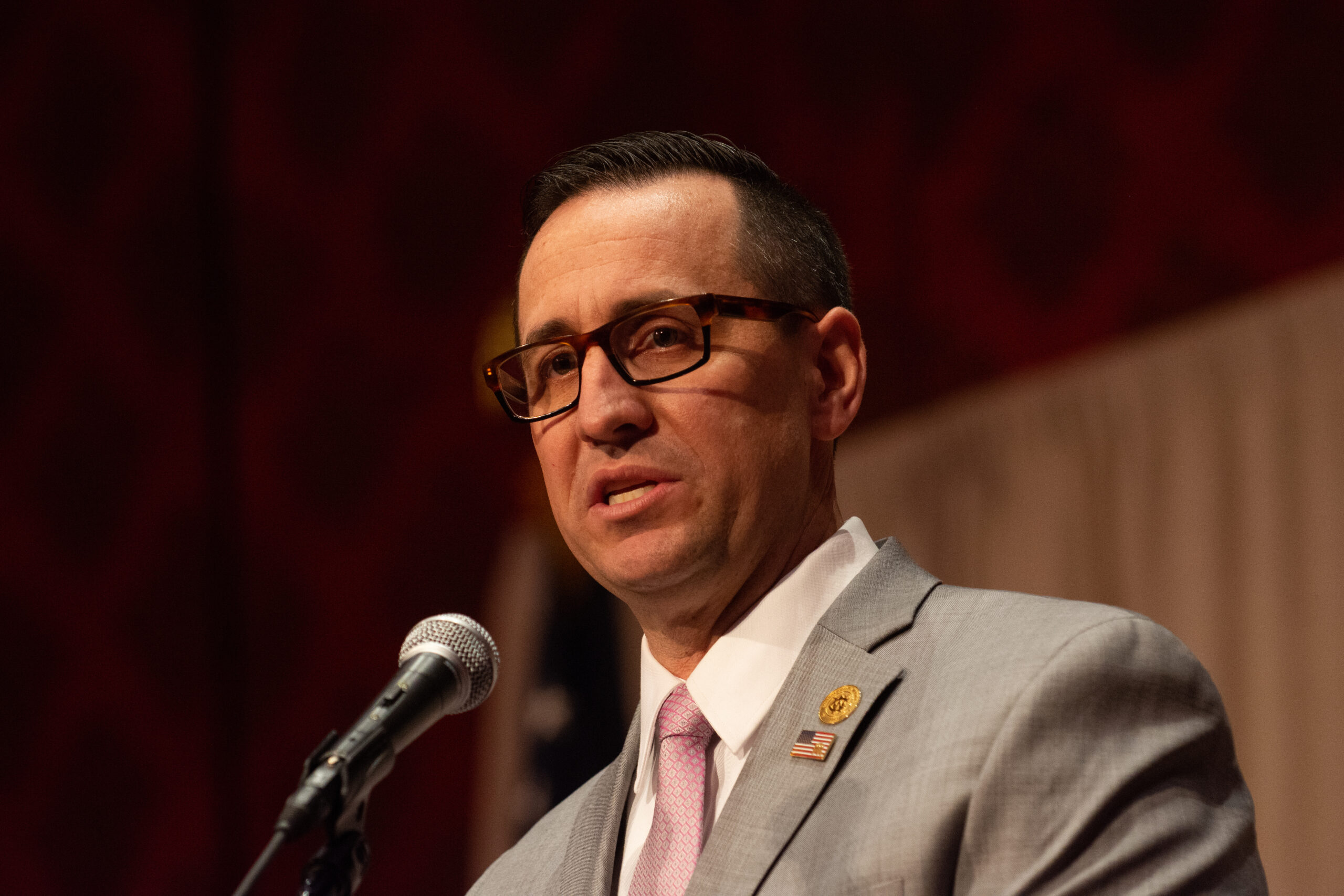 A Republican primary challenger boosted by a far-right political activist and cryptocurrency millionaire ended an incumbent's re-election hopes to the Washoe County Commission, while other county primary results set the stage for several high-profile general election matchups in the state's second-largest county.
Commissioner Bob Lucey's loss marked the only Washoe County incumbent to lose a seat after Tuesday's primary election, though several other incumbents are headed to a runoff general election.
That includes Reno Mayor Hillary Schieve, who will face off in a rematch against businessman and perennial candidate Eddie Lorton in November. City Councilwoman Jenny Brekhus came in third in the 11-person race.
Washoe County Commission District 2
Bob Lucey will lose his seat on the Washoe County Commission, as Washoe County Assessor Mike Clark holds a double-digit lead over the incumbent in the District 2 Republican primary.
Clark received a boost in the contentious primary battle from Robert Beadles, a far-right cryptocurrency millionaire with an active political presence in Washoe County, who funded campaign mailers attacking Lucey (including one depicting him as Satan). Meanwhile, the Democrat-affiliated super PAC Open Democracy spent thousands of dollars to support Lucey, a former chair of the commission.
Lucey also took matters into his own hands earlier this spring by trying to have his opponent disqualified on the basis that Clark had changed his party affiliation from nonpartisan to Republican after the state deadline and should not be eligible to run for commissioner. In April, a judge denied the request and ruled that Clark could run for commissioner.
Lucey, who was first elected in 2014, ran on a platform of strengthening tourism and finding solutions to the housing crisis. Owner of a veterinary practice, his home District 2 covers areas south of Interstate 80, from Hidden Valley down to the southern edge of Washoe County near Washoe Lake.
On his campaign website, Clark said he is for transparency in government, open meetings, and finding solutions for the unhoused in Washoe County. In an interview with the Reno Gazette-Journal, he said he doesn't have any personal knowledge of who won the 2020 presidential election.
Clark faced legal trouble last year. A temporary protection order (TPO) was granted against him last year for harassment because he had anonymously sent out thousands of mailers to county and City of Reno employees of a coworker in her bathing suit. Clark is not allowed within 100 yards of any county workplace until the end of this month.
Clark will face Democrat Keith Lockard, who has worked for the City of Reno, and Libertarian David Michael Banuelos in the general election.
Washoe County Commission District 3
Mariluz Garcia, executive director of the Dean's Future-Scholars program at UNR, has won a three-way Democratic primary in the race to represent District 3 on the Washoe County Commission as incumbent Kitty Jung prepares to leave the seat on account of term limits.
A heavily Democratic area that Jung handily won in 2018, District 3 is the physically smallest and most densely populated district in Washoe County, encompassing downtown Reno as well as parts of Sparks and Sun Valley.
Garcia's platform centered on community safety and fire protection, homelessness and housing, and economic development.
Second in the race was Kyle Isacksen, founder of Down to Earth Composting and the youth outdoor program Great Basin Naturalists. He was previously a Ward 3 Neighborhood Advisory Board (NAB) member and ran on a platform of affordable housing, infrastructure and the environment.
Democratic candidate Hawah Ahmad, a government relations consultant on contract with the Clark County Education Association teachers union, closely trailed Isacksen. Ahmad campaigned on a platform of housing affordability, workers' rights and women's health care. She grew up in Washoe County and served on the Reno Youth City Council during the Great Recession.
Garcia will face Republican Denise Myer in the general election. According to her website, Myer's priorities include voter integrity, transparency in government, law enforcement resources and housing affordability.
Washoe County Commission District 5
Republican Washoe County Commissioner Jeanne Herman leads one of her primary opponents, Wendy Leonard, by several percentage points as the county continues to tally mail ballot votes.
Herman, who is seeking a third term on the board, is best known for pushing for paper-only balloting in light of unfounded claims of fraud following the 2020 general election. Democratic and Republican commissioners joined forces in voting 4-1 earlier this year to defeat the proposal, which called for stationing members of the National Guard at each polling site.
District 5 is geographically the largest district in Washoe County, covering 89 percent of the county and encompassing areas of Reno, Sparks, Verdi and Gerlach.
Herman faced two Republican challengers in the primary — Wendy Leonard and Richard "MO" Molezzo.
Leonard had a 22-year-long career in law enforcement, beginning at a maximum security prison in 1995 and retiring as a Washoe County Sheriff's Office lieutenant in 2017. She has support from local public safety and teamsters organizations.
Leonard was also recently boosted by a Democrat-affiliated super PAC, but Herman received significant support in her own right, including from Beadles.
Molezzo, a criminal defense and personal injury attorney, ran on a platform of increasing voter turnout and improving infrastructure. He trails far behind Herman and Leonard.
Herman or Leonard will next face Edwin Lyngar, the only Democrat in the contest, whose campaign has focused on improving public transportation, requiring incoming developers to pay for roads and infrastructure and investing in the North Valleys. In 2018, Herman defeated her Democratic opponent by less than 4 points.
Krysta Jackson, a nonpartisan whose campaign has been fairly inactive, may also be on the general election ballot.
Reno Mayor
Reno Mayor Hillary Schieve and businessman George "Eddie" Lorton will face off in the general election this fall, as they are the two top vote-getters in the primary contest.
"Thank you Reno for giving me another opportunity to serve in the City where I was born and raised. I can't wait to work together to serve this very special place we all call home!" Schieve wrote on Twitter that day after Election Day.
It will be a rematch of the race four years ago. In 2018, Schieve defeated Lorton in the general election by a margin of 29 points.
Another mayoral candidate — Reno City Council Member Jenny Brekhus, who represents Ward 1 — appears on track to finish third in the primary and fall short of participating in a runoff and conceded the race on social media.
"Reno primary voters made it clear that they want Hillary Schieve and Eddie Lorton to contest the Mayor's race (again) this November. Congratulations to both! I accept this result and in coming off the campaign trail am grateful for this brief journey once again, into local electoral politics," Brekhus wrote on Facebook on June 16.
Schieve, first elected to office in 2014, has focused on downtown development and economic growth as she pursues a third term as mayor. But the incumbent has faced criticism for enforcing curfew after people broke into City Hall and started a fire after a Black Lives Matter protest in 2020, and for the city council's decision to let developer Jacobs Entertainment demolish downtown motels in the midst of a housing crisis.
Lorton, a businessman who has unsuccessfully sought council and mayor seats several times in the past, noted on his website that he wants to pay down "Reno's one billion dollar debt by 2026" and have the county take on more responsibilities of the CARES campus homeless shelter, though the county already runs CARES.
Brekhus, an urban planner by training, has butted heads with Schieve and the rest of Reno City Council since announcing her candidacy. On her website, Brekhus said that her goals if she were to be elected mayor would include restoring "integrity to the Mayor's office."
Other candidates in the 11-person, nonpartisan race included Chad Dehne, William Mantle and Jesse O. Razo, who had all previously run for the office.
Reno City Council Ward 2
Incumbent Naomi Duerr earned more than 50 percent of the vote in her re-election bid to the Reno City Council.
The Ward 2 district covers much of southwest Reno, from Plumb Lane to the south edge of town.
"I'm absolutely thrilled that so many voters chose me in the primary for Reno City Council," Duerr said in an interview on Thursday. "I have been committed to being accessible and getting results for the residents and businesses in Reno. It feels great to be recognized for that effort."
She said she is excited about several projects coming up in the next four years, including the Moana Aquatic Center, and is looking to focus on issues of public safety, affordable housing, smart city development and water management.
Duerr, who has held the seat since 2014, is a small business owner who has a bachelor's degree in geology and a masters in public administration and specializes in water and energy policy. On the council, she has worked on the redevelopment of Neighborhood Advisory Boards (NAB), parks, water management and police.
Trailing about 17 points behind Duerr is Jay Kenny, who owns and operates three DoughBoys Donuts shops in Reno and Sparks. His campaign priorities were infrastructure, economic growth, police support and housing.
Far behind both was first-time candidate Tyler Hinman. The 20-year-old said his campaign priorities were education, police reform, transportation, and affordable housing.
Reno City Council Ward 4
Incumbent Bonnie Weber appears headed for a general election matchup with one of two first-time candidates, Meghan Ebert or Dennis Owen, who are separated by a few percentage points.
The ward extends northeast from above the university to the northern edge of Reno at Cold Springs. If re-elected, Weber said she would continue working on growth and small businesses.
Ebert said improving life in the North Valleys is one of her campaign priorities. On her website, she referenced the Swan Lake flood, lack of restaurants and entertainment in the North Valleys and "irresponsibly placed commercial developments" as reasons Ward 4 needs a change in leadership. 

Owen performs street maintenance for the City of Reno. His goals if elected include slowing the construction of warehouses in the North Valleys, planning more for Reno's growing infrastructure and being more careful with the city budget.
Michelle Rindels, Sean Golonka and Riley Snyder contributed to this report.
Updated at 4:18 p.m. on 6/16/22 to correct that Reno City Council primary races cannot be won at the primary level, but instead require the top two vote-getters advance to the general election. Updated at 5:22 p.m. to add comment from Duerr and Brekhus.
Featured Videos
Comment Policy (updated 4/20/2021): Please keep your comments civil. We reserve the right to delete comments or ban users who engage in personal attacks, use an excess of profanity, make verifiably false statements or are otherwise nasty. Comments that contain links must be approved by admin.