Las Vegas Convention and Visitors Authority CEO and President Steve Hill announced a recommendation to select The Boring Company to to build a people for the Las Vegas Convention Center during a news conference on Wednesday, March 6, 2019. (Jeff Scheid/The Nevada Independent)
LVCVA announces partnership with Musk's Boring Company for convention center transit project
Las Vegas' future could hold a new underground mass transit system — but it's no subway.
The Las Vegas Convention and Visitors Authority announced a partnership with the Elon Musk-linked Boring Company Wednesday that would see an underground tunnel connect the sprawling Las Vegas Convention Center campus end-to-end by the time a new expansion is slated to open in early 2021.
Started by Musk after the billionaire found himself stuck in L.A. traffic, the company has sought to ease increasing traffic congestion through the construction of what it calls "The Loop," a system of tunnels essentially meant to create an underground highway.
Speaking at a news conference, LVCVA president and CEO Steve Hill, who negotiated with Musk to bring the Tesla gigafactory to Northern Nevada, said the small-scale convention loop will cut down travel times for convention-goers, who might otherwise have to walk up to two miles once the expansion is complete.
"That's not possible for some, and certainly not convenient for many," Hill said. "So contemplating a people-mover system on the campus has been a part of the conversation during the entire design and certainly through the construction of the convention center expansion."
Like the company's existing tunnel in Hawthorne, California, the system would utilize a number of individual electric vehicles that are sped along small, concrete-lined tunnels. The details of which vehicles the LVCVA system will use hasn't yet been finalized, but Hill said the options range from using Tesla Model 3 sedans, Model X SUVs or even a 16-person tram chassis.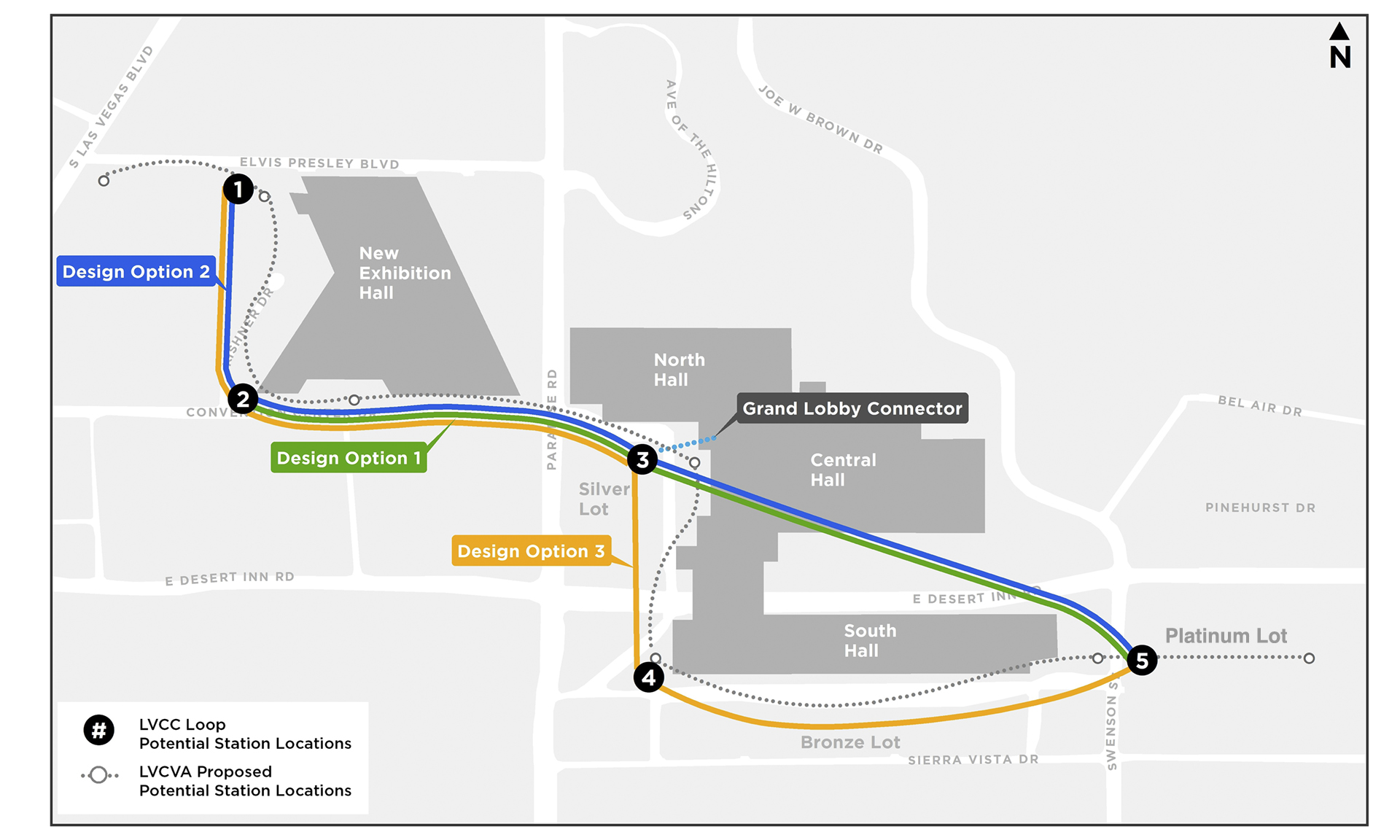 In total, Hill said he expects between 4,400 and 11,000 people per hour to utilize anywhere from 90 to 140 cars connecting between three or four stops.
But exactly how the company's tunnels have functioned has shifted over the last three years. Though early concepts focused on running individual cars through the tunnels on electric sleds, Musk later tweeted a new focus on transit for pedestrians and bikers over commuter vehicles.
At a December 2018 test in Hawthorne where the technology was revealed for the first time, the sleds had been ditched. Instead, electric, foldable guide-wheels sped a Model X through a 1.14 mile tunnel at a bumpy 40 miles per hour — far short of the promised 150 mph top speed.
But the company has said future tunnels will be smoother, and speed estimates haven't changed either. In Las Vegas, Hill said the convention center system would be too short to reach that kind of speed, and he added that the final product would ultimately reflect the city.
"We've emphasized the fact to them that this tunnel needs to look like Las Vegas, and it will," he said.
At a cost to LVCVA of between $35 million and $55 million — far below that of other, more conventional transit options that can cost hundreds of millions or sometimes billions — the convention center project would serve as a testbed for a wider system of tunnels in Las Vegas.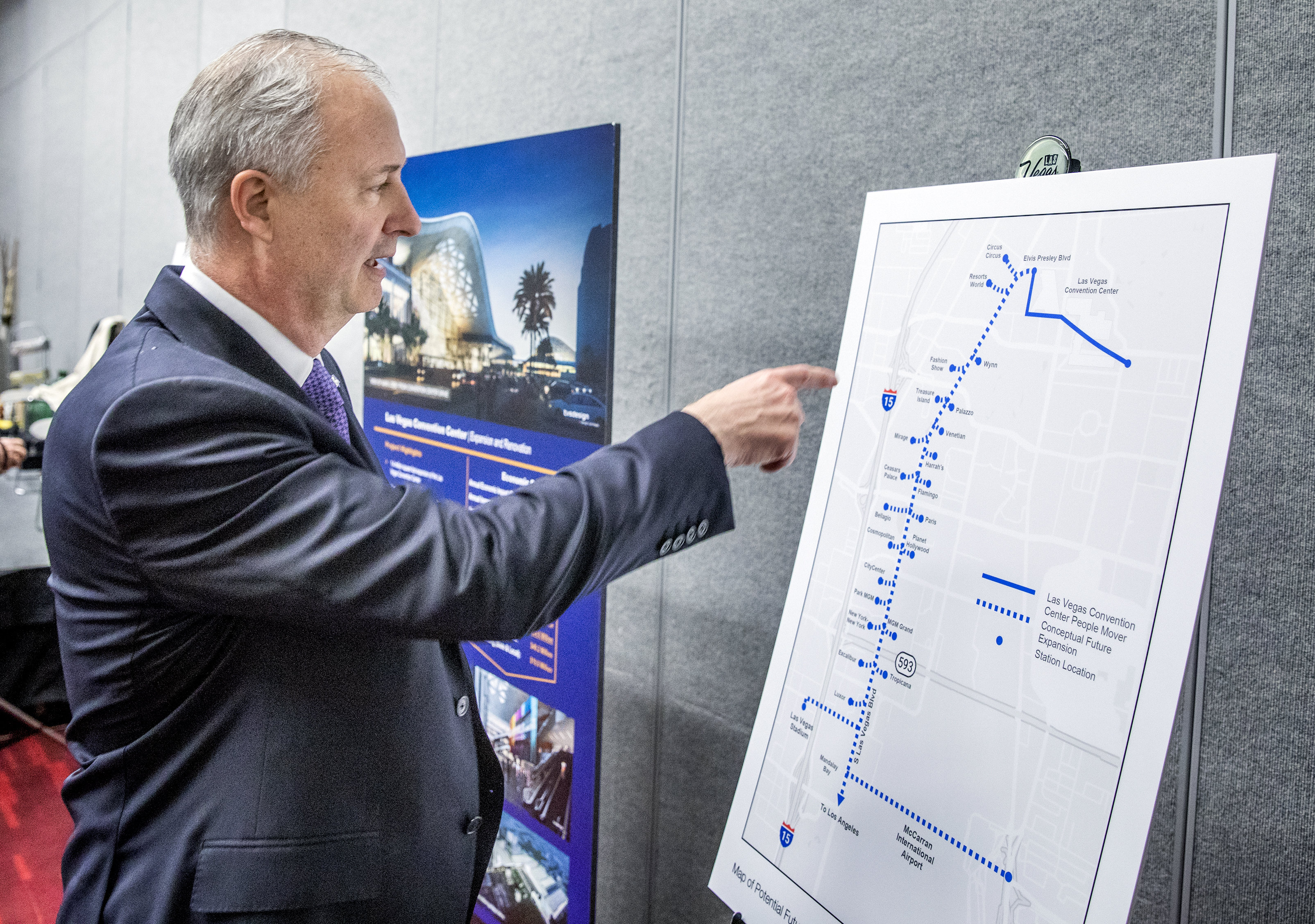 County transportation officials are looking at a possible expansion of the system, which The Boring Company said it would finance, that would run down the length of the Strip and beyond, connecting major properties as far south as McCarran Airport and the Raiders Stadium.
If that expansion ever happens, Tina Quigley, general manager of the Regional Transportation Commission, said the Boring Company tunnels would form just a part of what she called a transportation "ecosystem."
"We have a geometry problem," she said. "We don't have any more room for lanes at surface level, so we have to start to get creative."
In the long-term, Quigley said autonomous vehicles, bikes, scooters and even a subway would all have to work in tandem in order to solve existing transit issues.
With the addition of Las Vegas, the Boring Company now maintains active projects in Southern California, Chicago and Washington, D.C. Another project had been planned for West L.A., though it was scuttled after community groups filed a lawsuit claiming the company tried to skirt the environmental review process.
The concept of underground transport, rail or otherwise, in Las Vegas has long been stymied by the city's geology. The ubiquity of caliche — a concrete-like sediment that can appear sporadically beneath the soil — is a frequent obstacle to construction in the valley, extending timelines and increasing costs.
But Boring Company CEO Steve Davis said geological surveys and boring samples already taken of Las Vegas soil are promising, and that the company has already identified several domes of caliche in addition to the existing soil structure.
"It's a really important thing we have to note before we put in our proposal," he said. "We have two boring machines that can be launched, so we wanted to make sure the geology in Las Vegas was consistent — and it is."
Hill said it will be several months yet before a contract is finalized and construction begins, though once started, the system is projected to take roughly a year to complete.
Stories
Candidate Trackers
Endorsements, Ads, Policies, Visits
& More
visit now
Comment Policy (updated 10/4/19): Please keep your comments civil. We reserve the right to delete comments or ban users who engage in personal attacks, use an excess of profanity, make verifiably false statements or are otherwise nasty.