Malice in Bundyland: Attorneys go to the brink of contempt in contentious retrial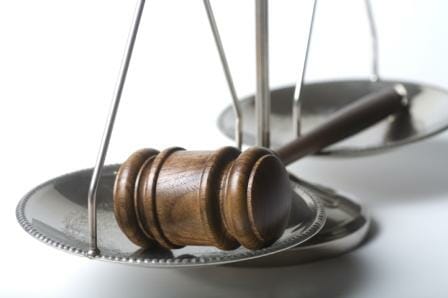 It's not as rare as a solar eclipse, but you won't often witness an attorney decline an opportunity to speak -- much less at trial during a closing argument.
For four in a row to do it is essentially unheard of.
But that's what happened Tuesday in U.S. District Judge Gloria Navarro's courtroom during the time set aside for closing arguments in the retrial of four men accused of acting as gunmen in an effort to intimidate federal law enforcement during the April 12, 2014 standoff between Bunkerville rancher Cliven Bundy and the Bureau of Land Management. The jury is scheduled to continue its deliberations Monday.
Stripped of applying several affirmative defenses that helped deadlock a jury in the first trial, defense attorneys Jess Marchese, Richard Tanasi, Todd Leventhal, and Shawn Perez were stuck battling a parade of government witnesses and a mountain of photographic, video, and social media images and messages that portrayed their clients as militia-associated and heavily armed when they traveled interstate to help Bundy halt a court-ordered cattle impoundment.
Navarro's pretrial ruling spelled real trouble for defendants Eric Parker, Steven Stewart, O. Scott Drexler and Ricky Lovelien. Their lawyers were prevented from arguing self defense, the defense of others, and government constitutional abuses in the second round. Without the images of the Bundy family's edited videos that appeared to show them being brutalized by BLM rangers, they were left with the obvious: Four men who heeded a militia call to arms and drove from Idaho and Montana in time to brandish their assault weapons and "put the fear of God" into federal officers while an angry mob of mostly unarmed protesters approached.
The federales wisely backed down and drove away from their dreary desert outpost without a shot fired. Bundy and the defendants foolishly declared victory that day.
Bundy, scheduled to be tried in the next round later this year, still owes approximately $1 million in grazing fees and assessments. The volunteer gunmen are staring at the threat of more than 50 years in prison. In reality, there's not much to celebrate.
Metaphorically taking a knee and declining to offer closing arguments was probably the best strategy of several onerous options for the defense team.  It stoked their legal fairness narrative as they laid the groundwork for a possible appeal. (It sure fueled support of the defendants on militia-friendly and right-wing webcasts.) It also blocked experienced Acting U.S. Attorney Steven Myhre from batting cleanup and burying them in an emotional rebuttal, which he almost certainly would have done.
It became undeniably clear in the waning days of testimony that Judge Navarro had lost her patience with defense efforts to push the envelope on the issue of self defense and the defense of others. Parker, as his attorney  Marchese put it in a hearing outside the jury's presence, was "ripped from the witness stand" for failing to follow the judge's clear and specific instructions. Leventhal's best efforts at preparing his client notwithstanding, Drexler's testimony didn't help him much when he was compelled to admit he'd pointed a semi-automatic assault weapon in the direction of the BLM and NPS officers but supposedly wasn't aiming it, photographic evidence to the contrary. Tanasi's client, Stewart, was the closest thing to a wingman and comic relief as is possible in an incident with so much potential for bloodshed, but then he went and started bragging on the Internet about his efforts. Perez, charged with defending the only acknowledged militia member among the accused, could take little comfort in the fact a case with hundreds of thousands of images not a single one showing Lovelien pointing his weapon.
Defense attorneys faced potential sanctions, but in the end Navarro cooled off enough to set them aside. They'd gone to the brink of contempt and maybe just a little beyond.
Then they decided to remain silent.
It was just as well.
In the face of all those troubling images, there wasn't much left to say.
John L. Smith is a longtime Las Vegas journalist and author. Contact him at [email protected]. On Twitter: @jlnevadasmith.
The Nevada Independent is raising $200,000 by Dec. 31 to support coverage of the 2024 election.
Tax-deductible donations from readers like you fund this critical work.
If you give today,your donation will be matched dollar-for-dollar.
Give + Get Matched
Featured Videos