Maryland lawmakers seek to remove name of segregationist Nevadan from traffic circle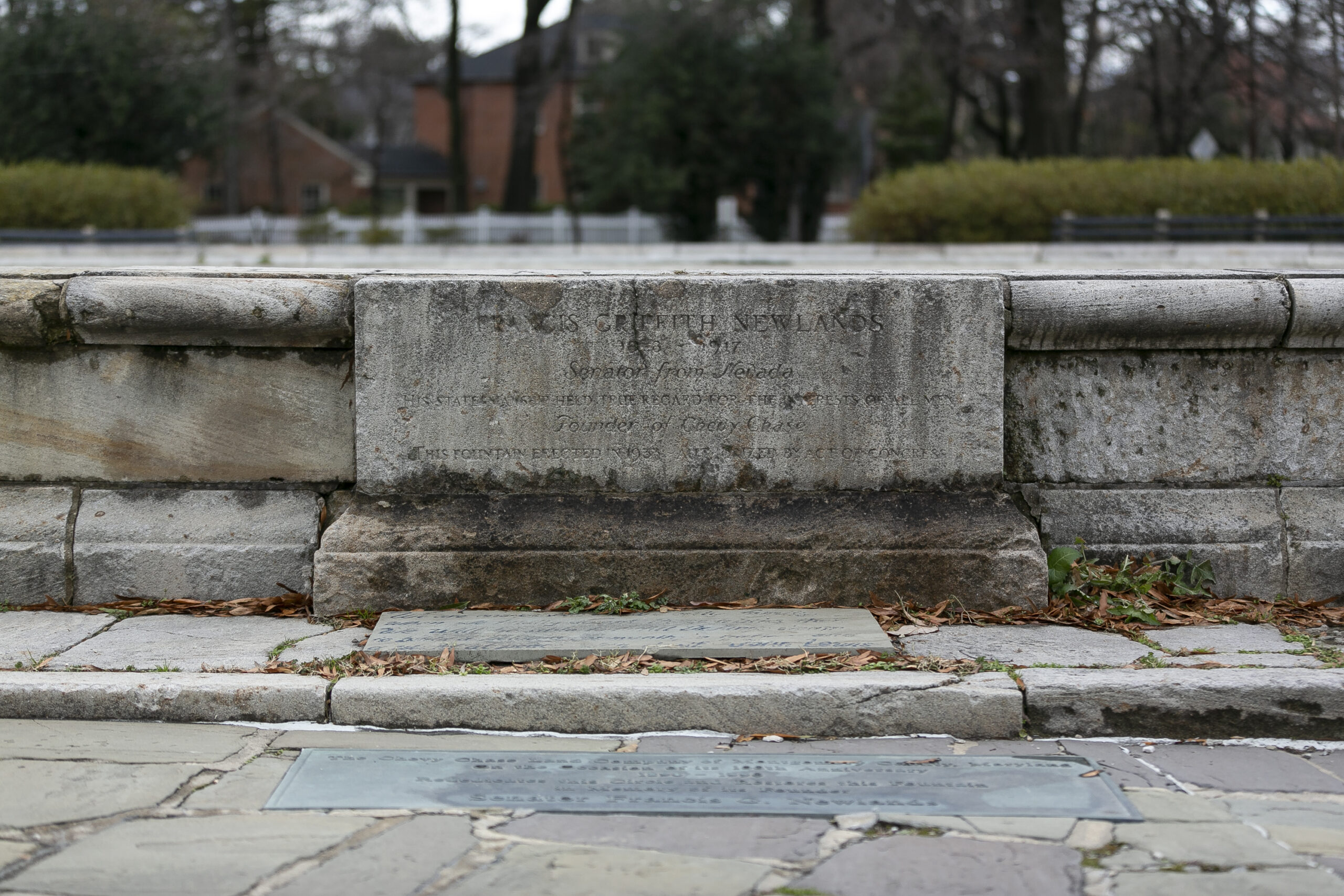 The white supremacist legacy of late Nevada lawmaker Francis Newlands has prompted Democratic U.S. senators and representatives from Maryland, the District of Columbia and Nevada to introduce legislation to remove Newlands' name from a D.C. traffic circle.
On Tuesday, Sen. Chris Van Hollen (D-MD) and Sen. Ben Cardin (D-MD) unveiled their bill. That followed the introduction of the House version of the measure in February 2021 by Rep. Eleanor Holmes Norton (D-DC), Rep. Jamie Raskin (D-MD) and Rep. Dina Titus (D-NV).
"There should be no plaque or monument anywhere in this country that celebrates avowed racists like Francis Newlands or Pat McCarran," Titus said in a statement provided by her office Wednesday.
She likened the Newlands situation to that of the late Sen. Pat McCarran (D-NV), who was crticized for a legacy of racism, anti-semitism and xenophobia that included restrictive immigration policies that limited immigration for Jewish refugees after the holocaust. The airport serving Las Vegas had been named to honor McCarran. But Clark County officials renamed it for Sen. Harry Reid (D-NV) in February. Titus also noted a legislative effort to remove McCarran's statue from the U.S. Capitol.
"Nevada's entry into the Union helped bring about the end of slavery and the Civil War," Titus continued. "Our state constitution addresses prohibitions on slavery not once, but twice. We should honor historical figures from our state who embody that 'Battle Born' spirit and have worked to make this nation a more perfect union. We should remove Newlands' plaque in Chevy Chase and McCarran's statue from the Capitol."
The Newlands issue has percolated among local Maryland officials since at least 2014. In 2020, residents placed a quote from the late Rep. John Lewis (D-GA), a civil rights hero, at the circle. But concerns about Newlands legacy have also come up in Nevada. Two years ago, Old Southwest Reno residents discussed renaming the Newlands Park neighborhood.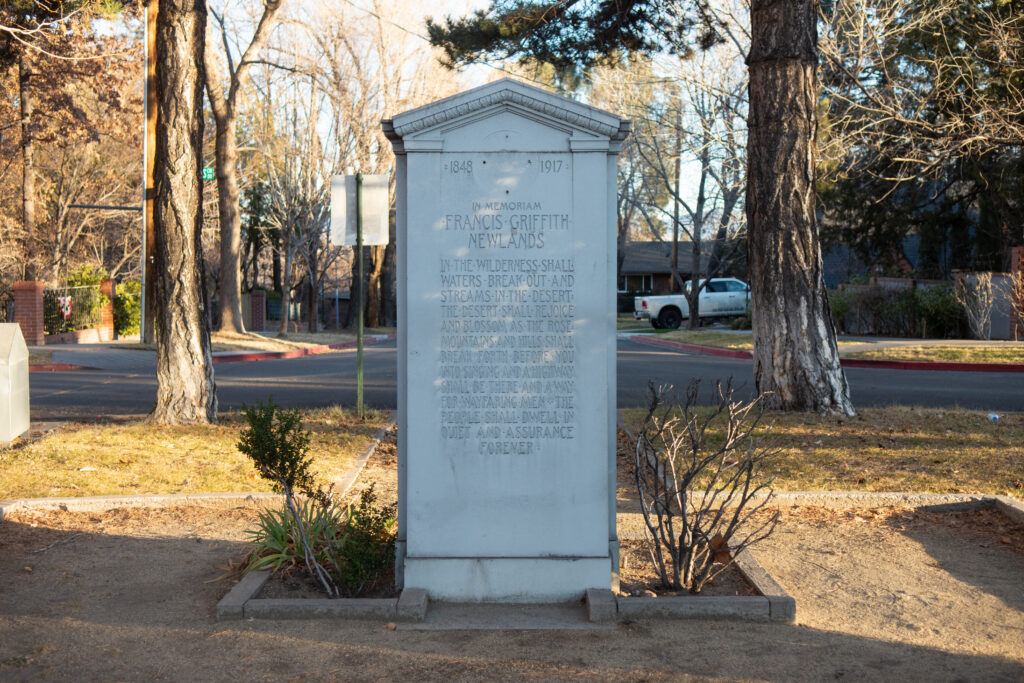 Newlands, a Democrat who served in Congress between 1893 and 1917, was a vocal supporter of repealing the 15th Amendment to the Constitution, which gave Black men the right to vote. He argued that nonwhites were inferior and not suited for participation in democracy. He also led an effort to include a disenfranchisement plank in the 1912 Democratic National Convention.
The bill's introduction comes as Senate Democrats pushed to pass a package of voting rights bills, which were blocked by Republicans Wednesday night. Senate Democrats then moved to try to change the filibuster rule for just the voting rights package, which requires 60 votes to advance most legislation in the chamber. But that effort fell short with two Democrats, concerned about changing the procedure on a partisan basis, voting with the GOP.
It's unclear when — or if — the Newlands bill will get a vote in the House or Senate. It would need 60 votes to pass in the Senate, requiring 10 Republicans to join with all Democrats.
Newlands was a real estate developer. He developed the area known as Chevy Chase just north of Washington, D.C., in Maryland.
In 1933, a fountain was commissioned by Newlands' widow and erected on a traffic circle that straddles the D.C.-Maryland line. An inscription adorning the fountain reads: "His statesmanship held true regard for the interests of all men."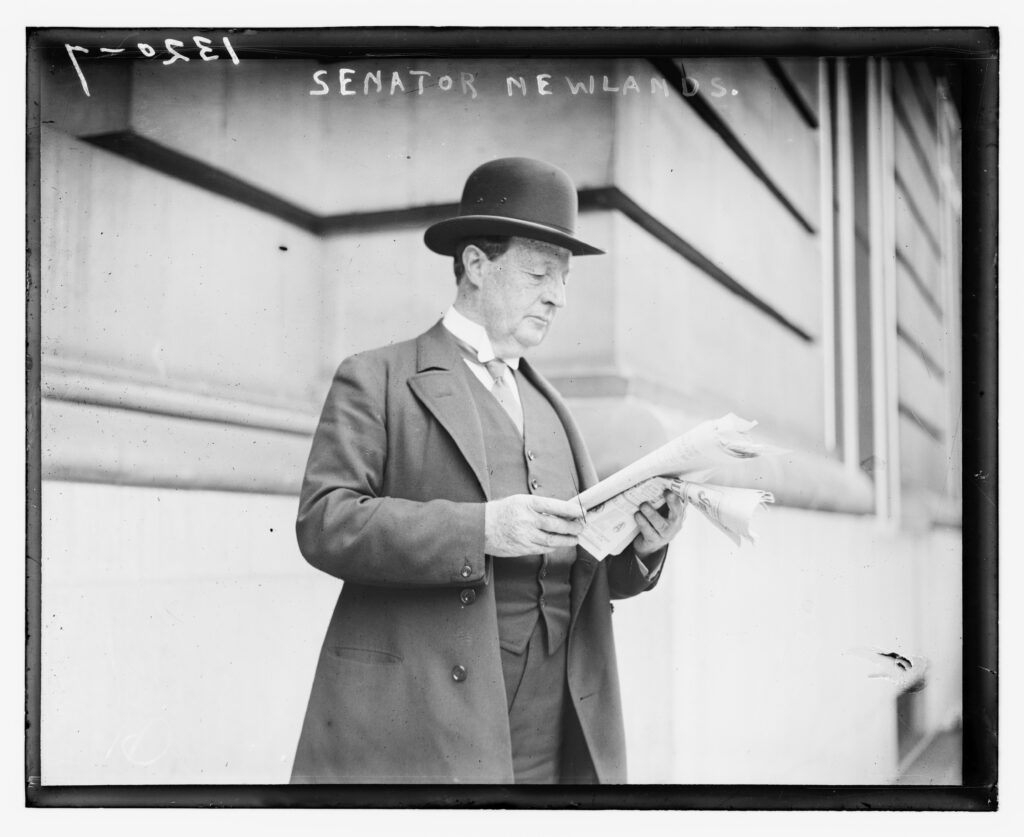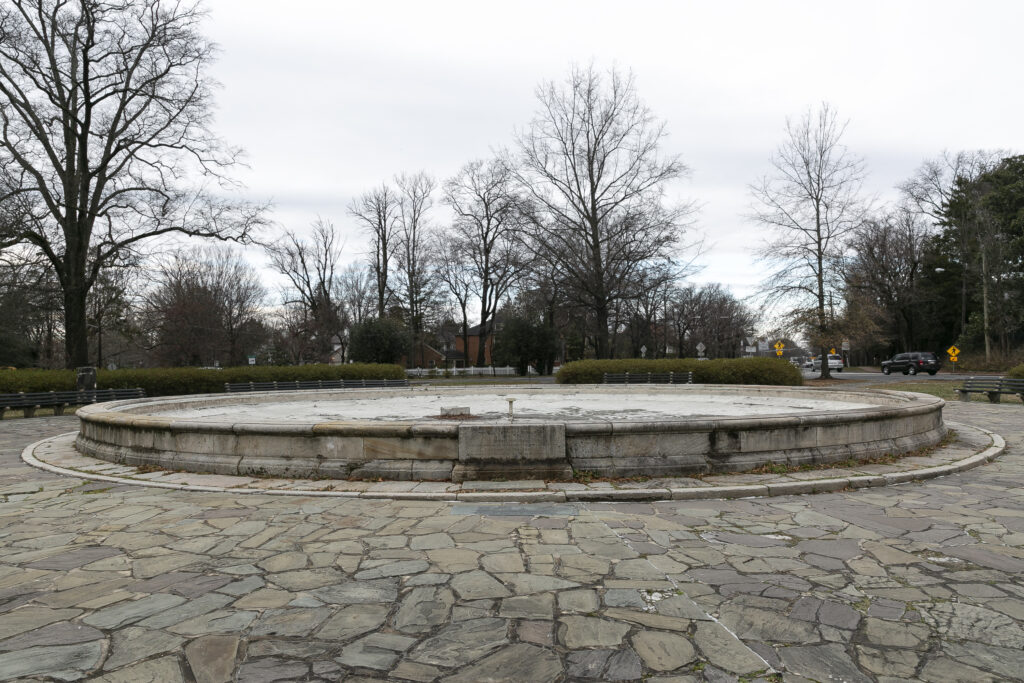 The traffic circle is federal land overseen by the National Park Service and requires a federal law to alter.
Newlands was married three times, including to Clara Sharon, the daughter or Sen. William Sharon (R-NV), who served between 1875 and 1881. Newlands' Senate tenure ran from 1903 to 1917, when he died.
Born in Natchez, Mississippi, Newlands was a staunch segregationist. He designed the Chevy Chase area to keep out minorities and low-income home buyers, which Van Hollen has underscored.
"For decades, racism and redlining in our nation's housing market have perpetuated a pattern of discrimination in access to home-ownership," Van Hollen said in a press release. "We should not be memorializing him and the deeply harmful policies he stood for – the legacies of which are still impacting marginalized communities to this day."
According to the Chevy Chase Historical Society, there were no outright restrictions on sales to minorities. But prices were set to ensure they could not participate in the new development.
"Early deeds from the Chevy Chase Land Company for house lots in Chevy Chase, Maryland, did not include racially restrictive covenants," the historical society said. "The same objective was achieved, however, through the inclusion of financial covenants that required the value of homes built on those lots to be very high — $5,000 for homes on Connecticut Avenue and $3,000 for homes on side streets."
The area, which includes a warren of neighborhoods and subdivisions that use the Chevy Chase name,  remains among the wealthiest areas in the nation. In 2017, the town of Chevy Chase Village was among the top 17 richest communities in America, with a median income of $250,000.    
While Newlands' racism overshadows his legacy, he is also known for supporting legislation protecting forests, creating the National Park Service and passing a measure, which is named for him, establishing the Bureau of Reclamation. The agency helped construct and operate major dams and other water facilities that helped, among other things, develop the agriculture industry in the West.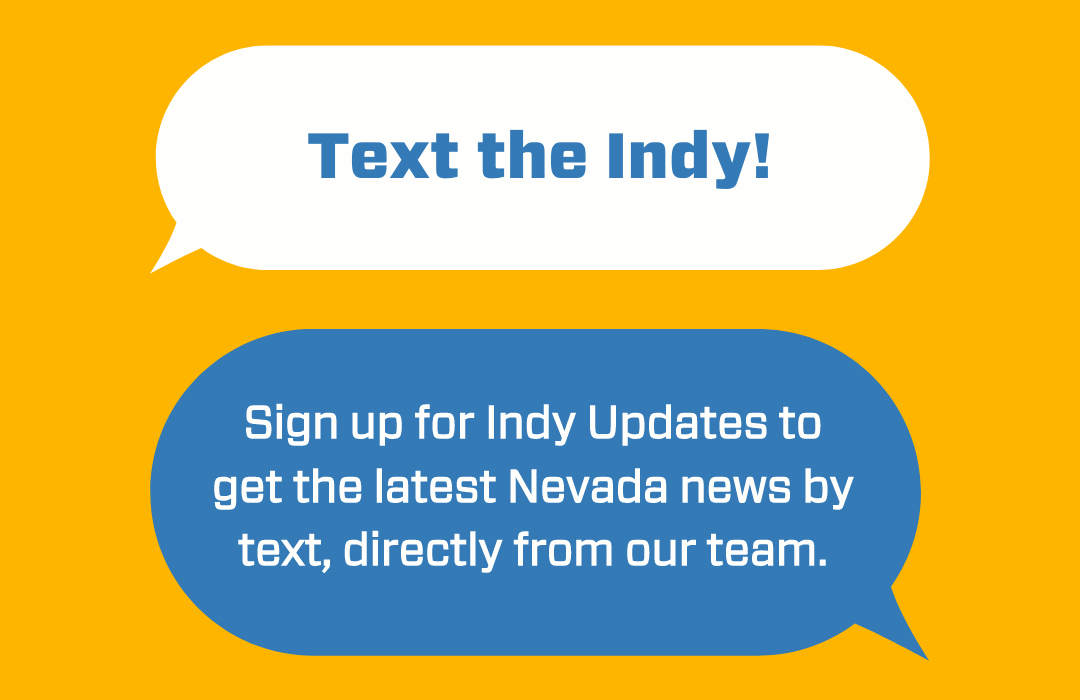 Featured Videos
Comment Policy (updated 4/20/2021): Please keep your comments civil. We reserve the right to delete comments or ban users who engage in personal attacks, use an excess of profanity, make verifiably false statements or are otherwise nasty. Comments that contain links must be approved by admin.