Mass layoff data shows breadth, uncertainty of COVID-19 employment disruptions, from the Las Vegas Strip and beyond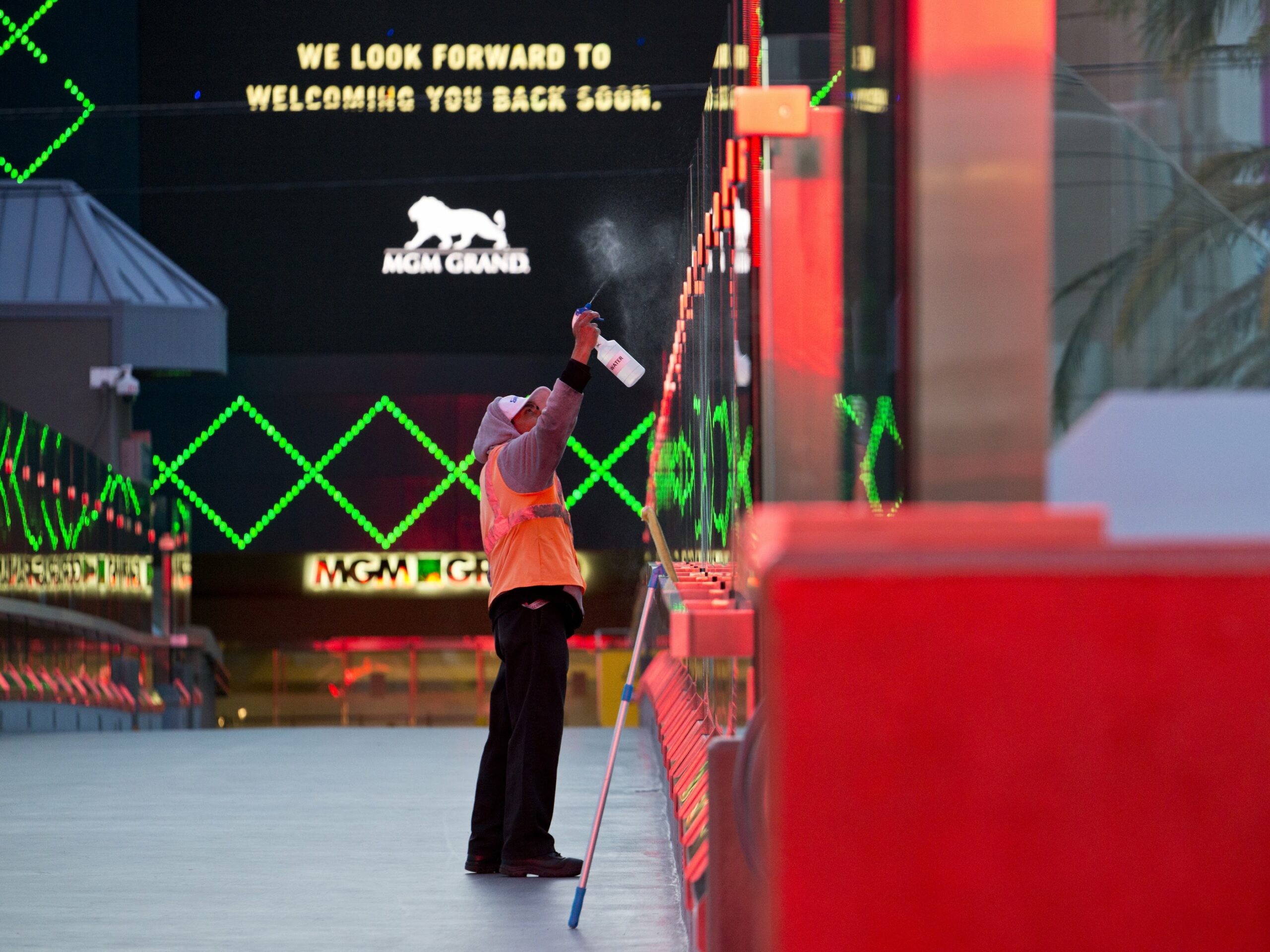 In a typical March, about four million passengers might travel through McCarran International Airport, landing and taking off in balmy spring weather. They request skycaps to help with their bags. They purchase food in the terminals. They hail taxicabs. They rent sedans and SUVs.
Workers form the backbone of the bustling operation, serving on tarmac crews, preparing food and assisting passengers with everything from getting their rental cars to checking their bags.
But as visitation at the airport decreased to less than half of what it was in March 2019, dozens of workers, from skycaps to cabin service cleaners, were laid off, according to letters sent to state and local officials under the Worker Adjustment and Retraining Notification Act of 1988.
The federal law, known as the WARN Act, requires companies to give advance notice of mass layoffs, plant closures or a significant reduction in workforce. The Nevada Independent reviewed more than 100 letters filed as public records with state and local officials during the pandemic.
The letters are posted on the Department of Employment, Training and Rehabilitation's website.
The idea behind the WARN Act is that workers and policymakers would have at least 60 days of notice before a mass layoff. If companies do not provide that notice, they can be held liable for paying employee salaries and benefits for 60 calendar days. But during the pandemic, job losses have outpaced the mass layoff warnings across the country, as Bloomberg has reported.
Many companies have suggested WARN Act notifications might not be required if closures are related to the pandemic. They cite an exception in the law for "unforeseeable" circumstances.
Although the letters represent a fraction of total unemployment (they do not include gig workers, independent contractors or small business closures), they provide one view of the scope of the employment disruption caused by COVID-19 and the uncertainty around the recovery to come.
Most of the reported mass layoffs and furloughs stem from hotel closures, from Lake Tahoe to the Las Vegas Strip. Still, the notifications also show how employees, less directly involved in the hospitality industry, have been affected by shutdowns aimed at curbing the pandemic.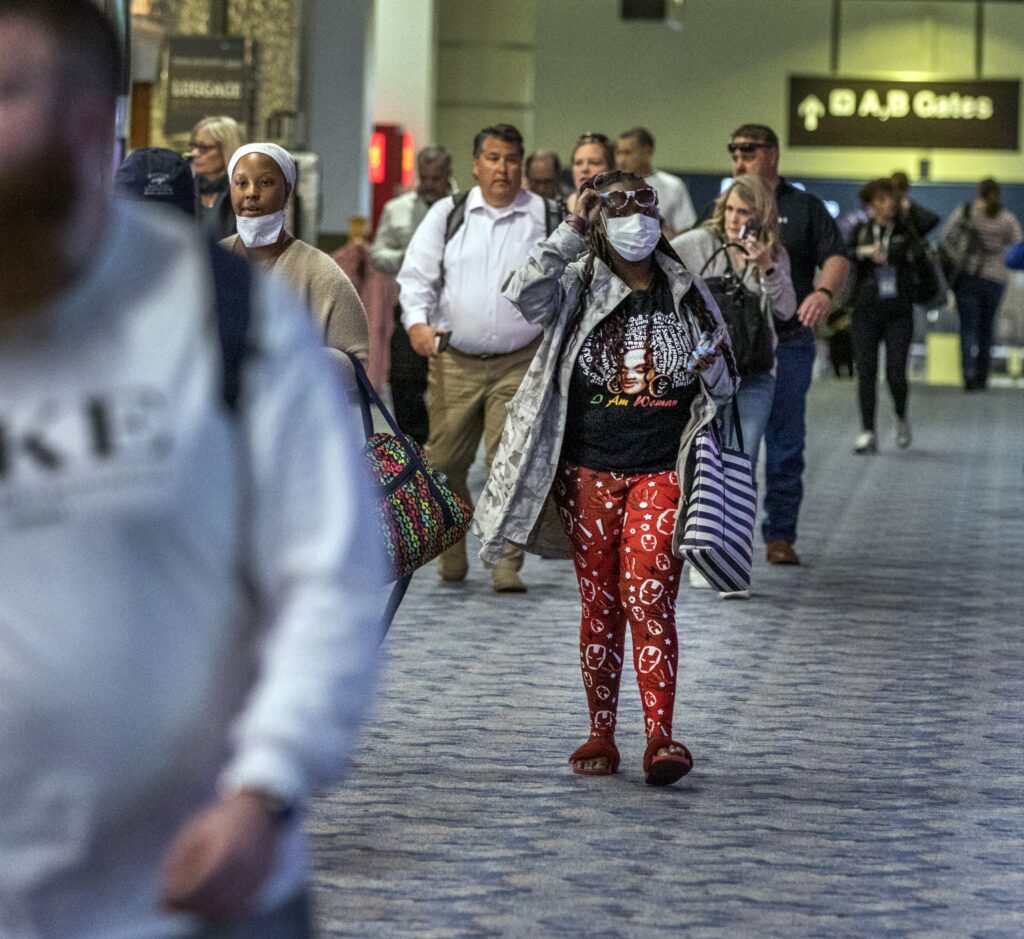 The hardest-hit sector
Flights are still going in and out of McCarran International Airport, but the volume has decreased so significantly that several companies operating in or around the airport have laid off workers.
Citing the coronavirus outbreak, the private jet company Gulfstream notified state officials earlier this month of plans to permanently close its facility at the airport, affecting 73 employees. Rental car companies Enterprise and Hertz also have reported layoffs to state officials, according to the notices. And on April 14, Hertz began a mass layoff of more than 180 employees at the airport.
"The COVID-19 public health crisis continues to have a profound and sustained adverse impact on the global economy in general and the rental car industry specifically," the letter said.
Days earlier, Prospect Airport Services had notified state officials of layoffs that were expected to affect 62 skycaps, 74 passenger service assistants, 12 baggage handlers, 16 cabin service cleaners, one unaccompanied minor assistant and one worker in an administrative support role.
"It is the company's hope that these layoffs will not affect all [airport] operations and will only be temporary in nature," the notification said. "However, due to the unprecedented nature of the pandemic, the company cannot guarantee any timeline for recall, if employees will be recalled."
Closures of businesses large and small, across the state and the nation, have led to historic levels of unemployment in Nevada. As of last Friday, the state reported receiving 440,761 initial claims for unemployment insurance, and 303,573 people have filed claims week after week.
Although the Bureau of Labor Statistics reported a 6.3 percent unemployment rate in March, when the claims are taken into account, the rate is 22 percent, the highest in state history.
The WARN Act data represents only a fraction of those claims. The notification requirements, under the federal law, are required for plant closures and large-scale layoffs of more than 500 employees or a one-third reduction in the workforce that affects a minimum of 50 employees.
Some WARN notifications go into detail about the terms of their layoffs. For instance, Hard Rock Hotel & Casino in Lake Tahoe, in its notice that it had laid off 360 employees and furloughed 13 others, outlined steps it took "to help mitigate the impact on our employees as best we could."
It said it provided two weeks of pay following Gov. Steve Sisolak's order to shutdown by March 18, offered staff food from closed restaurants and tried to help employees buy health insurance.
But most of the notices are comparatively brief.
Ruben Garcia, a UNLV law professor and co-director of the Workplace Law Program, said the notices disclose the aggregate effect of a closure or layoff, but leave most of the terms out.
"They don't tell the whole story about what the employees are actually getting," Garcia said.
Since the business closures were announced, hospitality has been hit especially hard. Of the 341,661 initial unemployment claims between March 15 and April 18, nearly 40 percent came from the hospitality industry, according to UNLV's Center for Business and Economic Research.
The WARN Act data echoes those findings, showing big disruptions in hospitality employment.
The big casinos close
In many cases, the closure of a single Strip casino can lead to immense employment disruption.
The closure of Caesar's Palace led to furloughs in early April for 6,148 workers, according to its WARN Act filing. The Bellagio closure affected 6,821 employees and the closure of the MGM Grand affected 6,082 employees, their parent company, MGM Resorts International reported.
Caesars Entertainment announced on April 2nd that it was furloughing about 90 percent of its domestic employees across 13 states. The company, which also owns properties internationally, employs about 64,000 workers. It paid employees for the first two weeks of the furloughs and is paying employee health insurance premiums until June 30 or when employees return to work.
MGM Resorts, which furloughed about 63,000 employees in the United States, announced a similar two-week pay policy and payments for health insurance premium through August.
Other companies have continued paying their employees. Wynn Resorts has said it would pay its employees until May 31. Las Vegas Sands has stated that it plans to continue compensating workers until its "anticipated reopening in June."
But it's unclear how long companies will be able to continue paying employees during the mandated casino closures, and afterwards. Station Casinos had committed to paying its employees, but on May 1 the company announced that layoffs were no longer avoidable.
In a letter to employees, CEO Frank Fertitta III said the company had to make "meaningful staffing level reductions" as it planned to reopen several properties in phases and wait on opening four casinos to "assess how our business is performing in a post-COVID-19 world." Fertitta said employees will still be paid until May 16.
According to the WARN Act notifications that Station Casinos filed with the state, the layoffs were expected to affect 6,434 of its 14,000 employees, and start going into effect on May 1.
The notifications reveal what was expected: Mass layoffs and furloughs across the Strip.
On March 25, Treasure Island sent a WARN notice that the temporary closure of its property would affect 2,225 employees. Days later, the Trump International Hotel notified state officials that 552 employees would be put into temporary layoff status. On the same day, April 3, the Stratosphere notified state officials of "temporary or permanent layoffs" affecting 1,989 workers.
"As you know, the COVID-19 virus recently reached pandemic proportions," Golden Entertainment, which owns the Stratosphere, wrote in its letter. "The federal government and many states have declared a state of emergency and ordered the closure of non-essential businesses and issued travel restrictions. This emergency and these sudden and unexpected circumstances caused the facility closure and adversely affected our business operations."
The WARN filings suggest there are few firm answers about when — and even if — furloughed workers will return to work. Most companies that filed WARN Act notices, across industries, stated that the mass layoffs were temporary and not expected to last longer than six months.
But they include language that suggest the furloughs could become permanent depending on the response to the COVID-19 pandemic. Will travel resume? And when will visitors return?
For instance, in a WARN Act notification for Caesars Palace dated April 22, Caesars reported that it intended "for the furloughs to be temporary; however, given the unknown certainty surrounding COVID-19, it is possible that the furloughs could become a permanent layoff."
Since then, the company has released a reopening plan and said Caesars Palace would be among its first two Strip casinos to resume operations, according to CDC Gaming Reports.
MGM Resorts, which has also released a reopening plan, plans to initially restart operations at New York-New York and Bellagio. But workers still face uncertainty about when the furloughs will end. In early May, MGM Resorts said in WARN notices (it sent similar notices for each property) that layoffs remain temporary, but they could become permanent on August 31.
"Our sincere hope continues to remain that this layoff is temporary, but in light of the continuing pandemic and our extended closure, we are unable to say that the layoff may not last more than six months for at least some portion of our employees," the company wrote in its notifications.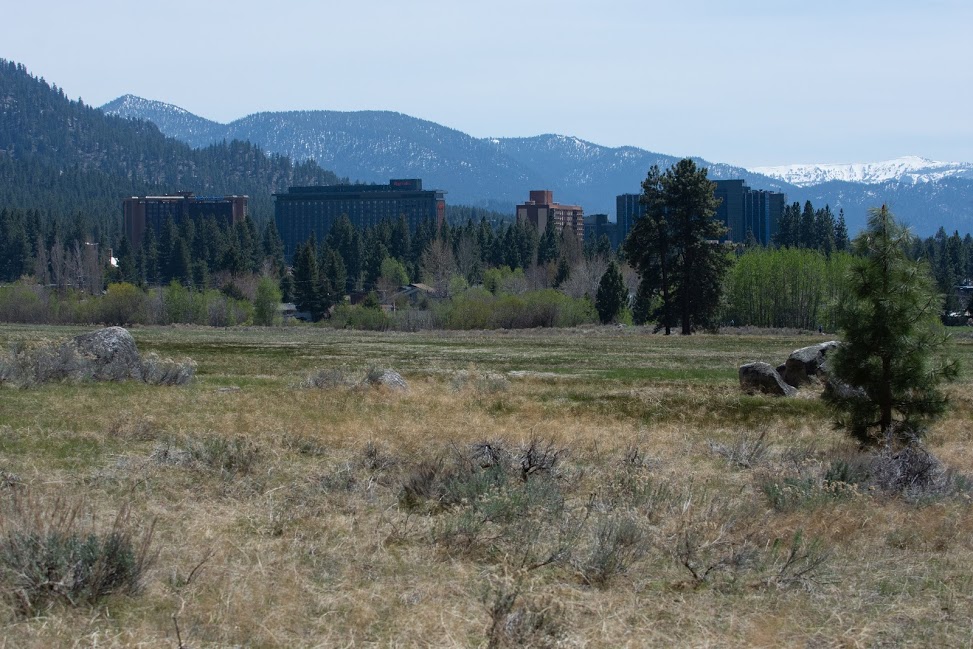 A ripple far beyond the Strip
The layoffs and furloughs reported by the major casino operators only tell half the story.
Restaurants and nightclubs that operate within Strip casinos have also filed WARN notifications that echo the uncertainty that major casino operators expressed in their filings. For instance, on April 13, Cafe Hollywood inside Planet Hollywood notified the state of 158 expected layoffs.
The Hakkasan Group, which operates several nightclubs along the Strip, notified the state on March 16 of hundreds of layoffs starting on March 13, as a result of COVID-19 shutdowns.
"It is anticipated that this cessation of operations of the entire venue will be temporary; however, based on the fluid and rapidly evolving nature of this situation, we are unable to provide a specific date at which we will be able to recommence operations at this time," the letters said.
Businesses that support the industry also had to lay off workers, according to the notifications.
On March 23, Everi Payments and Everi Games, which provide financial services and games to casinos, notified state officials that they would have to temporarily furlough 305 employees in Nevada and 1,136 workers nationwide. Executives at the company took a 70 percent pay cut.
A week earlier, on March 16, Kre8 Media, an outdoor advertising company for clients across the Strip, notified state officials of temporary layoffs as customers terminated their contracts.
"Although we intend to resume normal operations as soon as it is prudent and practicable to do so, we do not know when that will occur," the company wrote in its WARN Act notification.
The Las Vegas Convention and Visitors Authority (LVCVA) also filed a notification.
On April 16, LVCVA provided notification that 350 employees would be affected by furloughs and permanent layoffs. As The Nevada Independent reported that week, the tourism agency expected to furlough 270 employees and lay off about 80 employees out of 455 full-time staff.
But the closures of casinos were not confined to the Strip. Companies reported mass layoffs or furloughs at casinos across the state, including in Pahrump, Laughlin and in Lake Tahoe.
Several casinos on the Nevada-side of Lake Tahoe — in Stateline and Crystal Bay — reported mass layoffs or furlough actions. On April 7, the Montbleu Resort Casino & Spa in Stateline notified officials that they planned to furlough 510 employees. On April 22, Harrah's Casino Hotel Lake Tahoe and Harvey's Resort Casino Hotel notified officials that 1,752 employees had been furloughed. And on April 24, the Tahoe Biltmore notified state officials that 96 employees had been laid off.
"At this time, we cannot state the anticipated duration of this layoff," the Biltmore said. "While we expect this layoff to be temporary, we cannot predict the spread of COVID-19, the government's corresponding actions, or the impact this situation will have on our business moving forward."
The lawsuits to come?
The WARN Act is meant to do what its acronym suggests: to warn of impending layoffs.
Under the law, companies are typically required to give employees and state labor officials 60 days of notice before a mass layoff or plant closure. If they fail to do so, they could, in certain cases, be sued and held liable for paying employee salaries and benefits for 60 calendar days.
But with governments ordering the immediate closure of businesses across the country, WARN Act notifications have come weeks after the mass layoff or furlough occurred. Most companies are citing an exception to the 60-day notice rule for "unforeseeable business circumstances."
It is unclear how that exception applies to the COVID-19 crisis. The U.S. Department of Labor issued a guidance about WARN Act requirements and COVID-19. Still, the guidance does not provide a definitive answer. The agency recommends businesses review the statutory language, but says the "guidance is not binding on courts and does not replace the advice of an attorney."
The Labor Department argues the courts are responsible for enforcing the law. The guidance says the act "is enforced by private legal action brought in the U.S. District Court for any district in which the violation is alleged to have occurred or in which the employer transacts business."
Christian Gabroy, a Las Vegas-based labor attorney who represents workers, said the situation is unprecedented. He said cases in which essential businesses — companies allowed to stay open — conducted mass layoffs of employees with little or no notice could run awry of the law.
But the issue is likely to arise on a case-by-case basis. Gabroy said "companies are running the gamut on all different kinds of options," all responding to the closures in different ways.
"I've never seen anything like this in my 17 years of employment law," Gabroy said.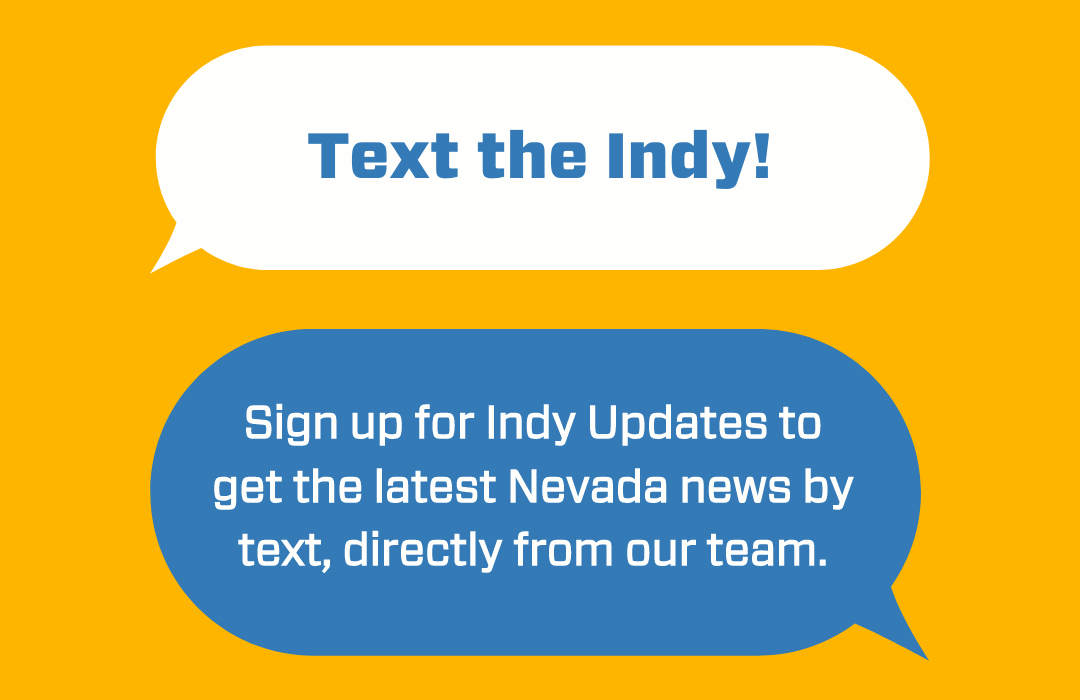 Featured Videos
Comment Policy (updated 4/20/2021): Please keep your comments civil. We reserve the right to delete comments or ban users who engage in personal attacks, use an excess of profanity, make verifiably false statements or are otherwise nasty. Comments that contain links must be approved by admin.