Understanding the latest unemployment claims numbers in Nevada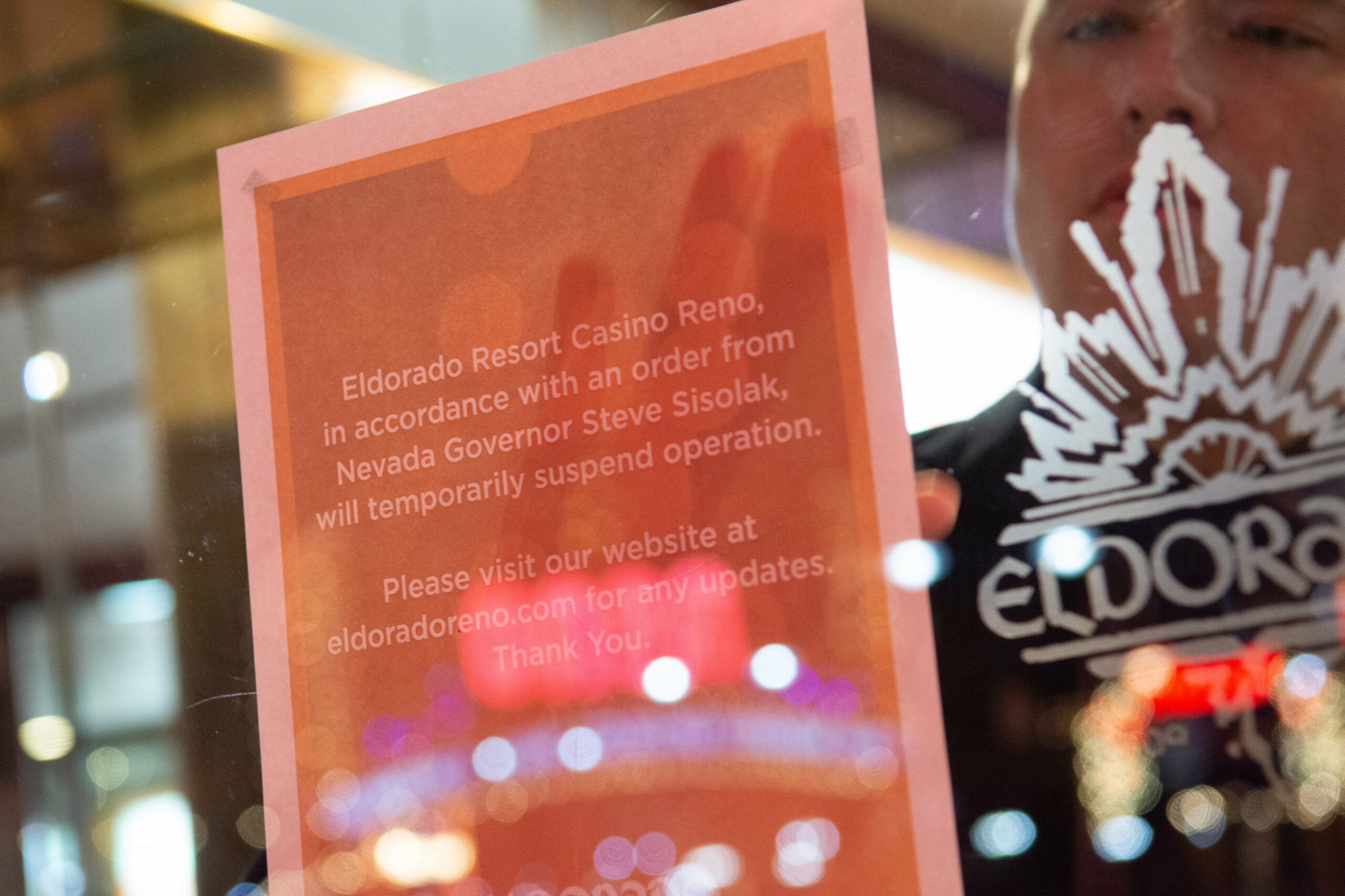 The Nevada Department of Employment, Training and Rehabilitation announced on Friday that there were 28,550 initial claims for unemployment filed in the week ending May 2. It's the lowest number since the pandemic began, but still about 10 times greater than the pace of a "normal" pre-pandemic period, when there were about 2,500 claims in a week.
The new figure means that so far in 2020, there have been 440,761 initial claims for unemployment filed. That figure represents more than 28 percent of Nevada's entire workforce of nearly 1.6 million people.
While Nevada's unemployment rate stands at 6.3 percent — it has not yet been updated to capture the worst weeks of the pandemic's downturn — officials have updated the less commonly used "insured unemployment rate" metric.
The state's insured unemployment rate is 22 percent, the highest in its history. That rate is a ratio of the number of "continued claims" for unemployment to the number of "covered jobs," or those that would be eligible for unemployment benefits in the event of a layoff.
Unemployment is an insurance system, meaning that employers must pay on behalf of their employees so the state can pay benefits if the worker loses that job through no fault of their own. In some cases, employers have not paid into the system on behalf of a worker either intentionally or unintentionally, and the claim goes to a "wage protest" process that might result in the business being forced to pay a penalty for misclassifying a worker.
Initial claims are simply an application for benefits and don't guarantee eligibility. Anyone could file an initial claim — even someone who's ineligible because they already have a job, weren't doing work that is "covered" by unemployment insurance, or is an independent contractor.
Meanwhile, statistics released Friday show there are now 303,573 "continued claims." That figure represents people who are filing claims week after week that affirm their unemployment and need for another payment.
"That number has been rising as more and more people are coming into the system, while our initial claim number has been falling because we saw the big surge in early March, and it's been slowly trickling down over the months," David Schmidt, chief economist for DETR, said in an interview on Friday.
The state's unemployment insurance trust fund has a balance of nearly $1.6 billion — enough to pay four months of benefits if payment levels stayed static.
During the months of March and April, DETR has paid about 219,000 "first payments" to claimants. While that is about half of the number of initial claims filed during that period, Schmidt said there's more nuance to the situation than the idea that half of claimants are stuck in the system.
Of the people who have filed initial claims, nearly 72,000 are not eligible for regular unemployment insurance, Schmidt said. That can be because they can fall in a narrow set of exemptions in state law.
Many who file initial claims never make it past that step and onto the continued claims figure because they are ineligible. That might be because they are independent contractors or gig workers. While Congress has passed legislation for "Pandemic Unemployment Assistance" that would expand benefits to this group, the program is not up and running in Nevada yet and is expected to be open to applications in mid-May.
"Something that we have seen is people who come and file for regular unemployment thinking that because of the provisions of the CARES Act, as a self employed or gig worker, they're now eligible for UI," Schmidt said. "And while that's nearly true, it's not quite."
Other reasons people who filed claims are not receiving payments are that they have failed to file a new claim with the state each week. Sometimes, it's simply that a claimant doesn't realize they have to keep filing week after week to keep payments flowing.
"While we try to communicate 'you absolutely need to keep filing those weekly claims,' we actually had about 42,000 people where there was a sort of a slot for them to file a weekly claim, but they did not actually file a claim," Schmidt said.
About 17,000 claimants didn't make enough money to qualify for benefits, but may have military or out-of-state wages that, once added, will make them eligible for benefits. About 55,000 weekly claims were not fulfilled because the application is flagged as "pending" and has not been completed for some reason.
"We want to make sure that [we're] looking back into the data to see is there anything in common that affects these claims?" he said. "Is there some other point that people have in common that we can try to address?"
In an interview earlier this week, DETR Director Heather Korbulic said coding changes were able to help the agency batch-correct large numbers of claims that were stuck in "pending" status for issues such as claimants incorrectly responding to a question about whether they are available for work. Unlike in pre-pandemic times, beneficiaries during the current state of emergency do not need to affirm they are available for work to receive money.
Schmidt said that on the flip side, there were 234,259 weekly payments made in the week ending May 2, and 76.5 percent of the continued claims filed for the week ending April 25. were fulfilled.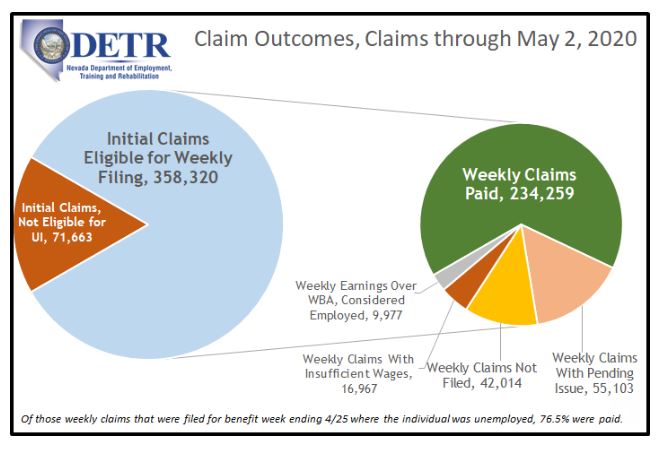 Once the Pandemic Unemployment Assistance system gets up and running in coming days, the state will also get more definition on how many Nevada workers are self-employed, gig workers or independent contractors. How many people fall in that category has long been an open question and estimates range from about 80,000 to 250,000.
Schmidt estimates that it's probably at least the 72,000 or so people who tried to file for unemployment and were deemed ineligible because their wages were too low.
Above all, implementation of that program means many more workers suffering in the downturn will get help.
"In my chief economist's role, data is really great," he said. "As excited as I am about the data, I'm a thousand times more excited about the prospect of being able to get those people paid and get them the assistance that they need."
The Nevada Independent is raising $200,000 by Dec. 31 to support coverage of the 2024 election.
Tax-deductible donations from readers like you fund this critical work.
If you give today,your donation will be matched dollar-for-dollar.
Give + Get Matched
Featured Videos