They dream of staying in the United States, these youngsters who arrived here as children, undocumented through no fault of their own. They grew up without knowing of any walls or any borders. The Spanish-language version of The Nevada Independent will publish interviews with three young dreamers from Las Vegas, who provide insight into their lives before and after the recent immigration measures imposed by the federal government.
This is the third interview in the series, this one with Erika Castro, Immigration and Environmental Justice Organizer of the Progressive Leadership Alliance of Nevada (PLAN).
----
It is almost her 28th birthday. Many things have changed since she came to Las Vegas, where she has lived ever since she came to this country at the age of three. Erika Castro has always known that her parents decided to emigrate because of the economic necessities of their home life in Tlalnepantla, State of Mexico.
Being different
Castro was just seven years old but she remembers very well, by the way it happened, when she first began to realize she was different.
One day in Las Vegas, she was walking home with her mother, her aunt and her cousin when they decided to stop at a store.
"Immigration was there. I was very young and didn't understand what was happening, but then my mom started to cry," said Castro. "Her face conveyed fear. My aunt told my mom to go. So, my mother took me, and we ran home."
Seeing that her aunt and cousin -- both had been born in the U.S. -- had remained behind in the store, she realized there was a difference. Reality was catching up with Castro.
When she was in seventh grade, she gladly received the news that she had been accepted for the Junior Honor Society and that she would fly to Washington, DC at the end of the program. She never boarded that plane.
"That was when I realized that this was something I couldn't do, because my parents were afraid just to go to the airport. They said 'Immigration is there, and we can't go.'"
A dreamer
After finishing high school, Castro wanted to join the military, but she wasn't able to do so. She didn't have a Social Security number.
"It was another disappointment, just like many others, because unfortunately it didn't happen," she said.
But her life was about to give an unexpected turn: The Deferred Action for Childhood Arrivals (DACA) was announced.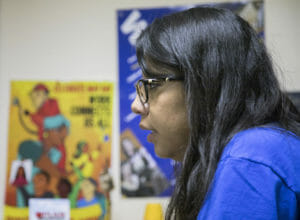 She excitedly and nervously received the news and began to find out more about the initiative. She also took it upon herself to look for organizations where there were other people in her same situation -- other DREAMers.
That is how she discovered the Progressive Leadership Alliance of Nevada (PLAN), where she now works as a community organizer encouraging those who can vote to value and to exercise this right.
"Right now, I have DACA on my side. This has given me the privilege to work. I am studying and, somehow, it does give me a little sense of ease," she said. "But, under this administration, I know that, even if you are a part of DACA, it doesn't mean that you are protected all that much."
Uncertain future
Despite the benefits offered by DACA, Castro says that her way of feeling and thinking has since the election of Donald Trump as President.
"I knew things would not be the same following what this man had to say during the campaign -- the way in which he spoke about the immigrant community carried a lot of hatred and discrimination. I knew I was going to feel the same way I did before I was covered by DACA," she said.
Although part of her current role is to inform the immigrant community about their rights, Castro said that´s sometimes difficult, because they are the same conversations she has with her own family, as well as her parents, who are still undocumented.
"I get home and, although my brother is a citizen, he is also worried. This is one of the hardest things to see and it is what causes me heartache. Sometimes I feel so powerless to not be able to control my future," Castro said.
Nevertheless, she stands by her ideals in the company of her PLAN colleagues. In fact, on March 15, Castro traveled to Carson City with other PLAN members, fast food workers, immigrants and students, as part of Day of Action, where they met with legislators to push for their priorities in the current legislative session.
"We are supporting legislation to increase the minimum wage, which is something that could greatly help the immigrant community. To tell our representatives that we need their support and to hear us out," she said.
Castro said that at the end of the day, whatever happens, she does not plan to give up. Remembering the story of her parents, who arrived in the country 20 years ago, gives her strength. She also wants to ensure that people do not forget that the parents of DREAMers can also get support.
"I have not stopped dreaming," she said.
Feature photo of Erika by reporter Jeff Scheid.