More than 324,000 people filed 'continued claims' for unemployment in Nevada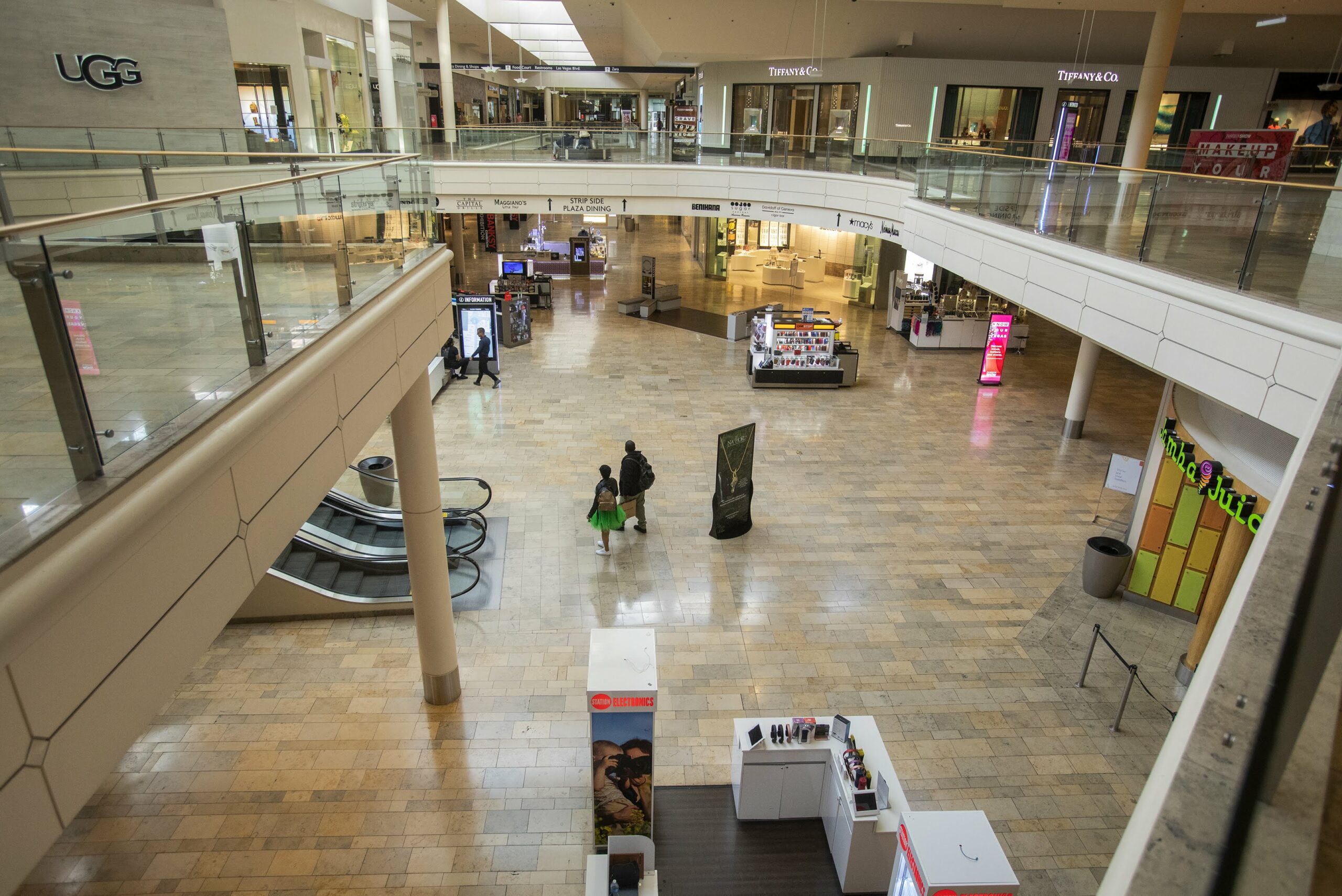 The number of people filing unemployment claims week after week in Nevada continued to grow even as the pace of people filing initial claims for benefits has slowed.
Statistics released Friday by the Nevada Department of Employment, Training and Rehabilitation show that 324,444 people were filing "continued claims" with the state in the week ending May 9. The insured unemployment figure — the rate of people who are eligible for unemployment benefits who are unemployed — reached another new record of 23.5 percent.
Nevada's insured unemployment rate is the third highest in the nation, the U.S. Department of Labor announced Thursday. That rate is not the same as the widely understood monthly unemployment rate, which stands at 6.3 percent because it has not been updated to account for the weeks of the most widespread pandemic-induced economic pain.
The state paid out nearly $95 million in regular state unemployment benefits in the week ending May 9, as well as $160 million in Federal Pandemic Unemployment Compensation — the $600 payments on top of regular benefits. Those figures are down slightly from the previous week, and the balance in the state's unemployment insurance trust fund (which is always both paying out payments and bringing in new payroll tax revenues from employers) stands at $1.6 billion — a slight rebound from the week before.
State officials said there could be several reasons for the drop in payment amounts, including that as the agency catches up on payments, claimants are no longer getting large lump sums of back pay and are instead receiving standard weekly amounts. It could also be because some people are reporting income that means they're entitled to smaller or no payments for that week.
Meanwhile, the number of initial claims filed the week ending May 9 was 21,635, down nearly 7,000 from the week earlier. Initial claims are simply an application for benefits and may be denied because a claimant is ineligible.
Still, 462,396 initial claims have been filed in the year 2020, mostly during the pandemic period. That's equivalent to nearly 30 percent of the state's workforce.
The state says that among the initial claims filed through the week ending May 2, there were 376,881 who were able to file and 78,508 people were unable to file.
Among those who could file, about 68 percent of the claims were paid, while about 14 percent are held up because of a pending issue and about 12 percent because they didn't file a claim for a particular week even though they are eligible.
DETR officials said they continue to monitor weekly claims for a decline that would indicate people regaining employment as businesses return under Phase 1 of the state's economic reopening.
"There has not been a dramatic change in the data yet," an agency spokeswoman said.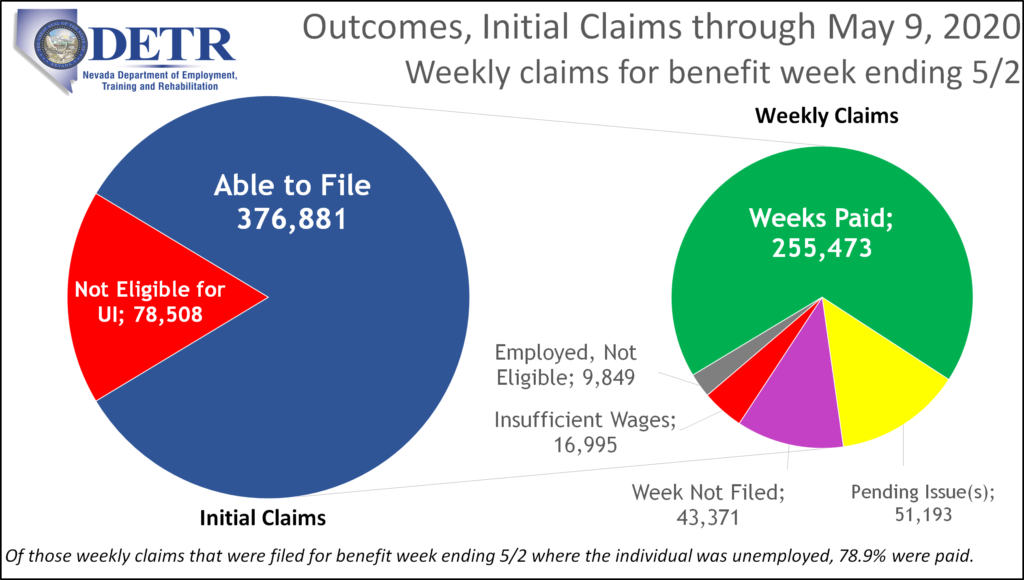 Preparing for gig worker unemployment
The state is expecting a large wave of new applications for unemployment benefits through the Pandemic Unemployment Assistance program (PUA) that is set to launch Saturday. That federally authorized program offers payments to people who traditionally don't qualify for benefits, such as independent contractors, gig workers and the self-employed.
It's unclear how many Nevadans will qualify for the program, but state officials say they expect it's at least 70,000, including many of those who have already filed initial claims but were denied benefits.
"We recognize there's a significant population of Nevadans who are anxious to apply, and we wanted to ensure that the system can handle the load of 70,000-plus individuals applying," Korbulic said. "We've also been meeting with our call center vendor Alorica to make sure that today, they're all receiving the necessary training to help answer questions."
The state is opening phone lines at the 100-person call center from 8 a.m. to 8 p.m. on Saturday and Sunday, the first days the program will be open to applicants, but officials are encouraging applicants to file online at employnv.gov.
PUA beneficiaries would be eligible for back pay retroactive to when they were first eligible, as far back as Jan. 27. Korbulic said recipients would receive the back pay in tandem with when they start receiving their regular payments.
Asked if recipients should worry that the PUA funds would be depleted, Korbulic pointed out that the payments are not funded out of the state trust fund, as regular state unemployment is.
"These are federal funds, and so there is no risk of that being exhausted," she said.
Updated at 5:40 p.m. on May 15, 2020 to add additional comments from state employment officials.
The Nevada Independent is raising $200,000 by Dec. 31 to support coverage of the 2024 election.
Tax-deductible donations from readers like you fund this critical work.
If you give today,your donation will be matched dollar-for-dollar.
Give + Get Matched
Featured Videos