Murren details 30,000 per day testing goal, projects Las Vegas will see a 'quicker' recovery than most other places in the U.S.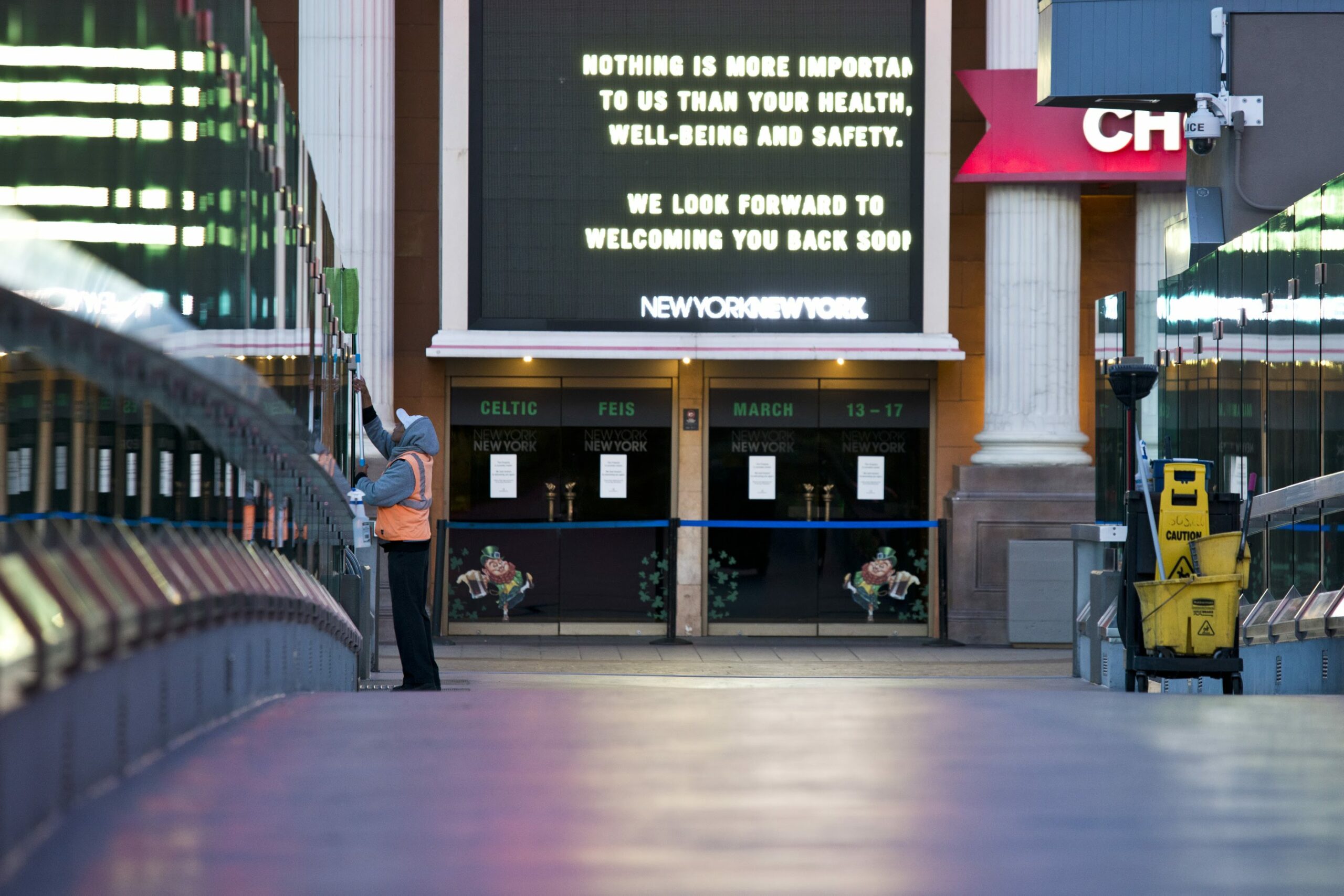 Jim Murren, who helms the private-sector task force charged with assisting the state's coronavirus response, envisions a near future in which 30,000 people a day will be tested in-state for COVID-19.
It's an ambitious goal — about double, he says, from what the Centers for Disease Control and Prevention estimate the state would need based on its population — but one he views as necessary in order to not only serve Nevada's two urban populations, but its rural residents and tourists as well.
"I believe that testing is a business imperative and needs to be viewed that way, not just as a public health response," Murren said in an interview with The Nevada Independent on Thursday. "I'm fairly indifferent to where that capacity is housed, as long as it's convenient and close to the Strip. But I believe that that's a good goal to have."
Murren outlined a future in which the county-run University Medical Center in Las Vegas is running 10,000 tests a day, Renown Regional Medical Center and the Nevada State Public Health Laboratory in Reno are running another 10,000 tests a day, and 10,000 more tests are run elsewhere in Southern Nevada, perhaps at UNLV or another university.
"There's also a variety of other efforts that the task force could help support," Murren said.
But an increase in testing isn't the only change on the horizon. Murren, the former CEO of MGM Resorts, believes the pandemic may usher in a wave of new technologies across gaming companies, including ones that would allow guests to use their smartphones as their hotel room key and digital wallet.
"My vision for that is — and I go back to the first crisis I dealt with when I was in Las Vegas, which, of course, was 9/11 — 9/11 didn't keep people from flying, it just changed the way we flew. Many protocols were put into place that we never envisioned before that horrific day, and it was hard to adjust at first. It was an inconvenience, there was time where it was a little disorganized, and then over time we adapted to that," Murren said. "I view the same thing here."
Murren said that he can see some events — such as sporting events, poker tournaments and prizefights — happening within the next 30 days, albeit with a fanless audience.
"I think that's a potentially achievable goal," Murren said.
The former gaming executive isn't sure how long it will take the Las Vegas Strip to return to normal; however he does think that Las Vegas will see a speedier recovery than Orlando or New York.
"I think the recovery is going to be quicker here than most any other place in the United States," Murren said.
This interview has been edited for clarity and length.
Maybe we can start by talking about the personal protective equipment the task force has been able to secure. Has that been mostly securing donations to purchase PPE? Is it working directly with suppliers?
When we stood up the task force, we were very deliberate about who would join. We weren't looking for a blue ribbon committee or folks that were well-intentioned but just going to be resume padders. It was really the idea from the beginning that it's a very targeted, mission-driven, private sector, problem solving group of men and women. People have asked, on occasion, "Why haven't you tackled this issue or that issue?" Our feeling has been we need to stay very focused so that we could dig deep into some of the more pressing problems and then try to solve them and then move on.
The most immediate need was PPE, a critical, dire need. We talked about that for the first couple of days, about how to tackle that, and we felt that we could leverage some of the largest companies' resources outside of the United States, and that's where I started with MGM and that led to working also with Wynn and with Las Vegas Sands and NV Energy and Nevada Gold Mines reaching out into their procurement channels. So first we stood up a procurement subcommittee. [NV Energy President and CEO] Doug Cannon and [PureStar West Region President] Alex Dixon run that. Doug Cannon has given us his services, his head of procurement, a woman named Adrien Lane. We contacted MGM China, Wynn China, Sands Macau, and put those procurement people in touch with this point.
We get a needs list from the state, which dynamically inputs from all the state agencies, hospitals, medical care providers, first responders, education. That needs list is accumulated by [the state Department of Health and Human Services], and we get that list and we go out and start fulfilling it by entering into purchase orders directly with manufacturers, largely in China but around the world.
It's been very successful. We had some missteps, meaning people that didn't fulfill orders. There's been a tremendous amount of cost inflation and devious actors that have tried to insert themselves, and we've been able to minimize, almost eliminate that entirely because of the heft of these bigger organizations. We have bought over $10 million worth of PPE that has either been delivered or is being delivered. We needed to raise philanthropic dollars in order to put down down payments and even get the attention of manufacturers and distributors for this PPE, so that was a big part of the effort.
You mentioned some bad actors. There have been some reports, especially early on, about planes filled with PPE getting intercepted by the U.S. government or other governments. Was that something that you all faced?
We had a couple orders early on fall out. Before we spent any money, we had hands on, eyes on the product, and in at least one case … and it might have been two, an order was never fulfilled. Using the relationships that the three gaming companies have has been very, very valuable because they have been active for over a decade in that part of the world and they have established relationships with vetted sources.
We also have been very mindful of cost. You read about these horror stories of people paying $6 for an N95 mask. We have been fortunate that we've been able to use these relationships to get purchased items at reasonable cost, and we've been buying as intelligently as we can. To date, we've had no instances of defective or counterfeit products. We have had, I know, a very good track record in terms of what we're paying for the PPE.
But I've read horror stories and well-intentioned people, private sector, state governments, there's been a lot of fraud. Like any crisis, it brings out in many cases the best people but also the absolute worst of people.
What happens to the PPE once it comes in?
One of the many good moves I believe the governor made was he stood up the National Guard and brought in Caleb Cage [the former chief of the Nevada Division of Emergency Management], who is well known in our state. Caleb and General [Ondra] Barry [the adjutant general of the Nevada National Guard] handle all the logistics. The task force doesn't decide what PPE we should buy. We're told by the state, and we act as a procurement arm and as soon as it hits Nevada, it goes to the state warehouses, north or south, and is distributed by the guard.
You mentioned the task force has raised $10 million to purchase PPE. Is that $10 million inclusive of the PPE that gaming companies have secured on their own to donate to the state?
We're up to $12 million now that we've raised, and we purchased $10 million worth of PPE and not all of it is actually in Nevada right now. Some of it is in transit. But that's the money that we have used, the philanthropic dollars, for PPE. In addition to that, many, many companies — construction, retail, energy, mining and, of course, gaming — have given in-kind donations, and those in-kind donations of PPE are treated the same way. They go right to the state warehouses and they are distributed based on DHHS.
Have we been in a better place to procedure PPE than other states because we have this task force? Do you have any sense of how we stack up?
I would say that we have our advantages and disadvantages. The disadvantages are we are a small state with fewer resources in general. We have less of an evolved medical infrastructure than other states. On the other hand, the task force has been a positive element by bringing focus to a couple important areas of responding to the crisis. The large companies have, I think, leveled the playing field quite a bit. It's almost unheard of to raise $10 million in five days. That doesn't happen in most states, even much bigger states — to be able to raise money, stand up a purchasing network quickly, and be given the authority by the state to do this — there's less state bureaucracy than in many states, including where I'm from, Connecticut. So I think it's a mix of some advantages we have and some disadvantages, and we certainly have overcome most of the disadvantages that a small state would normally have.
That's one thing I learned — I learned after 9/11, I learned during the Great Recession, I learned after 1 October — if there's any lesson to be learned through these very epic, horrific crises, it's that relationships matter. They absolutely matter. Being able to pick up the phone, call somebody, people call you, to put a face to name is really valuable.
You have said that we need to get to 30,000 tests a day in Nevada. Where does that number come from?
Early on in the task force formation, we began to also respond to the urgent, very dire situation we were in as a state in terms of testing capacity. We did an inventory of the state's testing capacity ... We quickly came to some obvious conclusions that we were not prepared to be able to test our population.
There are multiple problems. The first is that the state itself does not have the capacity to process tests at scale. It has testing laboratories, notably the Nevada state testing lab that Dr. [Mark] Pandori runs and UMC has a very fine laboratory. But specific to COVID testing, we did not have a depth of in-state labs. Second, is that therefore meant that we were vulnerable and dependent upon out-of-state labs to process our tests.
In diagnosing this problem, we quickly came to the conclusion we had to help stand up in-state testing labs, and we started with UMC. We got engaged with the management team there ... and they said, "Well, we were running off of this one platform. We liked it a lot. It's called DiaSorin, but we only can test 100 people a day." Again, it's a razor blade, razor phenomenon. We can only test as many tests as we have. So we got on the phone with DiaSorin and we developed a relationship with them. They put us closer to the front of the line. We were getting more testing done with DiaSorin, which was the beginning of it.
But then, learning about it, [UMC's lab director] Lisa [Gorlick] talked to me that, you know, a more practical solution would in addition to that would be to find an open platform processor. She landed on Thermo Fisher as a manufacturer. The Thermo Fisher machine is a high throughput machine that can test thousands of samples a day, and so we worked with Thermo Fisher, they're based in Massachusetts, and we were able to help them borrow a couple of machines — two from the Department of Agriculture in Nevada, one from UNLV — and purchase others, and they're now building a second lab at UMC. It was an occupational therapy location, and they're literally building from the ground up a COVID laboratory at UMC, which is why they're able to scale up. Their goal is 10,000 tests by the end of this month.
Then back up in Reno, Dr. Pandori and Renown, collectively are shooting for an objective of 10,000 tests daily to handle Washoe and the rural communities. Then, now back to Las Vegas, we're most likely going to need even more than the 10,000 tests daily, and we made it an objective to help find capacity for an additional 10,000. That's how you get to the 30,000 number that I've talked about.
It started with the CDC guidelines of what would be based on the population, that would have been roughly about half of that if you look at it statewide. But our feeling is that we're a very unique state for two respects. One is obviously the surge that we get from the tourist population north and south, but particularly in Las Vegas, and then secondly, the logistics of the rural population throughout the state and making sure that we are a state task force and so that we could make sure that there's ample testing capacity, particularly in remote areas, to minimize the turnaround time for test results.
My understanding is there is a group called G42 out of Abu Dhabi that is involved somehow in boosting testing capacity. What is their role?
Part of what we have been doing as a task force is looking around the world to see what best practices, what learnings can be adopted, can they be adapted to Nevada, and particularly in parts of the world where COVID had emerged early.
Part of that outreach was to talk to folks in China and Hong Kong and Macau, but also folks in Europe and in the [United Arab Emirates]. Of course, the UAE and Las Vegas have a long relationship at multiple levels … We have a lot of friendship, relationships, and one of the intriguing emails I had was someone I know that said that this company G42 had partnered with a variety of companies around the world, Oxford Nanopore, which is a spinoff of the University of Oxford in the UK, Argonne, which is the National Lab in Chicago, and BGI, which is a large genomics company in China, and they had built from the ground up in 14 days a high throughput lab in Abu Dhabi, and that was very appealing as a potential prospect.
So we got on the phone with the G42 people that had organized this pop-up laboratory — they've been building them in China and Europe and in Abu Dhabi — and we had their lab people talk with the UMC lab people about what our capabilities, what our current capacity was, and there was literally a pause in the conversation ... they're talking to the scientists in Abu Dhabi about well, what kind of capacity do you have, what machinery are you running, what type of tests do you have, and our UMC folks laid out the state of affairs in Nevada, which is how much of the shortage we had on the basic building blocks of testing our population, consumables like swabs, wipes, the test kits themselves and reagents to be able to run them, and then, of course, the lack of machinery.
It was really a poignant moment because there was a pause in the conversation and the folks in Abu Dhabi said, "Well, I don't know what we can do here, but let us think about it for a bit, and we'll get back to you." I think the original expectation was to talk about how to strategize and reopening buildings and what a concert or a sporting event would look like in the kind of AI work that they're doing around the world to potentially reopen Premier League football stadiums in Europe and Formula One races, but there was quickly a realization that we are in a very different place. We have a crisis, and we couldn't have those kinds of lofty discussions when we're testing a couple hundred people a day.
They got back to us and they said, I think we can help, and through the generosity of the Abu Dhabi government they sent over, via DHL, a tremendous amount of basic testing material — consumables swabs, test kits — they had in their possession in the UAE. That gave UMC incredible inspiration and the motivation also to encourage themselves to build the second lab that they have now built. As it relates to G42, it's still at a very high-level strategic discussion, because we're still trying to get through the building blocks of testing people in Nevada.
You mentioned the 10,000 tests at UMC and 10,000 up north. Where will the remaining 10,000 in Southern Nevada come from?
There are few options. It hasn't been determined yet. UMC is very ambitious ... They have, I'm sure, aspirations to be able to do more than 10,000, either on their campus or someplace else. There's also a variety of other efforts that the task force could help support, whether it's at UNLV or universities, like Roseman or Touro, or a standalone lab could produce.
Ten thousand is considered to be more than the CDC guidelines based on our current population in Clark and the surrounding counties, what we would need in Southern Nevada. Based on the national guidelines, we should want to have a testing capacity of 4,000 or 5,000. We feel like we're Nevada so we want to do things better.
But we also serve 43 million people a year in Las Vegas, and we have to think ahead and I believe that testing is a business imperative and needs to be viewed that way, not just as a public health response. I'm fairly indifferent to where that capacity is housed, as long as it's convenient and close to the Strip, but I believe that that's a good goal to have.
A lot of people are thinking about when the casinos open, what is that going to look like, and as we start thinking about big events, what protocols are we going to need to have in place. You mentioned utilizing AI technology. What kinds of things are in the works, and what tools will we have in our tool belt as we think about reopening gaming and entertainment?
A few things on that. The gaming companies and the entertainment owner-operators, the AEGs, the Live Nations, the convention companies, such as Reed, our convention center itself with Steve Hill, they're all developing and they've hired a tremendous number of subject matter experts and, again, this is a global crisis that requires global cooperation and solutions. I'm finding a tremendous amount of cooperation and sharing of information and transparency between the gaming operators and other segments of the Nevada business community, and that isn't always the case. I've been in the gaming business for 22 years, it's not always as transparent and cooperative as it is right now. I think that's an important positive.
The second is it's a highly regulated industry and the Gaming Control Board is the gold standard in the world for regulating the unrestricted license holders, and they've set out some very clear requirements of what to expect in terms of health-safety protocol plans that the licensees have to submit. Some of them have been made public, like Wynn disclosed their initial plan, though I'm sure every plan is being amended, adopted, modified and improved as the information unfolds. Most of what you've written on is actually transpiring in terms of what type of protocols will be put into place.
It's not hard to understand how a resort like Bellagio can open with really safe, strong protocols, distancing machines, table separation, food and beverage modifications, or Wynn or the Venetian. That's smart business. There'll be some technology; there'll be some incredible diligence around that. What's interesting for people to think about is how does the stadium, an arena, a large concert sporting event, how does that work? How will that feel? What will have to happen? Those are the big questions that are being asked right now.
My vision for that is — and I go back to the first crisis I dealt with when I was in Las Vegas, which, of course, was 9/11 — 9/11 didn't keep people from flying, it just changed the way we flew. Many protocols were put into place that we never envisioned before that horrific day, and it was hard to adjust at first. It was an inconvenience, there was time where it was a little disorganized, and then over time we adapted to that and then over time technology improved the experience, through companies like Clear or Global Entry.
I view the same thing here. This is a different security crisis. It's a health security issue. I think there will be really an igniting of technological innovations that will dramatically increase the use of digital technologies for customer interaction. We've been talking about it for years. The technology is already there to use your smart device as your hotel room key, as your digital wallet, as your retail interface. It could also be used for any number of ticketing services, but it was only slowly being adopted before the pandemic because it's money. It takes money to retool thousands of hotel rooms. It takes money to exchange the back of the house systems that talk to one another, but it's going to become more and more the norm and, ultimately, a positive for consumers as it becomes more and more frictionless. I think that these large scale events are going to pave the way for a lot of that happening. 
You've talked about how things changed after 9/11. Can you paint a picture of what you think the new normal for Las Vegas might look like — in the short term things are going to look different — but what kinds of things do you think are going to stick with us from the pandemic?
I'm extremely hopeful, and I'm very committed to learning the lessons of the present and the past. In this case, the lesson of the present is we need to invest, significantly invest, in public health in Nevada, and it has to be viewed differently than it has been viewed generally or in the state. This is not just a public health crisis. This is an economic crisis, and we have to invest in public health, whether it's testing or other innovations to improve health outcomes as we would invest in a new restaurant or a stadium or any other building block to building our economy. It's as, if not more, important. So number one, I recognize that as a young state we've had some shortcomings. We have centers of excellence, we have some outstanding men and women in the field of medicine. But we can do more and we need to do more. That's number one.
Secondly, there's two futures for Las Vegas. There's the future that we're in now, until there's a vaccine and then there's the future when there will be a vaccine. Between now and when we're all vaccinated for this, we're just going to have to respect one another, we're going to have to act differently, we're going to have to share the responsibility in health. That's to the benefit of us all. I'm very confident in Las Vegas, in particular, because I know that we have a small number of companies that represent a vast majority of employees that are all thinking exactly the same way right now. I think that's going to permeate very broadly through the valley. I think technology investments will be more robust than ever before, even if that means that money is going to be allocated differently than in the past, maybe we don't renovate the next three restaurants, but we put that money into digital technology instead or into AI-backed solutions to improve logistics and customer interactions.
I believe that hospitality, entertainment, sports are essential to quality of life. I believe that people will continue to crave, desire those experiences. But I think also that we're going to have technology-based solutions around many of them, and that Las Vegas is going to open up in phases where you'll have a dynamic of gaming-centric customers coming back into the resorts to enjoy what they like to enjoy. We'll have sporting events and poker tournaments and other events most likely initially in a fanless environment, but will be a great way to get out safety protocols, testing, distancing, and of course show the world Las Vegas, to have a prizefight or a UFC card. Why couldn't that happen in the next 30 days? I think that's a potentially achievable goal.
As we learn more about antibody testing and getting that as broadly based as possible, we'll also know more about what our level of safety is, and that's going to get people out more. But there's only one Las Vegas.
These are privileged licenses, which means lack of adherence to these regulations means no business. A brand new stadium, an almost brand new arena, a lot of interest in sports, and very dedicated people who love our community, those are all very encouraging signs that we will come back. I feel confident that the Strip is going to feel the way it did the way it did last year with all the events. But I hope people feel a little bit differently, and I hope that we made some permanent changes in health infrastructure in the state.
How long do you think it will be for the Strip to feel the way it did?
It's so hard. It's just a total guess. My answer would be no better than anyone else's. It boils down to the vaccine. When we have a broadly distributed vaccine not only for the United States but the key visiting countries of Europe, Asia, Latin America and Canada.
Do you think that means recovery will take longer here, because it's not just about the recovery of the U.S. but of the global economy?
No, I think the recovery is going to be quicker here than most any other place in the United States. First of all, we have a huge drive-in business, half of our visitation. We have a very robust domestic fly-in business. The international business is bifurcated between the high-end business — which is going to come back very quickly, it always does, it's come back very quickly after every crisis that we've had, and actually held up reasonably well during the Great Recession — and the group business. Now, the group business probably doesn't come back as quickly, but Las Vegas is not as dependent on the international group business as it is domestic business and the high-end international business.
I like our outlook much better than, say, Florida or New York or some of our principal convention or hospitality competitors because of the ability to pivot very quickly and market very quickly as a value destination. I think it's going to be very possible that we come back before the others.
The Nevada Independent is raising $200,000 by Dec. 31 to support coverage of the 2024 election.
Tax-deductible donations from readers like you fund this critical work.
If you give today,your donation will be matched dollar-for-dollar.
Give + Get Matched
Featured Videos