Nevada colleges brace for Supreme Court's imminent decision on future of DACA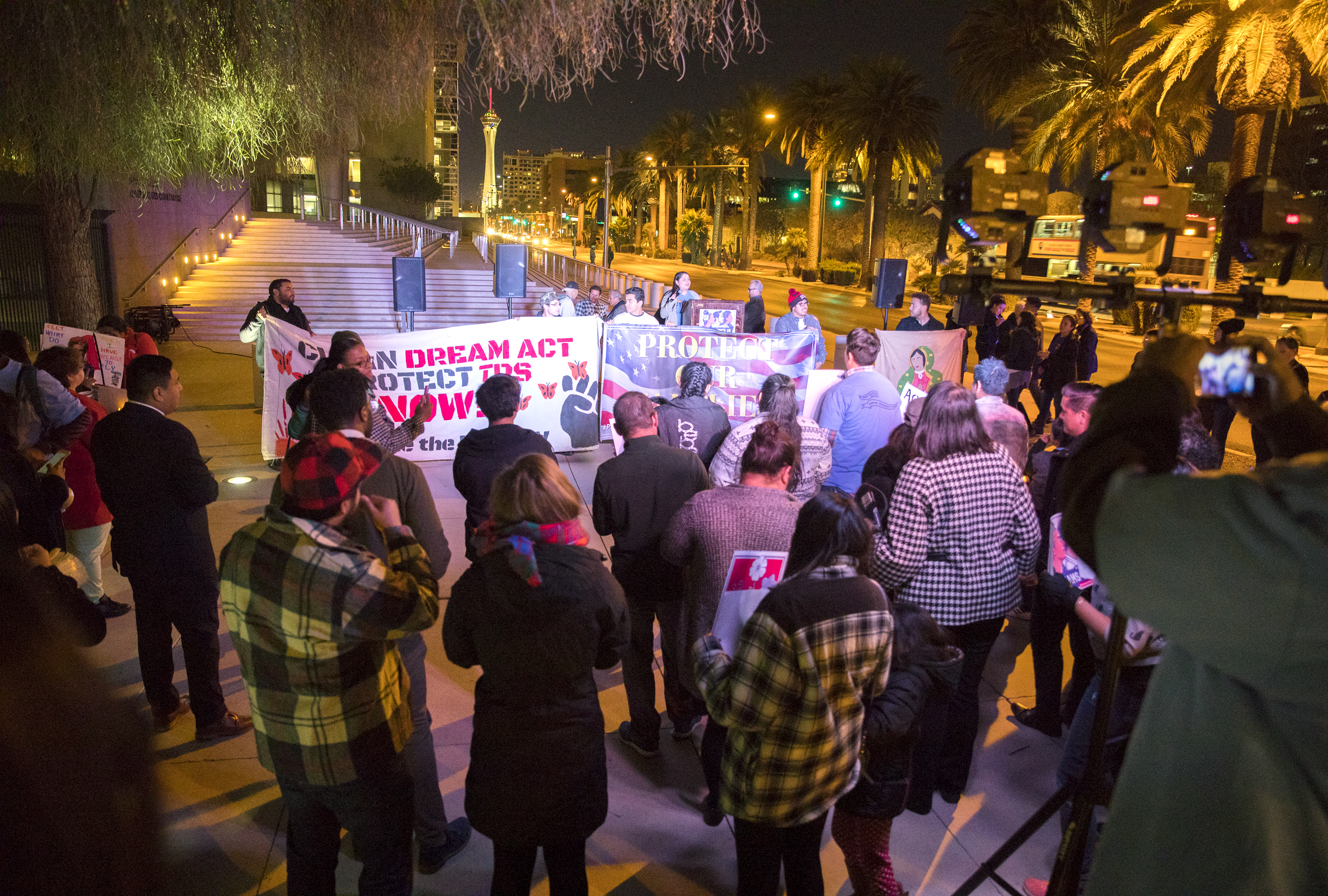 At a virtual town hall meeting last week hosted by the Nevada System of Higher Education, lawyer Michael Shamoon stopped briefly with a message for viewers he figured were panicking.
"I just want to give a few words of reassurance that it's very unlikely that the federal government is going to deport 700,000 individuals in one fell swoop," said Shamoon, head of the University Legal Services project.
That such words pass as reassurance these days highlight the harrowing uncertainty facing many participants in the Deferred Action for Childhood Arrivals (DACA) program. The Supreme Court is expected to rule within the next few weeks and as early as Monday on the legality of the Obama-era program, and hosts of the town hall were pessimistic that the conservative-majority high court would rule favorably for beneficiaries.
"We know there's a lot of anxiety out there, not just dealing with this whole uncharted territory with this pandemic," NSHE Chancellor Thom Reilly said. "But for the DACA students waiting for the Supreme Court decision, we know this is incredibly anxiety-filled. We want to let you know that we have your back."
It's unclear how many students in Nevada colleges and universities are undocumented or "DACA-mented," meaning they have temporary work authorization and protection against deportation. Reilly said the system doesn't solicit that information because it might have a "chilling effect" on students applying to the schools in the first place.
But Amey Evaluna estimates that there are many more in Nevada than those who are open about their status, including the 100 in the DREAMers club and 87 students with full-ride scholarships through TheDream.US at her institution, Nevada State College.
Some of the earliest beneficiaries of the program launched through executive order by President Barack Obama in 2012 are in their late 30s, many with children of their own now. Many of the youngest students enrolling at NSHE are completely undocumented because the Trump administration terminated the program more than two years ago, before they were old enough to take advantage of it.
Above all, town hall organizers said, was the importance of current participants renewing their DACA authorization before the ruling comes down, even if their permit does not expire for months. While the program was canceled and is closed to first-time applicants, court actions since have granted existing participants the ability to renew in two-year increments, but an adverse Supreme Court ruling could completely cut off the ability to renew.
U.S. Citizenship and Immigration Services still appears to be processing DACA renewal applications at a normal rate, Shamoon said, and with offices closed during the pandemic, are using old biometric information on file rather than requiring beneficiaries come into the office and submit new fingerprints. The agency still requires two color passport photos, a requirement that he recommends fulfilling by taking a qualifying picture at home because certain venues for getting such a photo have been closed.
DACA recipients, who are not allowed to apply for citizenship and have limited pathways to seek permanent legal residency, may be able to land two additional years of deportation deferral and work authorization. While there's no guarantee, hosts of the call said they expect that if the Supreme Court strikes down the program, the decision will allow participants to legally live and work in the U.S. until their latest authorization expires.
An NSHE All Access Committee has been working since 2014 to address barriers undocumented students face in pursuing higher education. The system has recently expanded a University Legal Services program that started at UNLV to CSN, and the center can help students and their families find legal status, such as applying for residency or citizenship, defending against deportation and other actions.
Every one of the eight institutions have a staff member who is a designated point of contact for undocumented students. To help them afford the $485 DACA renewal fee, town hall organizers pointed to student emergency funds administered by the colleges.
Aside from not asking about students' legal status, NSHE leaders have lobbied to ensure that new state-based scholarships developed in recent years are open to people who graduated in Nevada regardless of whether they are documented. Those include the state-level, need-based Silver State Opportunity Grant.
Undocumented students are still barred from federal financial aid such as need-based Pell Grants. They are also barred from receiving funds from the CARES Act coronavirus relief package, which has allowed Nevada schools to automatically distribute financial aid awards of about $500 to $1,000 each starting last week to students who demonstrated need.
Reilly said institutions across the country initially thought the money would help students regardless of status, but federal officials subsequently clarified it would not help the undocumented. That has been a disappointment, NSHE leaders said, because immigrants without valid work authorization are especially hard-hit by the pandemic as they cannot receive stimulus checks or unemployment benefits.
"Their need is greater than ever," Eveluna said.
An end to the program would make it far more difficult for recipients to pay for and remain in school. College leaders are preparing for the prospect that student workers will not be able to work as traditional employees and colleges might have to turn to alternative routes, such as by paying for work or research through privately funded stipends and paid fellowships that wouldn't require a work authorization.
They also pointed to AB275, a bill passed in 2019 that allows people to attain occupational licenses regardless of legal status. That option could permit Nevadans to prepare for a trade while their status is uncertain, even though they would still need to attain legal status at some point to be a legal employee.
Shamoon offered some comfort by noting it's likely that people who renew now will get another two years of work authorization even if the Supreme Court rules against DACA.

"And a lot can happen in those two years. The laws could change. So there's still hope for the future," he said.
The Nevada Independent is raising $200,000 by Dec. 31 to support coverage of the 2024 election.
Tax-deductible donations from readers like you fund this critical work.
If you give today,your donation will be matched dollar-for-dollar.
Give + Get Matched
Featured Videos