Nevada Democrats notify 1,000 early caucusgoers of voided ballots, most for lacking a signature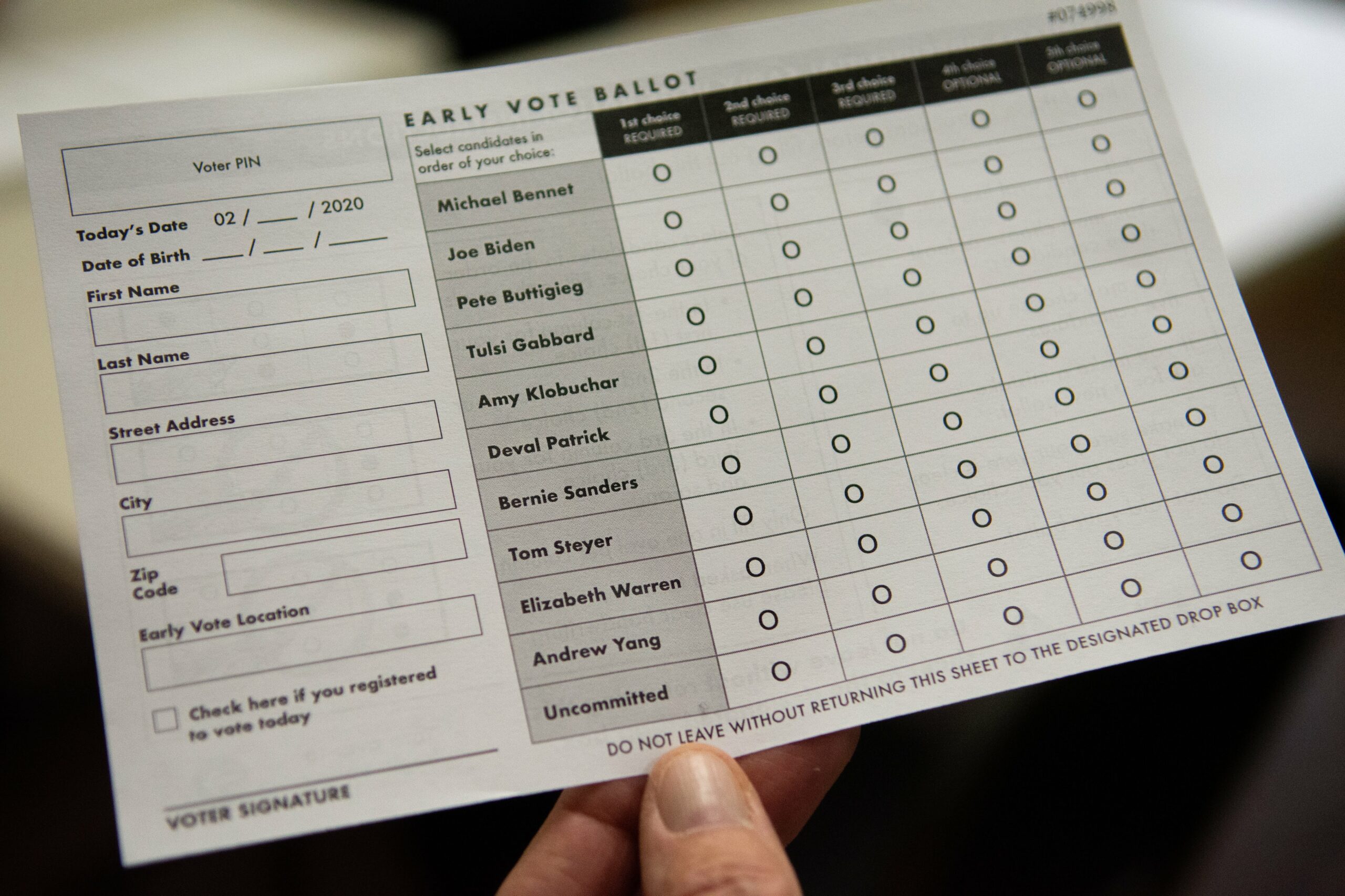 The Nevada State Democratic Party is in the process of notifying roughly 1,000 early-voting caucusgoers that their ballots have been voided for errors, just two days before Caucus Day.
The voided ballots, from the first three of four days of early voting, make up about 2.8 percent of the 36,000 ballots cast over the three-day period, with party officials still processing the 39,000 ballots cast on the fourth day of early voting. According to a party official, the overwhelming majority of ballots were voided for lacking a signature, with only about 60 ballots rejected for voters failing to make three presidential preference choices on their ballot.
Voters were required to select multiple choices on their early vote ballots because that data will be transmitted to their home precinct to be counted just as if they had been there in person on Caucus Day. The extra choices allow early voters to participate in the realignment phase of the caucus, and switch their support to another candidate, in the event that their first-choice candidate doesn't receive enough support to qualify for delegates out of the caucus.
The total of early voided ballots for the first two days, 940, was first reported by CNN.
But the three-choice rule had been the subject of much concern and confusion among early caucusgoers and volunteers, who either did not know about the rule or received conflicting information about it. In a memo to campaigns the night before early voting, party officials clarified that voters must make three presidential preference choices in order to have their ballots counted, but noted that ballots where the same candidate was marked three times in a row would not be voided.
The rule was most likely to affect Vermont Sen. Bernie Sanders, as many of his supporters do not have a second- or third- choice candidate. Early voters who backed Sanders told The Nevada Independent that in some cases early voting volunteers tried to tell them that they couldn't vote for the same candidate three times in a row, while others were able to successfully cast their vote for Sanders three times, or vote for Sanders once followed by two "uncommitted" selections.
A Sanders campaign official confirmed to The Nevada Independent that signatures were the major issue for voided ballots and they do not appear to have disproportionately affected the Vermont senator at this point. Sanders staffers had engaged in a robust public information campaign after the three-choice rule came to light to make sure their supporters knew how to participate.
Though the party had initially signaled that the onus would be on campaigns to notify their supporters that their ballots were voided, party volunteers began texting and calling people last night who had their ballots voided. Early caucusgoers who ballots were voided will be able to participate in person in Saturday's caucus.
A party official said the number of voided ballots decreased over each day of the early voting period, possibly because caucusgoers and volunteers were more aware of exactly what they needed to do in order to have their ballots count. Campaigns will also still be provided a list of individuals whose ballots have been voided so they can contact their supporters directly to turn them out to vote.
Sarah Mahler, chair of the Washoe County Democratic Party, in a Facebook post attributed the voided ballots to human error.
"People will be very upset because they do not want to/cannot attend the caucus and they waited in line for a long time. At least they are being notified and the campaigns have been notified," she said. "We are humans and humans make errors. I am so sorry if there was a mistake on any ballot. The volunteers I personally worked with worked diligently to have this process go as well as possible."
In a brief interview, she said she wanted to post something to verify to early caucusgoers that the text messages they have received from the party are authentic.
"My take on it is we really had some awesome volunteers and they are volunteers," she said. "You know, we're all humans."
The Nevada Independent is raising $200,000 by Dec. 31 to support coverage of the 2024 election.
Tax-deductible donations from readers like you fund this critical work.
If you give today,your donation will be matched dollar-for-dollar.
Give + Get Matched
Featured Videos