Nevada GOP embraces Big Lie, and Laxalt's bus to Senate keeps rolling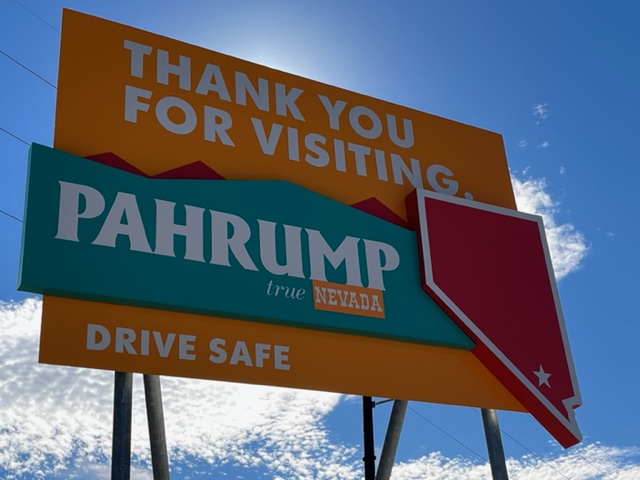 It was fitting that Adam Laxalt's campaign had planned to begin the last day of early voting Friday morning with an event in Pahrump at 2nd Amendment Guns/2A Coffee.
At 2nd Amendment Guns, customers can get one jolt from the family firearm and another from the daily brew. Not only was the gun range an ideal setting bound to attract plenty of like minded locals in support of their gun rights and favorite Republican U.S. Senate candidate, but parking the campaign's tour bus in Big Lie-boosting Nye County was ripe with meaning.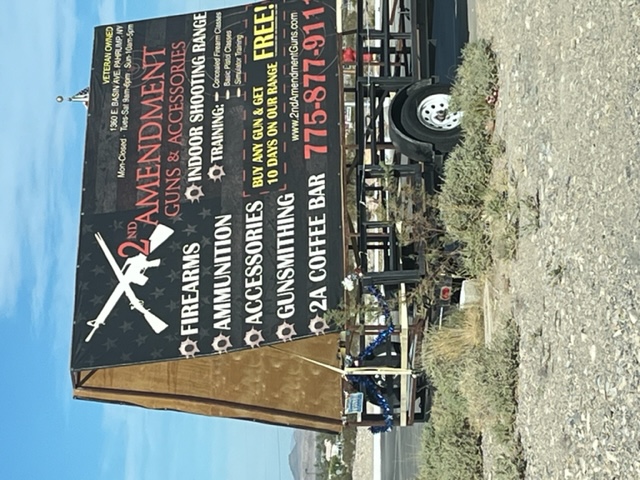 While top Democratic Party surrogates – popular former President Barack Obama among them – converged on the state this past week to help get out the vote and cheer incumbent Catherine Cortez Masto across the finish line, Laxalt was projecting an air of confidence with a statewide bus tour. I'm guessing the bill for fuel wasn't coming out of his own pocket.
The bus had traveled from Battle Mountain to Boulder City, but by dropping by Pahrump you might say Laxalt had metaphorically come full circle. Nye County has become such a symbol for election deniers following false conspiracy theories about widespread voter fraud in the 2020 election that it has drawn national press attention. Laxalt served as co-chair of Donald Trump's Nevada campaign and was among those questioning the legitimacy of the vote even before Election Day.
Joe Biden would win Nevada by approximately 33,500 votes, and Republican Secretary of State Barbara Cegavske later found no evidence of widespread voter fraud, but that didn't prevent Laxalt from leading the "Stop the Steal" pitchfork parade. Just two days after the election, he announced without evidence that "illegal votes" had been cast in Clark County. A lawsuit raising the issue foundered.
A few weeks later, Laxalt filed a lawsuit that also went nowhere, but election denialism was rapidly revealing itself as a potent cocktail that had the Republican base thirsty for the increasingly noxious swill. Laxalt was an effective snake oil salesman.
But Laxalt's loyalty to the lie can't touch failed congressional candidate and current GOP secretary of state candidate and flag-waver Jim Marchant when it came to fulminating false conspiracy theories about illegal Democratic votes, the evils of reliable voting machines, and the need to return to hand-counting ballots in a state with nearly 2.2 million registered voters.
As first reported in The Nevada Independent, Marchant has been a central figure in not only denying the undeniable, but in using the Big Lie to embolden the GOP base and inch closer by the day to turning a secretary of state's office that has risen above partisanship into an inglorious backroom riddled with lackeys toiling on behalf of the Forever Trump ticket.
Imbibing in the Big Lie, as President Joe Biden recently said, has "fueled the dangerous rise in political violence and voter intimidation over the past two years." Nye County's decision to swallow Marchant's hokum and call for hand-counting of ballots supervised by an election denier is just one example. Thankfully, it's been sidetracked by the state Supreme Court and the steel-spined Cegavske.
Here's another example. ACLU of Nevada is calling Nye County's paper-counting experiment a "coordinated partisan election administrative effort" after discovering that one armed county volunteer removed one of the civil liberties group's observers from the hand-count room. As the Las Vegas Review-Journal reported, the volunteer turned out to be Nye County GOP Central Committee Vice Chair Laura Larsen.
In a statement, ACLU executive director Athar Haseebullah said the incident "violates the core principles underlying free and safe elections and makes an even greater mockery of our democracy."
Sure it does, but it's what happens when the Big lie begins to take root inside the democratic process. It gets easier to practice intimidation.
That lie, as Biden said, has also "fueled the dangerous rise in political violence and voter intimidation over the past two years." After the assault on the U.S. Capitol Jan. 6, 2021, political violence and voter intimidation in Nevada is not only possible, but should be expected.
Of course, pointing out the danger is easy. Noting that hustlers like Marchant often accuse others of behavior of which they're guilty isn't overly insightful, just an acknowledgment of how political con artists operate. And he is Trump's stooge through and through.
And the snare is set for more specious litigation should the GOP fall short on Election Day. Laxalt alluded to the likelihood in August 2021, and almost every Republican candidate for major office is a fully indoctrinated election denier.
There's a lot of it going around.
With approximately 70 percent of Republicans still believing the 2020 election was stolen, those candidates are playing to a friendly crowd that prefers to embrace a comfortable lie over an inconvenient truth.
This past week, Biden called on Americans to "confront those lies with the truth" because the future of democracy is at stake. He's not wrong about democracy hanging in the balance, but the only real way to beat back the Big Lie is by voting it back into the shadows from whence it came.
John L. Smith is an author and longtime columnist. He was born in Henderson and his family's Nevada roots go back to 1881. His stories have appeared in Time, Readers Digest, The Daily Beast, Reuters, Ruralite and Desert Companion, among others. He also offers weekly commentary on Nevada Public Radio station KNPR.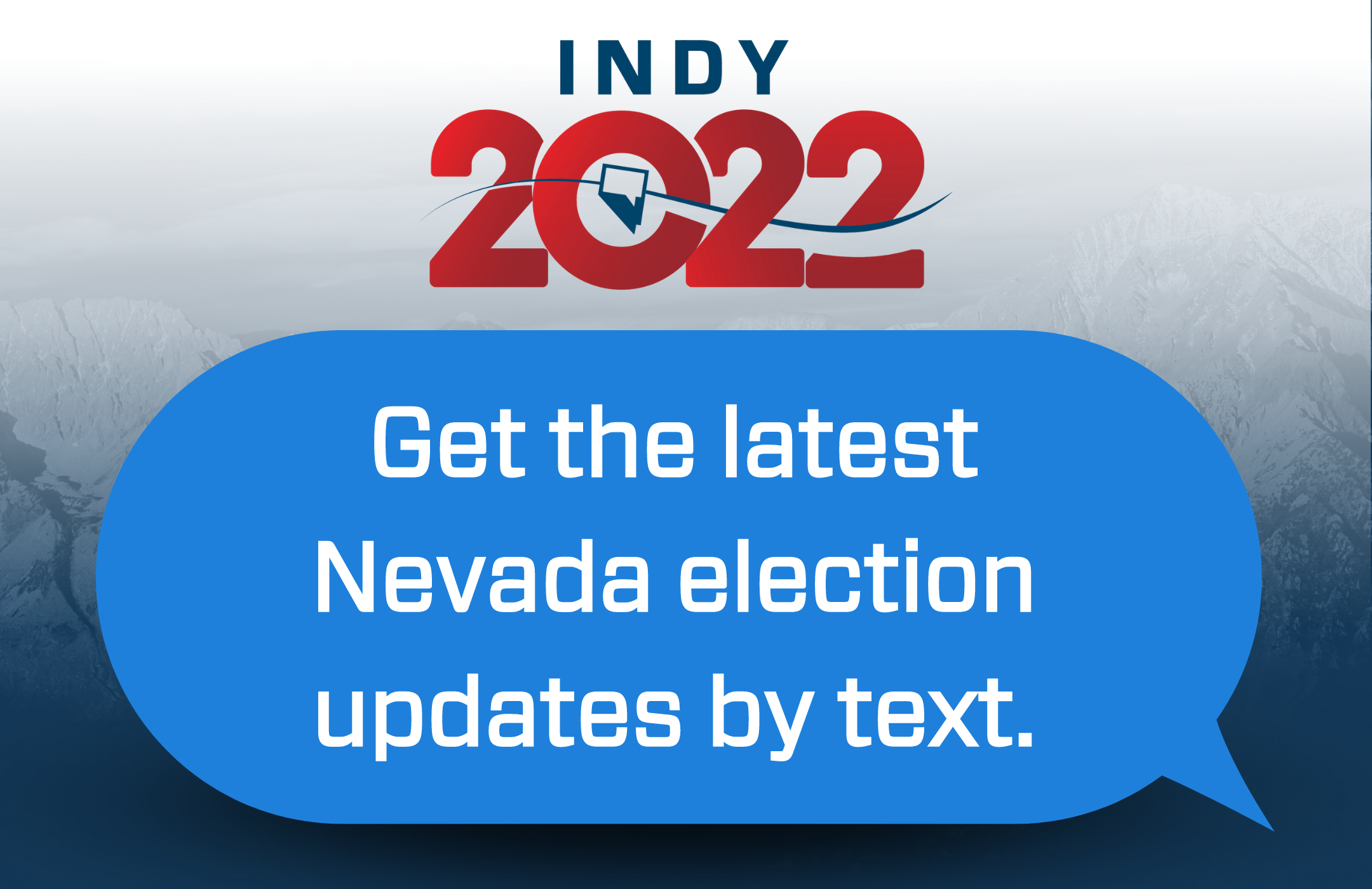 Featured Videos
Comment Policy (updated 4/20/2021): Please keep your comments civil. We reserve the right to delete comments or ban users who engage in personal attacks, use an excess of profanity, make verifiably false statements or are otherwise nasty. Comments that contain links must be approved by admin.