Nevada Republicans vote to censure SOS Cegavske over voter fraud allegations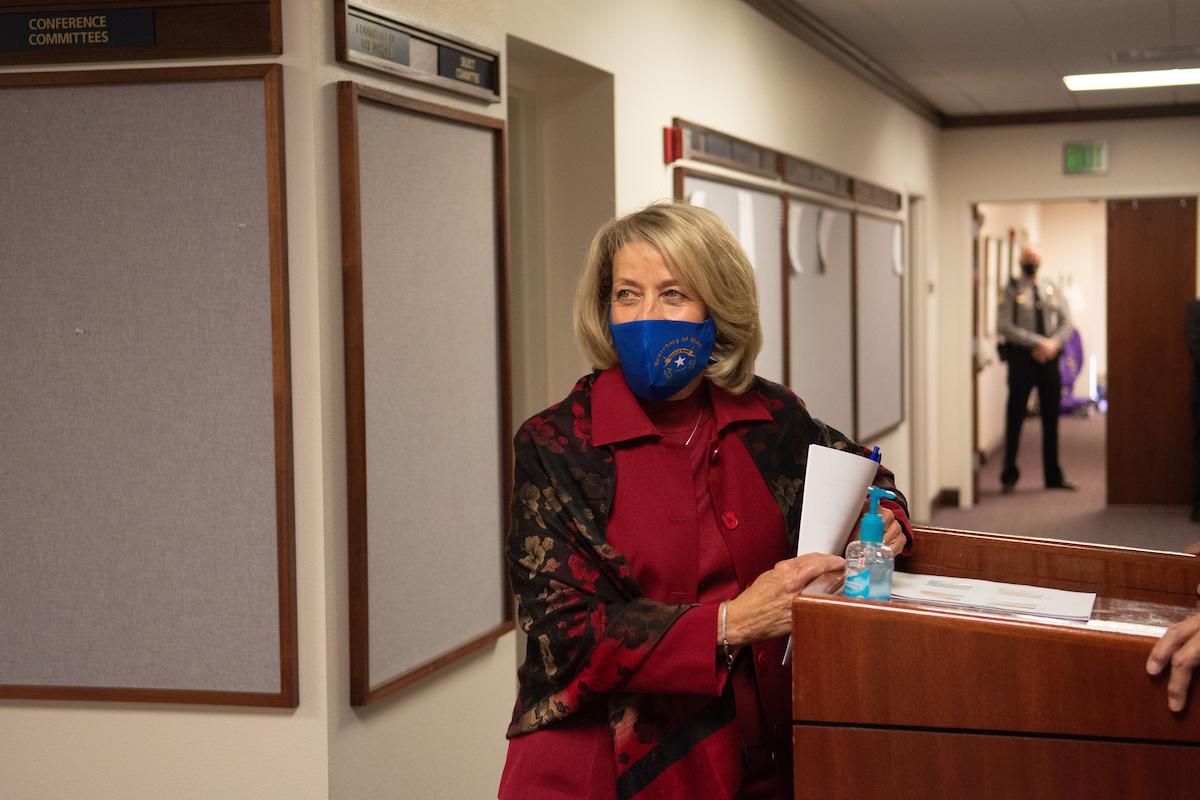 The Nevada Republican Party Central Committee has voted to censure the state's GOP secretary of state, Barbara Cegavske, over claims that her office failed to do its job and "put the reliability of our elections in Nevada in question."
Members of the central committee voted to approve the censure on a 126-112 vote on Saturday during the party's spring meeting in Carson City, sources told The Nevada Independent. The censure, which was amended before a vote, originally banned Cegavske from party endorsements or resources for "the intense dishonor her failures brought upon the Nevada Republican Party."
A cover letter obtained by The Nevada Independent reiterates that the state party brought forward four boxes of evidence purporting to show tens of thousands of alleged examples of voter fraud that allegedly occurred in the 2020 election. The letter states that the state party saw a "surge in communications with sometimes vulgar messages" by individual Republicans saying they had left the party "claiming we did nothing to ensure voter integrity."
"The irresponsible messaging of the Nevada Secretary of State, claiming, without investigating, that this election was error free, causing these attacks on our Nevada Republican Party," the cover letter states.
Cegavske, in a statement Sunday morning, pushed back against the premise of the censure:
"Regrettably, members of my own political party have decided to censure me simply because they are disappointed with the outcome of the 2020 election," she said. "My job is to carry out the duties of my office as enacted by the Nevada Legislature, not carry water for the state GOP or put my thumb on the scale of democracy. Unfortunately, members of my own party continue to believe the 2020 general election was wrought with fraud - and that somehow I had a part in it - despite a complete lack of evidence to support that belief. Regardless of the censure vote today by the Nevada Republican Party Central Committee, I will continue in my efforts to oversee secure elections in Nevada and to restore confidence in our elections, confidence which has been destroyed by those falsely claiming the 2020 general election produced widespread fraud."
The censure repeats various claims of voter fraud in Nevada made by the Trump campaign and state Republican Party, many of which originated from election challenges that lost in state court last year. Reasons for the censure are listed as a "failure to investigate election fraud, her dismissive public statements regarding election integrity concerns and her failure to ensure compliance with Nevada and federal election law."
The censure resolution originally cited a section of state law that deals with the removal of state and local party committee members, not rank-and-file registered party members. But central committee members voted to remove that section referring to removing Cegavske from the party from the resolution prior to the vote.
Cegavske's office has publicly stated that the state has received no evidence of "wide-spread" fraud in the 2020 election. Her office also publicly responded to the state party's drop off of alleged evidence, disputing the number of total Election Integrity Reports filed and promising that staff will "conduct a detailed examination of these reports."
Cegavske, who previously served in the Assembly and state Senate, was the only Republican to win a statewide race in the 2018 midterm elections, narrowly beating Democratic candidate Nelson Araujo.
Bipartisan statements of support for Cegavske began to pour in after the vote and on Sunday morning, including from Gov. Steve Sisolak, Attorney General Aaron Ford, Treasurer Zach Conine, Rep. Steven Horsford, state Sens. Heidi Gansert and Marilyn Dondero Loop and Assemblywoman Jill Tolles. During the meeting, sources said, Republican National Committeewoman Michele Fiore, who had said after the election that Donald Trump won, came to Cegavske's defense. State GOP Chairman Michael McDonald left the dais during the debate and did not speak.
"During its meeting this weekend, the Nevada Republican Party had a healthy debate regarding November's election and the role of our Secretary of State," state GOP Executive Director Jessica Hanson said in a statement. "While the vote to censure Secretary Cegavske passed narrowly, what unites all Nevada Republicans is their commitment to ensure the Silver State has the safest and fairest elections in the country and the Nevada Republican Party will work day and night to turn this state into the model for election integrity. The Nevada Republican Party holds our elected officials to a high standard. As such, today the party sent a clear message that our officials must work for the people and we demand that our representatives at all levels of government uphold their Oath of Office."
This story was updated at 8:45 AM on 4/11/21 with a statement from the secretary of state and also at 10:20 AM with a summary of statements of support for Barbara Cegavske and removal of the words "and dissociate" from the opening paragraph to reflect the amended censure resolution that ultimately passed.
Here is the cover letter and the original resolution prepared for passage:
And here is the resolution that finally passed:
Featured Videos
Comment Policy (updated 4/20/2021): Please keep your comments civil. We reserve the right to delete comments or ban users who engage in personal attacks, use an excess of profanity, make verifiably false statements or are otherwise nasty. Comments that contain links must be approved by admin.