Nevada unemployment metrics worsened last week; DETR says it's not aware of any data breach on its end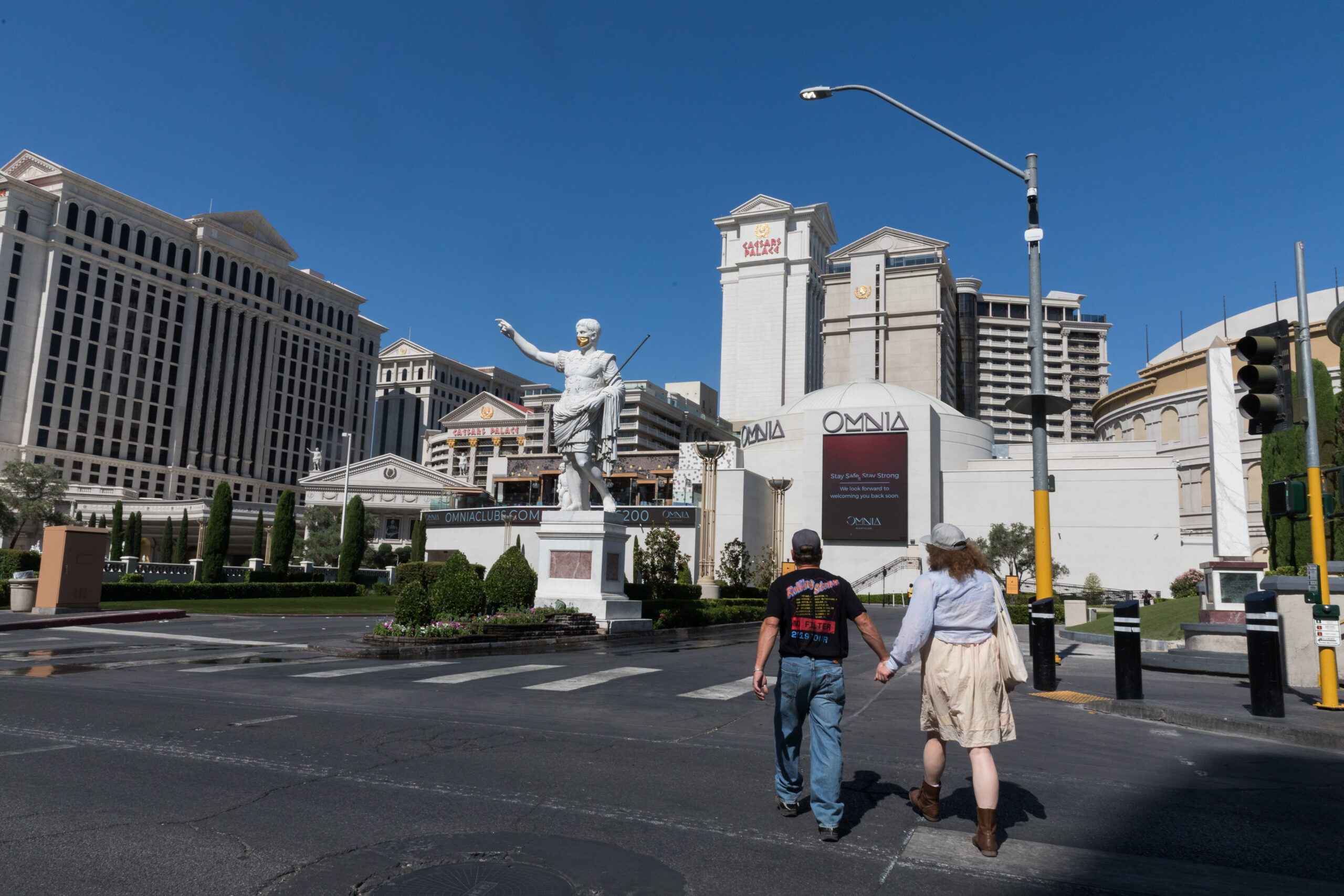 Key metrics of Nevada's unemployment situation continue to worsen, with near-peak levels in the number of people filing claims week after week and an "insured unemployment" rate that's rivaling Puerto Rico for worst of any state or territory.
It's still unclear how much fraud is responsible for significant upticks in new claims into the Pandemic Unemployment Assistance (PUA) program last week. But officials with the Nevada Department of Employment, Training and Rehabilitation (DETR) reiterated on Friday that there is no known breach on DETR's end driving fraud and that they are continually working with law enforcement on the matter.
"DETR is actively monitoring its system and works with reputable companies and vendors to ensure that all data is maintained in a secure environment," said Employment Security Division Administrator Kimberly Gaa in a weekly videoconference briefing. "We will be limiting further information related to any investigation and will not share details to protect the case integrity."
Local government agencies and private sector workers have reported hundreds of instances in which benefits were sought fraudulently on behalf of someone who is still employed. The agency urged people who suspect someone is committing fraud to report it through the DETR website or through the FBI's website.
Apart from DETR another repository of sensitive information about public employees — the Nevada Public Employees Retirement System — said it does not know of any breach into its system or that it is connected to fraudulent unemployment claims tied to participants in the system.
"PERS has strong security and monitoring features in place to protect the security of confidential information that we hold," PERS Executive Officer Tina Leiss said in an email on Thursday. "The regular security monitoring that has been in place for a long period of time, and additional recent reviews in light of the unemployment insurance issues, has not revealed or suggested any type of data breach at PERS."
Unemployment metrics
Initial claims for regular unemployment continued to inch upward, hitting 18,390 in the week ending July 25. That may include people who are reopening a claim after going back to work then losing their job again.
There have been 589,438 initial claims filed since the pandemic's effects took hold of Nevada in early March, and the total for 2020 has hit 611,090. As of June, Nevada's entire civilian labor force was estimated to be less than 1.5 million.
Initial claims in the Pandemic Unemployment Assistance program jumped by 34,072 in the week ending July 25. As of Friday morning, the state has had 382,152 applications for the program geared toward independent contractors and gig workers, but payments have flowed to just 122,624 of those. That means fewer than 1,000 people have newly started receiving benefits through the program from a week ago.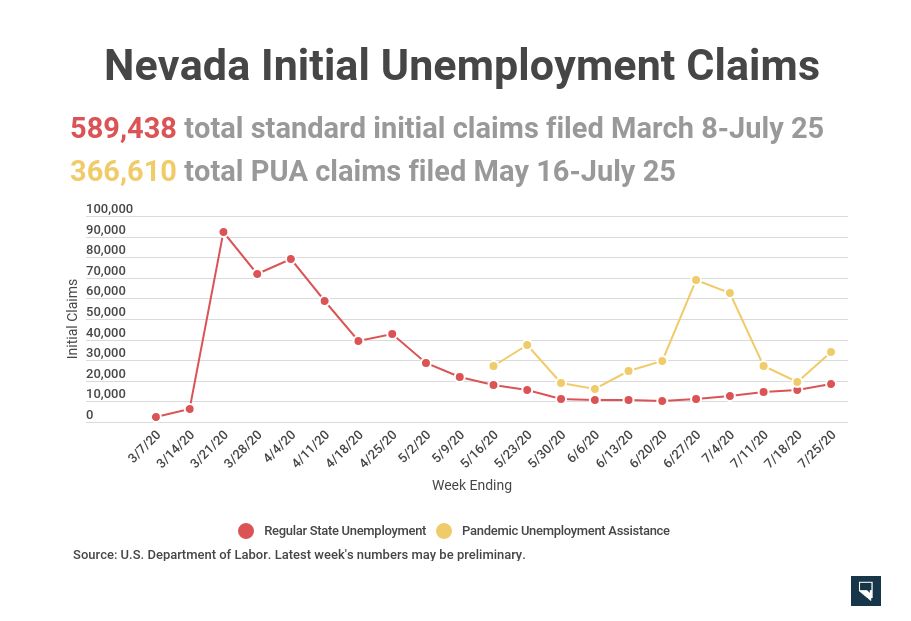 Continued claims, which represent people who, after filing their initial claims, are continuing to report weeks of unemployment, hit 346,138 last week. That's the second highest level since the pandemic began, and marks the fourth consecutive week that the metric has risen.
In the PUA program, 138,702 claimed unemployment in the week ending July 25.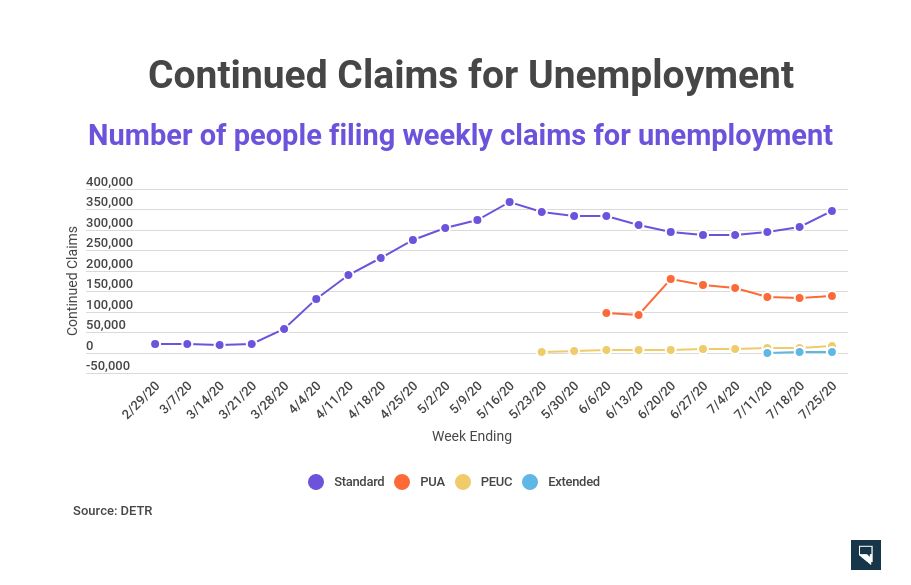 Nevada's insured unemployment rate, which reflects the ratio of continued claims to people eligible for standard unemployment benefits, rose again to near-record levels. The rate last week of 24.9 percent is worse than the rate Puerto Rico, which has the highest uninsured rate of any U.S. state or territory, had in the most recent week it reported.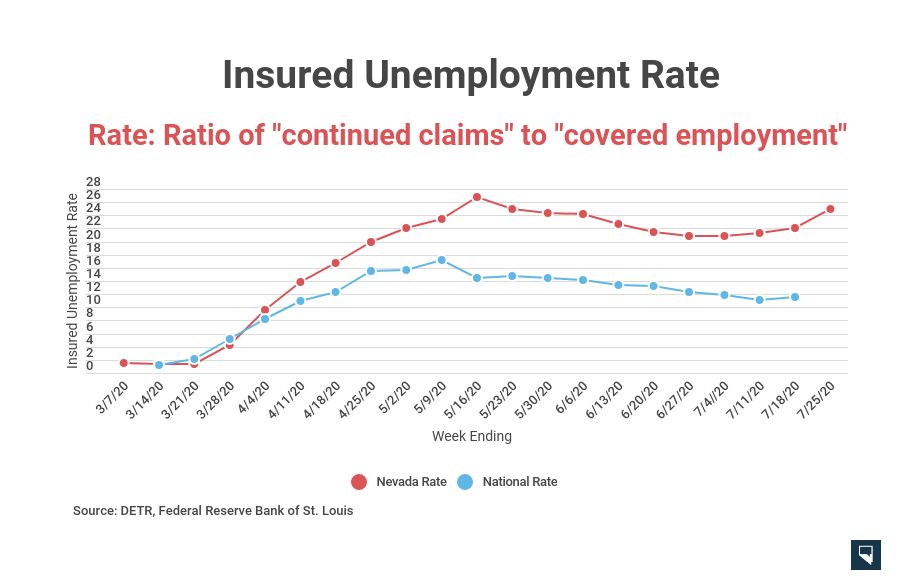 The state's trust fund balance, from which regular unemployment benefits are paid, is down to just over $550 million from its pre-pandemic peak of nearly $2 billion. As of July 25, the state had enough in the fund to pay a little more than four weeks of standard benefits at current rates, but expects to borrow from the federal government if the fund runs dry.
The majority of the $5.5 billion the state has paid out in unemployment benefits in 2020 has come from the Federal Pandemic Unemployment Compensation (FPUC) program, which adds $600 per week to the checks of beneficiaries but has expired this week. The amount of money the state has administered so far this year through all unemployment programs is nearly as much as it paid out in benefits for the years of 2009-2012 combined.
Congress has not arrived at an agreement to extend the FPUC program, however, and DETR officials said they did not have further updates about its continuation.
But Gaa did indicate that a computer error identified early this week that led to many claimants not receiving the final FPUC payment they are owed was fixed on Wednesday evening. She said claimants have started receiving the delayed funds, with more payments going out over the next few working days.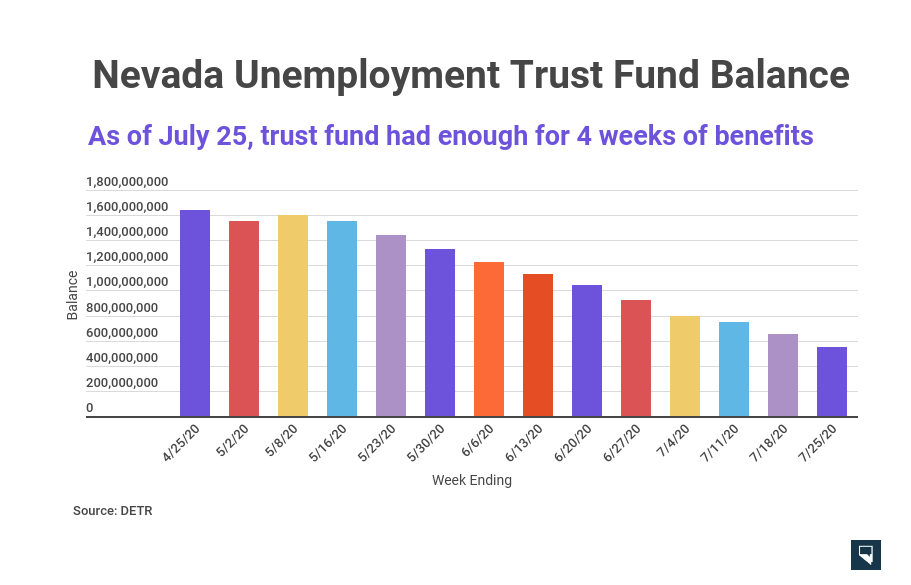 Featured Videos
Comment Policy (updated 4/20/2021): Please keep your comments civil. We reserve the right to delete comments or ban users who engage in personal attacks, use an excess of profanity, make verifiably false statements or are otherwise nasty. Comments that contain links must be approved by admin.