Nevada's three vulnerable House Democrats survive re-election challenges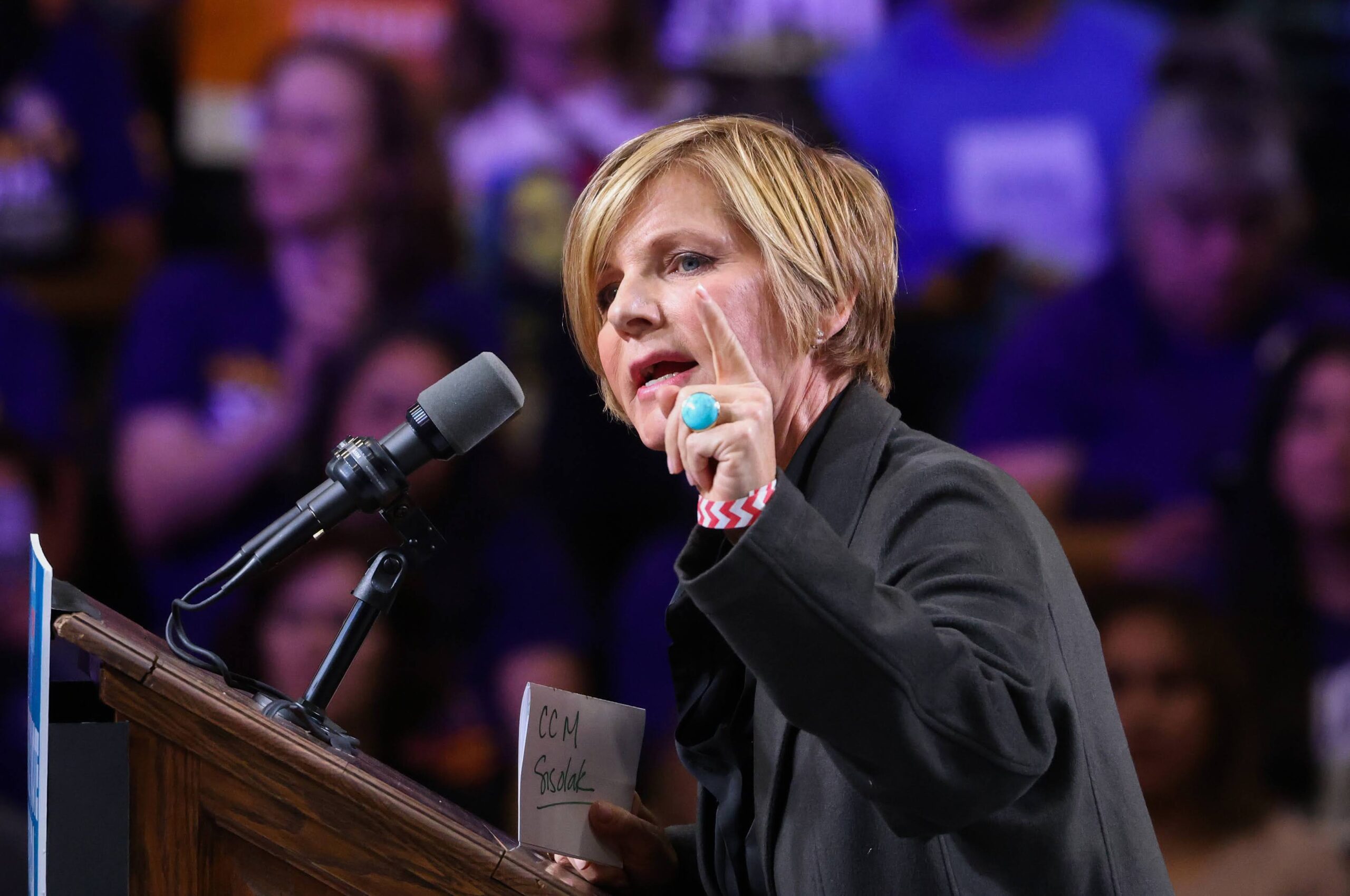 All three of Nevada's vulnerable U.S. House Democrats survived well-funded challenges and won re-election, following an election night in which Democrats outperformed expectations in competitive races across the country.
Their projected victories in the state's three Las Vegas-based congressional districts come even as the state's high-profile race for U.S. Senate — in which Democratic Sen. Catherine Cortez Masto narrowly trails Republican former Attorney General Adam Laxalt by fewer than 14,000 votes — remains too close to call, with tens of thousands of more mail ballots to be counted in urban Clark and Washoe counties.
Democratic Reps. Susie Lee, Steven Horsford and Dina Titus each faced competitive races from Republican challengers amid a national spotlight on the Las Vegas market and a well-funded outside push from national Republican groups to flip their seats. Nevada's lone Republican congressman, Rep. Mark Amodei, safely sailed to re-election in a Republican-heavy Congressional District 2 that covers Northern Nevada.
All three other races were considered winnable for Republicans, as a political environment marked by a surging national inflation rate, Democratic President Joe Biden's low approval rating and a historical pattern of midterm losses by the sitting president's party altogether seemingly spelled doom for vulnerable Democratic incumbents in the House.
But last year's redistricting process, which saw Democratic state legislators redraw district lines to pull thousands of Democratic voters from deep-blue District 1 into neighboring Districts 3 and 4, appears to have paid off for the incumbents.
Though some political analysts viewed the redrawn lines as potentially risking all three Democrat-held seats, each district still contained a sizable Democrat-over-Republican advantage in voter registration, ranging from a 5.9-point advantage in District 3 to a 9.9-point advantage in District 1.
Across the three competitive races, Republican challengers broadly attacked the Democratic incumbents for the nation's high inflation rate, tying the rise in prices to major government spending bills supported by the Democrats.
Each of the three Democratic incumbents, meanwhile, spent time on the campaign trail highlighting their support for protecting abortion access following the Supreme Court's June decision to overturn Roe v. Wade, as well as touting passage of the Inflation Reduction Act and other legislative accomplishments made under the Biden administration.
Below, we further explore the dynamics of each of the state's House races.
District 3
Despite a strong bid mounted by Republican April Becker, a real estate attorney who narrowly lost a state Senate race in 2020, Lee appears set to secure a third consecutive term in the House. As of Thursday evening, she leads Becker by more than 4,600 votes, while the remaining uncounted votes are from mail-in ballots, which have a Democratic lean.
Lee sought to center the race on abortion access in the wake of the repeal of Roe. Armed with millions of dollars in cash and a huge fundraising advantage over Becker, her ads swiftly and repeatedly cast Becker as a legal abortion opponent who would support a nationwide abortion ban.
Though Becker agreed with the decision to repeal Roe, she said she would not support a national ban, arguing that the Supreme Court's decision earlier this year meant abortion laws should be left for individual states to decide. Nevada law protects abortion access up to 24 weeks, but that protection could be rolled back under a more stringent federal law.
Lee also campaigned heavily on her professed moderate bonafides, touting her ranking as one of the most bipartisan members of the House, while calling Becker an extremist.
Becker campaigned primarily on the economy, which consistently ranked as a top issue in polls of Nevada voters. She railed against Lee for Democratic spending policies, tying Lee's votes to high inflation and unpopular Democratic figures, including Biden and House Speaker Nancy Pelosi (D-CA).
Despite being outraised and outspent on the campaign trail by Lee, whose fundraising operations benefitted from her incumbency, Becker received major backing from national Republican groups that helped even the advertising disparity between the candidates.
The Congressional Leadership Fund, a conservative super PAC, spent nearly $11 million in District 3, more than in any other congressional district in the country. The group relentlessly hammered Lee with ads attacking her over high inflation and profitable stock trades that Lee failed to report on time, as reported by Business Insider.
Though Lee benefitted from last year's redistricting, which bolstered the share of registered Democrats in the swing district, District 3 still has the smallest Democratic advantage in voter registration of the state's three Democrat-held congressional districts.
Lee's victory means that control of the historically swingy District 3 remains in Democratic hands. A member of the party has represented the district since now-Sen. Jacky Rosen defeated perennial Republican candidate Danny Tarkanian in 2016 to replace outgoing Rep. Joe Heck, who represented the district from 2011 to 2017.
Under the lines redrawn last year, District 3 stretches from the southern tip of Nevada through the western part of Clark County and the Las Vegas Valley, encompassing some of the city's wealthiest suburbs and the Spring Valley area.
District 1
Last year's redistricting process dramatically altered the makeup of District 1, a previously Democrat-heavy area encompassing the heart of urban Las Vegas.
Under the redrawn lines, thousands of Democratic voters were pulled into neighboring Districts 3 and 4 in an attempt to shore up Democrats' chances of maintaining their hold on three of four of the Silver State's congressional seats.
Despite a severely shrunken advantage in voter registration, Titus is projected to defeat Republican candidate Mark Robertson, holding onto her seat for a sixth consecutive term. As of Thursday evening, she leads Robertson by nearly 7,800 votes.
Her victory continues Democrats' 24-year-long hold on the District 1 seat, since former Rep. Shelley Berkley first won the seat in 1998.
The redrawn lines saw the district boundaries stretch far beyond the central part of the Las Vegas Valley. The new lines extend further east in Clark County to the state's border with Arizona and include more of Henderson and Boulder City.
The influx of Republican voters in District 1 put Titus in her most competitive election since she first ran for the seat in 2012. She was open about her disdain for the new lines, saying at an AFL-CIO town hall in December that she "totally got [expletive] by the Legislature," the Nevada Current reported.
Though Titus easily survived a primary challenge from Bernie Sanders-aligned progressive candidate Amy Vilela, she appeared more vulnerable as the cycle inched closer to the general election, finding herself tied or trailing in several public polls on the race in the weeks leading up to Election Day. Still, throughout the race, Titus maintained a strong fundraising advantage over Robertson, a veteran and political newcomer.
As Titus sought to paint Robertson as an opponent to abortion access, Robertson attempted to refocus the race on the economy. He also campaigned as a strong proponent of increasing border security, and in the wake of the repeal of Roe, he advocated for allowing individual states to decide abortion laws.
Robertson, like Becker in District 3, received a major boost from the Congressional Leadership Fund, which spent millions of dollars on ads hammering Titus over her support for major government spending bills, which the group tied to the high national inflation rate.
But the outside help was not enough to overcome Titus, who was still boosted by a significant Democratic advantage in voter registration.
District 4
Despite covering several rural, deep-red counties, Nevada's 4th Congressional District may be the state's safest for Democrats, with Horsford projected to win a fourth term in the seat. As of Thursday evening, he leads his Republican opponent Sam Peters by about 7,000 votes.
Peters, a veteran and insurance firm owner who previously lost in the 2020 Republican primary for District 4, campaigned as a Trump-aligned Republican and an outspoken opponent of illegal immigration. He also raised doubts that Biden legitimately won the 2020 election.
District 4 was created in 2011 and has only been won by a Republican once since then, during the 2014 "red wave" election. It has massive geographic boundaries, stretching through parts of northwest Las Vegas, the city of North Las Vegas and the entire northern half of Clark County into rural, central Nevada, including Nye, Lincoln, Esmeralda and Mineral counties and portions of Lyon County. Following redistricting, the area is home to more Democratic voters than any other Nevada district.
That advantage in voter registration helped lift Horsford to victory, even as he contended with a harsh political environment for Democrats soured by surging prices in Nevada and Biden's low approval rating. Horsford also faced attacks related to his personal life, with Peters calling on him to resign over an affair and Horsford's wife publicly expressing contempt for the sitting congressman.
But unlike the Republican candidates running in neighboring districts, Peters had received less support from outside groups and national Republicans.
Horsford, meanwhile, benefitted from a strong fundraising advantage and support from national Democratic groups, as he campaigned largely on the legislative accomplishments of congressional Democrats, and his efforts to bring down costs.
Horsford is the first vice chair of the powerful Congressional Black Caucus and co-chair of the Labor Caucus, meaning he could wield power in some key congressional groups even as a member of the House's minority party.
District 2
In Nevada's reliably red Congressional District 2, Amodei defeated educator and Indegenous issues advocate Elizabeth Mercedes Krause with a roughly 66,000-vote lead as of Thursday evening, earning a seventh term representing the state in Washington, D.C.
Amodei centered his campaign on his record in Congress and focused campaign messaging on maintaining border security, supporting agricultural and mining industries in the Silver State and growing businesses.
Before serving in Congress, Amodei spent 14 years in the Nevada Legislature, both in the Assembly and the Senate. He was also president pro tempore of the state Senate from 2003 to 2008.
Krause was the first Indegenous woman to run for Congress in Nevada. She sought to represent the many tribes located within District 2 while prioritizing the economy and education equity.
Amodei consistently outraised Krause, giving him a much stronger financial edge during the campaign. In the June primary, Krause rose above the crowded Democratic primary, but did not receive enough support to beat the incumbent.
The Nevada Independent is raising $200,000 by Dec. 31 to support coverage of the 2024 election.
Tax-deductible donations from readers like you fund this critical work.
If you give today,your donation will be matched dollar-for-dollar.
Give + Get Matched
Featured Videos